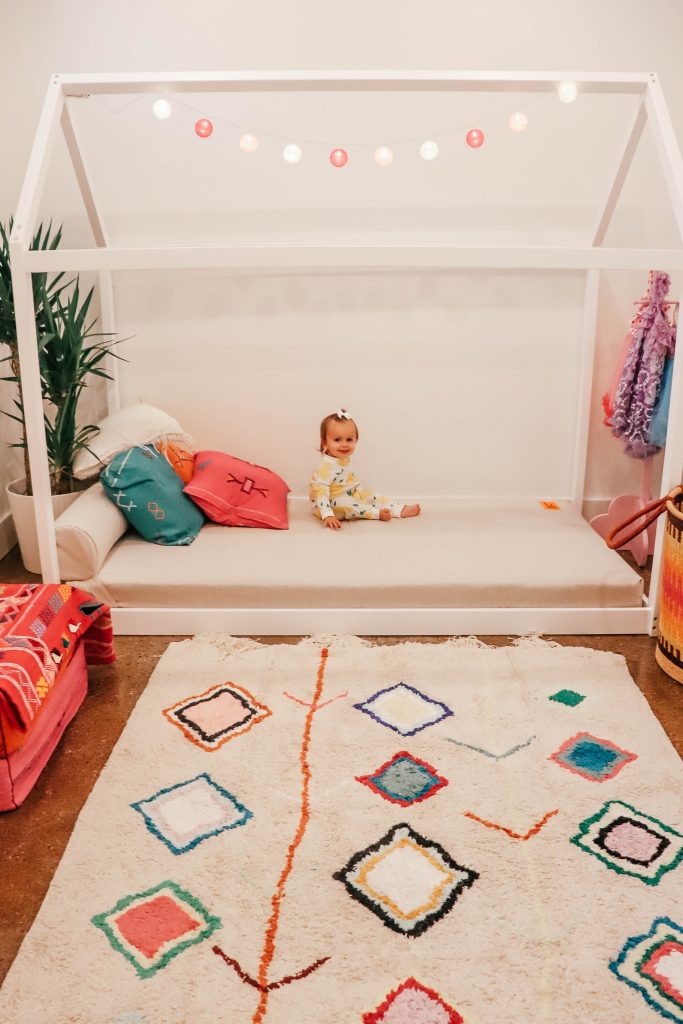 As Chloe started to get more busy and mobile, playing in her bedroom got a bit chaotic! Shortly after she would wake up, we would head right back into the room to play and I think she would get a bit stir crazy…."Like Mom, let me out!!! I was just sleeping in here for 12 hours!".
We moved some toys to our living room area but sure enough, as many parents can relate, the space started to become invaded with toys! It was driving me nuts and my husband and I vowed to never have our house turn into a full on baby zone. One day we looked at eachother and realized that our space was started to look like a Zoo with stuffed Giraffes, monkey cut outs and walking bunny toys peering out of every corner.
We decided it was time to transform one of the other rooms to Chloe's playroom and we are so happy we did! She gets SO excited to go in there and can really spend a good amount of time down there playing on her own * Cue Mom's happy dance*

The space before used as a little bar/dining area so we moved everything out and got busy deciding what we wanted to move into the room for her!
We started with two main things! 1. The Coco Village House bed ( Which I have been swooning over on Instagram before I even had a baby LOL!) and 2. A Lorena Canal Rug! We have one of their rugs in her bedroom and honestly you guys- they are the BEST! Seriously. You can roll it into a ball and throw it in the wash and it comes out perfect.
Once we had these two bigger ticket items, we started to build and add in everything else! The playroom pretty much was done just in time for her 1st birthday so as a gift we surprised her with a little toy stroller from the brand Moover. It is a Danish designed toy brand and it is the CUTEST!
It was a simple little make over but we are so happy with the results! Also if you love the Coco Village bed, stay tuned for a Black Friday Sale that may or may not be coming up 😉
BELOW IS A LIST OF ALL OF THE ITEMS WE HAVE:

Storage Baskets from LORENA CANALS, Mini Mid Century chairs from AMAZON, Shelving unit from IKEA, Carpet from LORENA CANALS, Prints from Desenio, Mattress from Ikea x Virgil Collab