Before travelling anywhere I almost always research what restaurants I want to check out. My husband and I are both foodies and I do not like randomly stumbling into restaurants hoping for the best! ( especially if you only have a week at a destination!). Before heading to a destination, we will Yelp, check Trip Advisor, other blogs for recommendations and ask friends who have been and then narrow down places we want to check out! I've been to Oahu before so knew some favourites I wanted to head back to ( I'm looking at you Ono Seafood) but also discovered some new great places this time around.
#1. ONO SEAFOOD
This is a hole in the wall Poke place that has crazy reviews on Yelp and has been featured on tons of blogs and with VERY good reason! Locals even head here for their poke and as my dad would always say…"If the Locals go, you know it's good!". I love the Classic Spicy Tuna Bowl the best! The prices are also super great. Ono Seafood is closed on Sunday and Mondays -just an FYI and also closes at 6PM so best to head there for lunch!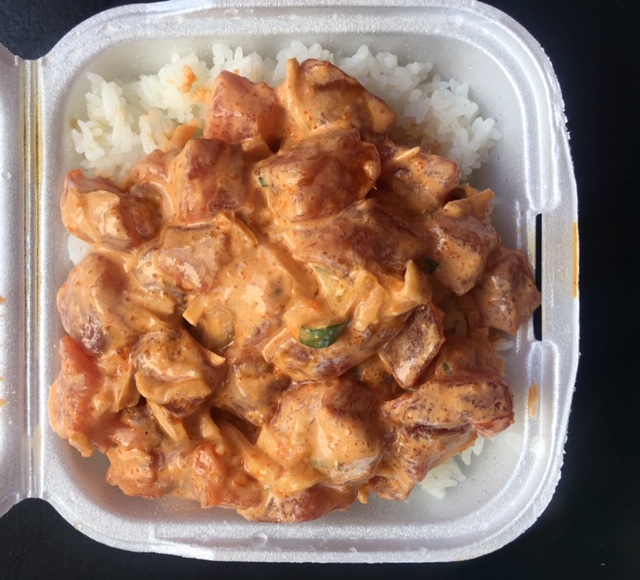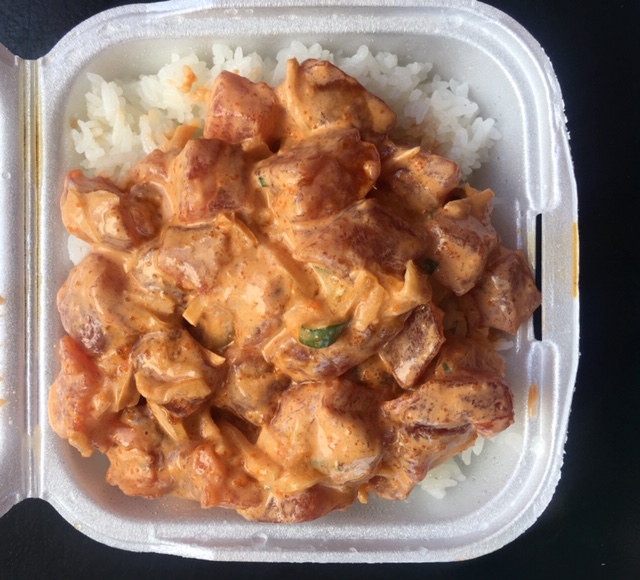 Aaron and I wanted a nice dinner one night so after reading about Herringbone's on so many blogs, we decided to make a reso there. Normally I shy away from restaurants inside malls but the malls in Hawaii are a: outdoors, b: super fancy and c: Herringbone's made you feel like you were world's away. The decor is SO dreamy with lots of trees decked with hanging lights, gorgeous wooden tables and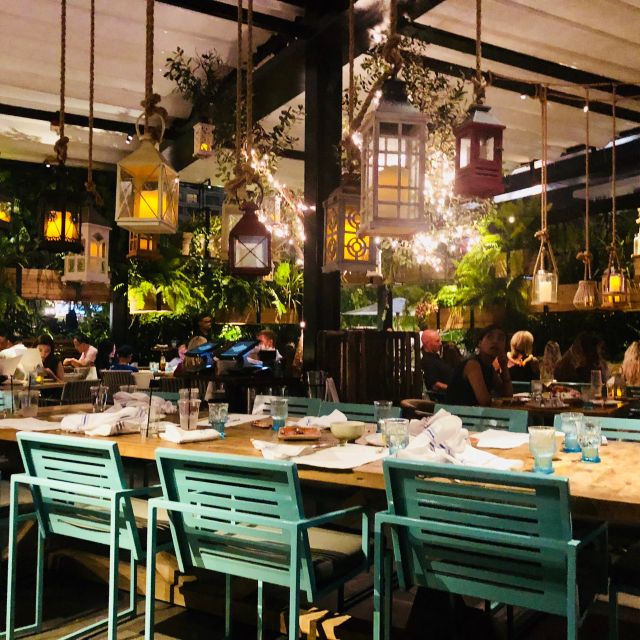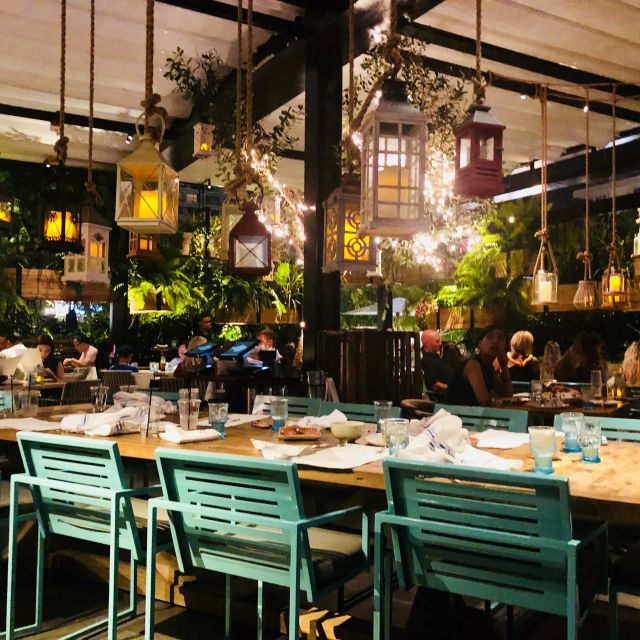 #3. Duke's-I am not normally a fan of chain restaurants but Duke's is the exception. First of all, there are only locations in Hawaii and So-Cal which still makes it special and second of all, it still feels like a cool place! We went here the minute we arrived for a Mai Tai and a quick bite ( we got tacos) and it was perfect. The location in Waikki is RIGHT on the beach so you really can't go wrong!!
#4. Bills Hawaii: Stepping into Bill's is like stepping into a page of a design magazine- mid century furnishings with an Australian boho touch! Get the pancakes…do not even think twice. The classic scrambled egg breakfast was also DIVINE…and just tasted unique. Can't explain it but SO SO GOOD! It is pricey though !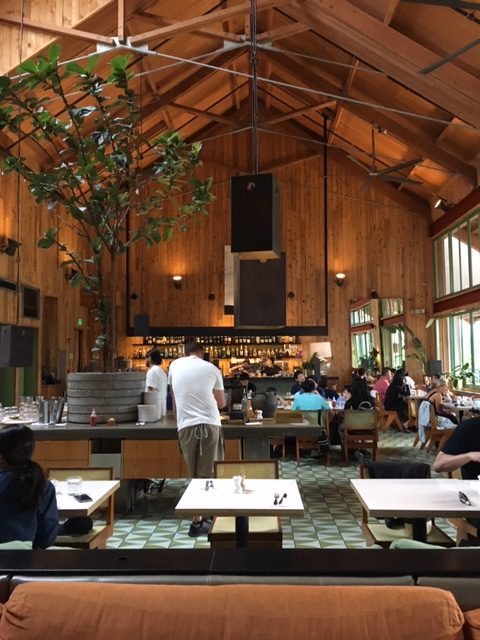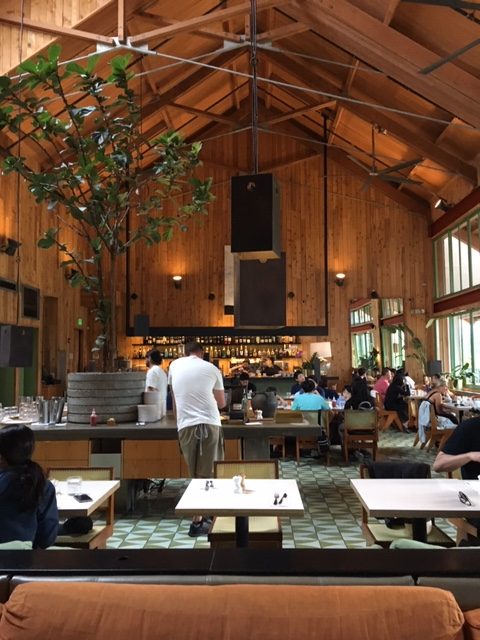 #5. Pig and The Lady This restaurant requires you to get in an Uber or Cab if you are staying in Waikiki which is a bit of a pain but it is a cool area to check out! It is Vietnamese-influenced and I feel like everything cooked there is cooked with passion and love. The ahi tataki on tomato toast and the duck pho was unreal!
#5. Banzai North Shore Sushi- Some of the best sushi I have had in my life. Seriously gives Nobu a good run for their money! Tucked away in a little plaza in the North Shore, this place is not only SO cozy and has a great atmosphere but the food and drinks exceed the vibe. I would have went a second time if we had more time in Oahu!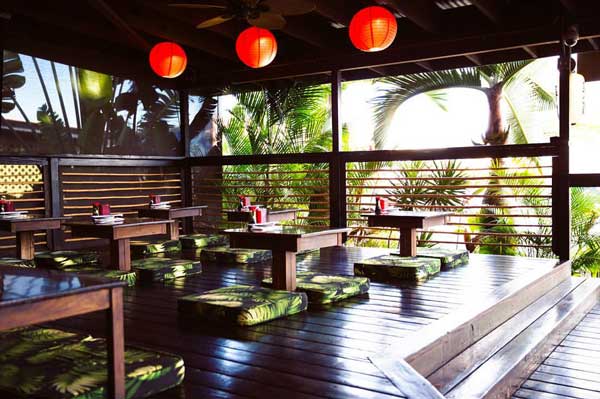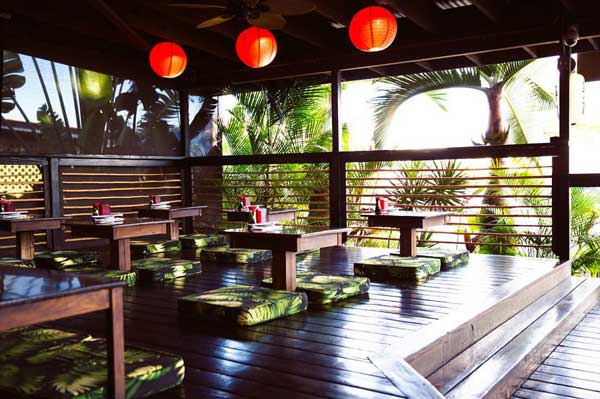 #6. Seven Brothers- Ok guys…I would never normally add a casual burger joint on a list ( I normally like doing dinners at places where I can get myself a glass of wine, an appetizer etc) but this place is seriously INSANE! The burgers are better than In N Out, Harvey's, Shake Shack….literally best burger I have ever had. There are several locations in and around the North Shore so it won't be hard to find one!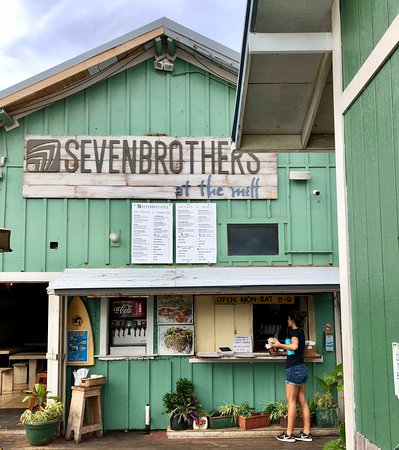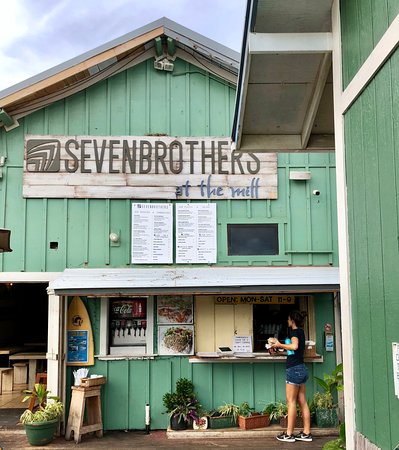 #7. Sunrise Shack (Road side location and Waikki location)- Do yourself a favour and get their bulletproof coffee. IT IS LIFE CHANGING. We loved it so much that we got all the ingriedents to make it ourselves at home. The Blue Majik bowl and the acai bowls were also TOP notch and we spent $44 USD here everymorning without any regrets!! They also have superfood add in's you can get like collagen, maca etc which if you have a little hippie dippie in ya…like myself..you will eat this place right up. I also loved that the workers at the road side location work in barefeet!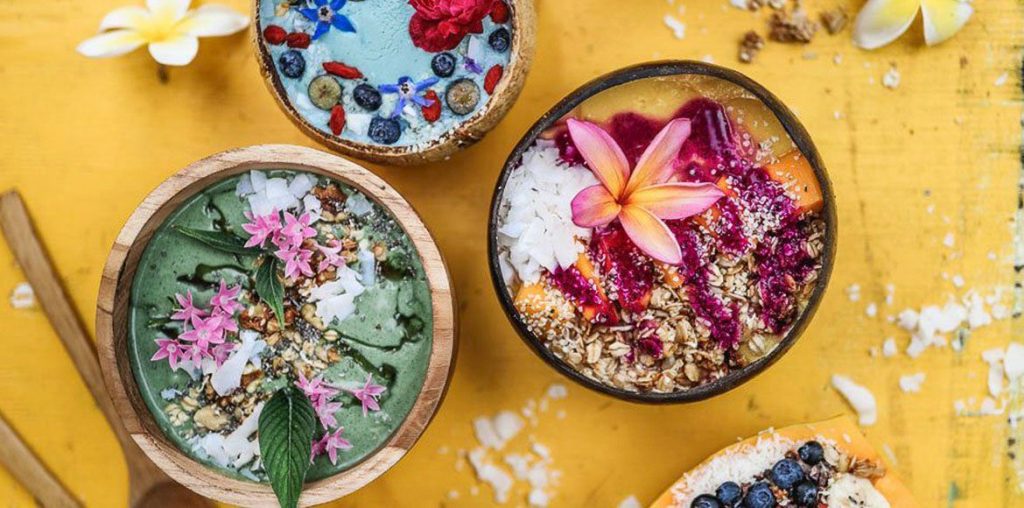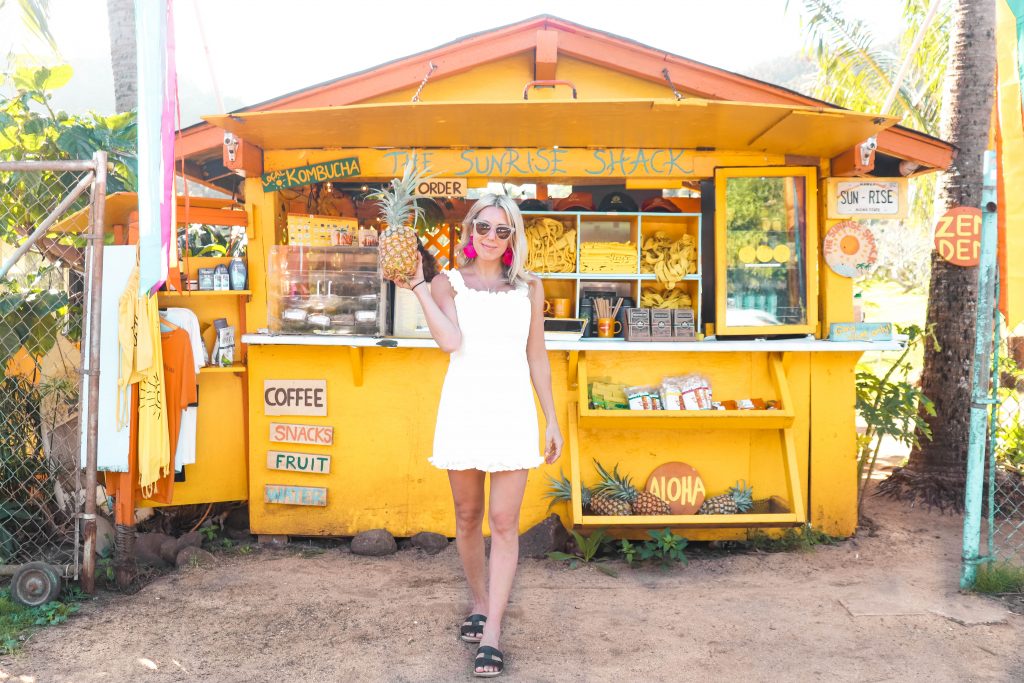 #8. Giovanni's Shrimp Truck: Garlic.Scampi.Shrimp and rice…. so simple, so good. And the constant line of people is there to prove it. The shrimp is incredibly juicy and flavorful. You'd be wise to get there as soon as they open at 11am for an early lunch, otherwise you'll probably wait about 40 minutes, but worth every minute. They now have two locations!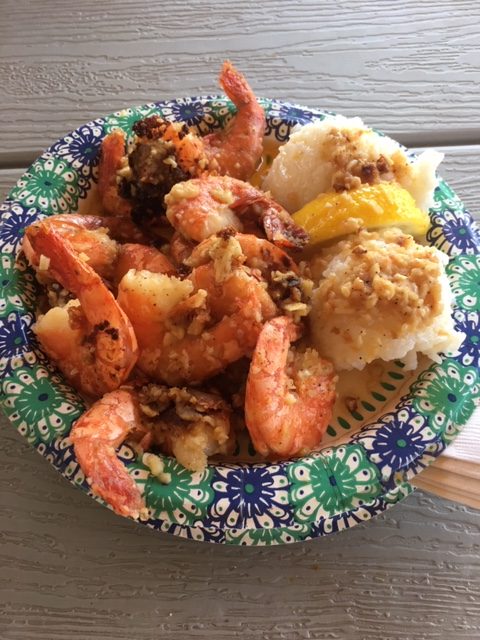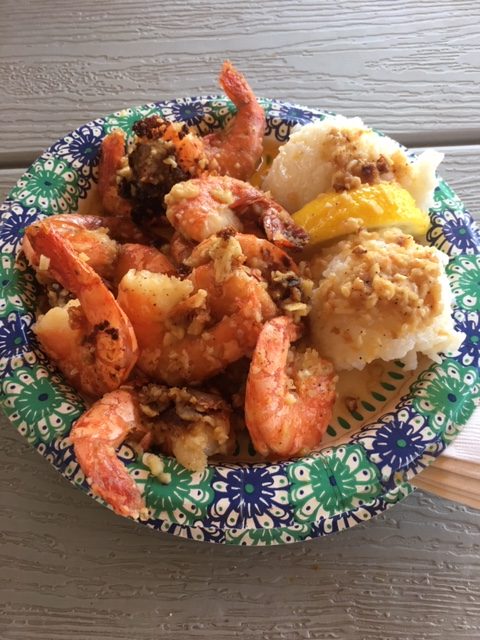 #9. Farm to Barn
We stumbled upon this place when we were walking in the North Shore and we are sure glad we did!! We went for lunch and the ambience of this place is beyond special. I felt instantly relaxed and like I was transported to a little piece of heaven. It dishes out healthy cuisine which -you guessed it-is all grown on their farm on site. D-E-L-I-SH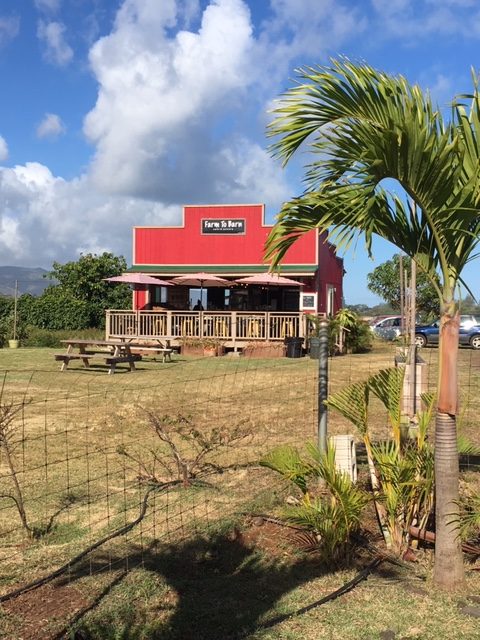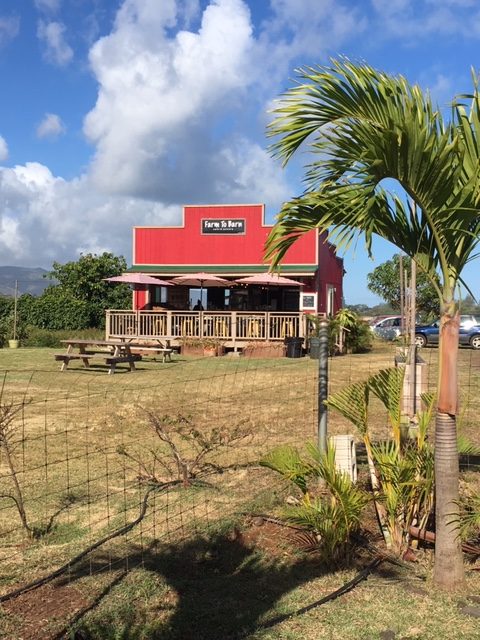 #10. Hawaiian Aroma Coffee- As much as we loved Sunrise Shack for their bowls and coffee, we would give the #1 spot for Acai to this place!! The consistency of the Acai was perfectly creamy and smooth and for the price, you got a lot more!! The decor inside is really cute as well. It is inside a hotel or it can be reached from the street ( via very colorful stairs might I add). Very IG worthy!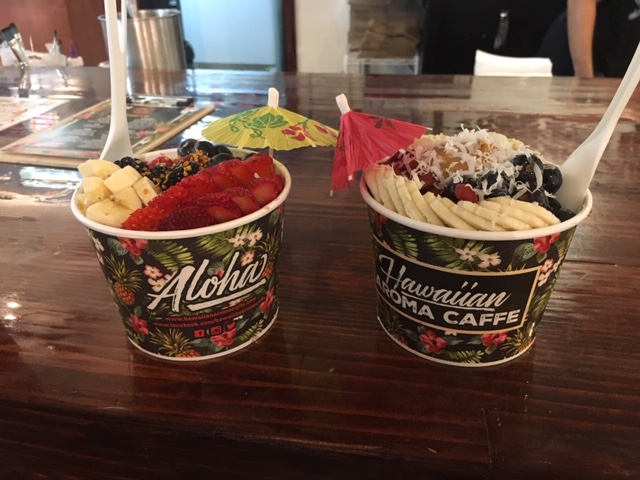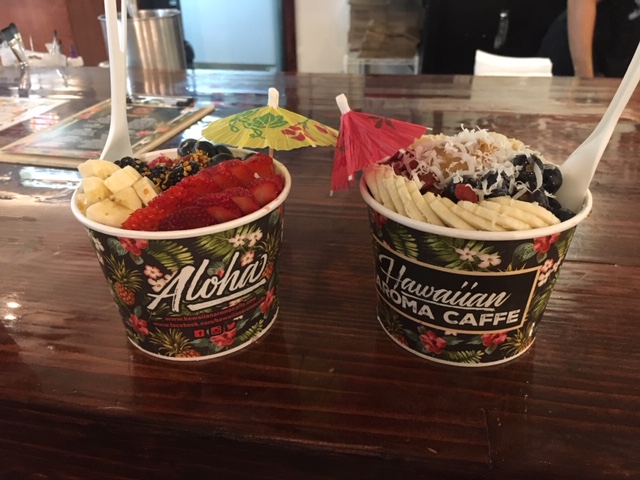 OTHER PLACES WORTH MENTIONING:
–Leonard's Bakery for Masaladas (worth the line!). The plain ones are the best and oddly enough the
–Arnold's Tiki Bar-This place is NOT for food—I repeat not for food!! This is just for some fun, budget friendly drinks in the area. It is tucked away on a side street away from the hustle and bustle of Waikiki and it has an eclectic charm about it. No frills, simple drinks but in a tiki setting. NOTE: They do not allow babies after 6PM so best for a happy hour drink!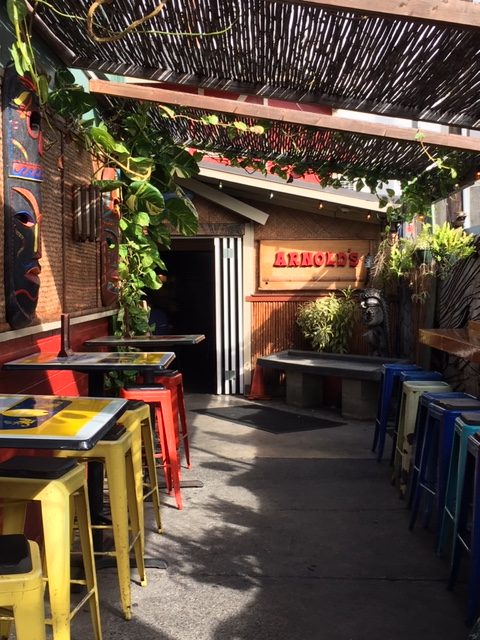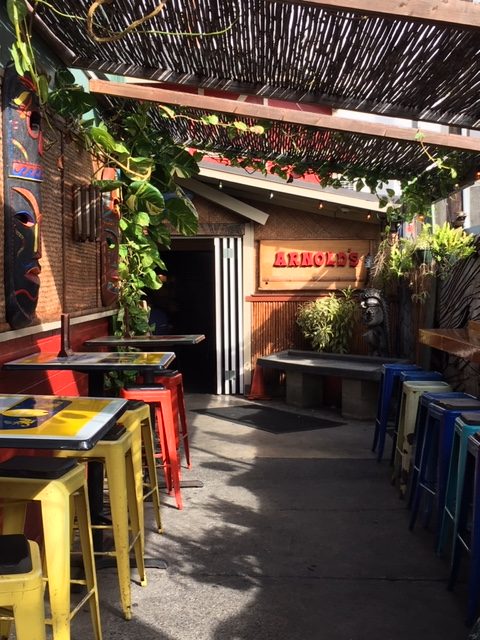 –The Hideout (the restaurant at The Laylow). The food is very tasty but the vibe is even cooler. They have an outdoor patio and a covered area as well with the cutest decor. They also have live music somenights. The perfect mix of traditional Hawaiian and modern
-. Koko Head Cafe: Think refined breakfast food that incorporates authentic hawaiian flavors at a hip and local diner, whose chef worked at the French Laundry and starred on Top Chef. I ordered the Breakfast Congee, a slow simmered rice porridge with soft poached local egg, greens, crispy bacon, tamari glaze, toasted spices + seeds. It was incredible.
–Kono's. This place is for heavy breakfast and lunch eaters ( which makes sense as it was created by a Surfer as "fuel" post surf. My husband DIED for their biscuit sandwiches filled with pulled pork! I took a bite and it was DELICIOUS but I would need to be rolled around if I ate the whole thing!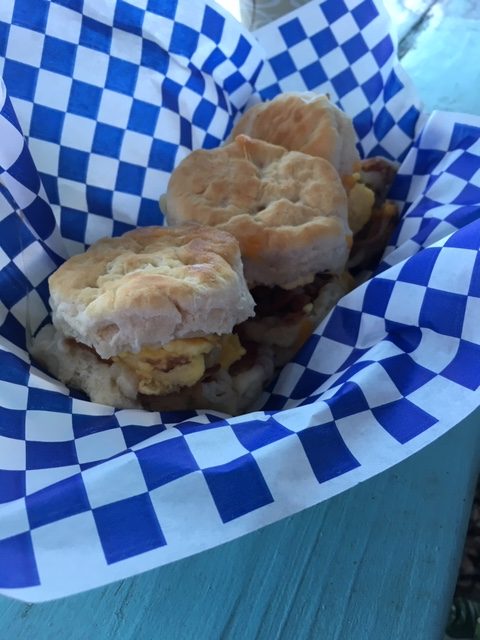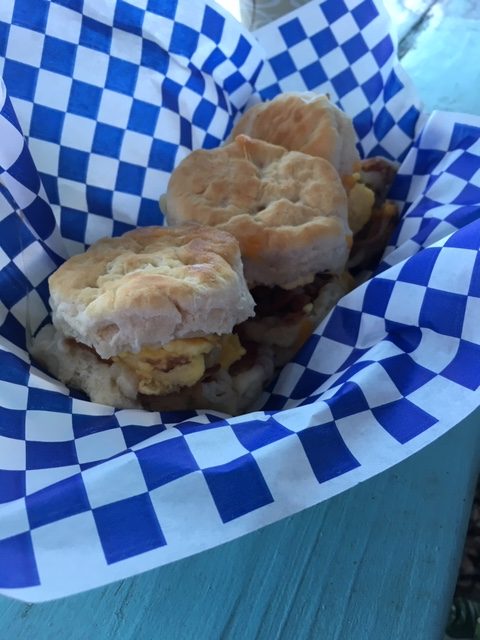 PLACES I FOUND OVERATED:
-Island Vintage Coffee ( Acai bowls were very "icy" and not really packed with Flavour. Hated the vibe as well), Banan ( banana based ice cream)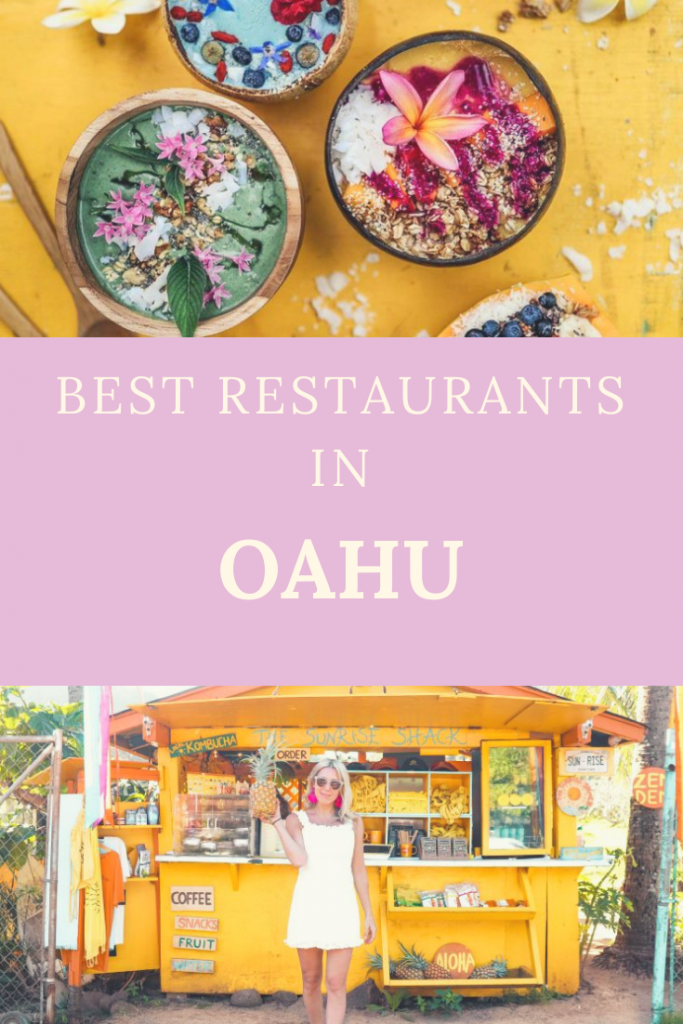 [show_shopthepost_widget id="3898477"]