We left Delhi for Agra bright and early and decided to catch a lift with our driver instead of taking the train. Several people told us we were robbed of the "true" Indian train experience like you saw on Slumdog Millionaire but I have to say….I was very ok with that.  Agra was definitely a change of pace from Delhi. Oh man! It showed us how India can go from magical to maddening. The roads were congested with cars, animals (cows, buffalos, pigs, dogs etc), tractors, tuk-tuk's……and heightened poverty. While on route to our hotel, our driver stopped at the side of the rode and picked up our "guide" for our day in Agra. This was hysterical because not only did we not arrange this but our driver had no explanation of it. Two minutes later, he kicked out the guide and said "one second" and in hopped another guide. The gentleman just smiled and said "My name Fez. I'm your guide for day. You happy?". Fez was the first Indian name we could pronounce, it was most likely shortened and we LOVED him. It ended up being an amazing day
Before hitting the sites of Agra, we swung by The Oberoi Amarvilas for lunch aka "HOME". Seriously..not to sound like a broken record but this hotel chain is unreal. If you want to know how it feels to be Kate Middleton for the day…come here for 30 minutes top and you will get treated like royalty. This Oberoi looks like a reconstructed palace that is filled with gold and cobalt blue craftsmanship, calming fountains and has a patio area that offers a postcard view of the Taj Mahal. I wanted to place by belongings on a pool chair and ask them if I could at least sleep there for the night. I would actually do it. Shout out to Jaydeep for an amazing meal!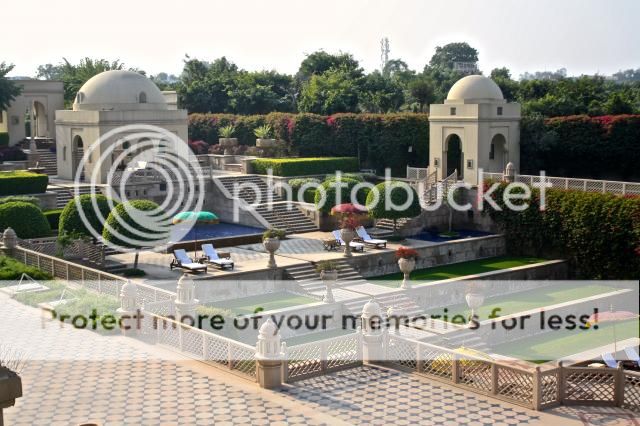 Next, it was finally time…the moment we have been waiting for- Bucket List checking! We began our descent to the Taj Mahal by catching a lift on a camel. Yes…you read that correct- camel. Keeping the going green theme alive here! It was a hilarious ride that included several children trying to hop on board to sell us keychains. Not sure why this would happen ( AHEEM JENNA!).
After the long straight road, you then meet a MASSIVE deep orange building that is the size of like 20 homes in Canada. This is just the gate that surrounds the site. It was a striking building in itself and the most impressive "gate" if I ever did see one. The back of the orange fort opened up into a large arch where you could see the Taj peeking through.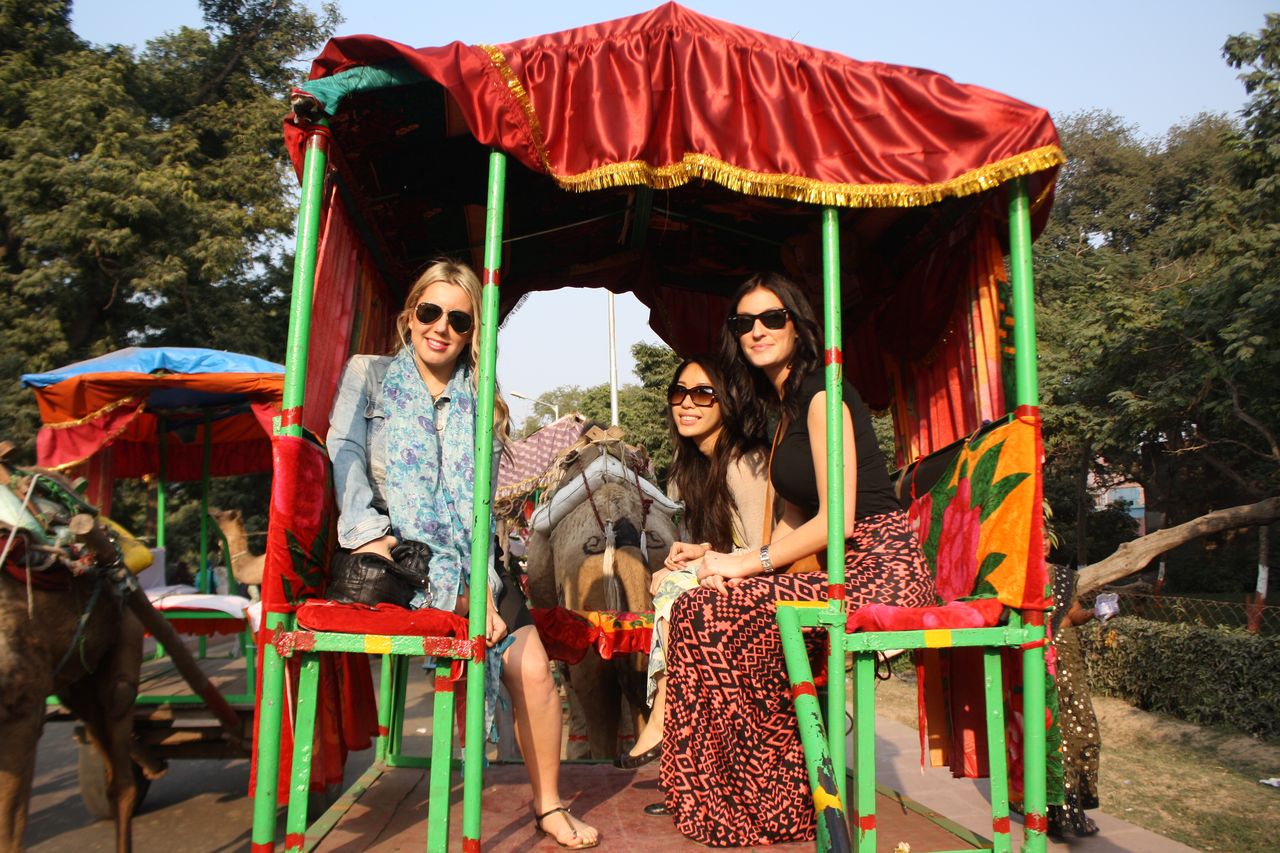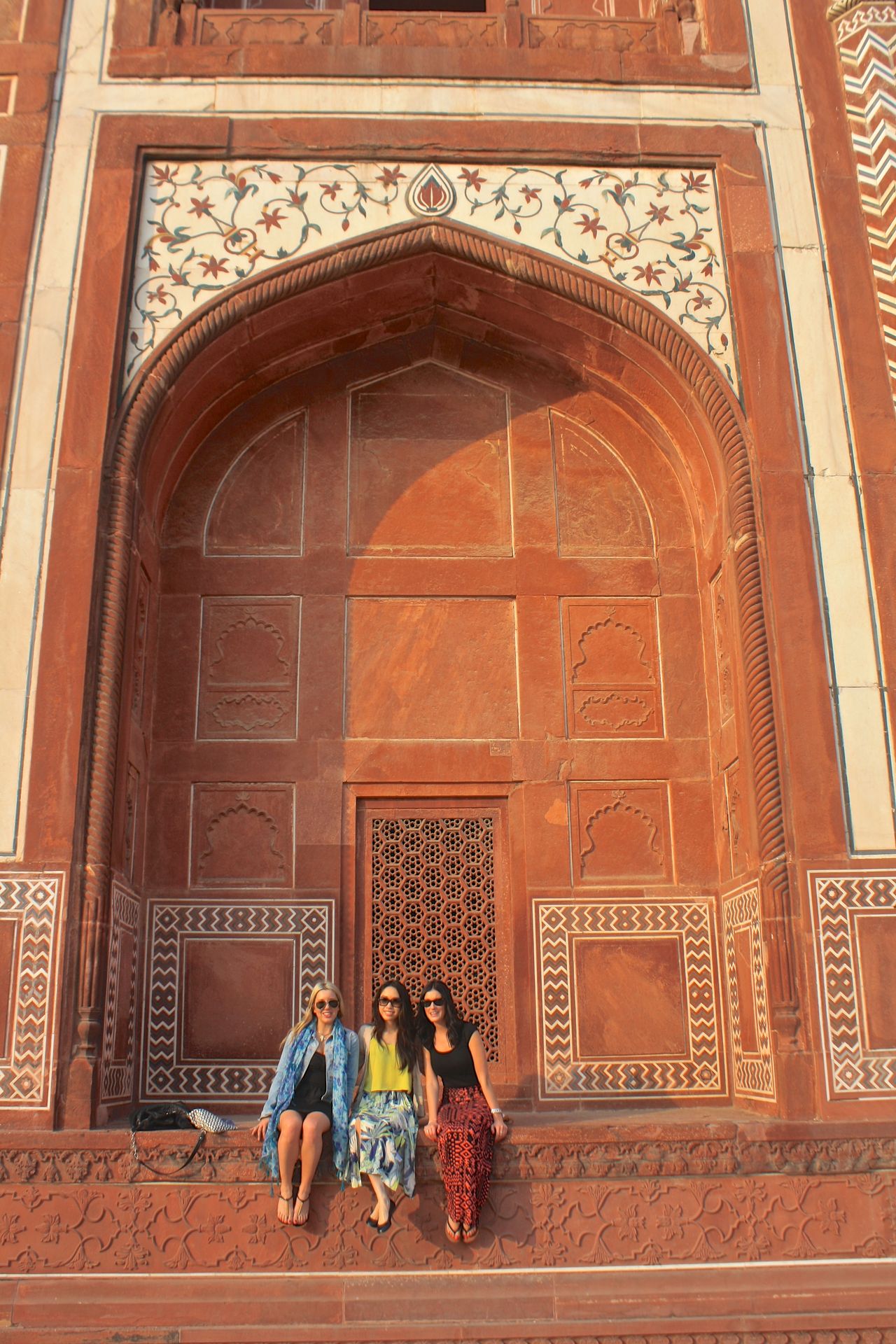 I have seen photos of the Taj and have heard the stories but still….when I first laid eyes on it I became breathless. After catching my breath and staring at this beautiful monument of love for a few long seconds, I felt a wave of strong emotion come over me.
The building is so massive and phenomenal looking that it almost looks like one of those optical illusions or water mirages you see on a hot summer day. Is this real life? Is the building a painting on a fake wall? SOMEBODY PINCH ME!
As we walked closer to the building, I tried to make a lasting memory. YOU ARE HERE. AT THE TAJ MAHAL! Not knowing if I will ever be back here, I took a deep breathe and zoned out our guide for a bit (which I ended up doing any other time he brought up a fact I didn't care about) I started imagining myself being really old and telling my grandchildren the story of how I saw the Taj Mahal…"This one time when I was in India..". And yes, I will totally be that old woman with trinkets of artifacts and market stuff all over her house from all over the world. At least I hope!!

image-1807″ />
Slowly, as if waking up from a slumber, we switched from admiration mode to full blown photoshoot mode. All I can say is Poor Fez. Fez said this place was also called "The War Zone" as people fight others off for the "good" photo spot. We put the cameras away after and went deep inside the Taj with about 400 other people. We learned about the different types of marble, saw the details of the building up close and started to realize how much history we were standing on.
We left the Taj after about two hours and were mobbed trying to get back to our car by the handful of children trying to sell us things. "MISS MISS I GIVE YOU GOOD PRICE!" (as he grabbed my leg)…."EH LADY YOU WANT A MAGNET? I NEED TO EAT..PLEASE. HANDEMADE". I was told endlessly by other people not to give into this and to bee line to the car …..but clearly I suck at instruction. I bought a pair of shoes, a magnet and 8 keychains. Well played kids…well played. After several kids got wind of us buying things, there was double the amount banging on our car windows. The scene was very "Hollywood Paparazzi" meets an episode of "Homeland".
At that point we were mentally and physically exhausted and thought we were en route back to our hotel….only to be brought to a marble making lesson. We had no idea this was on the agenda and did not ask to be taken here but such is India! There is no "set" plans and whatever you think will take 30 minutes…ends up taking 2 hours. It ended up being quite interesting as we got to see the teeny tiny pieces being shaved and carved. Way too many LOL moments though especially when the guy started showing us a book of Fed Ex label sheets from past customers. He went on… "This is Fed Ex label from Colorado. You know this place? Very unique……" "Next, this is a Fed Ex label from Canada. All products ship there if you buy". Again…we didn't plan to buy anything but left the store with 3 identical buddha figures which promote peace and prosperity. Somehow in the midst of all this crazyiness and during our bumpy ride back to the hotel, I did feel slightly calmer and at peace. My friend described India as a friend that you love but bicker with a bit and I couldn't agree more. Sometimes the people you bicker with are the ones you love the best though and I think this may be the case with India. Can't wait to see what else it has in store for us!