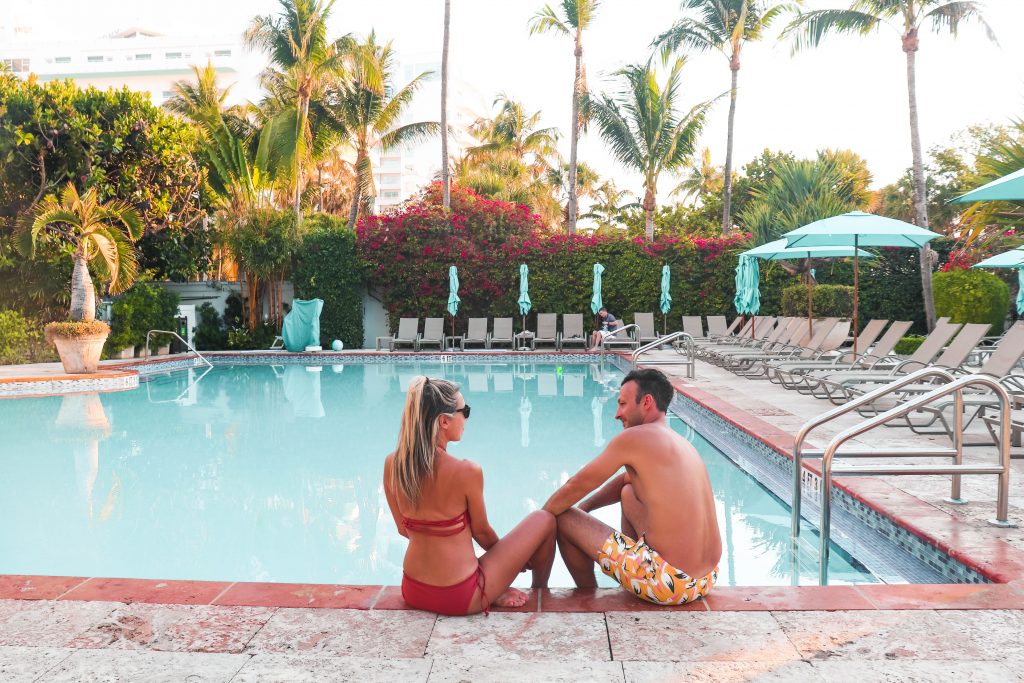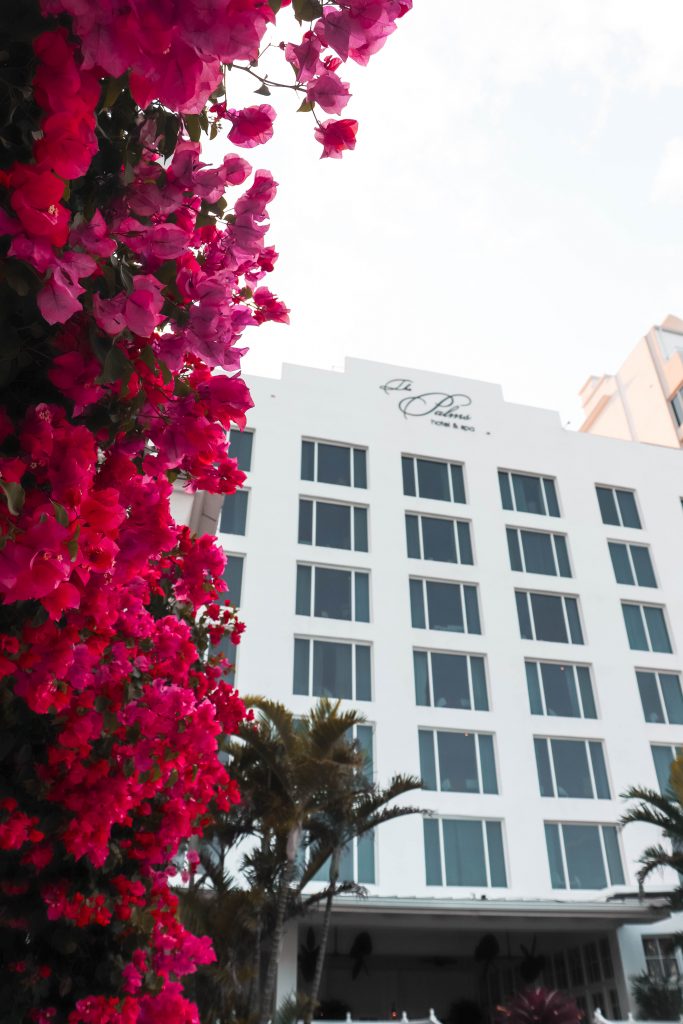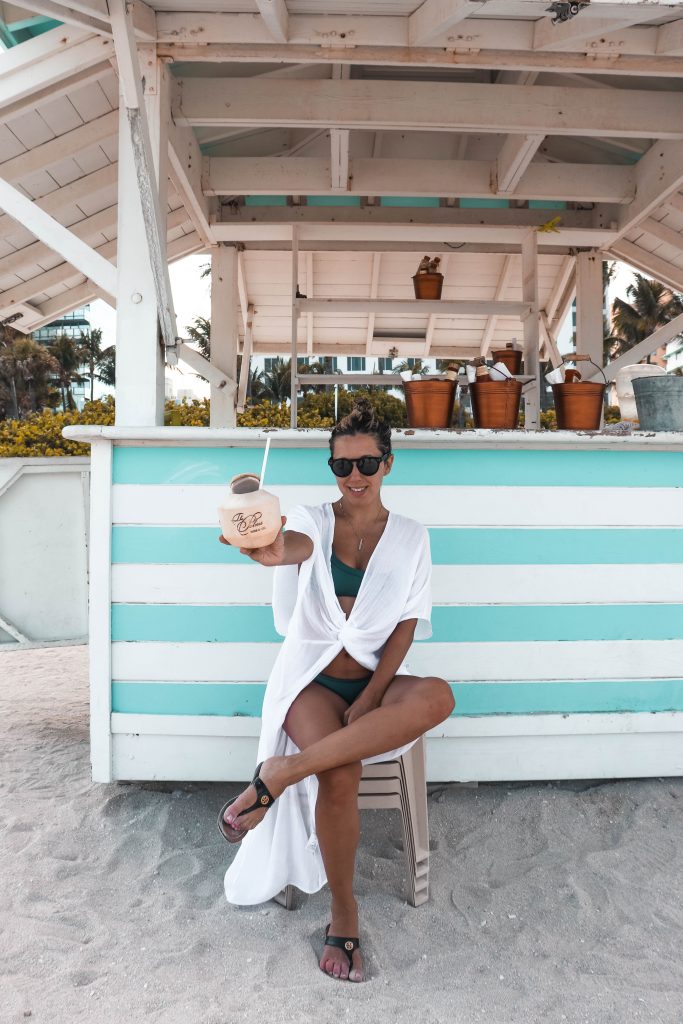 With spring no where in sight here in Toronto, we decided to take a little jaunt down south to Florida! Whenever we hit up Florida, we always like to spend a night or two in South Beach. With Chloe now being part of the crew, we wanted to stay somewhere that was family friendly but also chic! This is when we found The Palms Hotel and Spa. The hotel is located north on the South Beach strip which offers an extra bit of tranquility especially at the beach. Less crowds, less noise..but still a hop, skip and a leap away from the main drags of Washington Street! The hotel was expansive, completely stroller friendly and the staff was super lovely!
THE GROUNDS
The hotel itself feels like a tropical oasis…almost like you are transported to the Caribbean! The lobby has a very "grand" feel to it and even though it was renovated from it's original design, you can still feel that old school luxury in the air. Moving past the lobby, you are then met with the restaurant, lounge area, large pool, tiki space and a whole lot of stunning greenery and flowers. It feels like you are in a different world! It's big (over 1.5 acres) yet cozy and you can easily set up shop here without the need to hit the beach!
The beach area is pristine and filled with rows of auqa colored cabanas and chairs. We also loved that the water area felt like our own little cove as beautiful, natural boulders sheltered us from the neighbouring hotel. We had lunch on the beach that was served directly onto our chairs from the Tiki Bar which capped off our perfect beach day!
The next day we stayed pool side and had breakfast from the buffet at the Essensia Restaurant which is directly beside the pool!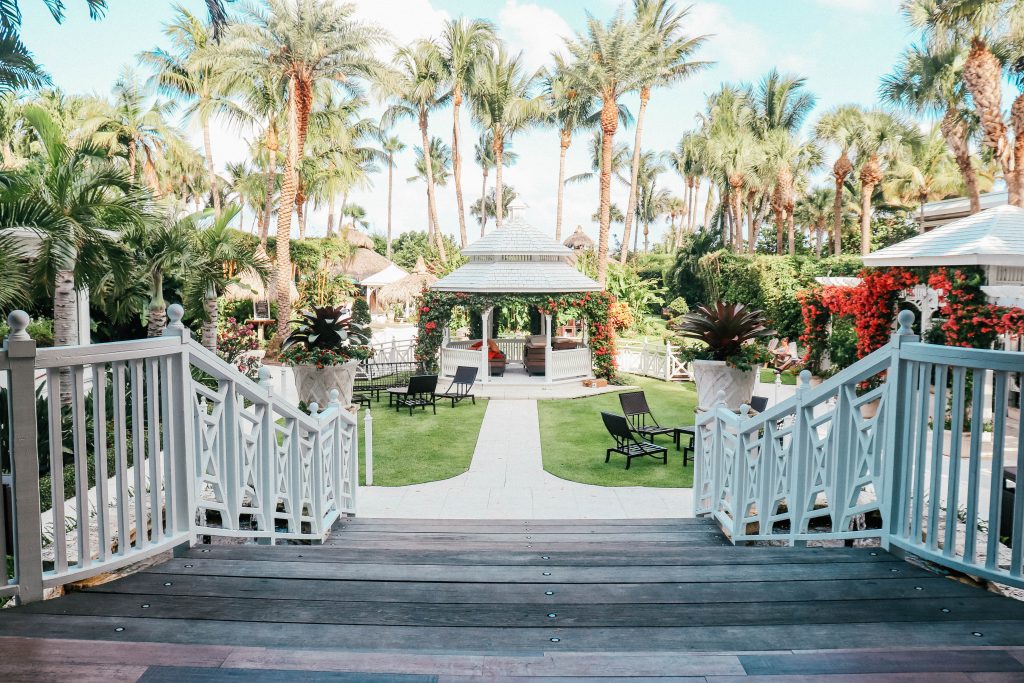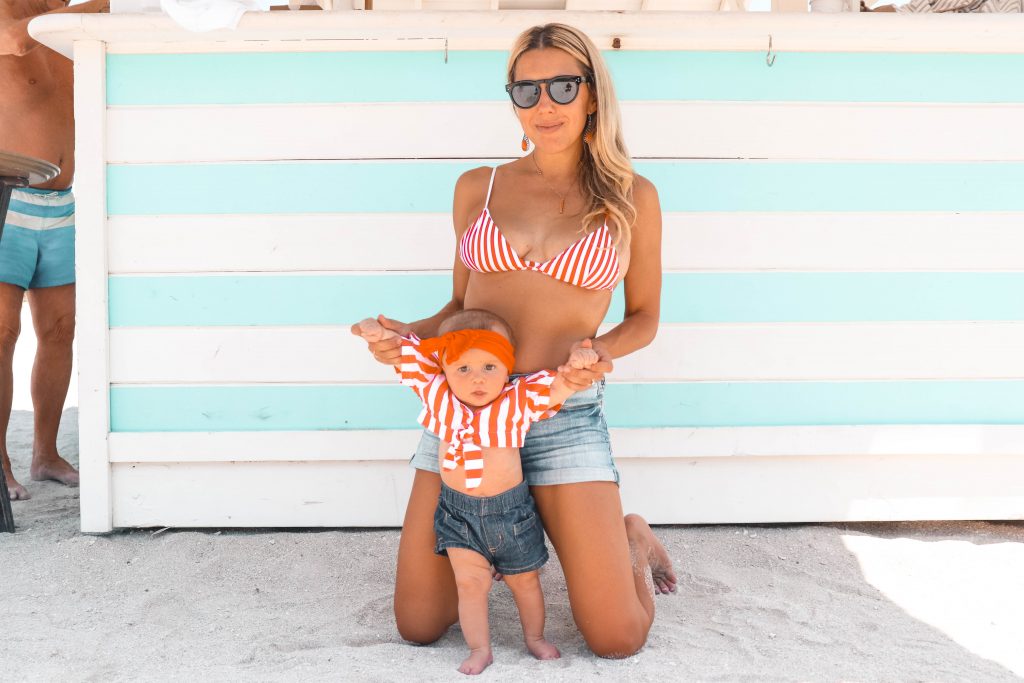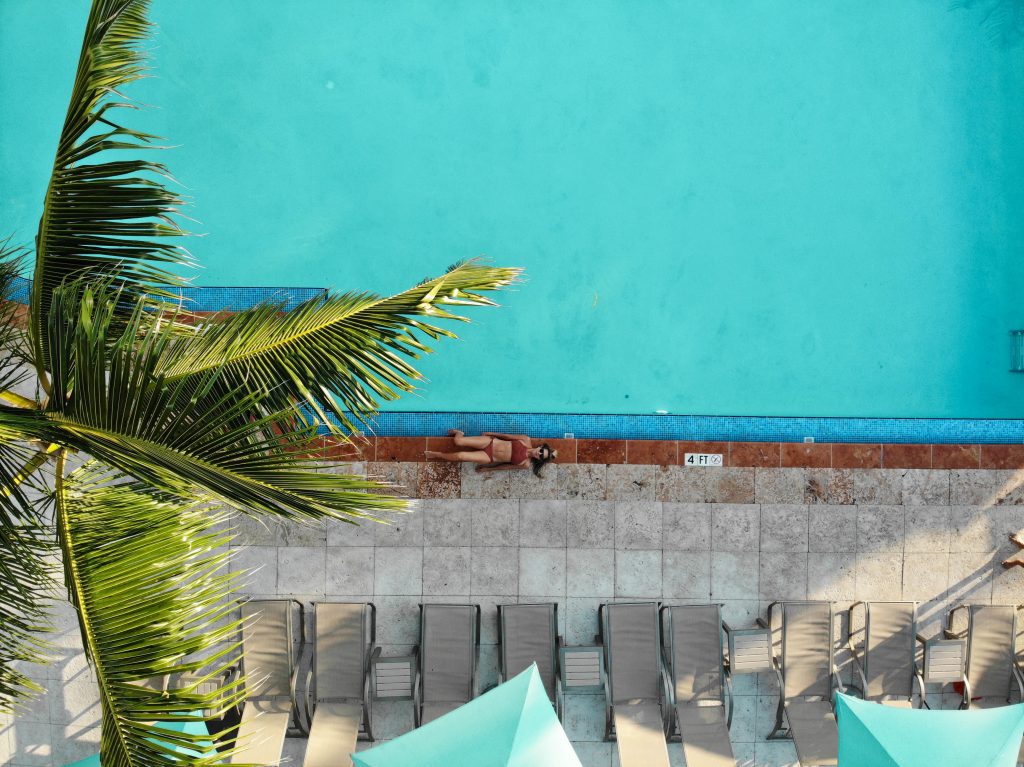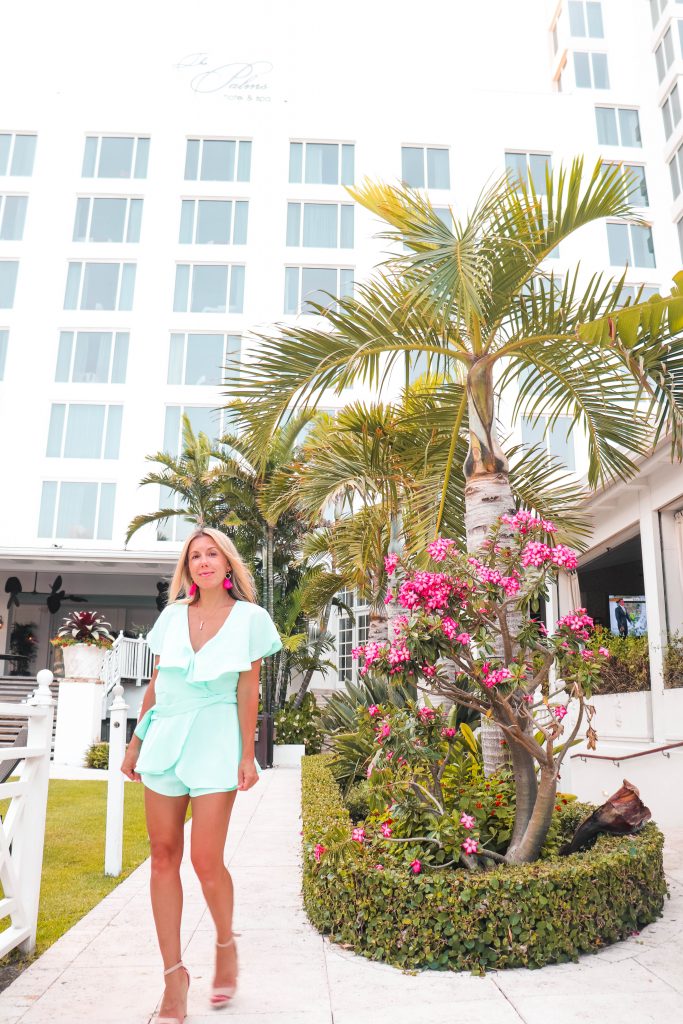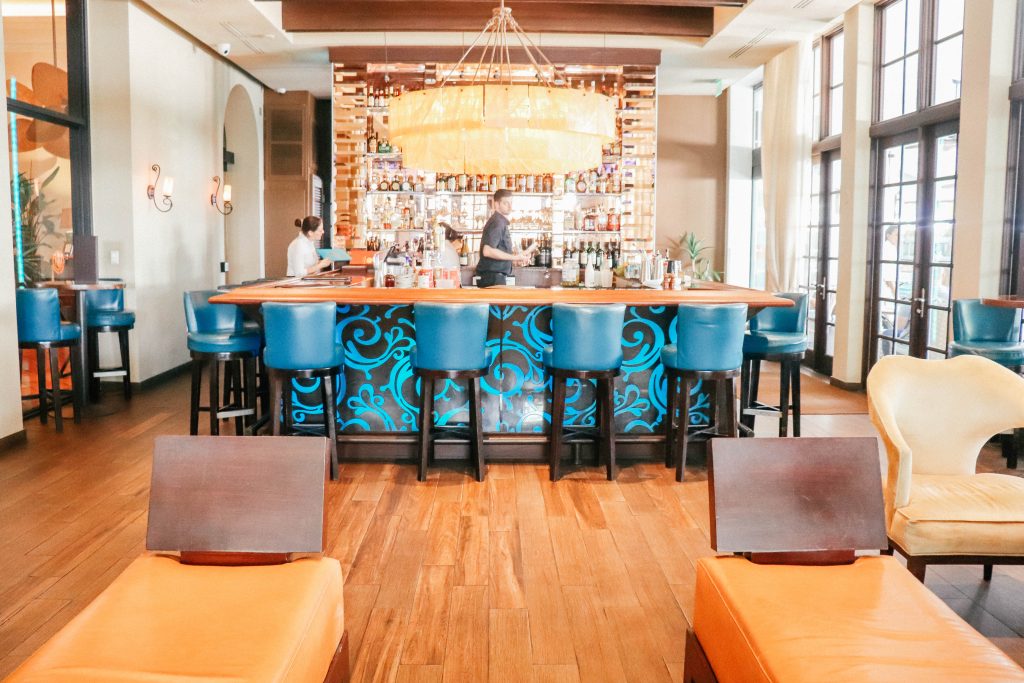 THE ROOMS
We were lucky enough to stay in an oceanfront room which offered a view of the beautiful grounds and the beach ( think floor to ceiling windows). I loved seeing the pool, palm trees and ocean all in eye sight rather than directly just the ocean. The rooms were decked with splashes of orange, tropical patterns and modern furnishings. I specifically loved that the shower and sink was located in a separate closed off area from the toilet. With a baby in tow and limited time to get ready these days, it was nice for me to do my make up on one side and my husband to shower. It was also nice at night to have this set up as we put the crib in the shower room so the baby had a bit of extra darkness when we enjoyed a glass of wine before going to bed!
The hotel has 251 guest rooms which are made up of Oceanfront ones like we had, City View rooms, Partial Ocean Views, Superior room that come with Sofa Beds and even family connecting combo rooms so there is really something for everyone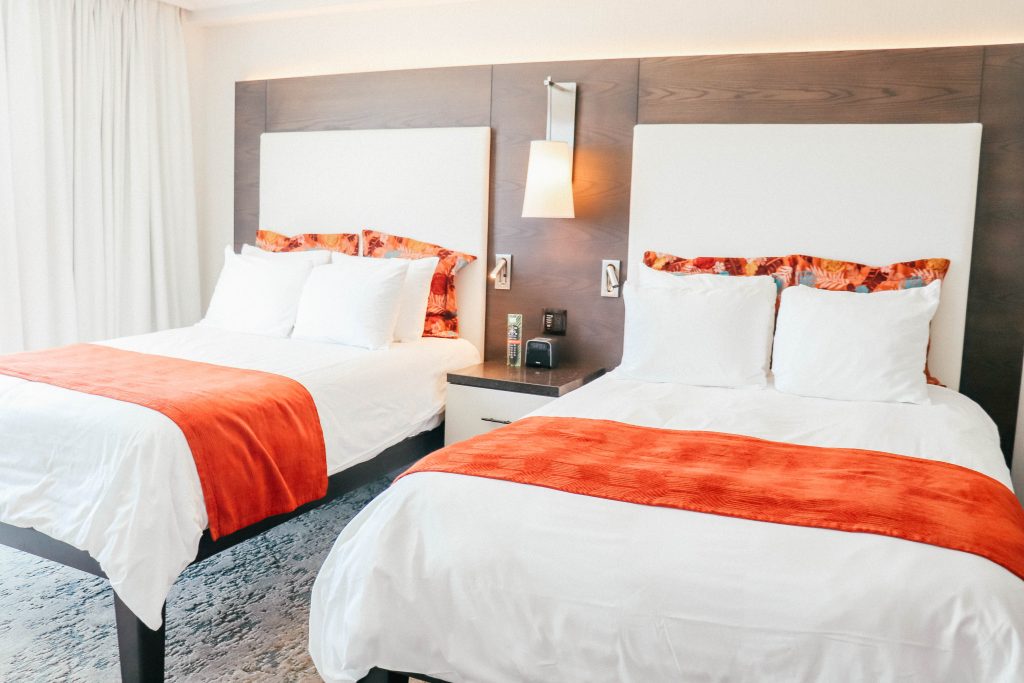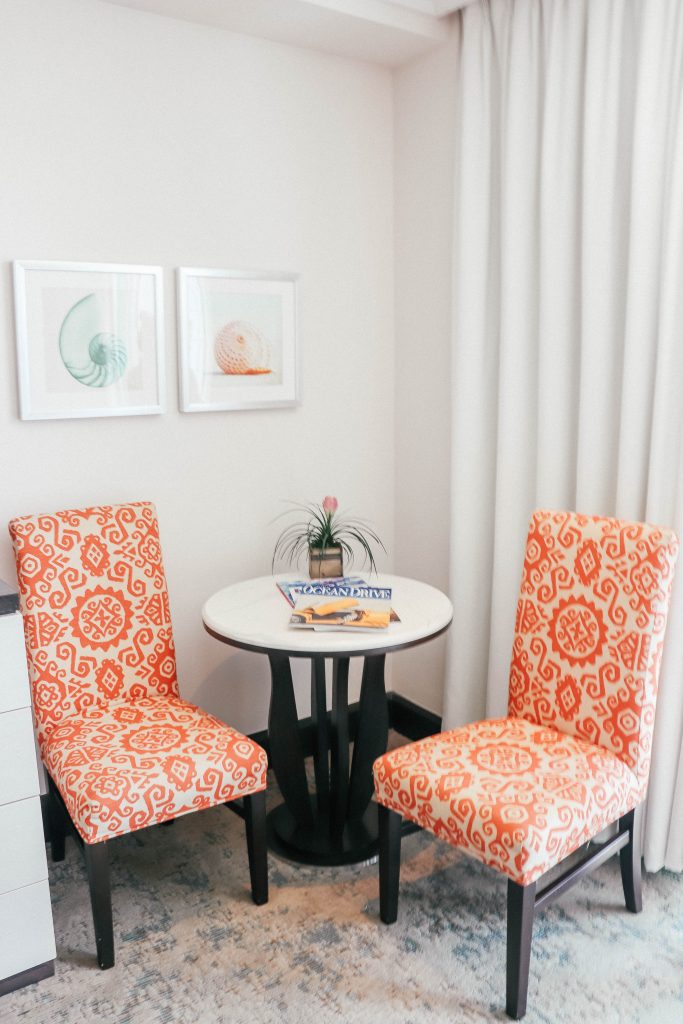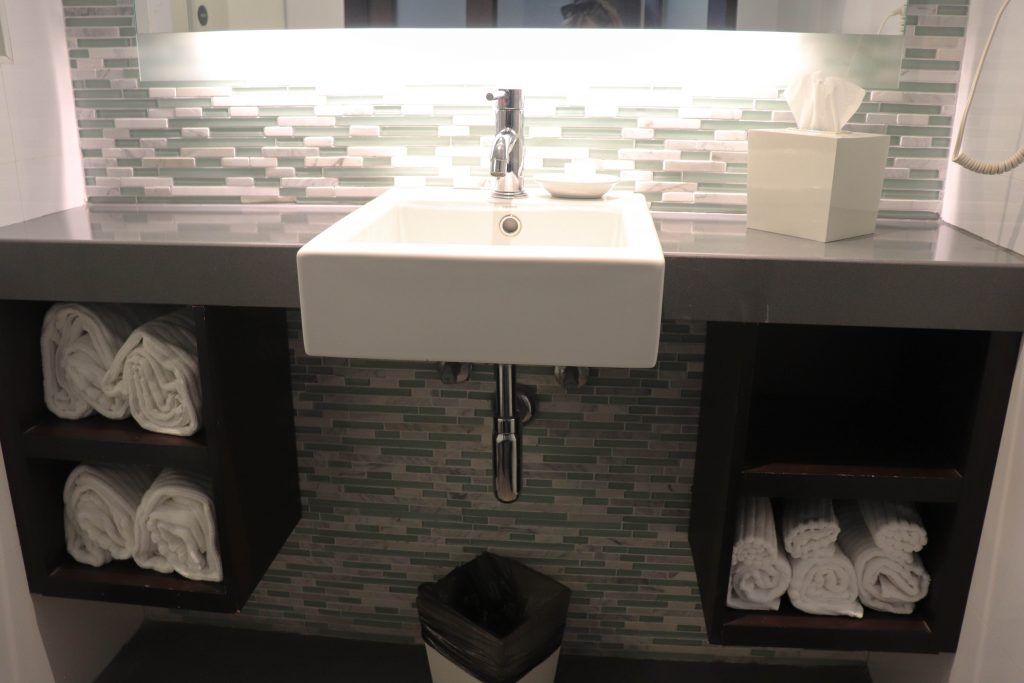 IMPORTANT TIDBITS
| | | | |
| --- | --- | --- | --- |
| PRICE | Rooms range from $165 USD and upwards depending on room type | MINI BAR | Yes. There is a charge for water but coffee is free |
| WIFI | Yes. Included in the resort fee which is $35 | YEAR OPENED | 1989 but changed ownership and names since then. Most recently renovated in 2017…and it shows! |
| POOL/GYM | 1 Pool, Fitness Center and Yoga Classes twice a week | LOCATION | Located on the North end of South Beach. Beside the Miami Edition hotel |
| CHILDREN | Yes! The pool was great for kids…very spacious for them to jump in and splash around without bothering other guests | RESTAURANTS | Essensia Restaurant & Lounge, Tiki Bar and Beach |
I am excited to have partnered with The Palms Hotel and Spa to create this post but all opinions are my own