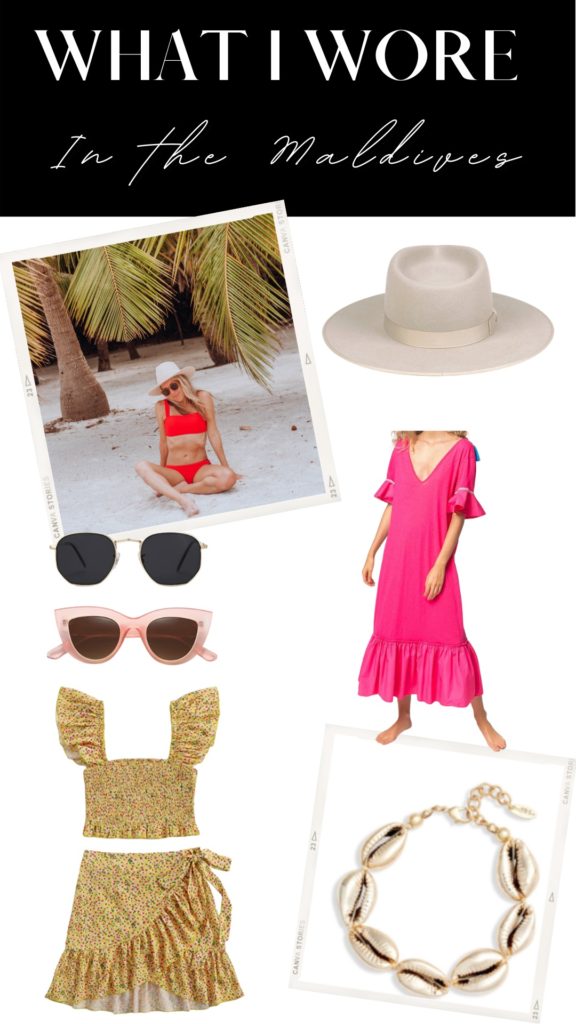 Before I head on any trip, I always treat myself to a few new pieces! I love a fresh bathing suit or dress that I haven't worn before especially when I am travelling for longer where I have a tendency to get sick of pieces! In the Maldives I knew I would be in bathing suits for a good portion of the day but I still like looking nice for dinner at night. The atmosphere there is definitely laid back so I grabbed this 2 piece set from Amazon! It comes in so many different colours and variations. It was slightly big and I got a small so I would order a size smaller if you do order! I brought my Pitusa dresses which are basically made for resorts/hotels and being somewhere exotic. Their stuff is incredible! 
Of course I always pack my trusty/go with everywhere items like my Lack of Color hat and my 2 favourite Sunglasses ( also from Amazon)! I can't have expensive sunglasses because I am rough with them so Amazon sunnies are my go to! 
Lastly, I picked up some suits from Bikini Village like this Sea Folly one that I am wearing in the photo. They have some incredible sales right now too if you are looking for pieces for summer!
Feel free to email or DM me on Instagram if you have any questions about sizing
xoxo