For such a small country, Sri Lanka has A LOT to see!! You can easily spend 2 weeks there and still not make your way around the entire island! We only had a week there so I spent a lot of time researching the must do's which I have included below!
My husband and I often talk about selling everything and moving to this island. The people are the NICEST people I have ever encountered, the food is over the top delicious, you are surrounded by stunning coast lines, yet a few hours in you could be in the middle of the jungle
#1. Visit a National Park!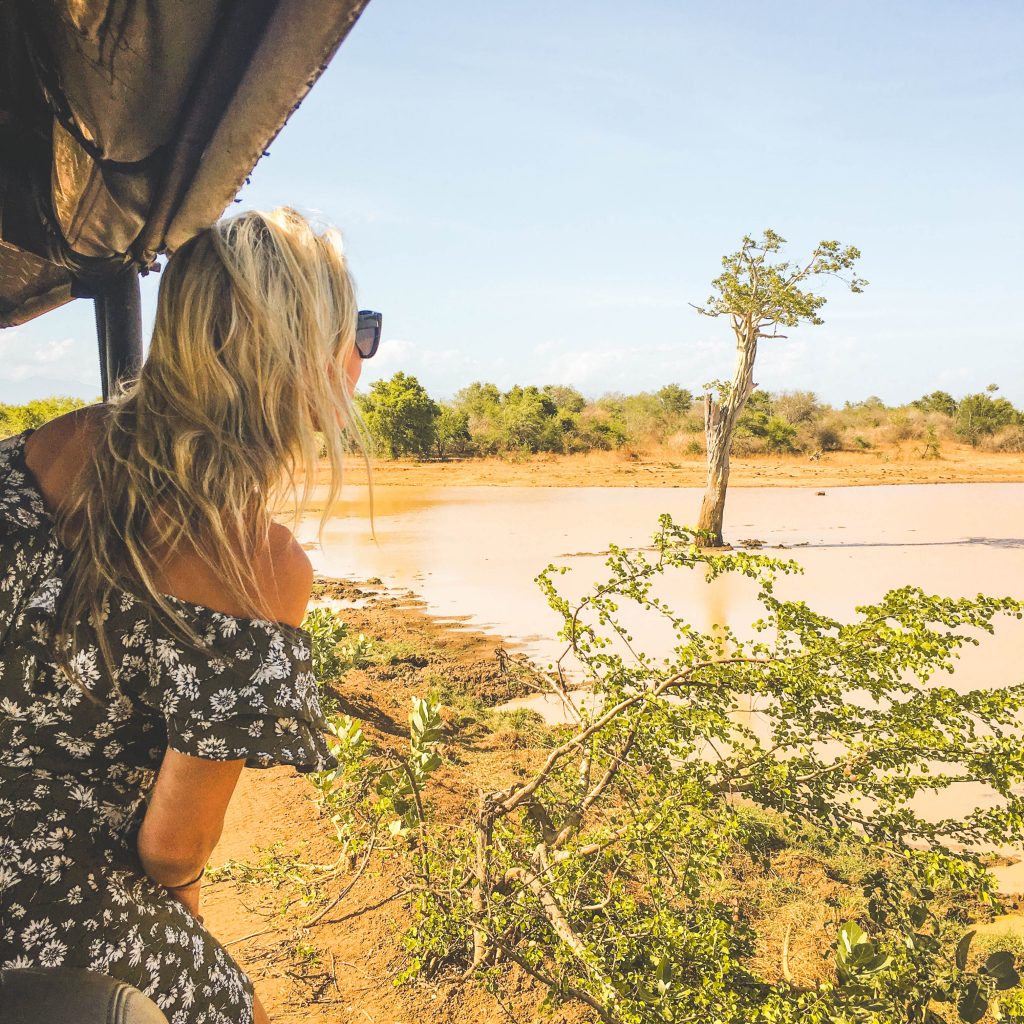 While there are many national parks, we decided on Uda Walawe due to their fair and safe animal practices! Watch baby elephants stomp, eat and play at the Elephant Transit Home in Uda Walawe park. A facility aimed truly for the safety of the orphaned elephants, ETH is the ideal place to marvel at these gentle and majestic animals.
The jeeps are bumpy and you may not see anything for a bit but once you do- it makes the wait worth it!
#2. Climb Lions Rock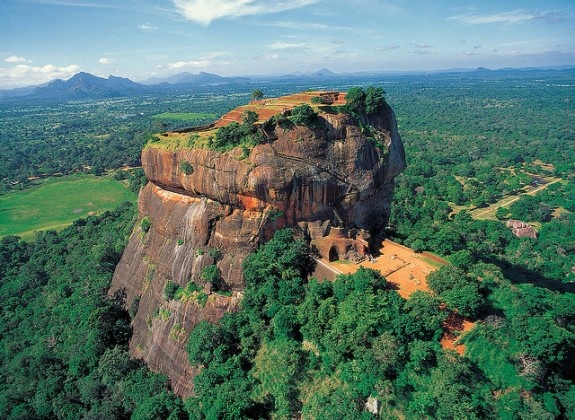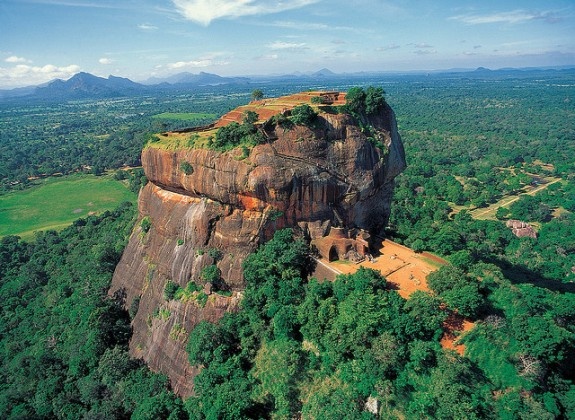 Located in the Central Province, the mythical ancient rock fortress of Sigiriya (Lion's Rock) is one of Sri Lanka's most mind-blowing sites and a UNESCO World Heritage Site. Originally built as the fortified capital for King Kassapa (477-95) after he had assassinated his father, there is little left of the original palace today but the views from the top of the rock, nearly 200 metres high, are breath taking.
Access to the top is via a series of zigzagging staircases, past detailed frescoes of over 500 semi-naked females dating back some 1600 years. A small plateau about halfway up boasts a gateway in the form of an enormous lion, which is where the name comes from.
#3. Eat "Hoppers"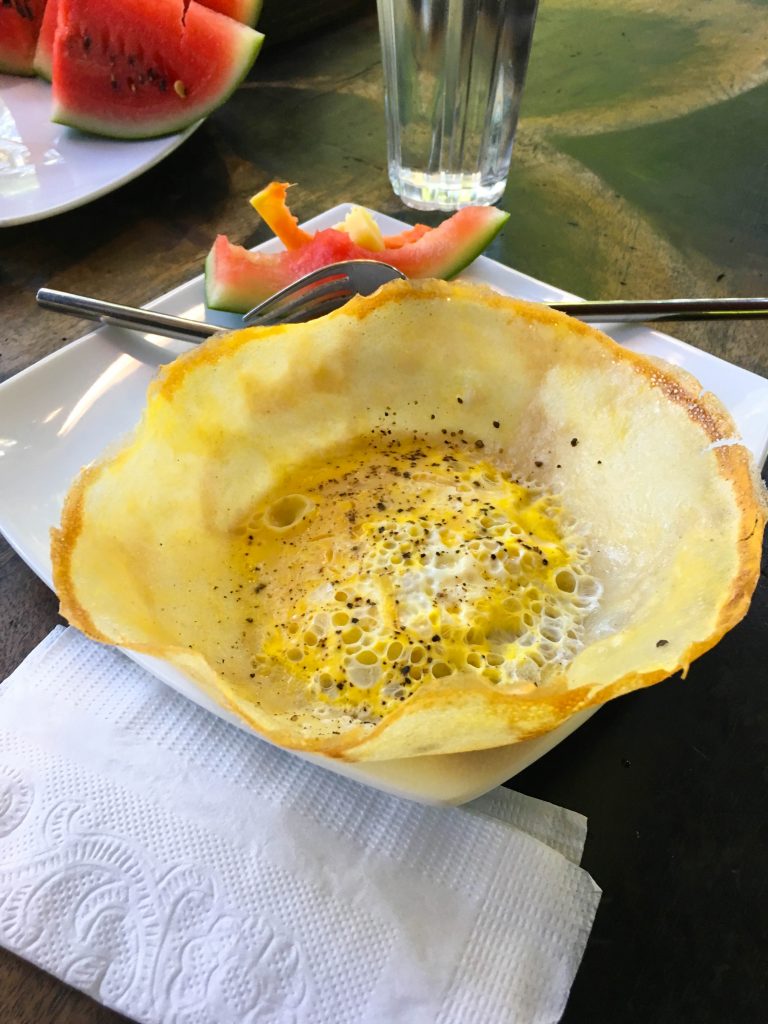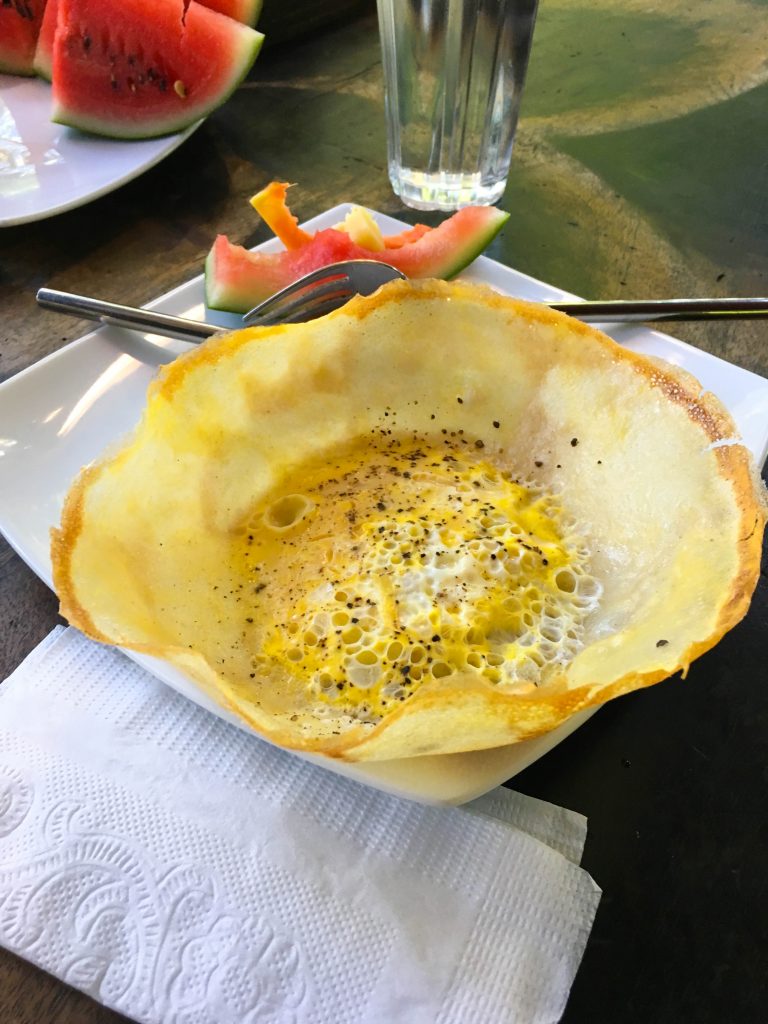 Hoppers are the Sri Lankan answer to the pancake. The batter is made from a slightly fermented concoction of rice flour, coconut milk, sometimes coconut water and a hint of sugar.
A ladle of batter is fried in a small wok and swirled around to even it out. Hoppers can be sweet or savory, but one of the local favorites is egg hoppers. It is popular for breakfast and the place we stayed made them for us each day!!!
#4. Ride a train through the countryside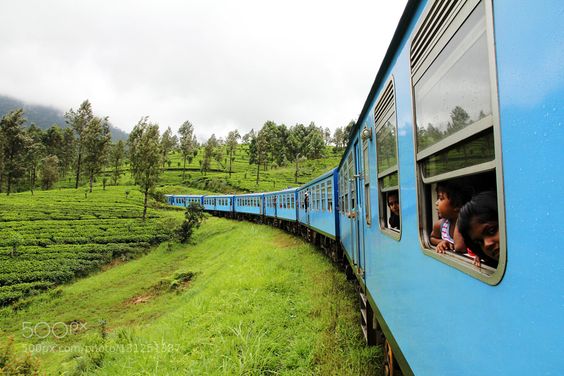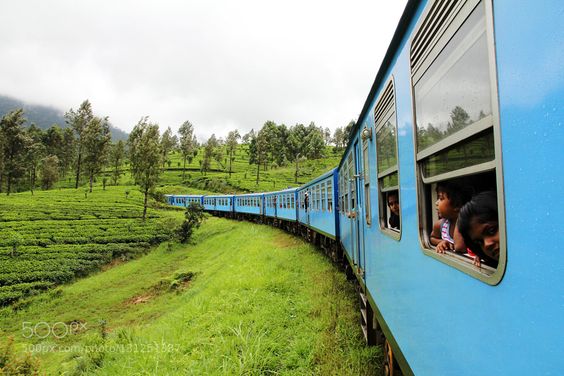 People have named the train ride from Kandy to Ella one of the most STUNNING train rides in the world. That is a pretty big statement but once you see the views you can see this statement has some serious backing
The train ride from Kandy to Ella is a very popular route. The full ride takes about 6-7 hours and it's a 100% worth the journey. A ticket from Kandy to Ella will cost you around $2,50 / 400 LKR. At each train station, the train cabins get filled with sellers of drinks, fresh fruit, and salty or spicy peanuts.
Important tip! Make sure to get the morning train. You don't want to be riding through those tea plantations when it's already dark outside.
#5. Talk with the Local Sri Lankans and Watch the local Fisherman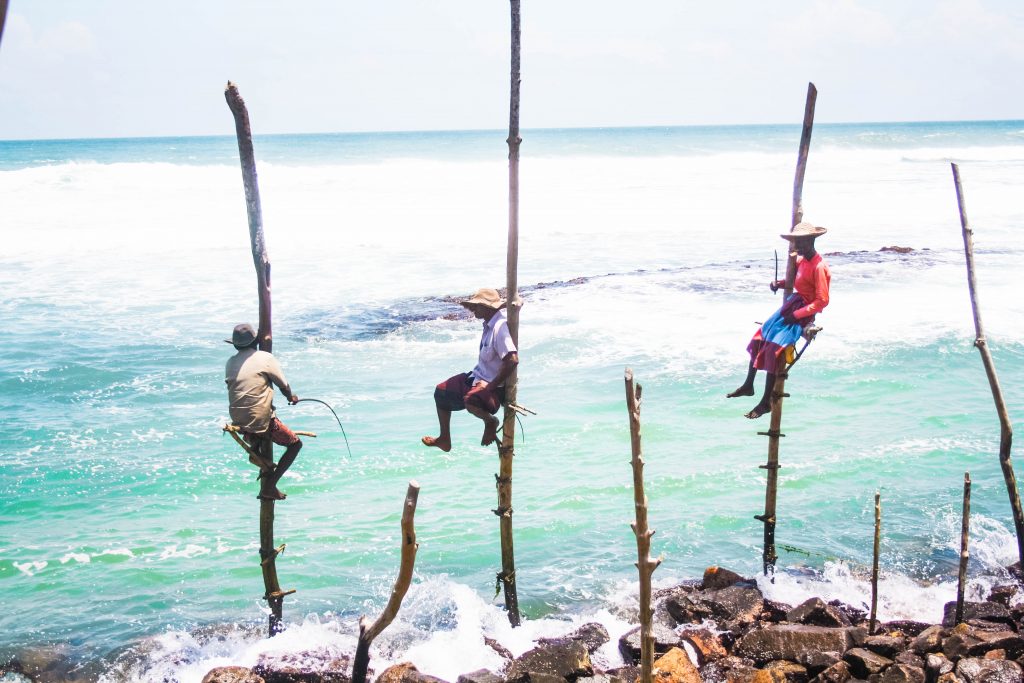 Be completely mesmerized by the local fishermen on stilts at Unawatuna, as they spend hours on end on a tiny stilt patiently waiting for their daily catch. An old tradition preserved for many years, stilt fishing is practiced by 500 fishing families and is a rare but special sight in Sri Lanka.
Sadly though, the fisherman know the tourists love to take photos of them so we encoutered a man who charged us to take photos of them. I think it was about $2 but still!
#6. Fruit Stands
Did the trip even happen if you don't take a photo infront of a fruit stand?? Although we love exploring any sort of local market, the fruit and vegetable stands in Sri Lanka are the most lush and beautiful ones we have witnessed!
#7. Palm Tree Swing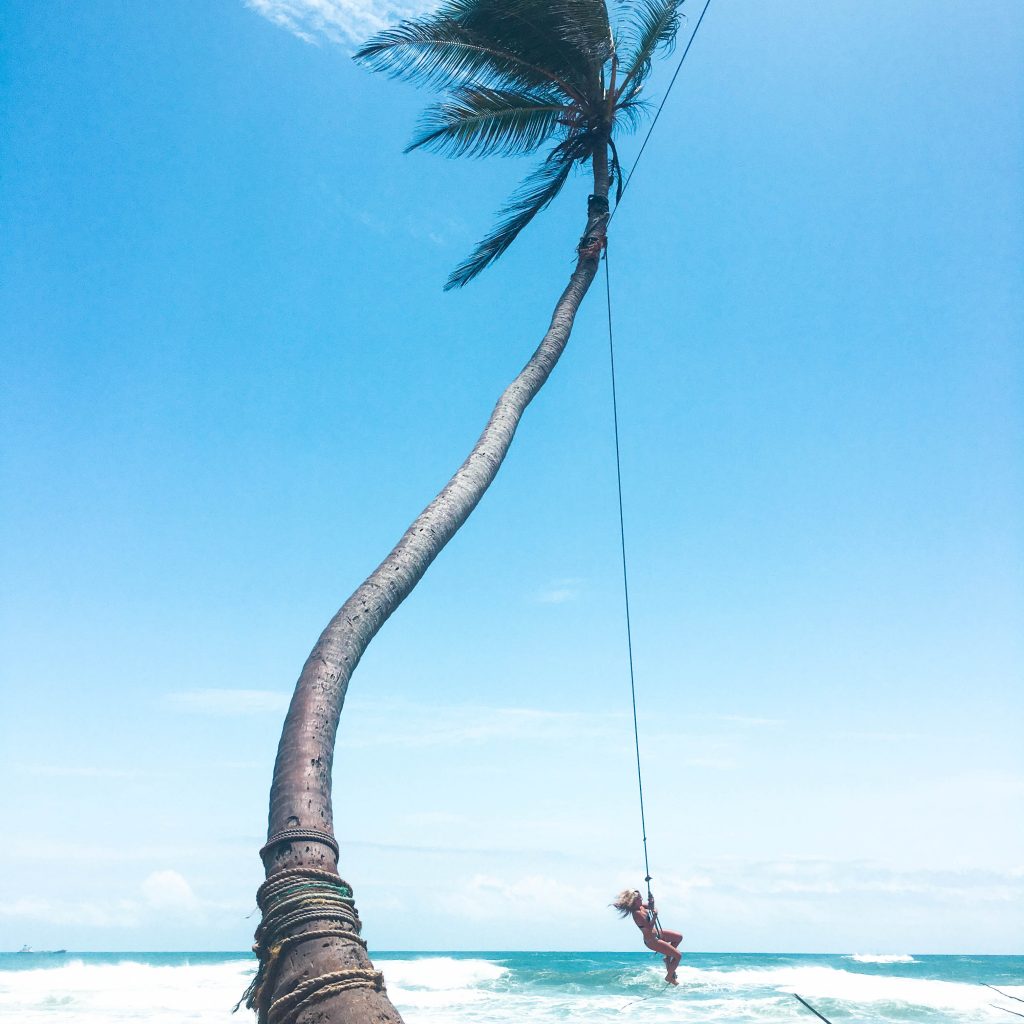 Before visiting Sri Lanka, the number one photo we kept seeing online was the infamous rope swing where travellers would be swinging over the ocean from a palm tree. We were very guilty of wanting to visit this unofficial site of Sri Lanka! I searched the internet to find out where we can find this fun and playful attraction.
We found the location of the swing is on Dalawella Beach, which is in the south of Sri Lanka near the popular town of Unawatuna.  Once you are at Dalawella Beach the exact location is actually in front of a guesthouse called Dream Cabana.
The only guy that can get the swing down is called "Coconut Man". He is not always there ( clearly is living the dream and sets his own operating hours depending on how he feels that day). Normally if you wait a half hour or so, he will come along
He charges about 500 Rupees for a half hour of swinging! "Coconut Man" is doing well I'd say!
#8. Watch the sunrise at Adam's Peak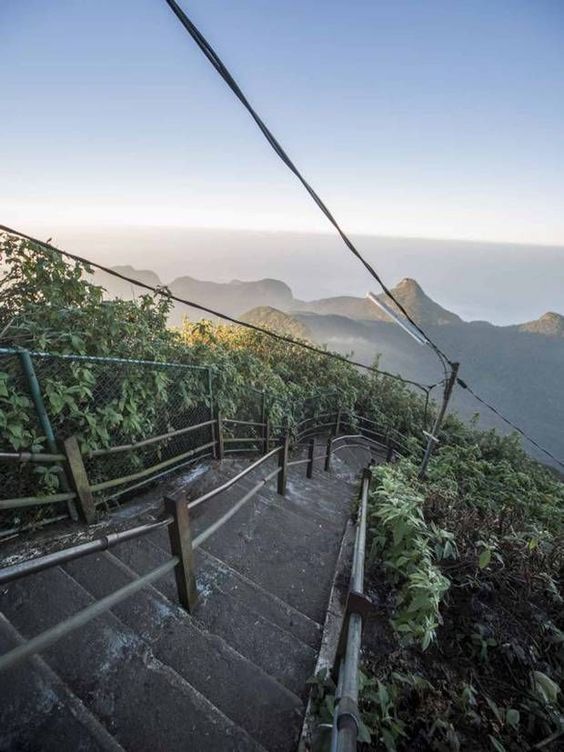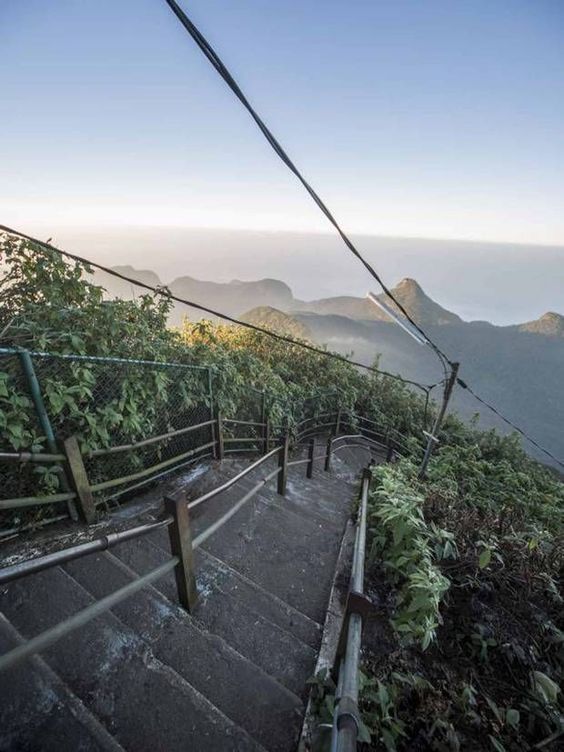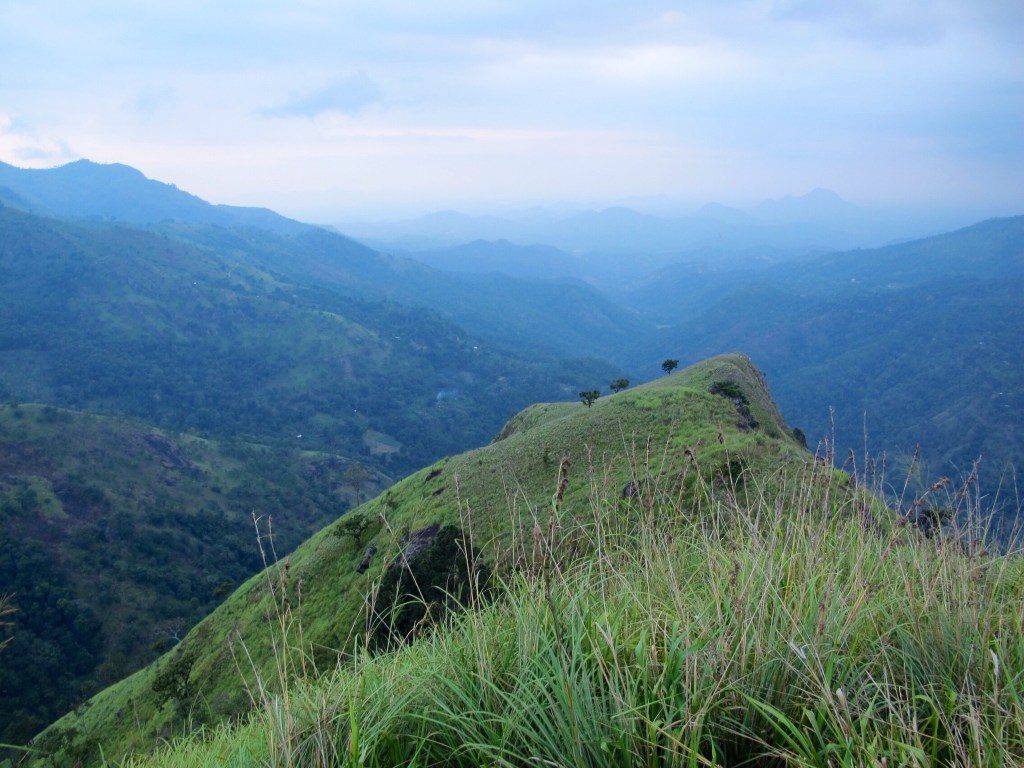 What better way to start the day than witnessing the indescribable beauty of the sunrise at the top of Sri Lanka. A 2 to 4 hours hike to the top of Adam's Peak will leave you feeling refreshed and ready to seize the day.
Go to bed early and prepare for the night walk to Adams Peak, start walking around 02.00 AM and enter top by 05.00 AM. Watch the sunset at around 06.00 AM. Be back down at 08.00 AM.
Adam's Peak is a unique travel moment and beautiful experience with the prayers of the Sri Lankan people praying for the sun and new day.
#9. Explore Galle Fort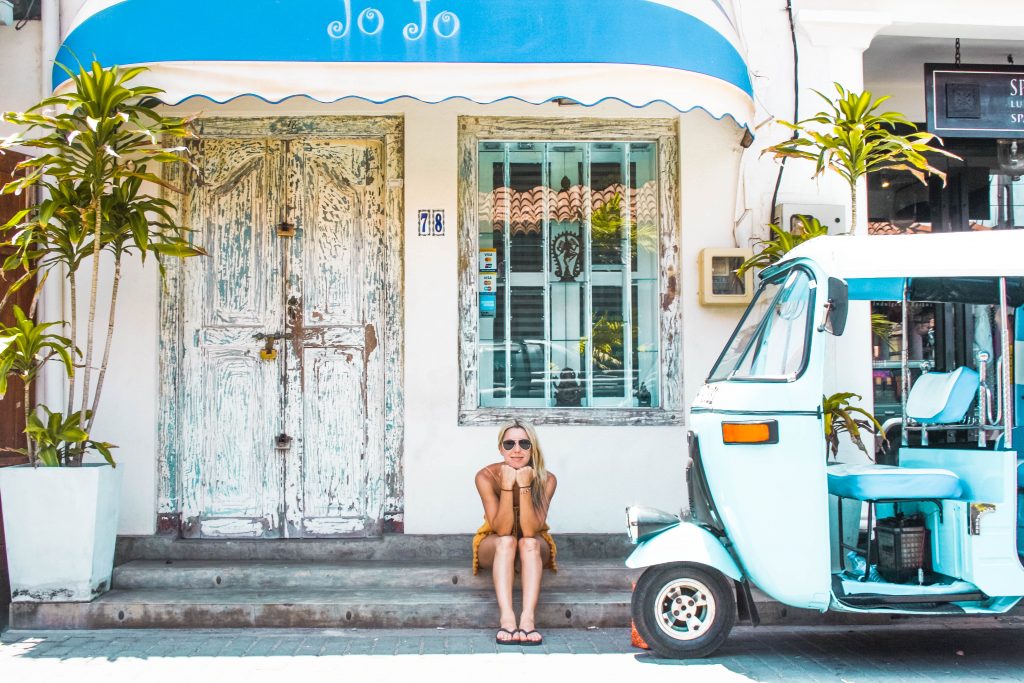 In the southwest coast of Sri Lanka lies Galle Fort, a fort built in 1588 by the Portuguese. With an extensive history, Galle Fort reveals a mix between European architecture and South Asian traditions, creating stunning backdrops such as the Galle Lighthouse. This is the area of Sri Lanka that is filled with trendy restaurants, hip shops and where it feels like you are no longer in Sri Lanka. We loved this area to explore for a day but we much preferred the local areas!
#10. Stay off the Grid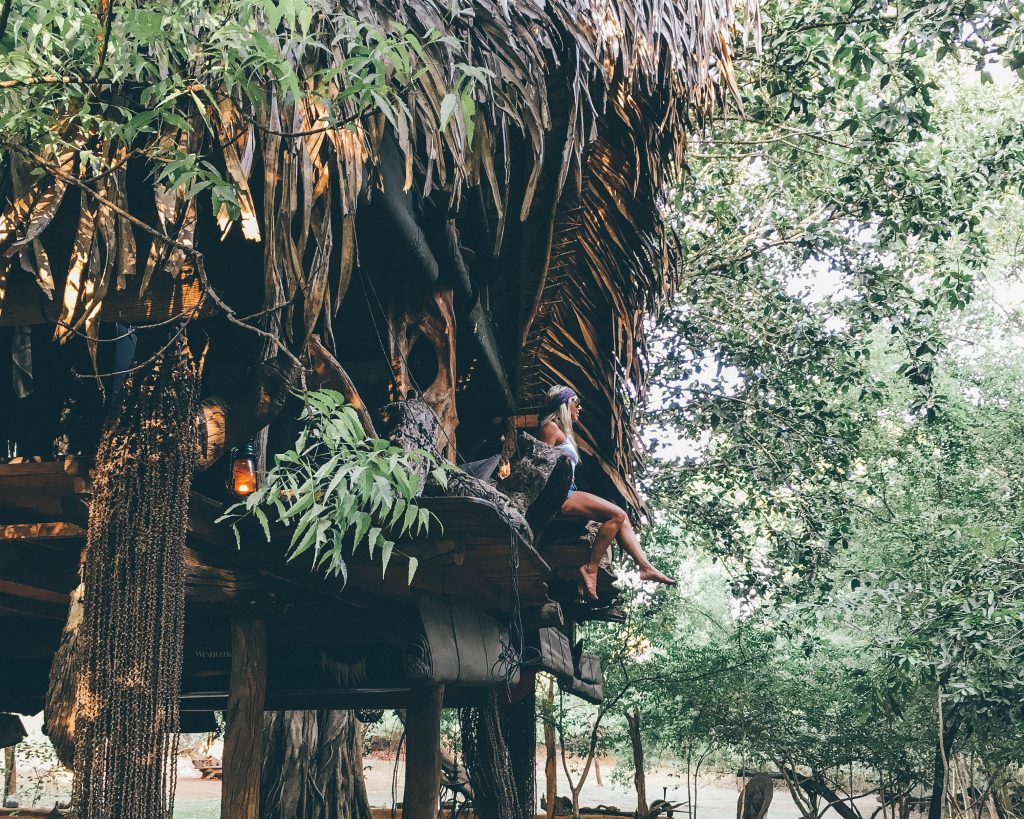 One of our most favourite stays was staying in central Sri Lanka at a place called Banyan Camp! At first we thought we made a huge mistake as we were in the middle of nowhere, were sleeping in an open air bedroom and spotted a monkey and dog within 2 minutes of being there. It's funny how these kind of experiences end up being the best ones.
We ended up having the most DELISH dinner underneath the stars with another couple who was also staying there. The food was all homemade and the hospitality we received was just out of this world.
The couple we met had moved from the UK to Sri Lanka to open a wellness resort which we will definitely be checking out next time we are there!
Take a look at the progress so far and follow along their adventure HERE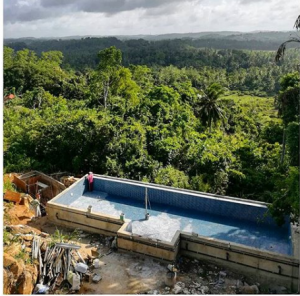 .
.
.