The Best Nosara Travel Guide…
The minute we discovered that Aaron was eligible for a 6 week paternity leave, we knew that we wanted to travel somewhere for a month to enjoy it. After contemplating a few different destinations, we decided on Nosara, Costa Rica
Best friends of ours spent a few months there last year during COVID and said it was a dream. My brother also travelled there a few times and said that we would absolutely love it. They all were not wrong.
Known as a wellness, surf and yoga mecca in not only Costa Rica but in North America, this little beach town really makes you enjoy each day. Located in the Nicoya Peninsula ( which is also known as the "Blue Zone" where people are known to live up to 100 years old on average), it is home to some awesome beaches, endless yoga, healthy eats and famous surf breaks.
After spending a month here, I am excited to share my favourite things to do, where to eat and everything that is helpful about visiting Nosara! This Nosara Travel guide will have you familiar with the area in no time
Other Costa Rica Posts You Might Find Helpful:
Samara Travel Guide: The Complete Guide to staying in Samara
Unique Hotel In Nicoya : Add this jungle luxury hotel to your Costa Rica Itinerary
Things To Do In Playa Pelada Beach: The Best Beach in Nosara
Costa Rica Travel Agent: We Booked our entire Costa Rica Trip with The Travelogist and it was amazing
GENERAL INFO ABOUT NOSARA, COSTA RICA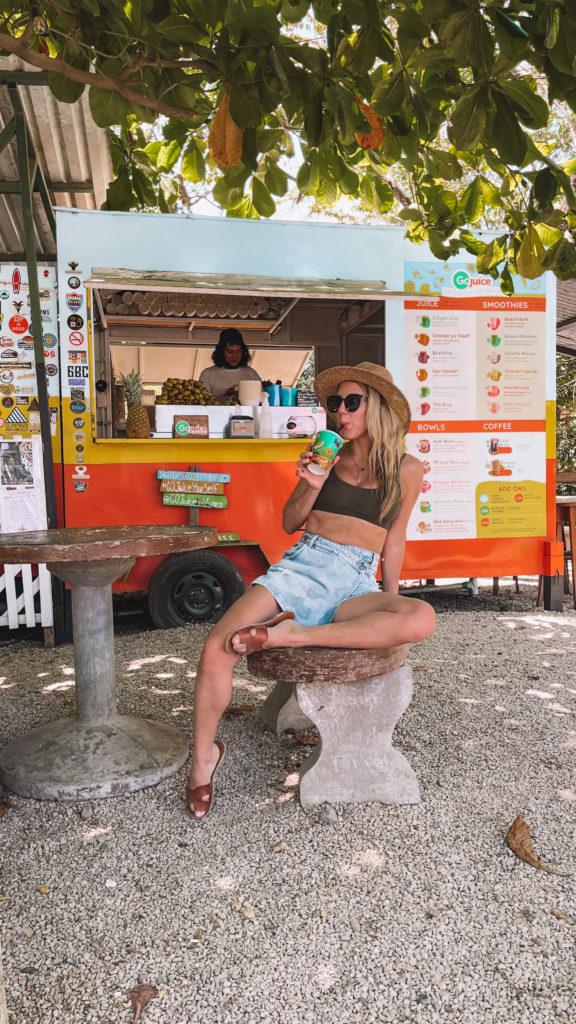 LANGUAGE: The prominent language spoken is Spanish but you will find English-speaking people in a lot of the tourist areas. It wouldn't hurt to have a Google Translator App downloaded for basic conversations.
HOW MANY DAYS DO YOU NEED: Depends who you ask! Some people stay for months on end! There is a huge expat scene here with some people coming to work remotely or escape winter for a month or two. If it's strictly a vacation, I would say a week allows you to experience it to it's fullest!
COST: A lot of people said Nosara was pricey but we found it pretty similar to costs back home ( Toronto, Canada). Expect to pay $10 for a cocktail at most places and $8-$20 for an entree. Hotels are a bit more pricier for what you get but there are a ton of options that would allow you to stay in your budget! Definitely bring some Costa Rican dollars ( Colanions) for juice stands or the odd restaurant that is cash only but most places accept major credit cards. If any other Nosara Travel Guide tries to tell you it's beyond expensive, it's because they likely don't want you to visit! haha. It's doable!!
---
HOW TO GET FROM LIBERIA TO NOSARA BEACH: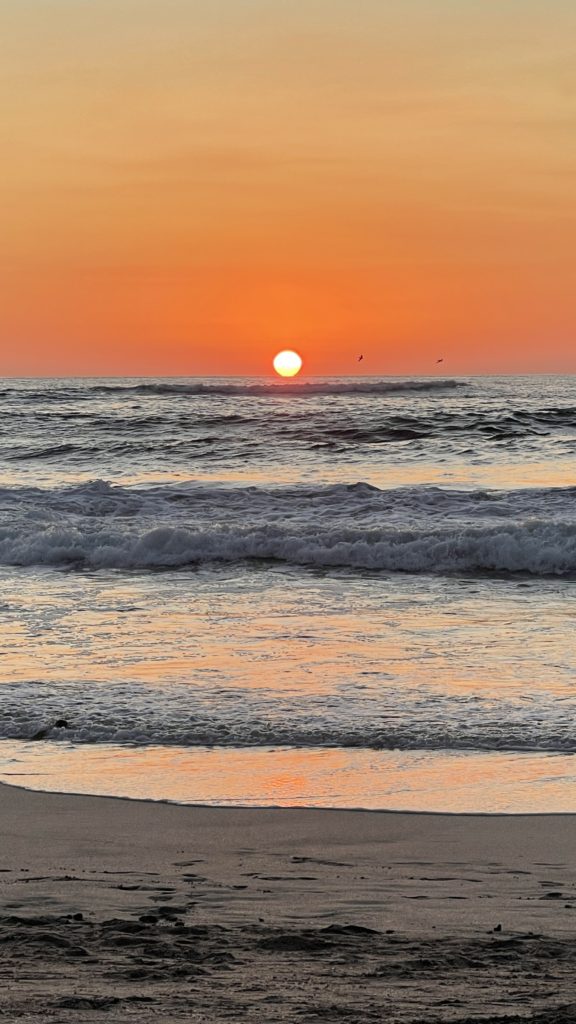 CAR– Nosara is roughly 2.5 hours from Liberia Airport and 5 hours from San Jose Airport.
The roads in Costa Rica are extremely rough and sometimes completely unpaved. While the beginning of the drive from Liberia wasn't bad, the last hour gets bumpy. If you are prone to getting car sick, definitely take some gravol while en route. Renting a car in Costa Rica is a whole other subject but let's just say it is very pricey and there are a lot of scams out there. The cost of our car was $1800 CAD for the month and we rented through National Car. Make sure that your quote or reservation includes Third Party Insurance or Loss Waiver Damage or they will add it on upon arrival which can quickly escalate the costs.
LOCAL FLIGHT– If you are in a hurry, local airline Sansa offers quick 20 minute direct flights! Though on the pricier side, it can get you there real quick!
PRIVATE SHUTTLE-If you want to leave the driving to someone else, book a quick and direct shuttle! This one here is $129 CAD for up to 4 people which is a huge savings compared to renting a car
TIP: If you are arriving closer to sunset, we recommend grabbing a room at the Hilton Garden Inn Liberia Airport. If you are not familiar with the route or roads leading to Nosara, it is best to avoid driving at nighttime. There are little to no street lamps and it would be very hard to navigate.
Quick Links: Shop My Favourite Amazon Travel Gear
, , , ,
---
WHEN TO VISIT NOSARA COSTA RICA
Peak season is December- January where rain is minimal but prices are high and spots are at their highest occupancies! We recommend February- April for a visit which is dry season but a little bit less congested. Rainy season is considered May- November aka "green season" which is likely special in it's own way too and certainly more reasonable cost wise!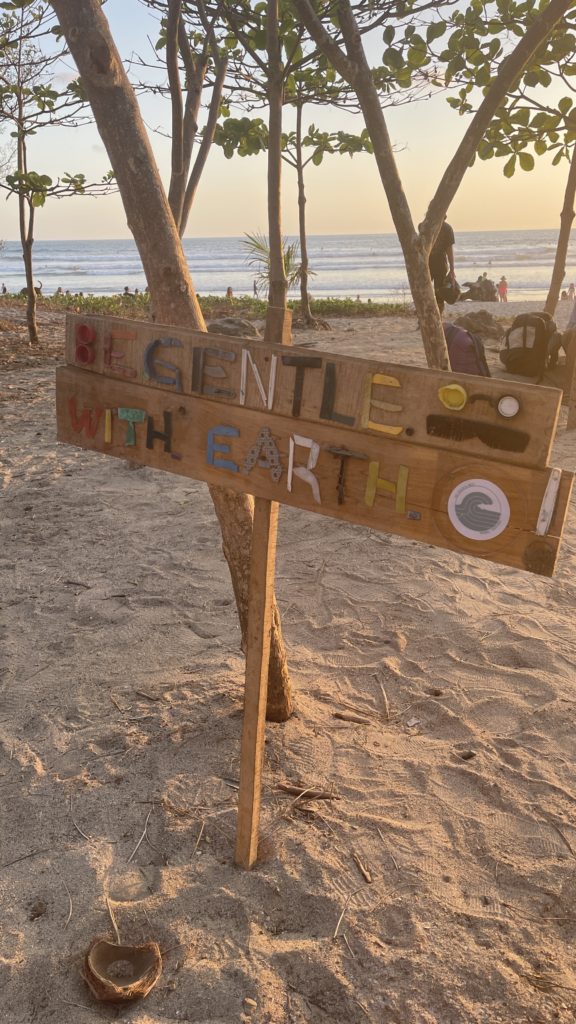 ---
HOW TO GET AROUND

IN NOSARA

Unsure how to get around? This Nosara Travel Guide is breaking it down for you and you will be relived to know there are plenty of ways to see this magical area!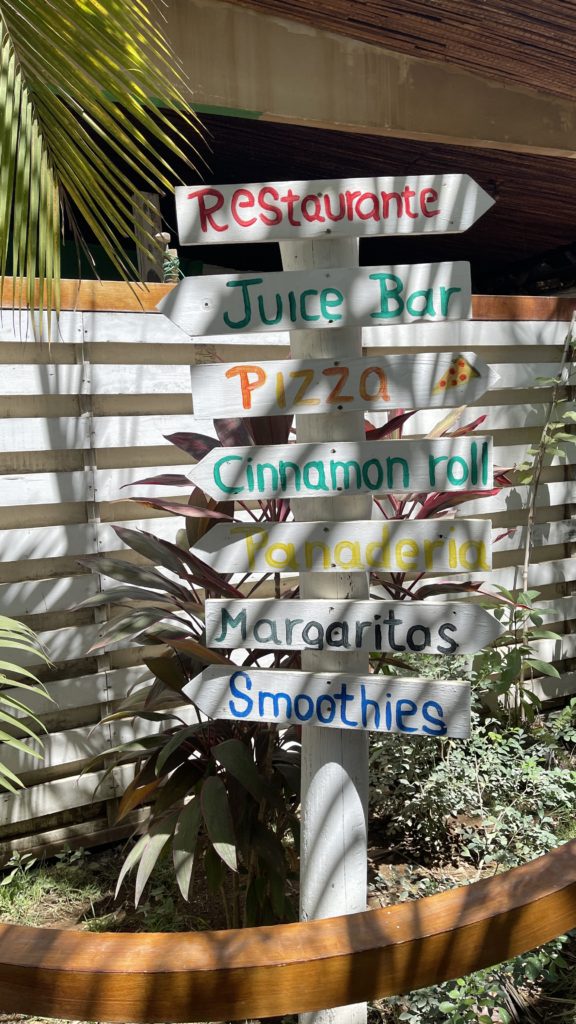 We choose to rent a car for the duration of our trip. If you have young kids or want to check out neighbouring areas and beaches, I would recommend it! The roads are not really stroller friendly. However, it is definitely not necessary. The main area of Nosara is quite walkable. If you are travelling as a couple or have kids that are older, I would ditch it and explore the area with some other options available!
Some popular ways to get around that don't involve renting a car:
RENTING AN ATV! You can rent one for roughly $75 USD A DAY! It can get you up some of the steep hills that you will find yourself at if you head to certain hotels, restaurants etc that are located deeper in the jungle
TUK TUK RIDES! Grabbing a local tuk tuk for a quick scoot to a near by beach or restaurant is not only super reasonable but it is also supporting the locals as many of the Tuk Tuk's are operated by Ticos!
GOLF CARTS! We reallly dwelled that we didn't get a golf cart. While it is probably not the safest option for a baby, younger kids can easily hop on and off one. So many people drive these around and it really allows you to get that true Nosara way of life on them! A local company that rents them out is called Limo Dan and they run about $500 for the week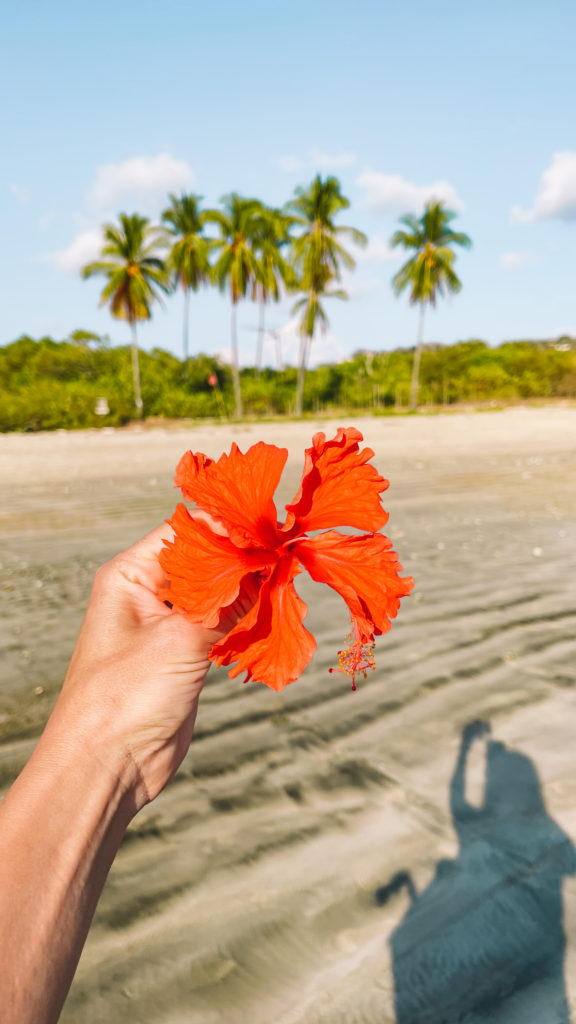 ---
WHERE TO STAY IN NOSARA COSTA RICA?
If you are hoping to find a luxury hotel in Nosara, this is not the place for you! While there are a ton of accommodation options, 5 star or all inclusive style resorts are not here. Instead you can find trendy, creative and small boutique style lodges to hang your hat!
Playa Guiones, the main surf beach in Nosara, has the majority of the B&B's and hotels but there are also some further up into the jungle/mountain side that offer amazing view points too. This Nosara Travel Guide will share a few different options with you!
WHERE DID WE STAY?
We stayed in a few places during our time in Nosara! Rentals and Air BNB's in Nosara booked up VERY far in advance- something to keep in mind if you are looking to book. The first place we stayed only had availability for 12 days so that's where we started our trip. After that it was a mix of a hotel, a luxury villa and then another unique property!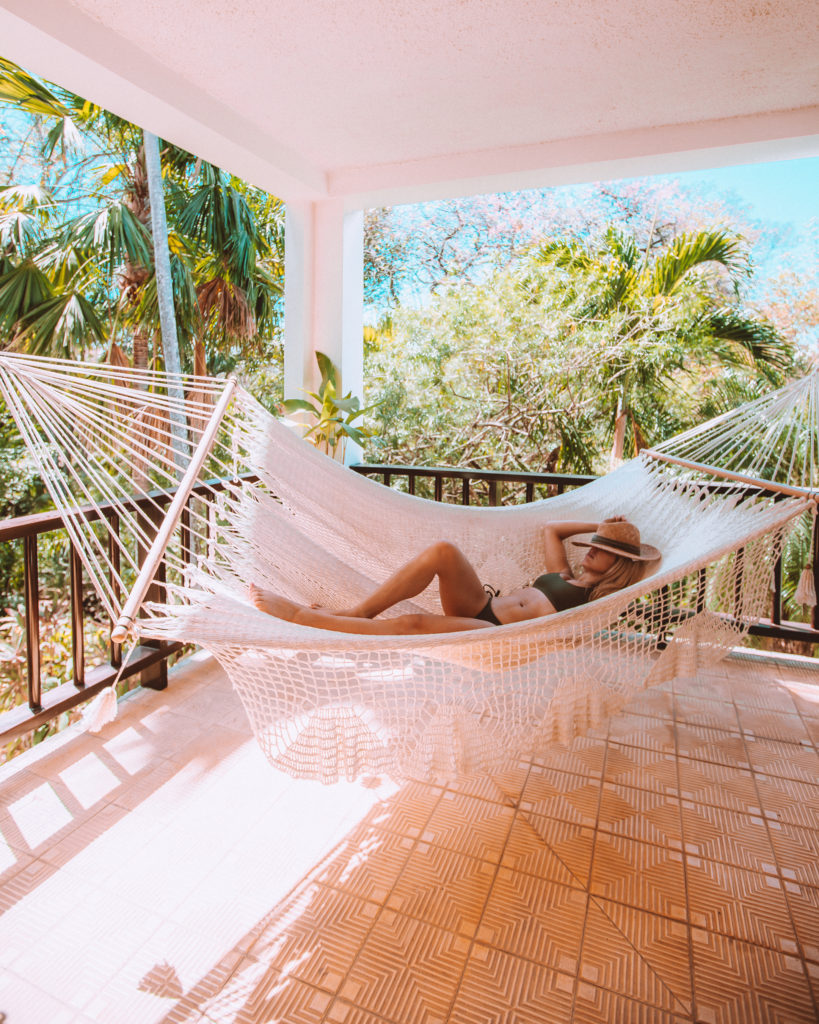 FIRST PLACE- We stayed in an Air Bnb in Playa Pelada to start off our trip! It was amazing and very reasonable. It was a 2 bedroom condo with a massive balcony that had a beautiful hammock, lounger set and table. We were literally 2 minutes walking distance from the famous La Luna restaurant ( more on that later) and across the street from Il Pepperoni restaurant ( another great dining option). Playa Pelada is a quieter beach but in our opinion a lot more beautiful than Guiones!
SECOND PLACE IN NICOYA REGION-We moved down the coast a bit as we had some hotel points and stayed at Hotel Punta Islita! You can read more about that hotel HERE
THIRD PLACE– Ahhh Finca Austria! This place is quite literally one of the most beautiful places we have stayed. It is perfect for retreats, weddings or large family stays. We were lucky enough to get the place to ourselves! The staff ended up feeling like friends as well. The pool at the main house is the real draw and while it is in Nosara, you really could stay put at the resort and not leave the entire time if you wanted! I almost didn't want to share this spot in our Nosara Travel Guide as it's pretty special.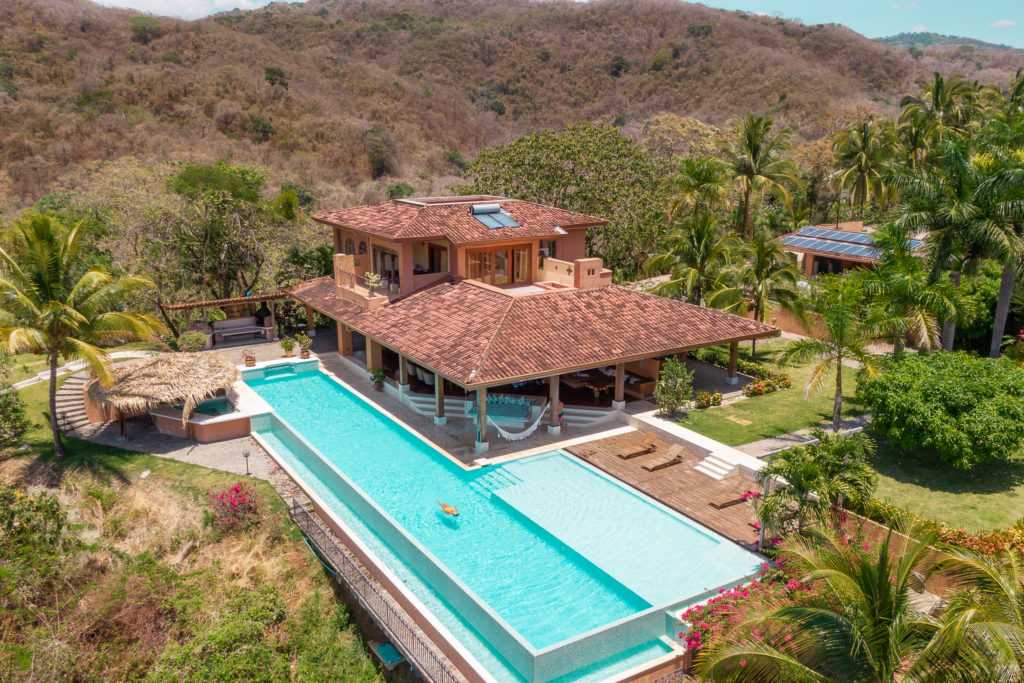 HERE ARE SOME OTHER PLACES TO STAY IN NOSARA:
HARMONY HOTEL– The Harmony Hotel was one of the first hotels to set up shop in Nosara making it an OG in the area. Here you can find not only a cool mid century style space but it also offers spa treatments, a hip restaurant serving up locally and sustainably sourced food and yoga classes in their open air shala.
BODHI TREE YOGA RESORT– If you are looking for the "IT" spot to do yoga and detox in a fancy setting, this place is for you. You will likely find this place mentioned in any Nosara Travel Guide.
Their large infinity pool is 10/10 and they have various yoga shalas throughout the property that are each unique. They have an on site juice bar, an incredible boutique and a modern spa. You can also visit this resort just for a yoga class. The cost of that is $20 USD and if I had to pick one Shala to do a class, I would definitely recommend the Ocean Shala which offers up the most incredible views. Check the schedule before doing a class!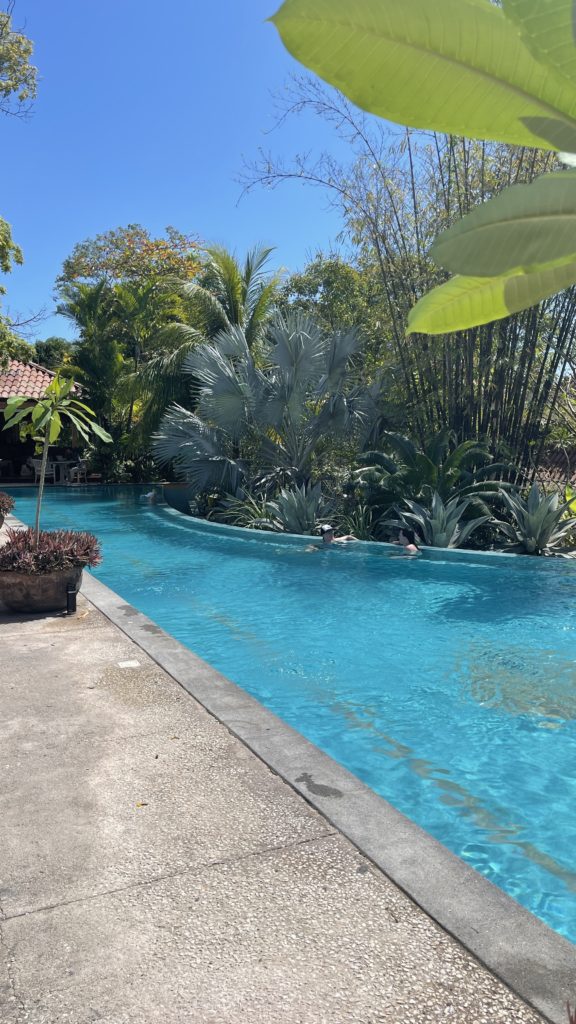 THE GILDED IGUANA–One of the most beautiful and luxurious hotels in Nosara smack in the center of town. Rooms here are incredibly spacious, modern and the pool is a dream! They even have a surf club right by the beach with a juice bar!
NORTE NOSARA- The new kid on the block! Opened just over a year ago, this place has become a spot for many yogis looking to take a challenging class. They also offer sound baths, breathing workshops and if you are just looking for a place to lounge and drink, they are home to "The Jungle Bar" which is known to be quite fun post dinner. Rooms are quaint and small but very aesthetically pleasing.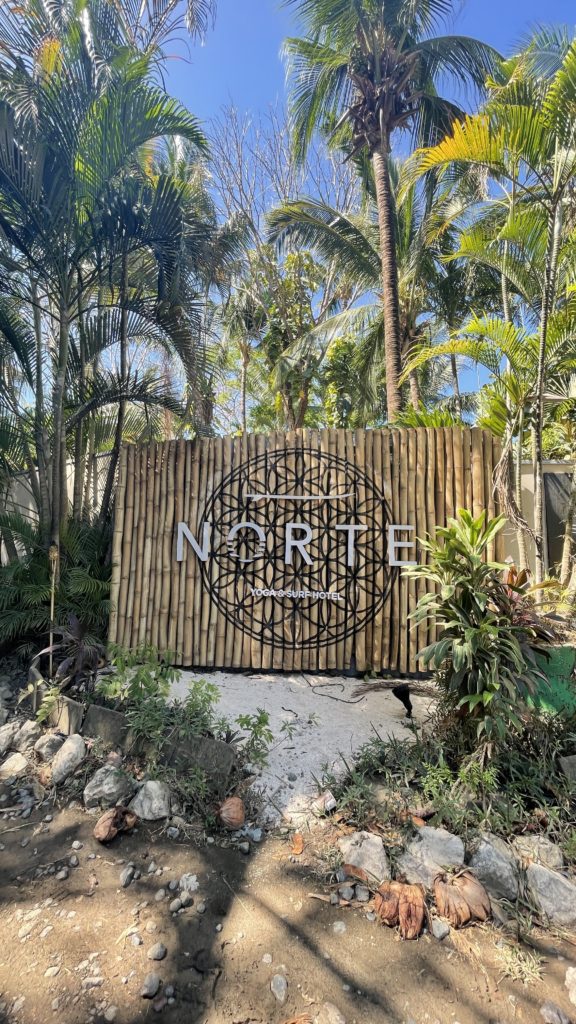 ---
WHERE TO EAT OR DRINK

IN NOSARA

This wouldn't be a very good Nosara Travel Guide without breaking down the best places to eat at!

Nosara is home to a mecca of healthy and delicious eating options! You can get items like acai bowls, or smoothies at virtually any corner but sandwiched in-between all of this are gourmet eateries perfect for a special dinner out. One common theme at all of the establishments: a super relaxed vibe and most often paired with open air seating. Pura Vida all the way!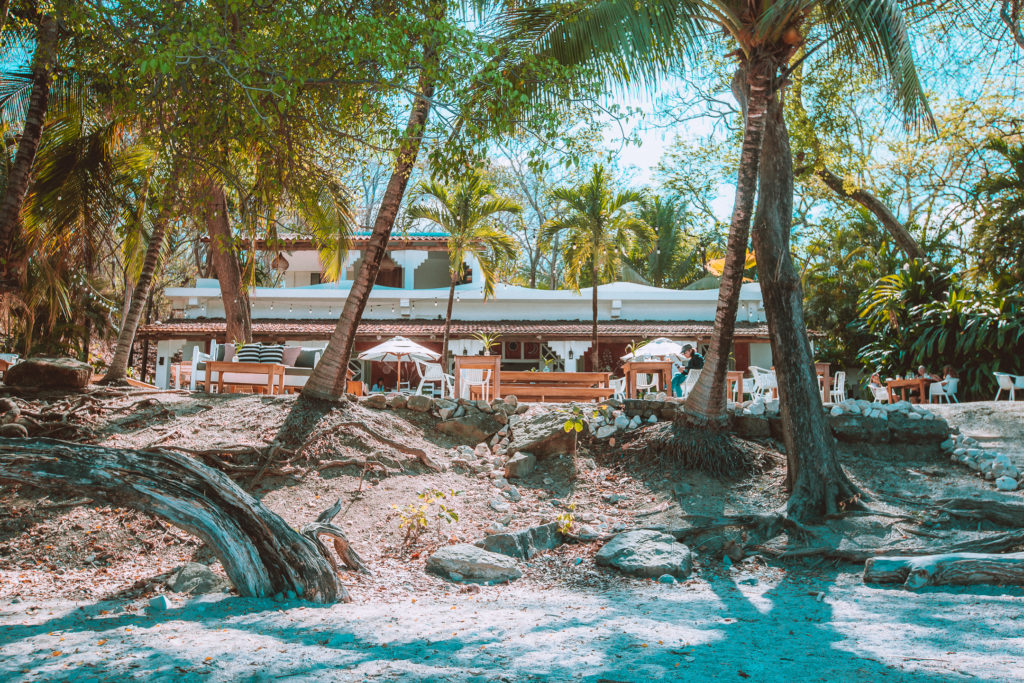 Destiny was one of our FAVOURITE restaurants! It was so good that we went over 5 times LOL. Oops! They open at 6am and are busy day in and day out….for good reason!
Highlights include: Destiny Egg's Nest breakfast ( SO GOOD!), Coconut Whip Coffee, Breakfast Burrito and the Destiny Smoothie.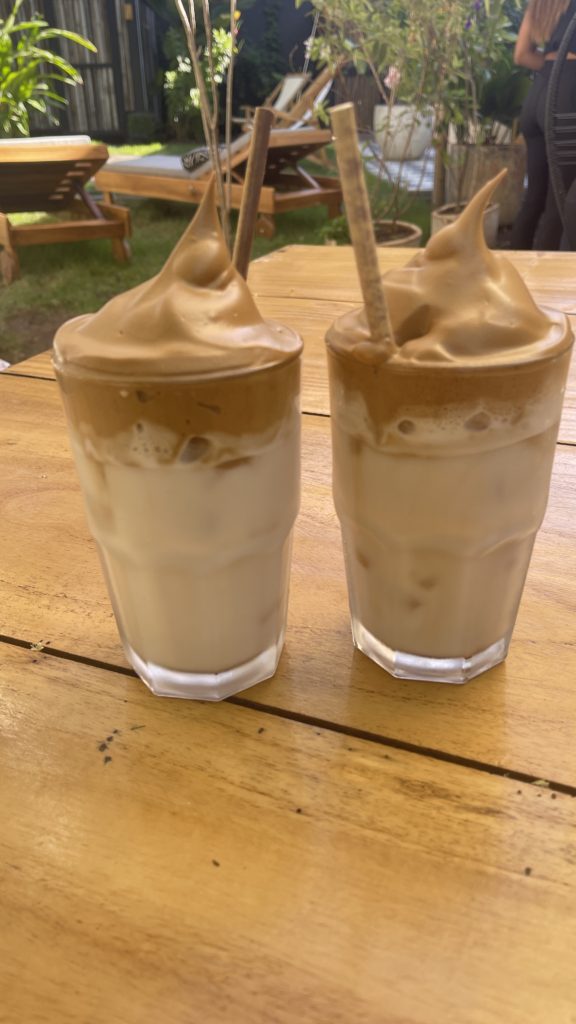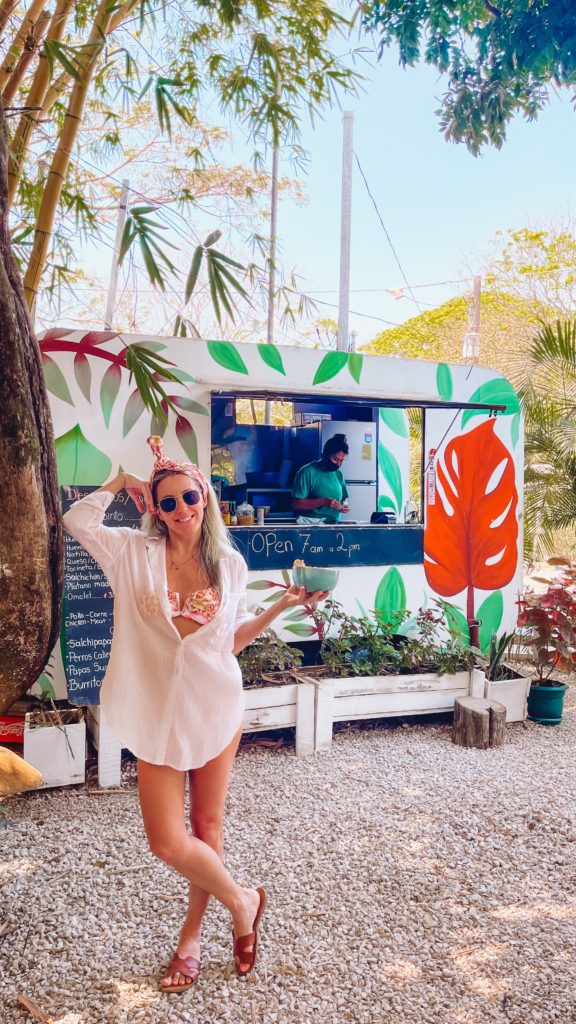 A newly opened spot in the Il Pepperoni Restaurant space, this cute juice and smoothie shack is not only SO good, it is way more reasonably priced than places in Guiones. The juices run about $5 CAD and the acai bowls are about $10 CAD! The portions are super big and we decided this was hands down the best place to get an acai or pitaya bowl in Nosara ( and trust me we tried a lot). It is located in Playa Pelada so not on the main strip in town- just FYI! It is open everyday from 7AM-3PM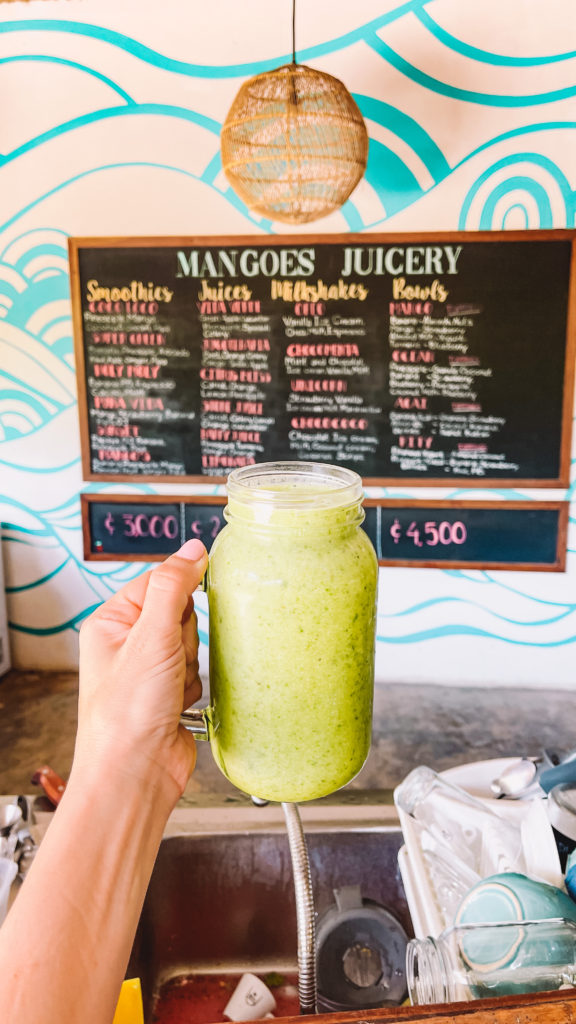 La Luna is Nosara's best restaurant. This restaurant is pretty much the most recommended in every guide…but it is worth the hype in my opinion! It is definitely on the pricier side of things but it is one of the only beachfront dining options in the areas. You can come in your bare feet yet still experience a luxurious dining experience where you can watch the sun set. We recommend booking a reservation anytime between 5-6PM for your ultimate viewing pleasure! The pizzas are really yummy and if you are dining on a budget, the best option! RESERVATIONS IN ADVANCE RECOMMENDED!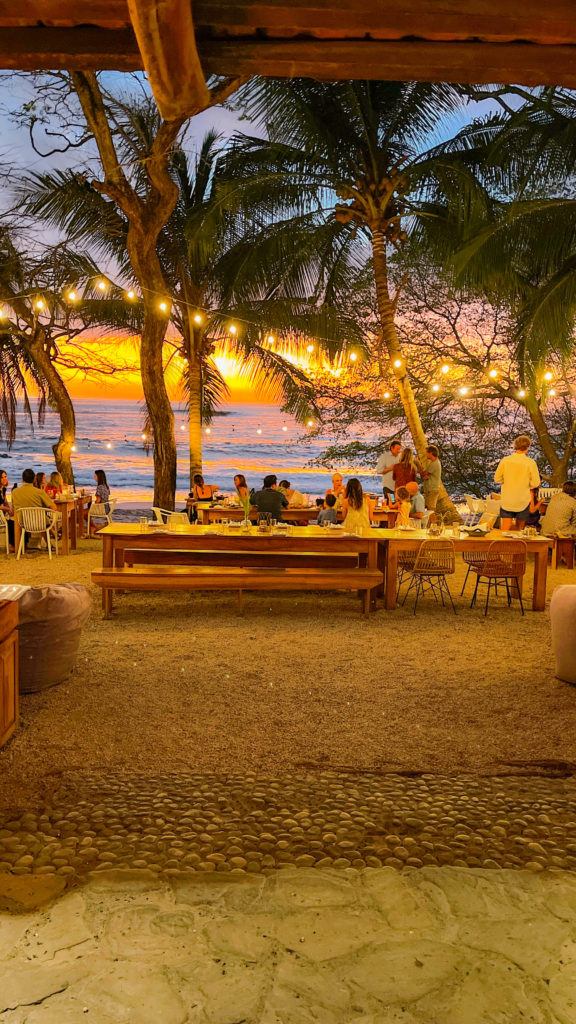 BEST DISH IN ALL OF NOSARA? Hand's down the Tuna Carpaccio from here!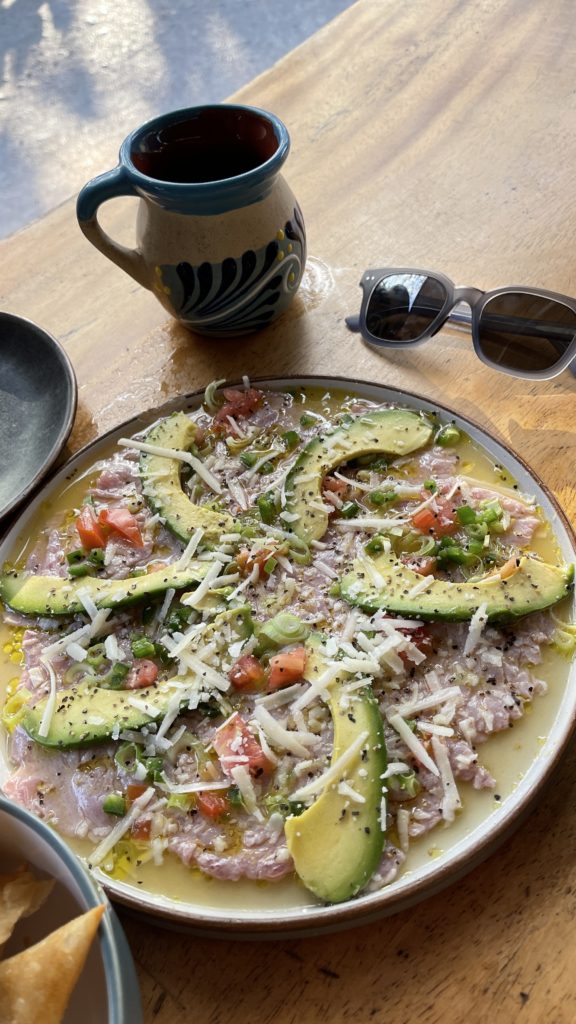 We were fighting over the last few bites and almost ordered a second one! We came back twice to have this dish. Not only is this place cute and located right in the main hub of Guiones ( great for people watching!), it has delicious handcrafted cocktails.
There is no menu for the drinks as they quite literally can make you whatever you want. I asked for a Paper plane which is not the most common cocktail and they not only said they could make it but they crushed it! It was so 10/10.
Coyol is not just a restaurant, it is an experience. Perched up high in the jungle, you are treated to the ultimate views at sunset in an atmosphere that is super unique. It offers up a top notch cocktail list, and a variety of smoked meat dishes (literally cooked in the smoker outside). The restaurant structure looks like a modern greenhouse and the outdoor seating area features communal farmhouse tables and stringlights. Also don't miss the famous tree swing! Perfect for getting that IG shot!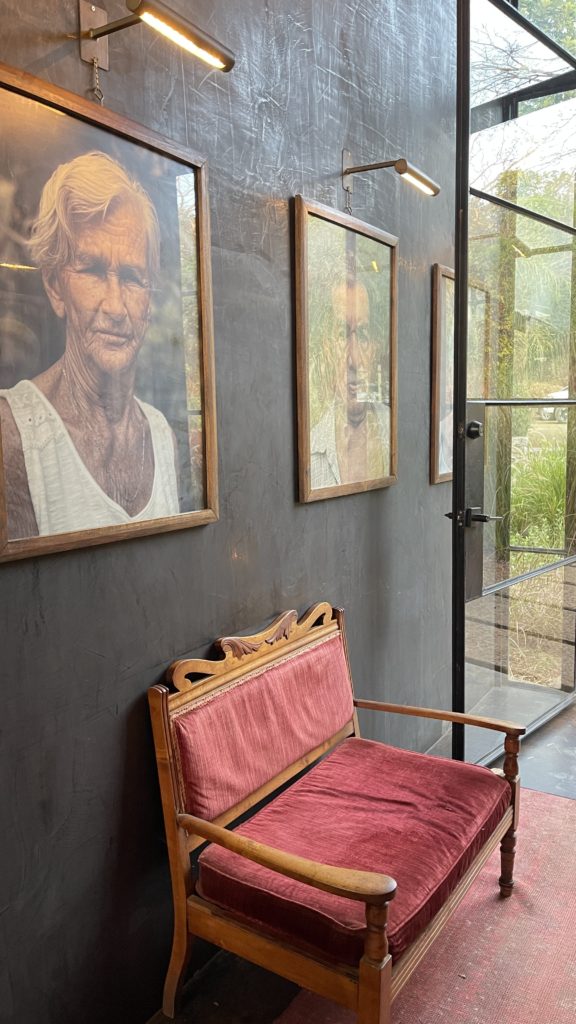 OTHER RESTAURANTS TO CHECK OUT IN NOSARA COSTA RICA:
Cafe Social, 10 Pies, Perozah ( in Garza area- this place is 100% overpriced but such a cool vibe and the food IS good), Rosi's Soda ( local Costa Rican food that is super affordable), Beach Dog Cafe, Naked Foods- all make the Nosara Travel Guide cut!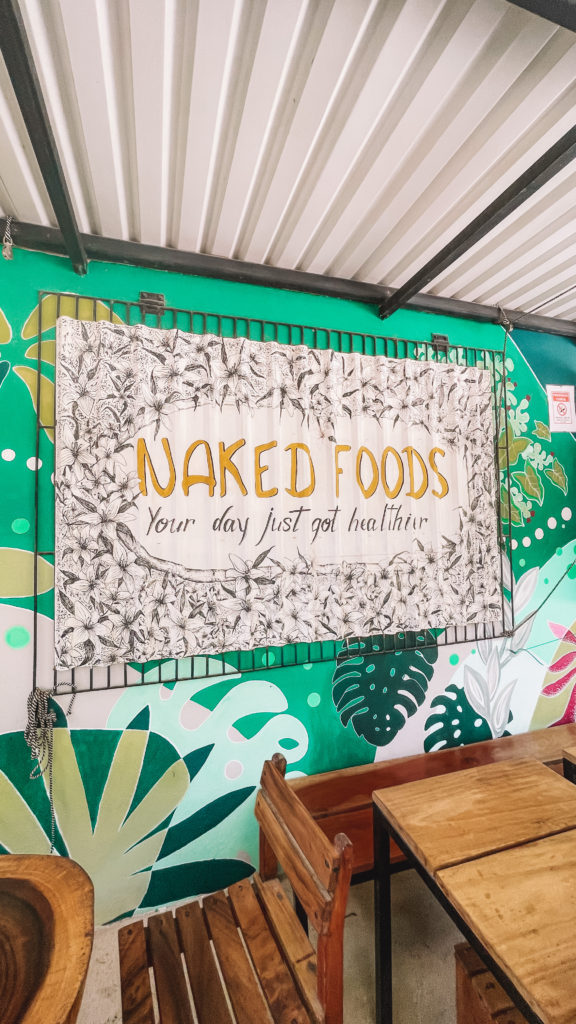 ---
SHOP THIS POST

---
WHAT TO DO IN NOSARA

BEACH?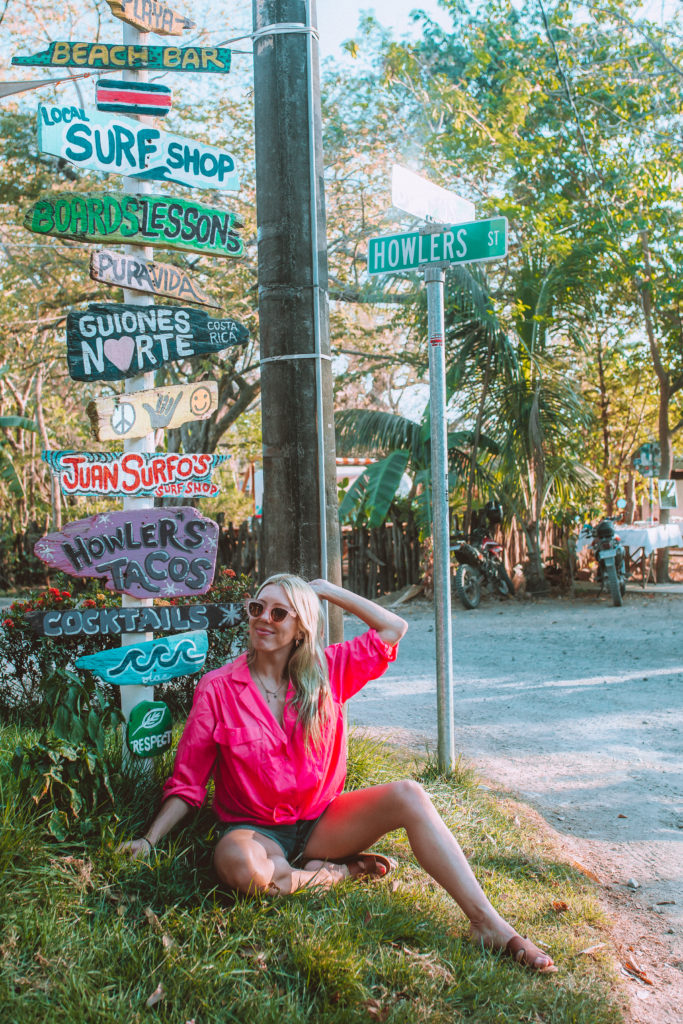 The best thing about Nosara is that you can fill up your day with activities or you can literally do nothing but hang in a hammock all day and either way you slice it, you will have the best time.
SURFING IN NOSARA
It wouldn't be a Nosara Travel Guide without mentioning surfing. Nosara was named by National Geographic as one of the top 20 surf towns in the world. Even if you don't surf, it is such a fun activity to try out when you are quite literally in the hub of it! The best waves can be found in Playa Guiones and there are so many Nosara Surf Camps.
YOGA OR SOUND BATH IN NOSARA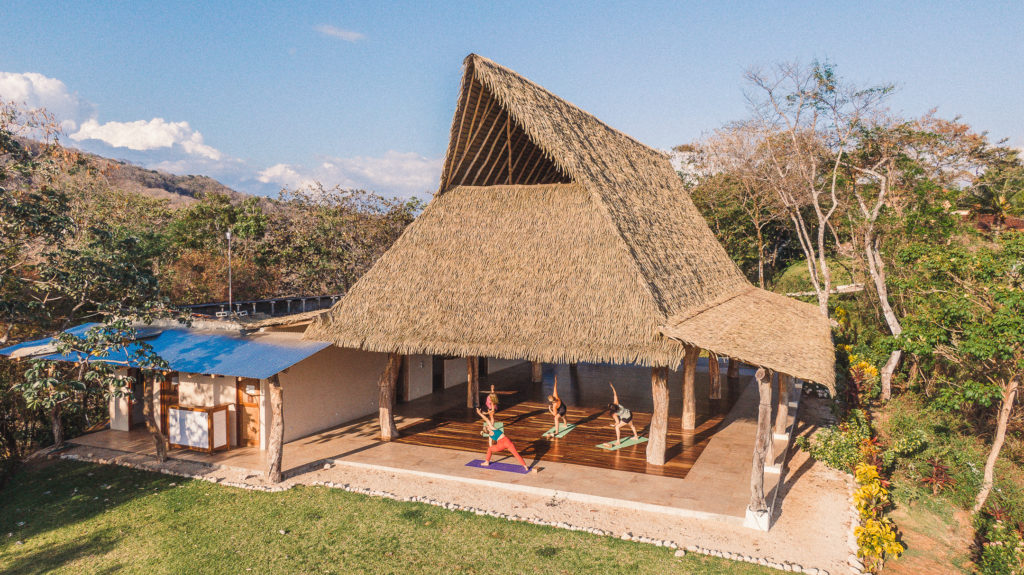 There are a ton of yoga and wellness classes to take part in! Bodhi Tree and Norte are two of the most popular studios where there are a variety of classes but there are a ton of places to practise! Harmony hotel, The Gilded Surf Club etc. You really don't have to look too far. If you just do yoga at home, I urge you to try a sound bath experience, breathing or meditation class additionally as it's such a special experience here!
WATCH THE SUNSETS EVERY NIGHT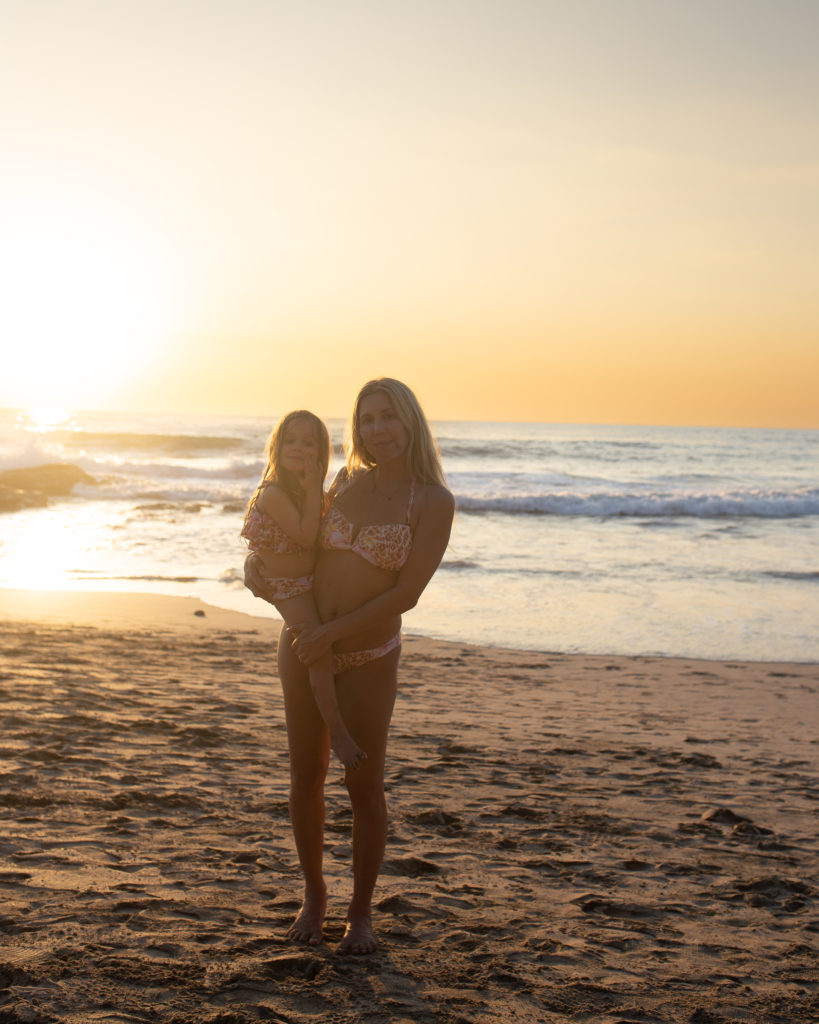 Nosara Beaches are special. You might be thinking- how basic is this? Should this really be added to the WHAT TO DO section? Yes, yes it should. This is always part of any Nosara Travel Guide and this is why…
Watching the sunsets in Costa Rica is actually an activity. We spent 30 days there and each night the sunset was INSANE! Groups start flocking down to the beach about 20 minutes before with some beers or snacks and everyone just sits there and watches the magical colours. We much preferred Playa Pelada to Guiones .
VISIT GARZA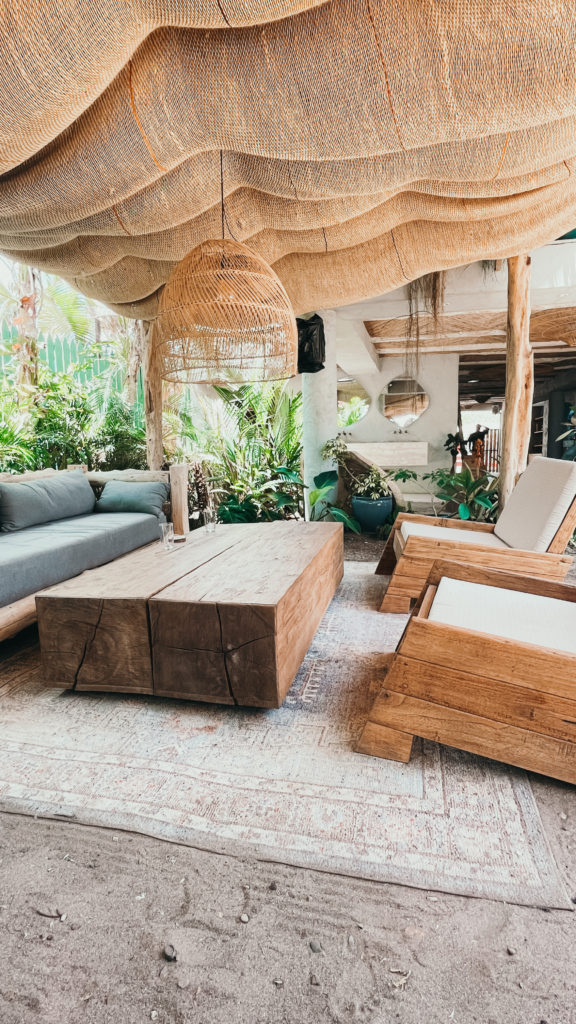 Located a quick 15 minutes from Nosara, Garza is an up and coming area. The beach and shoreline is much different than Nosara beaches and is definitely more swimable! You will also find the restaurant Peronzah here which is one of the most popular restaurants at the moment! They sometimes do full moon parties right on the beach which is not something that is easy to find in Nosara!
WATCH TURTLES HATCH AT OSTIONAL BEACH
Ostional Beach is roughly 25 minutes from the main area of Nosara and turtles or not, is a stunning beach. Beginning in late April though, baby turtles begin hatching on the beach (!!!). Upon hatching, they make their way to the ocean and it is truly an unforgettable experience.
To see the turtles, you must hire a guide or go through a tour. We did this one HERE!
VISIT THE FARMERS MARKET IN NOSARA
Each Tuesday there is a farmer's market in Nosara. Here you can find local vendors and organic farmers produce. There are some vendors even selling little snacks and treats! It is a great way to meet people in the community and is almost a weekly ritual if you live in the area.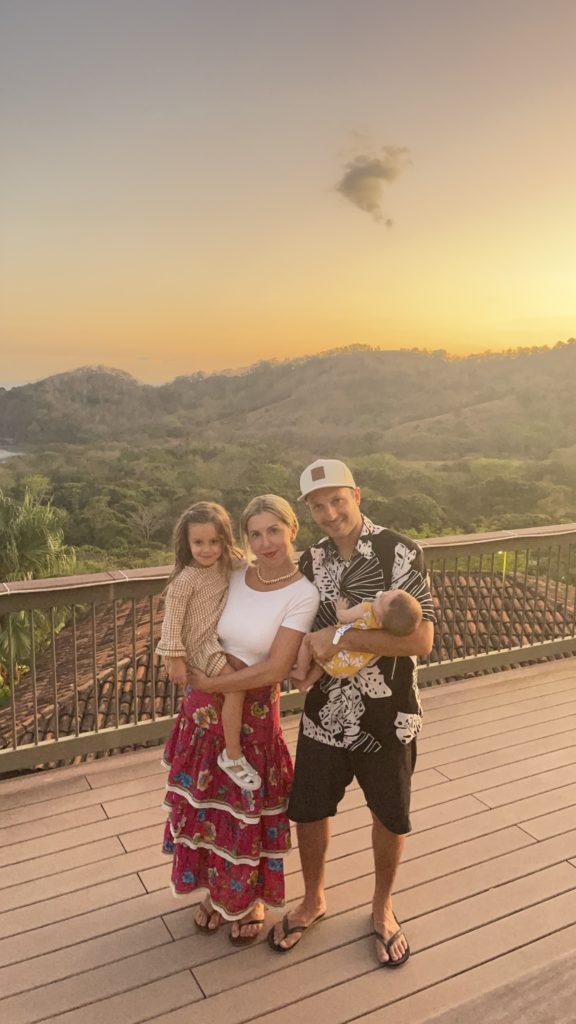 ---
OTHER THINGS TO KNOW ABOUT NOSARA, COSTA RICA:
It is sometimes normal for directions to take you on routes that require you to cross a river. Yes a river. It sounds a lot worse than it is as a lot of the rivers are low in dry season and it is pretty standard. It saves you a ton of time as well. This isn't just for a Nosara Travel Guide, it would be in any Costa Rica Guide
When renting a car, make sure you rent a car with all wheel drive aka an SUV or truck. As per my point above, crossing a river in a sedan might be a bit more difficult and not advised. Most locals drive little SUV'S and if you aren't crossing a river, you might be heading down some super bumpy and unpaved roads.
The bugs are bad. Bring tons of bug spray! Also as soon as the sunsets, sand bugs are known to come out and our little one got bite quite a bit so definitely don't stick around too long after it gets dark unless you are fully covered and sprayed!
A lot of people there communicate via Whatsap so make sure you have it downloaded before you go! In terms of directions, Waze is actually a lot better than Google Maps

I hoped this Nosara Travel Guide helped you plan or get excited about visiting this amazing spot! Let me know if you end up going!!
PIN THIS POST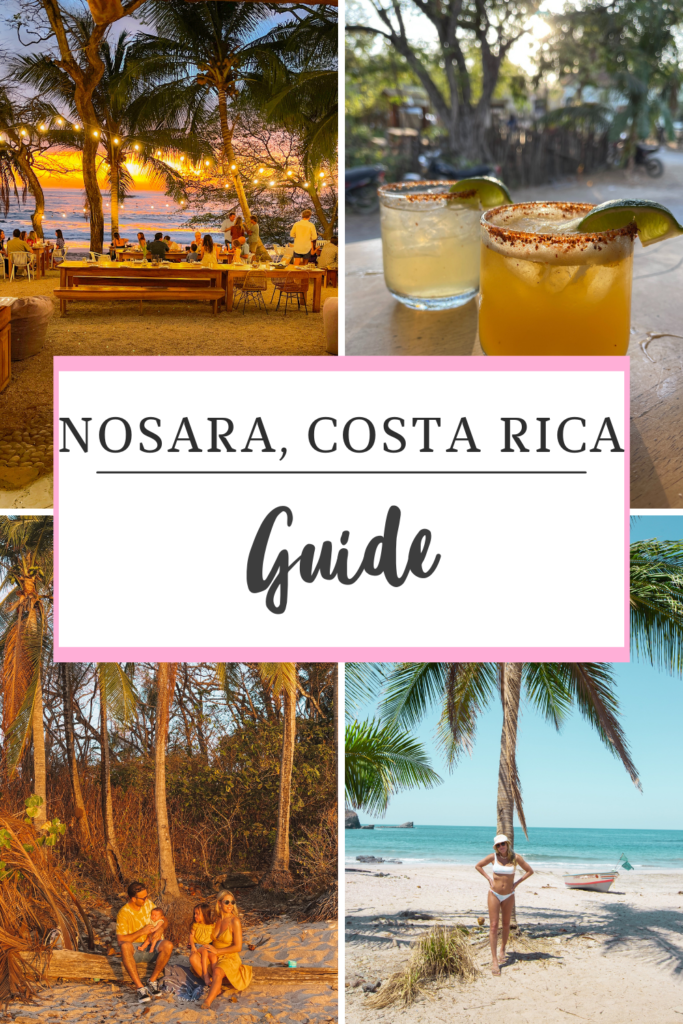 Nosara Travel Guide Pinterest, Nosara Travel Guide Pinterest, Nosara Travel Guide Pinterest, Nosara Travel Guide Pinterest, Nosara Travel Guide Pinterest, Nosara Travel Guide Pinterest, Nosara Travel Guide Pinterest, Nosara Travel Guide Pinterest, Nosara Travel Guide Pinterest, Nosara Travel Guide Pinterest, Nosara Travel Guide Pinterest,