Hotel Punta Islita, part of the Autograph Collection from the Marriott group, is in simple terms: a little slice of heaven. Located high up a coastal mountain, it is the perfect combination of nature and luxury. I am taking you through the best review of Hotel Punta Islita so you can understand what the hotel is all about and why you should add it to your places to stay in Costa Rica!
Situated about 2 hours from the Liberia Airport, you feel like you are worlds away from civilization and immersed in the heart and soul of Costa Rica. The minute we arrived, I felt myself immediately relax ( and I was travelling with two kids so that says a lot!). The calming energy of the resort itself was felt in every corner- at check in ( super easy and quick process), in the rooms, at the pool and above all, was ingrained in all of the staff that we met. Every person welcomed us with a smile and went above and beyond for anything we needed.
THE GROUNDS AT HOTEL PUNTA ISLITA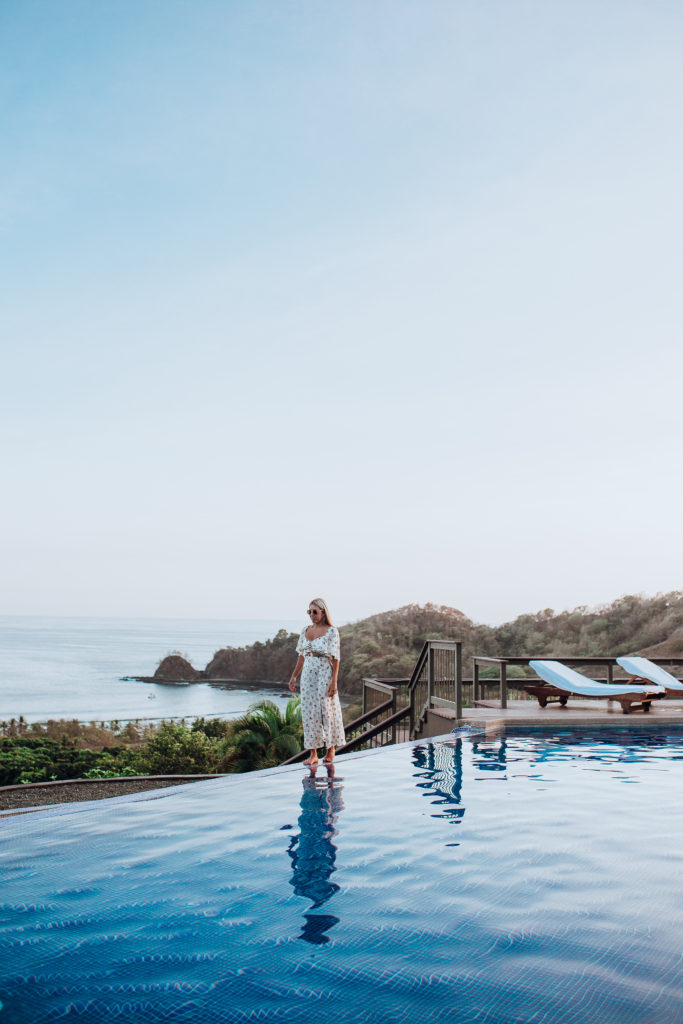 Hotel Punta Islita is a sprawling property.
The main house features the famous infinity-edge freshwater pool and main restaurant. This is where we had breakfast every morning and where dinner takes place. It is hands down the best vantage point on the resort and I could very easily set up shop on one of the sun loungers and never leave. It offers a mesmerizing view and makes you feel like you are in the most luxurious of settings. While this was tempting, we did explore all of the property and we are sure glad we did because it kept wow'ing us the more we saw.
In addition to this area, Hotel Punta Islita has a full service spa, jungle side gym, a full restaurant and kid friendly pool at the beach. The beach area really impressed us with multiple cabanas to lounge at, Instagram worthy tipi stations perfect for families, beach chairs and ton of white hammocks. There was never a shortage of places to hang out at and though the resort was at 75% capacity, we still felt like we had many areas to ourselves!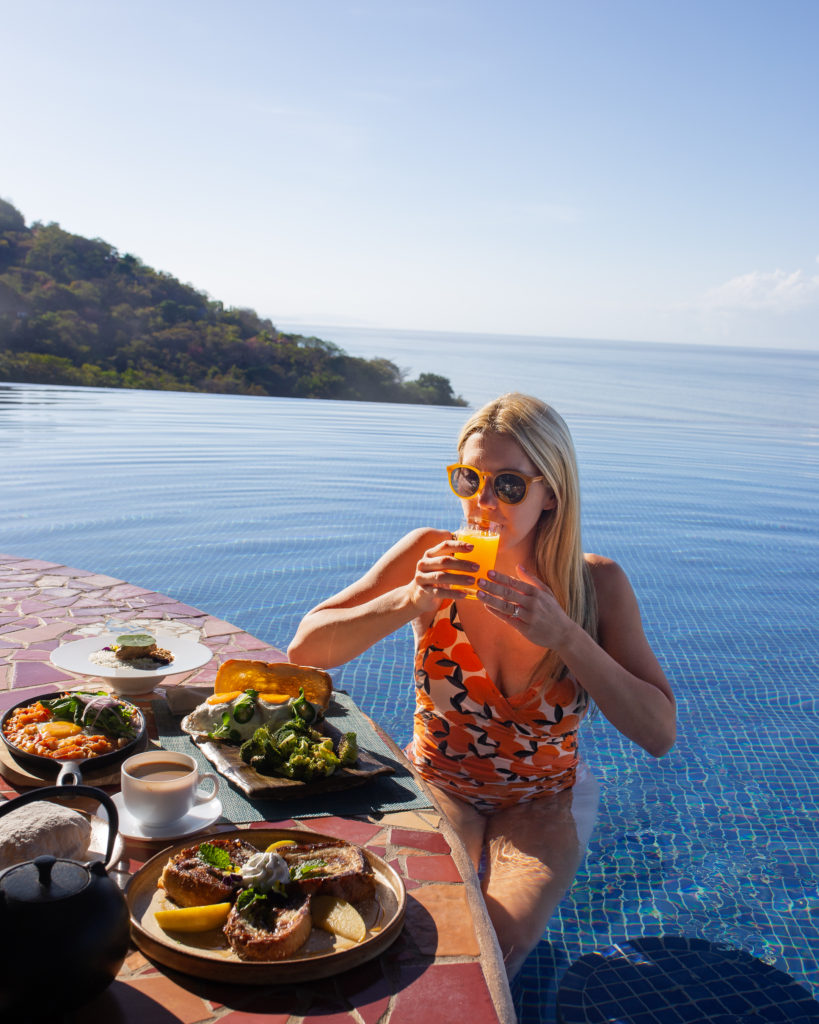 One of our favourites draws of our time at Hotel Punta Islita was the food though! If you are after a gastronomy experience that is unique, you have come to the right place! Breakfast was included in our rate so we really got to work our way though the menu. All items were thoughtfully crafted with local ingredients and menu items were creatively named! Instead of calling the smoothie bowl on their menu a "smoothie bowl", they referred to it as "healthy ice cream". This had our 3 year old pretty excited. Each dish featured rich textures, intense flavours and presentation wise- they were just beautiful! Breakfast and Dinner were served at Aura and lunch options were available at the beachside Alma which offered a more casual fare.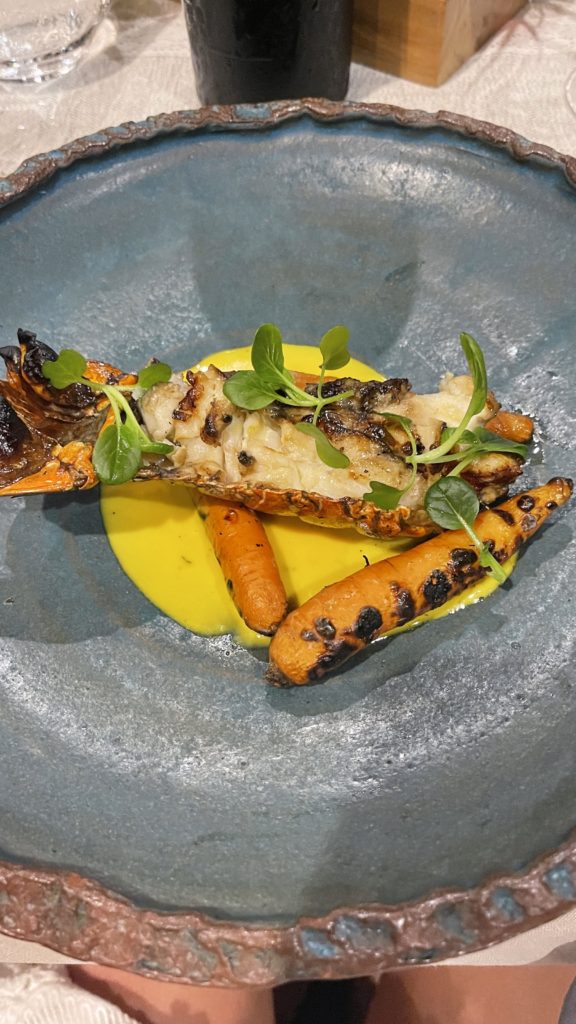 .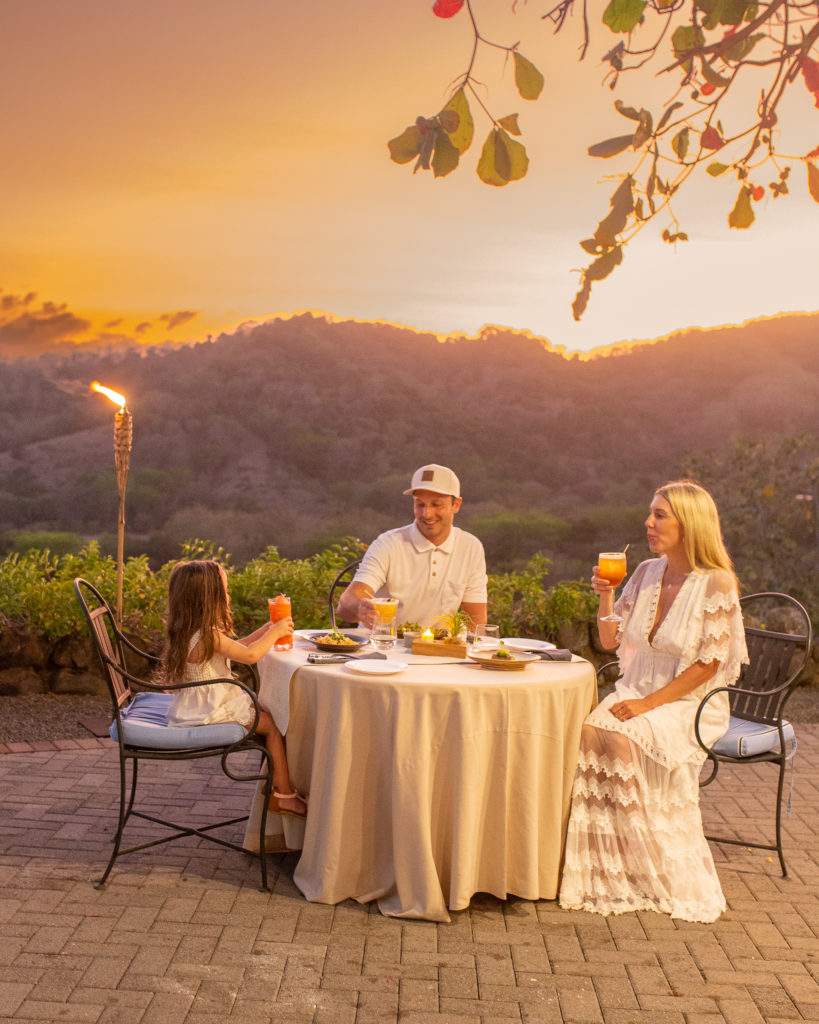 Looking for things to do when you are there? Hotel Punta Islita has a ton of amenities should you wish to use them. For starters, they offer free shuttles into the main little town. We took these when we decided to dine at the local restaurant 2 of the 6 nights we were there. It was so nice to not have to get into our car once during our stay! The shuttle also makes trips back and forth to the beach area so you don't have to walk. Going from the main casita house to the beach does require some walking and steps so if you are at all dealing with accessibility issues- it is an amazing service to have. With the kids, it was too much to walk so this was great for us.
Other amenities they have that are totally free: Ceviche Making Class, Mixology Class, Arts and Crafts for the kids, and Guided Hikes. For an A La Carte experience that is additional, you can do Yoga Sessions, Horseback Riding, Monkey Quests, Kayak Excursions and more. We added on Horseback Riding which was about $50 per person and SO worth it. We went through various trails on the property ( making us realize how big it is) and landed on the beach which honestly felt like a dream. Highly recommend it! They offer tours in the morning at 8:00AM or later afternoon at 4:00PM!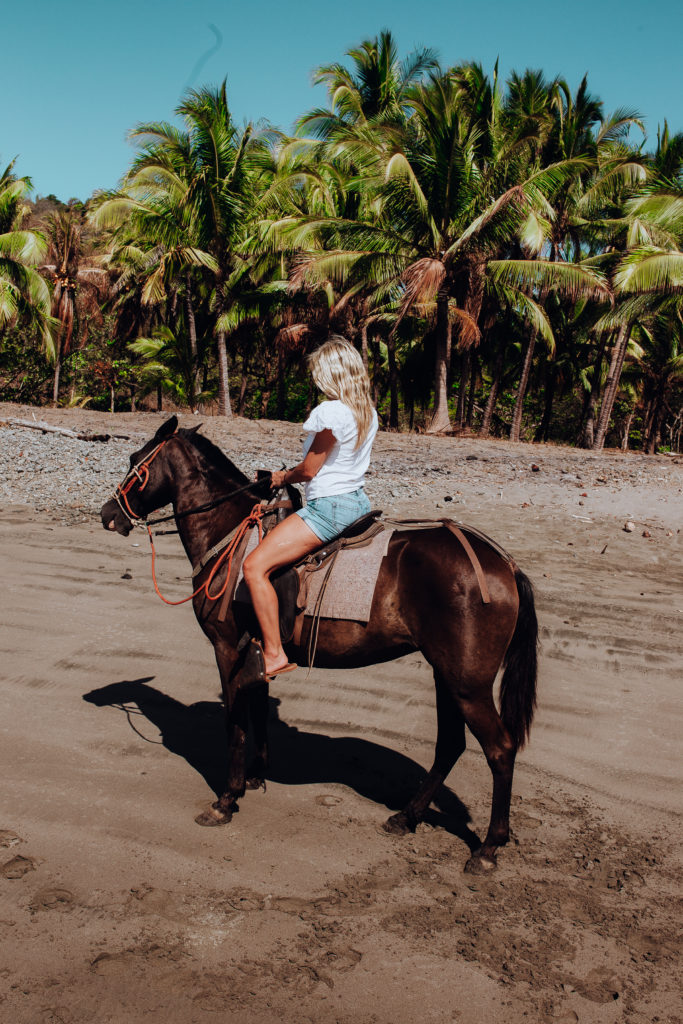 REVIEW OF THE ROOMS AT HOTEL PUNTA ISLITA
Hotel Punta Islita keeps the Costa Rican style and charm throughout the property and the guest rooms were no exception. With terra cotta tiles, natural wood bed frames and rustic décor sprinkled throughout, you very much feel like you are somewhere unique. This however is balanced out with high quality mattresses ( seriously the most comfortable beds throughout our entire visit in the country), high tread count linens and in room amenities such as robes and beautiful toiletries. We stayed in Room 21 which after checking out a few of the rooms, I can firmly say this view is one of the best on the resort.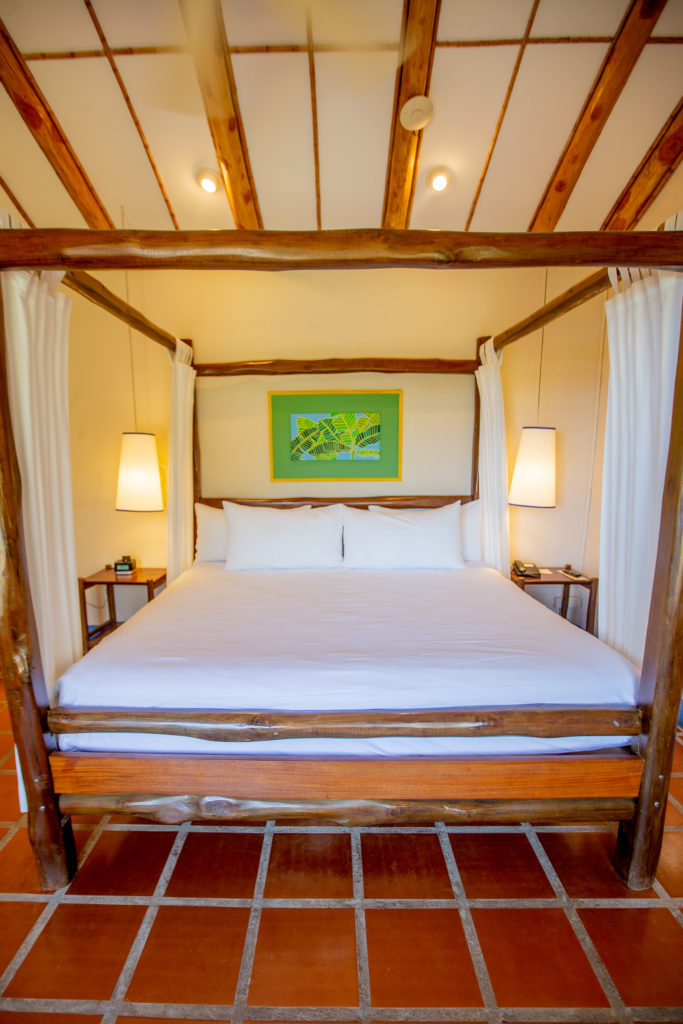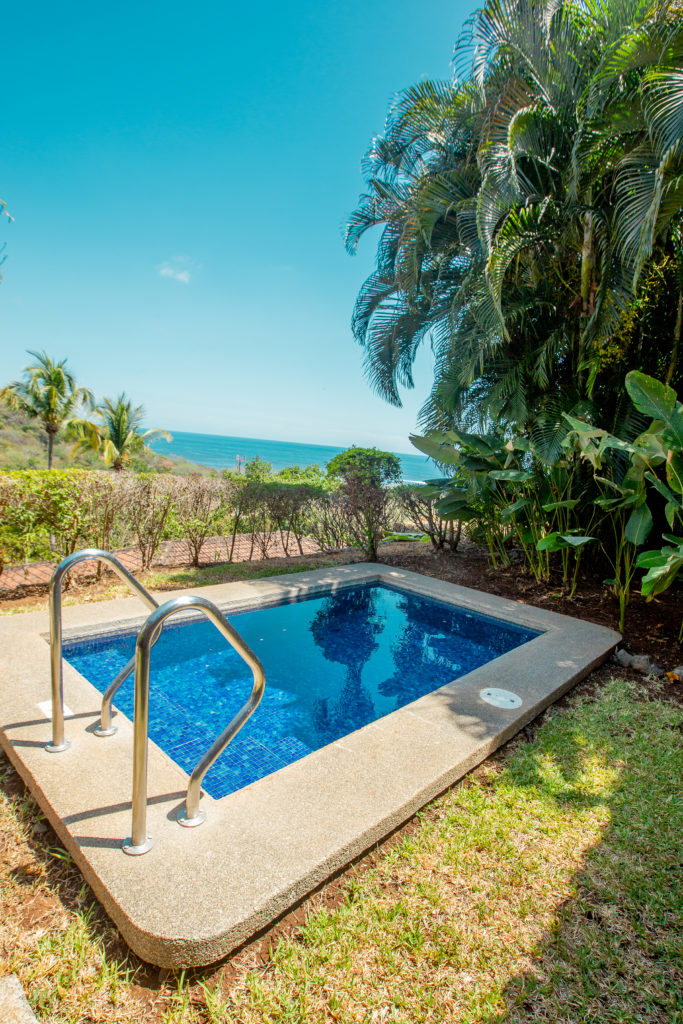 Room categories at Hotel Punta Islita include standard, deluxe, junior suite, premium junior suite casitas, and private villas. All rooms are air-conditioned with flat-screen satellite TVs, in-room safe, minibar and complimentary wi-fi.
If you want extra space, the casita rooms are a great idea. They feature canopy king beds, their own plunge pool, private gardens and beautiful bamboo lined ceilings The Villa room categories are a good match for bigger families with 2 or 3 bedroom options that may want to cook or make some dinners in the comfort of their own space.

IMPORTANT TIDBITS ABOUT HOTEL PUNTA ISLITA, AUTOGRAPH COLLECTION
If you are a Marriot Bonvoy member, you can redeem points at this hotel!
I would get a rate at Hotel Punta Islita that includes Breakfast. You get so much more value to the experience being able to try out more than one dish each morning. We often would each get a dish and then split the pancakes for the table.
While the main restaurant's dinner menu is exquisite, we really enjoyed checking out the local restaurant town the street called Kimbute! The hotel even offers free shuttle service there. It is also much more reasonable priced and the portions were big.
Overall, we felt Hotel Punta Islita was perfect for both honeymooners, couples AND families. With the different areas, it really is the best of both worlds. The infinity pool on the main level is for adults only. Even though I have kids, I actually liked this rule. The vibe would have been ruined with kids yelling and screaming!
If you want to add some extra days to your Hotel Punta Islita Stay, I recommend checking out Nosara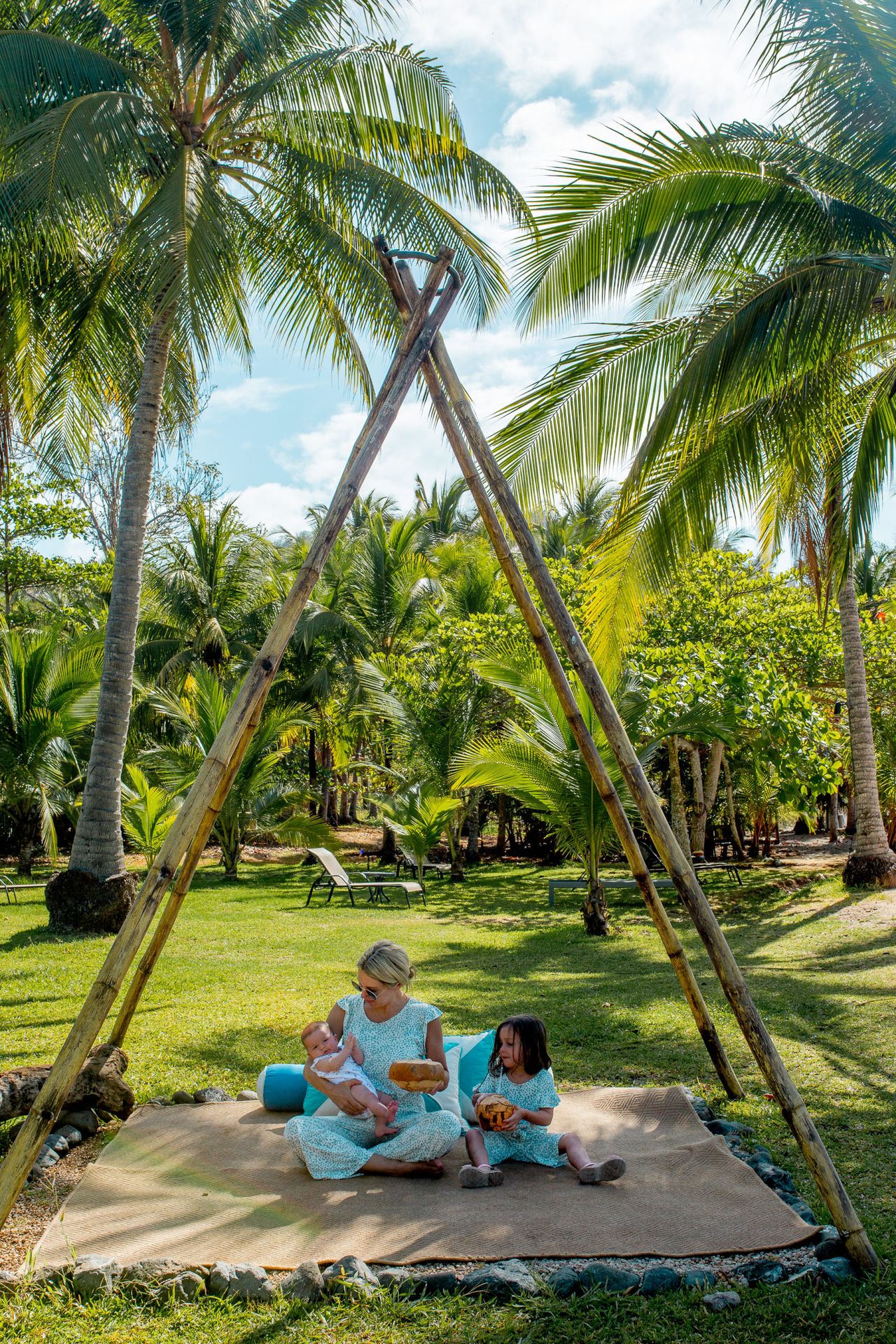 | | | | |
| --- | --- | --- | --- |
| PRICE | Rooms range from $350 CAD and upwards depending on room type and the season. You can also secure rooms via the Marriott Bonvoy Memberships if you collect points | MINI BAR | Yes! |
| WIFI | Yes | YEAR OPENED | 1994 and renovated in 2013 and 2020. |
| POOL/GYM/SPA | Pool/Full Service Spa/Gym | LOCATION | Located 2-2.5 hours from Liberia Airport. Shuttle Service available |
| CHILDREN | Yes! There are TONS of kid friendly activities on site at Hotel Punta Islita. Complimentary craft classes like key chain, sand magnet and ceramic making classes. | RESTAURANTS | Yes. 2 full service restaurants and 2 bars. Room service all day. The beach side restaurant is only available for lunch and the upper level restaurant is only available for breakfast and dinner |
PIN IT