If you want to know what it feels like to be inside a Hallmark Christmas movie, St. Jacob's Ontario in the Waterloo Region is a must visit!
Located just an hour from Toronto, London and Hamilton, this tiny town is transformed into an enchanting holiday destination where you can find Christmas markets, special festive events and activities for both kids and adults alike.
I will take you through the perfect itinerary for your visit to St. Jacobs so you can have an unforgettable stay!
MORNING IN ST. JACOB'S
Early bird gets the worm and this is most definitely the case in St. Jacobs. While I feel it is a hidden gem in Ontario, there are still lots of people that do know about this magical place and come in for the day. We were out and about by 7:30AM and felt like we had everything to ourselves at the Market which is the first thing I would recommend hitting up.
VISIT THE ST. JACOBS FARMER'S MARKET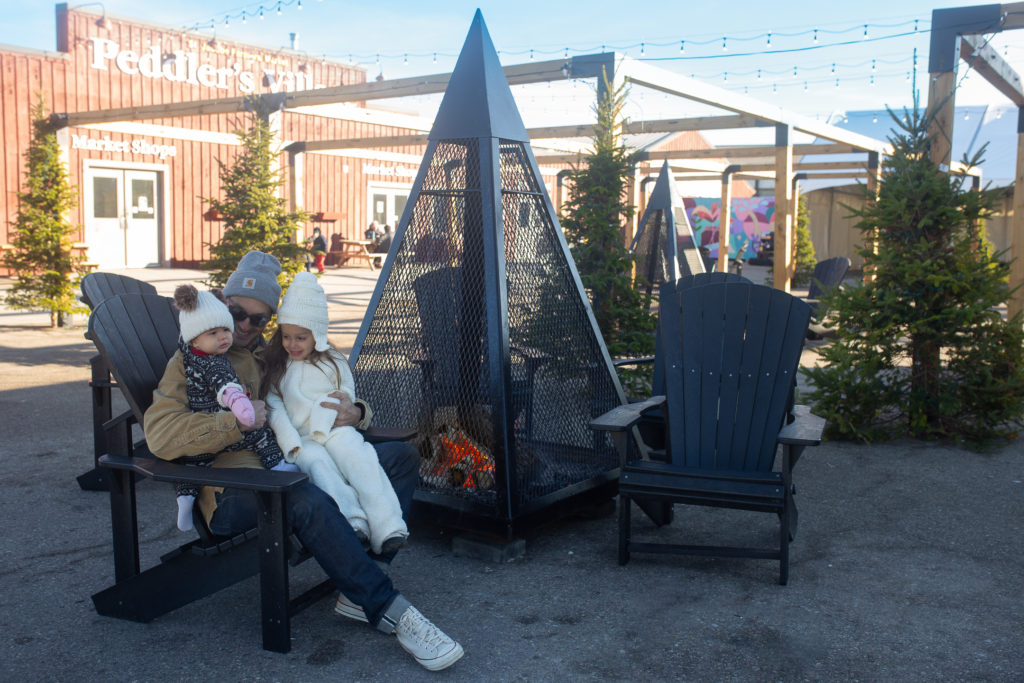 It wouldn't be a trip to St. Jacobs without visiting Canada's most famous market that is open year round! While you can visit any time of the year, visiting at Christmas time is certainly more special.
There are Christmas trees on every corner outside, fire pit stations, string lights and the inside is buzzing with the holiday rush ( in the best way possible).
I recommend getting there bright and early like I said ( it opens at 7AM!!) and grabbing a coffee while you explore where you want to eat first.
Here are the food booths we ate at ( AND LOVED). Don't judge the amount of vendors we visited please..
While we spent a lot of time discovering the food vendors, visiting the St. Jacobs Market is a great place to also do some Christmas shopping. There are dozens of artisans and craft vendors selling very unique items.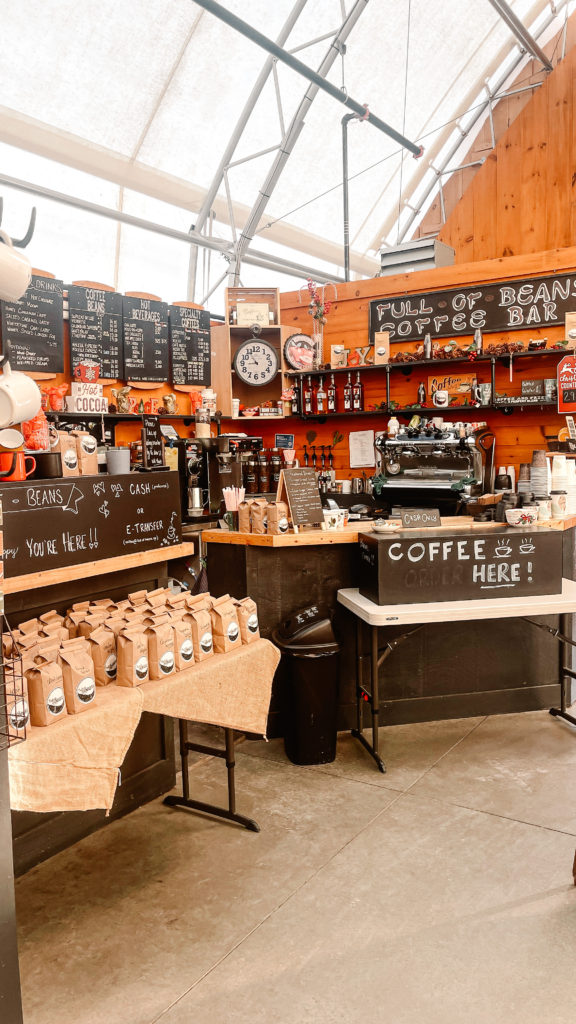 WATERLOO CENTRAL TRAIN STATION
The Waterloo Central Train Station in St. Jacobs offers a journey to the North Pole in their vintage train. And yes, it does feel like a scene from "The Polar Express"
While this is an activity for kids, I think we enjoyed it just as much if not more than Chloe did…and that says a lot because she was smiling from ear to ear the entire time.
Out of all the activities we did, this was most definitely our favourite. It is a one of a kind train ride filled with carolers, elf's, games, reindeer and a guest appearance from Santa himself!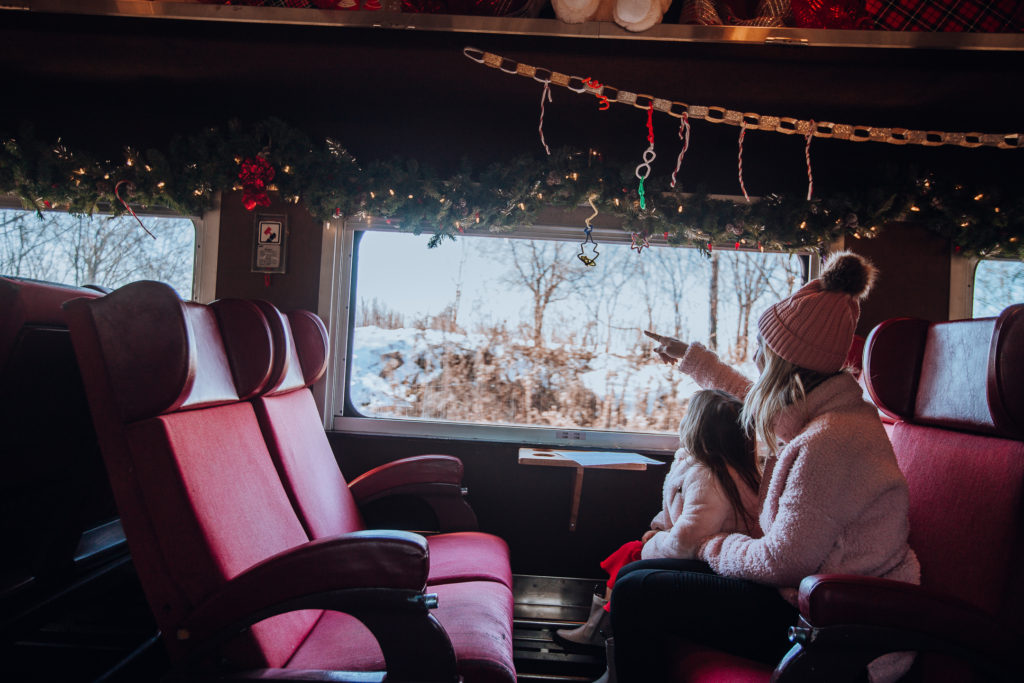 The "Vintage Christmas Adventure" is an hour in length and we found it to be the perfect amount of time. It moves through the scenic country side of the Waterloo area and the cherry on top was that we had some snow!
There is a day time train ride and a night time one which is a few more dollars in price.
TICKET PRICES: $47.99 for Adults and $40.00 for Kids 2 and up. Children under 2 are free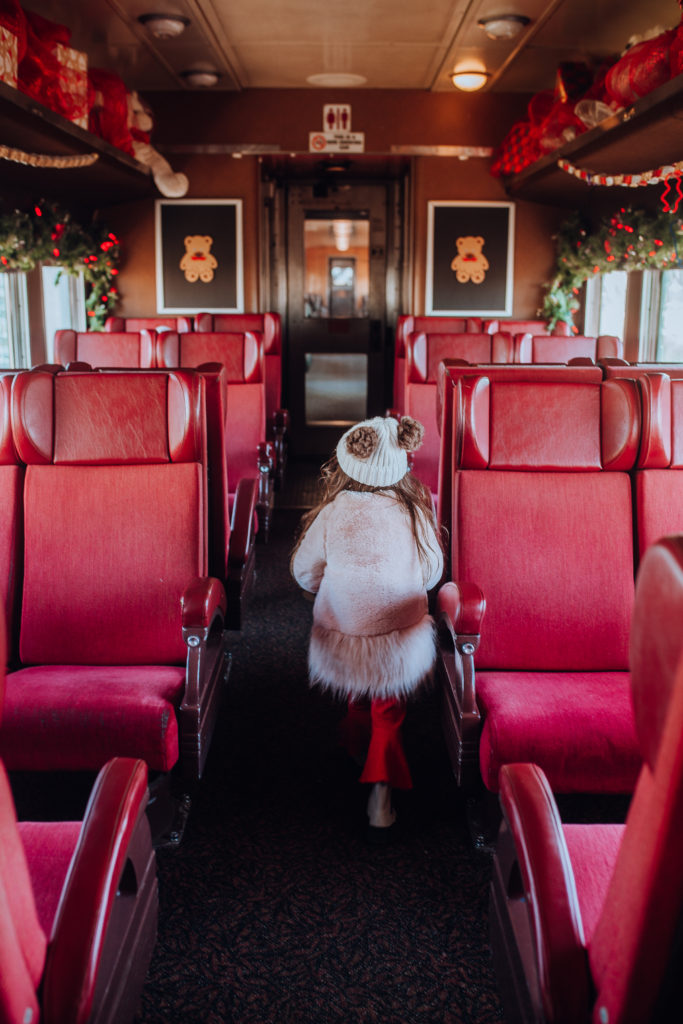 AFTERNOON IN ST. JACOBS
Time to get some lunch ( if you aren't still full from the St. Jacobs Market eating tour in the AM). If you didn't get your fix in the morning, you can head back there for lunch though! The Waterloo Central Station is right across the street from the St. Jacobs market. While this is tempting, we recommend heading to St. Jacobs Village!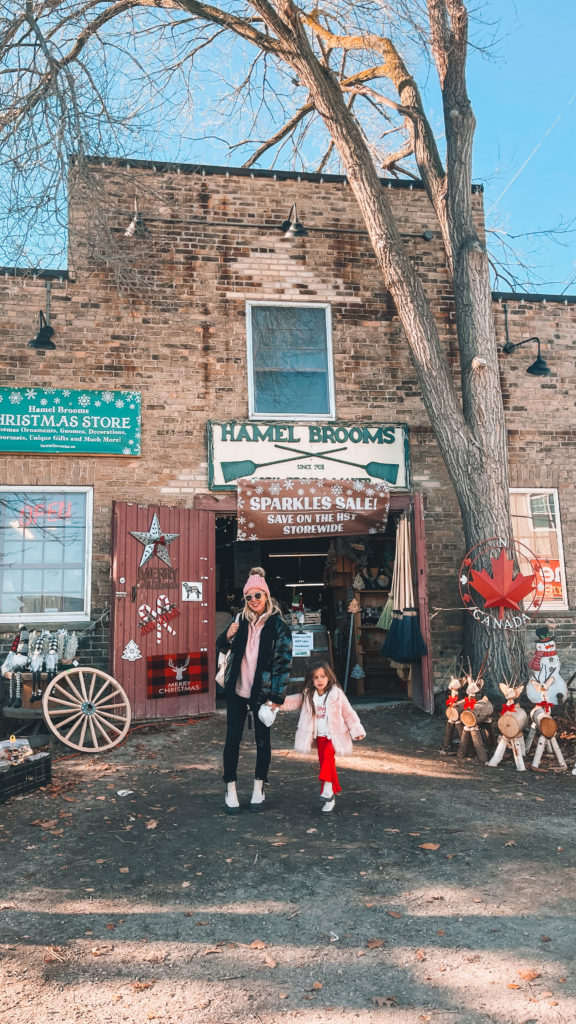 HERE ARE SOME LUNCH SPOTS IN ST. JACOB'S VILLAGE TO ADD TO YOUR LIST:
SHOPPING
After lunch, take the time to stroll through town and discover all of the cute local stores. So many of the storefronts are decked out with garland and lights and this is where the Hallmark movie vibes really intensify!
From local clothing shops to full on Christmas themed stores, there is something for everyone. We loved the Christmas store there that had so many fun ornaments that we decided we would come every year and let the girls pick one out as an annual tradition.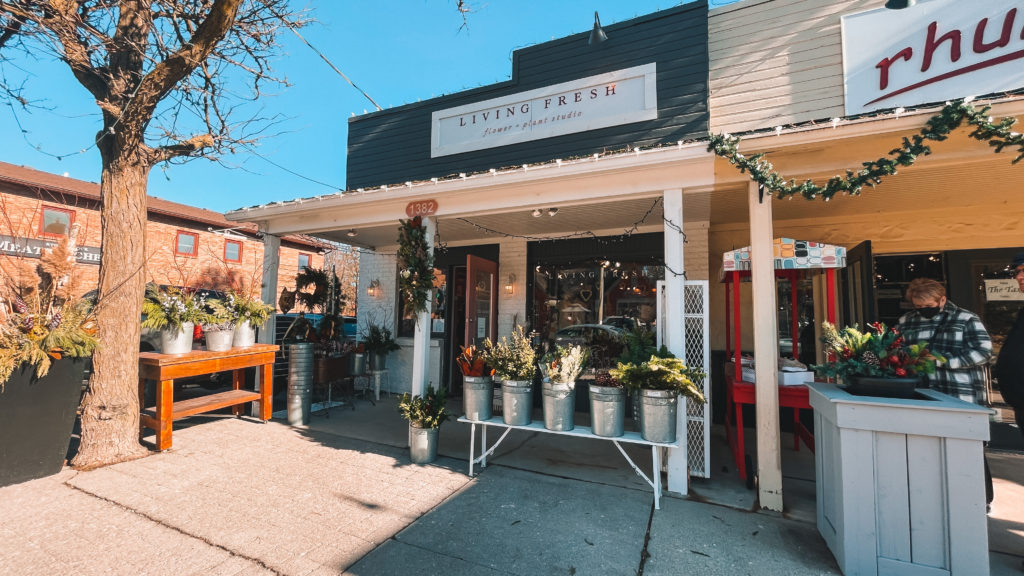 EVENING IN ST JACOBS
As the sun starts to set, the spirit and feel of Christmas comes alive even more. With so many of the buildings in town decked out with lights, everything pops just a little more. I would recommend grabbing some dinner or a pre dinner drink at the very least before exploring some of the activities and events in town.
DINNER AT THE VILLAGE BIERGARDEN
If you have ever wanted to dine inside an Igloo, Village Biergarden in St. Jacobs can make your dreams come true with their pop up winter domes.
The ambience of the string lights gives you all the feels and the heaters inside the domes do a great job at keeping you warm. I felt like I was transported to the North Pole for a second!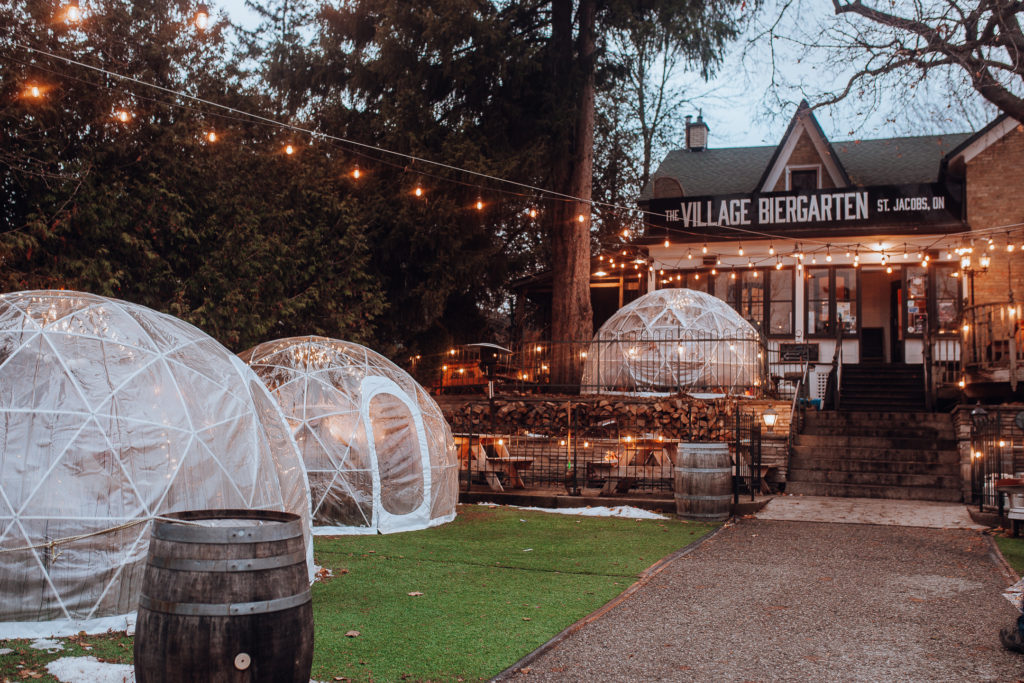 Although we came for the domes, we stayed ( and came back again the next day) for the food. It was KILLER!
Everything we had was absolutely delicious and the cold beers that we had with it certainly made us feel like we really were in a German beer garden.
The schnitzel was so flavourful and the baked mac and cheese left us having a bit of a fork fight ( we decided to all split that dish).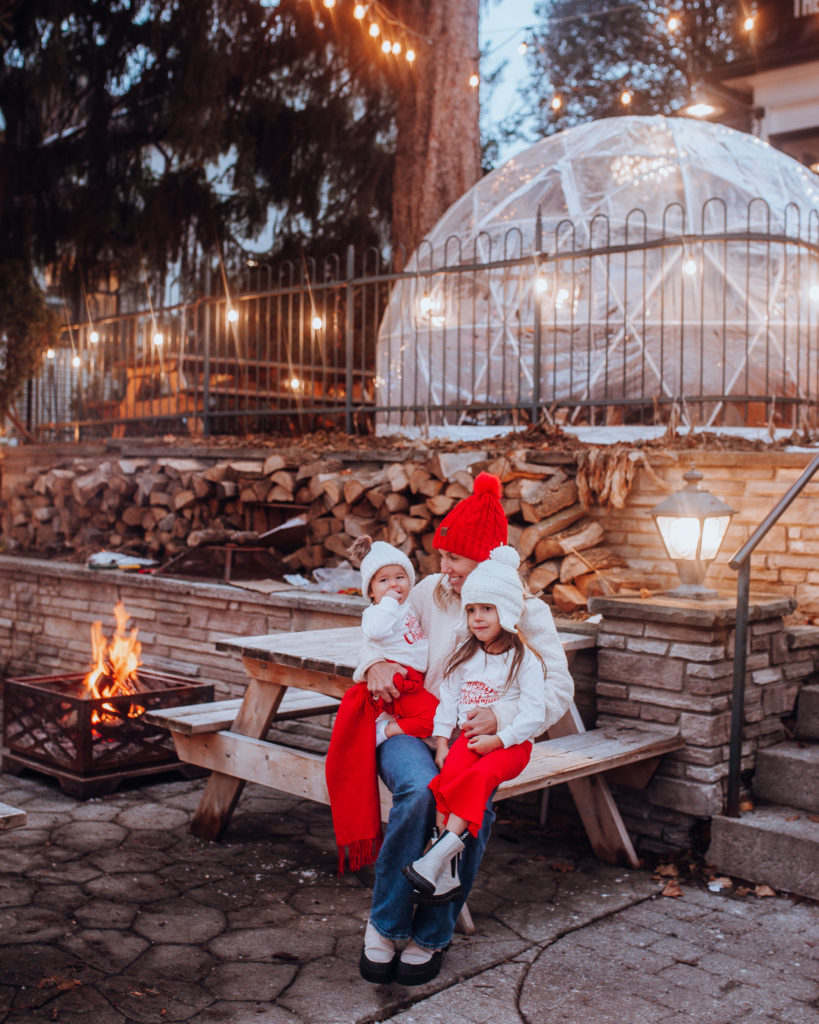 TIP: Make your reservation well in advance as they book up quickly.
They do accept walk in's for dine in only. We ate inside and in the domes and honestly- the inside is really cute too! The domes are $10.00 to book.
GIFT OF LIGHTS AT BINGEMAN'S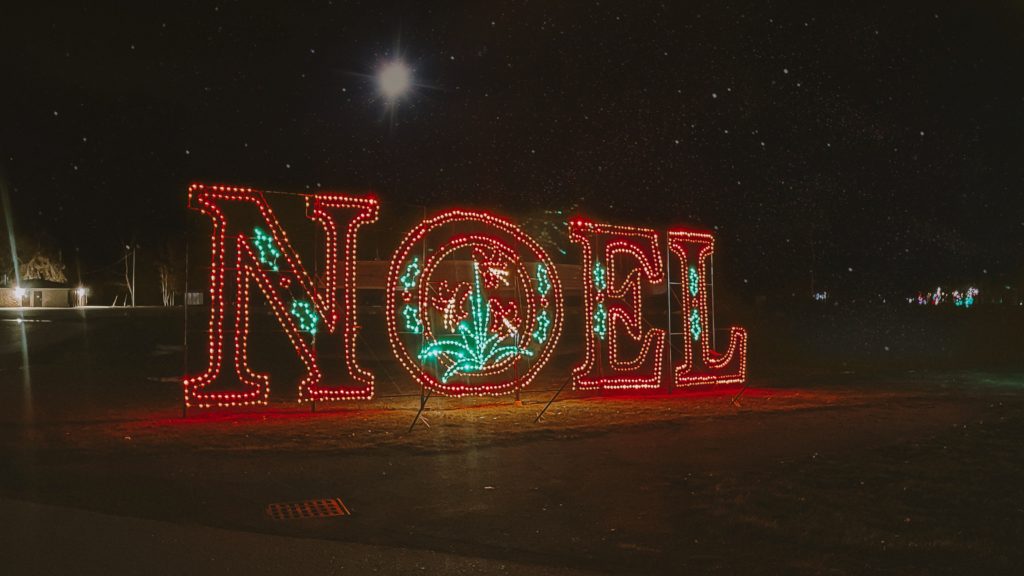 Time to head into your car for a little …or rather BRIGHT adventure to the Gift of Lights exhibit at Bingeman's.
This is one of the largest and longest drive-thru light displays in the area featuring over 300 displays. My favourite part was the tunnel lights ( there were 2 of them) that are so mesmerizing.
Another great thing about this Christmas Activity in St. Jacobs is that you can enjoy it from the comfort of your car- nice and warm!
TICKET PRICES: $24.95 FOR NOVEMBER and $36.95 FOR DECEMBER PER SINGLE CAR
JINGLE ROCK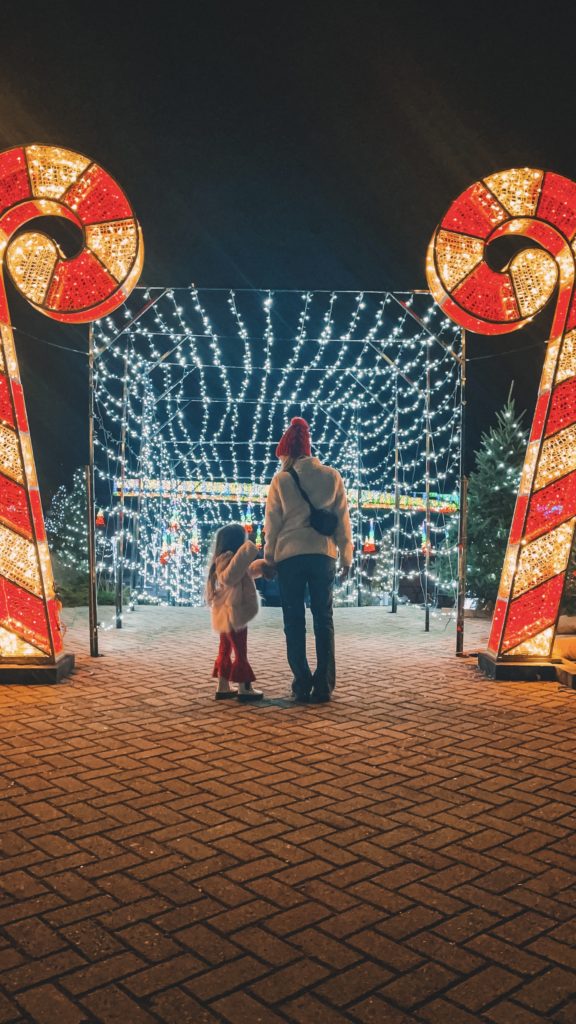 Another Bingeman attraction is the Jingle Rock! After your expedition through the Gift of Lights, drive a little further down the road ( about 2 minutes!) and you will arrive to the outdoor wonderland that is the Jingle Rock.
The space features outdoor set ups for you to get hot drinks at ( cider, mulled wine and more!), a 40 foot illuminated tree, open fire pits, Santa's sleigh ( the perfect photo opp), light tunnels and some interactive stations like "Mrs. Claus' Kitchen" where you can do some cookie decorating.
It is a great activity for the kids or adults alike and with Christmas music being played throughout, even the Grinch couldn't resist getting in the Christmas spirit here.
TICKET PRICES: Ages 2-6= $8.95(online), Ages 7 +=$10.95(online), Kids 2 and under are free
HOLIDAY EVENT HAPPENING IN TOWN IN THE MONTHS OF NOVEMBER AND DECEMBER IN ST. JACOB'S: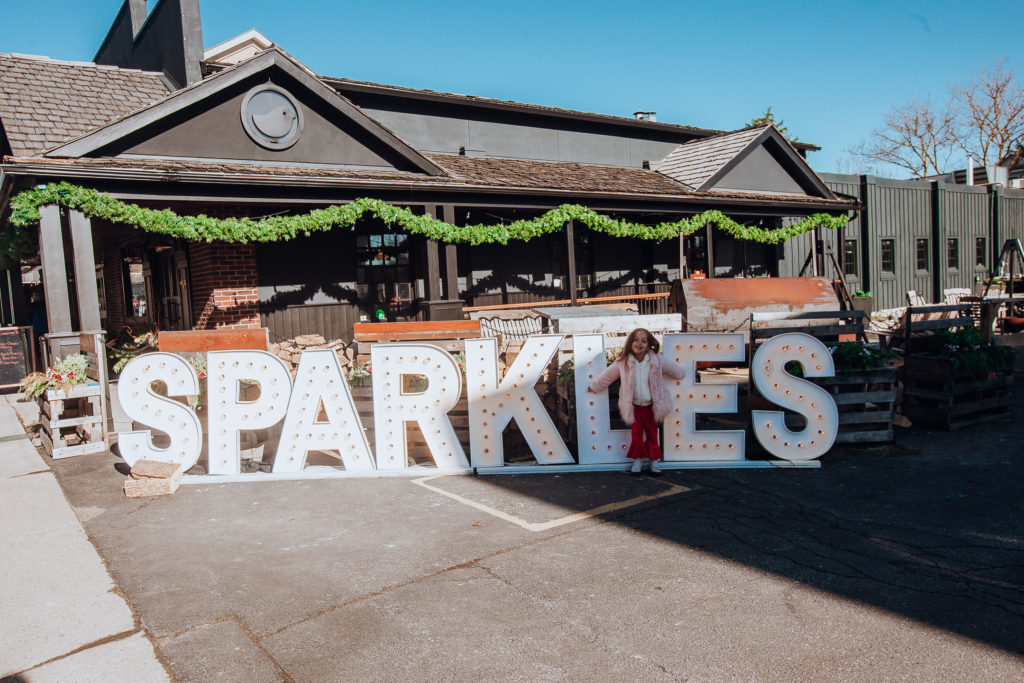 Jakobstettel: A Celebration of 170 Years of St. Jacobs
DATES: November 24th- December 18th
To celebrate St. Jacobs birthday, Jakostettel ( the German name given to St. Jacobs) was created! This is a series of events throughout the holiday months of November and December. The Vintage train ride, Sparkles ( see below) and a few other festive events are part of this historic celebration!
Sparkles: A Holiday Shopping Event
DATES: November 24th-27th
During Sparkles, the entire St. Jacobs Village extends their shopping hours well into the night so visitors can shop until they drop! There are carollers in the village, pop up shops ( we spotted an amazing hot chocolate station!) and other fun add on's during these dates.
Santa makes an appearance at the market and not only can you snap a photo with him but he shares a story with the crowd! There is also an opportunity to decorate cookies!
DATES: November 19th and December 3rd
You can check out all the activities happening in the Waterloo Region HERE ( there are so many!)
WHERE TO STAY
While you can easily visit St. Jacobs on a day trip, we decided to stay over for the night and we were so glad we did! Right off the highway there are 3 hotels – Courtyard Marriott, Holiday Inn and Comfort Suites. Having these three hotels located here makes it easy to hop on and off the highway and get situated quickly!
We stayed at the Courtyard Marriott Waterloo and LOVED it! Recently renovated, this three level hotel had a welcoming and cozy fireplace in it's lobby, a Starbucks and the rooms were very spacious for our family of four. 10/10 recommend!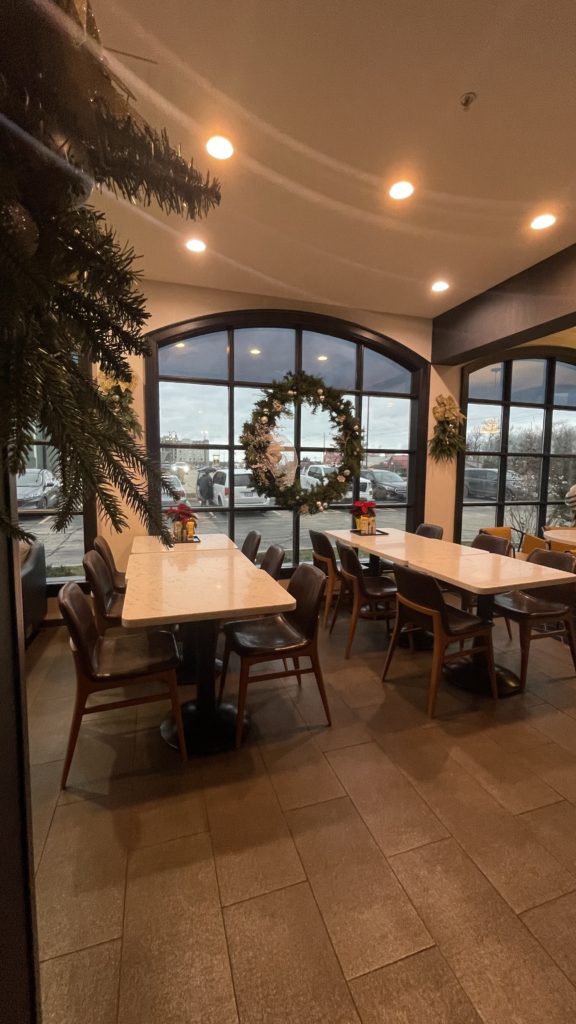 ---
A road trip to St. Jacobs is now going to be a yearly thing for us in November or December and we can't wait to experience it again next year. It is truly one of a kind!!
I hope you make the trip out to St. Jacobs in the Waterloo area this month! If you have any questions about any of the activities I listed or need more information, feel free to reach out directly to me on Instagram!
PIN THIS POST