If I had to pick one of my favourite cities in the world, I would pick Quebec City!
And I am not alone in this.
This past year Quebec City was named one of the best cities to visit in THE WORLD by Conde Nast Traveller and was included in the Top 5 Cities Within Canada by Travel and Leisure.
After spending even just a day there, you would likely see why that is!
It is like living in a real life fairy tale with cobblestone streets, stone buildings, the most charming stores and a food and dining scene like no other.
Christmas time in Quebec City amplifies all of these quaint and cozy feelings that the city has. It is like being in a Snow globe! While I fell in love with Quebec City on our summer visit last year, I think visiting during the holiday season may have to be a yearly thing!
Interested In Other Canadian Getaways? Check Out These Posts!
---
Alright, let's get the juice! Here is a list of all the things I did in Quebec City at Christmas time. There is also a ton of activities to do after Christmas but since I was there in mid December I thought I would share the activities I personally did!
1. Skating at D'Youville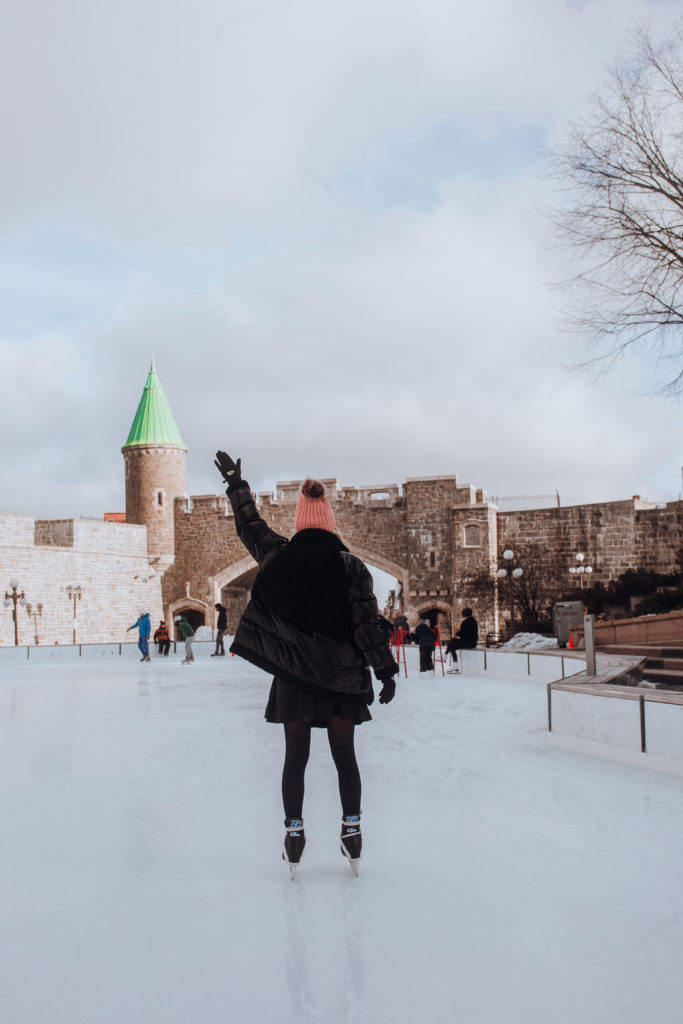 When I was a child, I watched the movie The Cutting Edge and immediately wanted to become a Figure Skater. Add on the Olympics where I idolized Nancy Kerrigan and I had big dreams of a life on the ice!
Unfortunately I was not very good at triple axels so doing some good old fashioned outdoor skating like a true Canadaian is where I ended up! And I am not mad about it. It is one of the best activities to do in the winter and doing it near the Old Fortified Walls of Quebec City makes it even more special!
It's like you are skating within the walls of a Castle and there is stunning holiday decor as another view point too!
We felt like kids as we enjoyed a morning on the rink and even took a break and visited the neighbouring German Christmas Market for some hot cider. One of the best Ice Skating Rinks ever!
---
HOURS: Monday-Thursday: 12pm – 10pm, Friday- Sunday: 10am – 10pm
COST: Free! (If you bring your own Skates). To Rent Skates is $9!
SHOP MY FAVOURITE AMAZON ITEMS FOR WINTER
2. German Christmas Market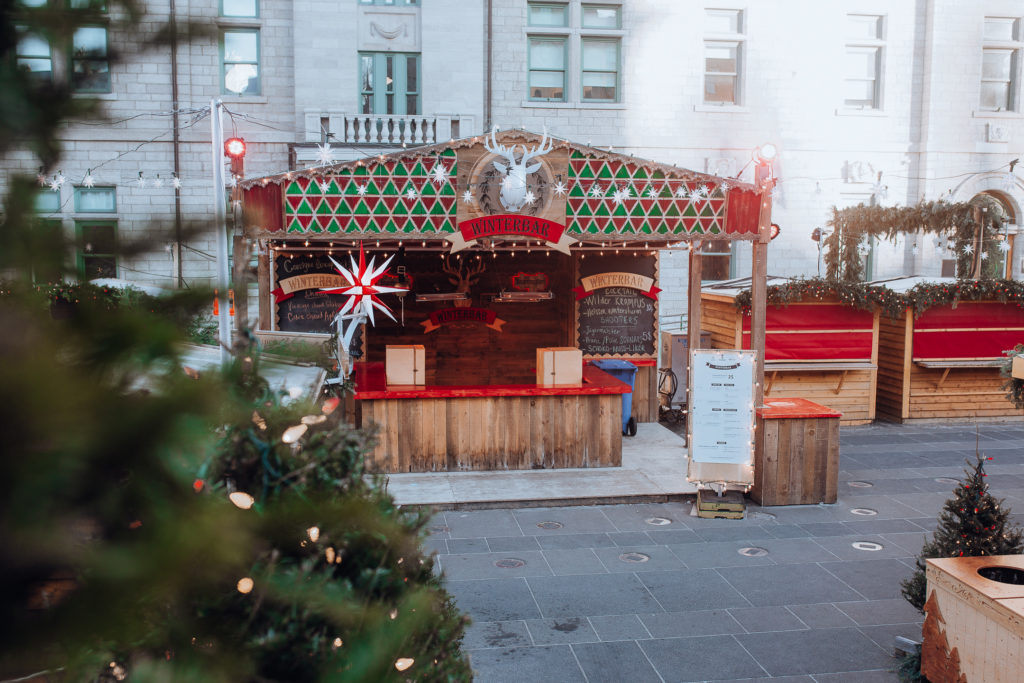 It has been a dream of mine to do a proper German style Christmas Market. While it would be fun to experience one of these in Vienna or Germany itself, Quebec City's Christmas Market holds its own ( not to mention I saved money and time on a flight to actual Europe).
With over 90 kiosks and 5 locations scattered all over the city, the Quebec City German Christmas Market is an unforgettable experience. It's magical atmosphere is made up of original gift ideas, tasty food items like Bulvarian Pretzels and Sausages, traditional German delicatsies, Mulled Wine and Other Festive drinks and Christmas Music softly playing in the background.
Additionally you can find activities for the kids like a puppet show, choirs and a ice castle replica that allows you to immerse yourself in the spirit of the holidays.
Though I loved how the Quebec Christmas Market was legitimately a replica of a European Christmas Market, the Italian in me LOVED the Gnocchi Kiosk. Serving up warm gnocchi out of a Parmesan Cheese wheel, it made me feel all warm, fuzzy and left me very full afterwards! Highly recommend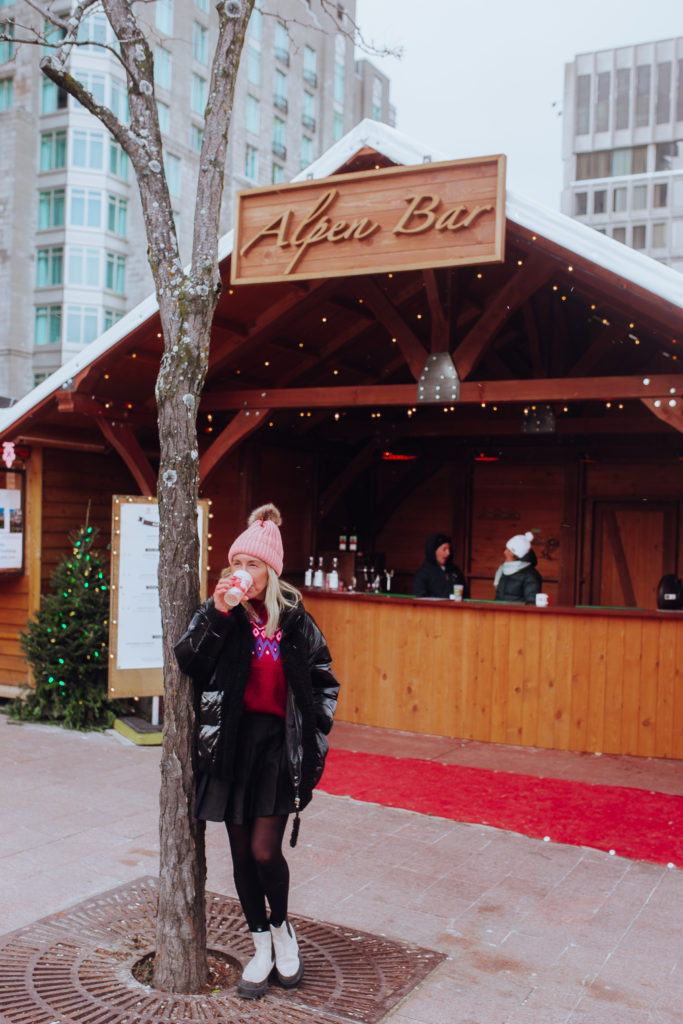 ---
HOURS: It varies by week but it is mainly closed Mondays through Wednesdays. It is open Thursdays through Saturdays from 11AM-9PM and Sundays from 11AM-6PM.
COST: Free to enter! Each stall has it's own prices. We personally had Cider for $5.00 a glass and Mulled Wine for $4.00 a glass ( 5 oz)
3. Go Tobogganing at Au 1884: One of Quebec City's Oldest Attractions!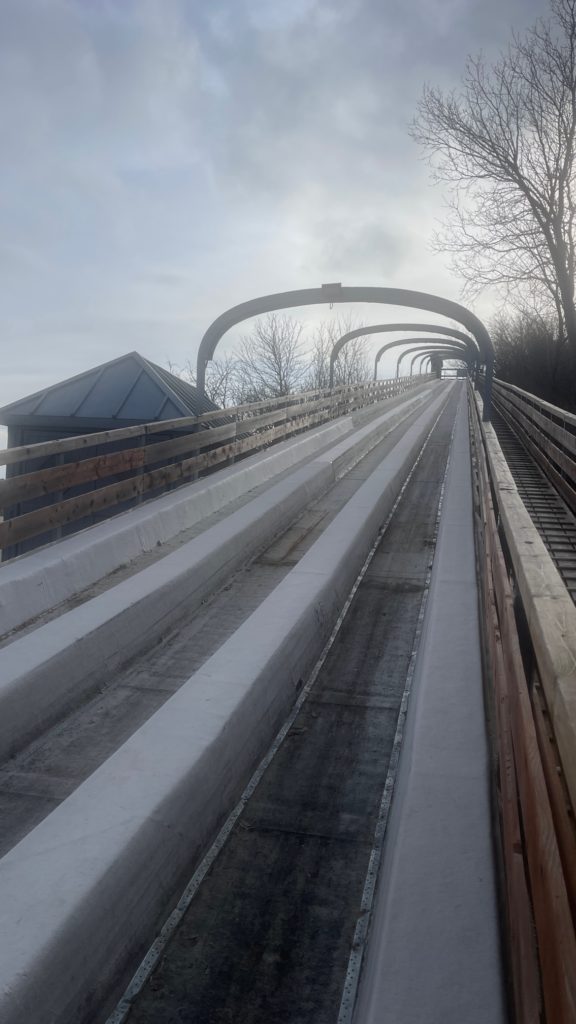 Looking for an adrenaline rush? Make sure to head over to the Dufferin Terrace located right beside the Chateau Frontenac and take a slide down the famous Toboggan Slide Au 1884.
This amazing structure dates back to 1884 and attracts so many visisitors each year with it's uniqueness. Seriously, what city can you Toboggan in?
The slide has speeds of up to 70 Km an hour and is sure to bring out the kid in you!
---
HOURS: 10AM-5PM. Hours subject to change so best to check the official website here
COST: $4.00 a slide!
OTHER THINGS TO NOTE: The season is weather dependent but normally runs from December until mid March. In order for the slide to operate it requires a good base layer of snow!
4. Take in All of the Christmas Storefronts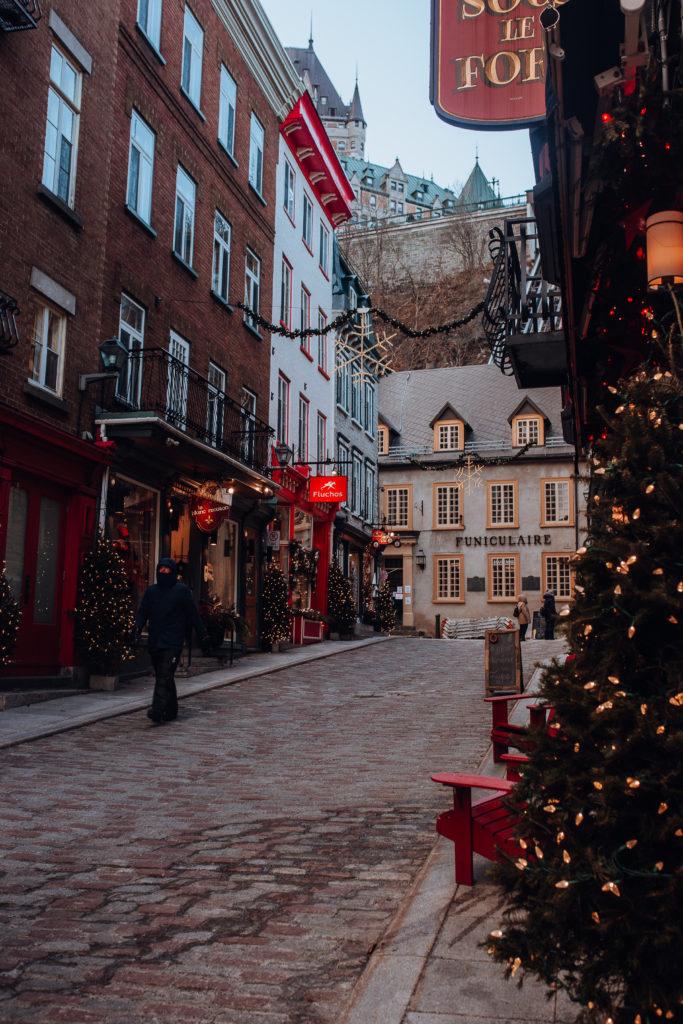 It is impossible to not feel the Christmas Spirit in Quebec.
Even the Grinch would change his tune after walking down the Petit Champlain where lights are strung from every storefront and where Christmas trees are posted up on every corner. There are enchanting snowflake illuminations…… and eee, you really need to go there to experience it in person!
Here are some of my favourite places to see Christmas Decor in Quebec City:
Maison Simon ( beautiul wreath display and of course great shopping)
Palace Royale ( they have a big Christmas Tree in the square)
City Hall
Fairmont Château de Frontenac (the hotel interior is DECKED out with over 20 trees!)
German Christmas Market ( As noted above, there are 5 spots within the city)
Quartier Petit Champlain (these decorations stay up until March!)
Place Royale Christmas tree
German Christmas market
Place d'Youville
5. Get a Hot Chocolate or Specialty Coffee at Maison Smith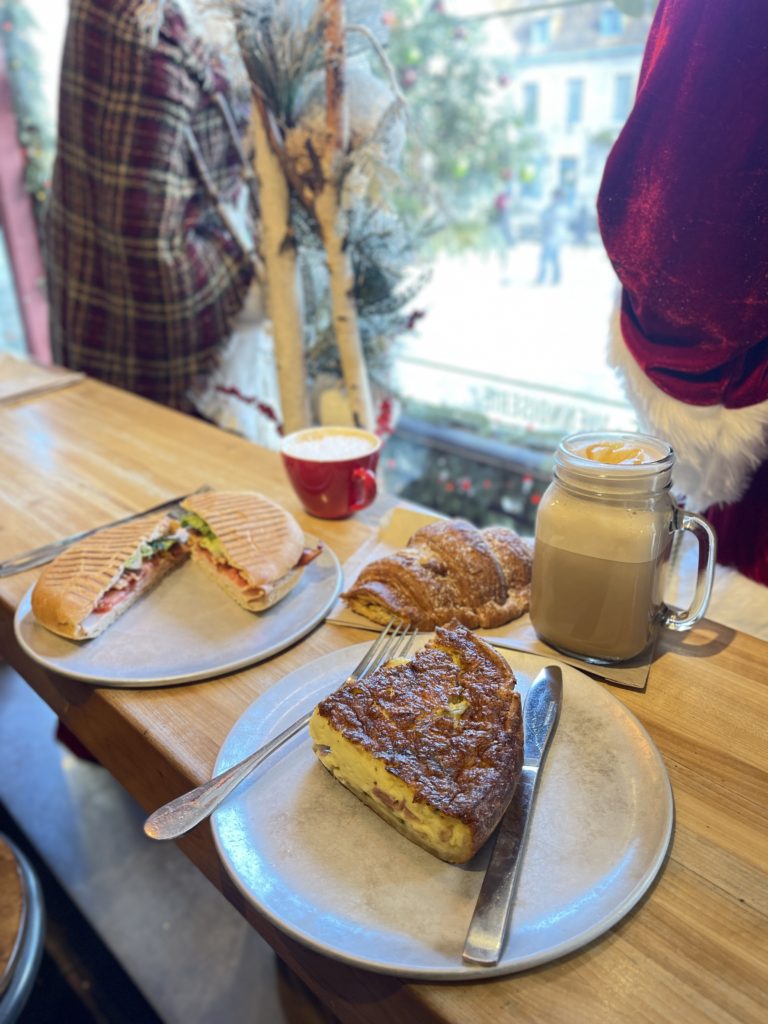 Quebec City temperatures can dip! The best way to get warm is to post up at one of the cutest coffee shops in town and try one of of their hot specialty drinks.
Move over Starbucks because this place is the real deal. While there are a few locations in the city, make sure to visit the one at Place Royale for the most stunning holiday storefront and vibe.
Entering the cafe makes you feel warm and fuzzy inside- figuratively AND literally after having a drink.
We loved watching the passerbys from the window front and the whole experience left us feeling a little sweeter.
The Salted Caramel Latte was out of this world and their hot chocolate, made with ganache, is not to be missed. We left with a few cookies for the road as well!
6. Visit Quebec City's Outdoor Spa- Strom Spa!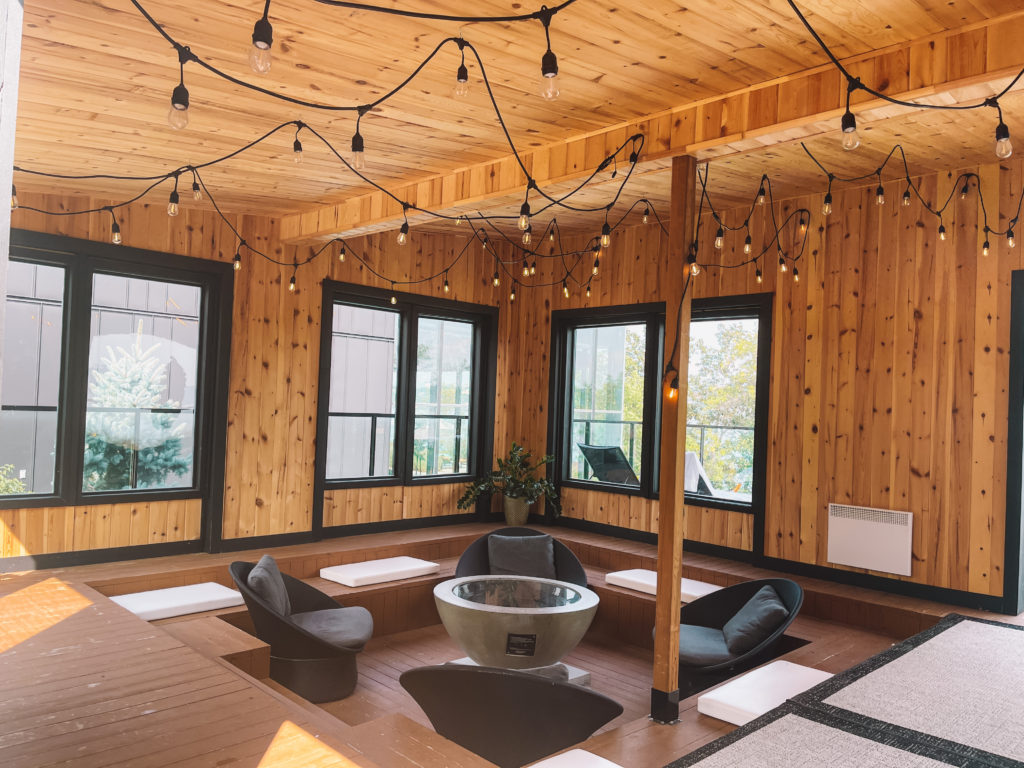 Escape the city for an afternoon and transport yourself to the nordic inspired Strom Spa which is located only 5 minutes from downtown!
It has a number of thermal pools that overlook the Saint Lawrence River and a good selection relaxation rooms with wood burning fireplaces if you don't want to get wet.
In addition to this they also have an onsite restaurant with
7. Buy a Christmas Ornament at Boutique De Noel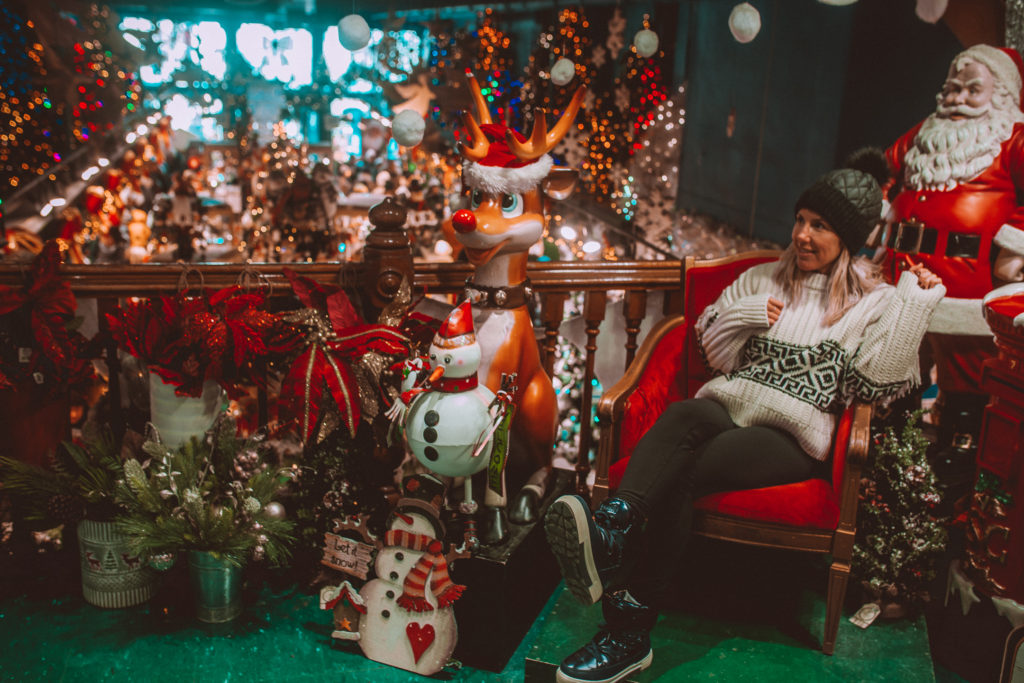 If there is one store you visit when you are in Quebec City at Christmas, let it be this one!
We visited Boutique de Noel when we were in Quebec in August and it still was awesome but at Christmas time? PURE MAGIC!
Boutique De Noel is a Christmas themed store that is open year round where you can purchase the most beautiful and unique Ornaments for your tree. Decked out with lights, Christmas trees and other Christmas decor pieces you can purchase, you won't want to miss it
I got our girls a special ornament and one of my best friends an engagement ornament here!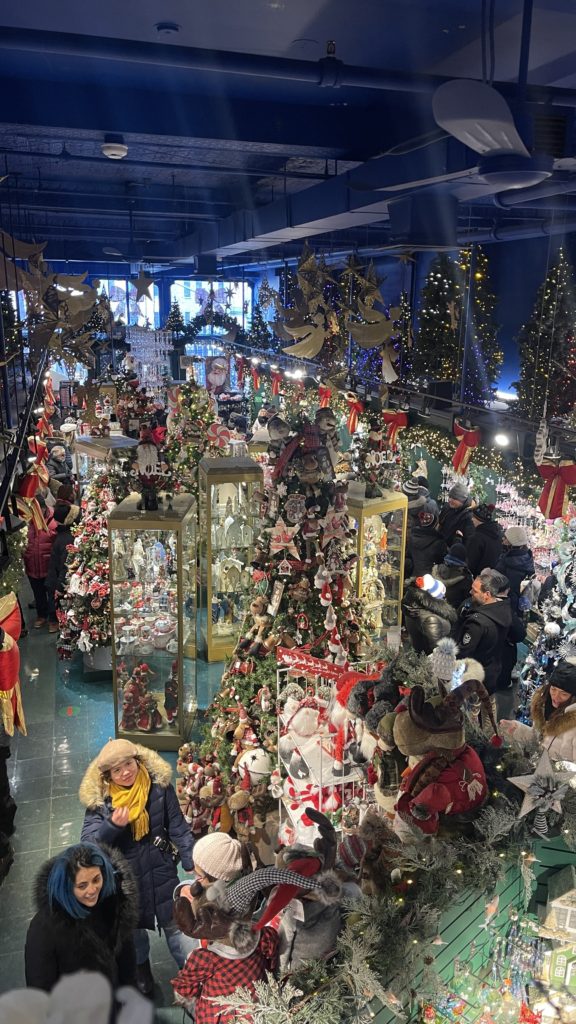 8. Visit the Iconic Fairmont Chateau Frontenac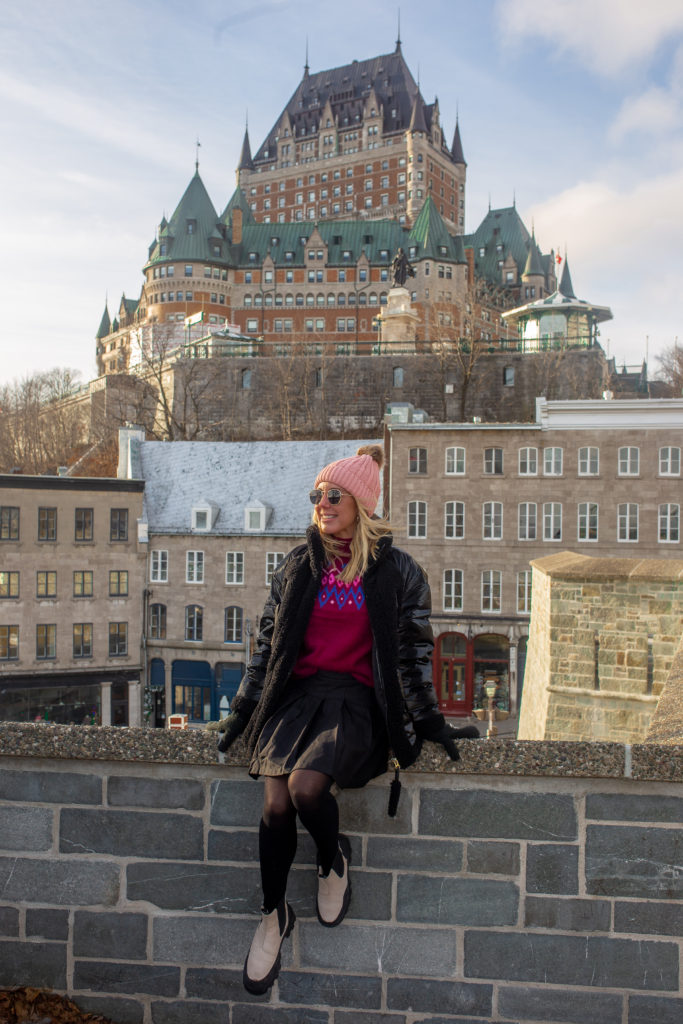 The Fairmont Chateau Frontenac is not just a hotel in Quebec City, it is almost a tourist attraction in itself! It is actually one of the most photographed hotels in the world believe it or not and a focal point of the Quebec City landscape.
There are so many spots in the city where you get epic views of the Chateau and it shows off it's massive scale. It is a mesmerizing site from a far and then getting to experience the interior is also a "woweee" moment.
They of course do not hold back on Christmas decorations and every inch of the space is sprinkled with a tree, garland or lights!
Grab a drink at Le Sam Bistro ( trust me on this) and take in views of the St. Lawrence River while you are at it!
---
TIP: If you are staying in Old Quebec you can go by feet up the stairs to reach the Chateau but I would recommend paying $4.00 for a ride up the Funiculaire
9. Take Some Beautiful Photos in Old Quebec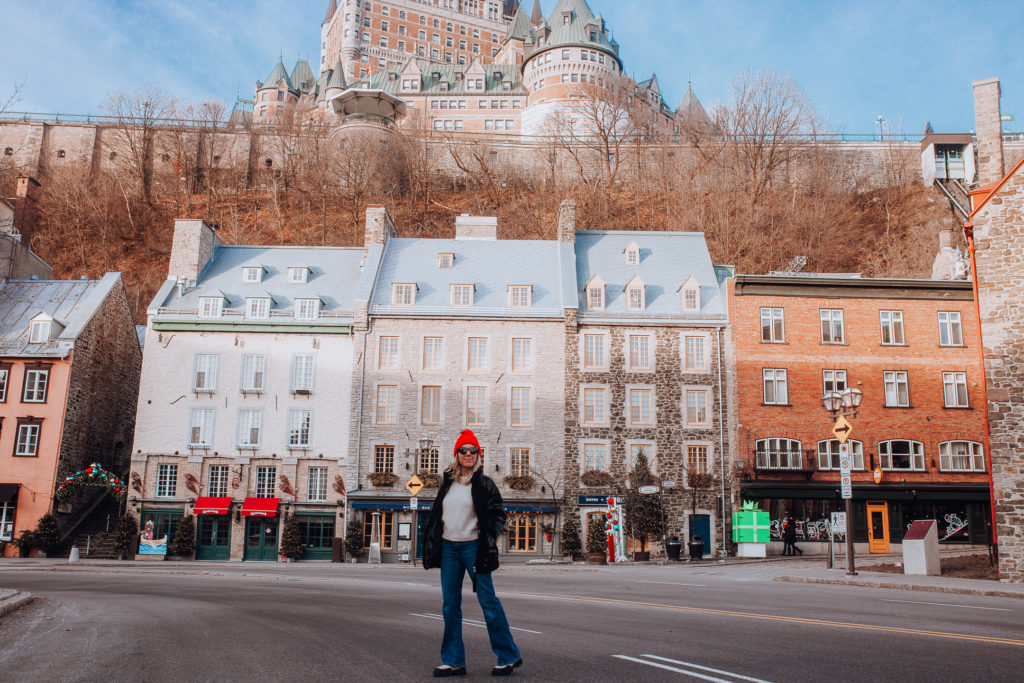 Quebec City reminds me of a scene from Beauty and The Beast! It's truly a fairytale city and at any given moment I feel like a passerby could start singing and bust into a dance…just like in a Disney movie.
There are so many spots to take beautiful pictures with this landscape so go out there and capture some memories.
10. Enjoy A Cozy Meal or Cocktail At One of The Many Quebec Restaurants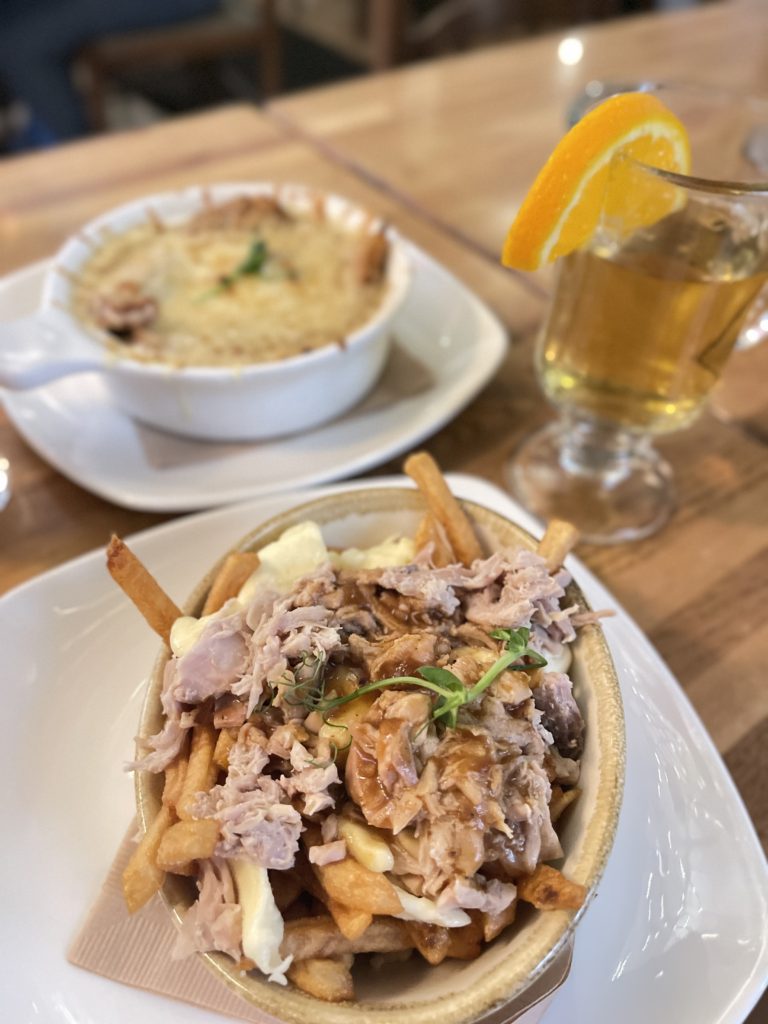 Quebec City has a bustling and very happening food and dining scene. I was actually overwhelmed by all the options because they all looked SO good!
While we had reservations booked ahead of time, there were so many cute spots that were trying to lure us in.
I loved walking outside in the cold and then cozying up in one of the places we visited. With the buildings being so rich in history and older, many of the restaurants ( especially in Old Quebec) have stone wall interiors making it a perfect spot to enjoy a hot bevy, beer or glass of red wine. * CHEF'S KISS*
Here are some places I recommend getting getting a bite or drink at: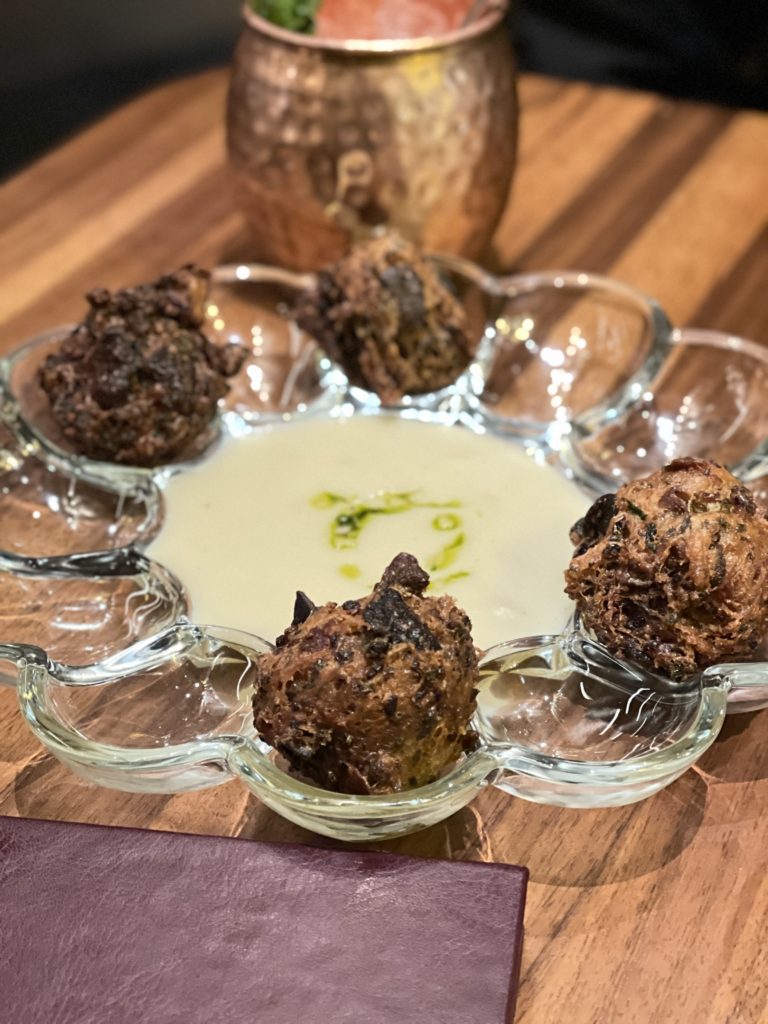 Le Bedeau :This restaurant is one for the senses and a true gastronomy experience. Expect unique dishes, exceptional wine pairings and an interior that is out of Architectural Digest. We were always bundled during the day so this place was such a nice change up. It has a sexy, romantic and modern vibe.
Bistro L'Atelier: Spread over 5 levels, this hip restaurant is an experience you won't forget! They have the coolest cocktails ( our waiter topped our martinis off with fire!) and specialize in dishes like oysters and tartare. Do not miss it!
Antoine L'Oncle Pub: Do you know the movie The Holiday? Remember when they visited an old stone pub in England? This place is exactly like that! Located in Old Quebec City, it has an unassuming and discreet entrance but once you open the door, it feels like you instantly made the right decision. We posted up at the bar and got a pint. Rumor has it they have some pretty amazing French Onion Soup! Next time.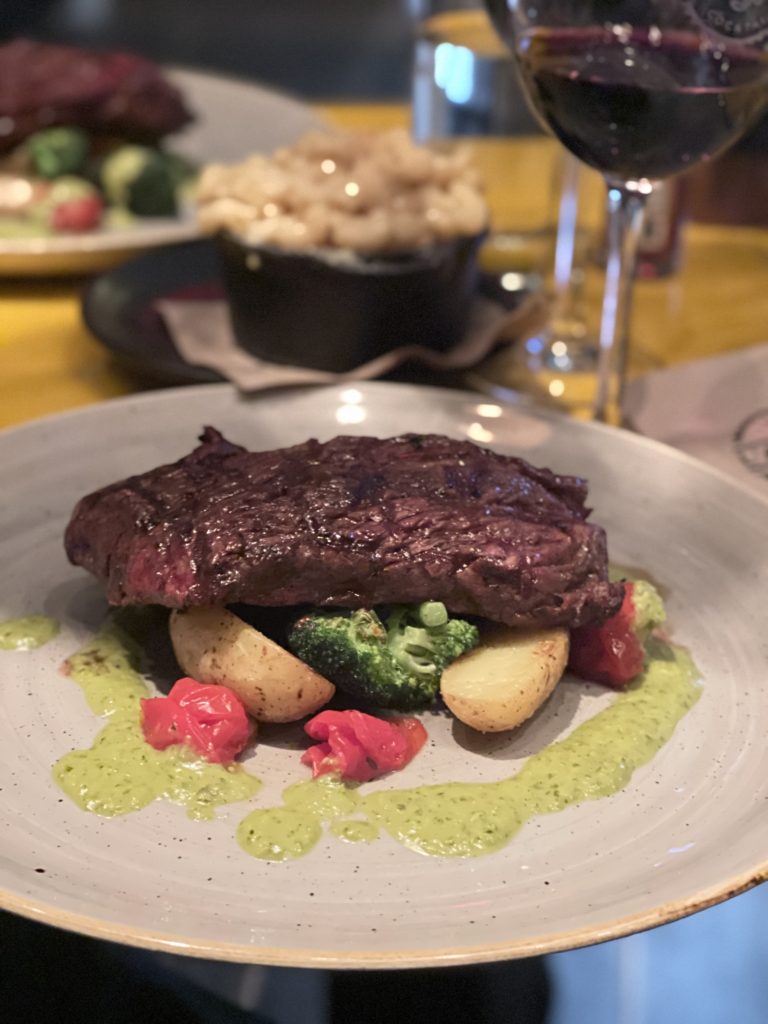 11. Warm Up at one of the Warming Stations
It's no shocker that Quebec City during Christmas can get a bit frosty! Situated along the Lawrence River, you can sometimes expect some added wind chills from the water.
To keep all visitors comfortable, Quebec City has introduced "Warming Stations" throughout the city so that you stay toasty as you explore!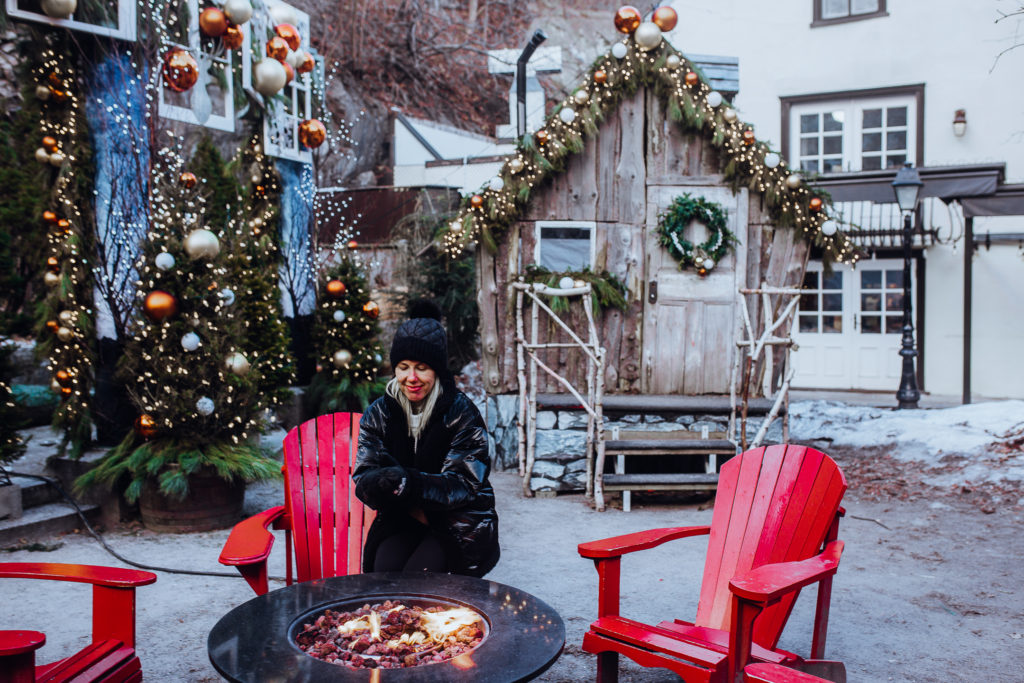 All the warming stations are festively designed and reminded me of a place where Santa and his elves would gather or hang out if they lived in Quebec City! The cutest. There are Muskoka chairs and firepits if you want to stay a while….and we actually did one day!
They are installed at the beginning of December and stay there until March.
You can find them specifically at:
Parc Félix-LeclercIn (in the center of the Petit-Champlain pedestrian street)
Parc Champlain ( end of Petit-Champlain Rue/Close to Ferry Terminal!)
Place D'Youville ( aka where the Skating rink is!)
Jardin Jeanne-d'Arc (within the Plains of Abraham- another awesome spot to check out!)
Place Richard-Garneau
La forêt enchantée ( Where the Grand Marche is!)
---
Where To Stay In Quebec City At Christmas?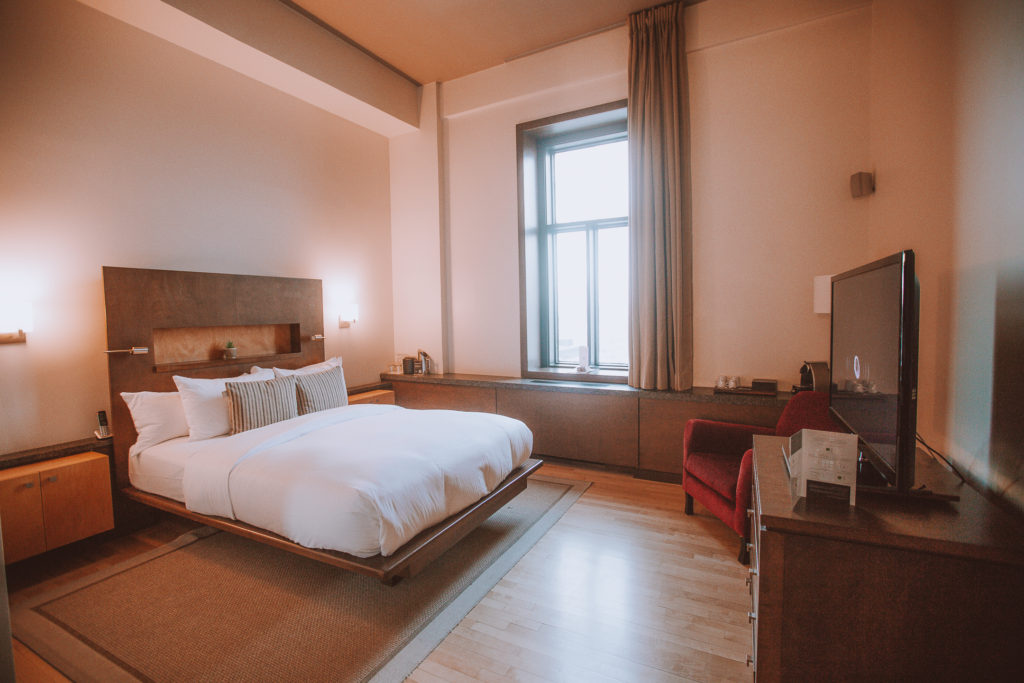 We stayed at the Fairmont Frontenac last time we visited Quebec City but decided to stay right in Old Quebec this time. We landed on Hotel 71 which is situated in the heart of it ALL! It is the perfect place to stay if you are visiting Quebec at Christmas time.
It's modern yet intimate and we felt like we were staying in a really cool apartment! We loved the daily breakfast on site, the self serve wine fridge in the lobby and it didn't hurt that one of the coolest Italian restaurants in town, Il Matto, was right on site!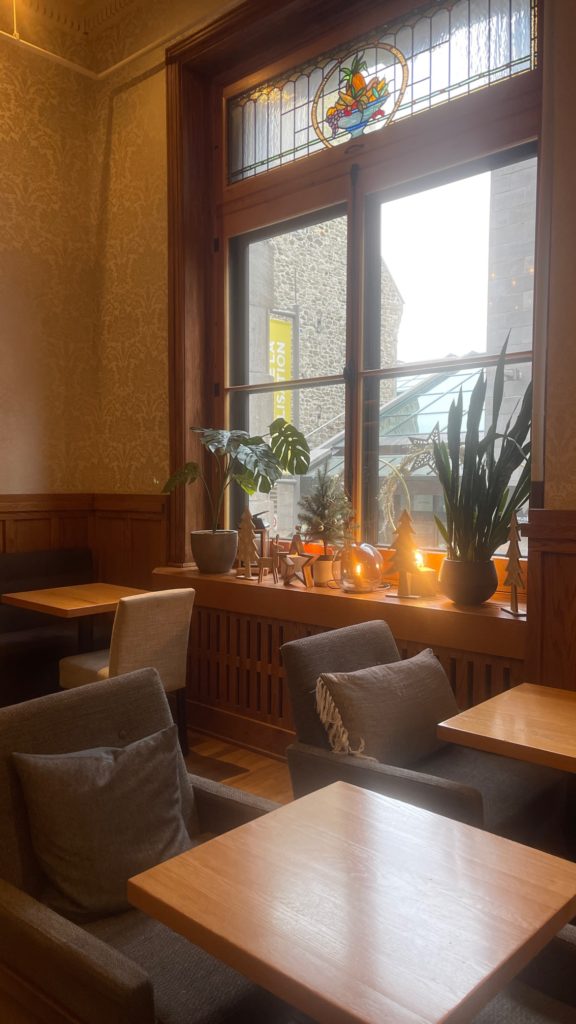 Quebec City at Christmas is the best place to visit if you are looking to embrace winter and some snow! It was a bucket list place to visit at this time and it did not disappoint! Maybe one day I will even stay for Christmas Day itself and head to the beautiful Notre Dame for a Christmas Mass 😉
If you are looking to plan a similar trip and have questions, feel free to email me or reach out via Instagram!
In partnership with Quebec City Tourism / Destination Québec Cite
PIN THIS POST