Ice Skating in Hamilton…or really anywhere in Canada is a rite of passage if you are a Canadian. It's just something you grow up doing. It feels nostalgic to my childhood and now that I have my own kids, I want to create these skating memories with them as well.
There are a few outdoor skating options in Hamilton but my favourite place to skate is definitely Princess Point or Cootes Paradise.
I love how big it is and it feels like you are truly immersed in nature rather than skating in circles at a manufactured rink.
Is there Parking On Site?
Yes, parking is on site and it is $10.00 on weekdays and weekends.
The parking lot is pretty tiny ( especially if it is a perfect skating day) and can fill up quickly.
There is no street parking unfortunately.
Address for Princess Point Skating is: 335 Longwood Road, Hamilton, Ontario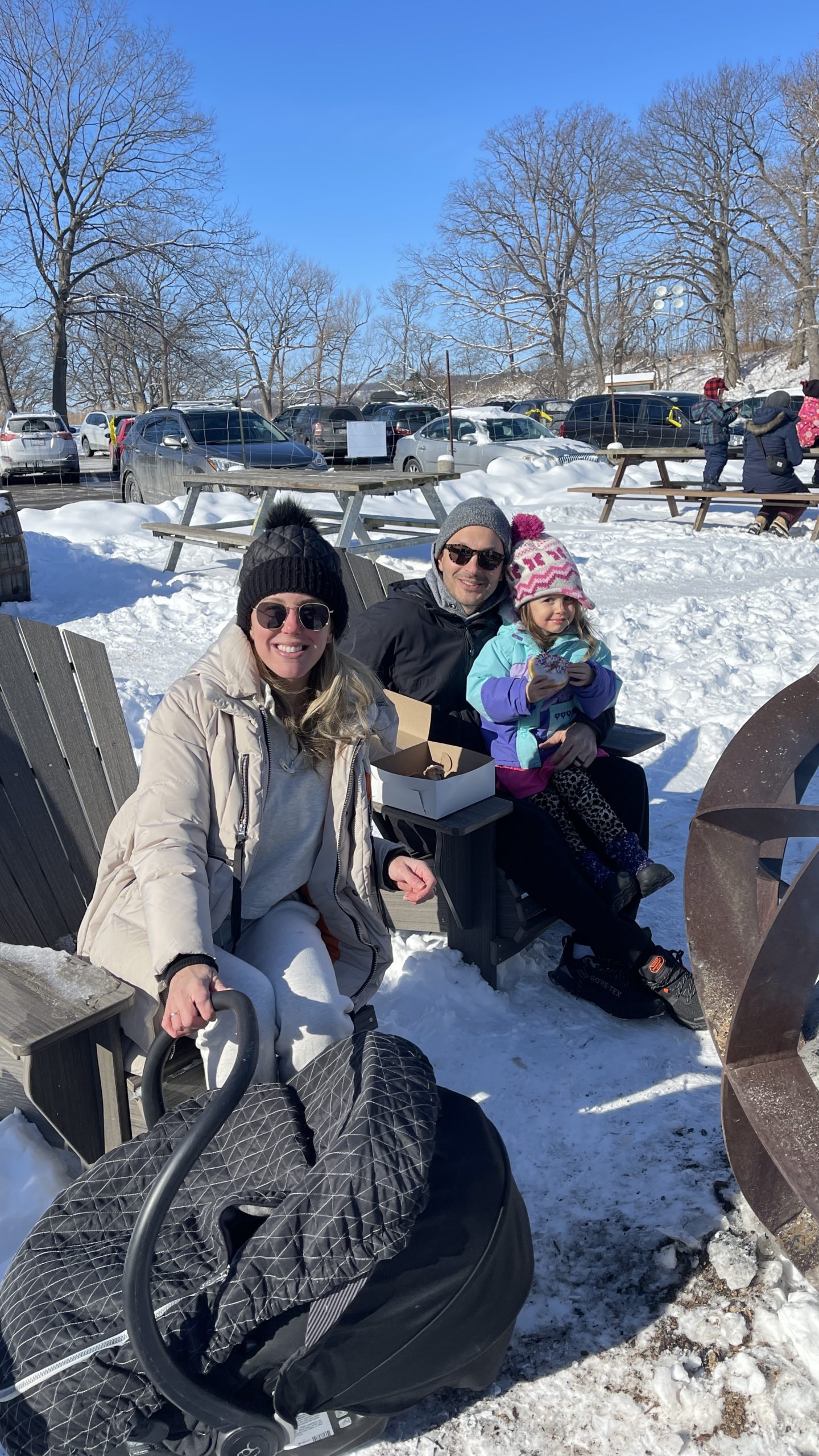 Other Ontario Travel Posts You Might Find Helpful:
Peach Picking: Where to go peach picking in Niagara
8 Things to do in Crystal Beach: Add this adorable beach town to your list!
Wine Tour in Niagara: An amazing E-Bike tour through Beamsville, Niagara area!
Are there Washrooms When You Skate At Princess Point?
Yes there is a set of Potta Pottys ( 2 of them) right where the parking is
Is There Anything To Eat or Drink At Princess Point?
Yes! Launched in Winter 2021, the RBG introduced a little Princess Point Winter Café. It serves up pastries like donuts, danishes, hot chocolates and little sandwiches. They even have speciality hot dogs on the weekends.
This little winter Café is run out of a Collective Arts Shipping Container!
It also is licenced and has wine, beer and cute winter cocktails
And the really cherry on top is that they have firepits set up to cozy around and speakers playing some music.
You also can bring your own food which we used to do when there was no Cafe there! Nothing like your own hot thermos or cider to have!
HOURS: Monday to Wednesday: 4 to 9 p.m.
Thursday: 2 to 9 p.m.
Friday: 12 p.m. to 9 p.m.
Saturday & Sunday: 10 a.m. to 9 p.m.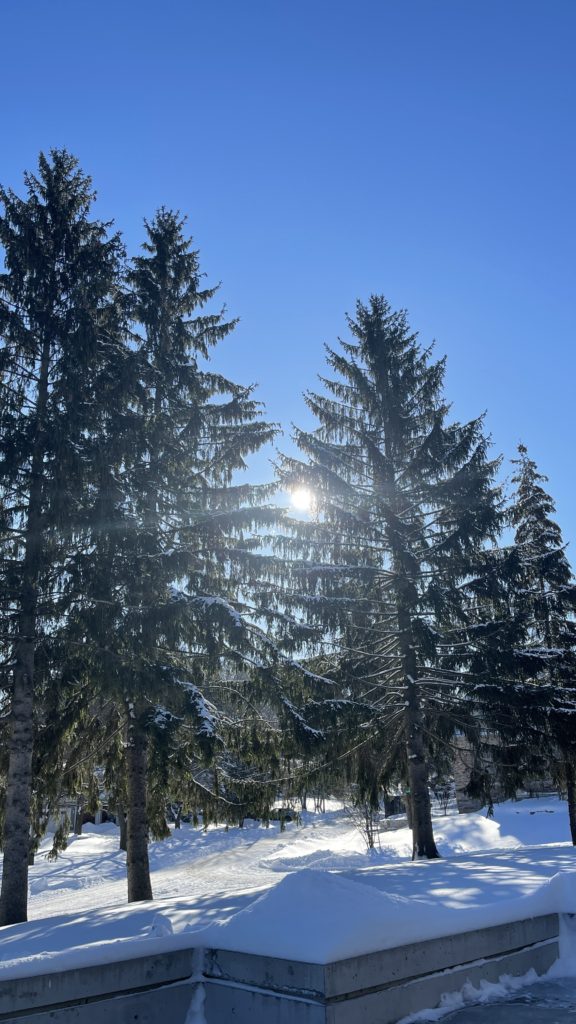 Looking for more Ontario Travel Posts or Things To Do in Hamilton? You Might Enjoy These Posts:
How Do We Know The Conditions Of the Ice Skating At Princess Point?
The Royal Botanical Gardens monitors the ice skating conditions pretty closely and post updates on their social media channels. Check their Instagram page for updates
Is Princess Point Skating Safe For Kids?
Yes, Princess Point skating is perfect for the kiddos. There is lots of space for them to learn and practise on!
We even brought Gemma when she was 4 months old ( in her stroller not with skates on haha). I walked along the ice with her in the stroller and it was awesome!
When Chloe was only 2, we brought a sled and Aaron skated and pulled her with a rope on it. Another perfect age appropriate activity!
If your kids are younger I wouldn't expect to stay super long as it does get quite windy. We normally stayed an hour and then Chloe who was 2 at the time was drained.
Other Helpful Hints For Ice Skating in Hamilton at Princess Point?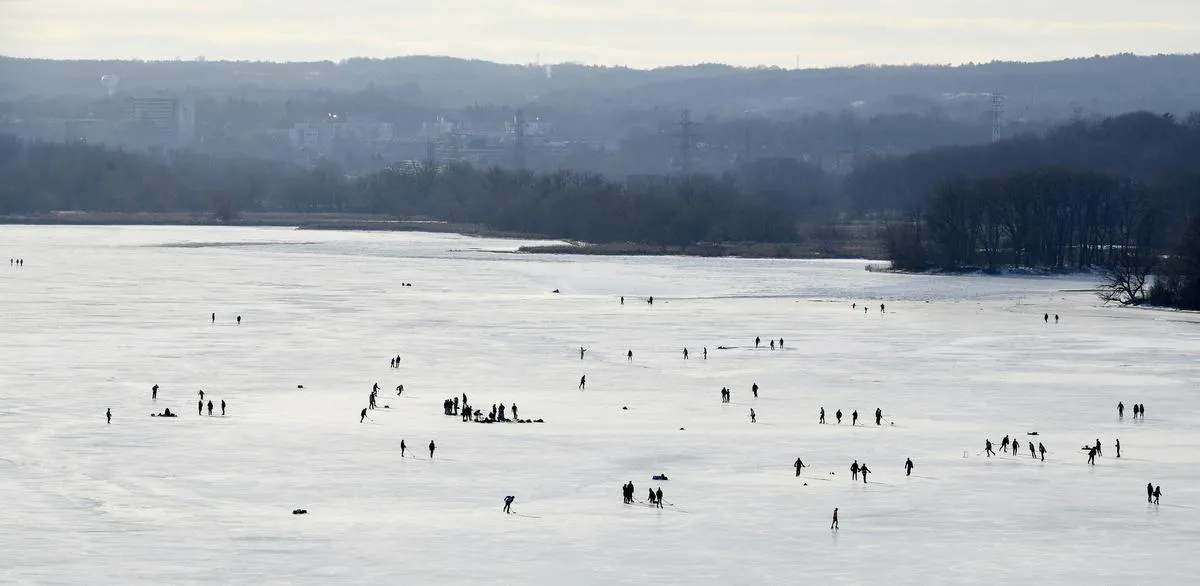 Do not go too far out. While the Royal Botantical Gardens monitors the ice, they simply cannot monitor every bit of it. Stay where other people are skating.
Keep an eye out for uneven levels. Since it is not a maintained skating rink, there are often holes and uneven bumps that protrude. They are often small but if you are going fast, you definitely can tumble!
If there has been a big snowfall in the last few days make sure to bring a shovel with you! There is no one going around and doing this for the crowds so if you want to skate after there has been some snow, make sure to shovel it out!
Bring a hockey net, hockey stick and puck! This is a great skating area in Hamilton where you can play some good old fashioned hockey!
Be Careful! There are a ton of people here some days and since it is not a classic skating rink, people are skating all different ways. Keep your eyes open!
I hope you enjoyed this post on Skating at Princess Point in Hamilton and that you get to visit this Winter! It is definitely one of my favourite Winter activities to do every single season.