Are you looking to take a little staycation or road trip to cap off your summer? I have just the place for you if you live in Ontario! Crystal, Beach, located near Fort Erie, is the perfect little town to spend a summer day at. There are so many things to do in Crystal Beach that you can easily even spend a night there if you wanted to!
There used to be an Amusement park there (Which is now the site of the Crystal Beach Tennis & Yacht and when we were kids we would go every summer. I have such fond memories of Crystal Beach that I now take my own family there once a year. If you are from the United States this is especially a great little vacation idea as it is only about an hour from the border!
There is a laid back feel to this tiny coastal town which you can really feel when you are there. Most vacationers and locals even use Golf Carts to get around!
LOOKING TO EXPLORE OTHER NEARBY PLACES? CHECK OUT THESE POSTS TOO:
History of Crystal Beach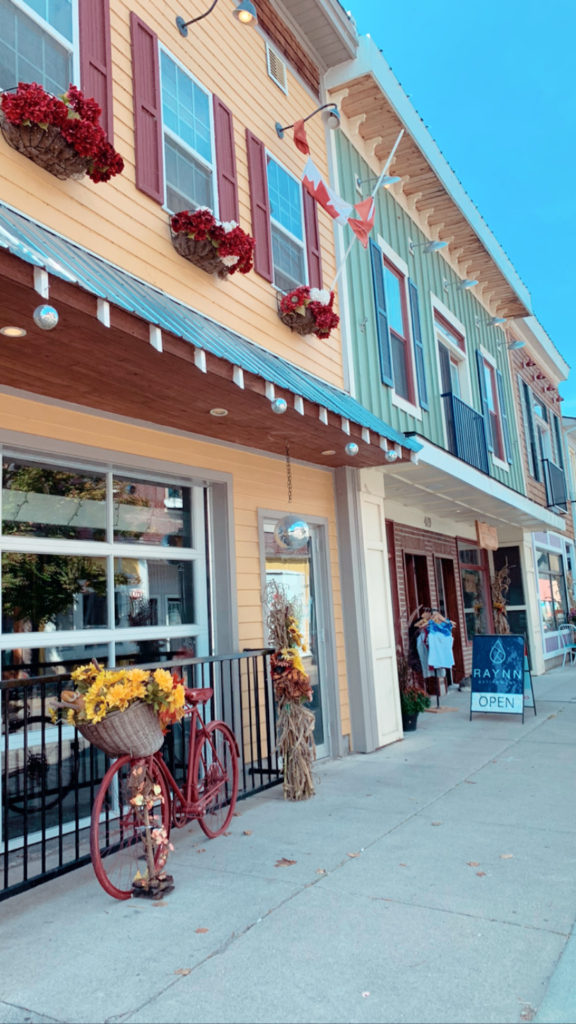 From 1888 to 1989, Crystal beach, Ontario was home to one of the most iconic amusement parks in Ontario. It drew HUGE crowds from Buffalo, NY and was considered a big hot spot with bands and ballrooms that would be open late into the night. There was even a ferry that brought American passengers there called the "Canadiana".
Some memories from this era can still be found within Crystal Beach ( old buildings somehow stood the test of time). I think some of these pieces of history that do remain give this town it's special charm.
It was named "Crystal Beach" because of it's "Crystal" clear water!
Where is Crystal Beach, Ontario?
Crystal Beach is in the region of Fort Erie, Ontario. If you are driving from Hamilton, it is about an hour drive and from Toronto, it is 2.5 hours.
#1. Visit Caso Hugo Taco – One Of The Many Crystal Beach Restaurants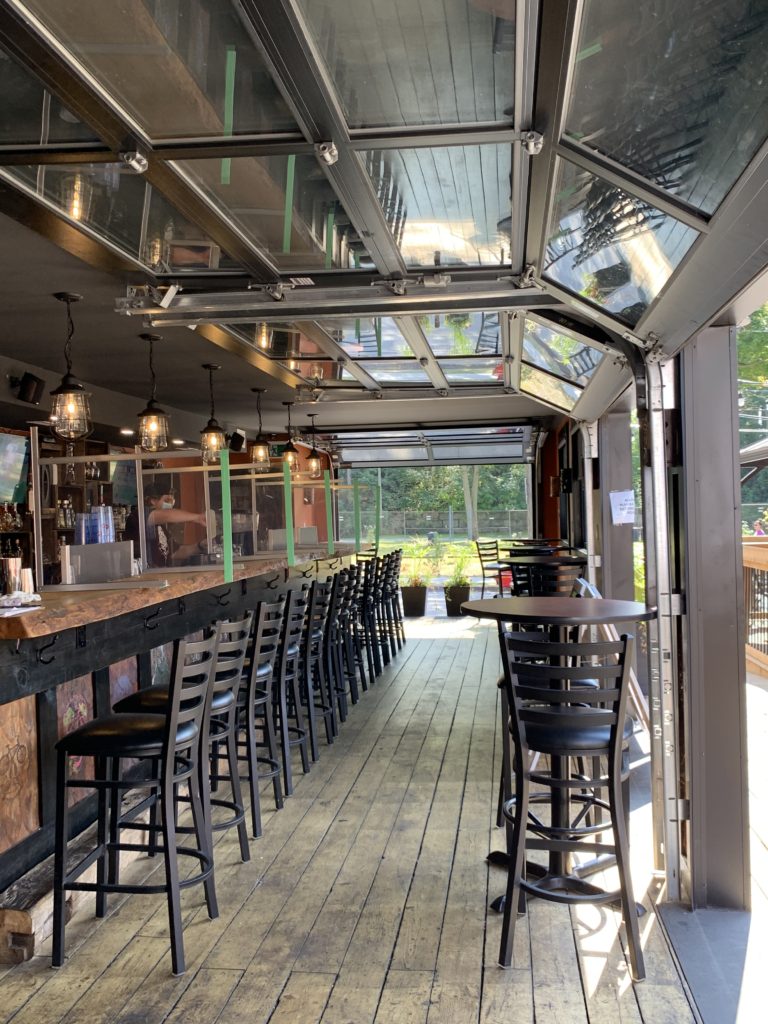 This Crystal Beach restaurant is the hot spot in town. Grab a margarita on their cozy and vibey patio and pair it with some gauc and chips and you have the perfect lunch time treat. 
We visited this place for lunch but heard it can be really busy at night time! The indoor outdoor bar area was also packed when we were there and if we weren't travelling with kids we would have for sure set up shop here. 
#2. Spend The Afternoon At The Beach- Obviously!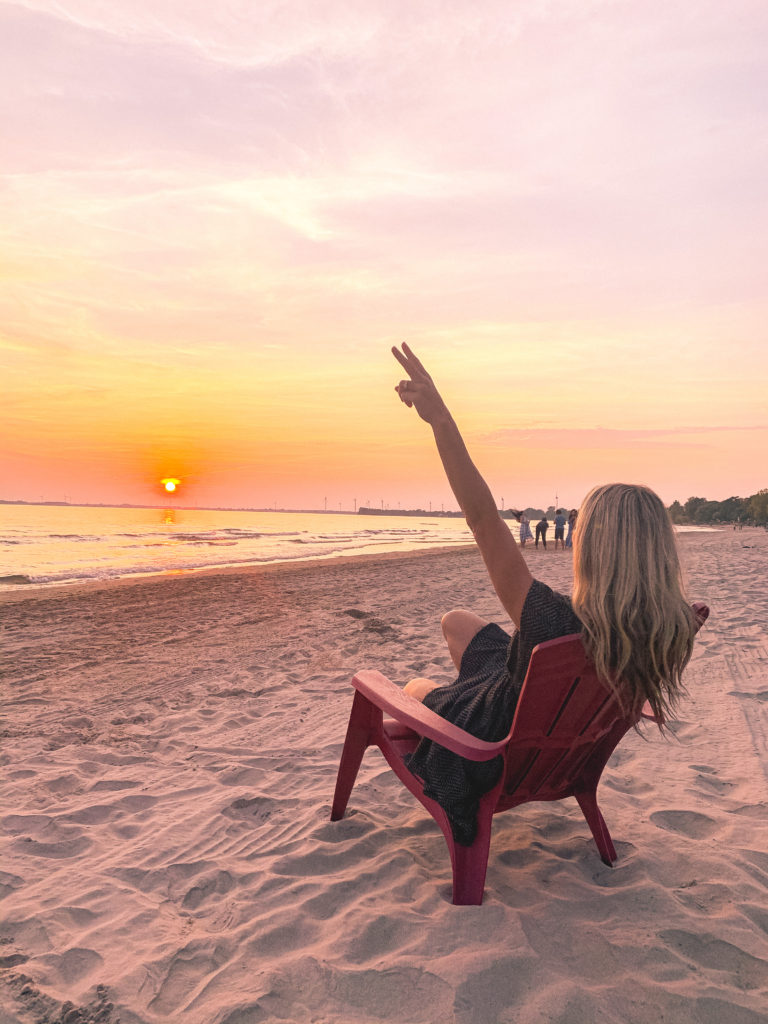 Crystal Beach also referred to as Bay Beach has a really long stretch of shoreline. The sand there is honestly so beautiful in comparison to some other Ontario beaches and the water is very clear. It is a great beach for a family as the water is pretty shallow too. This is obviously the best attraction and draw to the area.
The city of Fort Erie has renovated the beach facilities to include updated washrooms, water bottle filling stations, ramps for stroller/wheelchair access and accessible parking. Crystal Beach parking in general is actually really easy as you can park on a lot of the side streets.
WHAT TO KNOW
There is an entrance fee that you need pay when visiting. Crystal Beach has been really popular over the last few seasons, that this was implemented to curb the crowds a bit and keep it special
A Day Pass can be purchased at the Bay Beach main entrance for $5 each (cash, credit and/or debit) from 9 a.m. to 6 p.m during the week and $10 on weekends.
Children 12 years and under are free.
During COVID, you had to proof you lived in the area. This is not the case anymore. Proof of residency is not required.
Address of Bay Beach is: 4155 Erie Road, Fort Erie
#3. Grab A Coffee And Look At All The Cute Houses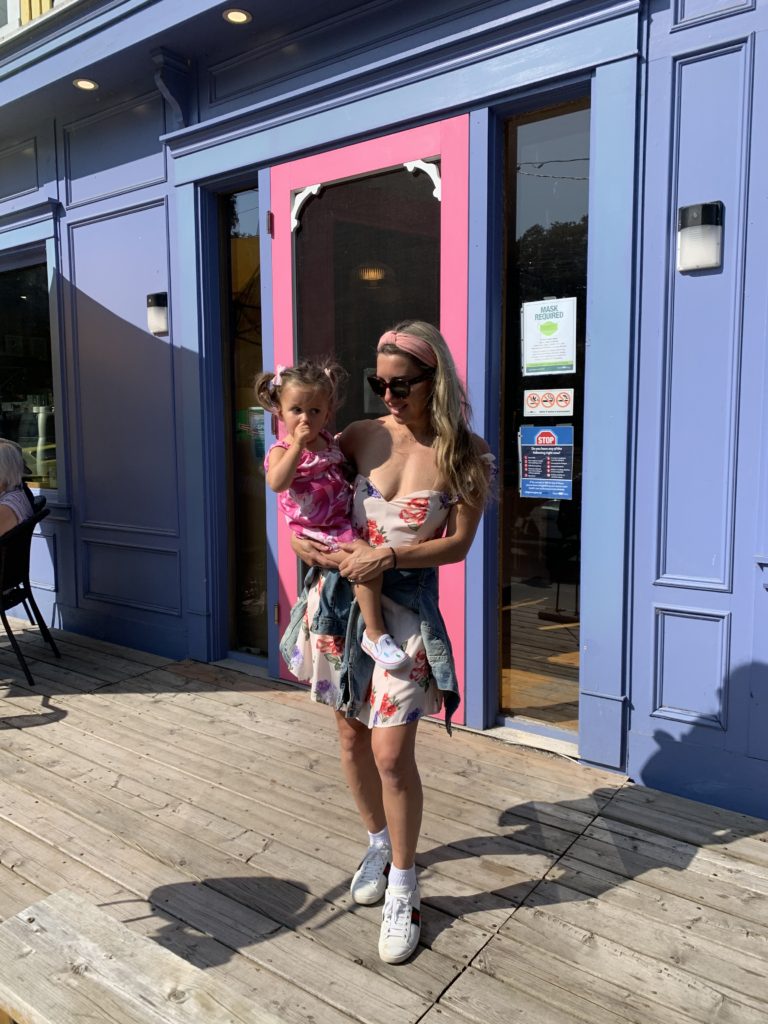 Grab a Coffee at Crystal Ball Beach Cafe and take on the town by foot. This coffee shop serves up delicious brews but it is also very cute. It basically looks like a house Barbie would live in and that gets my stamp of approval. It also was a huge hit with the kids.
The buildings in town are decked out in bright colours and you really feel like you are in a movie set. The best street was Derby street which has some more restaurants to check out.
#4. Visit A Brewery- One Of Crystal Beaches newer places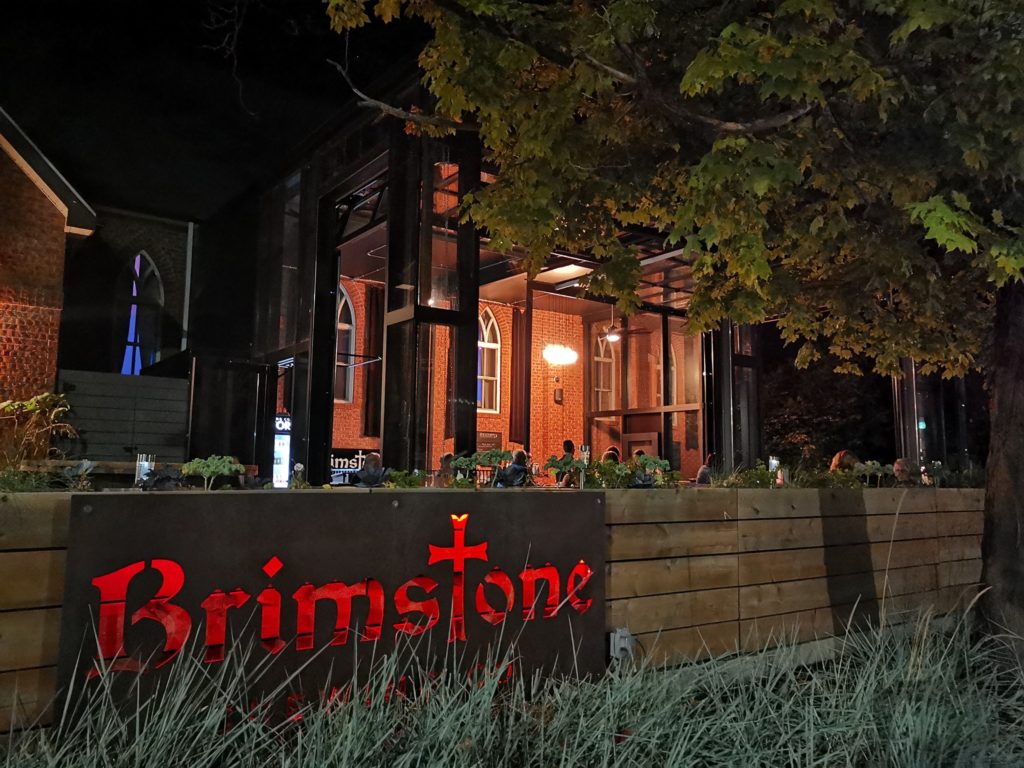 If you are looking for a cold brew, check out Brimstone Brewing Company & Smokehouse which is located in an re-imagined 20th century church (!!). Talk about a vibe.
It is located just off the main strip in Crystal Beach on Ridgeway Road and also serves up some really good food.
#5. Things To Do In Crystal Beach If You Are Active-Rent A Bike!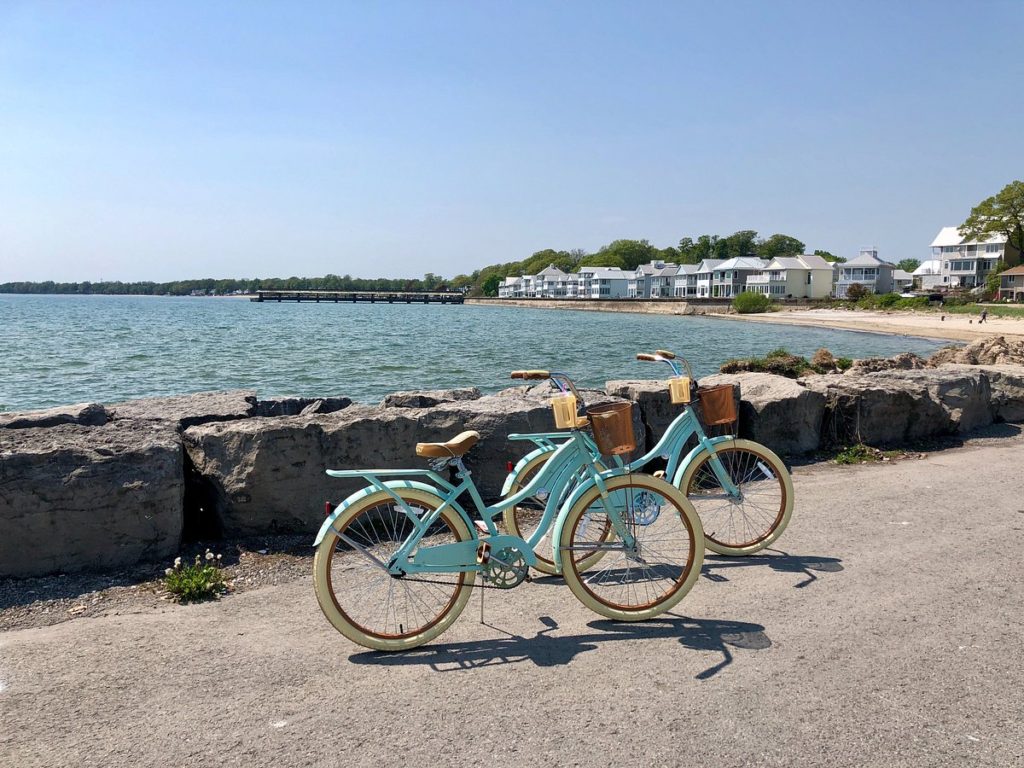 Crystal Beach is a great size to explore via bikes. There is some people renting Beach Cruisers on Facebook Marketplace and there used to be a shop in town also renting them. You can also bring your own if that is an option!
We brought ours one time and loved seeing all the colorful cottages off the main strip. It allowed us to really get to see what the town was all about and it was one of my favourite things to do in Crystal beach.
#6. Book A Stay At Long Beach Resort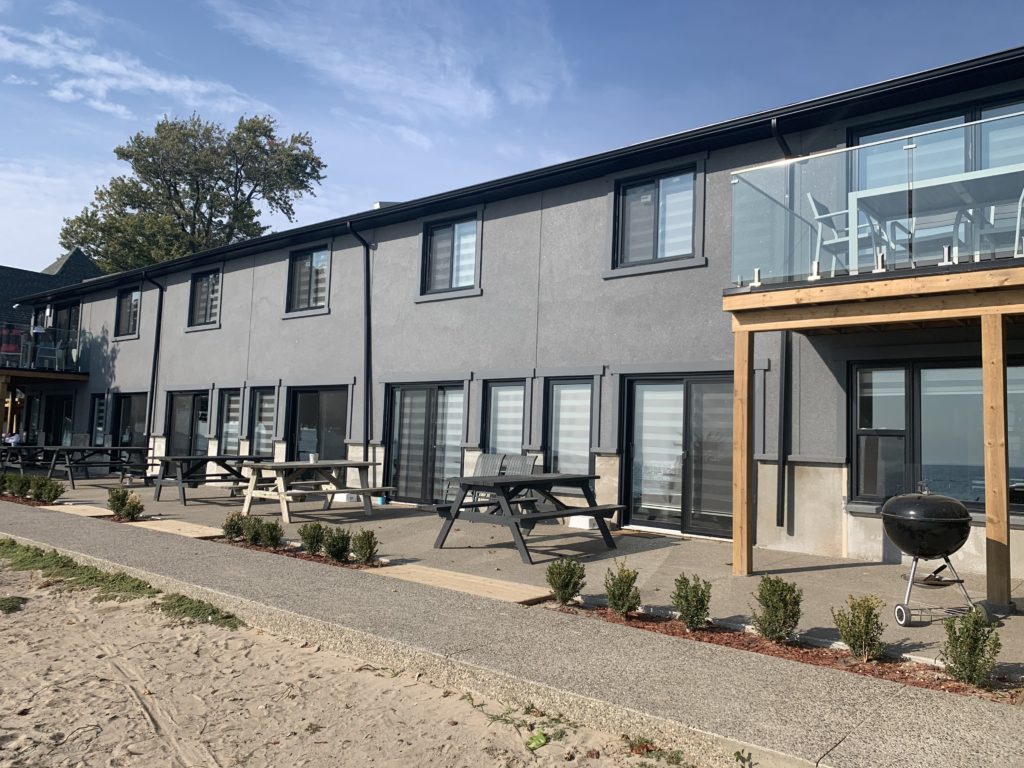 There is no shortages of places to stay in Crystal Beach, Ontario. There are Beach Cottages, Air Bnb's and now The Crystal Beach Yacht Club which offers vacation rentals. We, however, chose to stay at Long Beach Resort in Wainfleet, Ontario which is about 30 minutes from Crystal Beach.
This have beautifully renovated resort has stand alone houses and spacious hotel style rooms that have kitchens. We went with this option for the space and we love that it was directly on the beach. Long Beach Resort also has fire pits for resort guests and it is such a perfect way to wind down on a summer night. We roasted marshmallows and had some wine as we watched the sun go down and it felt like we were really somewhere different.
#7. Do Some Watersports and Get Out On The Water
What better way to get to know the waters of Crystal Beach then to immerse yourself in them. Grab a paddleboard or a Sea Doo and spend an hour or two having some fun! Again, I would check Facebook Marketplace for companies that do rent their gear. There is also THIS company that has Sea Doo's for rent at $150 per hour.
It is safe to swim in Crystal beach so if you do fall off your paddleboard, the odds are that you will be ok. The water is not rough most days unless it is super windy.
#8. Get An Acai Bowl At Another Amazing Crystal Beach Restaurant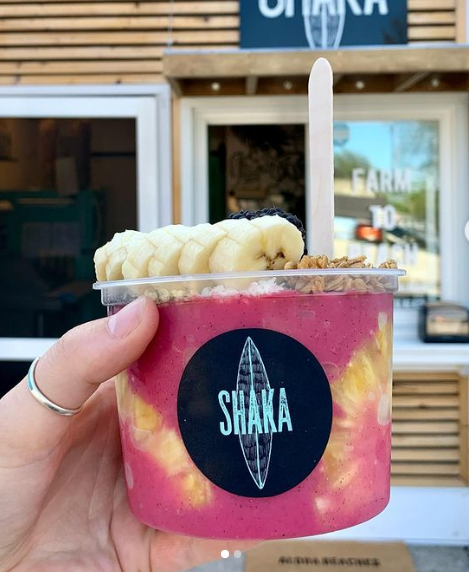 Nothing says beach town to me more than Acai bowls and Crystal Beach's newest restaurant "Shaka" is serving up just that! You instantly feel like you are transported to Hawaii when visiting and would never know that you are on Lake Erie versus Maui. It was hands down my favourite Crystal Beach Restaurant that we enjoyed.
They also have some food items and smoothies but my favourite item was for sure the Bowls!
Other Helpful Things To Know When Visiting Crystal Beach, Ontario: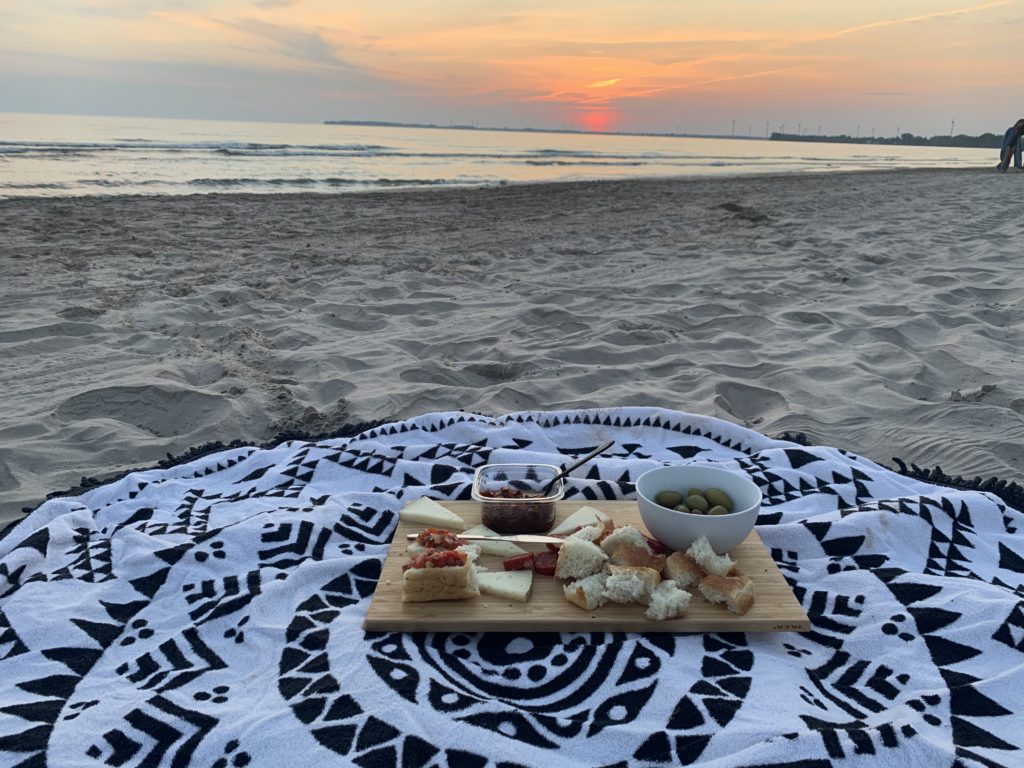 The Beach technically closes at 6PM but we stayed out and watched sunset one night and it was worth it. There is no one guarding the beach but if you do stay later be respectful of neighbours and take your trash with you and no loud music.
Nearby Bernard beach in Fort Erie is another great beach option if you are in town for a few nights!
There is also a lot to discover in the nearby Port Colborne. We recently went to one of their Cruise Nights which takes place right on Clarence Street in the downtown area! It happens every Thursday until September 12th 2022
If you are looking to stay in this area for a few nights, I would do a day trip from here to Niagara On The Lake or Niagara Falls!
Looking for things to do in Crystal Beach for the kids? Check out Crystal Ridge Park! It is new and modern and the kids will have a blast.
---
There are so many things to do in Crystal Beach and it's surrounding areas! If you have any specific questions before you head there, feel free to DM me on Instagram!
PIN THIS POST