Before I share where you can find the best waterfalls in Hamilton, I think it's important to note that I was born and raised in Hamilton, Ontario!! Although I left the city for a few years to live elsewhere, I am so happy I ended up back here. The hiking trails, the emerging art scene and all the new restaurants popping up are just a few reasons why it is a great place to live.
And of course the other reason to love it is because Hamilton has the best waterfalls around! It was even declared that Hamilton is the "City of Waterfalls" since it has the most waterfalls and cascades of it's size in the world. Pretty impressive if I do say so myself! 
There are so many falls and cascades within the city but these ones below are hands down my favourite waterfalls that the city has and most of them have great hiking trails that pair along with it beautifully. 
#1. TIFFANY FALLS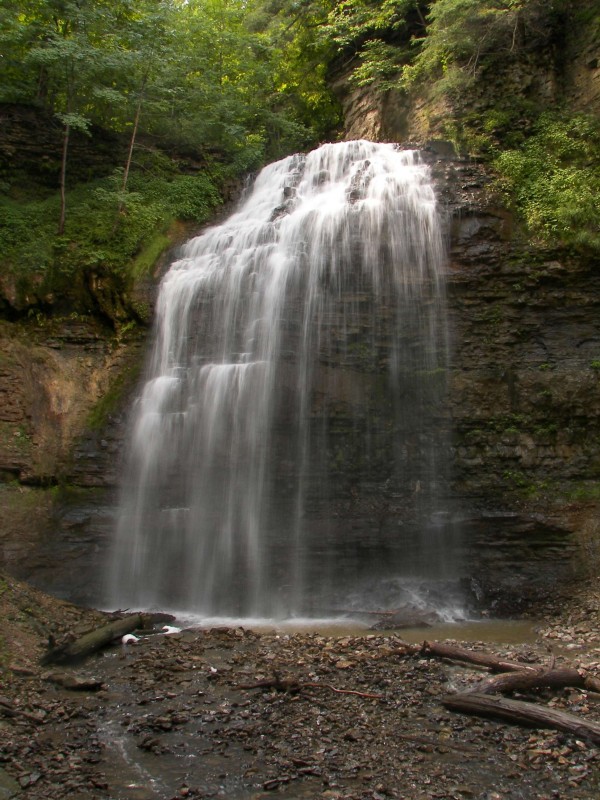 Tiffany Falls sits between Ancaster and Dundas and is one of the more popular waterfalls that Hamilton has! The great thing about Tiffany Falls is that it is one of the quickest waterfalls in Hamilton to access. It only takes 5 minutes by foot to get there from the parking lot. You have to cross two wooden bridges to reach it and it is then followed by a little trail. This waterfall in Hamilton is recommended not only in Summer, Spring and Fall but it is also SO beautiful in the winter. Like a scene from Frozen.
KID FRIENDLY? Yes you can bring your kids to this waterfall but I would not recommend doing it with them in the winter as the path gets really icy and slippery.
TIPS FOR VISITING THIS HAMILTON WATERFALL: The parking lot, especially on weekends, does fill up fast and it is situated off a busy street so make sure to go early! Parking is $11.00 for one hour!
#2. SHERMAN FALLS: THE ABSOLUTE BEST WATERFALL IN HAMILTON IN MY OPINION!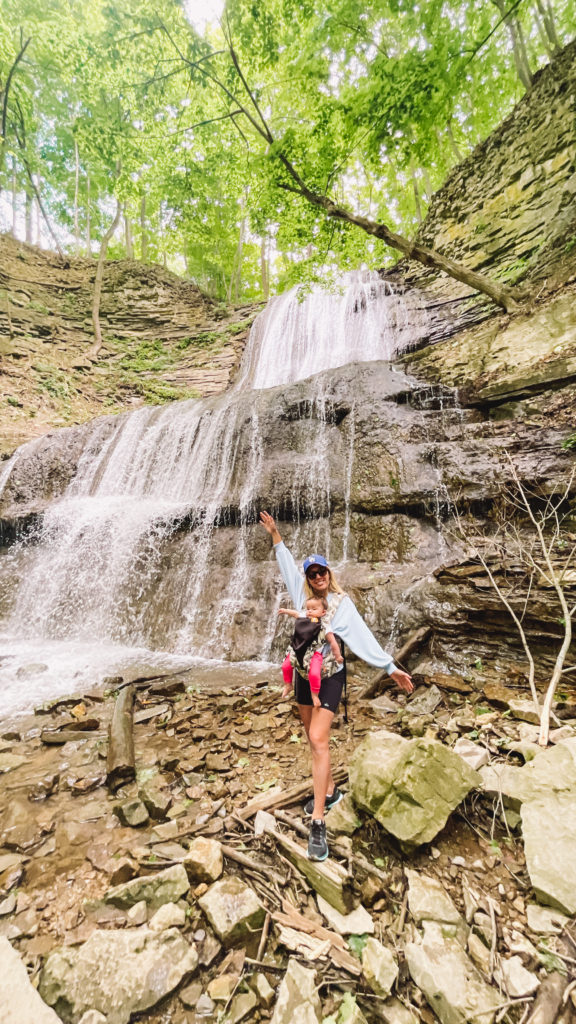 Sherman Falls might be my absolute favourite waterfall that is not only in Hamilton but also in Ontario! The size of it, the trail surrounding it and just how captivating it looks in the morning light makes me come back time and time again. This waterfall hike in Hamilton is definitely less crowded than most of the other ones which is another big thing that I love about it.
You can access Sherman Falls through two points. You can park in the parking lot on Lions Club Road. Once you park, you walk back down to the main road and the falls is on the right ( it's at a three way street intersection basically). This walk to the falls is SO easy. It takes about 5 minutes.
The other option, if you are looking for a longer hike, is to start at the Ancaster Mill. There is parking there when they do not have an event going on ( so your best bet is to go during the week!). This hike to Sherman Falls takes about 20 minutes or so. There are more hills and rugged pathways going this way so I would definitely do the shorter one if bringing kids.
KID FRIENDLY? Yes do the short hike to this waterfall ( accessed through Old Dundas Road and Lions Club Road). Another great thing about this Hamilton waterfall is that it is shaded.
TIPS FOR VISITING THIS HAMILTON WATERFALL: The parking lot near Ancaster Mill closes off when they have an event. Plan accordingly or use the parking lot on Lions Club Road. Do not park directly outside of the waterfall entrance or you will get a ticket. This waterfall hike pairs nicely with Tiffany Falls if you are looking to see two in one day! There is also Canterbury falls close by too!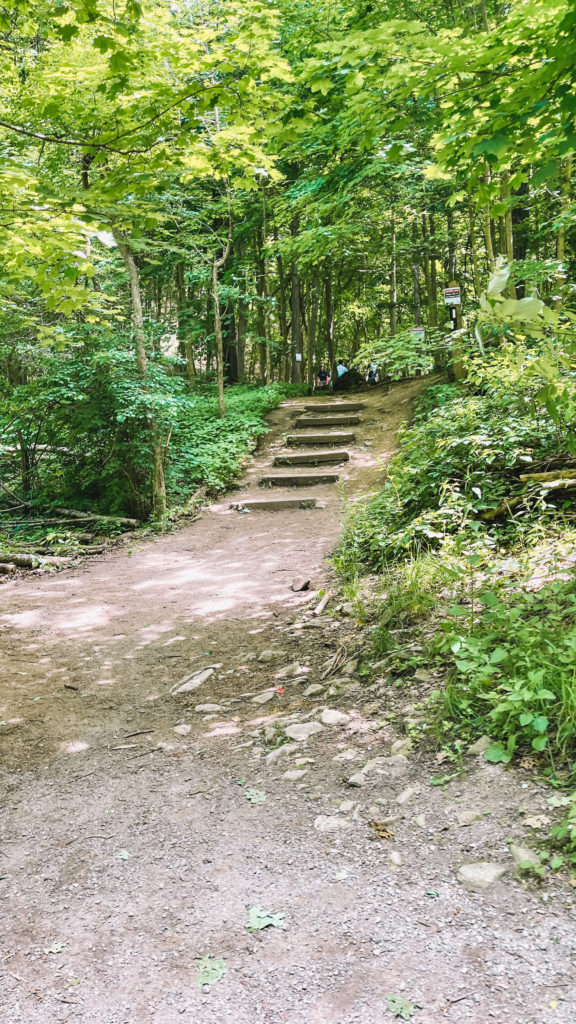 Quick Links: Shop My Favourite Amazon Travel Items
, , , ,
#3. WEBSTER FALLS: THE MOST POPULAR WATERFALL IN HAMILTON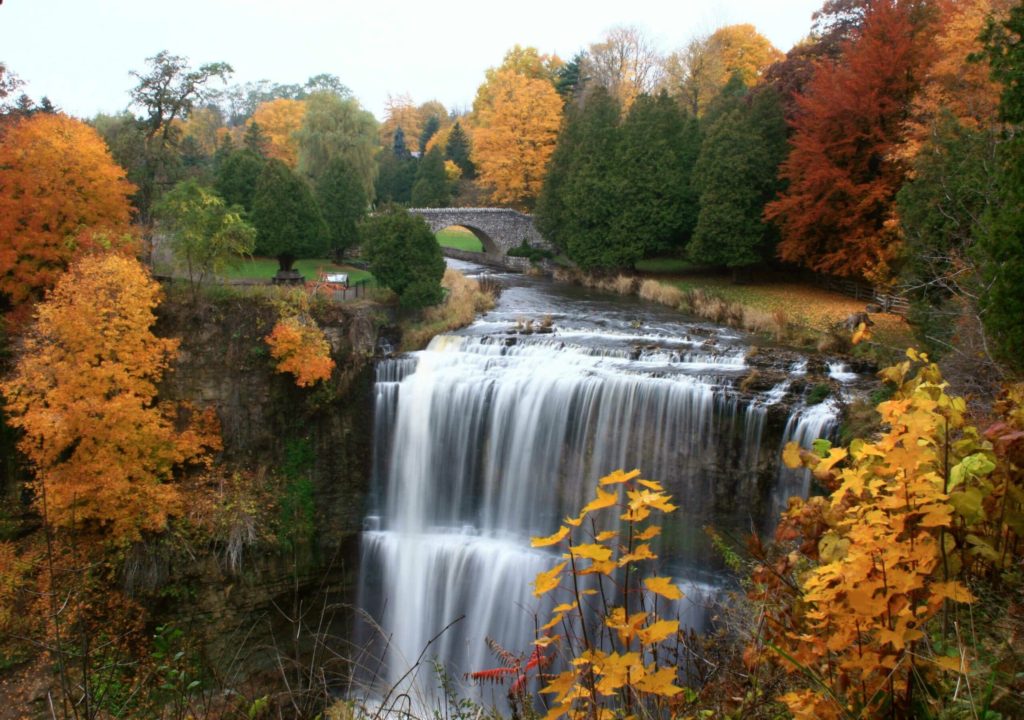 Webster Falls is one of the most popular waterfalls in Hamilton to visit and the largest of the bunch! It is popular for good reason. It, simply put, is STUNNING! This Hamilton waterfall is technically in Dundas, Ontario and is part of the Spencer Gorge Conservation Area! Since it has become SO popular over the years, visitors need to book a spot in advance during the months of May through November which gives you two hours! You can find more information out HERE!
The parking lot address for Webster Falls is: 277 Brock Road, Dundas.
KID FRIENDLY? Yes the trail and walk to it are very kid friendly-probably the best out of all the waterfalls in Hamilton for strollers too! There is also a viewing platform which makes it easy for kids to see everything in a safe way.
TIPS FOR VISITING THIS HAMILTON WATERFALL: Since it is so popular, it gets VERY busy. Definitely go during the week if you can- even if you have a reservation. They let more people in during the weekend and you will have a harder time securing a spot on the weekend as well due to so many people coming from other cities to visit this place.
The best time to visit here, in my opinion, is in the fall! The colours are just insane and you can pair this waterfall viewing with Dundas Peak which overlooks the entire Dundas valley. Keep in mind however that you need to buy a spot/viewing slot to each of these! Booking Webster falls, doesn't give you access to seeing Tew's Falls or Dundas Peak.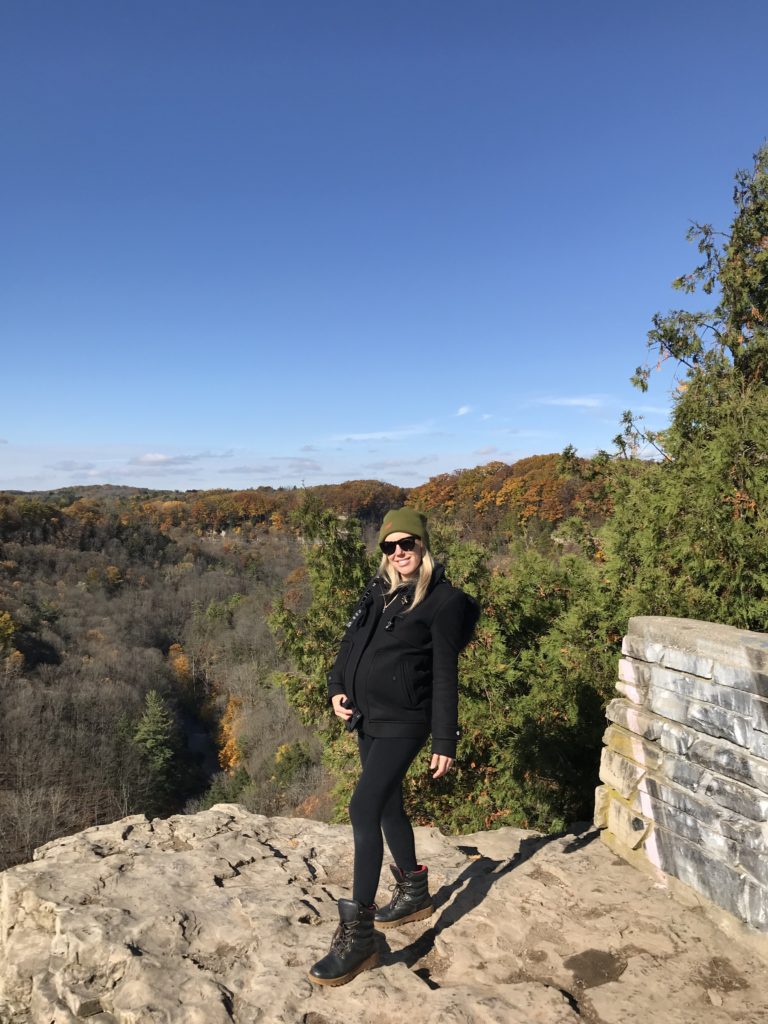 #4. DEVIL'S PUNCHBOWL: WATERFALL + A VIEW IN HAMILTON
Devil's Punchbowl is amazing because you not only get a beautiful waterfall but you have a view of the entire city of Hamilton ( and Stoneycreek which is where this Hamilton waterfall lies). The official address is: 185 Ridge Road, Stoney Creek, ON L8J 2W1.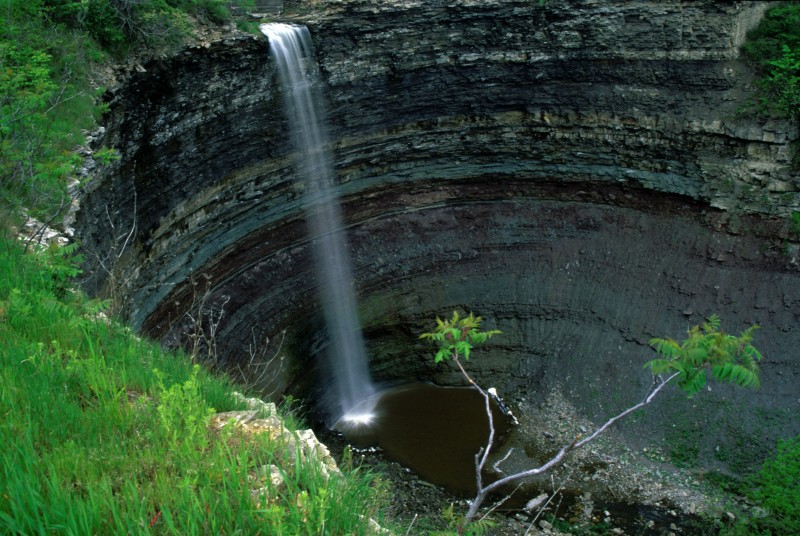 This Hamilton waterfall is super high at over 33 metres so it is unbelievably captivating- so much so that some people try to go to the bottom of it. You should know that this is prohibited and if you try to go, there are sometimes by law officers who give out tickets at upwards of $800.
KID FRIENDLY? The kids will love this one as it's super quick ( only 150 metres from the parking lot!) and you can bring your stroller to the viewing section. The Devil's Punchbowl Side Trail however is NOT stroller friendly and is quite narrow ( if you want to add a hike to this Hamilton waterfall viewing).
TIPS FOR VISITING THIS HAMILTON WATERFALL: Pair this visit with the nearby Devil's Punchbowl Market! They have amazing baked items and pastries and it is super cute! I also would recommend coming to see the waterfall at sunset as you have unobstructed views of the city as the sun comes down. Magical.
#5. CHEDOKE FALLS: SOME OF THE BEST WATERFALLS IN HAMILTON CAN BE FOUND ON THIS TRAIL
Heading onto this trail gives you viewings of SO many waterfalls, not just the big Chedoke Falls one which is something I love about this waterfall trail.
The larger Chedoke Falls waterfall is not as easy to find but is certainly worth it! It is a ribbon waterfall that is over 60 feet high! To reach this Hamilton waterfall, you need to head onto the Chedoke Radial Trail which is one of my favourite running routes.
You can access this trail from either the end of Dundurn Street ( parking is limited here) or by parking on Scenic Drive which has an official- though small- parking lot. You can access the falls when you reach Chedoke creek on the trail and it is a a bit of a difficult hike/climb to reach the bigger falls. My recommendation for your first visit would be to just stroll along the Chedoke Radial Trail and let the trail lead you to all the little paths that attach to it. This path also leads to the escapement stairs at Upper Paradise and West 5th!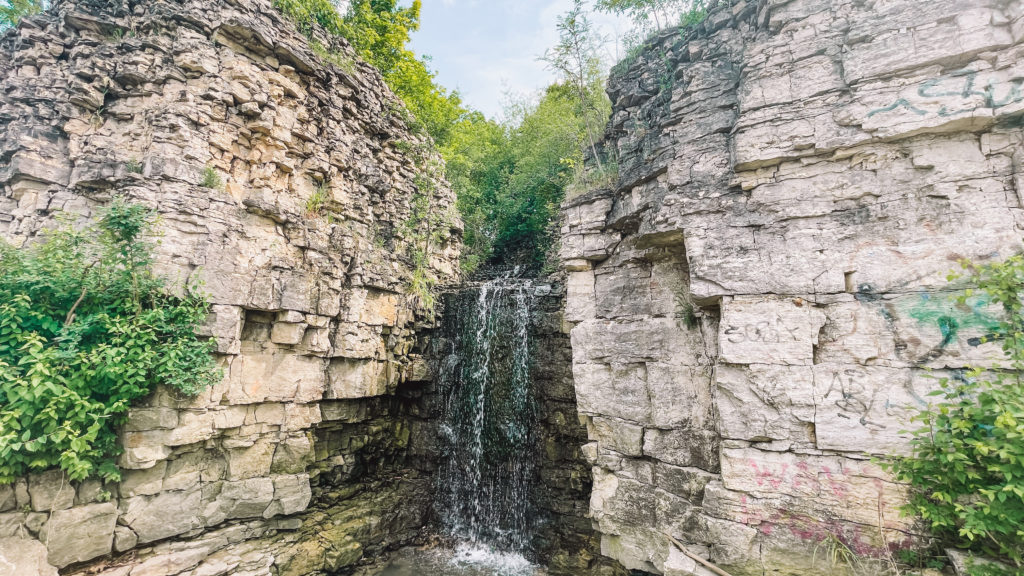 KID FRIENDLY? Yes you can bring your kids to this waterfall but I would not recommend doing it with them in the winter as the path gets really icy and slippery.
TIPS FOR VISITING THIS HAMILTON WATERFALL: The parking lot, especially on weekends, does fill up fast and it is situated off a busy street so make sure to go early!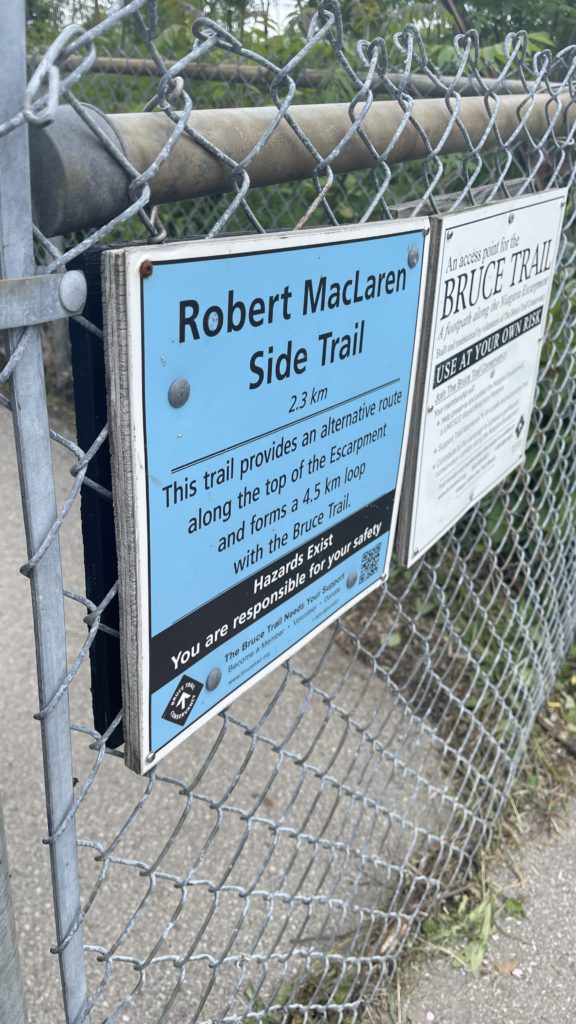 ---
Some other important things to note about Hamilton's Waterfalls are the following:
You cannot fly drones anywhere in Hamilton Conservation Authority territory. Tempting, I know!
If you get a yearly pass with the Hamilton Conservation Authority which runs about $115 a year, parking is free in any park or conservation area that falls under their umbrella! If you go a lot ( which we do), it's totally worth it!
Be safe on the trails. Winter can be very icy and I learned the hard way one time. Always check the weather conditions before going and please respect the areas ( NO TRASH!!)
I hope you found this blog post about Hamilton's Waterfalls helpful! If you have any further questions, feel free to DM me on Instagram!
PIN THIS POST