Bingemans Camping Resort is an awesome place to visit this summer if you are looking for a quick getaway with the family! As a family who doesn't normally camp, we had the BEST time and can't wait to do it again.
Bingemans is located in the Waterloo/Kitchener area so if you are coming from Toronto or Hamilton, it is only about an hour drive. The campgrounds are situated along the stunning Grand River so even though you are super close to the city, you feel like you are truly somewhere unique! No cellphone service issues here. My kind of camping!
Not only is the Bingemans Camping Resort sprawling but it is a place where you can come and not get bored. There are so many add on activities to do within the campgrounds themselves but also in the surrounding areas.
Bingemans Camping Options
There are several camping options at Bingemans depending on what you are looking for. You can easily drive in your trailer and get a spot for the weekend but they also have a lot of other accommodation options for people that may be a bit more high maintenance aka US. haha.
The great thing is that if you are going with a large group there is likely an option for each of the travelers within! We saw a lot of families together who we got talking to that had their group spread out amongst the grounds in different style sleeping arrangements!
Bingeman's Cabins
If you choose to go with a Bingemans Cabin rental, you can expect a 12 x 12 space that can sleep up to 4 people. These units feature 1 double bed and 1 bunk bed ( single mattresses).
These units are feature: Electrical Access, covered decks perfect for morning coffee, mini fridge, fire pit, and picnic table.
Bingeman's Containers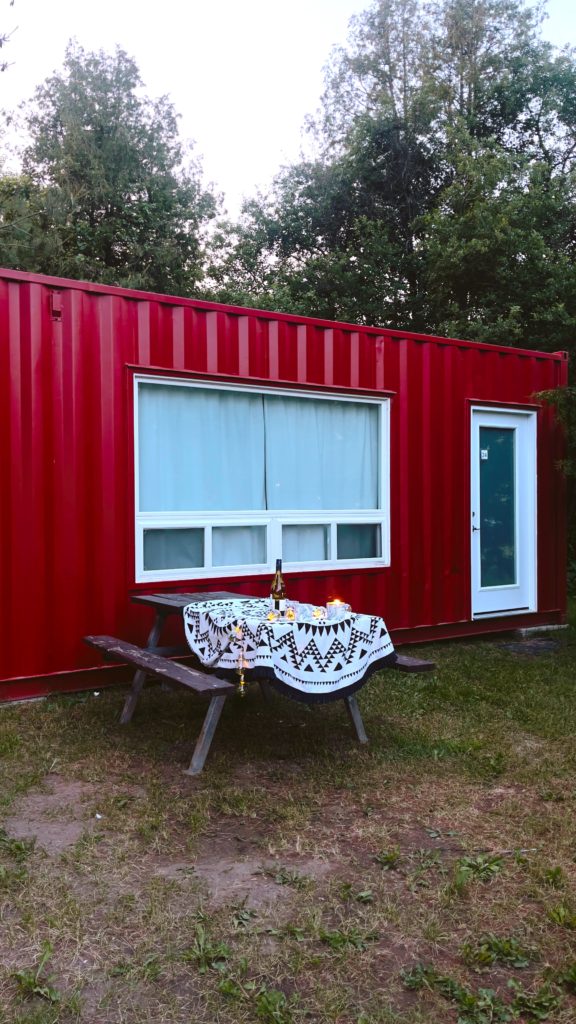 REGULAR CONTAINERS: This is where we stayed! These simple shipping containers are great if you are looking for an elevated camping experience. They include 2 bunk beds- one of which has a lower double bed! It also includes an AC unit, table with 2 chairs, and mini fridge. The outdoor space has a firepit and a picnic table. SHEETS AND PILLOWS ARE NOT INCLUDED HERE
LUXURY CONTAINERS: A few steps up from the regular containers are the new luxury ones which are very similar to glamping. I would even call these mini hotel rooms. They are so cool and I would absolutely stay in one of these next time! In addition to AC, a real bed and a table, they also have 3 piece bathroom, kitchenette ( fridge, stove, microwave and sink) and a TV! The firepits outside here are even more luxe ( see photo below)
Bingeman's Camp Sites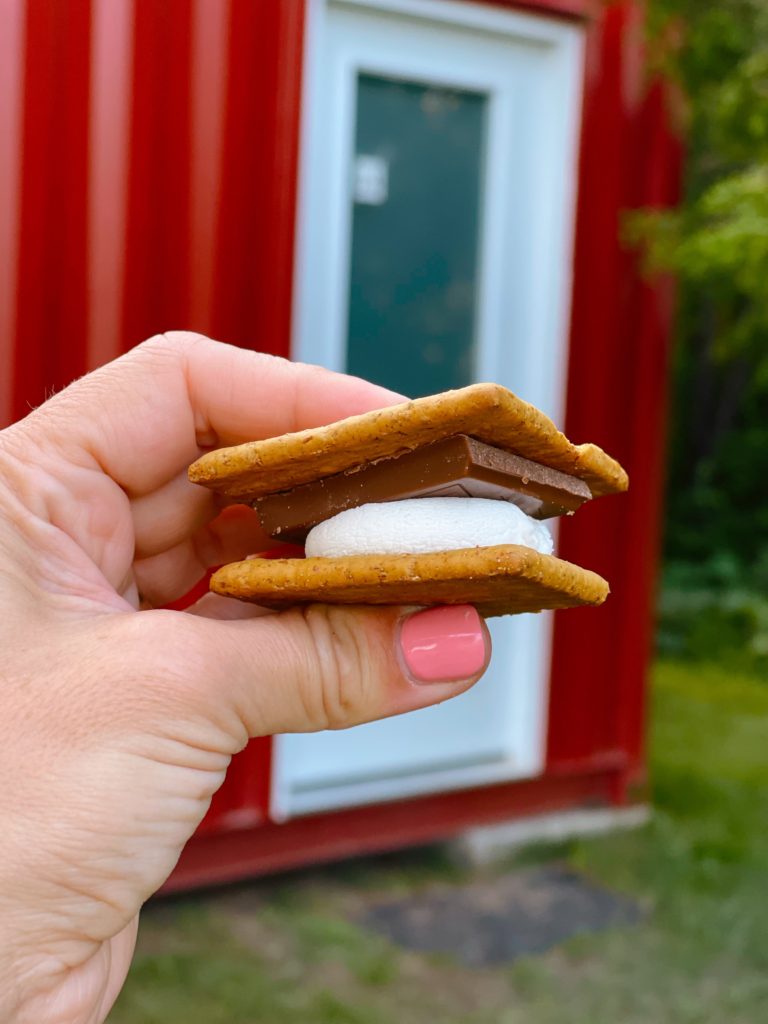 Looking to book a good old regular camp site? Easy peasy here! With options of hook ups or not, you can select your spot online and book it right up. You can also select a water view or regular spot as well which is a nice option.
A great perk of Bingemans is that when you book 7 nights, one of those nights is free!
Looking to plan some more Ontario Summer Getaways? Check Out These Posts Below:
What To Do When Camping At Bingeman's?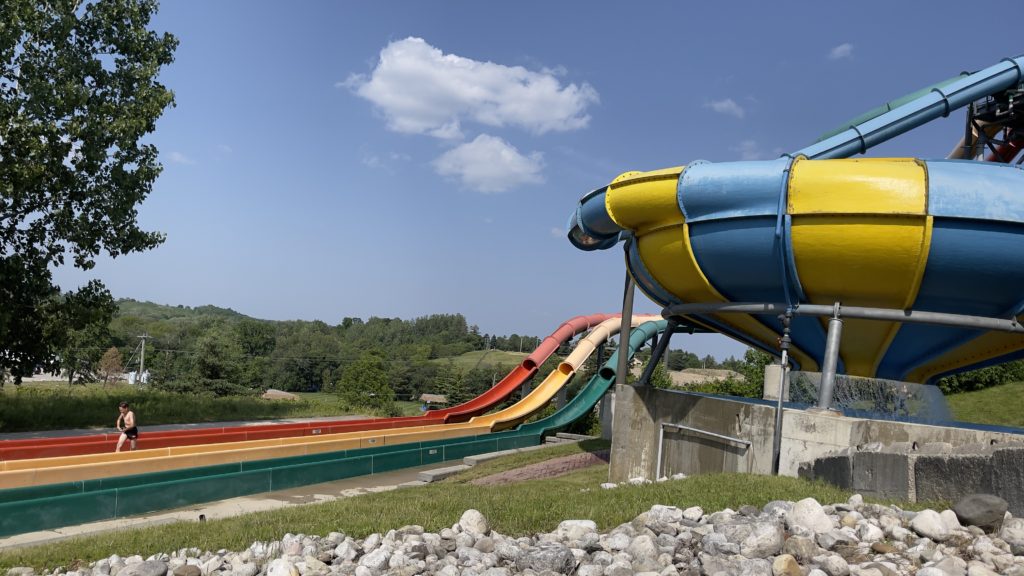 What blew us away with our Bingemans Camping experience is that there are literally so many activity options on site and close by! It actually blew our minds all the stuff there is to fill up your days with
We stayed for 1 day and 1 night and only scratched the service of everything. Here are some of the activities and events you can check out if you are staying there.
Mini Golf at Bingemans Camping
With not one but two mini golf courses, you can enjoy the greens and test your skills. It's literally a 5 minute walk from the grounds and open until 8PM during the summer months!
Head there with the family after dinner for some healthy competition between everyone and with their unique course, you will be sure to have a blast!
Some of the packages at Bingemans Camping include Mini Golf so check those out!
Bingeman's Big Splash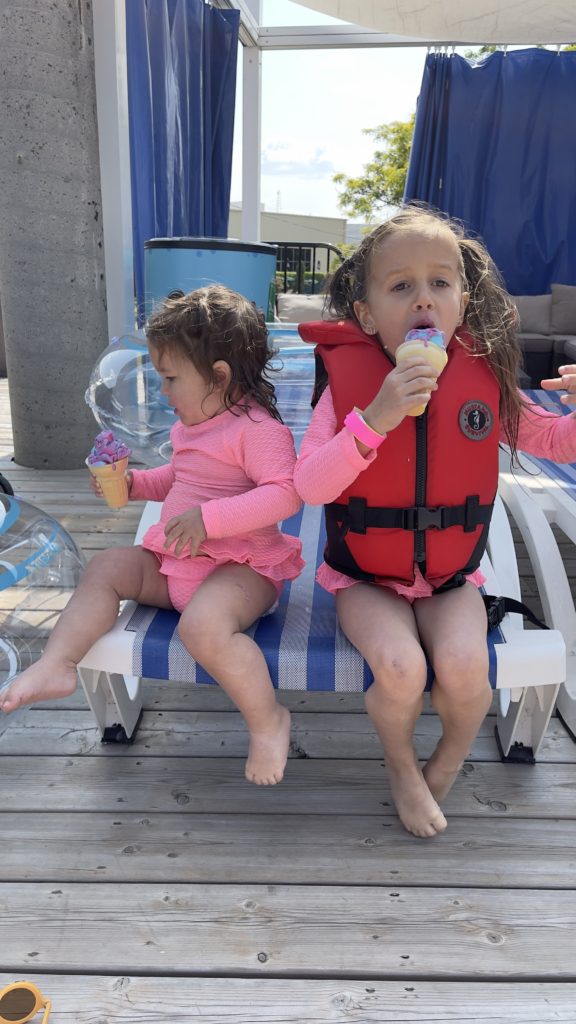 If you have kids, the best thing about Bingemans Camping is having their Splash Park literally right on site! Heck, even if you are an adult "Big Splash" is an awesome waterpark to visit and have fun at!
It includes a heated wave pool, over 9 water slides, a splash pad perfect for toddlers and younger kids and some heavy adrenaline rides for those seeker some thrills. I had Aaron watch the kids for about 15 minutes and ripped down their "Cyclone" slide which basically sends you down a hole at the end of the ride.
There is ice cream, snacks, and even some alcoholic beverages available for purchase right on site!
We decided to purchase a private cabana so we had a bigger area to hang out at all day. For just $159.99, we had massive sofa loungers, two beach chairs, tubes brought right to the site and some beverages that were chilled for us. 10/10 recommend if you are coming with a bigger group!
Have an amazing dinner at Boston Pizza KingPin
If busting out a grill when you are camping isn't your thing, you can walk up to the Bostin Pizza which is attached to all the bowling alley ( hence the name Kingpin). This is one of the largest Boston Pizzas and has an amazing outdoor patio. The patio faces a view point of the camping grounds so it feels like you are somewhere unique!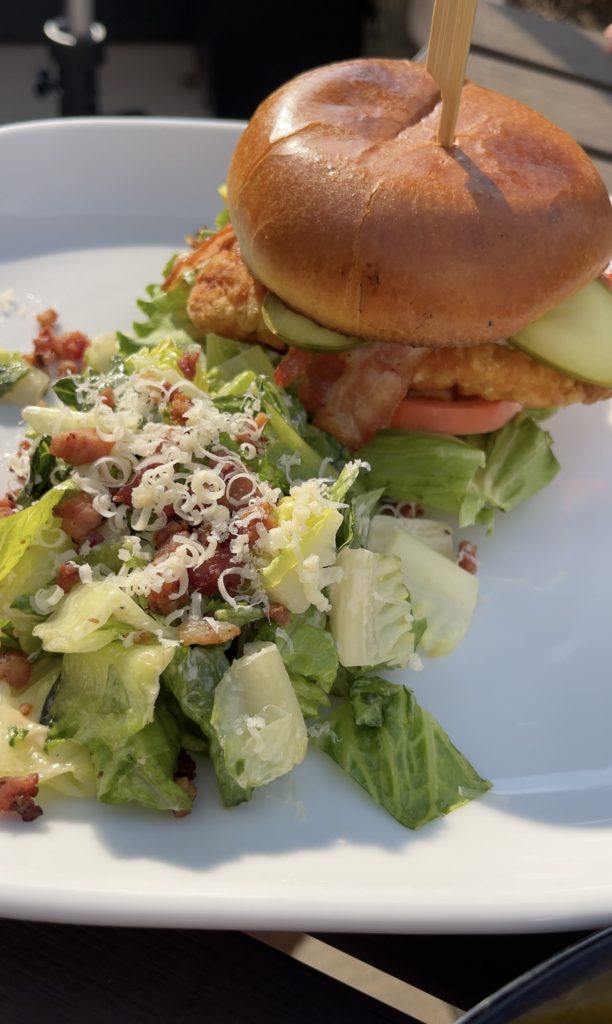 If we had more time, we would have done a round of bowling! The bowling alley was one of the coolest ones we have seen. So modern! It features a massive screen that runs from each end of the bowling alley so you can catch your favourite team play while also doing some bowling. Best of both worlds!
If you don't want to eat at Boston Pizza, you can actually order it right to your camp site which I thought was pretty cool!
Check Out A Local Festival
Visit the Sunlife Uptown Jazz Festival, Waterloo Busker Carnival, Lumen Festival in Uptown Waterloo ( September) if you wish to do something off the camping resort! All of these festivals are very close by!
In the fall, they also have Oktober Fest which is a true Bavarian experience with music, vendors, food stalls and more. I imagine that time of year would be such a neat time to visit!
Kayak or Tube Along the Grand River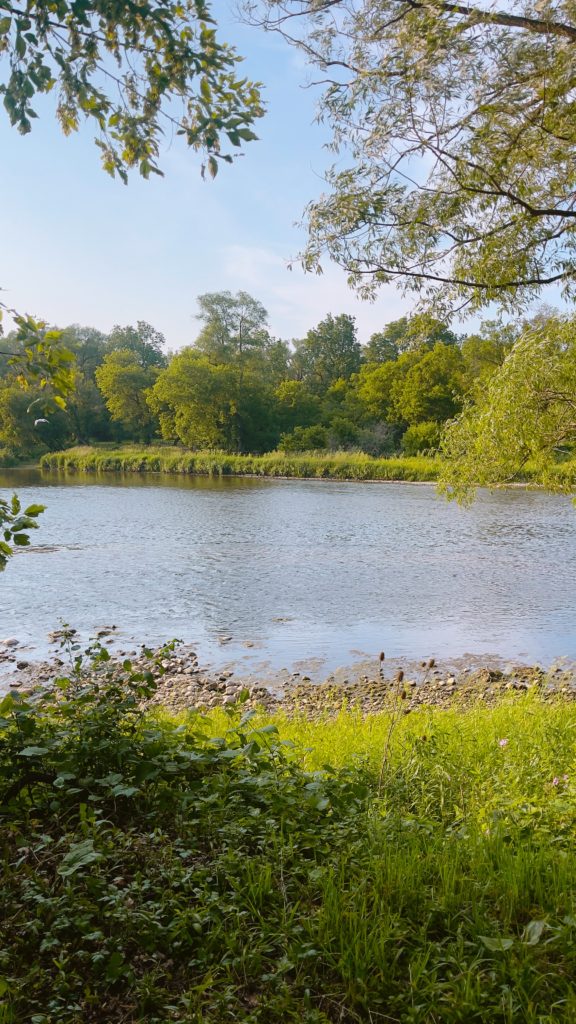 At the back end of the camp sits the gorgeous Grand River. If you can book your site or container near here, I would highly recommend it. It makes you feel like you are really away.
If you want to take your river experience to the next level, you can book a Kayaking, Tubing or Canoeing tour and tackle on some adventure to your camping trip. With shorter tours of a 1 hour to longer half day excursions, there is something for everyone! Check out some of the options here
Camping Packages at Bingemans
To make it easy for people to experience all that Bingemans Camping as to offer, they have created packages that include passes to Golf, Big Splash, Discounts for Axe Throwing etc. Each package is different and includes different numbers of passes depending on what you are looking for!
They even have ones for semi off season dates like "Spring Packages" that can have you saving quite a bit to travel there off season. Definitely something to consider!
We booked package that included passes to the Big Splash
What To Know Before Camping at Bingemans
The Washroom facility is in the center of the resort so keep that in mind when reserving your spot, container or cabin. I have included a Bingemans Camping Resort Map below for your reference.
If you want to be by the river, also keep that in mind! While it is a beautiful look out point, we found there were more mosquitos in the area
Check in is 2PM and Check out is 11AM. If you leave earlier than when the attendant is there, you can drop off the keys in the drop off box
It is gated and you require a QR code to get into the park that they give you at check in
The closest Walmart is about 10 minutes away and Canadian Tire is about 4 minutes away
While Boston Pizza is on site at Bingemans Camping to enjoy, there is also Waterloo Brewing which is just across the road there. We didn't eat at it but it looks amazing! If you want to go into downtown Waterloo, it's only 10 minutes away as well
Although summer can be hot, it can dip at nighttime so pack and prepare accordingly
Quiet hours at Bingemans Camping begin at 11PM which we loved! There was lots of music being played ( tastifully mind you!) but at 11PM it is striclty enforced and it's so peaceful
Minimum 3 night stay on long weekends (Friday, Saturday, Sunday)