The High Acre in Dundas, Ontario is a new luxury boutique hotel that you will want to add to your bucket list this year. This 5 star bed and breakfast is not only the most gorgeous place to hang your hat at for a night but it also features an in room infrared sauna, Hamman steam, aromatherapy and plunge tub in each of their rooms.
Restored from a 1867 farm house, The High Acre has been renovated and transformed into what felt like a dream space. It is equal parts beautiful and equals parts soo relaxing. It features so many unique details that I will get into later.
With it being just an hour from Toronto and 20 minutes from downtown Hamilton, it is so conveniently located for a staycation. If you live further, I would definitely add on a second night. Heck, I live only15 minutes away and I could have easily stayed the week!
FOUR DIFFERENT ROOM OPTIONS AT THE HIGH ACRE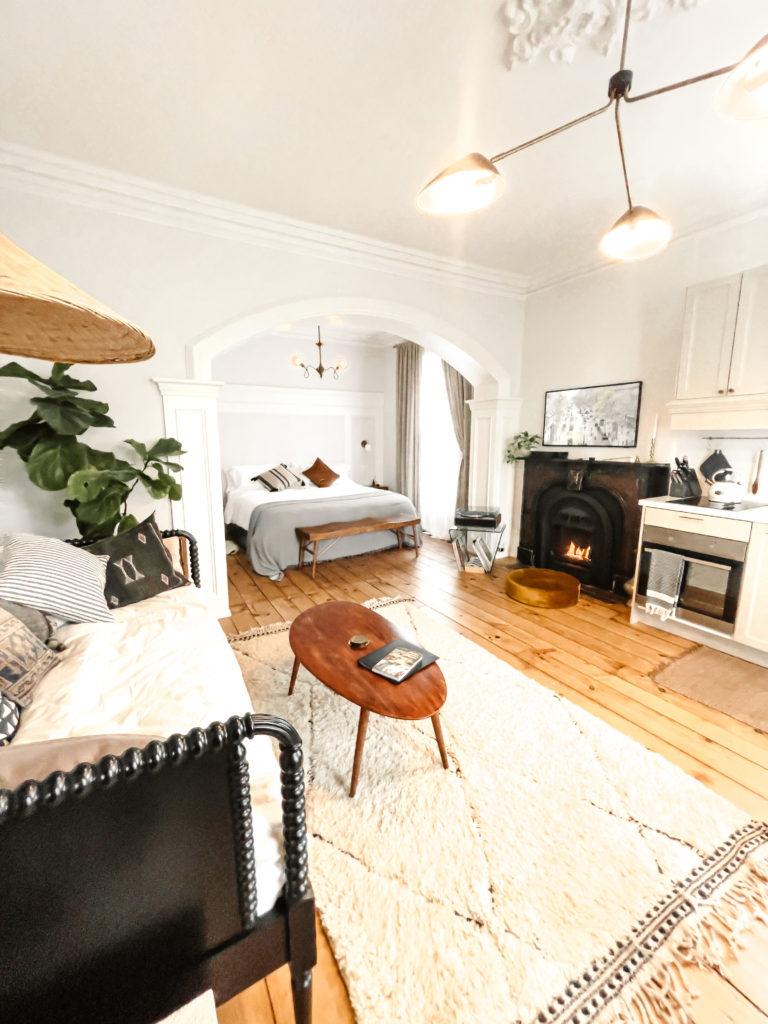 There are four different room options at The High Acre- The Eastman, The Hudson, The Grightmare, and The Stotnick. Regardless of your room selection, you will get all the spa amenities included, your own kitchen and a fireplace. Some of the bath tubs, steam rooms and fireplaces vary in terms of design but the function of them all is the same. I think my new life goal is to stay in each of the rooms!
I did get the chance to take a peak at them all and I honestly couldn't pick which one was my favourite though. All of them include the same sheets and bed sizes as well and I actually had to ask what kind of mattresses they used. They were INSANELY comfy.
We stayed in The Grightmare which is the biggest of the room options and on the lower level. We loved it so much. The Eastman has a really cool in steam room tub which the other units do not have. This room was also on the lower level. Both The Hudson and the Stotnick are on the second level and I would say their fireplace/tub set up is the highlight in these rooms! Like I said, you really can't go wrong with any of the suites though!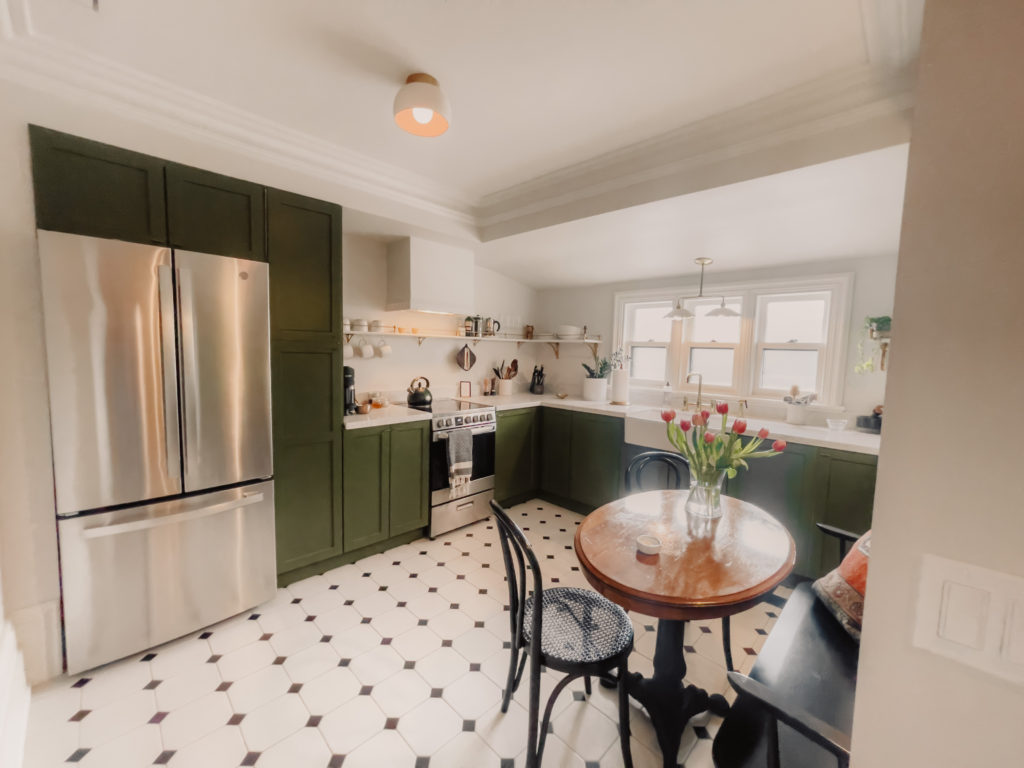 LOOKING FOR OTHER AWESOME PLACES TO CHECK OUT IN ONTARIO? CHECK OUT THESE POSTS BELOW
THE COMMON AREAS AND OUTDOOR SPACE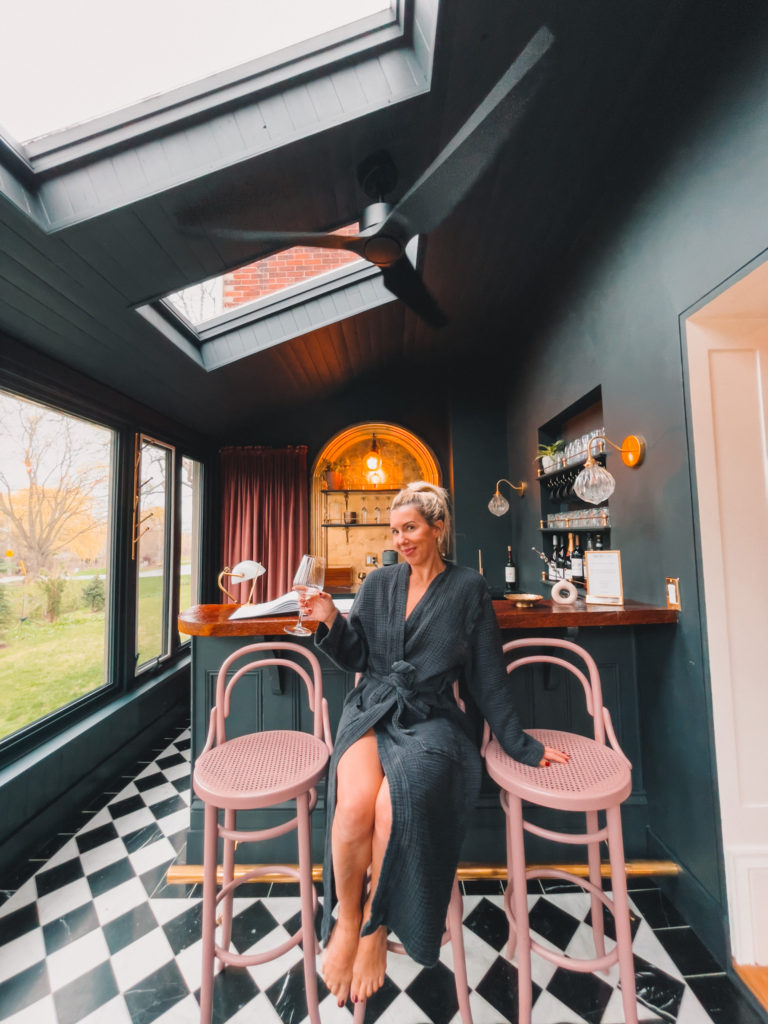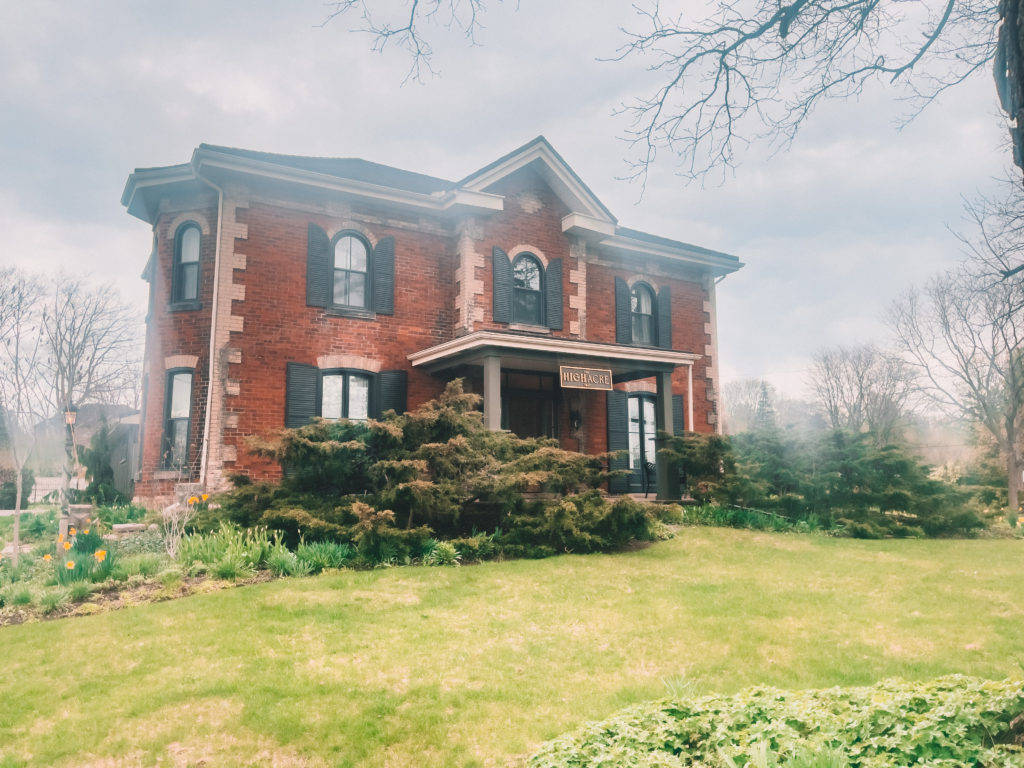 While it is SO easy to just put in your room, there are many common areas at The High Acre that are worth coming out for.
First of all they have a full on outdoor pool on the grounds that is equipped with sleek and modern lounge chairs and umbrellas. There is also an all seasons hot tub that joins the pool if you want to do some relaxing outside.
It was rainy on the day we visited, so it seems like I will have to go back when it's warmer and sunnier to fully experience this part of the The High Acre ( I am honestly looking for ANY excuse to go back). If swimming isn't your thing, then you can sit in their covered terrace area just off the main doors. It is perfect for a glass of rose on a hot summer day or reading with some fresh air.
Since the High Acre has thought of every single detail, you can expect to find little flip flops by the door for you to use before you head outside- seamlessly connecting the whole space and not interrupting your robe/spa vibe!
ENHANCE YOUR WELLNESS EXPERIENCE WITH HOLISTIC AND HEALING ADD ON'S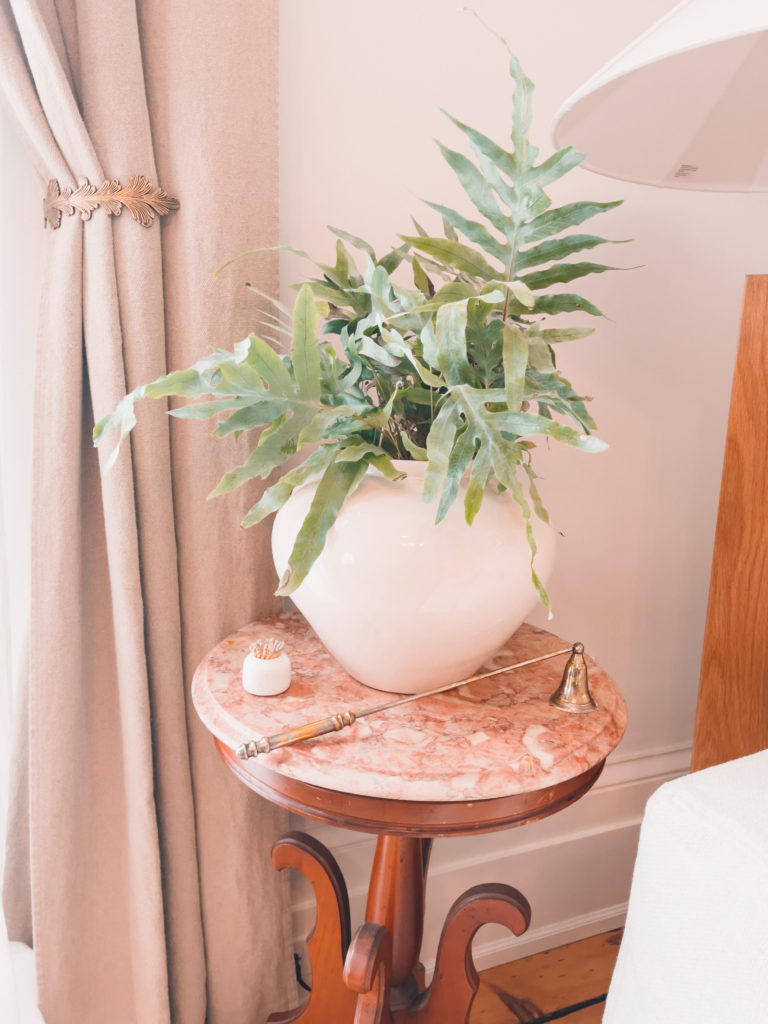 We filled up our time at The High Acre by doing the thermal circuit right in our suites about 10 times a day. Not kidding LOL
We cold plunged in the soaking tub, we steamed and then we went into the Infrared Dry Sauna to unwind. It was perfection and really felt like the most unique stay of all time as we have never stayed in a hotel where we had a private steam and sauna.
We broke things up with some wine of course and some reading and felt completely amazing.
If we were to stay two nights at The High Acre though, I would definitely recommend adding on a few wellness experiences to enhance your stay. While your room is basically your own wellness retreat, you can venture out and do yoga, hiking or even book a spa service like a massage.
An RMT can be booked prior to your stay and you can have your massage RIGHT in your suite. What kind of spa or hotel offers this kind of personalized service? None that I have been to! Furthermore there are not many Spas in Dundas, Ontario in general so this is truly one of the best places to visit for not only a getaway but also for a spa service.
While a Massage needs to be booked ahead of time and offers a few different massage styles, Yoga on the other hand is offered every morning ( at the time of writing this). We did a very light morning at 9:30AM and it was such a great start to another relaxing day.
Here are some other in room wellness add on's that are complimentary:
Led Infrared Red Masks from The Higher Dose. These promote deeper sleeps, help with anti aging and help you focus
Massage Gun in every bedside drawer
In Room Diffuser with Various Aromatherapy blends
QR Codes in the Sauna and by the Bed for easily accessible meditation sessions
WHAT TO KNOW BEFORE VISITING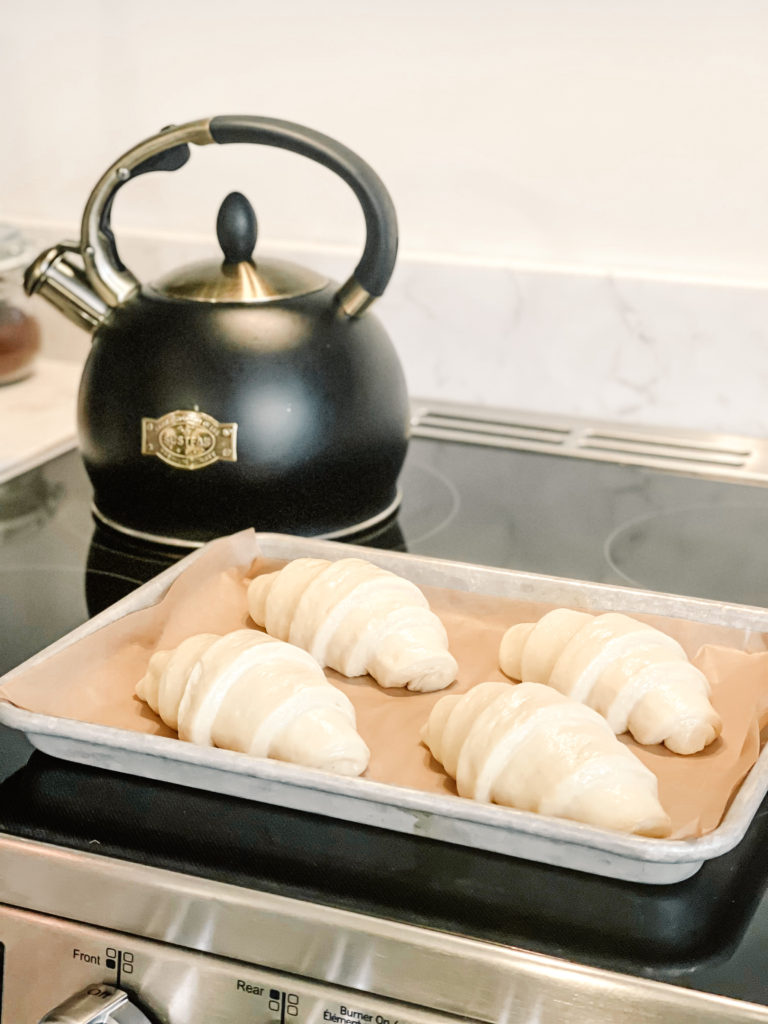 The lobby bar ( which is the cutest thing potentially alive) is not licensed. There are plans for it to have Kombucha and Teas on tap but if you are looking for some wine or a cocktail, you won't find it here. Make sure to bring enough wine or drinks so you don't have to leave!
There are a ton of Restaurants close by if you want to get out to eat. I would recommend Namu, Betula, Detour Coffee ( for lunch) or Bangkok Spoon. While all these places are amazing, I highly suggest just doing Uber Eats to The High Acre. I believe Namu is on Uber Eats! Trust me, you won't want to leave.
You can definitely visit some hiking trails without a car but most restaurants and the main area of Dundas is best accessed via a car! It's just a short 5 minute ride but walking would take much longer.
You can stay 1 or 2 nights and not be bored AT ALL! Since we live about 15 minutes away, we did 1 night but I think to fully, fully unwind I would recommend 2.
Breakfast is included in each suite. You can find croissants ready to be baked, farm fresh eggs, milk, coffee and homemade jam and butters to compliment this all. *Chef's Kiss*
They legitmately have a full selection of glassware- ie: If you bring champagne, they have champagne glasses. If you plan to mix up a cocktail, they have cocktail glasses. Also it is worth nothing that all their plate ware and cutlery is from Dine with Fable. Ugh, swoon!
All in all, this place is absolute heaven and I don't think there is one thing I would change about it. Whether it's for a girls getaway, an anniversary or even on a solo trip, the High Acre will make you have all the feels in the best way possible.
---
You can follow along @thehighacre to learn more about Dundas, Ontario's newest Spa!
PIN THIS POST