For a family who loves to explore local gems and getaways, we were absolutely floored that we haven't been to Stratford before this trip! With it being only an hour from Hamilton ( and 2 hour from Toronto), it is an easy place to escape to for a night… or even longer.
After experiencing how special this town is, we know we will back often ( we may have even talked about a day trip for next week LOL). My husband also started to look up real estate in the area because he loved it that much…
So what made Stratford so special? Besides it being the hometown of Justin Bieber, it is a town that is so rich in culture, arts, has an epic food scene ( like seriously you can eat your way through this town) and the cherry on top is that everyone was SO nice.
I felt like I was in a town from a movie. I wouldn't have been surprised if everyone in the town center busted into a song and dance at a certain time in the day!
I'm going to give you guys a full breakdown of what we got up to in the 2 days that we were there so you can plan your own trip too! While we were there as a family, I am looking forward to going back on a girls trip or mother/daughter getaway especially when I am not pregnant so I can try all of the restaurants delicious looking cocktails! Basically it is a place where you can go with anyone!!
LOOKING TO EXPLORE OTHER NEARBY PLACES? CHECK OUT THESE POSTS TOO:
WHERE TO STAY IN STRATFORD, ONTARIO
You will be pleasantly surprised at the abundance of unique hotels, B&B's, Inn's and Air bnb's that Stratford has! For a smaller town, the accommodation selections that you have are big! Whatever your taste is, you will be able to find something that suits your needs.
We opted for an Air Bnb stay at The Bradshaw Lofts and stayed in this particular unit! The loft building was originally built in 1903 and was a candy factory back in the day! It has been completely renovated and restored and makes you feel like you are staying somewhere in New York City! With a downstairs coffee shop being added to the mix soon, it is the perfect place to stay with kids, larger groups or if you want some extra space! Most units have kitchenettes or sofas where you can make yourself right at home. It is located at the first stretch of town- close enough to the action but further away from the center so you can have some real peace and quiet! 10/10!
OTHER PLACES TO STAY AT IN STRATFORD:
-If you are feeling fancy stay at the Shakespearean inspired boutique hotel called The Bruce! Not only it is a stunning hotel but it has an onsite spa and 5 star restaurant on site (this may be the place I stay for a girls trip next time!)
–The Mercer Hotel is another great option! We ate here one night and the building is so charming, located on a happening street and offers beautiful city views! You are also RIGHT by the Avon river
WHAT RESTAURANTS TO EAT AT IN STRATFORD
Looking for freshly brewed coffee………..or americano, misto, flat white or basically any sort of fancy coffee drink you can think of? Head directly to Revel. My husband and I are coffee snobs and we really, really enjoy a GOOD coffee in the morning. This place checks all the boxes. The interior space made me feel like I was transported to Brooklyn, New York yet the assortment of freshly baked pastries that they also offer made me feel like I was transported to Paris. Get the scones.
This casual brasserie style restaurant was hopping when we visited! Thank god we had a reservation or we wouldn't have got in!
It features an outdoor patio that directly faces all the action of Ontario street and a cozy interior decked out with string lights, exposed brick and a large bar. Although the ambience is relaxed and hip, it also felt romantic. The menu has something for everyone – literally so much to choose from! Our server told us that the menu was izakaya inspired and dishes like the sushi plate, steam buns and chicken karrage are among the most popular! While we were tempted by these sharing plates, we opted for the Wagyu beef main entree with tempura asparargus on top of a mouth watering salad. Aside from a 10/10 meal, they also had an extensive beer menu with over 100 varieties!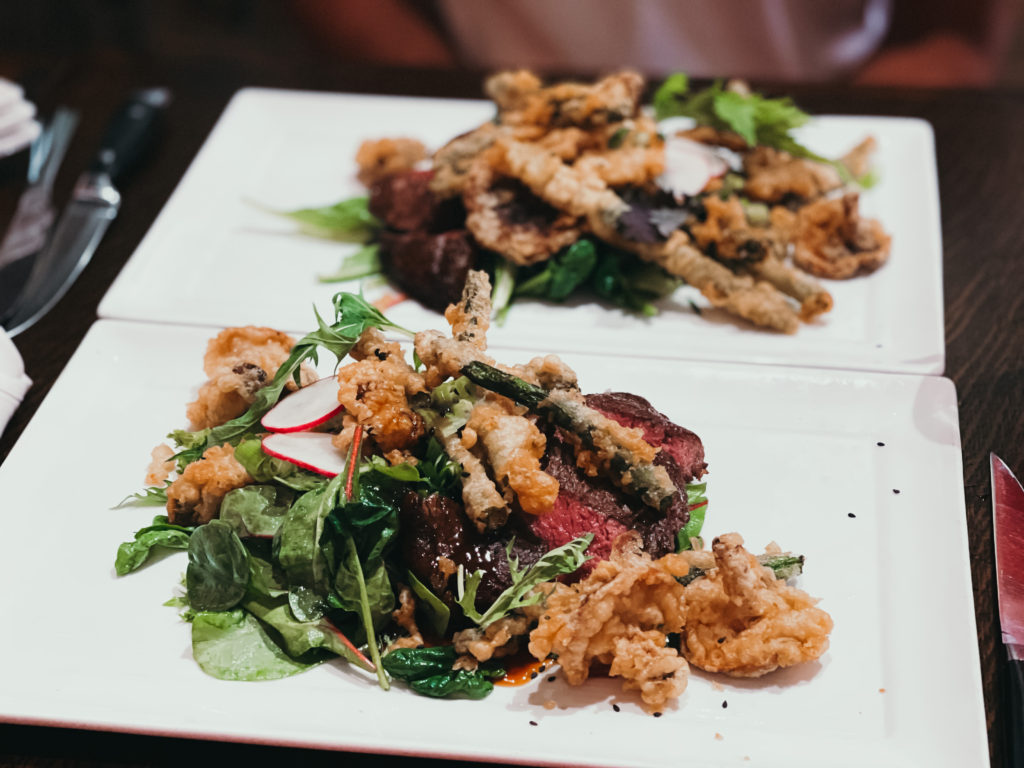 BRU GARDEN/KEN'S FRENCH FRY TRUCK
Ken's French Fry truck has been a Stratford staple for over 70 years. 70!! Recently taken over by the Keystone Hospitality Group ( which also runs the popular Braaii and The Alley restaurant), they have kept all the staples in place but amped it up by adding a permanent location for the truck to park at- Bru Garden!!! With cute string lights and open picnic tables- this no fuss place houses some of the best poutines in Ontario. They are so delish that even Justin and Hayley Bieber stop here when in town ( yes I will keep referencing Bieber throughout this- sorry!!)
This was hands down my favourite restaurant we visited! Revival House is an old church that has been converted into a restaurant space. It is such a unique space that offers a flower filled outdoor patio, a stunning interior that features some original fixtures paired with modern touches and most importantly, mouth watering dishes! We got a pizza, the Thai cabbage salad, the Ruben sandwich and seafood cakes to share. My husband also had a Moscow Mule and they made me a cucumber mocktail that was *chef's kiss*. We were there for lunch so I am looking forward to trying it out for dinner next time!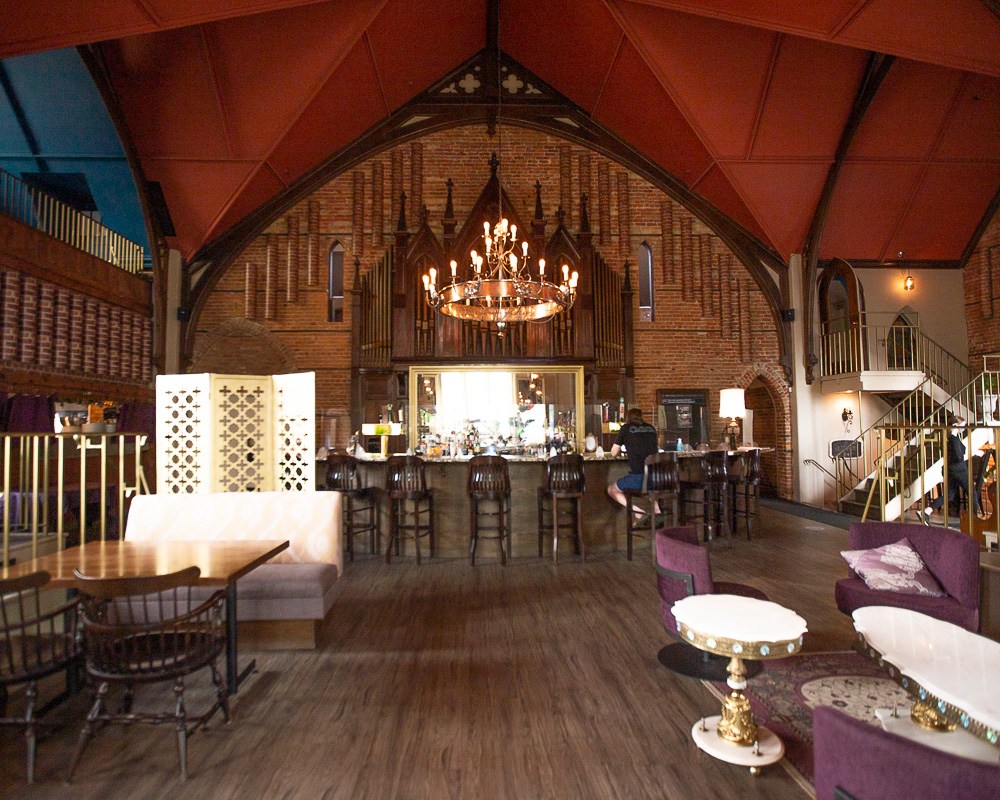 If a place I visit has a restaurant with fresh juices, smoothies and acai bowls…consider me SOLD! I would drive back to Stratford just for the juice and acai bowl from The Pulp! They have a grab and go section with items like overnight oat pudding, seasonal juices and gluten free snack bites too if you are looking for something quick. We went here both days and then also grabbed juice to take home with us.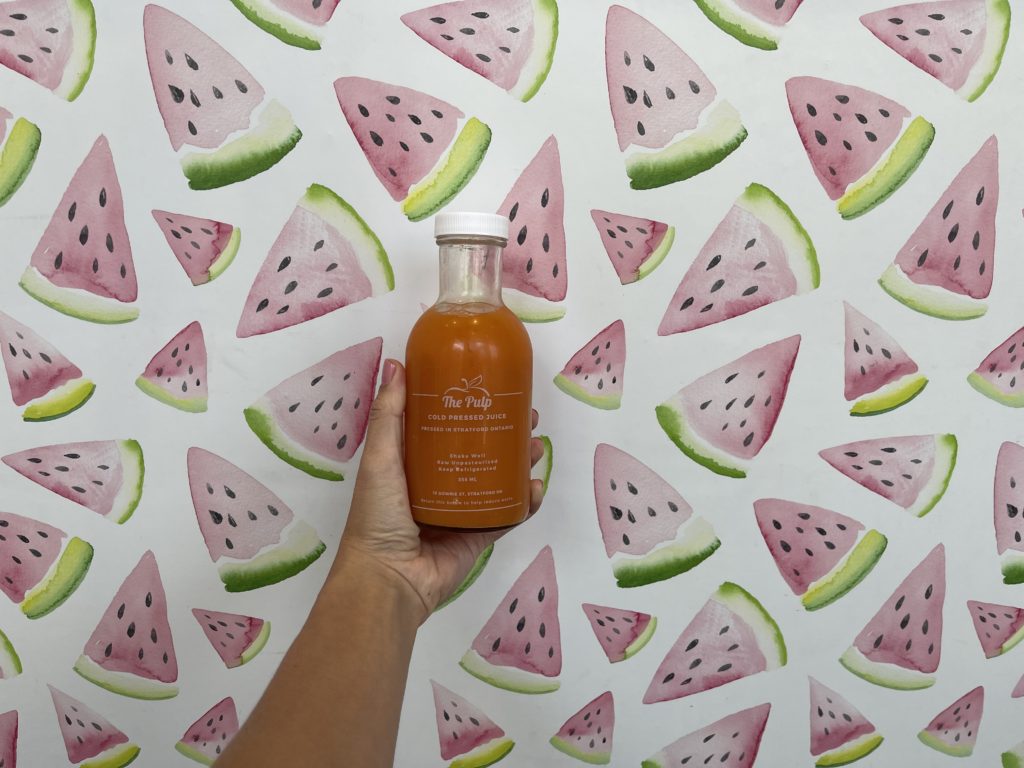 Like the Mercer Kitchen + Beer Hall, Foster Inn also has it all! It is a full fledged boutique hotel AND restaurant. Situated right on Downie Street and across from the Avon Theatre, this is a great place to stay in town or to grab a brunch at before your day! They have your traditional breakfast options along with some lighter choices which we opted for ( we did eat our way through town after all!). This place is super kid friendly so I recommend hitting it up for breakfast if you come with the family
QUICK LINKS: MY FAVOURITE AMAZON ITEMS
, , , ,
OTHER PLACES TO CHECK OUT IN STRATFORD:
-While it was impossible to check out every place in 2 days, we did have a chance to stop by Pazzo Pizzeria for a pre dinner drink. The patio is a DREAM!!! Literally felt like I was in a Disney movie that was set in Europe. I felt sorry for the people eating there because every time we would walk by I was gawking so hard at how cute it was ….they were probably creeped out by me!! haha.
-We grabbed a quick bite at The Hub where we split Fish Tacos and my hubby had a brew! Their rooftop patio is spacious and offers great views! They also have a Butchery right next door that they run and operate- super cool!
-We did a window peek into The Planet Diner which offers up Vegan eats! Someone on my Instagram said this was super yummy and the retro vibes looked so cute! On my list for next time.
-Pick a restaurant and eat at the various Al Fresco Dining sections in town. You can even take alcoholic beverages to go with the purchase of your meal at select restaurants. Decked out with colorful chairs, picnic tables and umbrellas, the Market Square is one of the best areas to Al Fresco dine! You can to take in the beautiful City Hall view and look at all the shops and restaurants that surround you. We came here just after dinner and saw people enjoying Thai food, pizza and some just having a coffee
WHAT TO DO IN STRATFORD
If there is one thing to note when visiting Stratford it's that you will not get bored! There are plenty of activities for everyone and the best part is that everything is in close proximity! While we didn't check out the Stratford festival or any plays during our stay, that is one of the main draws for visitors. If you are into the arts, I highly suggest checking out the town during the official Festival!
Whatever you end up doing, one thing is forsure: you will quickly feel the undeniable charm that Stratford possesses. We travelled with our 2 year old and everything we did was absolutely perfect for our little fam! This is what we specifically did..
CHOCOLATE TRAIL
Calling all Chocoholics out there ( aka ME!!!) This one is for you! For $30.00, you can head on a self guided Chocolate Trail where you will receive 6 vouchers that you can use to explore all the unique chocolate themed offerings around town! While I very much enjoyed the truffles and brownie sundaes that we got on this tour, you also can get chocolate infused/inspired items! We hit up Black Swan Brewing where my hubby tried out their Chocolate lager which was a light yet creamy brew. We got to enjoy the patio while we were there and I certainly will be back when I am not pregnant!
We received a detailed map showing us all the places we could hit up on this tour and it was the perfect way to explore town on foot, get your sweet tooth fix and talk with the owners of all the businesses as well! Coolest place on the Tour? Visiting Olive Your Favourites where we got chocolate infused olive oil!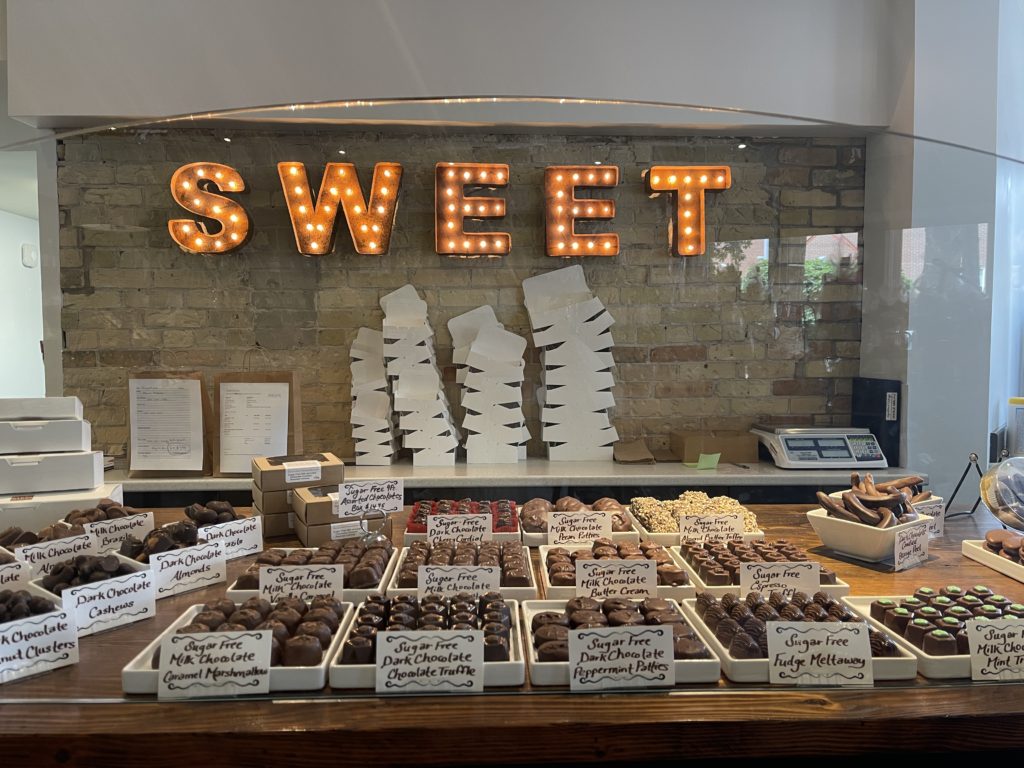 Chloe's personal favourite spot on the tour??
JENN & Larry's is where we got a Brownie Sundae ( and Mom and Dad might have helped her with over half of it hehe). Even if you don't go on the Chocolate Trail Tour, you should most definitely visit this place during the summer. It is located on the picturesque York Street and is very "Instagrammable" with the exterior looking like a giant sundae!
SHAKESPEARE GARDENS- AKA THE BEST FREE ACTIVITY IN STRATFORD
The Shakespeare Gardens, located along the Avon River, transport you to another time! Walking around there made me feel like I was in the English countryside. The courtyard is filled with beautiful blooms and you get the perfect view of the infamous Huron Street bridge. Built in 1885, this double arched beauty is the oldest road bridge still in use as a fully functioning road! You are able to walk underneath it to the other side as well. We spent a lot of time admiring the gardens and even sat down for a half hour enjoying some snacks.
AVON RIVER
Is it even a trip to Stratford if you don't visit the Swan filled Avon River? I think not! Perfect for a leisurely stroll, picnic or if you are feeling more adventurous- you can rent a paddle boat, kayak, or canoe from Avon Boat Rentals. This is where you'll also find a number of geese and ducks! Avon Boat Rentals has bird food you can grab which was a great activity for Chloe! They also have a cute patio to take in the views if you just want to relax. Along the river also sits the Tom Patterson Theatre ( which is a real beauty) and the Stratford Festival grounds so make sure to check those out too while you are there!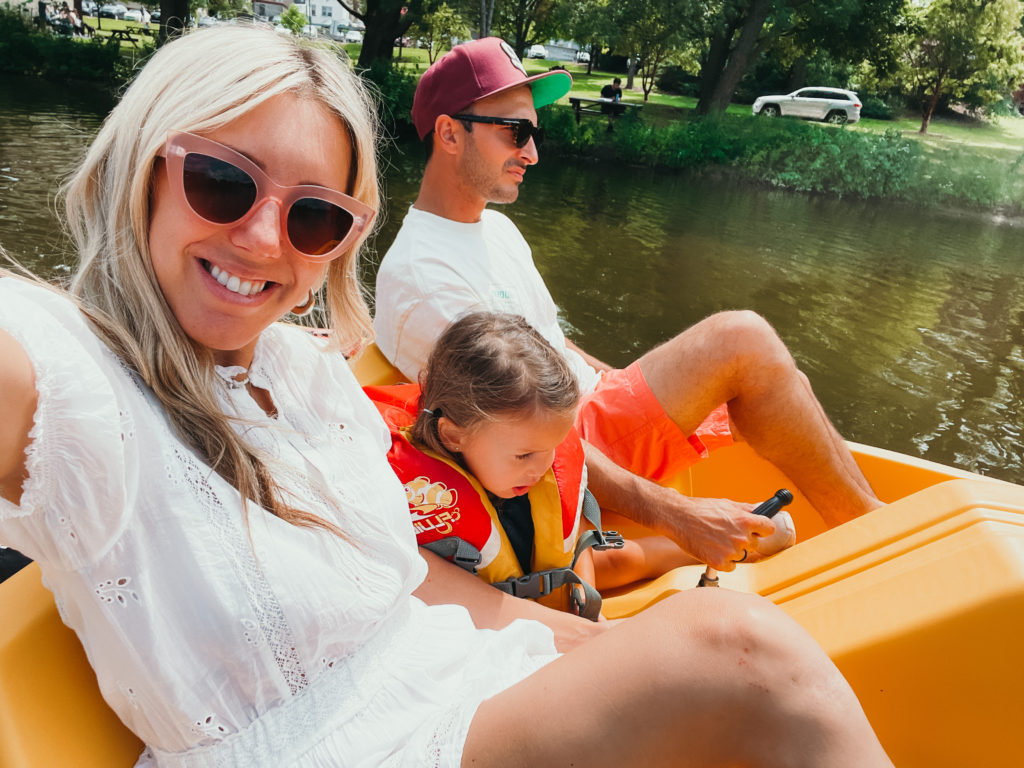 DO SOME SHOPPING AT LOCAL STRATFORD SHOPS
Take a stroll along one of Stratford's main streets Ontario Street, Downie Street or York and discover the array of beautiful little shops. You have EVERYTHING here! With children's stores like Juno ( seriously could have spent $8392032 dollars here on Chloe) to Aromatherapy- it is full of unique and quirky places. I wish I could have spent more time browsing through Harmony and Distill but next time! They also have a lot of beautiful home decor/accessory gems here so if you are looking to find a unique piece for your home- save it for your trip to Stratford ( definitely won't find this stuff at HomeSense)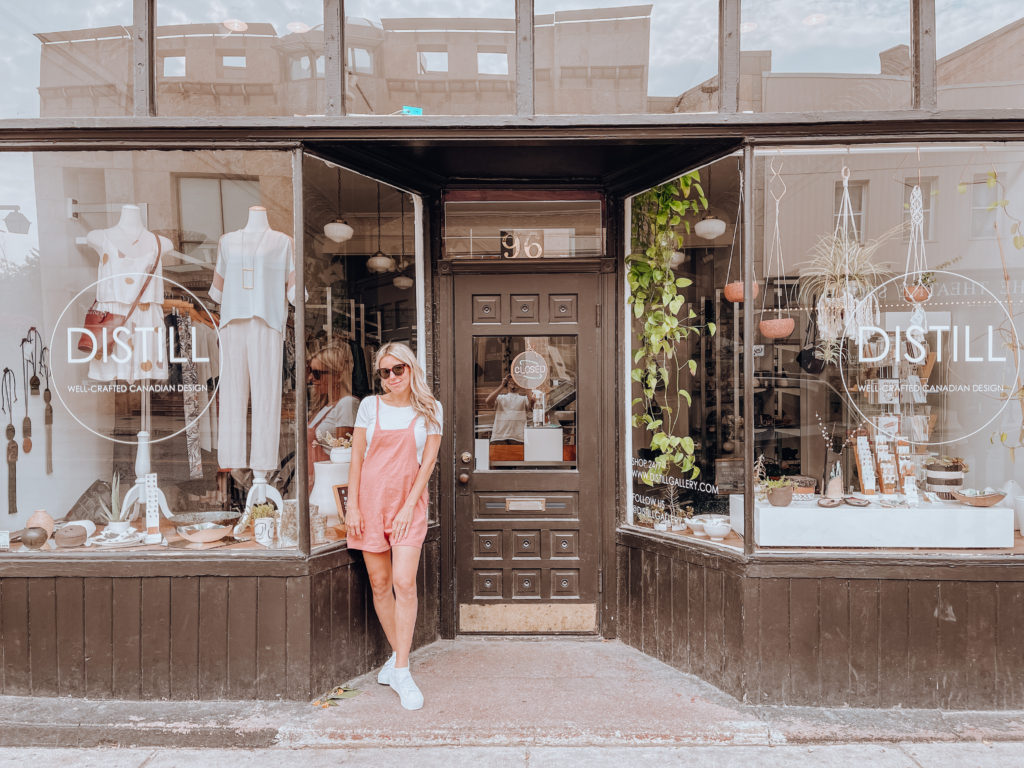 DO ONE OF THE MANY AUDIO TOURS
Stratford has many different audio tours ( in addition to the Chocolate one!) where you can explore and learn about the city at your own pace. They are complimentary and have many different themes to explore such as the "Instagram Worthy" tour ( helping you to find the perfect spot to shoot for the gram), Art Walk tour and my personal favourite the "JUSTIN BIEBER" tour- duh. With Stratford being his hometown, the tour takes you through favourite spots of his and some trademark places where he used to perform. I may or may not have danced to "Intentions" on the stairs he used to sing on.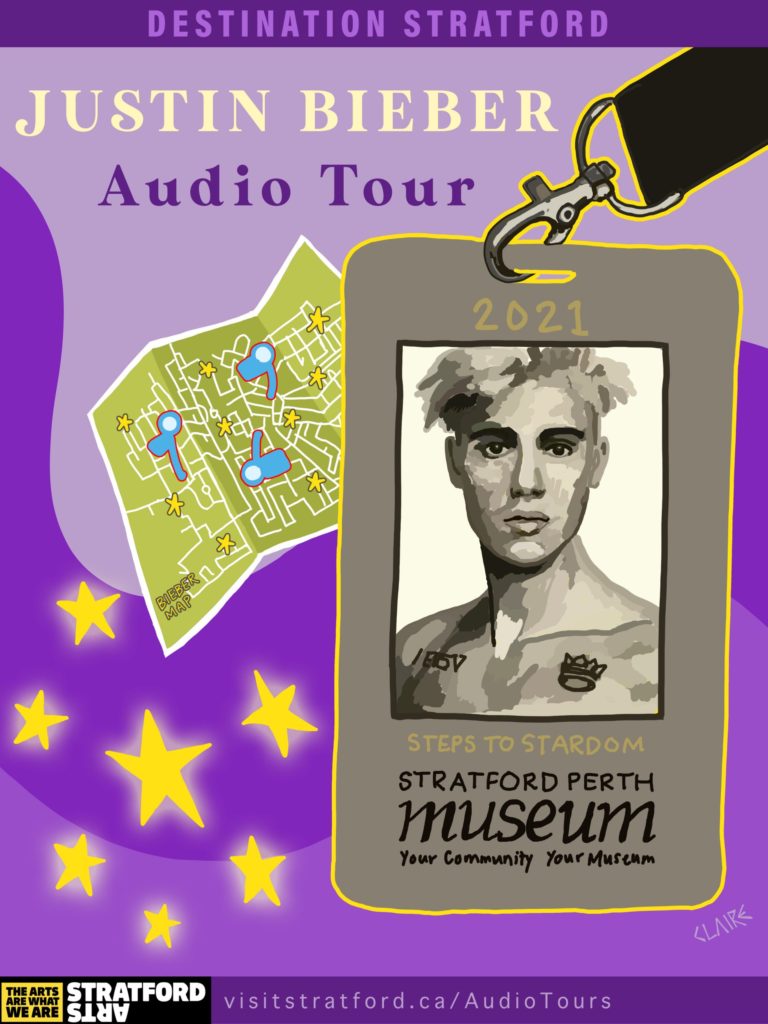 THINGS TO NOTE FOR YOUR STRATFORD TRIP
HOW TO GET AROUND IN STRATFORD: Stratford is a walking city! You can easily park your car and not have to use it again until you leave. I would definitely rent bikes next time to boot around quicker ( mainly because I love biking around towns to explore as much as I can!)
HOW MANY DAYS DO YOU NEED: We spent 1 night and 2 full days there and we did see a lot! Next time, I would stay 2 nights for sure. We still weren't able to see everything we would have liked but that's ok BECAUSE NOW I HAVE A VALID EXCUSE TO GO BACK muahaha. You also can stay 5-6 nights and do some day trips using Stratford as your base too. We met another couple who was there doing that and we really loved that idea!
COST: To stay at a nice/decent hotel, will run you about $200 + a night! Considering it is town that attracts a lot of tourists each summer with the Stratford festival, we expected prices to be more! There are so many restaurants to choose from that you can find a place for any budget! Definitely more budget friendly than Niagara on the Lake..
**This post was done in partnership with Visit Stratford but all opinions and views are my own**
PIN THIS POST