Last year, our family had the chance to visit Stratford, Ontario for the first time and we were blown away! It was architecturally beautiful, the restaurant scene was out of this world and everywhere in town was walkable. We couldn't believe that it was only 1.5 hours away!
There were so many things to do in Stratford as a family but this time around, I wanted to escape mom life for a night and have a fun little getaway with my girlfriend!
We got up to a lot and if you are looking for a quick girls trip to Stratford, Ontario- this is the itinerary for you!
LOOKING TO EXPLORE OTHER NEARBY PLACES? CHECK OUT THESE POSTS TOO:
#1. EXPERIENCE A WINE FLIGHT AT BRCH & WYN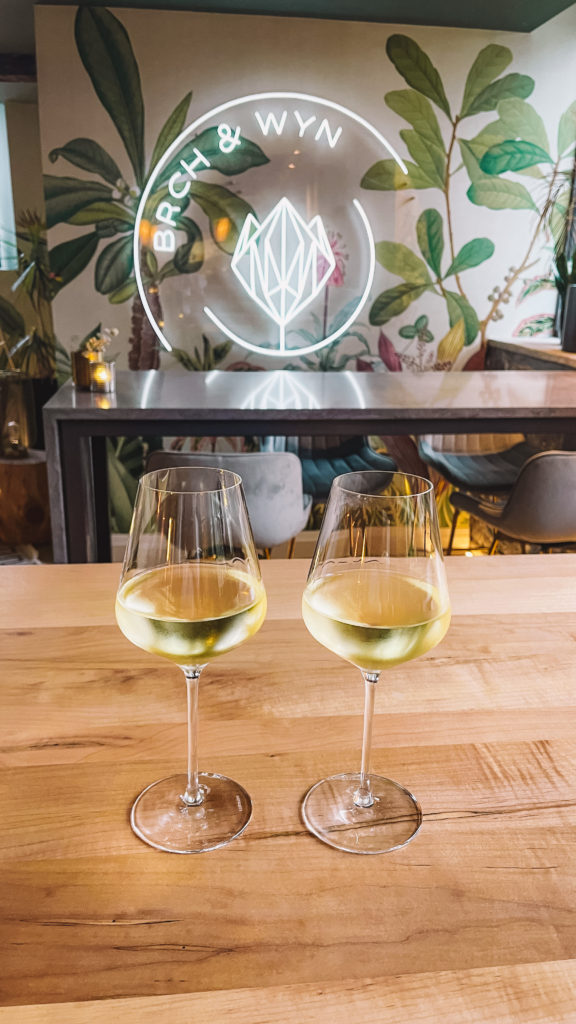 A newer spot in Stratford, the space at Brch & Wyn is all of the design goals. It features tropical accents, velvet chairs, original stone walls and a cool neon sign aka Instagram dreams! It is a coffee shop by day and a wine and charcuterie spot by night. It offers over 10 different cheese selections and an expansive wine list, allowing you to build the perfect tasting experience based on your preferences! I would recommend hitting this up before your dinner reservation or for a late lunch!
#2. DISCOVER STRATFORD'S BEST SHOPS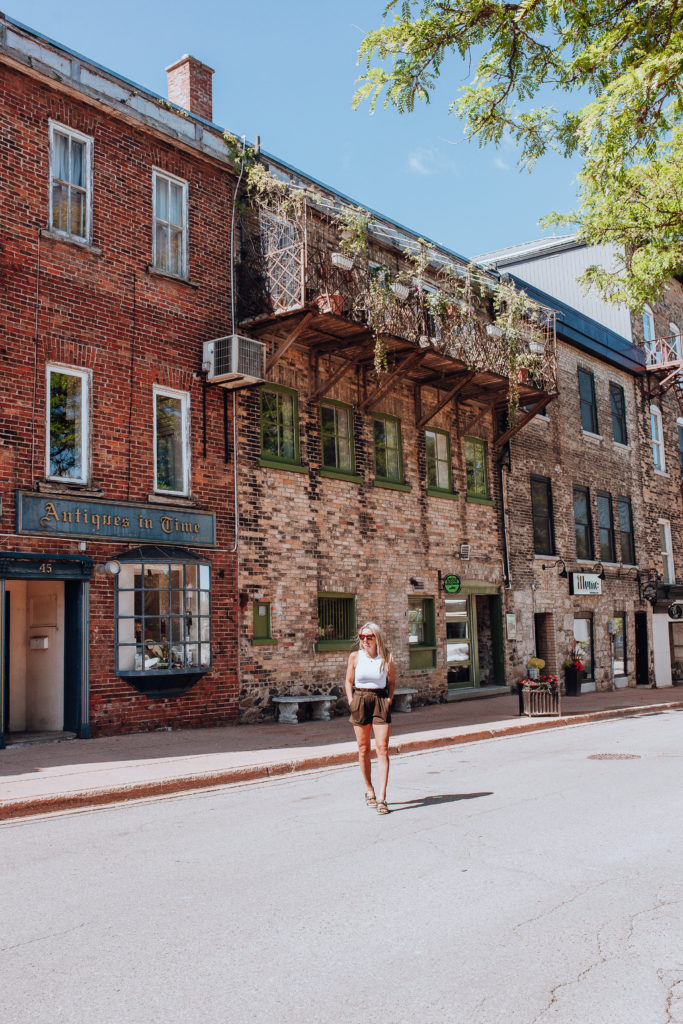 A girls trip isn't complete without a little retail therapy, am I right? There are plenty of unique and locally owned shops in the heart of Stratford that will have you swooning. What I love about the shopping here is that no two stores are the same and that you get a more personalized experience.
Here is a list of some of my favourite Stratford shops:
La Osa– They say not to judge a book by it's cover but I definitely did with this store. The storefront alone is stunning and the inside finds are just as good. You can find carefully selected vintage finds that are not only on trend but also are unique. You won't be showing up to a dinner in the same outfit as anyone else if you shop here!
Grace Boutique– Swimwear, lingerie, loungewear and elevated basics can be found at this boutique. With it being a ladies trip, we enjoyed this one a lot!
Bradshaws – This store is probably the most iconic shop in Stratford having been open since 1895. This is the ultimate hostess gift store….or if you want to get all unique home items for yourself.
Distill Gallery – This store features a selection of Canadian designers and highlights sustainable fashion, home decor and jewellery.
Dale & Company – The aesthetics of this place is out of control. I felt like I was in a magazine when I stepped inside or in a Pinterest board. They have home good pieces like throw pillows, blankets, light fixtures and art pieces and basically any piece you purchase would elevate your home big time.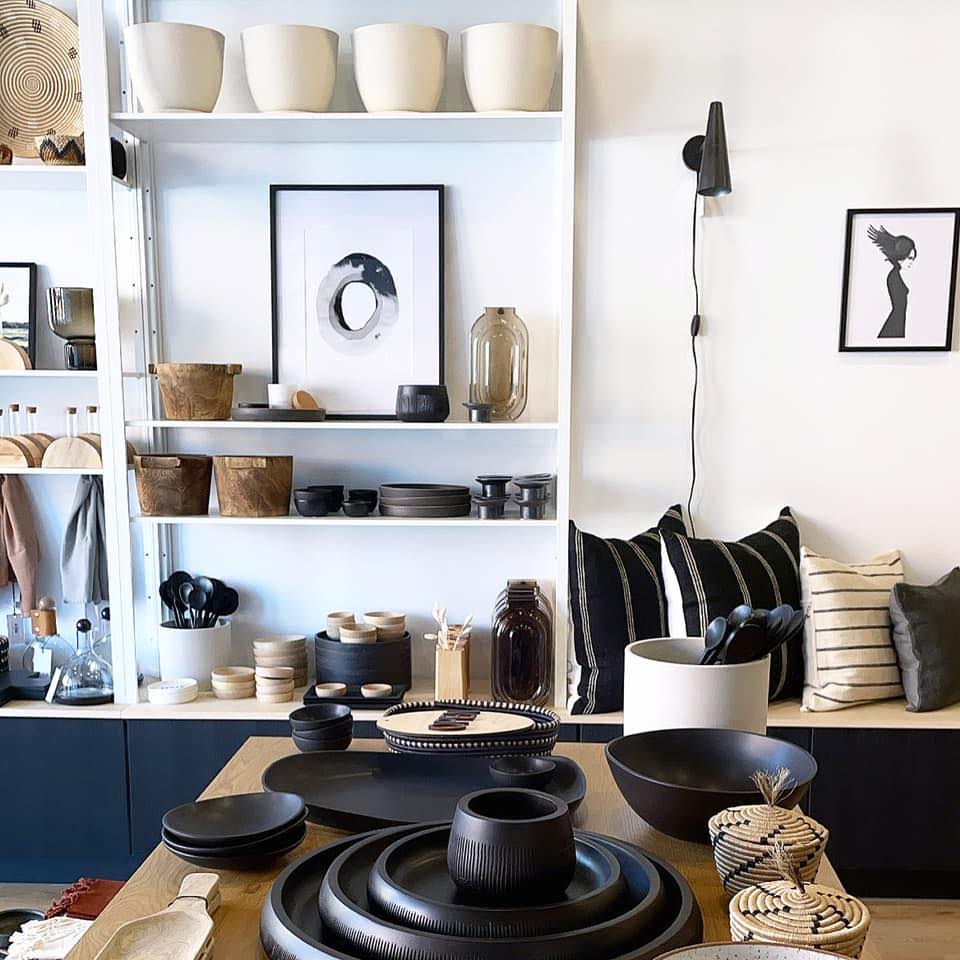 #3. HAVE A PRE OR POST DINNER DRINK AT THE RELIC LOBBY BAR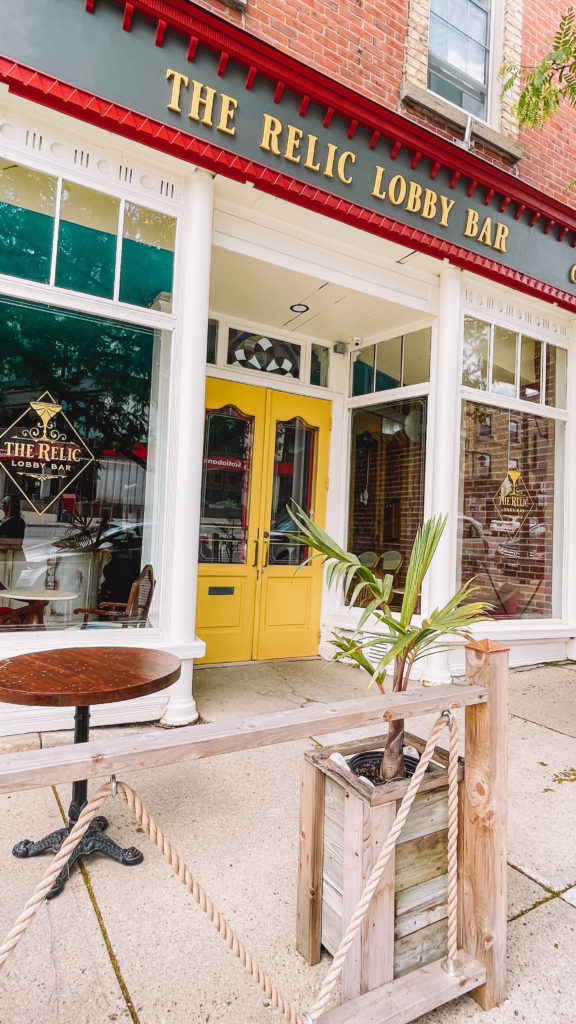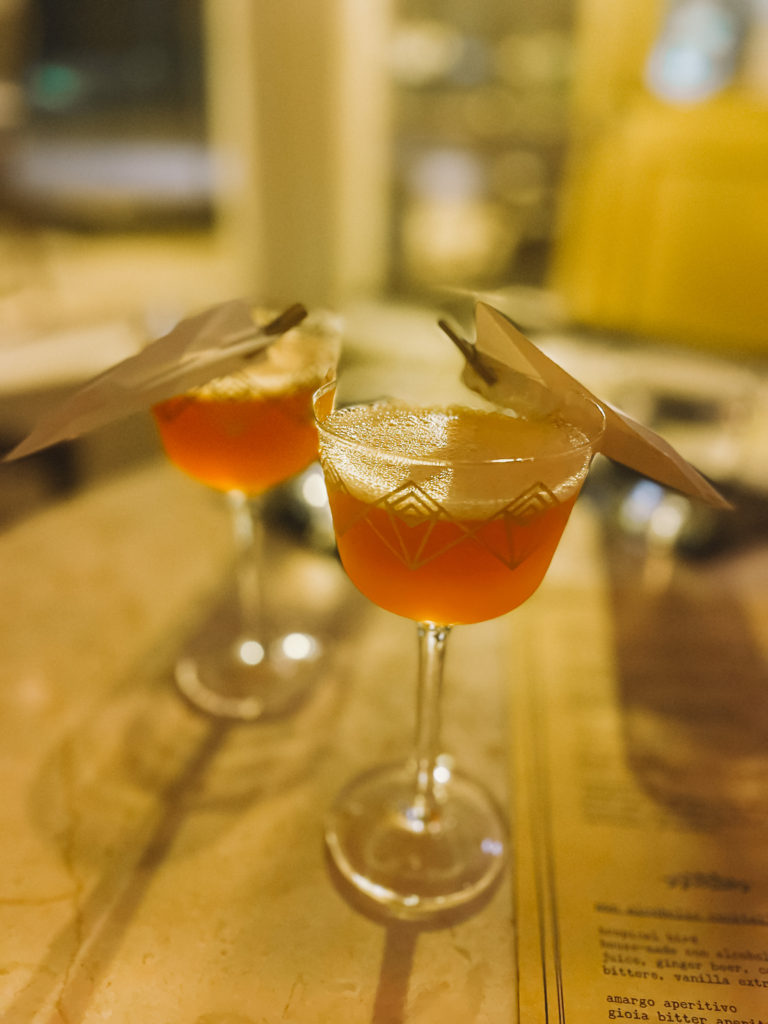 If you want to feel like you have been transported into Havana, Cuba, make sure to stop at The Relic Lobby Bar for a pre or post dinner cocktail! The owner is originally from Cuba and knows a thing or two about mixing up exotic, hand crafted and unique cocktails. We literally saw someone getting a drink that had a full on flame coming out of it ( don't worry- it burnt out just in time for them to sip it). They feature the classics like Margaritas and Dirty Martinis but it would be a shame to come here and not experience one of the signature cocktails they offer and have concocted themselves! The signage and front view of the bar is enough to make you want to visit ( one of the most eye catching frontages in Stratford for sure) and somehow the inside matches it!
#4. GRAB A LUNCH AT YSK BISTRO'S GARDEN PATIO OR EL CACTUS TACO SHOP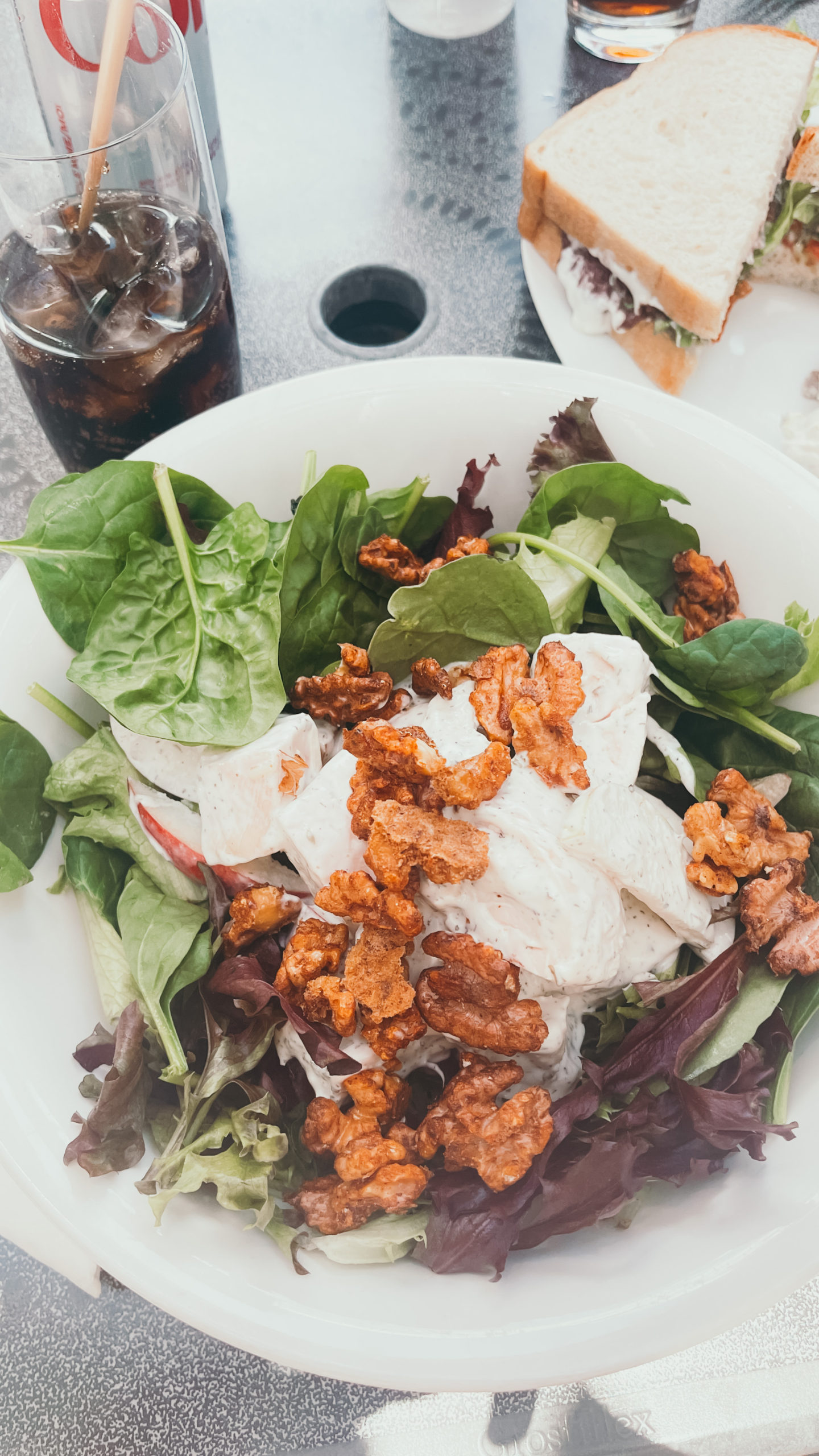 The lunch scene in Stratford is happening! A lot of people who book a Matinee show time at the Stratford Festival will start their day off with a pre-theatre lunch which is exactly what we did. While there are plenty of options in town, we had lunch at these two spots and couldn't say one bad thing about either.
YSK Bistro is perfect if you want a "Ladies who Lunch" vibe as they have some lighter menu options like salads and sandwiches. We got the Waldorf Salad and a Turkey Sandwich and shared them as we couldn't decide what we wanted! They also have a big selection of wraps….and wine! It was such a great spot to visit before seeing Chicago
el Cactus Taco Shop was where we went to kick off our trip! I instantly felt like I was in a small little Mexican town when I stepped inside. It didn't hurt that we ordered two of their margaritas to really set the tone. Can I just say that you absolutely need their Passionfruit marg? So fresh and delicious. Their patio was also such a vibe and we ended up sitting there for over an hour after we ate because we loved it so much! We got the jalapeno dip to start and the pork tacos as our mains. Anddddd– now I am hungry thinking of it! Drooool.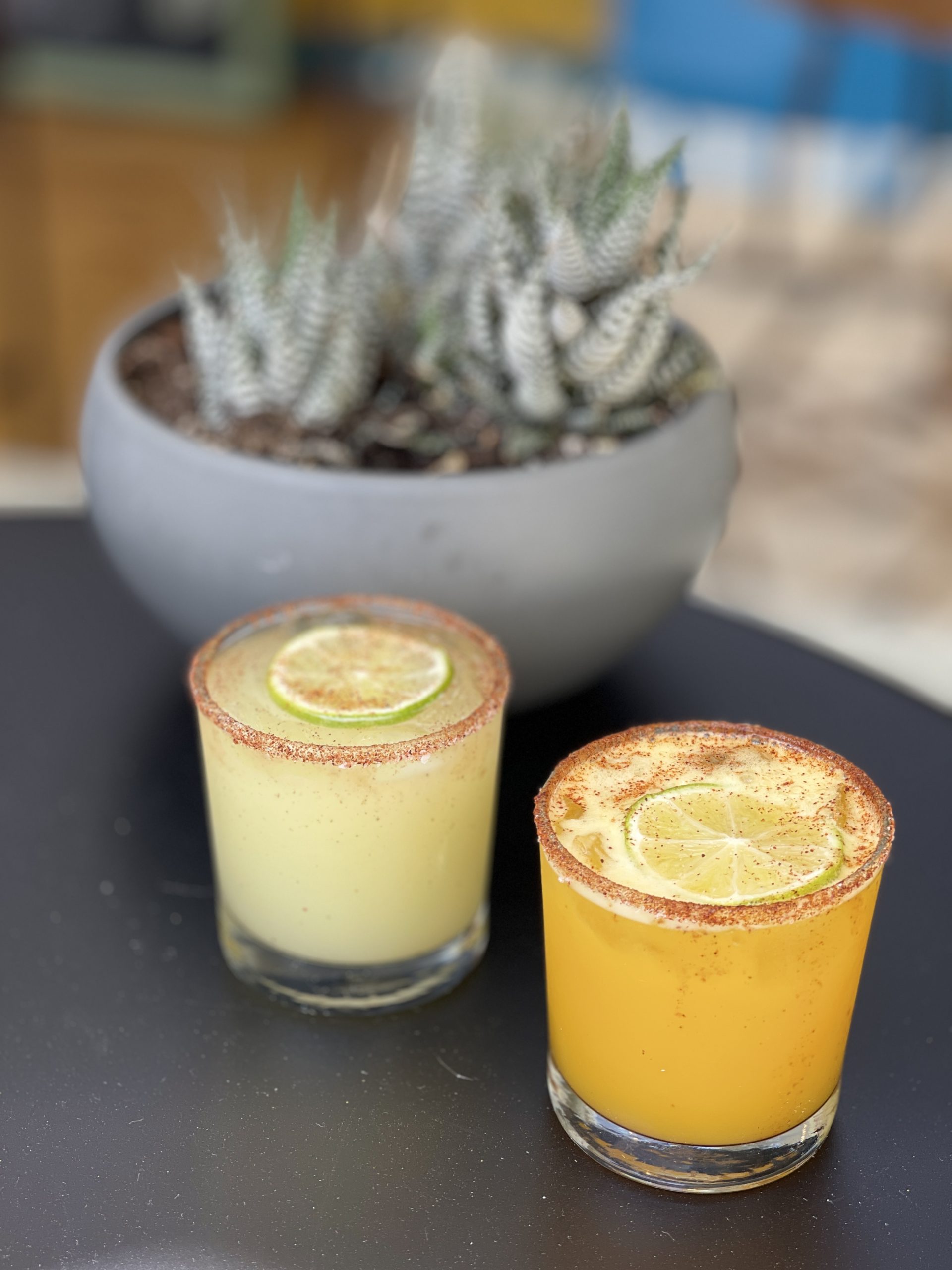 #5. SEE A SHOW AT THE STRATFORD FESTIVAL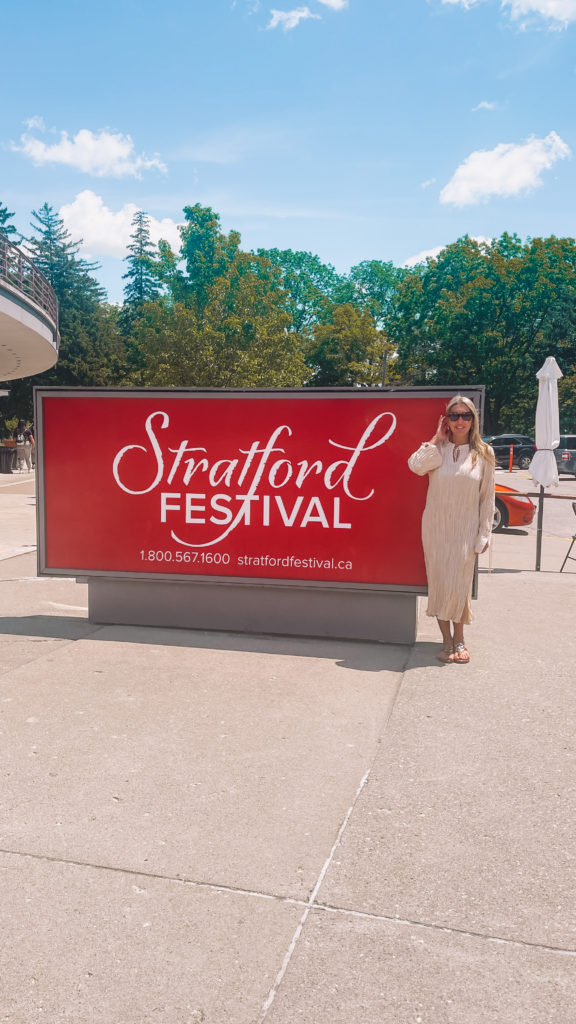 How could you visit Stratford, Ontario without seeing what they are most known for? THEATRE!
With four distinct venues throughout town, there are plenty of show offerings for you to discover. We decided on "CHICAGO" and we were blown away by the talent. Right now the current line up of plays include not only Chicago but classics like Hamlet and Little Women. Tickets are pretty reasonable too! Considering that the Stratford Festival is North America's largest classical theatre company, it is a steal for the kind of experience you get.
If you don't want to commit to a show, I highly recommend checking out the newly designed Tom Patterson Theatre. It is a visual masterpiece- so much so that they even have tours of the space itself! You can read more about that here!
Our play was held at the Stratford Festival which is perched up at the top of the hill overlooking the Avon River. It was definitely beautiful as well and before the show started we had the chance to get lost in the Arthur Meighen Gardens. The gardens are another free thing to do in Stratford if you are looking to save some money. If you are seeing a show, I recommend coming about 30 minutes before so you can immerse yourself and take in some of the flowers. I just about face planted into a peony bush from admiring the beauty of it all.
#6. RELAX AT ONE OF THE MANY STRATFORD ACCOMODATION OPTIONS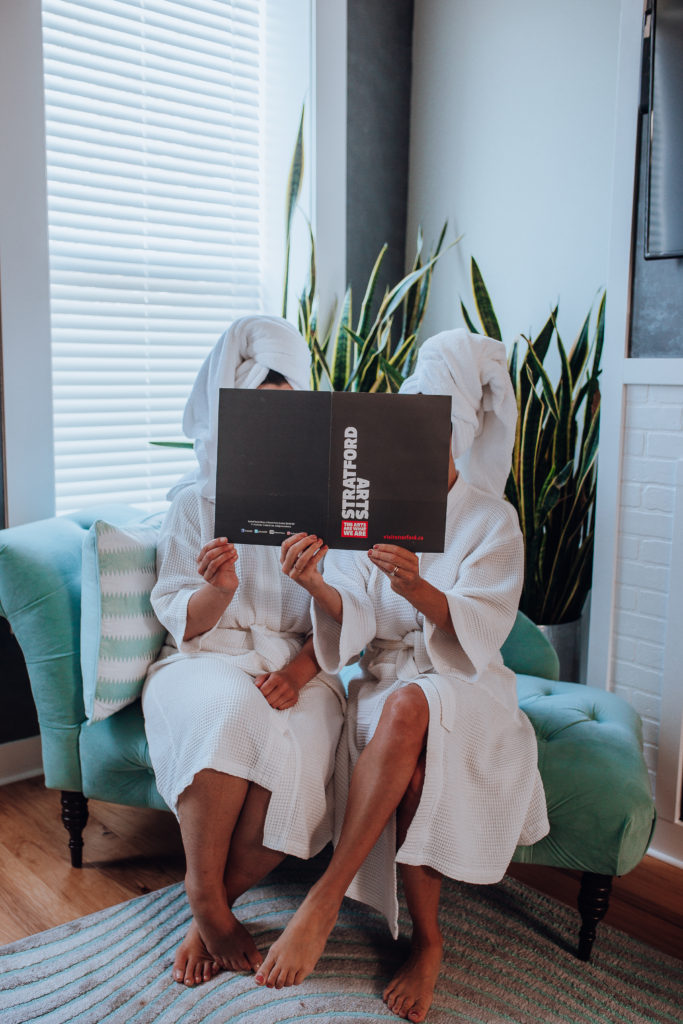 Stratford has so many things to do in town that while it is exciting, you also need a nice place to hang your hat to unwind. We had the pleasure of staying at The River Merchant Inn which is located on my FAVOURITE STREET OF ALL TIME- York Street, just steps from the Avon River. I already loved the place before I saw it because of that alone. Upon checking in, I was blown away at the size of our place. We stayed in the private two-bedroom suite called the "Heintzman Music Suite" which was uniquely decorated with music memorabilia . It is an ode and tribute to Stratford's music scene and history. It was HUGE! It features a full kitchen, dining area, TV, fireplace and massive 10 foot ceilings. The best part was the little quirky touches like light fixture made out of "Drums" or the vintage record player which we put on to unwind. You can easily have 5 girls in this suite.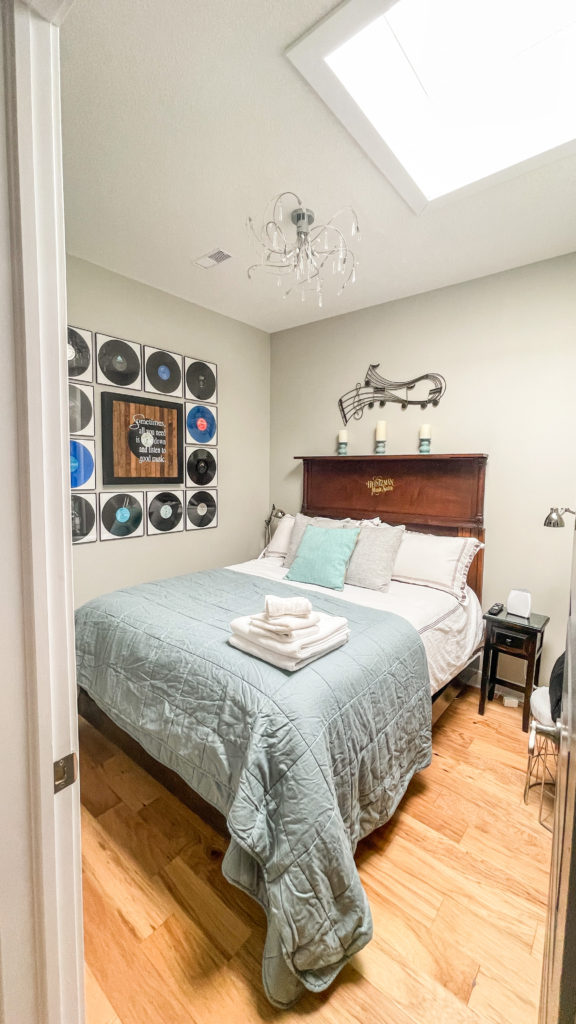 #7. VISIT SHAKESPHEARE GARDENS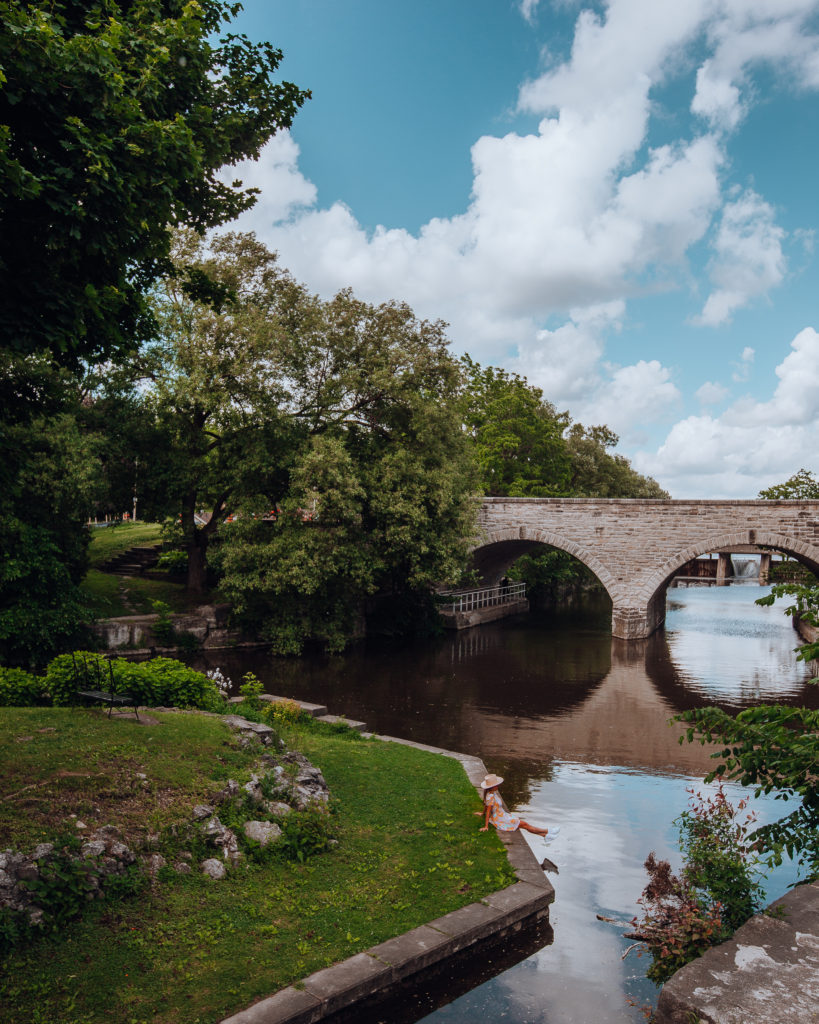 One of the most notable things to do in Stratford is to visit the stunning Shakespeare Gardens and the best part of this activity is that it is free!
It is so picturesque with the Avon River running right through it. You can easily grab a coffee and get lost in there for hours and I recommend doing just that. The grounds are kept up immaculately and they also have several picnic tables, gazebos and even a bridge within there to soak up the scenery. If we had more time I would have brought my favourite book and got comfy here for the afternoon. Such a dream.
Tips: If you are bringing a baby, it is stroller friendly!
#8. DO THE BACON & ALE TRAIL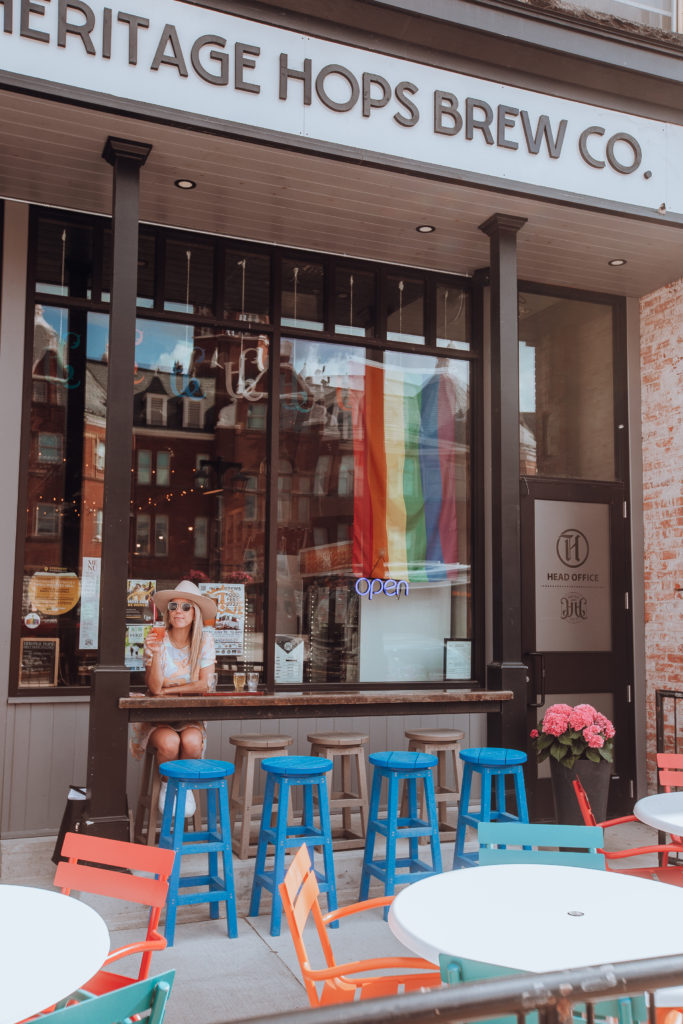 So last time I was in Stratford I was A: Pregnant and B: We brought Chloe. Due to that, we opted for the Chocolate Trail Tour. It was PERFECT for Chloe and my pregnant self haha. This time around though, the decision was easy: Beer and Bacon Trail! The Bacon and Ale Trail features over 20 different restaurants and shops that you can visit for a Bacon or Ale themed treat. We started the trail off with Heritage Hops Brew Co. which is smack in the center of town and offers prime views of the Market Square. There are so many local microbreweries included in the trail and for only $39.99- it is a perfect (and price friendly) way to visit them all. For that price, you get 5 vouchers to use at whatever places you want that are part of the Bacon and Ale Trail.
You can buy your passes at the Tourist Office which is located at: 47 Downie Street. Vouchers do not expire and can be used over multiple days.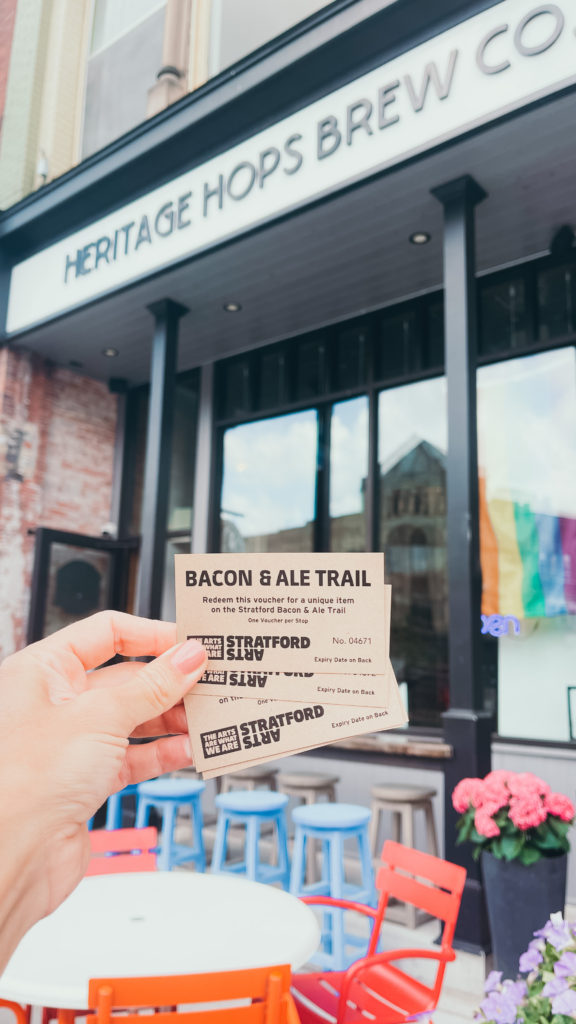 #9. HAVE AN INCREDIBLE DINNER AT THE COMMON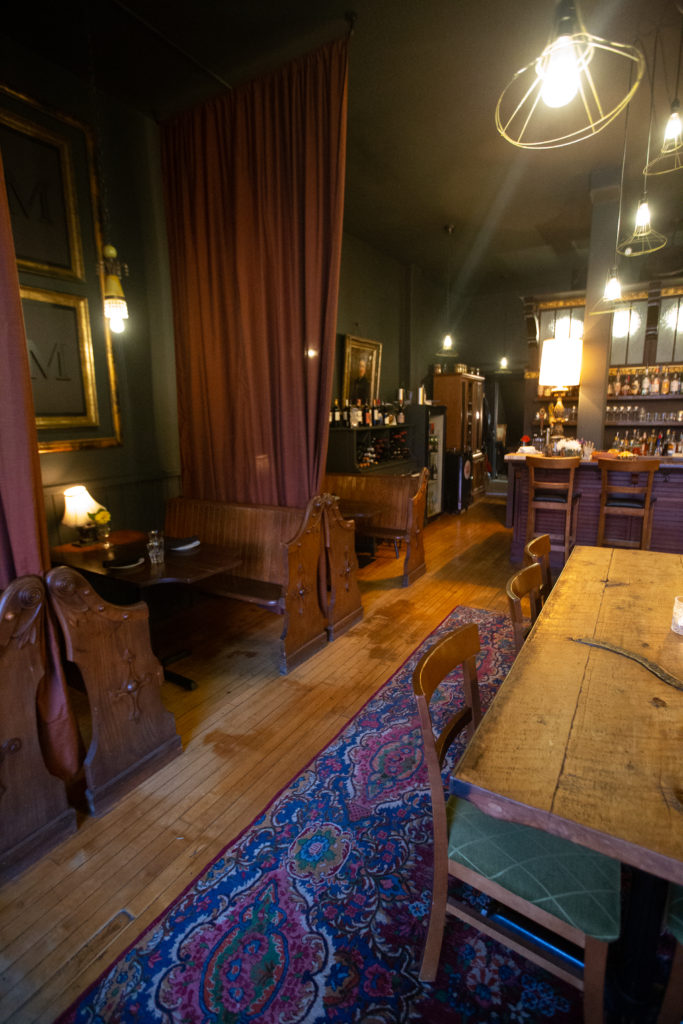 Dinner at The Common was a 5 star dining experience. We started with one of their many hand crafted cocktails and their Crab Rangoon appetizer which is made up of crab, cream cheese, wonton, sweet spicy chili sauce and is sprinkled with edible flowers. If you head there, I really recommend this dish. WOW!
Their tagline is "Food without Borders" and it's because they feature comfort dishes from all around the world. Think: Unique Curry Dishes, French Steak and Frites, and Moroccan Tangine *Chef's Kiss*. The atmosphere matches the culinary experience and features an eclectic mix of furnishings. We sat in one of their booth's that are separated by big drapes but their alleyway patio was also very tempting!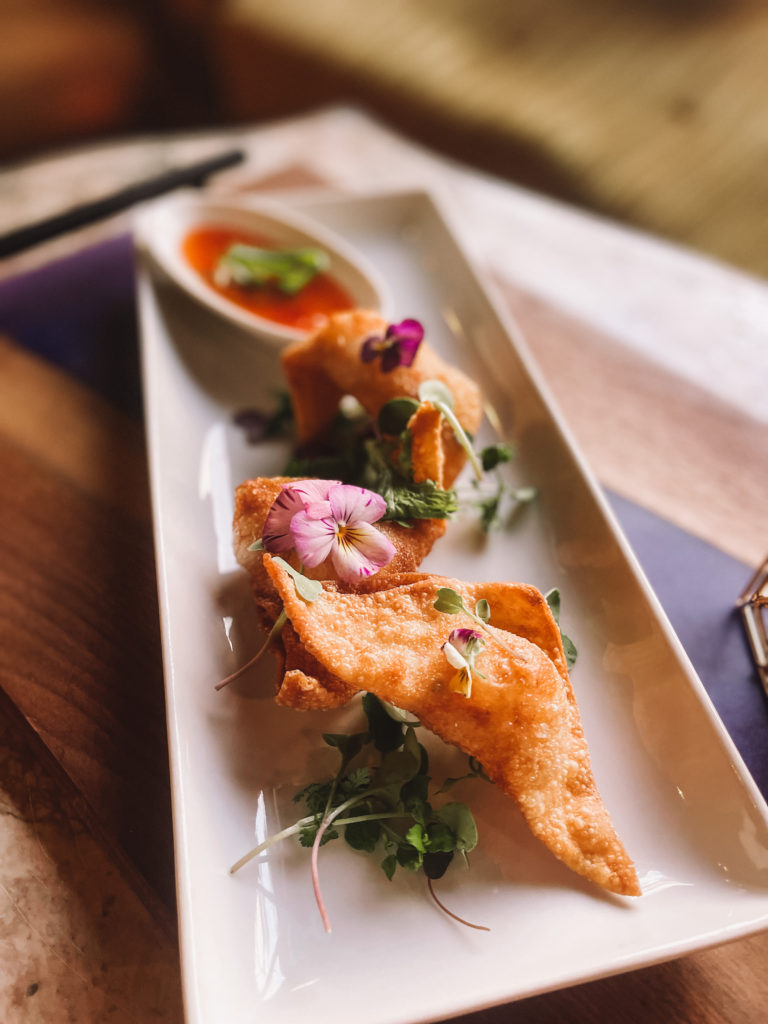 #10. HIT UP ONE OF STRATFORD'S SPAS!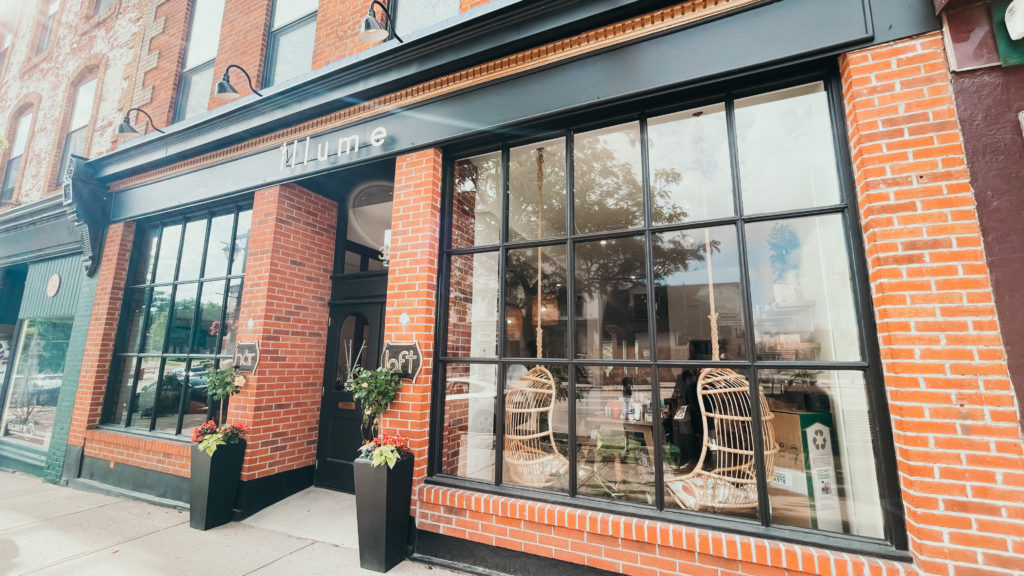 Looking to take your relaxation up a notch, hit up one of the spas in town! The Illume Wellness Spa is one of the most well known in Stratford and is a great option if you are looking for a facials, massages or even a quick mani/pedi! It doesn't hurt that it is right in the center of town- in fact it is in the same building of The River Merchant Inn making it super convenient if you choose to stay there. Owner, Kate, who has a Scandinavian background runs the place and if there is anything Scandinavian's are known for- it's their epic spa ways. 10/10 recommend!
---
I hope you enjoyed my summary of things to do in Stratford and I hope you get to plan a Stratford trip of your own! As always, feel free to message me on Instagram if you have any specific questions about my trip there!
---
**This post was done in partnership with Destination Stratford but all opinions and views are my own**
PIN THIS POST