There are so many Niagara Bike Wine Tours that it can be overwhelming to decide which one you want to choose! The good news is that I have done my share of Wine Tours in Niagara on The Lake at this point and can confidently say I have found the most perfect one to try out!
If Wine Tours were an Olympic Sport, I would be a gold medalist forsure. It is such a perfect activity to do with a group of friends or with your significant other. You get to be outside, see more than just one winery and you really get a feel of the Niagara Wine Region.
The latest Niagara Bike Wine Tour I did was with Niagara Segway Tours and we opted for the Beamsville E-Bike Package. I am going to give you the breakdown of not only why I loved this tour out of all the Bike Wine Tours I have done in the past but I will share all of the juicy details of where we stopped and what to know before booking this.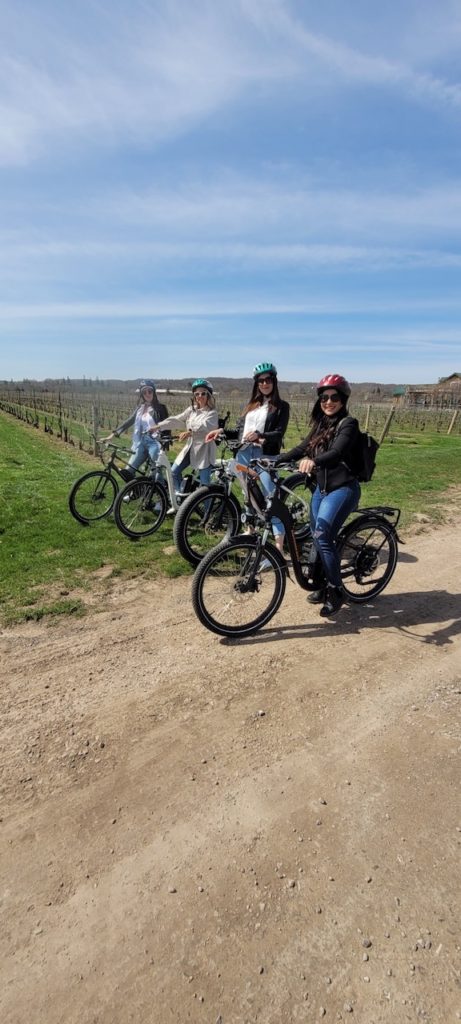 What Wineries Did You Visit On This Niagara Bike Wine Tour?
There are so many wine tours and wineries in Niagara that it is hard to select which one will work best for your group. If you live in Hamilton or Toronto, I highly recommend the Beamsville tour as it will save you time not having to drive all the way into Niagara On The Lake. Also, my FAVOURITE winery estates are in the Beamsville region. Here is where our Niagara Bike Wine Tour took us:
#1. Our first wine tasting was at Angel's Gate.
This classy spot was actually once owned by the Congregation of Christian Sisters who once owned the property. They kept all the mission style elements of the building and even the feel of the place makes it feel a bit "holy" in the best way possible. which made it even more cool. With sweeping views of the Niagara escarpment and a refined interior, it is a perfect first stop.
TIP FOR THIS WINERY SPOT: Their Ice Wine was my favourite! Do not miss it.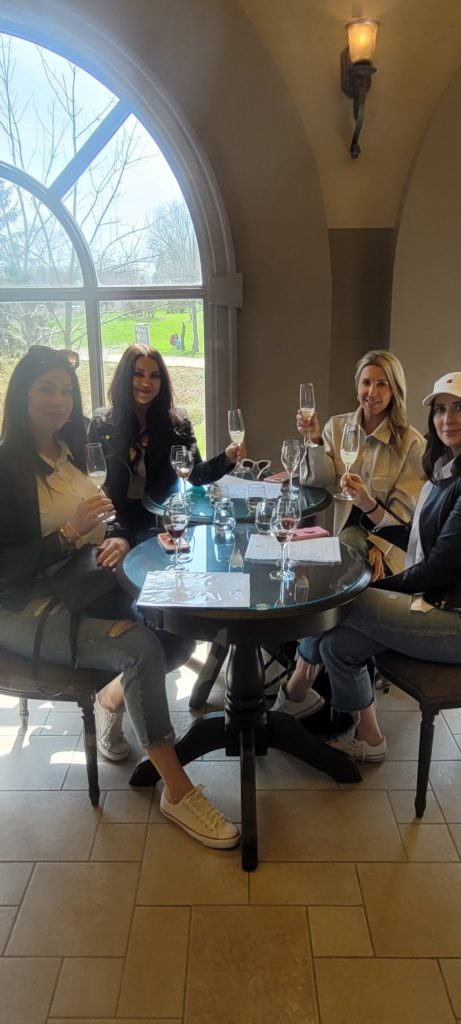 This winery was very cool. The space is very eclectic filled with vintage decor and looks like an old theatre from London, England. Hence the name. It felt very intimate and unique. I loved their Chardonnay the most!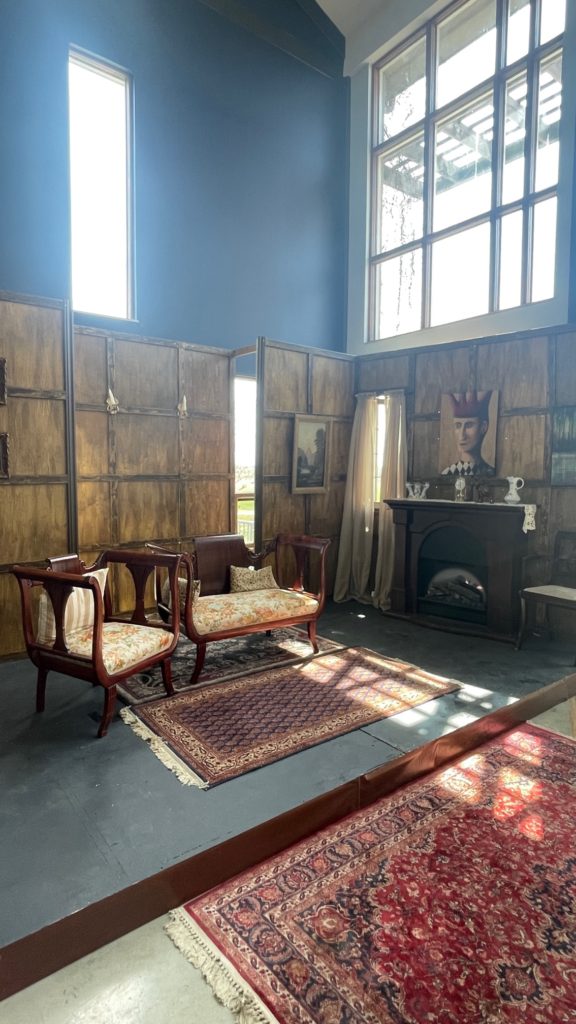 TIP FOR THIS WINERY SPOT: Check out the Event Line up from London Born as they host various Drag nights and Trivia events!
#3. Fielding Estates was where we headed next!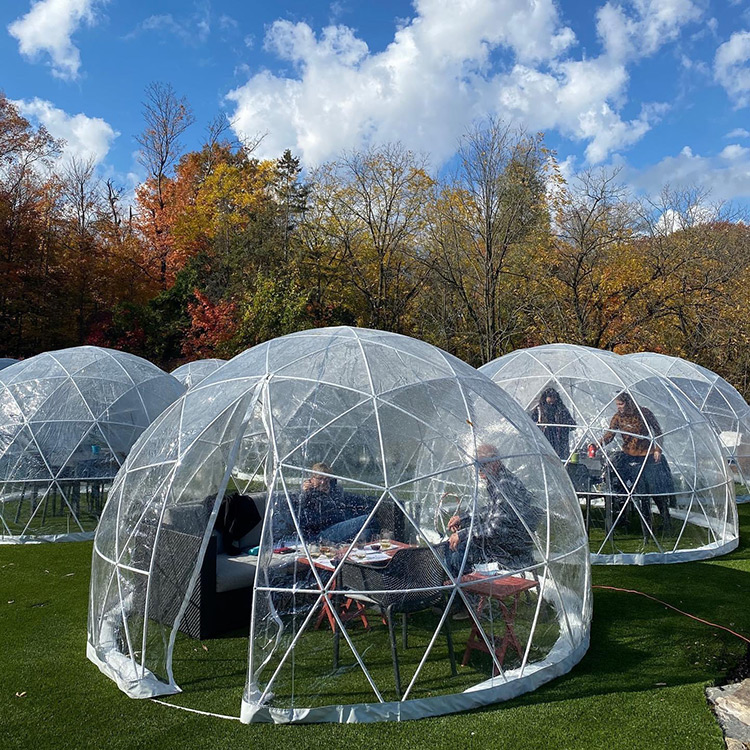 Fielding Estates was such an impressive property and it is considered to be one of the Top 10 Wineries in Canada. In the colder months, they have the cool dome areas which you can reserve and an outdoor seating area. We opted for one of their picnic tables that was a bit more private
#4. Finally, we visited one of my favourite wineries EVER which is Good Earth Food & Wine

This Niagara winery is a MUST STOP even if you aren't doing a Niagara Wine Bike tour. You should just come here for dinner one night because the food is beyond delicious. Their menu features locally sourced ingredients and classic bistro fare. They have an outdoor massive pizza oven as well and it does not disappoint in anyway.
Lunch was optional here and not included in our tour but I would 100% make sure to go ahead with it. You can thank me later!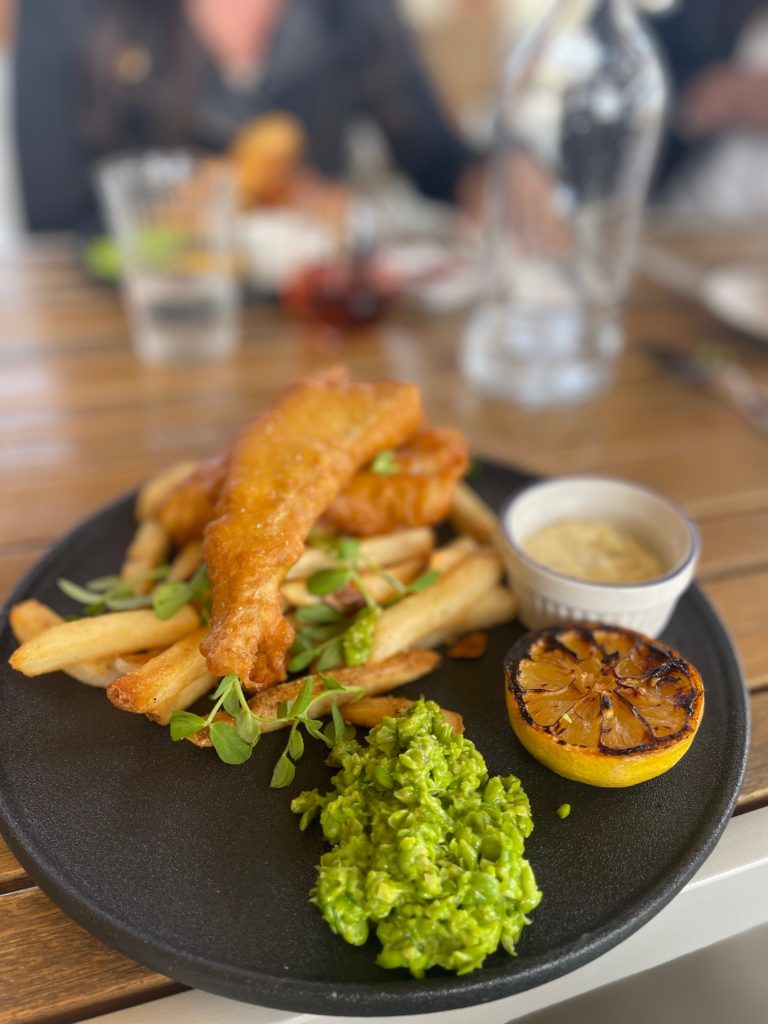 Why E-Bikes Over Regular Bikes?
After doing multiple bicycle wine tours, I am here to tell you that after the second winery you are WIPED! It is so tiring biking between each winery and some of them are quite far apart within the Niagara region. Certain wine tastings can really get you feeling good too haha and biking after a good few samples of wine just feels exhausting.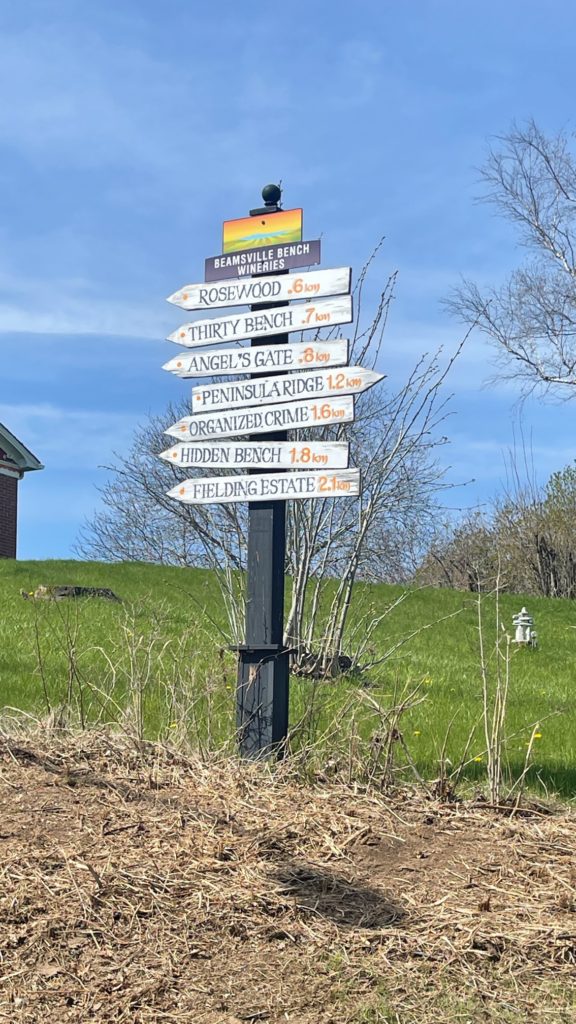 The E-Bikes quite literally do as much or as less work as you want them to do! If you want to pedal more, you just adjust the bike so you do more leg work. If you want to have it going fast, you just amp up the gears! It was my first time doing an E-Bike Wine Tour specically and I just will never go back to regular bikes at this point.
I think I also have to make it clear that I am not a lazy person! haha. I work out 5 times a week so it's not that I don't love getting some good movement in- it's just that doing a wine tour should be fun and not utterly exhausted! Some Wine Tour Packages have you biking for over 30 KM!
What Should I Wear On This Niagara Bike Wine Tour?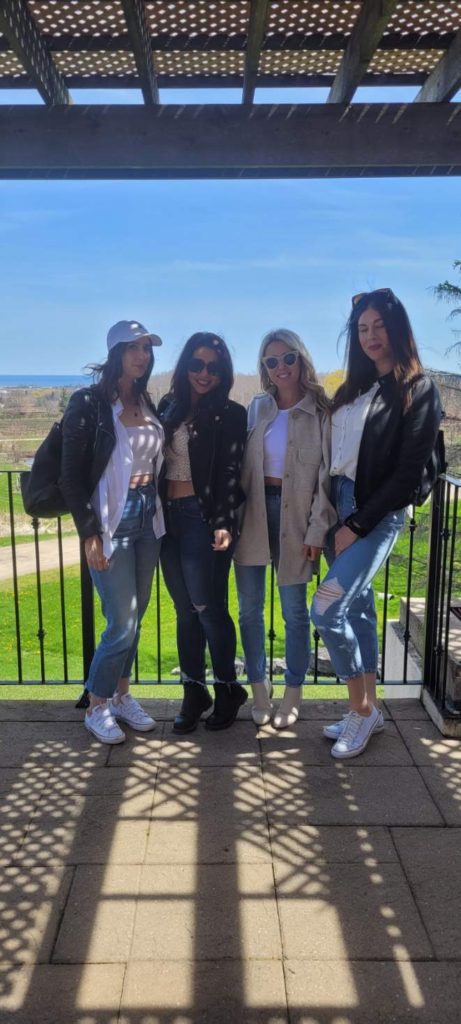 Our group did this Niagara Bike Wine Tour in early Spring. It was about 10 Degrees C on the day we went and a little windy. I wore jeans and a shacket. I would recommend bringing a hat if you are going in the spring/fall and an extra sweater/gloves too. With the speed you get on the bikes and the wind, it can get chilly at times.
I think if you go in the Summer, jean shorts and a tee is the perfect outfit or a summer dress that is comfortable! I don't think you would be too hot in the summer because again the wind cools you down forsure
I would bring a good sunscreen to reapply as you are in the open air whether you do your wine tour in Beamsville or Niagara on the Lake.
---
Whatever Niagara Bike Wine Tour you decide to do, you will have a fun time! Wine and biking through Vineyards is never a bad time especially with friends or loved ones. If you have any specific questions, feel free to DM me on Instagram! xo
PIN THIS POST