Visiting Careyes is like a speakeasy bar. You open an unassuming door ( and in this case- a gate) and you are welcomed into a world that is from another realm!
It is truly one of the most special places I have ever visited and staying at the El Careyes Club and Residences gives you the keys to experiencing the Careyes world.
Decked in a dusty pink and burnt orange exterior, it is very easy on the eyes upon first glance.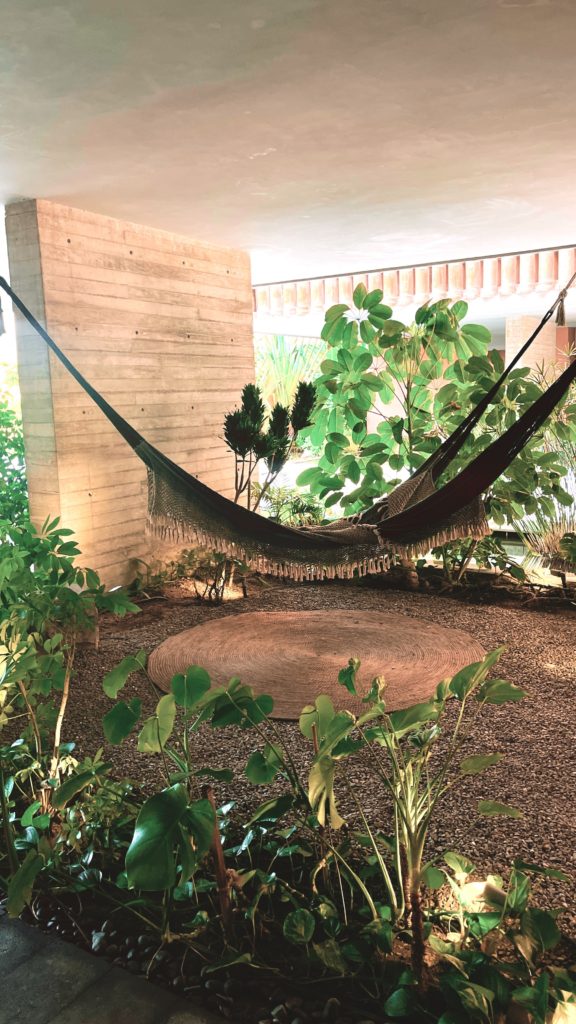 Opened originally in the 1970's, the hotel was recently renovated, revamped and rebranded to reflect a a more modern Careyes style. The colour tones found throughout the building often compliment the nightly pink and orange sunsets- blending in perfectly together.
Designed by Mexican architects, Gabriela Carrillo, and Mauricio Rocha, the space has obvious details that will make you swoon but also tiny ones that you may notice on the way to the bathroom or walking through the cobblestone walkways on the way back to your room. It makes you realize how carefully thought out the space was.
During the renovation, they also happened to build out 5 over the top, INSANE infinity pools which I will touch on more later but WOW!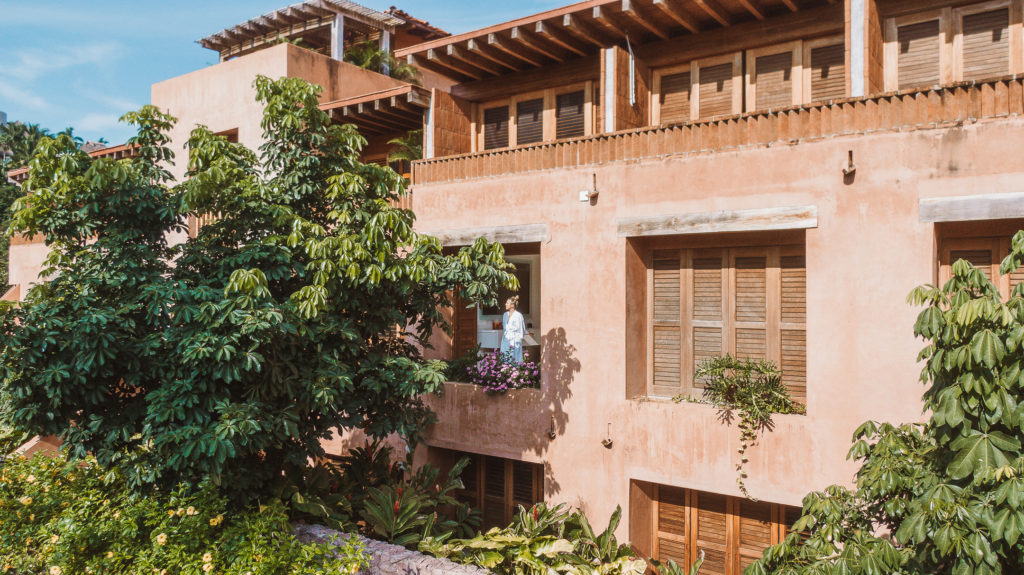 The development was done as a means to appease vacationers or visitors to Careyes who wanted the amenities of a hotel. While there are so many villa and casa options in Careyes, the El Careyes Club is the perfect medium for those who want to visit without any strings attached.
The units can be bought though if desired and are turn key. The units can then be rented out to visiting hotel guests allowing you to make some $$ when you are not there. It's the best of both worlds really!
With more affordable room options and hotel amenities that will keep you pampered, it is the perfect place to set up shop when choosing a place to stay in Careyes.
You May Want To Check Out These Other Posts:
Favourite Features of staying at El Careyes Club and Residences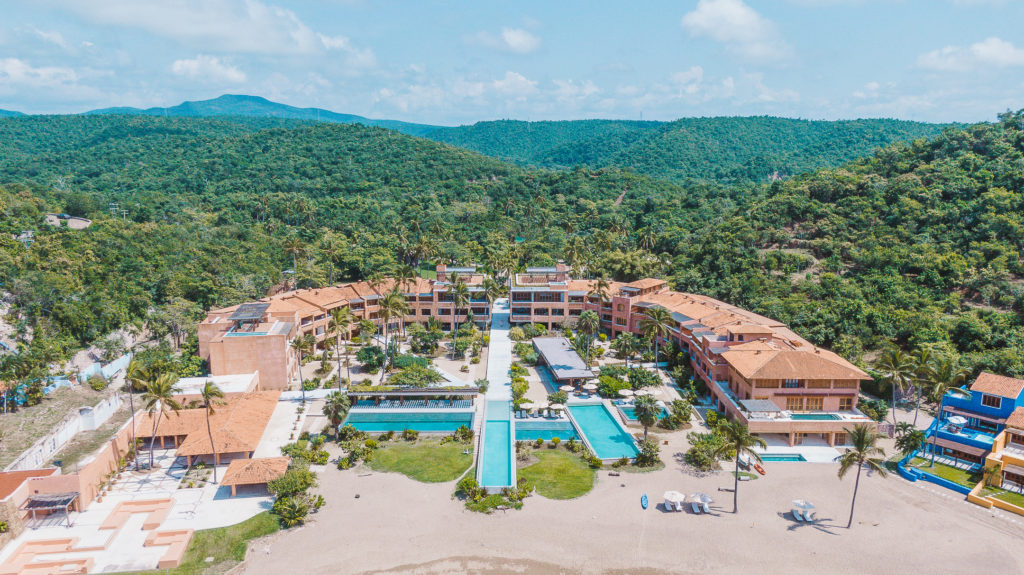 This is very much a no brainer because I'm pretty sure a person with impaired vision would still be able to walk into the El Careyes Club and know their infinity pools are like no other. It is most definitely the focal point of the grounds and even if I wasn't staying at the Club, I suggest you head there for a visit to witness them with your own eyes.
The pools are so large and sprawling that we often had one of them to ourselves for a bit! Add in a killer sunset as the backdrop to the pools and you seriously feel like you are in a computer homescreen. How is this REAL!!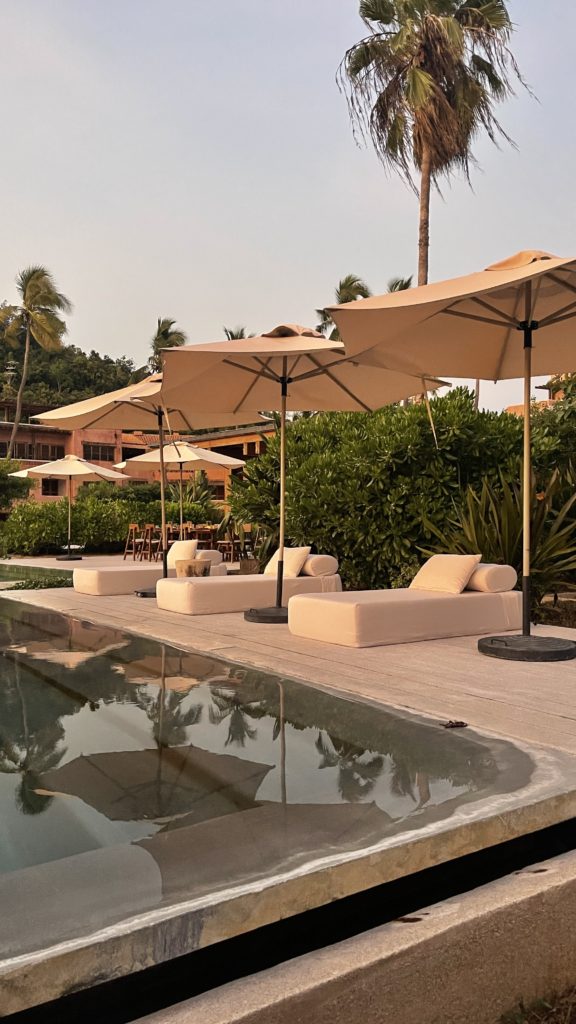 We really liked having the pampering of a hotel. We had daily housekeeping, fresh towels for the pool everyday and water bottles left in our rooms.
We also loved the various sitting and lounging options within.
Fancy a little hammock reading? There is a perfect nook in the common area. Looking to sit poolside but want to be really comfy? Well, their bed like loungers will help you with that!
The pool area itself offers a lot of space and with the limited number of guests on site, you can starfish or float around without bumping elbows with anyone.
The Beach Area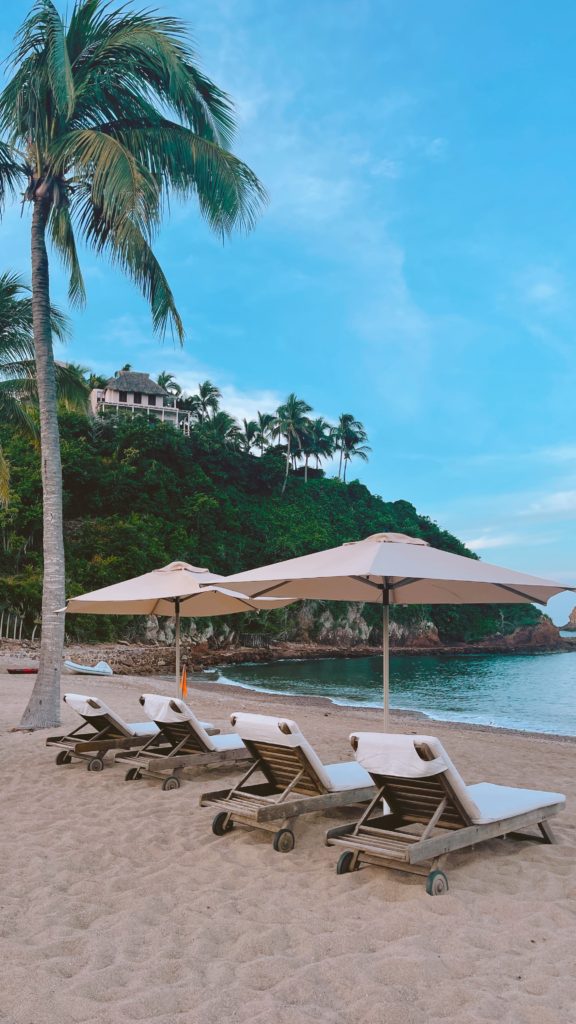 It was hard to break me away from the pool scene at El Careyes because DUH! But I was happy I made my way to their beach area. Again, talk about privacy. This beach area- though not super big- makes you feel like the beach is yours.
You have a view of the lush mountains on one side which amplifies those Mexican Jungle vibes and then on the right hand side you have a view of the colorful cliffsides which made me understand why this coast is considered the Mediterranean of Mexico. Needless to say, my head was turning from side to side unable to determine which vantage point I enjoyed looking at more.
With a few sun chairs and umbrellas, I suggest hanging out here for a bit and maybe grabbing one of the complimentary kayaks or paddleboards.
We also saw some people snorkelling one day!
Accommodation Options at El Careyes
Among the 35 rooms available, there are 4 different room types at El Careyes Club and Residences ranging from 1 bedroom to 4 bedroom suites. Regardless of your room type, all suites have a full kitchen (microwave, refrigerator and freezer and oven), WIFI, A/C, ceiling fans and TV's. Additionally, you can find an expansive bathroom set up in each unit with glass door showers, rain showerheads and shutters that open up to lush greenery.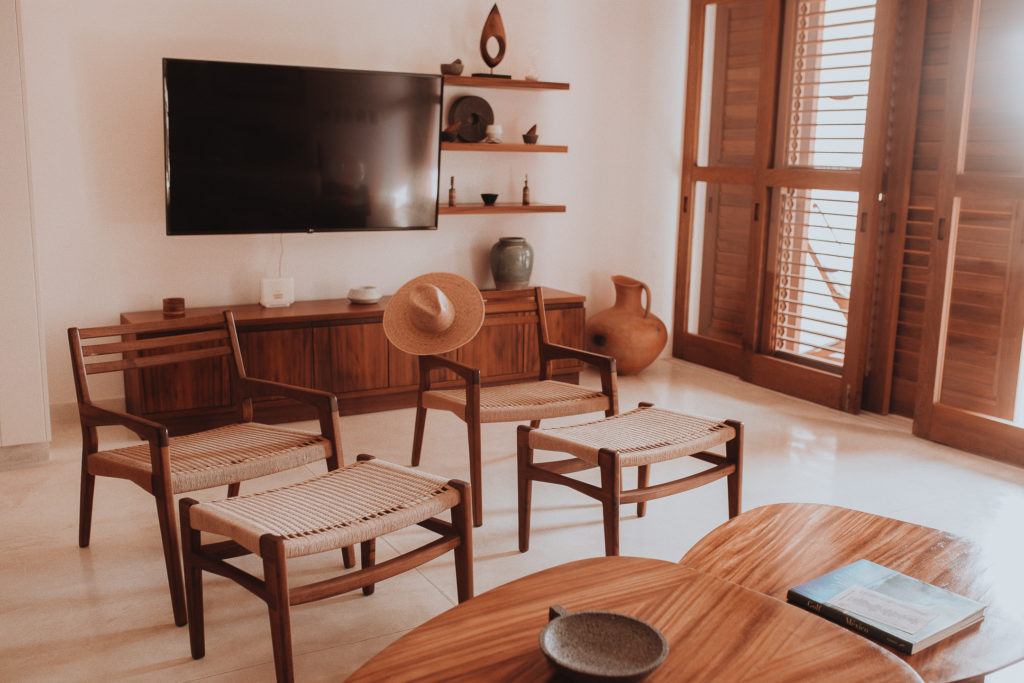 One of my favourite features though was probably the neutral, earthy materials and monochromatic furnishings that felt like a mix of Bali and Morocco inspired design.
THE TWO BEDROOM SUITE WE STAYED IN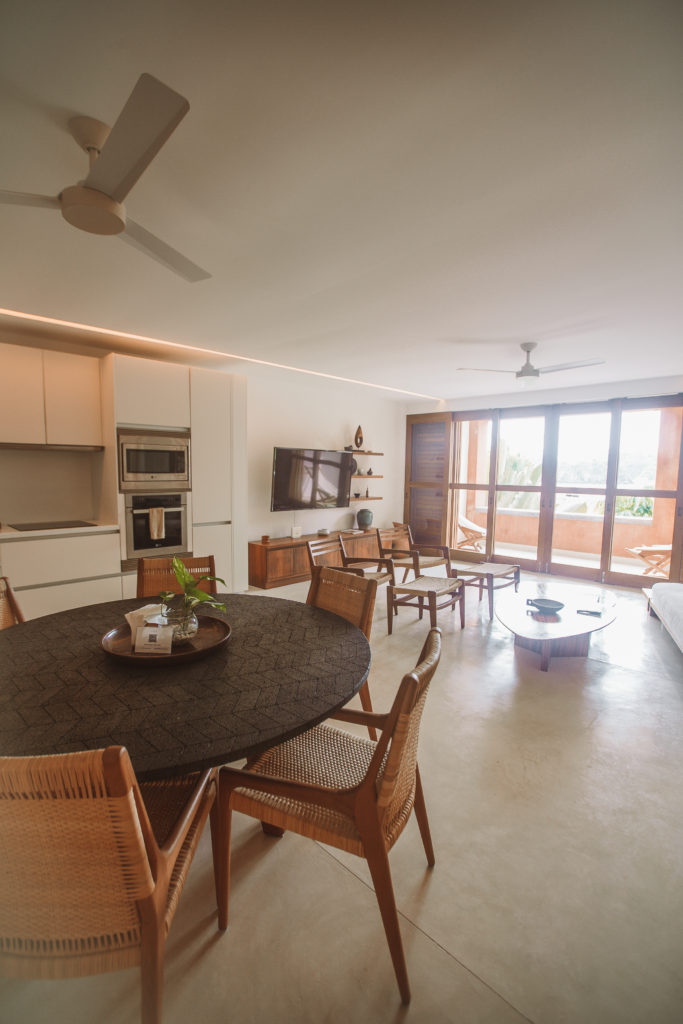 We stayed in Residence Unit 211. One of the bedrooms had a king sized bed while the other room had two double beds. If you are travelling with kids, this is absolutely the perfect unit to stay in.
Each bedroom had it's own bathroom which was an added bonus and could also make the set up ideal for two families who wanted to share the space.
The balcony was also very expansive with ocean AND pool views and was a place we often found ourselves in the mornings. What a way to wake up let me tell you.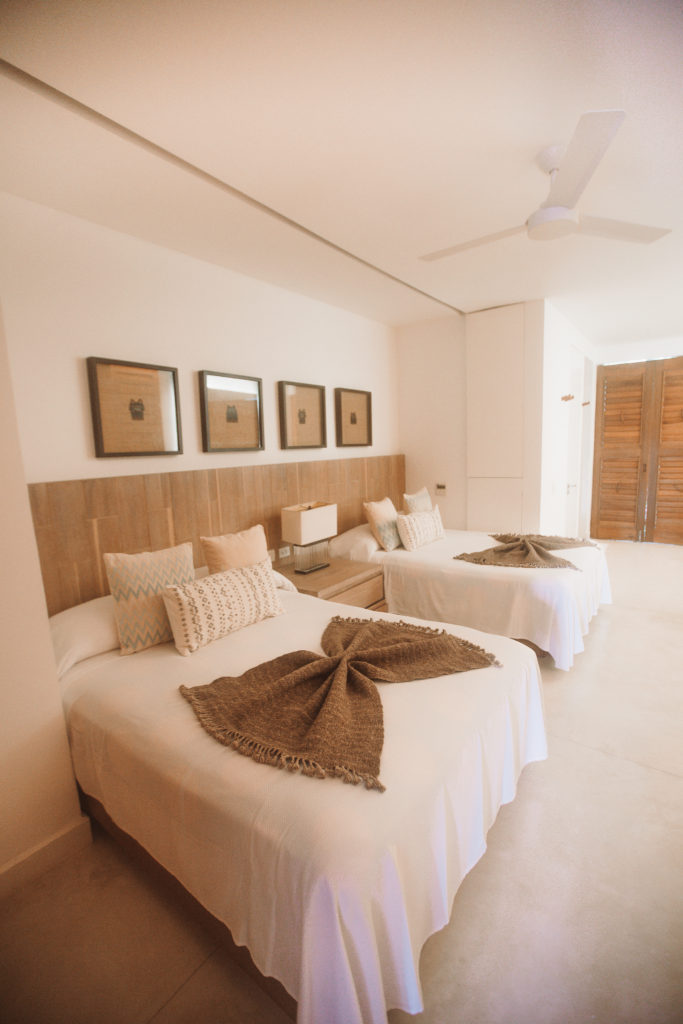 Restaurants and Eating Options at El Careyes Club & Residences
El Careyes on site restaurant, La Duna, is a restaurant that you would want to visit even if you weren't staying there! It is a culinary jewel with the freshest of ingredients being used in their breakfast, lunch and dinner offerings.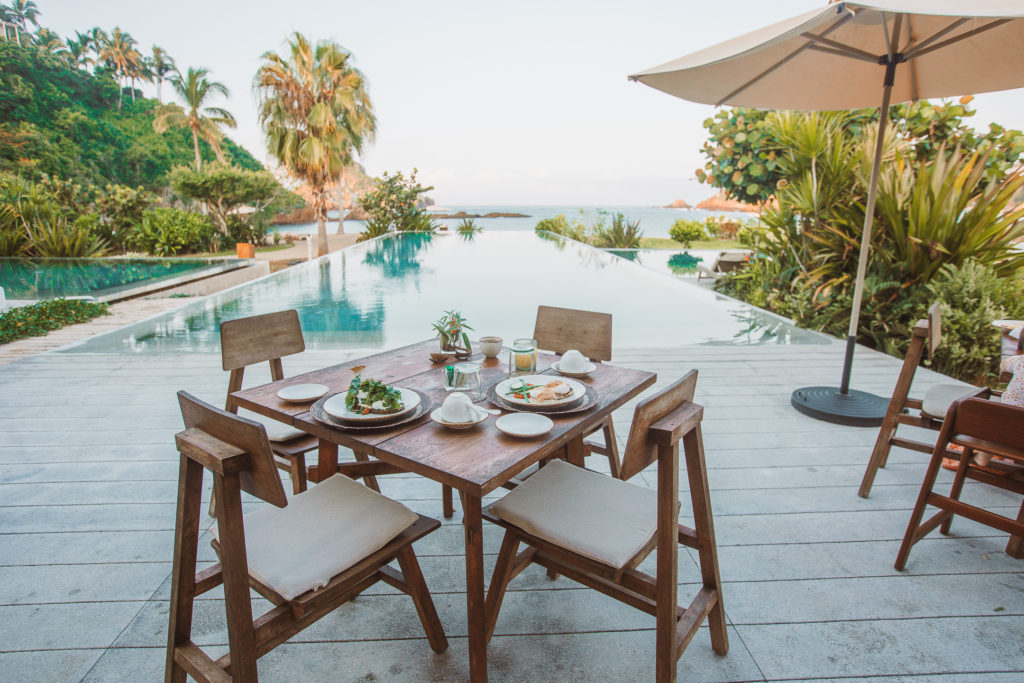 When we booked our stay, we made sure to have breakfast included and we were so happy we did as the breakfast menu was my favourite! Think: fresh acai bowls, avocado toast (a healtly but seriously delicious version of it), gourmet French toast and an eggs benedict dish that my husband claims to be the best eggs benny he has ever had.
On top of that they have a Smoothie and Fresh juice list that easily tops any trendy juice bar in Los Angeles. These offerings helped balance out our margarita intake (ha) and were the perfect lunch time addition.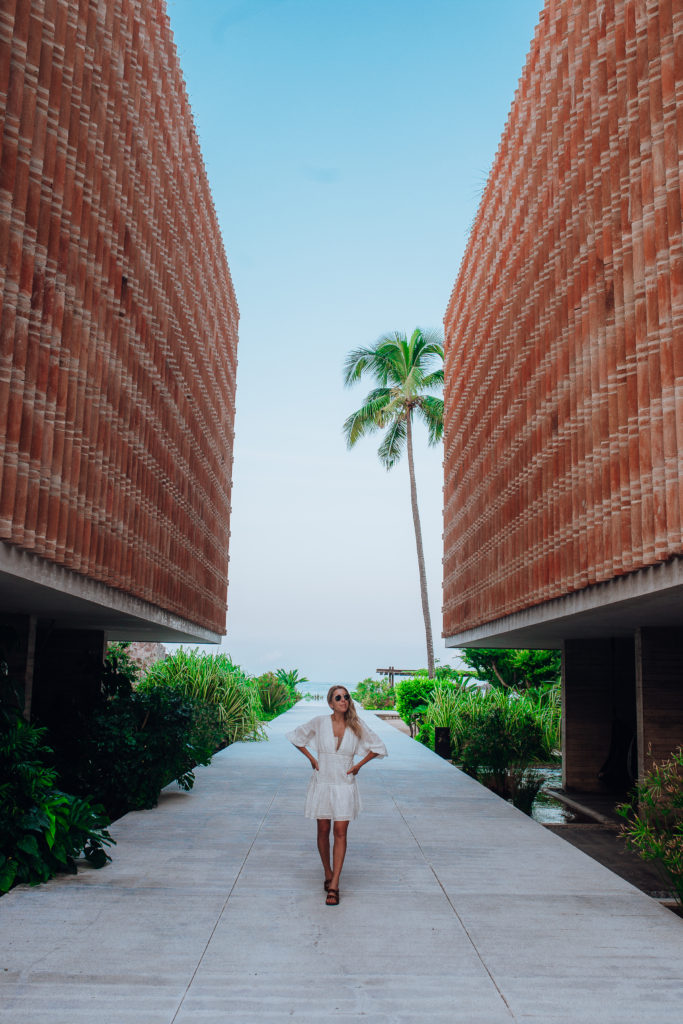 IN ROOM DINING AND COOKING
On the first night there, the kids were tired from our travel day and while I would have loved to eat at the restaurant it just wasn't in our cards. We ordered in room dining from La Duna and with the beautiful table set up we had in our rooms, it translated very well and felt like a night out still! Big win for us.
Another important note is about the kitchens at El Careyes Club & Residences. Not only are they big but they come with alllll the cookware, glassware and utensils that you need to make yourself feel right at home. If we were there longer we would have for sure loaded up at the grocery store a bit more and cooked a dinner there. Some people may not want to cook on vacation but if you are have kids ( ones with earlier bedtimes too), this is a great perk!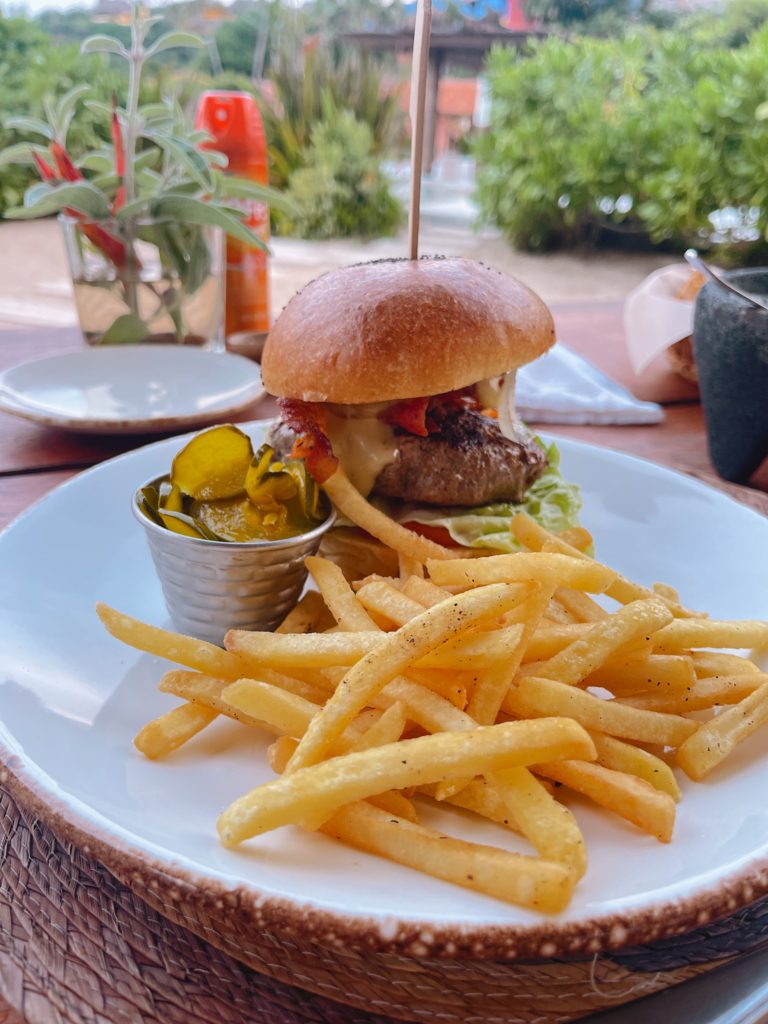 OFF SITE RESTAURANT OPTION
One of our favourite things we did in Careyes was walk from El Careyes to the Play Rosa restaurant. It is about a 10 minute walk from the property and is a great opportunity to switch things up!
The walk itself allows you to really understand Careyes' design style. The walk through the cobblestone pathways has you experiencing different colours and feelings as you pass along.
While it was tempting to stay onsite the entire time, we recommend doing a lunch or dinner at Playa Rosa restaurant!

A Few Helpful Hints For Your Stay: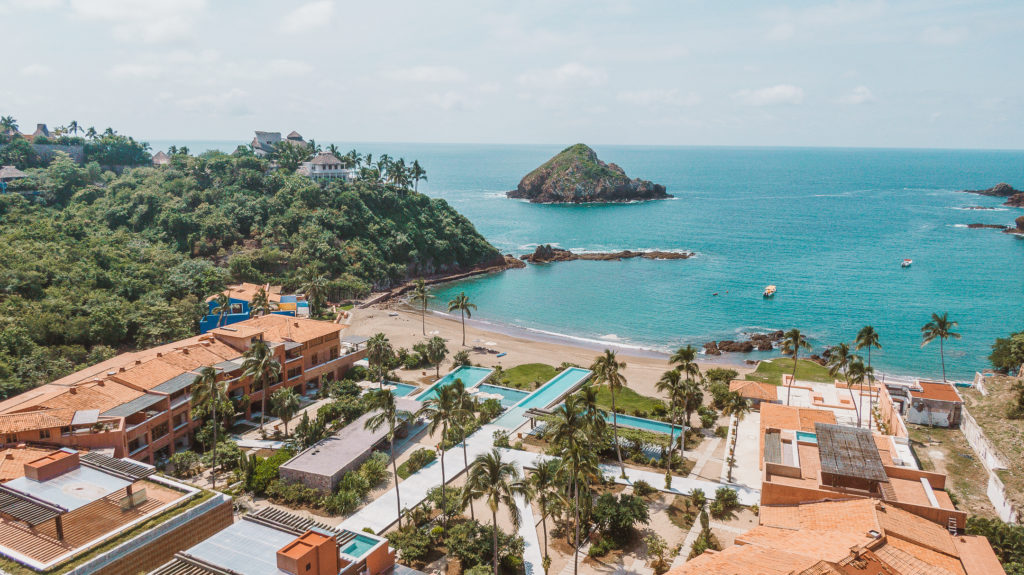 • We loved watching the sunsets here and it's important to note that each night we thought the sunsets may be a flop or were done for the night and then BAM- the sky kept getting crazier and crazier. If you tune in for one- make sure you stay until the last possible second for some Careyes sunset magic.
•Make sure to bring lots of Bug Spray! Being surrounded by lush greenery also means a bit more bugs. It was not annoying ( we are from Canada and are used to those pesky mosquitos) but if you weren't prepared it could be. 
•The water from from the tap is safe to brush your teeth with and shower with but you cannot drink the water in Mexico so make sure to bring a reusable water bottle! The hotel gives you daily water bottles but bringing your own water bottle is a good idea so you can keep hydrated at all times! 
•If you are travelling with kids, there are not many close by grocery stores. While there is a restaurant on site, I would still recommend loading up on snacks, milk, formula etc  before your visit! There is a lot of bigger grocery stores in Puerto Vallarta or Manzanillo.
---
Looking to book a stay at this hotel and still have questions? Make sure to let me know when you do or reach out to me on Instagram if you have more questions!
---
PIN THIS POST