Ohhh Las Alamandas….how will I find the words?
This colorful spot nestled on the coast between Puerto Vallarta and Manzanillo is like stepping into the gates of a colorful heaven.
The Las Alamandas resort was opened in the early 90's by Isabel Goldsmith who is not only a well known art collector but a totally chic woman who has homes all over the world. Her exquisite taste can be felt in every corner of the place.
Originally the land was owned by her grandfather who wanted to turn it into a golf course and big resort but Ms. Goldsmith had other plans for it after inheriting it from him after he passed away. I loved hearing the backstory of how the resort came to be because it is clear that a brand or hotel chain is not here. It is truly one of a kind.
A favourite with celebrities like Jennifer Anniston, Cindy Crawford and Robert DeNiro, the resort prides itself on being "Paradise found".
Through our 4 days here, the personality of Las Alamandas slowly unveiled itself layer by layer and what a big one it is…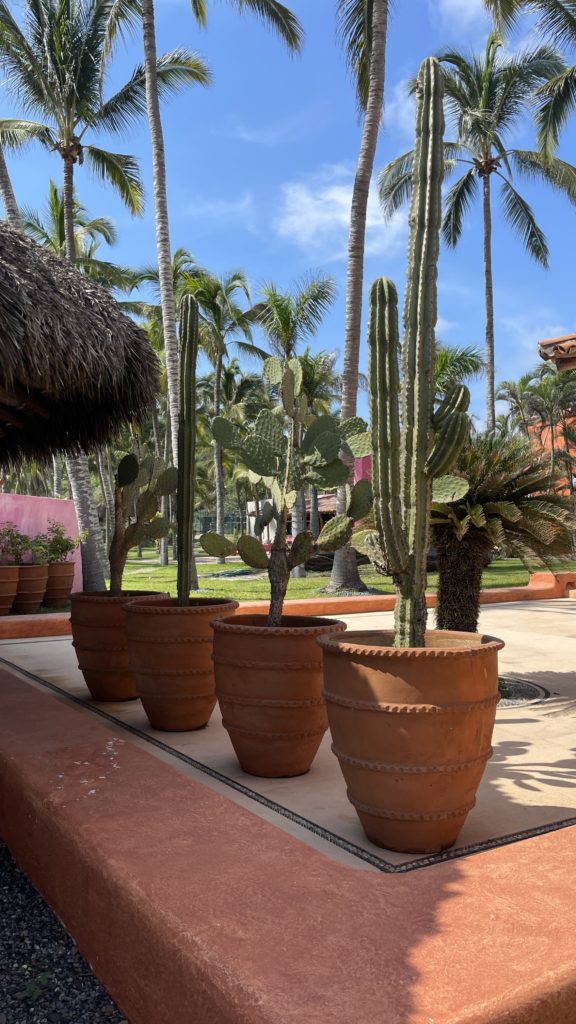 YOU MAY LIKE THESE OTHER POSTS ON MEXICO: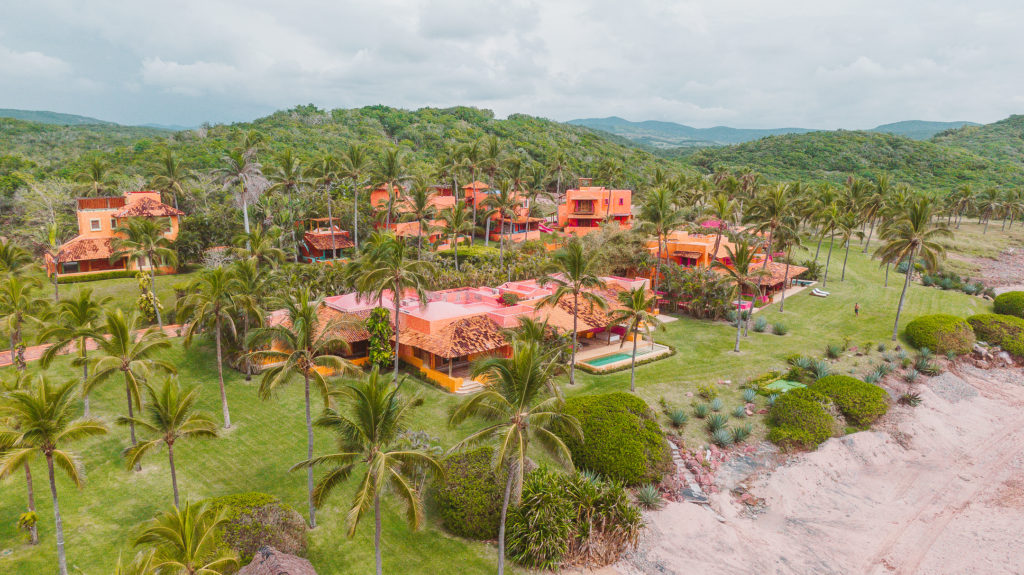 The Grounds at Las Alamandas Resort
With over 2,000 acres, the Las Alamandas Resort grounds are pretty impressive. There is so much to it that you can (and should) book a property tour to see it all ( more on that later).
Since it is SO grand and there are only 18 suites, it's safe to say that you can easily feel like you are the only guests at the hotel at times. It's so expansive yet at the same time, I felt like we knew everyone by name and there was an intimate vibe in the common areas.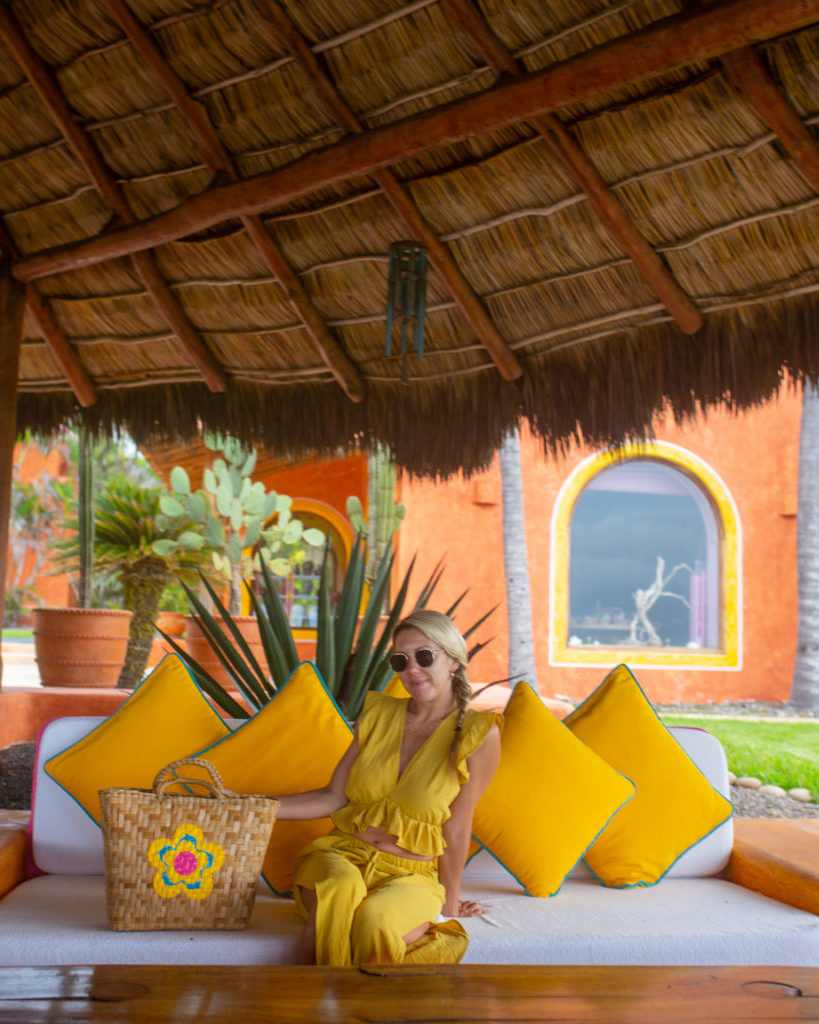 When you first enter the property gates from the highway, you have a solid 5-10 drive to the main resort. It makes you understand the total privacy that will be waiting for you. Once you do start to approach the resort, you are greeted by a water fountain that looks like one you would find in a palazzo in Italy- grand, fancy and easy on the eyes. Paired with the lush vegetation and orange and pink colour palette seeping through everywhere- it certainly sets the tone for what's to come.
Yellow Alamanda flowers line the entrance path and we later discovered they are all over the grounds which is where the name originated from. Another backstory that I loved hearing!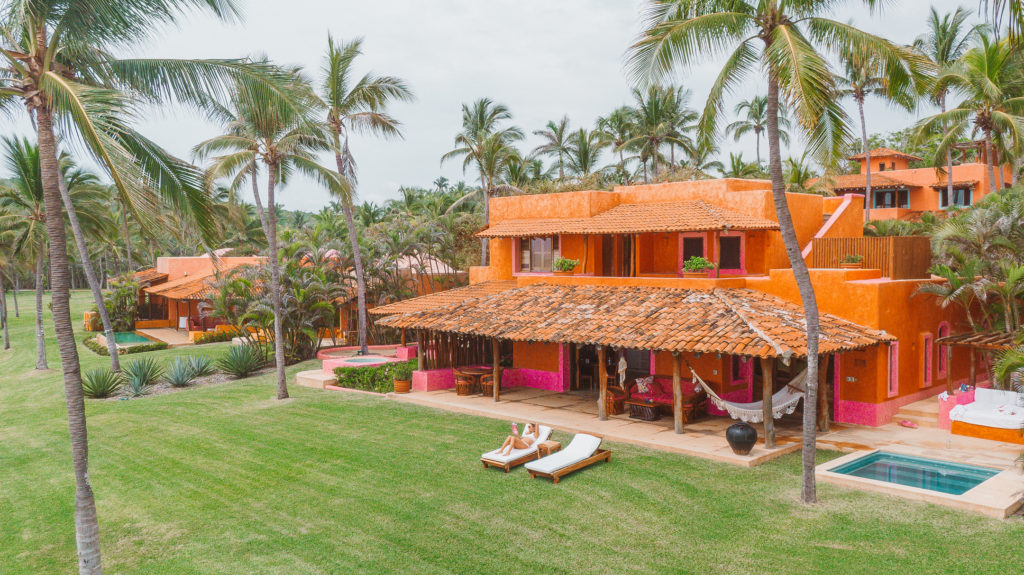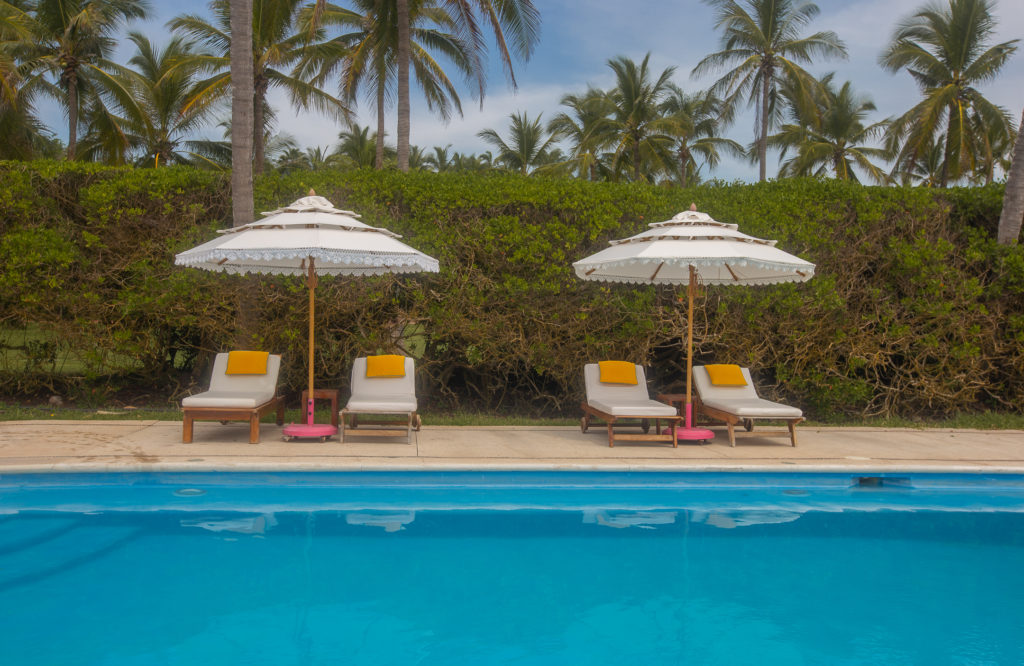 The Rooms at Las Alamandas Resort
The Las Alamandas Resort has 18 accommodation options for you to choose from. Each one of them is unique and has it's own colour scheme and personality, further showing that hotel is one of a kind.
Taking a trip back to the resort one day would feel exciting as I would likely choose another Casa to discover. Though, it would definitely be hard to not stay in "Casa Isabel" again.
Casa Isabel is a villa with 3 individual suites within. If you are staying as a larger group, all 3 suites can be rented so you have the entire villa for yourself or you can rent out one of the suites within. Their biggest suite option is the Presidential suite which comes with a decently sized lap pool!
We rented one of the suites in Casa Isabel and boy oh boy, did we love it!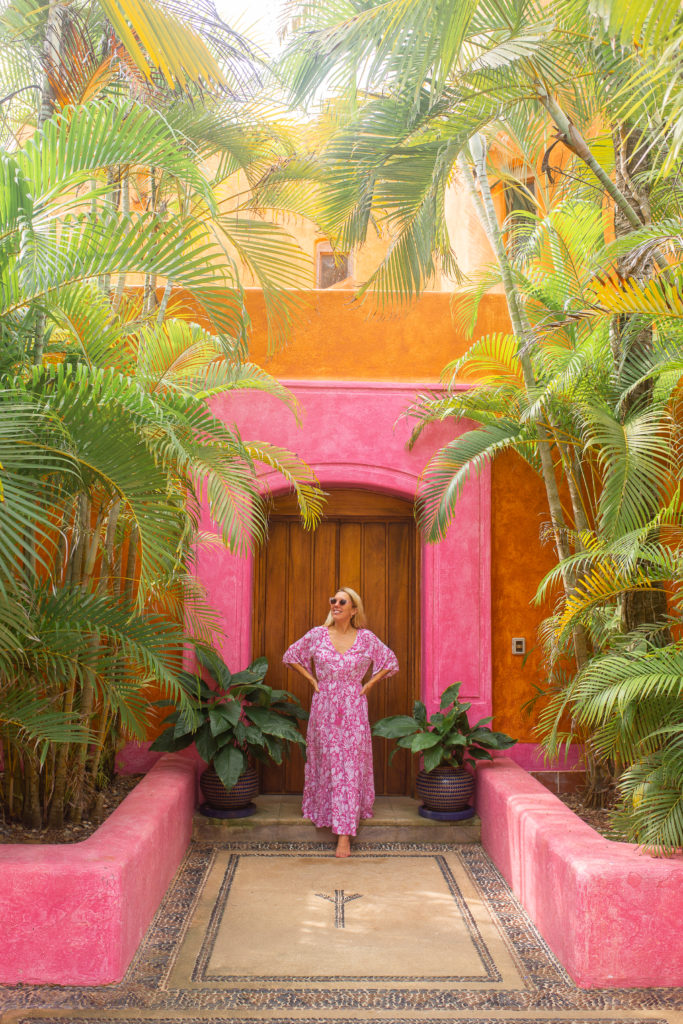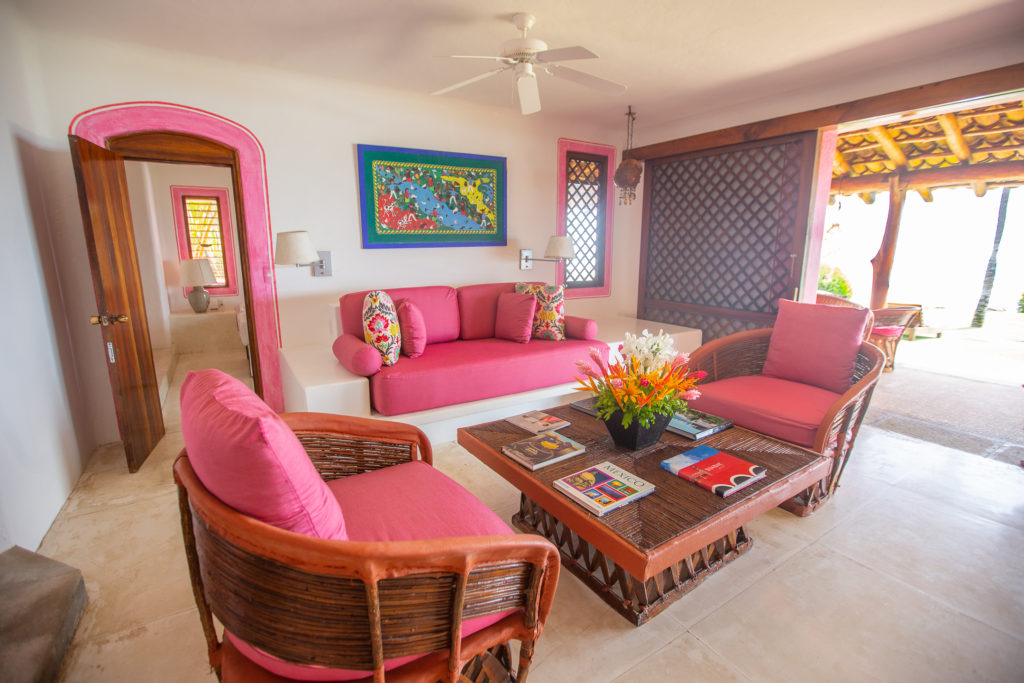 Our suite, "The Isabel Master Suite", had a Queen size bed, a twin bed at the front of the room perfect for our 4 year old and a good amount of room for a crib for our baby.
Additionally we had access to the living areas where there was a kitchen table and couches and chairs. We even had our own plunge pool!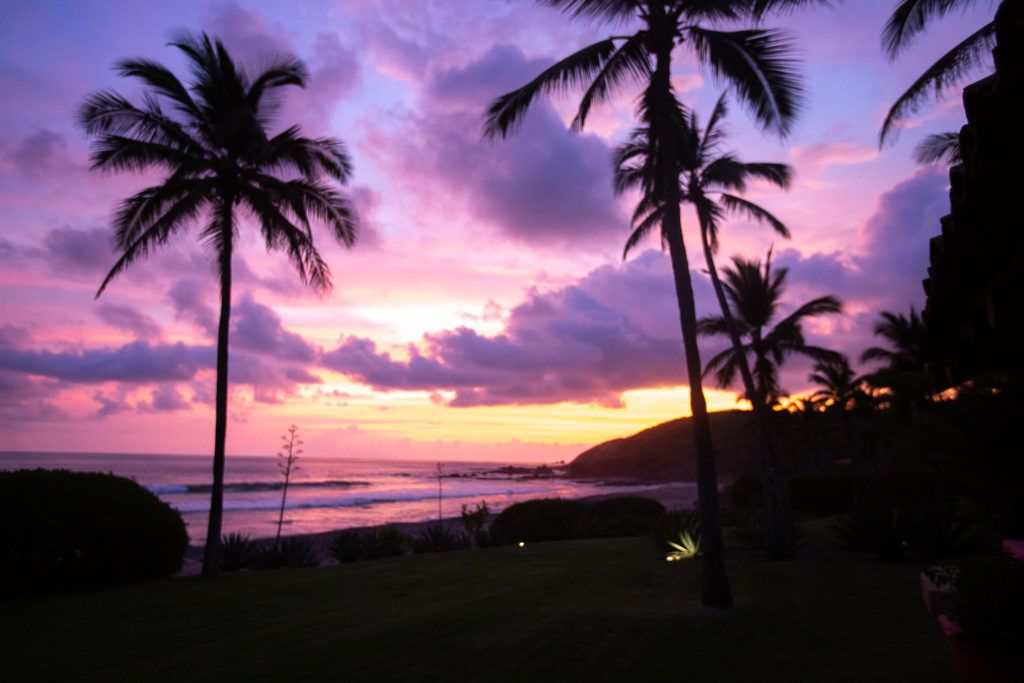 There was literally no reason to leave our room but since we laid eyes on other areas of the resort, it enticed us to get out of our heavenly bubble and explore! There is also no WIFI in the rooms which really makes you disconnect ( and was honestly really lovely) but there were times when we did want to head to the main area to send some emails etc
The Food And Restaurants at Las Alamandas Resort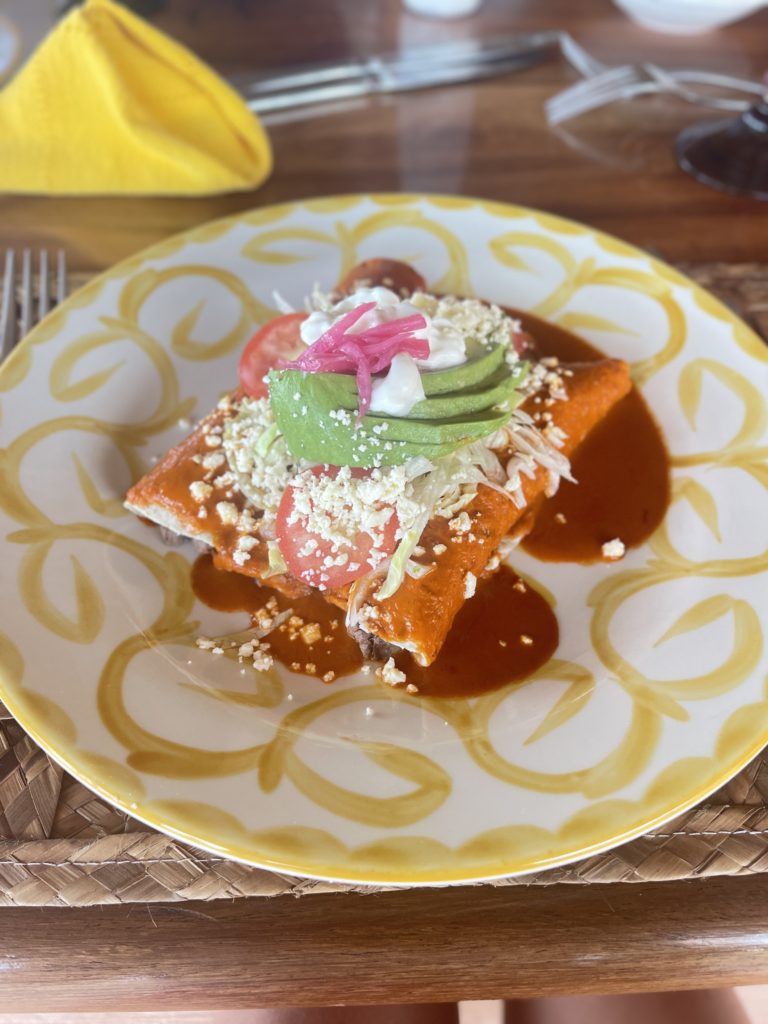 When staying at Las Alamandas, you have the option to do A La Carte or add on an All Inclusive Rate per day where all meals are included.
Since we were travelling with the kids and let's be serious- my husband who likes to eat every 2-3 hours, doing all inclusive was a no brainer. We were so happy we did.
We didn't hold back during our meals and really got to enjoy all the fresh offerings that the restaurant had.
Breakfast offerings were the same each day but lunch and dinner menus changed daily based on the fresh food that they had at the moment. I LOVED that! It was a nice change up to see new items each day and knowing it was made fresh made me equally as excited. Mahi Mahi for dinner? Shrimp tacos for lunch? Yes please! And having everything served up on their colorful Mexican pottery? Added bonus.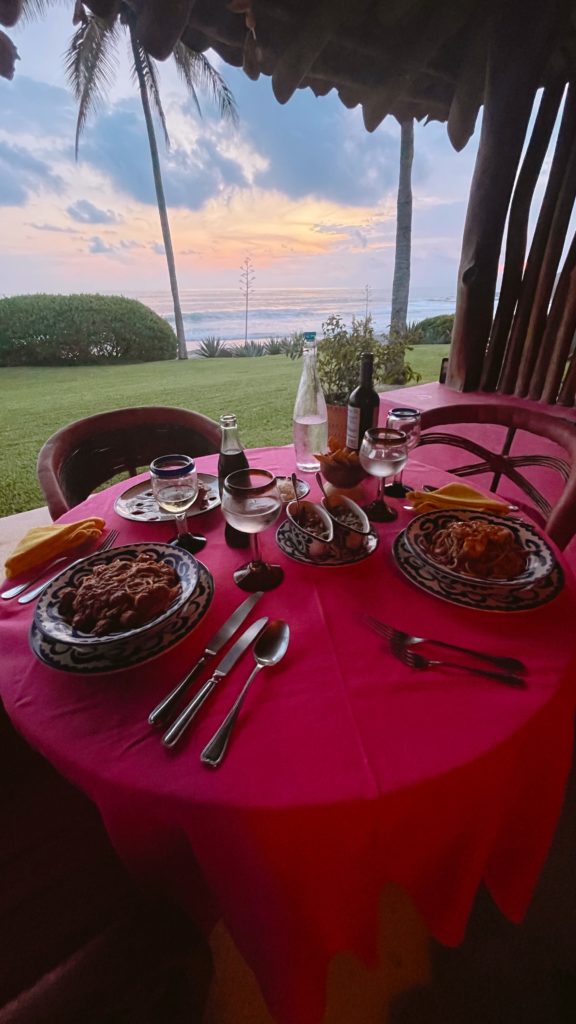 The biggest stressor you will face when you stay at Las Alamandas is basically what menu option you should go with because after a day or two, it's easy to know how delicious everything is.
We chose to eat our breakfasts under their Palapa every morning where we watched the sun continue to rise up and be as close to the water as possible. We had a few lunches in our oceanfront terrace which came in as a close second. It was nice to have the option of two spots to eat and soon- there will be a third.
They were working on renovating and giving their dinner space a facelift when we were there and when we got to take a look at it, I felt like I was in someone's really fancy Mexican house. It had a full tequila bar, indoor seating, colourful rattan chairs and custom benches circulating the corners with string lights decking the outdoor area. It's probably a good call for me to go back and visit so I can see the finished product.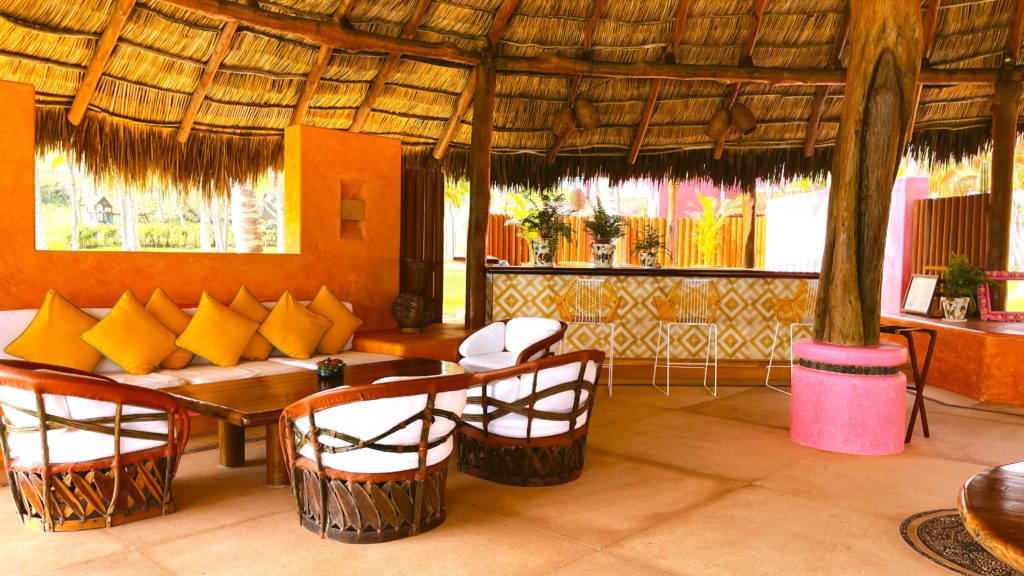 Things to Do at Las Alamandas Resort
While you can spend your time reading and really vegging out, below are 5 things that cannot be missed during your visit!
#1. Property Tour of the Las Alamandas Grounds
Not only is the Las Alamandas Resort a place to go on a luxurious vacation but it almost feels like it is it's own little town. They have their own landing strip ( for the private jet crowd of course), trails to go horseback riding, various beaches to discover (so you can tan without anyone around), their own herb gardens, fruit trees, and even their own lake within! Check Mate.
The property tour will take you around with their in house ATV vehicle and lasts about an hour. It takes you to viewpoints you wouldn't otherwise see and is a great way to understand how big Las Alamandas really us.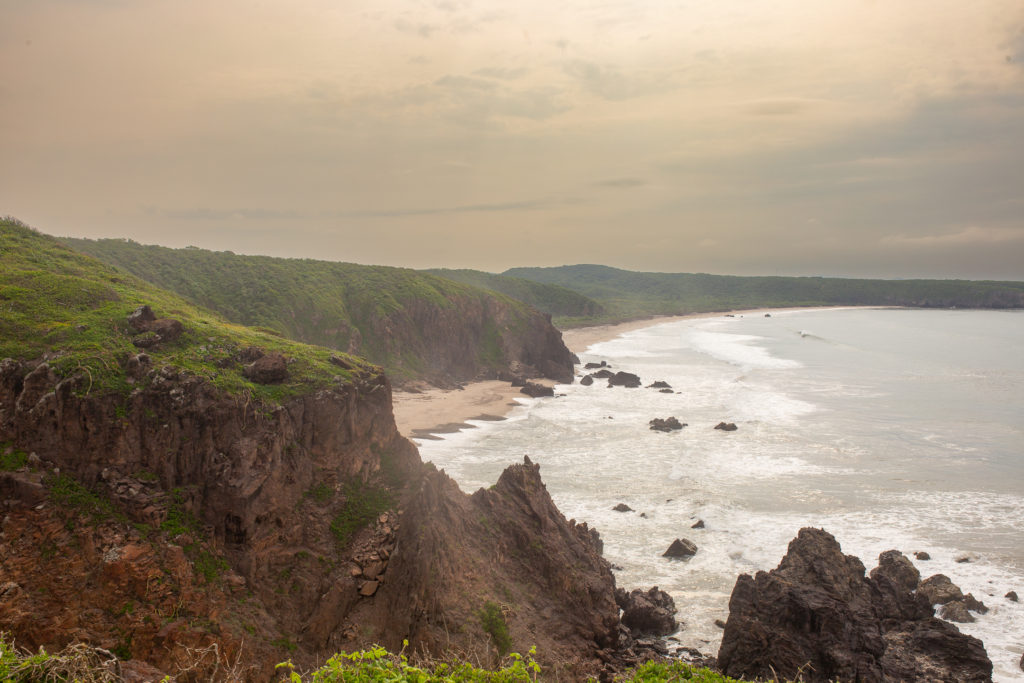 #2. Turtle Release on One of the Las Alamandas Private Beaches
Las Alamandas is connected to nature. There are a ton of bird varieties that live among the land among other species.
Preserving nature and protecting the animals that live among them was something that was important to the resort so they created the Turtle Protection Program – one of the animals that can be found on the beaches of the property.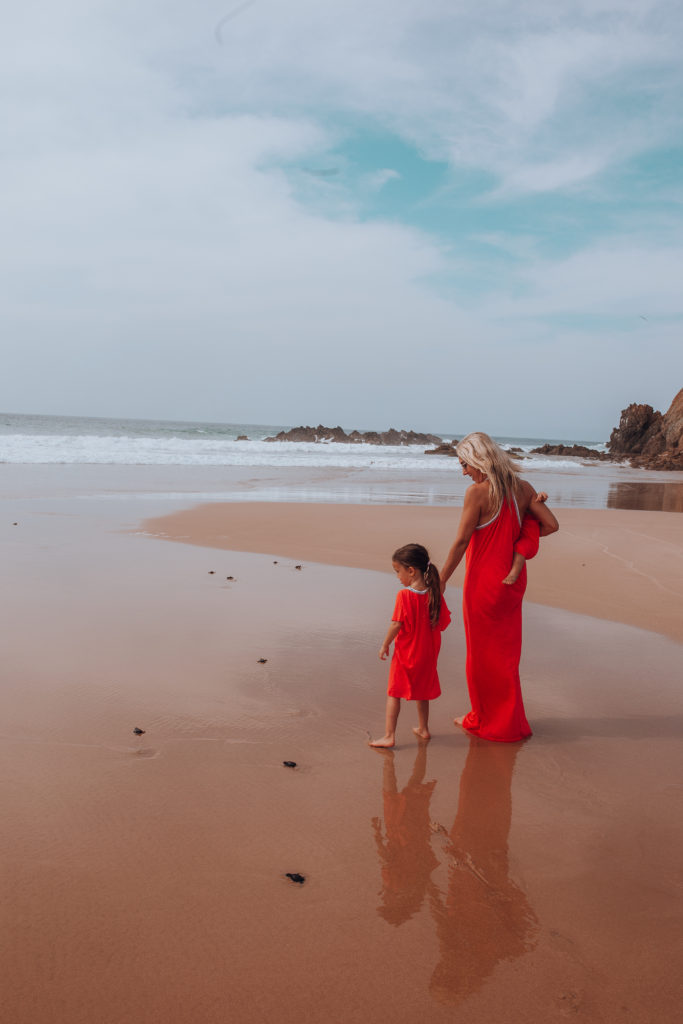 From August to December, you can help to release baby turtles into the ocean and learn more about their commitment to helping these breautful creatures.
It was one of my favourite things we did on our trip and an experience I am sure we will remember forever!! If you have kids, this is a must do.
#3. Sunset Session
Las Alamandas' has a coastline that is one of the best in Mexico and maybe even North America! There are certain parts of the property that offer dramatic view points and one of these view points can be booked out for a sunset session!
A quick 10 minute ATV ride from the main resort brings you to the most romantic sunset spot where you can enjoy some wine or champagne paired with charcuterie. This is a must do.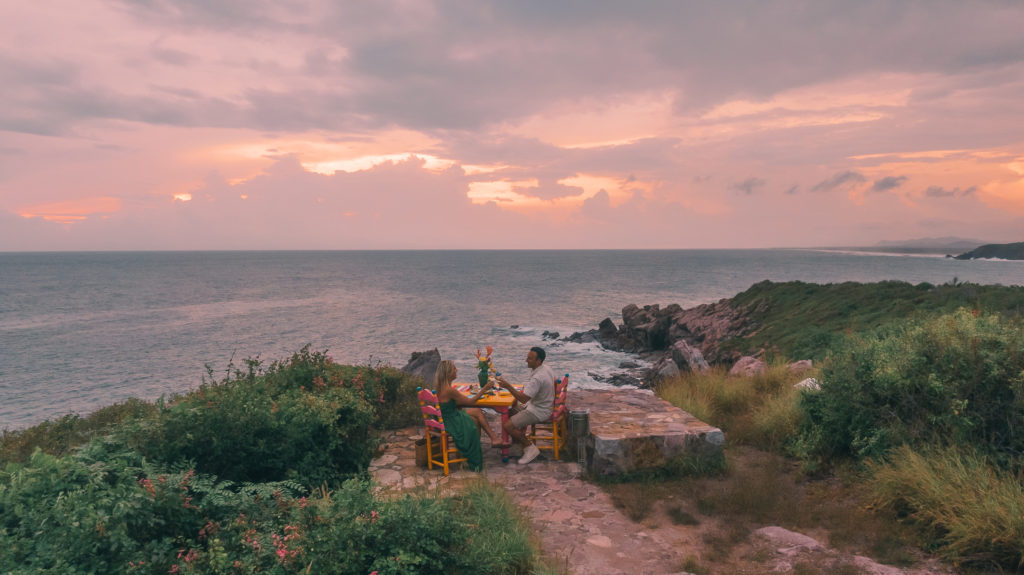 #4. Check Out the Resort's In House VW Car!
Just when I thought that Las Alamandas was the coolest place ever, they bring out a Pink and Yellow ( very on brand) VW car! If Disneyland has Mickey as their Mascot, Las Alamandas has this. It makes for the cutest photo op and while the kids loved it….I think I enjoyed it the most hehe!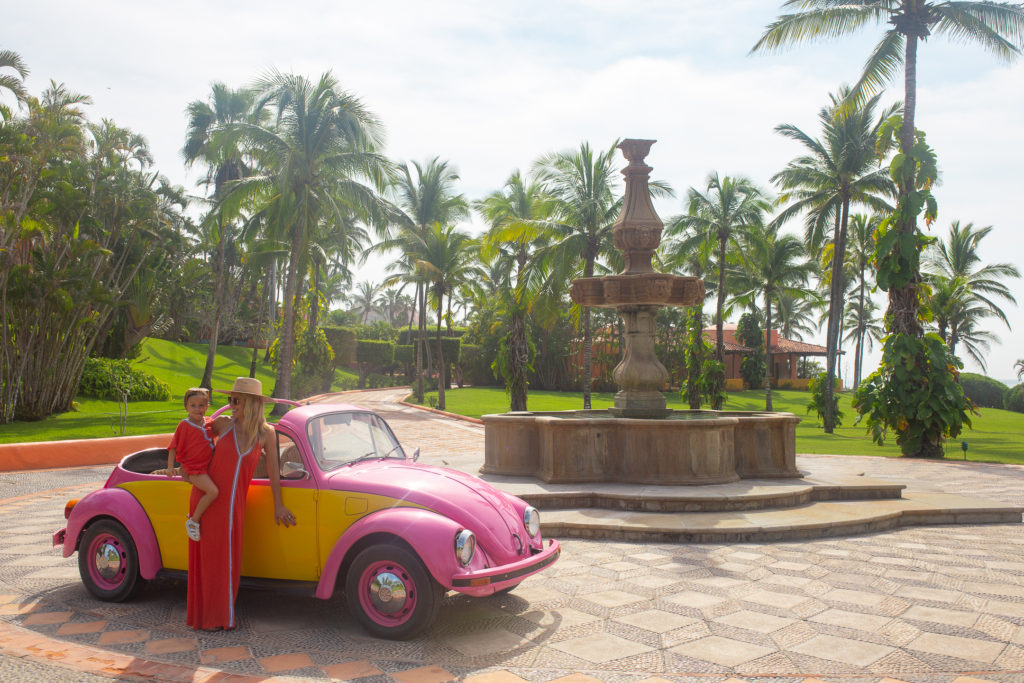 #5. Picnic At One Of Their Private Beaches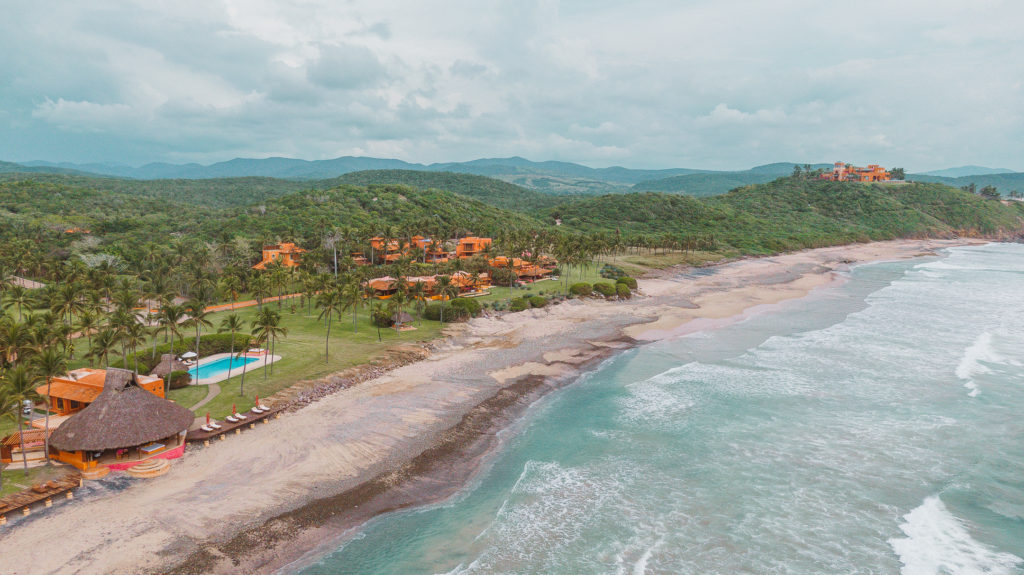 Las Alamandas offers the option of having a picnic lunch at one of their four beaches. Where on earth can you literally have the ENTIRE beach in a dream vacation spot to YOURSELF?
They set up a little table with one of their fabulous lunch spreads and you can just have yourself a time!
If you are seeking ultimate privacy and quietness, this is another reason why this resort is so special. The cost for this is $50 USD which is pretty reasonable considering you get a whole beach to yourself.
---
Visiting Las Alamandas makes for the most dreamy Mexican vacation with the perfect balance of rustic, romantic and charm that is hard to find anywhere else! One of my favourite spots I have stayed forsure!
PIN THIS POST