The burning question of Maldives VS. French Polynesia: Dun, dun dun….
It was always my DREAM to visit either of these places and now that I have I want to take you through the comparison of Maldives Vs. French Polynesia.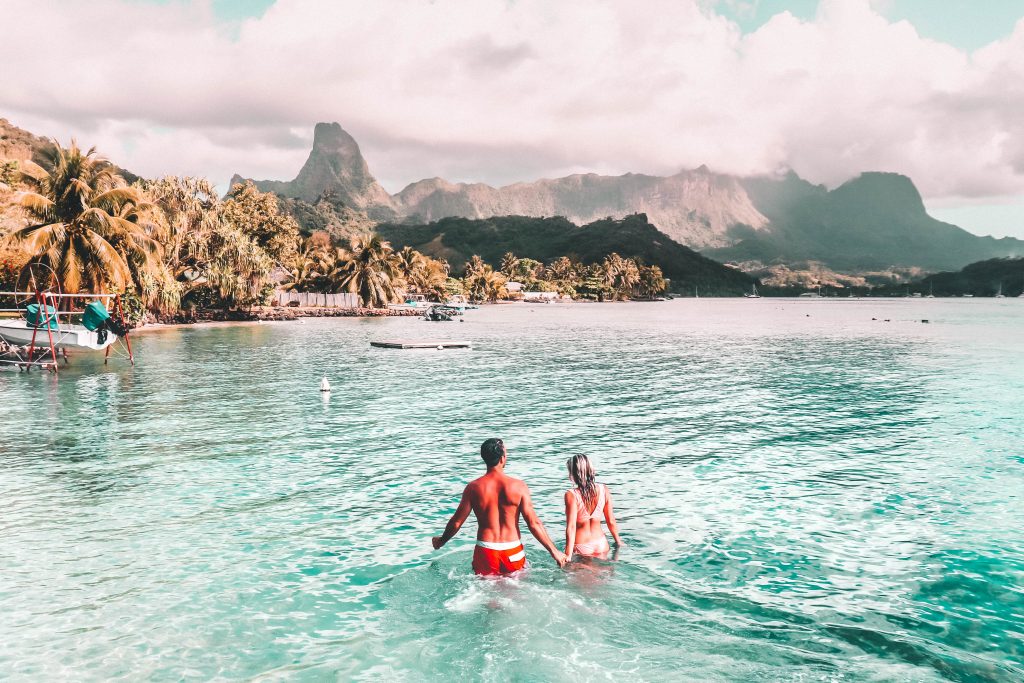 When I got engaged I knew off the bat that I would try with all my power to make it to one of these spots for our honeymoon. They are the king and queen of honeymoon destinations after all! We ended up choosing Maldives and it was everything I thought it would be plus more. A few years later, we had the opportunity to visit French Polynesia and it is just wild to me looking back that I have had the chance to see BOTH. Like what is life?
After visiting both, the most frequent question I get is "Sooo which was better? Maldives or French Polynesia?". Even when people ask me what my favorite place in the world is.. I simply cannot choose! So many unique and amazing things about each country and the same is true with these two similar, yet very different places.
There are few things to consider when making a choice as to which place you would prefer ( and let's be serious either one is a WIN). Here are the factors to consider:
Thinking of heading to Maldives or French Polynesia, you might like these posts:
–Maldives VS French Polynesia: Comparing the two most exotic places on Earth!
–The #1 Hotel In The Maldives: Review
–The Ultimate Mo'orea Travel Guide: Everything you need to know!
–How To Travel to French Polynesia On a Budget
#1. LOCATION/GETTING THERE: MALDIVES VS. FRENCH POLYNESIA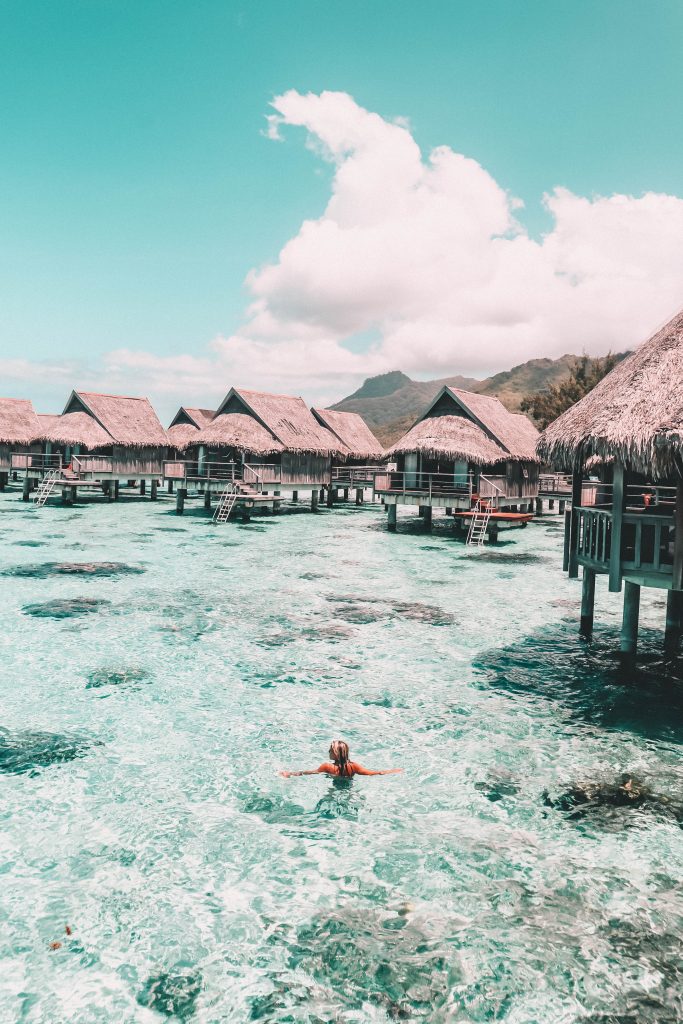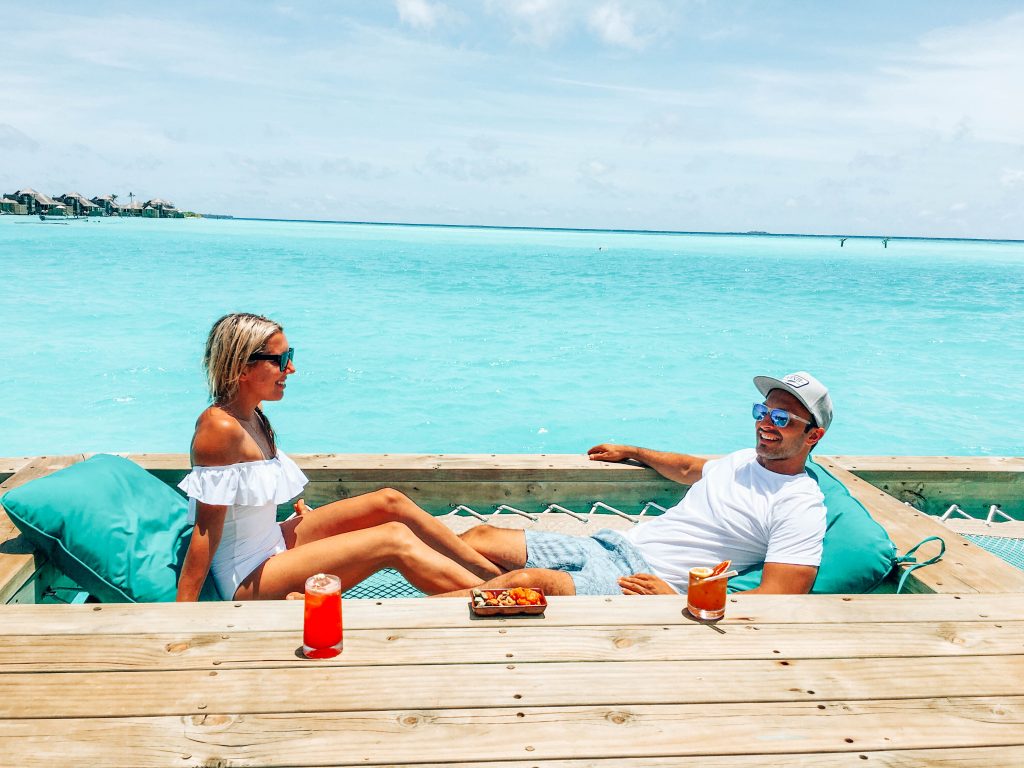 There are popular and convenient stop overs to each of these places. It does depend where you live though! For us ( living near Toronto), we had the following options:
Maldives: Stop over in Dubai ( most popular) which is a 12 hour direct flight follows by a 4.5 hour flight to Maldives. Most people stop over for a few days in Dubai. Another option is through Hong Kong. It is a 15 hour direct flight to Hong Kong and then a 5 hour flight to Maldives. We choose this route as we wanted to experience South Asia and were not as interested in Dubai. If you are flying from Europe, India or Sri Lanka, there are direct flights to Male ( the international city/airport in Maldives). Sri Lanka is an hour flight and we wanted to visit this country after Maldives!! This combination is really popular for honeymoons and creates the perfect balance of paradise and adventure/culture.
French Polynesia: Stop over in San Francisco or LA which is a 5 hour direct flight from us followed by an 8.5 hour flight to Tahiti. We have been to California so many times and while it is ALWAYS a good time, we didn't want to visit there or make a stop on our honeymoon. When we went to French Polynesia last year, we had a layover in San Francisco for 3 hours. We could have choose to spend 2-3 days there but again that adds up and we weren't interested in that. If you haven't done California though, this is an excellent and fun option to combine onto your French Polynesia trip. Even if you are coming from Europe, most flights still stop in California making the "Getting there" option pretty standard compared to the Maldives route.

#2. BEST TIME OF YEAR TO VISIT MALDIVES & FRENCH POLYNESIA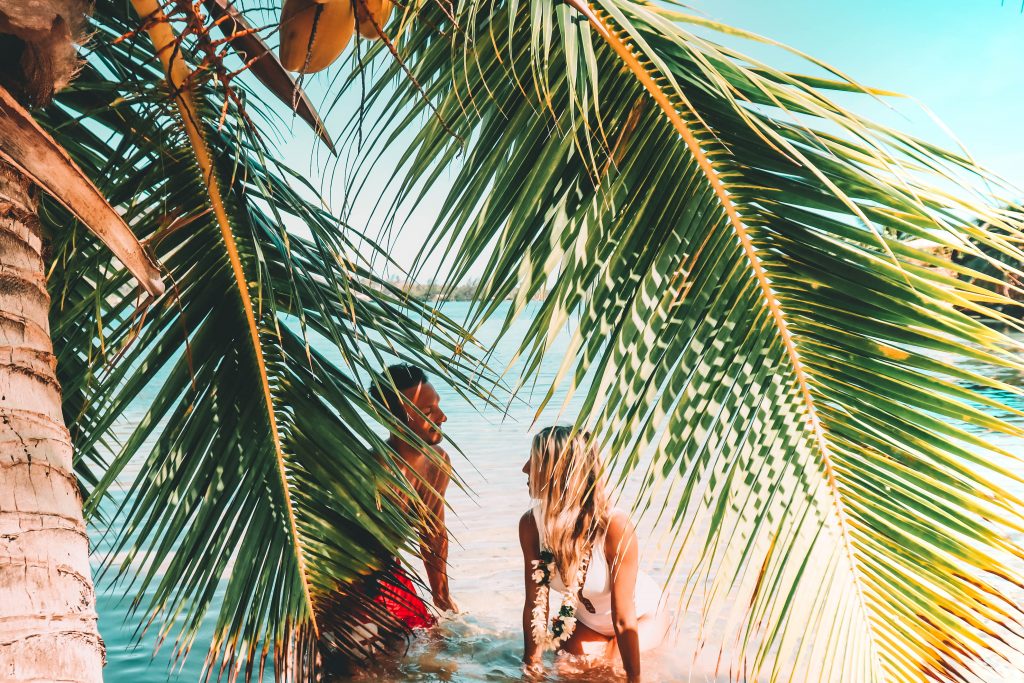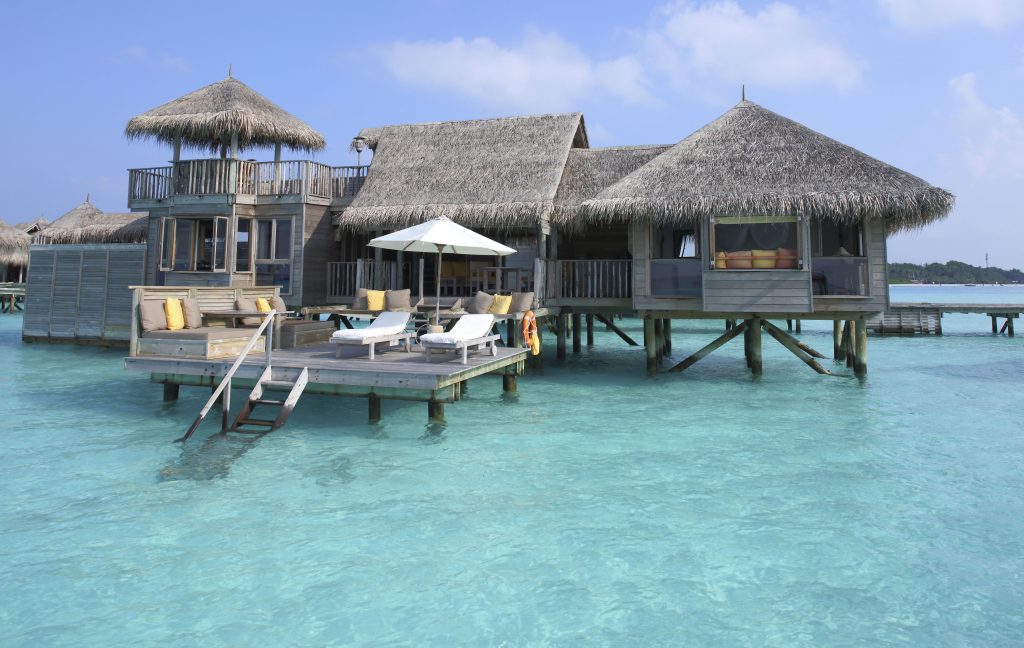 Maldives: High season runs December through April, and rainy monsoon season is from June-September. We visited in late August and had BEAUTIFUL weather every single day. If you go during off season ( Maldives or French Polynesia), expect MUCH cheaper room rates. Yes, you are taking more of a gamble but most locals/staff at the hotels said they only see a shower or two a day during this time of year and they usually don't last long
French Polynesia: High Season here runs from May through October and rainy monsoon season from December-March. Given that this coincides with US and Canada's winter/summer, you will find off season here still very busy as people want to get away!! We visited in late September and it was a bit more tropical than Maldives weather ie: raining one minute and then completely clear the following hour. I sort of love when the weather changes ( as long as the rain DOES in fact clear) because it really makes you feel somewhere exotic.
#3. COST OF MALDIVES VS. FRENCH POLYNESIA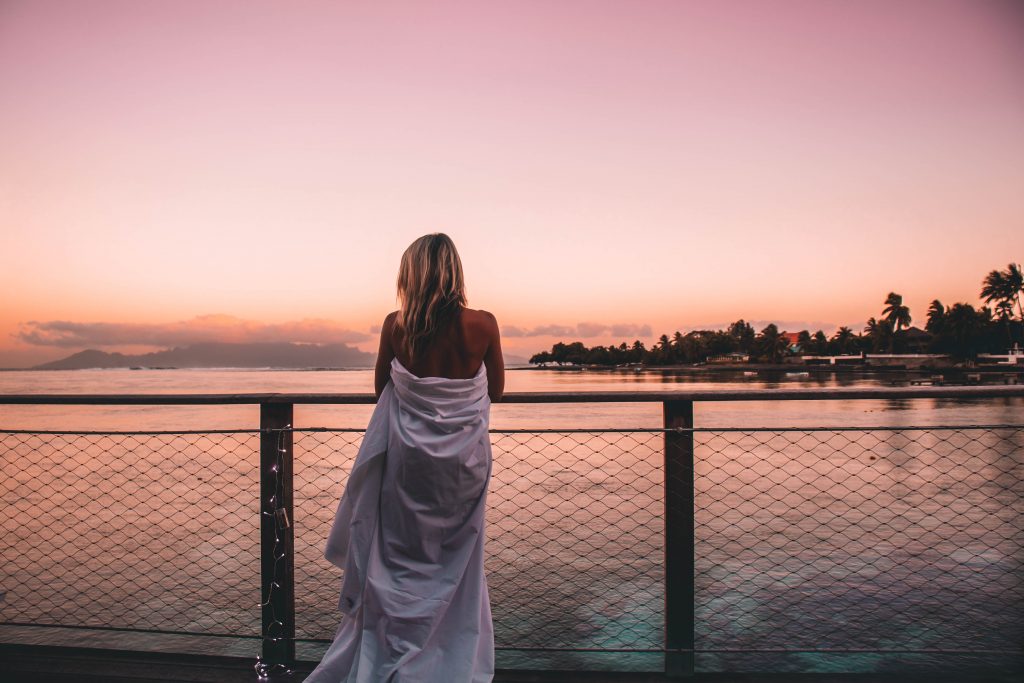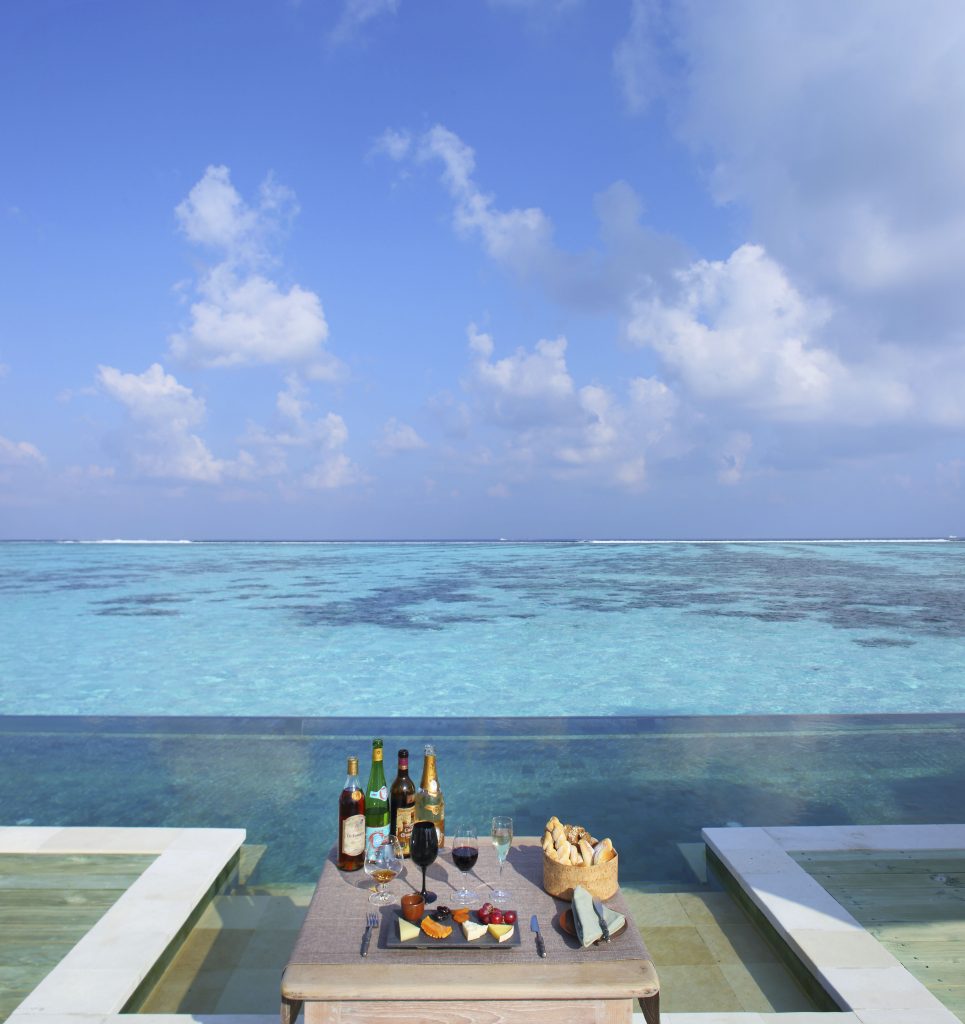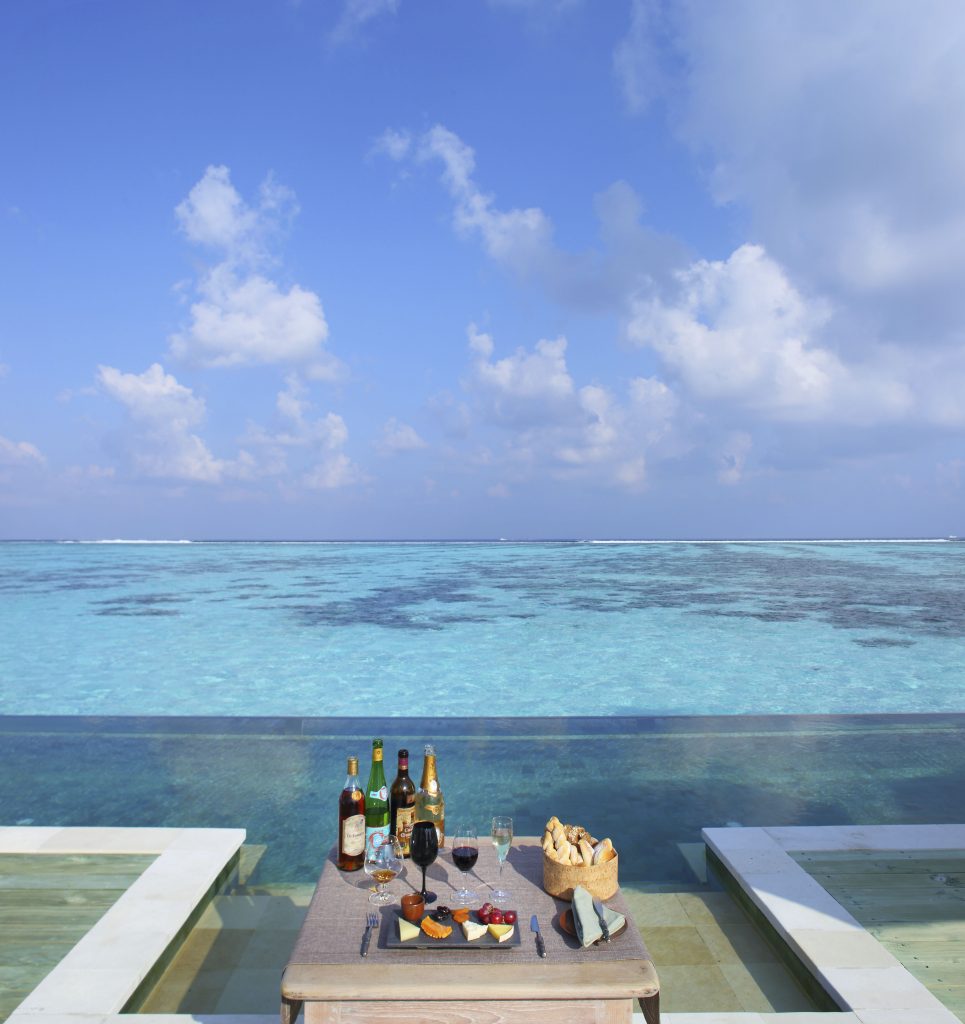 Both locations are $$$. There is no getting around it. French Polynesia's food and drinks are more expensive than Maldives. Given that the location is much more remote, the cost of importing is HIGH. BUT you can save in French Polynesia by bringing some of your own snacks and buying alcohol from the grocery stores.
In Maldives you CANNOT bring alcohol into the country because it is a Muslim country. You also cannot buy alcohol from the airport and bring it into the resort. With the way I have wine (lolz), this can make Maldives food and beverages much pricier.
In French Polynesia, the hotel options are a bit more limited. There are the handful of 5 star resorts and then a ton of standard Air Bnb's/budget hotels. We found there wasn't a ton of middle range options. If you are staying at the expensive/5 star hotels, they most often do not have an all inclusive option for food. The Maldives on the other hand has SO many hotels to choose from. Each of the atoll's ( mini islands) are basically it's own resorts and there is ALOT of them.
You can find the classic line up of St Regis', Four Seasons, Fairmonts etc but then you also have more boutique 5 star resorts there which I personally love and prefer. A lot of their hotels are much more modern, updated and luxurious than their French Polynesia counterpart. A lot of the Maldives hotels, also have the option of doing Half Board or Full board which if you eat the way my husband eats, can save you a lot! Because there is a lot of competition with the Maldives hotels, you can find cheaper per night rates and still get the same, if not better, 5 star experience.
I would say overall you get a lot more bang for your buck when visiting Maldives. You are getting pampered on either destination but if you choose to stay at a 5 star resort, the Maldives spoils you a bit more. This is the case when strictly comparing Maldives and Bora Bora!!! If you are comparing Maldives and Mo'orea ( another island in French Polynesia), then you can definitely spend WAY less in Mo'orea. Check out one of the Air Bnb's we stayed at in French Polynesia!! Literally could stay for a week for a fraction of a cost of the hotels in Maldives or Bora Bora.

#4. VIBE/GEOGRAPHY: MALDIVES VS TAHITI/BORA BORA/MO'OREA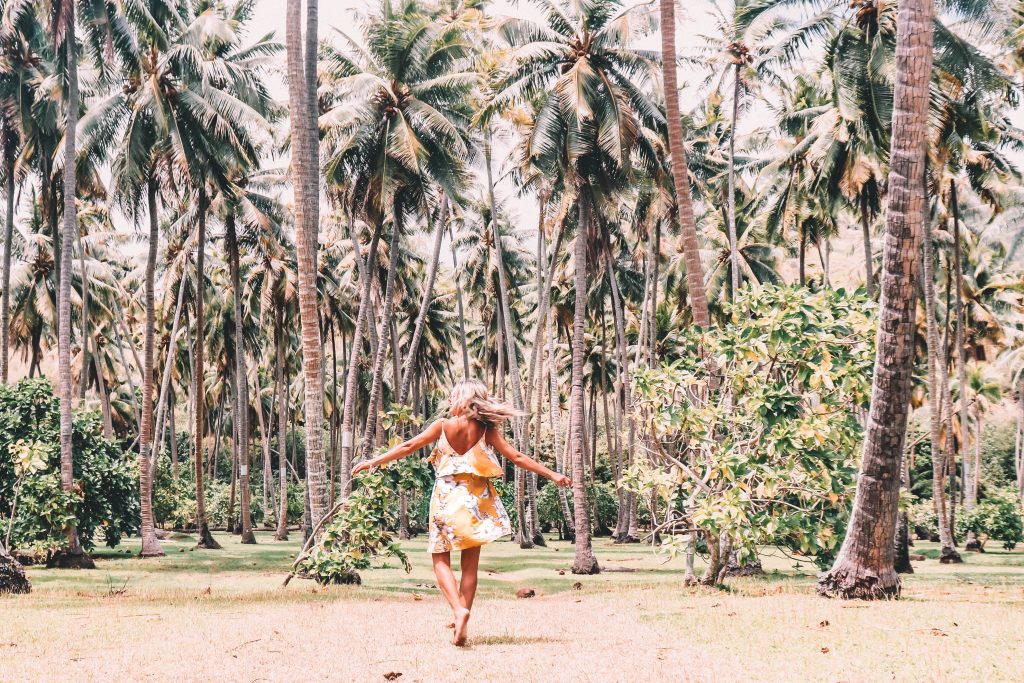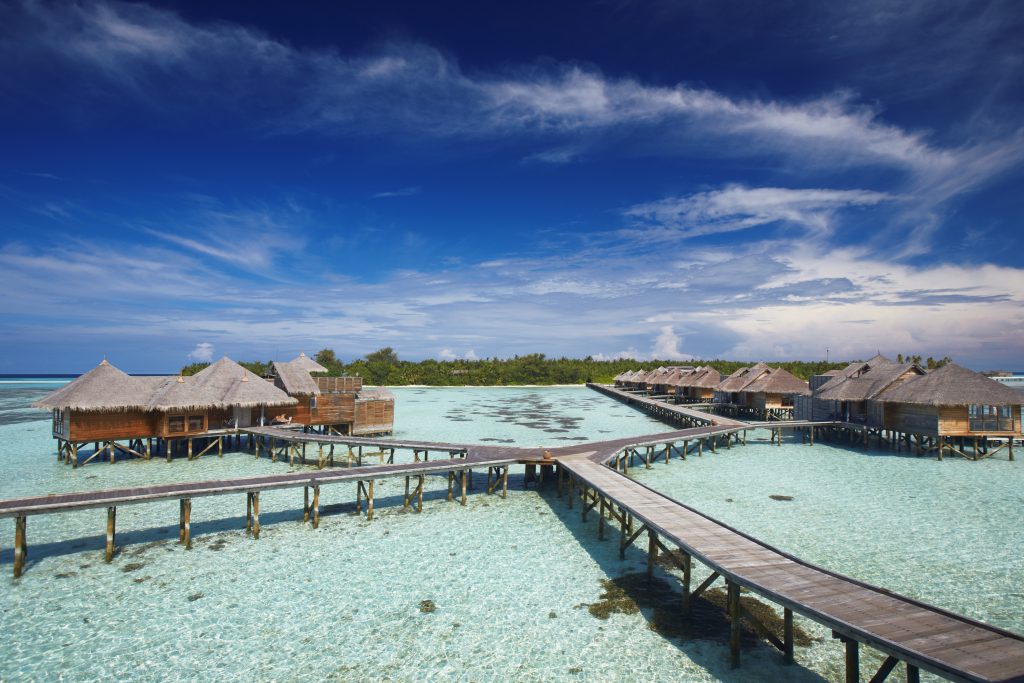 FRENCH POLYNESIA: Feels like you are in heaven, Jurassic Park or in the movie Moana. There is a lot more culture around you and there is also a lot more things to do. The thing to keep in mind is that French Polynesia is made up of many islands. What you will see on the island of Tahiti is much different than what you will see on the island of Bora Bora. Tahiti has black sand beaches and waterfalls. Mo'orea has lagoons, rugged terrain that you can ATV through and a good amount of restaurants to dine at. Bora Bora features view points of the iconic Mount Otemanu and black volcanic rock formations. The lesser known islands of French Polynesia also have distinctive features.  If you are looking for more variety, French Polynesia is for you!
In terms of the vibe at some of the resorts, I would say that people in Tahiti, Mo'orea and Bora Bora dress up a bit more for dinners compared to Maldives. 
MALDIVES: Feels like you are in a daydream, screensaver on a Laptop or a deserted island in your wildest dreams.  It feels more off the grid here. There are no elevation levels, view points of mountains or explorations that will take you to a different kind of landscape. It truly just looks like perfection everywhere you look
The vibe at our resort in particular encouraged you to never wear shoes so dinners and lunches were very laid back in terms of outfits. I still wore nice dresses every night but didn't worry about trendy bags or stylish shoes- I was biking to dinner in the Maldives afterall!
#5. ACTIVTIES IN FRENCH POLYNESIA VS MALDIVES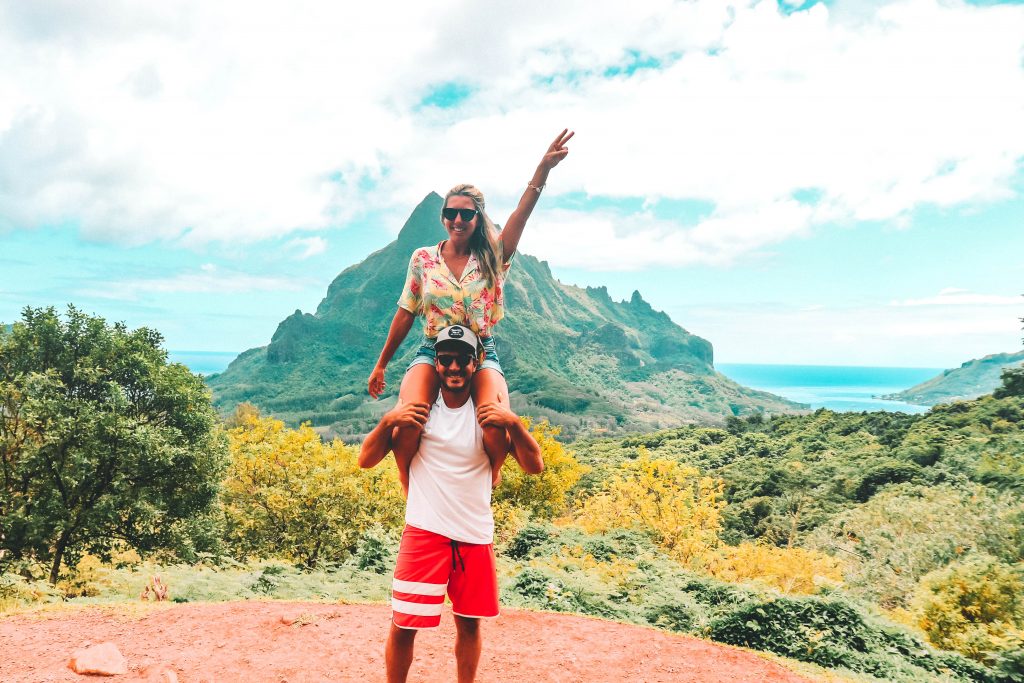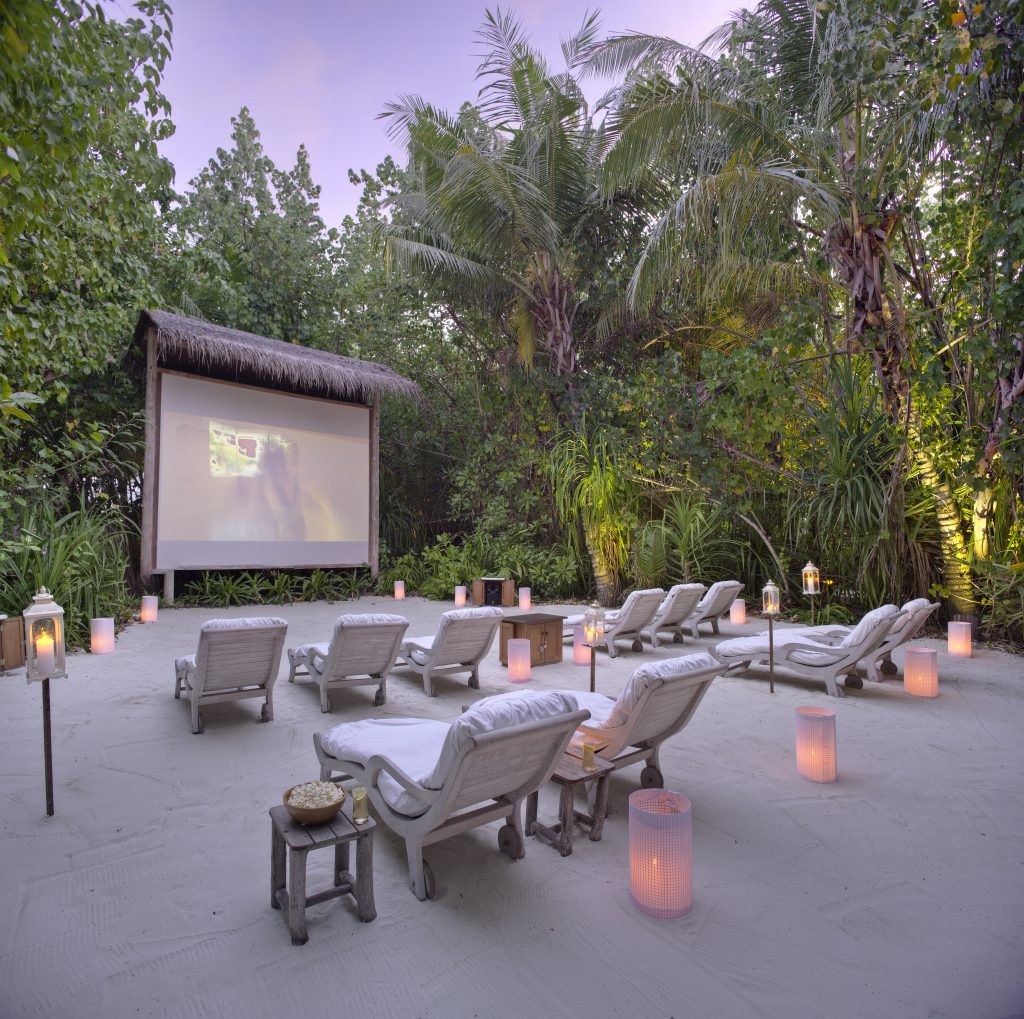 I would say that the main draw of both these locations is the overwater hut/relaxation/hammock in the ocean vibes! However, if you are like my husband and I, we like to throw in some activities and get a bit ancy strictly staying at the beach ( I KNOW WHAT IS WRONG WITH US, right?).
Here's the thing, in the Maldives you are essentially on a deserted island. You cannot just head to town to grab dinner or experience the local culture. Most of the resorts have a big list of activities to do. Ours had the option to do a day trip to experience "the Maldivian life" (how authentic though I am not sure). They also had wine tasting activities, scuba/snorkeling trips, catamaran options and lots of spa services.
In French Polynesia, the activities are endless. You can hike, you can ATV around the island, you can truly see the culture by visiting the main town and grabbing a dinner on your own. The snorkeling/scuba trips are also endless and they can be done with outside providers. In the Maldives, you are forced to select an activity based on what your hotel or resort offers. you can take a boat to the main island, and while it's not the coolest town you'll ever visit, it has some good restaurants and is cute enough
I'd also note that Bora Bora has an actual town which means that you can plan all kinds of activities with outside tour operators, which isn't typically possible in the Maldives. This means the tours will often have lower costs (though they're still far from cheap).

#5. FOOD IN FRENCH POLYNESVIA VS MALDIVES
French Polynesia: There is a French influence obviously so you can find lots of Baguettes and French wine. Steak and frites is also a regular on most menus. We loved seeing the locals biking around the streets with fresh Baguettes popping out of their backpacks!!
You can also find a lot of local Polynesian influence with features like Mahi-Mahi and their famous Poisson Cru ( raw marinated tuna in lime juice and coconut milk). We personally like Poke bowls a lot better than these but they were still pretty good! We were surprised to not see as many healthy options like you would in Hawaii and there was a lot of "fast food" type places in Mo'orea and Tahiti. The resort food was delicious but I personally enjoyed the food in Maldives better.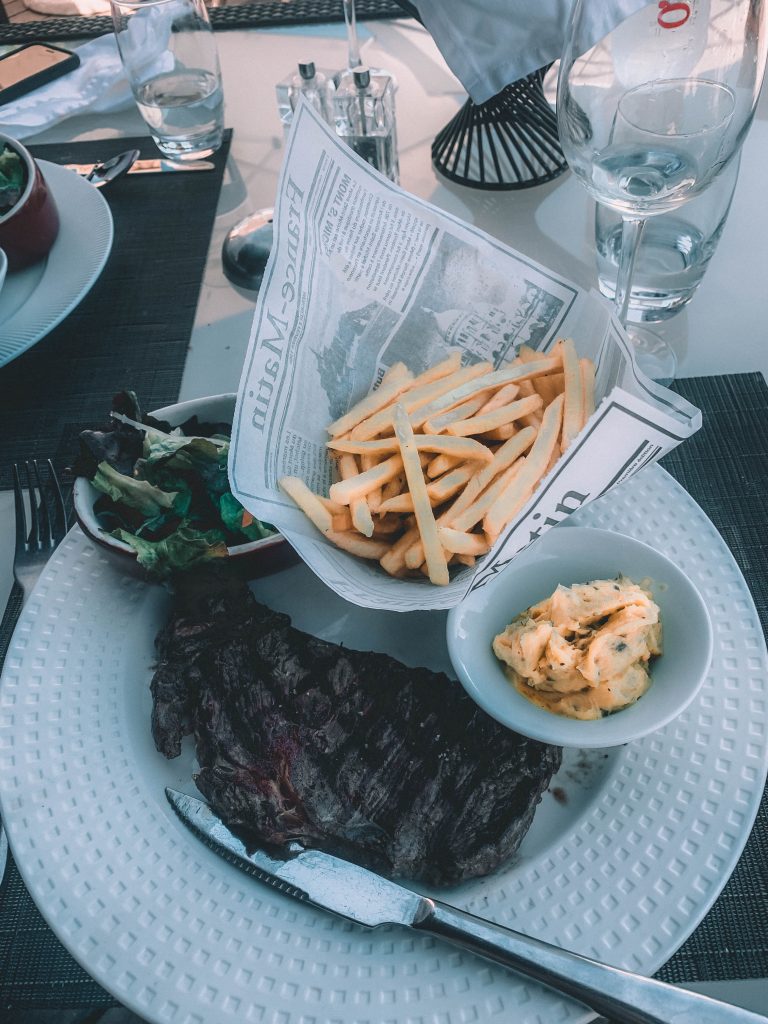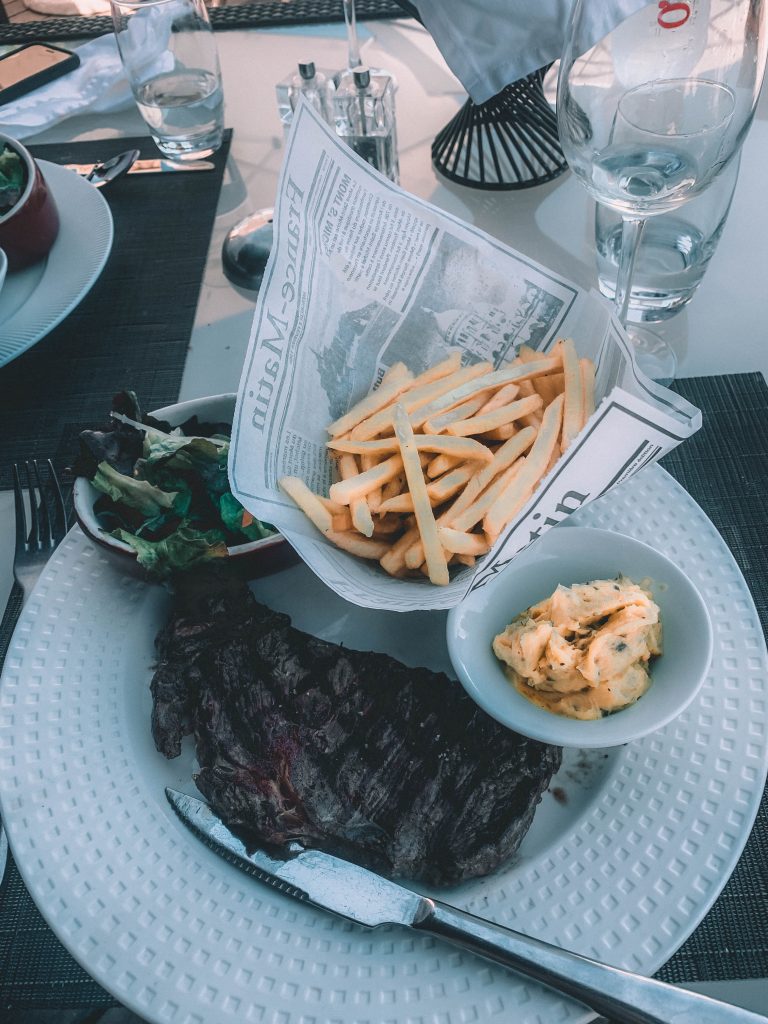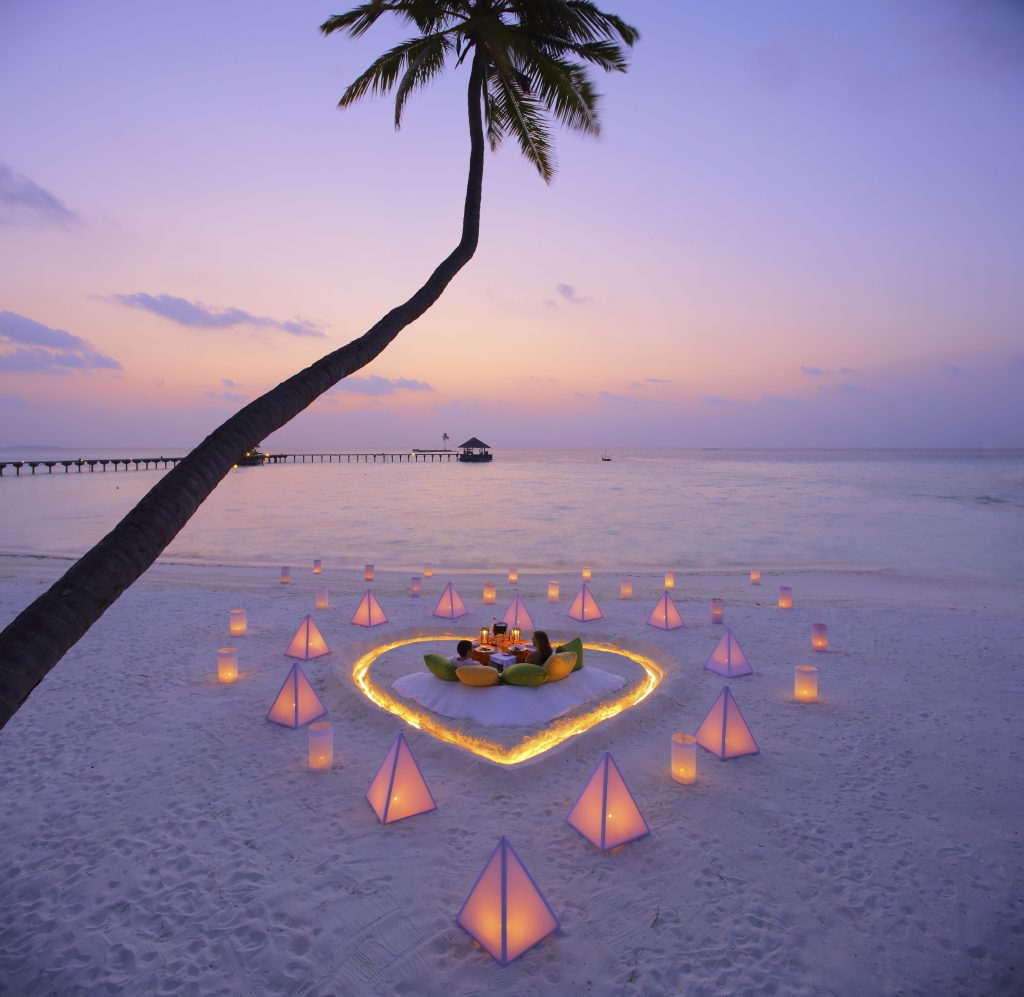 Maldives: The food in the Maldives is greatly influenced by Indian & Asian cuisines. There is a lot of curry, coconut, and seafood on the menus. Resorts normally have a lot of restaurants on site and ours in particular had a Sushi restaurant that was hands down one of our favorite meals EVER. Like I'm talking the best sushi around. A lot of restaurants feature luxury dining options that have Michelin rated approval! However, if you want to head off the resort and see a "Mom and Pop" style place or get a really local feel of the food, this is not possible in the Maldives.
BELOW IS A LITTLE BREAKDOWN SHOWING THE COMPARISONS!!
(JUST KNOW THAT WHATEVER PLACE YOU CHOOSE, YOU WILL NOT BE MAD!!!! FRENCH POLYNESIA, TAHITI, MALDIVES- THEY ARE ALL PERFECTION)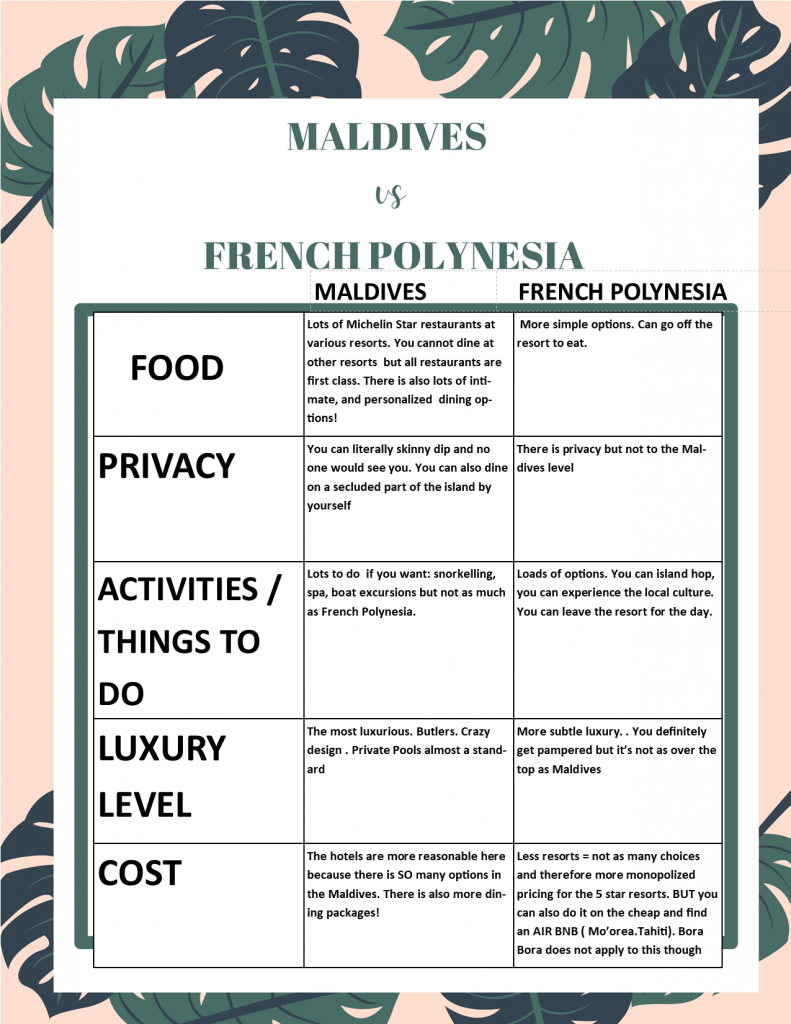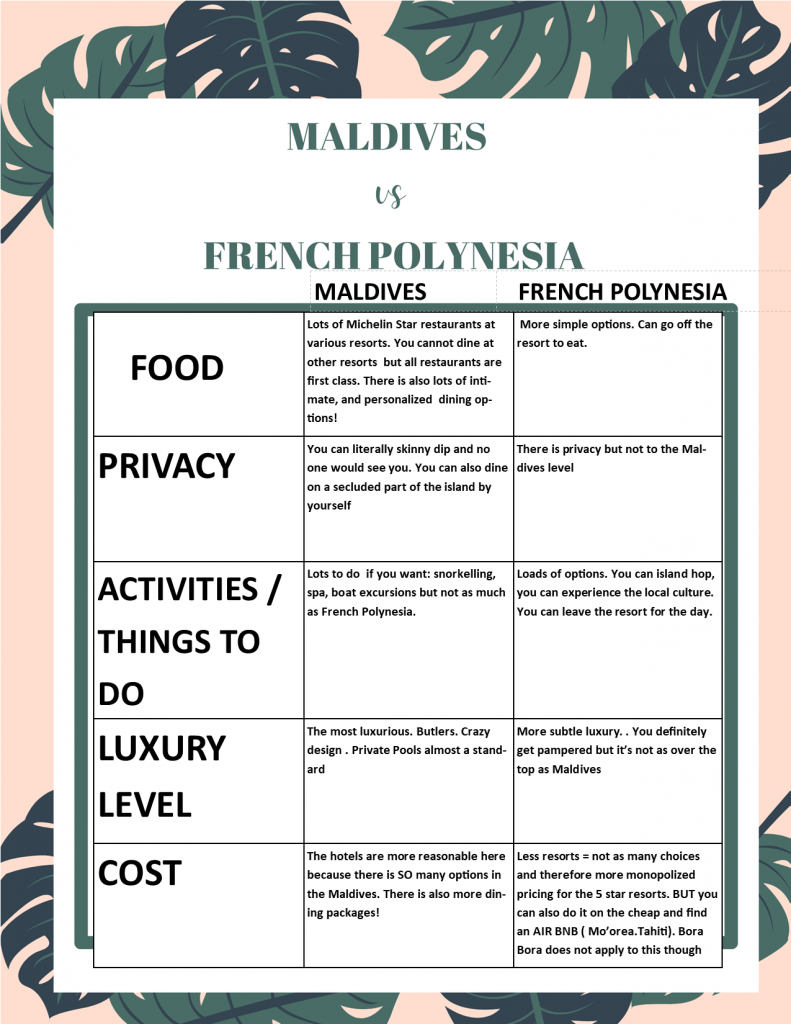 PIN THIS POST