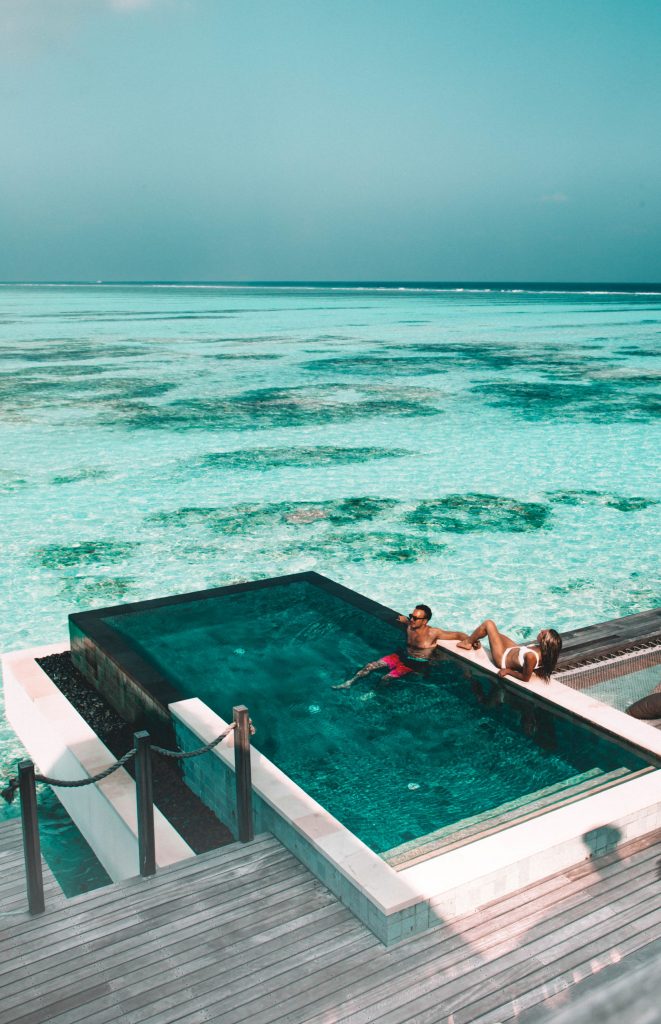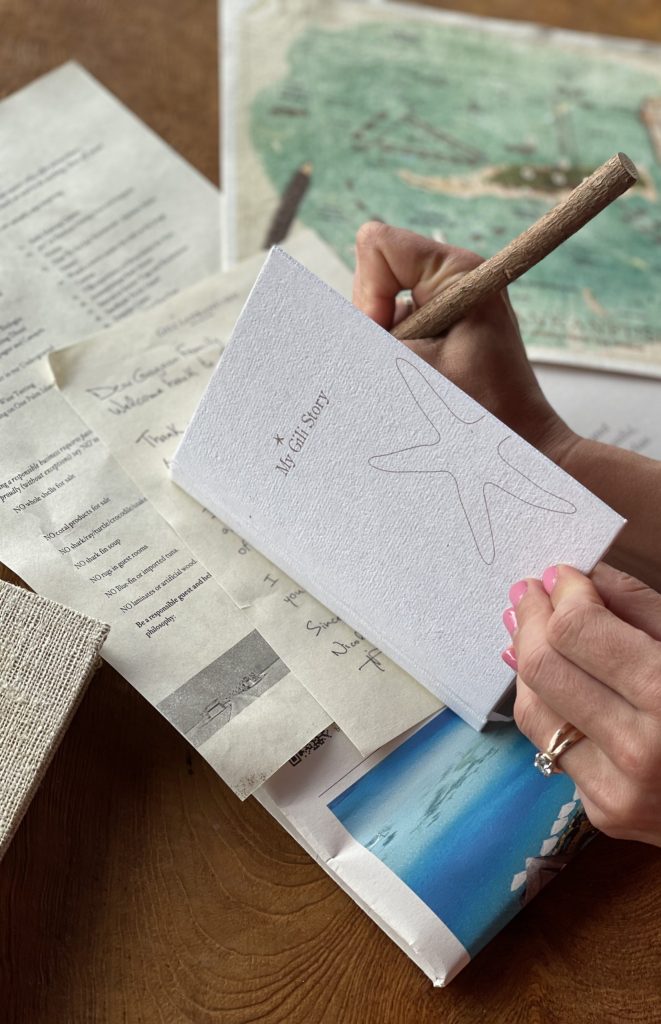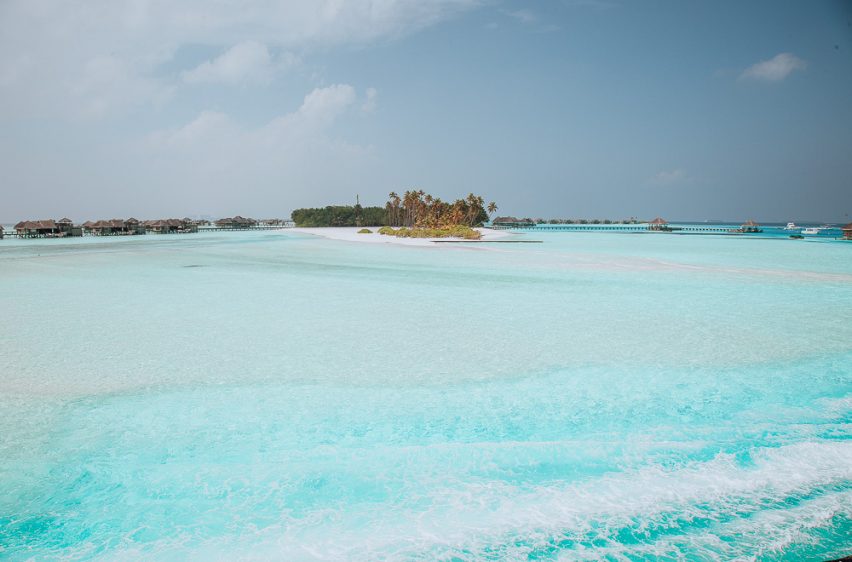 When we returned from Gili Lankanfushi after our honeymoon, we decided that we would love to come back for our 10 year anniversary. We knew we had to come back at some point and felt this was a realistic timeframe.
Well….we returned this past March- after 3.5 years. We made it only 3.5 years before feeling the absolute need to return LOL.
That's the effect of Gili Lankanfushi on you and why it is the best island in the Maldives to visit.
Considered one of the best resorts in the world actually ( it won this title in 2015), it is an easy place to fall in love with where the memories of your time there are deeply sketched into your mind forever.
Since the place was so near and dear to our hearts, we planned to bring Chloe with us to share the magic with her. Due to Covid, we decided that it was better for her to stay home. Definitely not fair for a 2 year old to undergo numerous tests and have to wear a mask on a long haul flight. Gili's, although very much a honeymoon destination, is also INCREDIBLE for kids and families and we can't wait to one day bring her back there.
While the trip was intended to be a family one, it turned into a honeymoon round 2 and we were not disappointed.
THE CONCEPT & VIBE AT GILI LANKANFUSHI
Gili Lankanfushi is modeled and inspired after the novel " Robinson Crusoe". This laid back vibe can be best described as 5 star, top notch, over the top "Unpretentious Luxury".
The minute you get on the speed boat to head to the island, you are encouraged to take off your shoes and be bare feet the entire time. The staff quickly confiscates your shoes and in turn hands you over a welcome drink for the quick and beautiful 20 minute speedboat ride. Their "No Shoes, No News" policy makes you feel like you are entering a home sanctuary. When you arrive, you start to really notice all the details that have been carefully crafted yet blend in seamlessly. All materials used are natural ( many of them being built on the island itself), there is no plastic, everything is sustainable and they even have their own organic garden where they grow a lot of their own food and herbs. The sustainable luxury theme is felt in every element of the resort and really brings you a calmness and peace – like you are one with the island.
The "barefoot luxury" concept paired with the unparalleled service that you receive from the staff makes this place one of a kind. Not only is EVERY staff member you meet incredible but each guest is also assigned their own private butler also known as your Mr. Friday. Your Mr. Friday is on call for you anytime during your stay. They can pick you up should you choose not to bike, they make reservations for you and can even take the kids off your hands for an hour or two should they have the time!
The island itself is also the perfect size. It is easy to bike around and explore every nook and cranny there yet at the same time each spot feels very private. Our favourite spot on the island was "Palm Beach" where it feels like you are in a garden of Palm trees. We zipped through them all on our bikes and then also found ourselves swimming in this area quite often. PERFECTION! The water color is some of the best in the Maldives too – this is a fact. Loving the island you are on is especially important in the Maldives since you are pretty much not leaving during your stay and at Gili's -even if you could leave to explore a local restaurant or beach- you would not want to.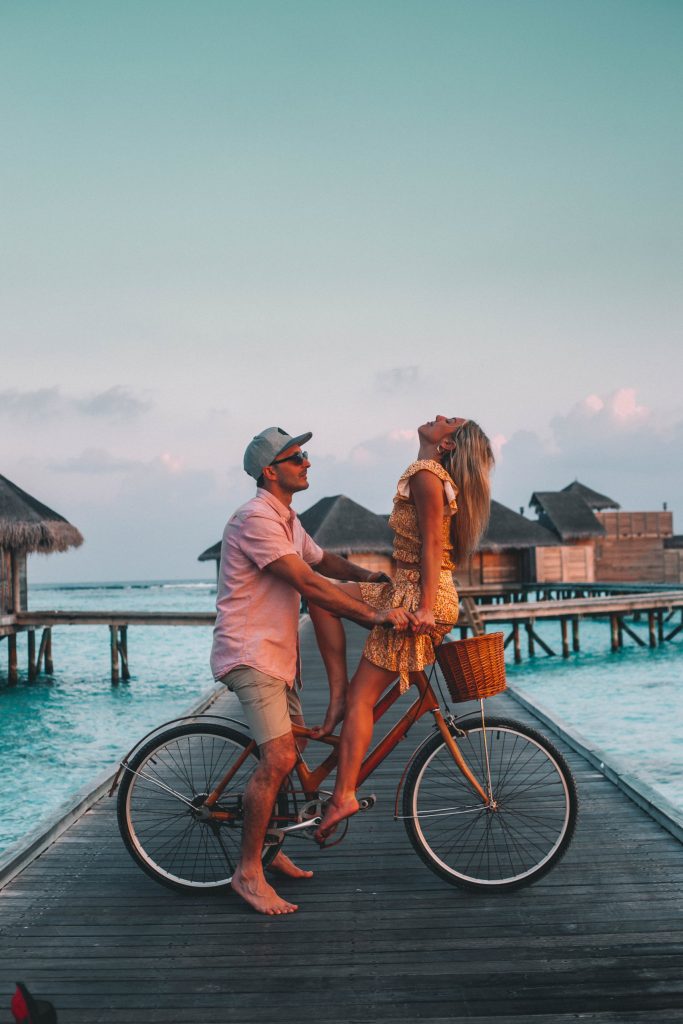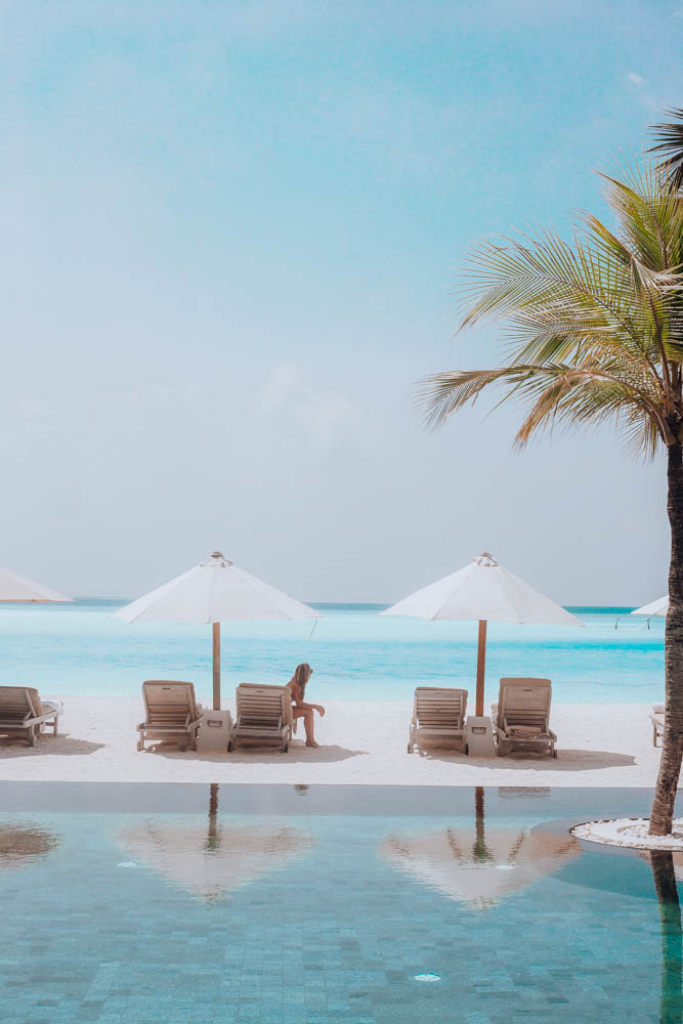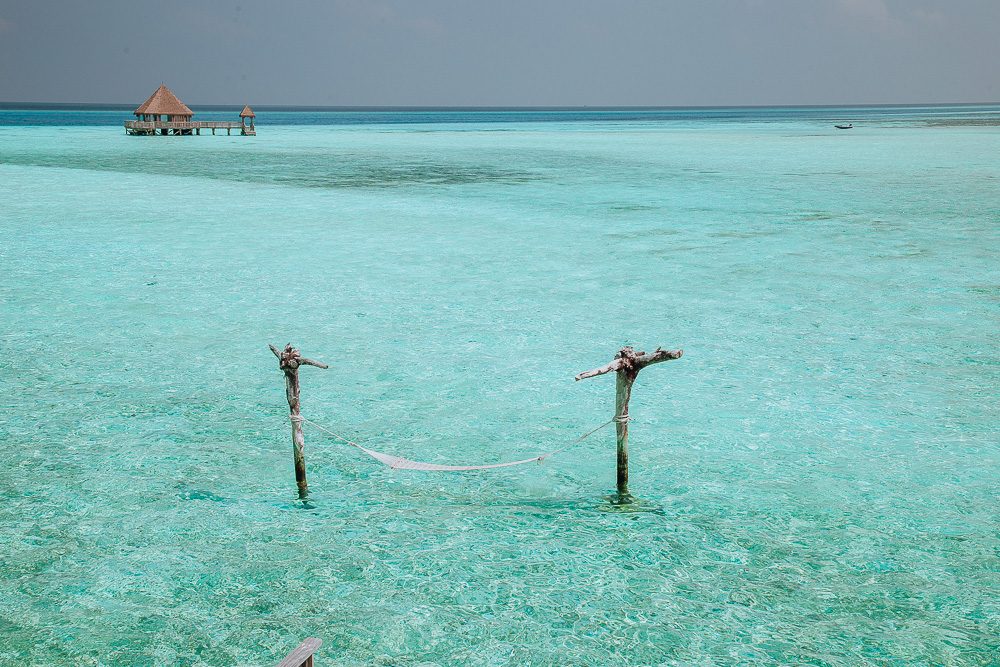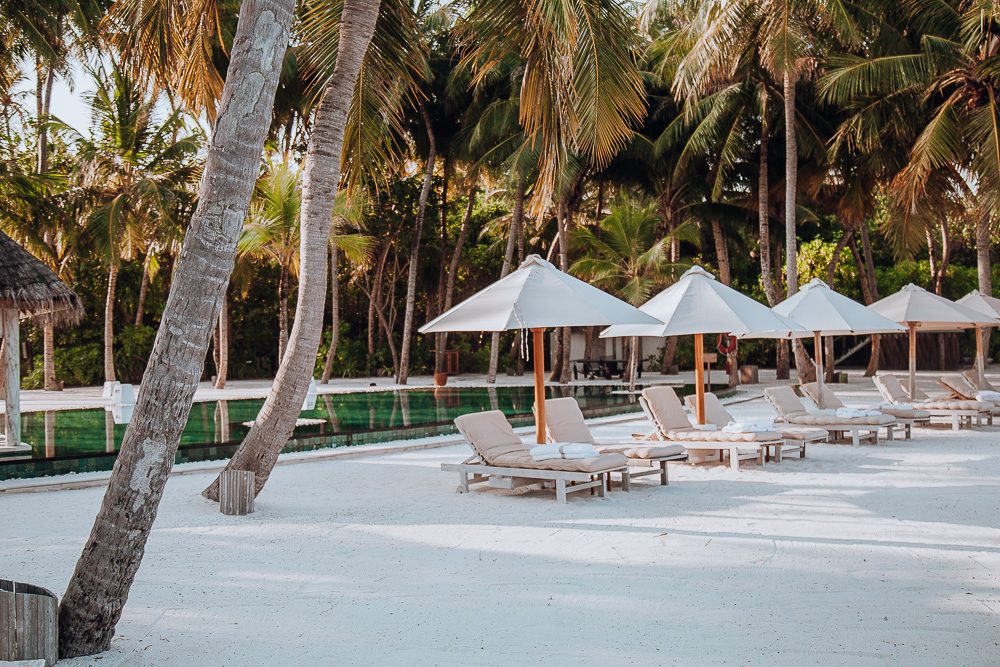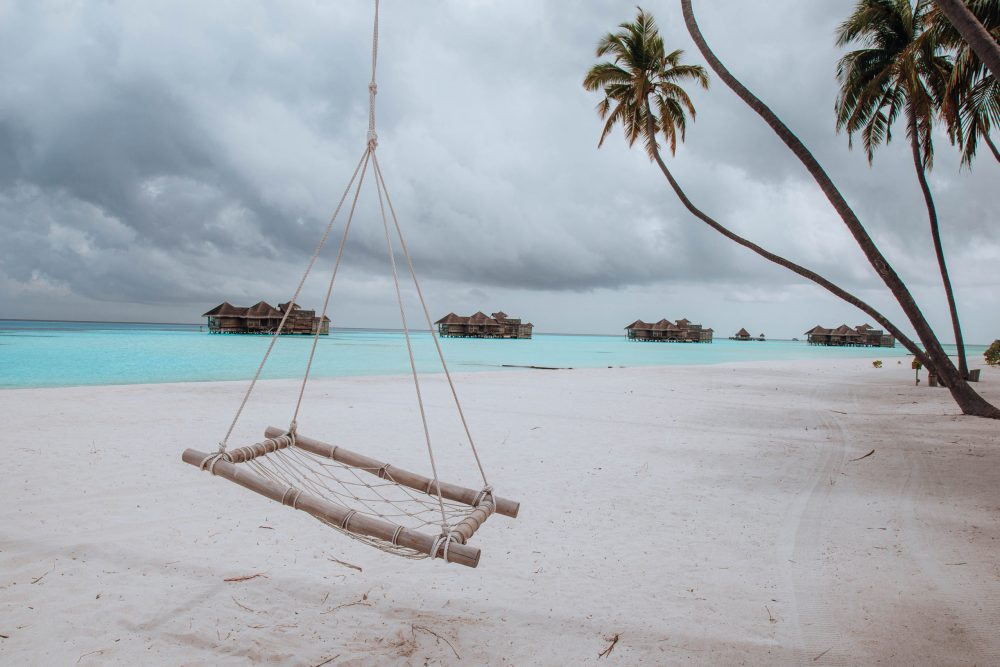 THE VILLAS: BEST IN THE MALDIVES
At Gili Lankanfushi, each villa is designed with the utmost attention to detail.  All of the 45 villas are located over water and offer open air living spaces and private roof decks where you have multiple view points of the bright turquoise water that is seriously some of the best in the Maldives. 
We had the option to stay at one of their brand new pool villas ( #30) and it was easily the best room we have ever stayed at in our lives! 
With over 2260 square feet, you truly feel like you have endless spots to kick back and relax. The main level has a separate bedroom space (with full air conditioning), a bed lounge and desk space if you wish to hide from the sun and your massive two sink bathroom space leading to your outdoor private shower.  Let's not forget the stand alone tub in the bathroom where I spent a good portion of time relaxing! The deck area is also expansive with lounge chairs, hammock net, glass floor panels offering a glimpse into the islands boosting coral life and of course the full plunge/infinity pool. The upper level roof deck gives you incredible view points of the island and waters. It includes a full bed up there ( where you can actually choose to sleep under the stars one night if you wanted), table and lounger! Adding a child or two into these Villas would still give you plenty of space!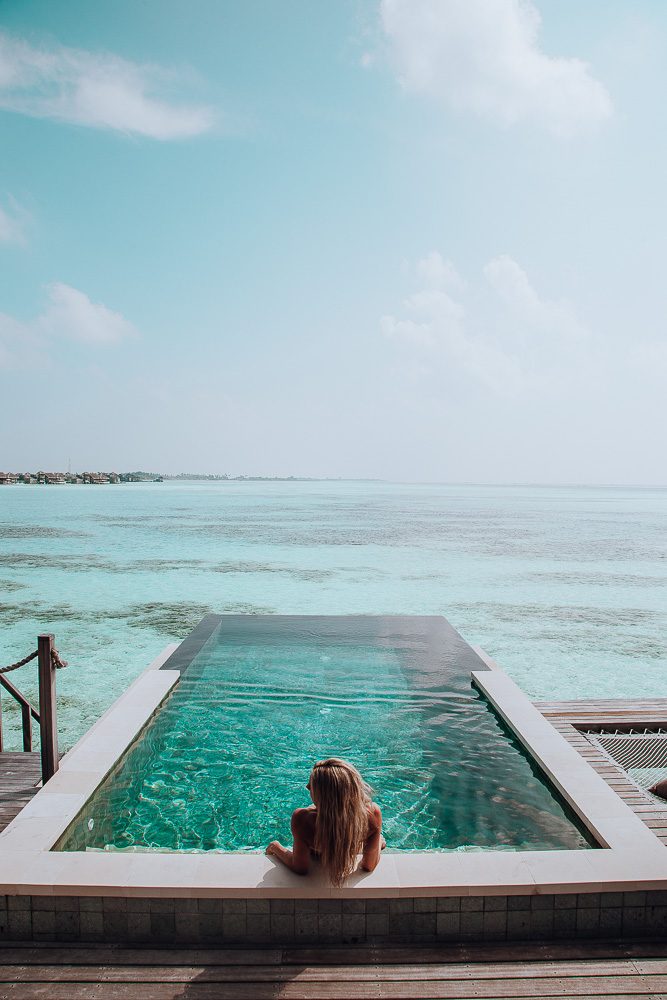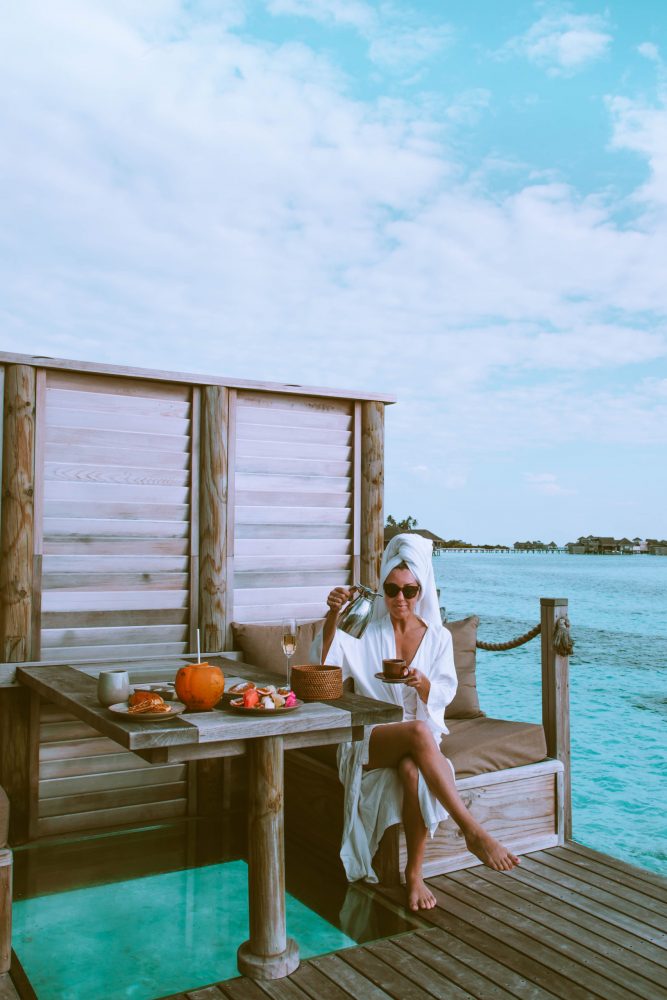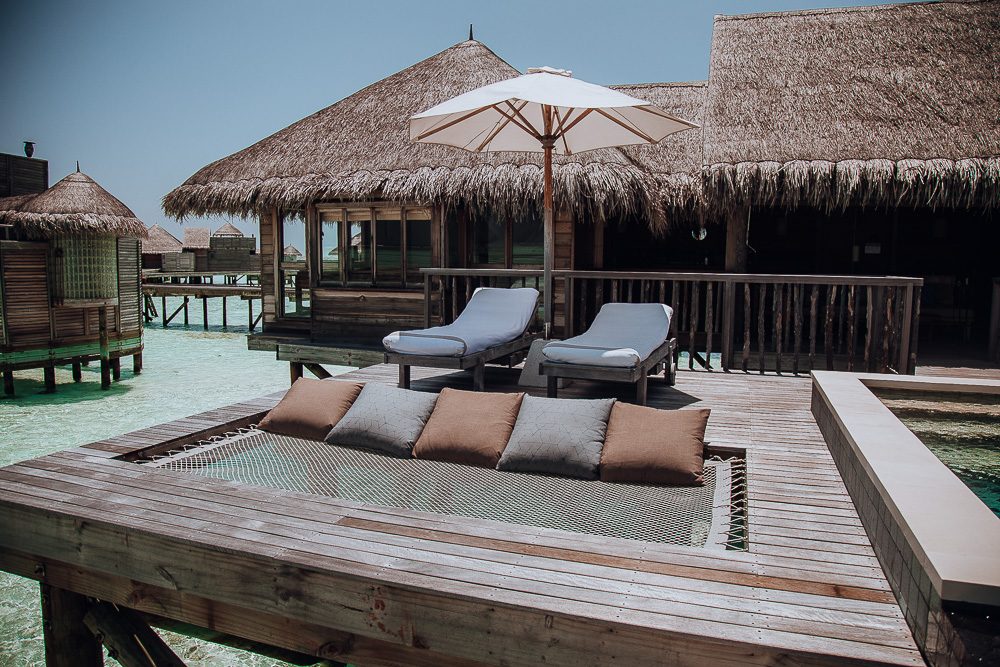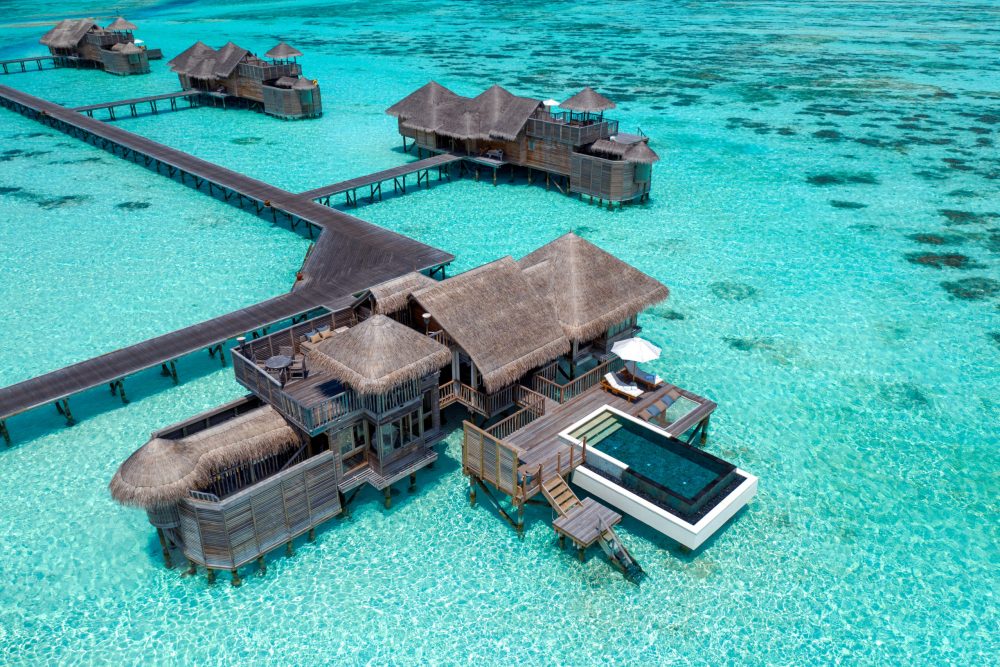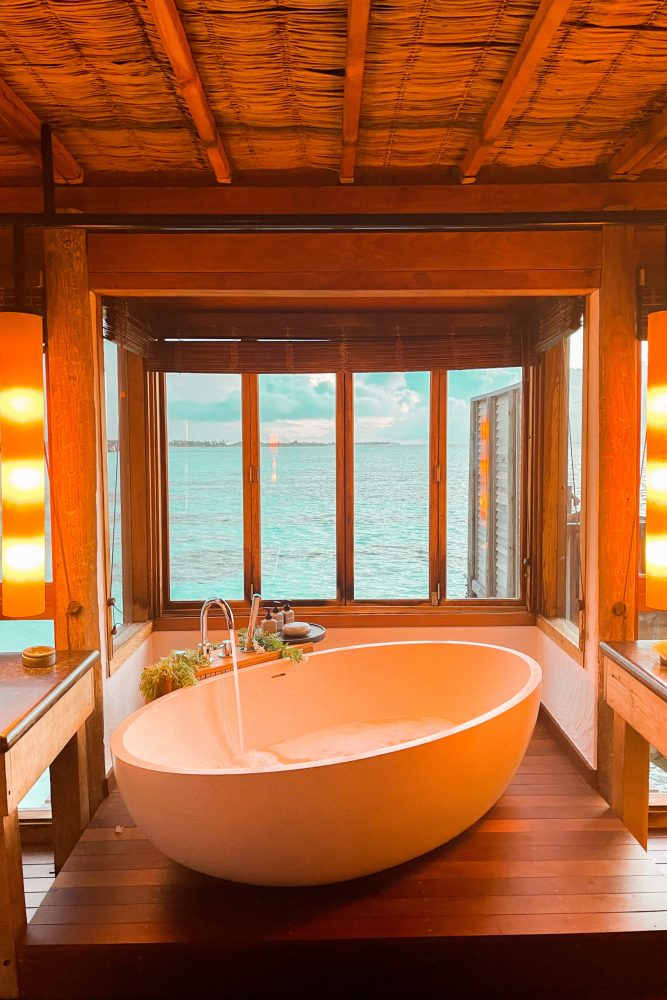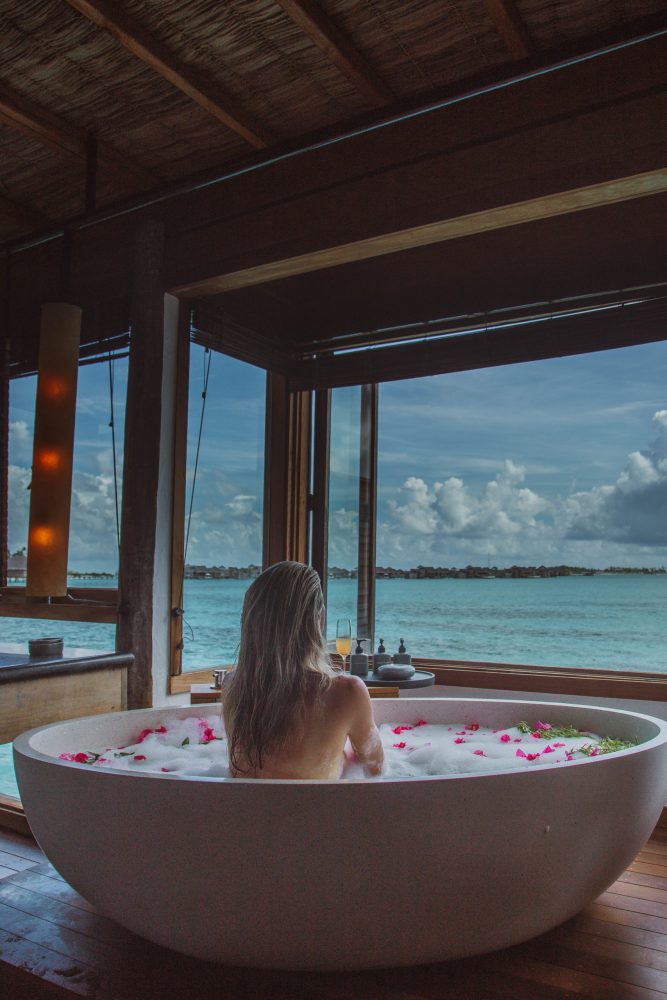 If you feel the need for more space, they also have their Family Villas which features 2 separate bedrooms OR a Crusoe Residence Villa which is extremely private as these villas are only accessible by boat!
Of course if you want to go ALL out, Gili Lankanfushi is also home to the world's LARGEST overwater villa called "The Private Reserve" ( or as I like to call it….MANSION!) at 18,000 square feet. YES REALLY! We had the chance to visit the Private Reserve when we visited our first time and let me tell you- it was INSANE! Even just spending the day there was an experience like no other. I think I went down the water slide about 2389 times.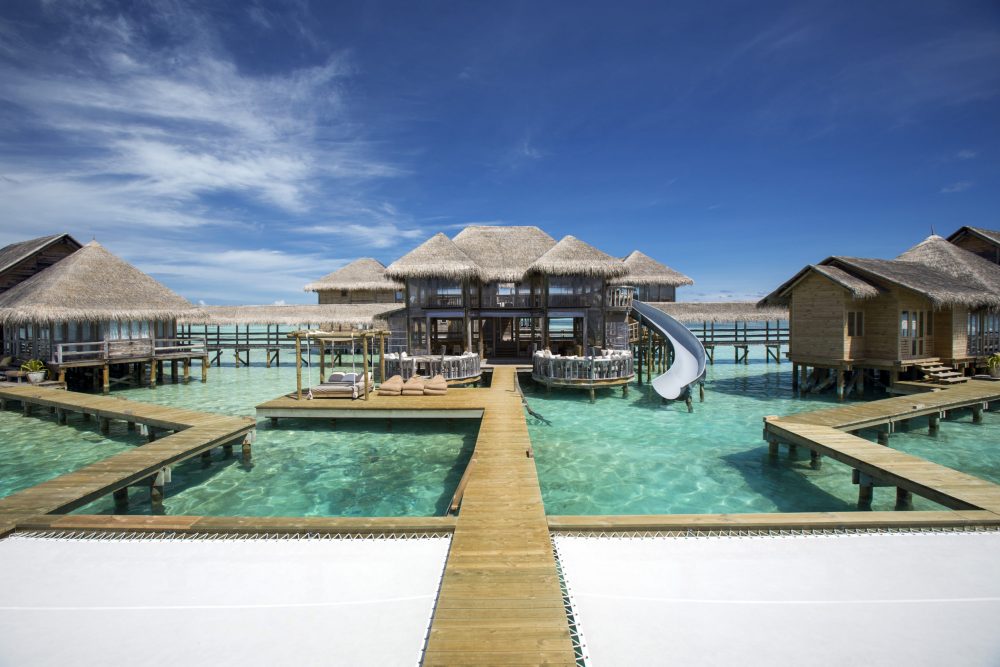 THE DINING AT GILI LANKANFUSHI
One of the main draws of staying at Gili's is the amazing culinary experience you will have at EVERY SINGLE MEAL. Every one. The attention to detail, quality of ingredients, and service is second to none.
The cuisine will whet your appetite with fresh offerings filled with local produce and fish, while the extraordinary settings will leave an indelible impression.
One of the main things that blew me away on our first morning was the personalized menus we received at breakfast with our names on them. So many of the staff members also know your name and being greeted in such a way sets the tone for your culinary journey there. You feel like you are having a private, personalized meal every time.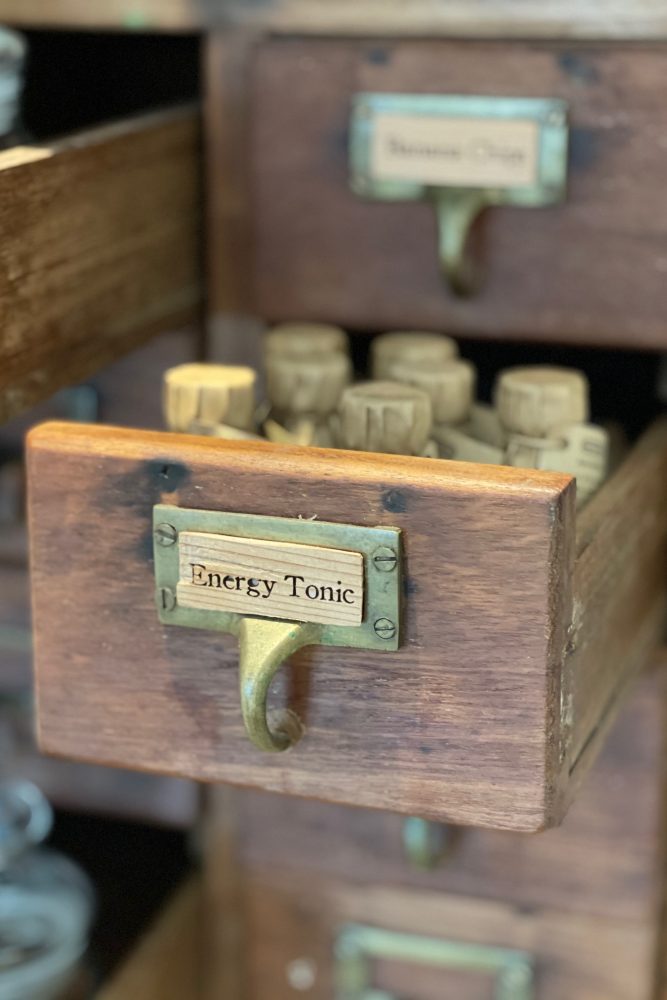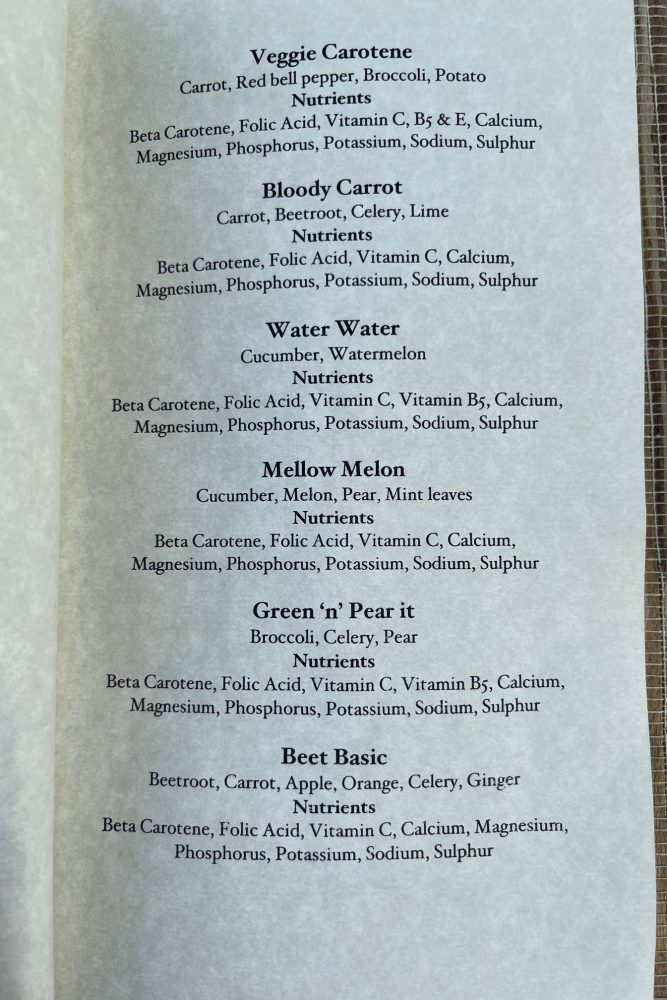 Opening the menu that first morning, I forgot how extensive their breakfast options were! I am talking pages and pages of healthy juices ( all made fresh) and health tonic shots aiding in any sort of ailment. With us travelling during COVID, we had a Warm Immunity Booster cup every morning and when we moved to our next destination, I felt empty in the morning not having it which had me thinking, "Should I just move to Gili's?"
Next to the main restaurant itself is where the in house organic garden is. A lot of their dishes include fresh herbs grown right here and it is truly remarkable to see the effort they have in making every meal so fresh.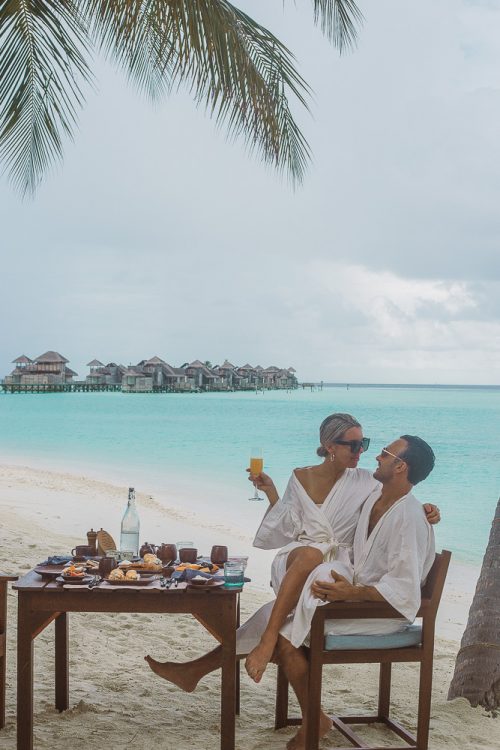 The culinary journey you will embark at during your time there leaves you speechless night after night. We found ourselves saying things like "Ok that was the best meal" only to repeat the same line the following night.
While every meal was something to remember, if we HAD to pick- our favourite experiences were:
SUSHI DINNER AT ABOVE THE SEA: Extraordinary setting where you are perched up in what feels like a luxe Jungle treehouse. The fresh and unique sushi offerings will be leaving your stomach very satisfied. THEY EVEN HAVE A WASABI MARTINI!! Do yourself a favour and try that out for me
ASIAN STREET MARKET NIGHT: Set up in the Kashevali restaurant area, the space is transformed into a bustling street market featuring popular yet unique dishes from neighboring places like Thailand, Sri Lanka, India and more! With live music going from the in house musician to live chefs behind each of the market huts, you are truly taking your senses on an experience for the night!
LUNCHES AT THE OVERWATER BAR: A new addition since the last time we visited was the "Hari's Superfood" menu which features bright, vibrant and HEALTHY creations. If you are looking to stay on track on vacation or are plant based, this variety will certainly please you. We also veryyyy much enjoyed the fish tacos one day! Another favourite of ours forsure. The biggest problem during our whole stay was trying to figure out what to order at lunch because the options were endless. I also do not have many food photos from this portion of our trip because we devoured everything so quickly!!
STAND OUT FEATURES & EXPERIENCES: WHY IT IS THE BEST ISLAND IN THE MALDIVES
#1. COCKTAIL MENU AT OVERWATER BAR
With prime viewing spots for Sunset, the Overwater Bar is the perfect place to kick back at the end of the day while sipping on THE most delicious cocktails you can imagine. The drinks were so good that we even found ourselves enjoying 1 at lunch one of the days! The drink menu is extensive, crafted with local flavours and even served up with mouth watering canapes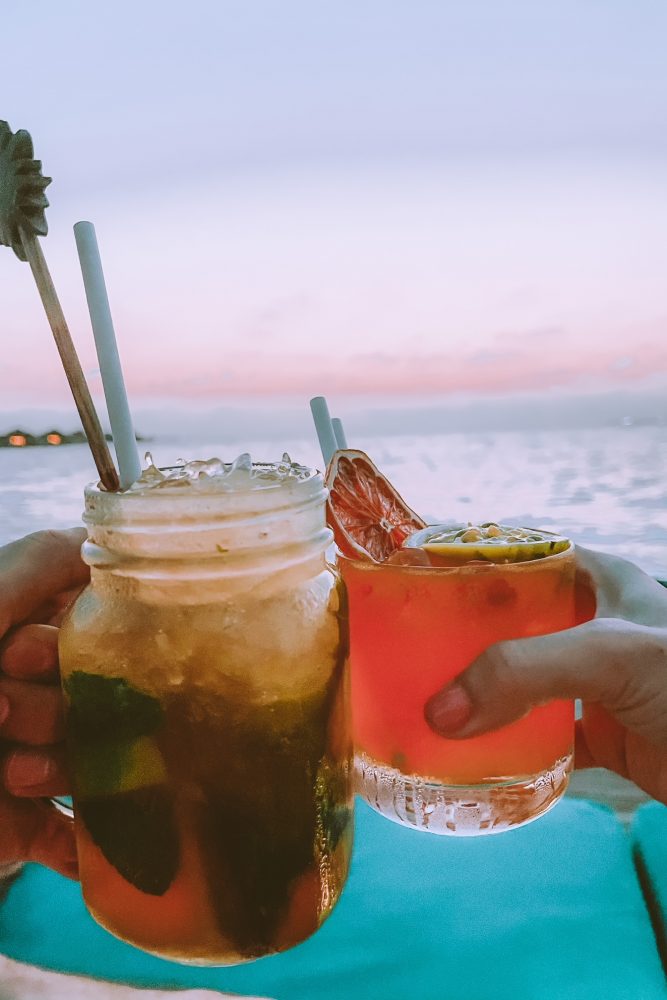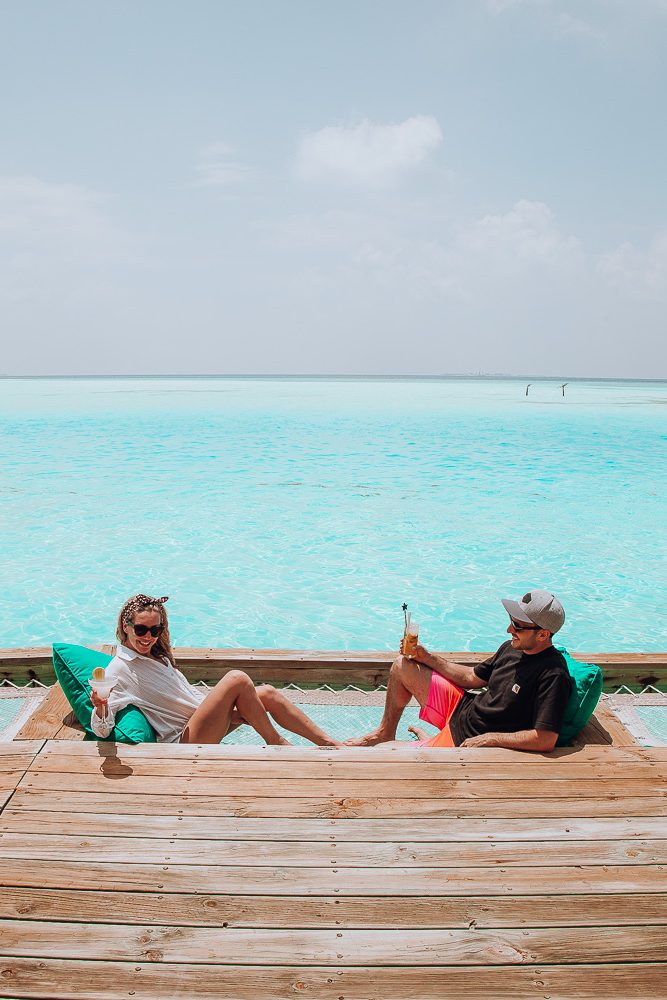 #2. JUNGLE CINEMA AT GILI LANKANFUSHI
Picture yourself in the jungle, cozied up in a secret location watching your favourite flick! The Jungle Cinema is offered as a complimentary amenity for guests once a week! You also can book a Destination Dining experience there and either have your dinner there or rent it out privately for the night where it comes occupied with popcorn and other goodies! We definitely thought of Chloe with this one as we know she would be SO excited to watch one of her favourite films in this setting. This experience is truly magical for both kids AND adults!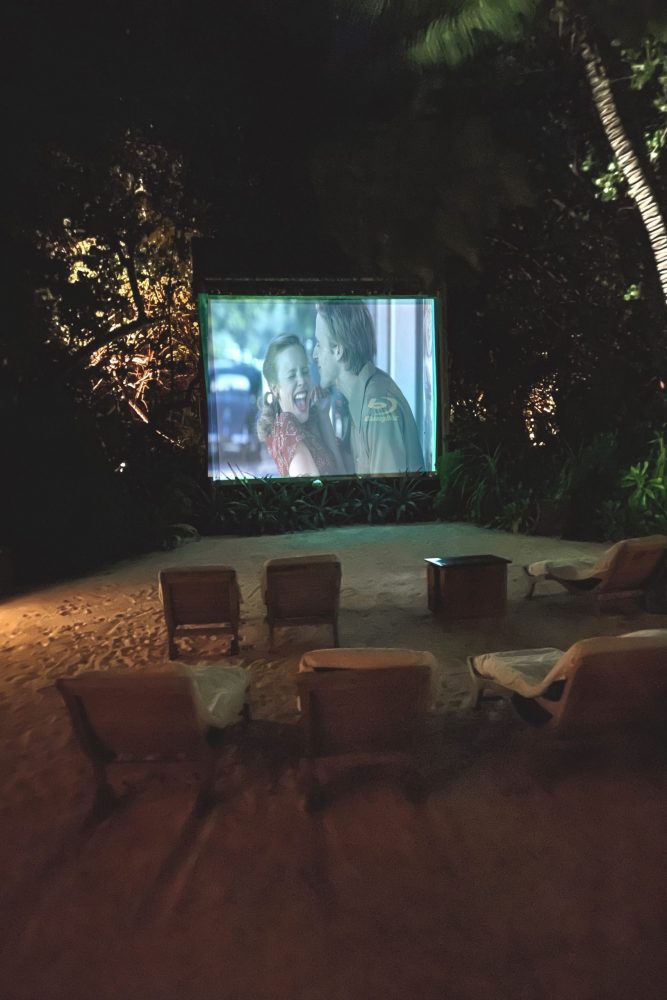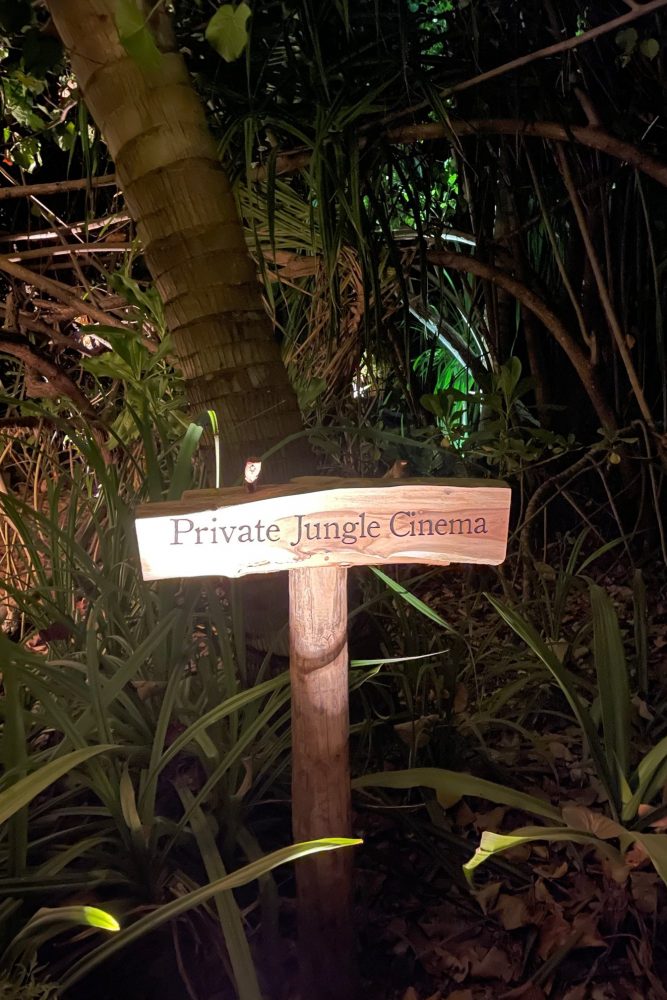 #3. UNDERGROUND WINE CELLAR
We decided to do the "Wine & Chocolate Pairing" experience one rainy afternoon here and we were SO glad we did! With over 3,000 wines housed inside here, you can easily and quickly see that the Gili's Wine Menu is one filled with enough options to satisfy any wine lover! The chocolates that are paired with the wine are all made in house. With flavours like pistachio to unique ones like Curry Raspberry, the chocolates were equally as enjoyable as the wine. This is definitely well worth the price tag ( and pretty reasonable if you ask me for what you get!)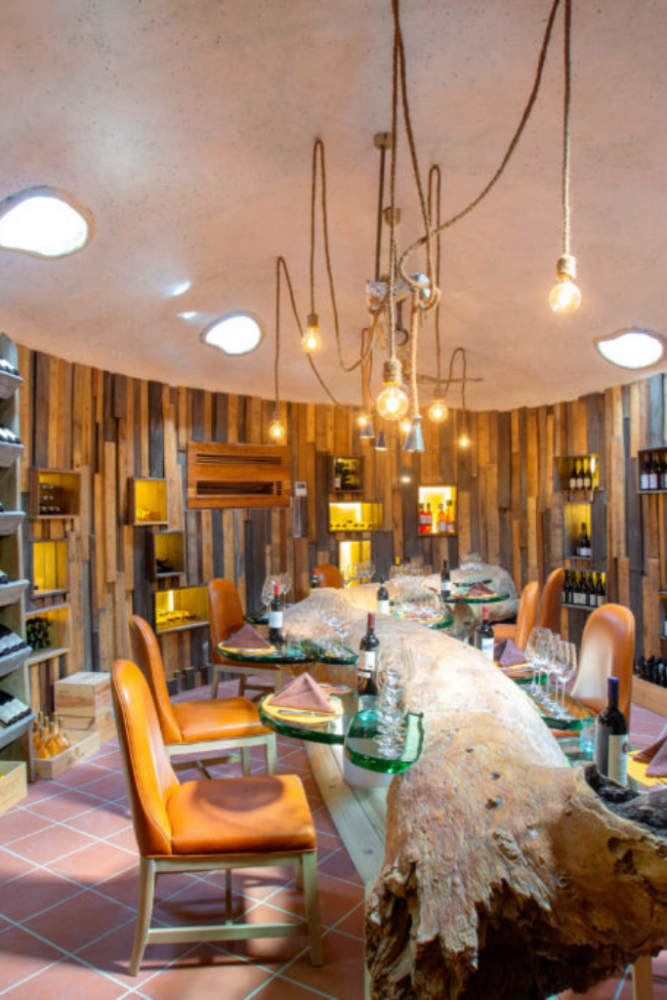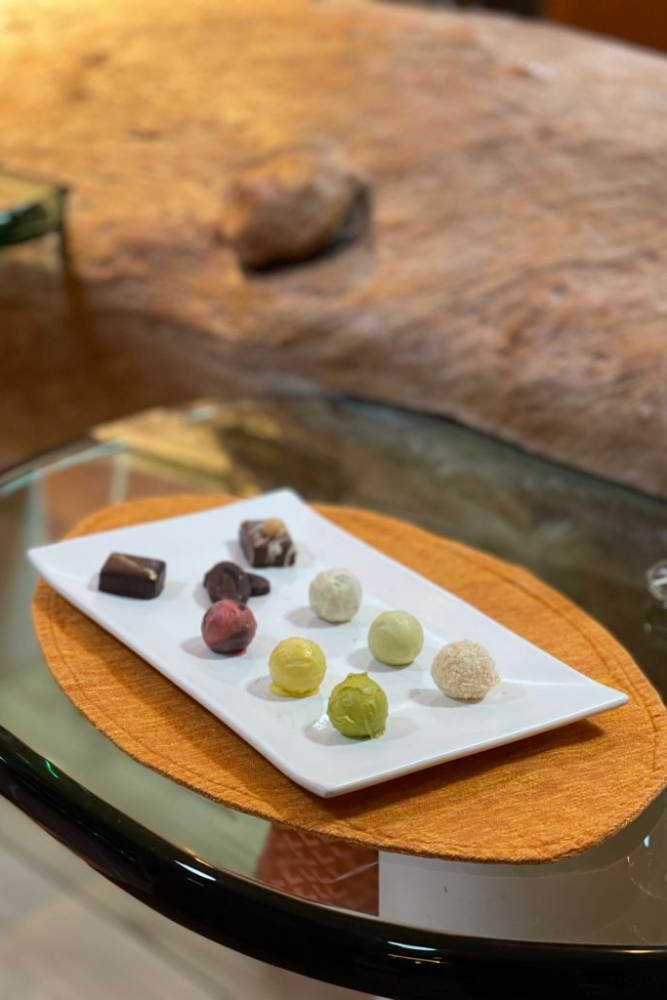 #4. FLOATING BREAKFAST
Someone asked me if they felt the upgrade to a pool villa was something I would recommend or felt was necessary. Our last villa didn't have a pool and we felt that it got us into the ocean more exploring the beautiful ocean water surrounding us. However! After experiencing a pool villa, I have to say it was absolutely nice to have and definitely worth the extra money if you are debating it. One of the reasons why I loved it so much too was because you have the option of doing a "Floating Breakfast". You can arrange this through your Mr. Friday and all ordering is done the night before. In the morning, the team sets up this extravagant breakfast RIGHT in your pool. It was a bucket list moment for me and we actually enjoyed it for hours!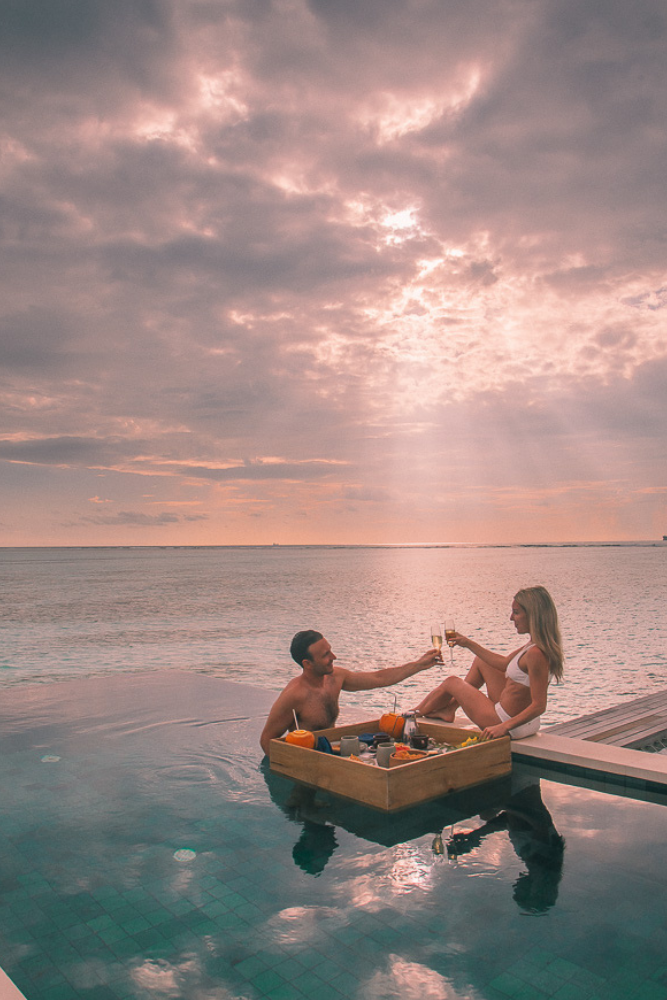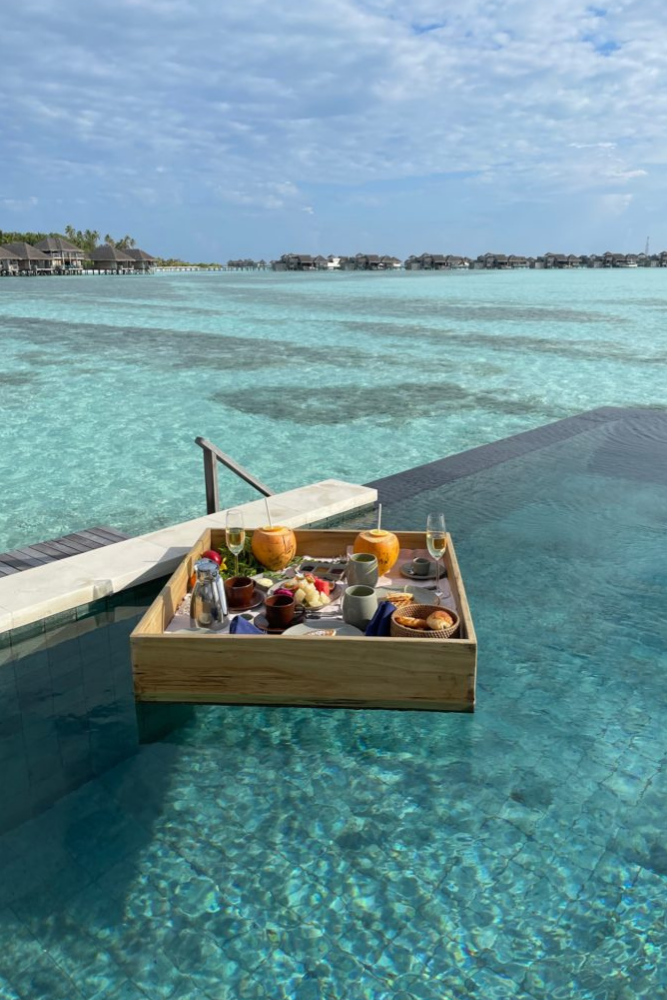 #5. SNORKELLING
You will truly have an unforgettable experience if you book a snorkeling session with in house Marine Biologist Tiana. The underwater world at Gili's felt like a scene from Finding Nemo. The variety of fish and coral life left me speechless and really makes you appreciate the nature surrounding you. What makes it incredibly special above all this is that they have created the "Coral Line Project" where they rebuild endangered coral pieces and protect them. The nursery boosts over 160 lines now and is monitored often by the "Gili Veshi" team. We enjoyed our post snorkeling visit to the Gili Veshi hut where we learned a bit more about the sea life. I would definitely recommend visiting this hut especially if you are bringing the kids!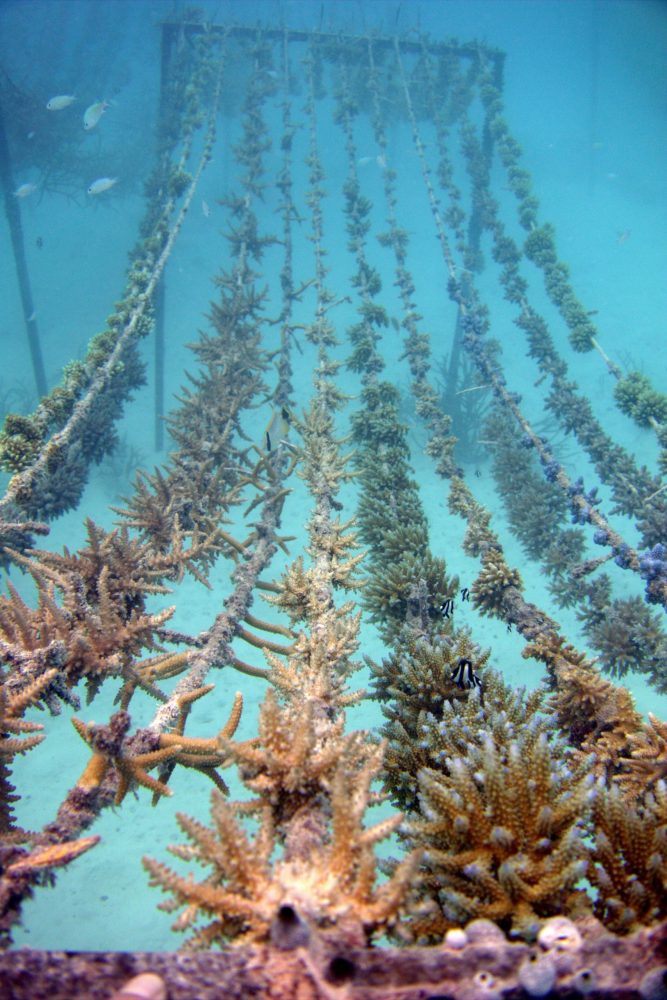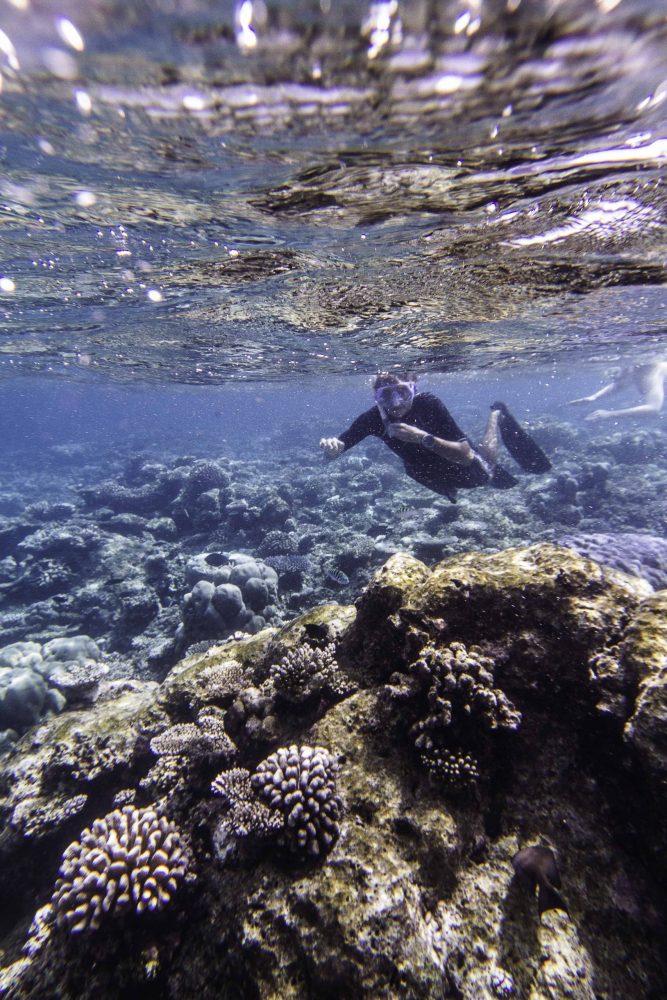 Whatever activities you choose to do, whatever you decide to eat or how you choose to spend your day, there will be one thing that is a guarantee: Gili's will win your heart over no matter what!
The resort prides themselves in the notion that you will "Arrive as a guest, leave as friends and return as family" and I can whole heartedly say this is 100% true. In fact, many of their guests are return visitors! It's not often you find yourself a place where you feel so welcome AND where the standards are so high.
Someone asked me if I am going to try another hotel in the Maldives eventually and after visiting so many luxury spots all over the world through my job, I feel there is no need to try another spot. I already know it's the best of the best and there's no place like "home"