While the red rocks of Sedona are large and in abundance, the resort and hotel options in Sedona are a little more scarce. There are a ton of mid range options and Air Bnb's but there are not many hotels or resorts that check all the boxes and have a luxurious feel to it. Thankfully I found a place that had it all though- The Amara Resort and Spa– right in center of Sedona.
Located in a prime spot – just in front of the Oak Creek river, the Amara Resort & Spa features a modern and contemporary atmosphere with added bonuses like an infinity pool, 5 star restaurant and on site spa. Check, check, check!!
Looking to visit similar places? Check out some of these posts!
THE GROUNDS AT THE AMARA RESORT & SPA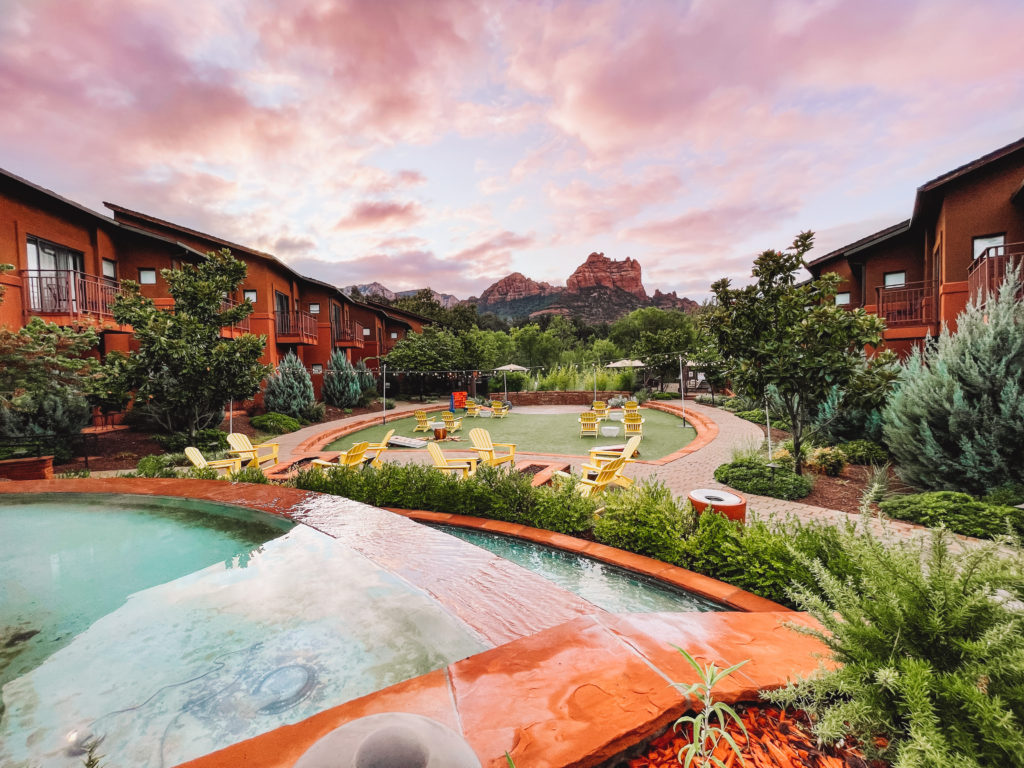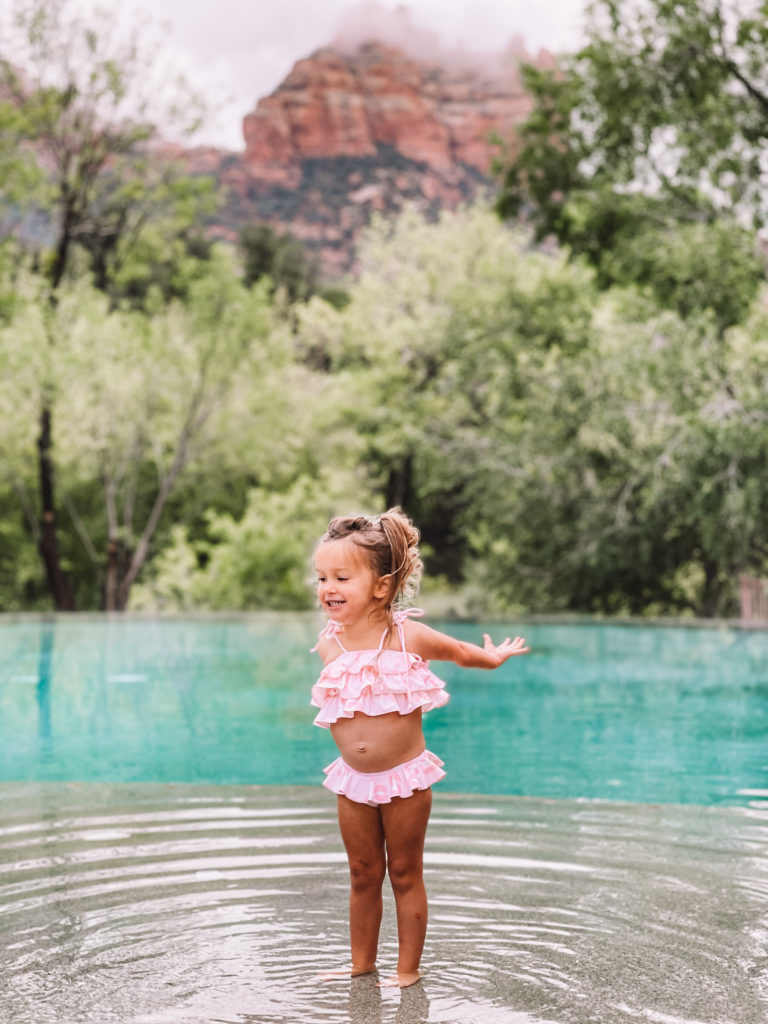 The Amara Resort & Spa sits directly in front of a beautiful red rock…meaning you really don't even need to leave the resort to take in Sedona. I mean, I suggest you do but you really can feel the energy of the mountains right from the hotel pool! Despite having a bit of rain during our time there, we still enjoyed the heated infinity pool which is the focal point of the resort. The outdoor temperatures were a bit on the colder side and because of that the pool let off a good amount of steam and it added to the beauty of it all. So inviting!
Another reason you don't need to leave the resort is because they have an onsite restaurant called Salt Rock which features breakfast, lunch and dinner menus. Our stay included daily breakfast and omg- it was certainly some of my favourite meals I had on our entire trip.
Dishes I highly recommend: the Acai bowl, the Steel cut Oatmeal bowl, the Waffles and the Huevos Rancheros Breakfast. They also have a delicious smoothie menu which I indulged in each day. The restaurant has an indoor dining section along with an expansive al fresco patio area attached. We enjoyed breakfast in our robes one morning outside and it felt so cozy.
We also hung out in this area at nighttime and the ambience was just incredible. Picture string lights, bonfire pits and Muskoka chairs all situated in front of the infamous Sedona red rock…all while the sun was going down-so dreamy!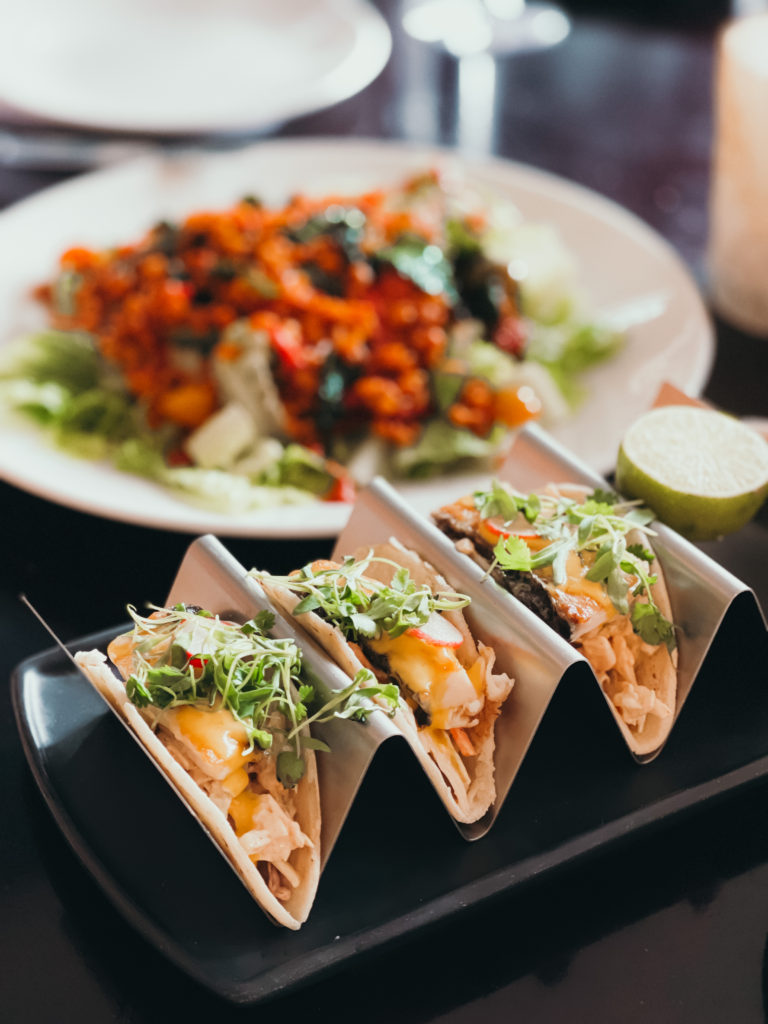 .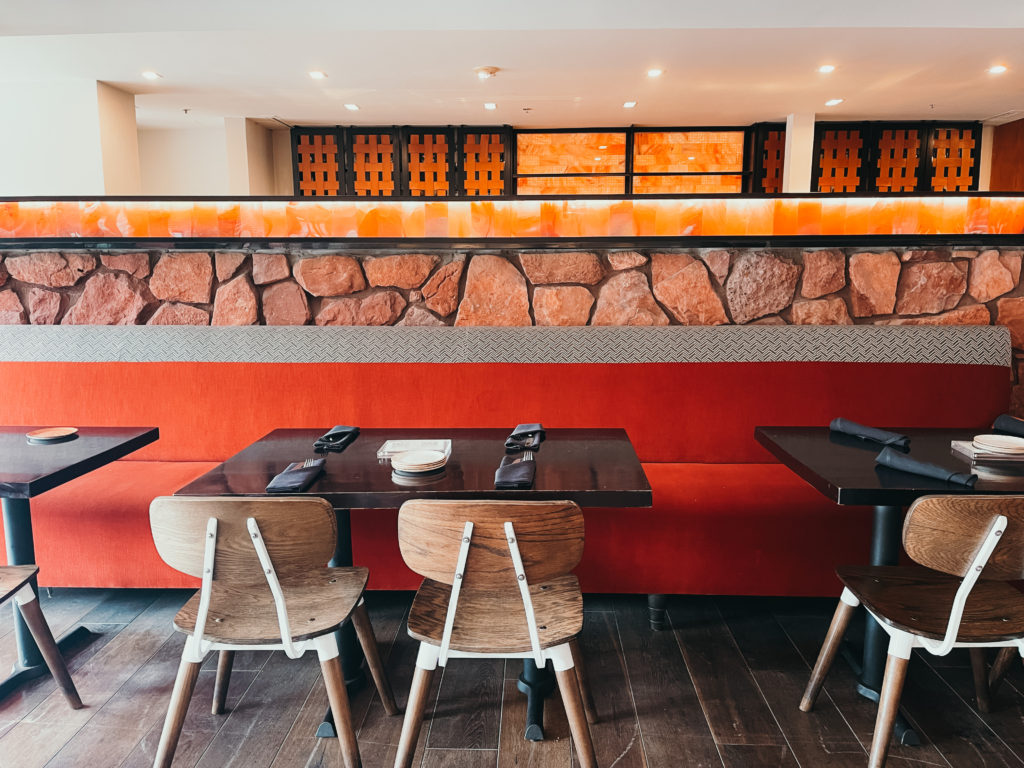 The Amara spa facilities are directly across from The Amara Resort's main building and I was lucky enough to receive one of their signature facials. It did not disappoint. Make sure if you go, to book your treatment ahead of time as they often book up well in advance and you do not want to miss out on it let me tell you! The Amara Spa features lots of salt rocks, dim lighting and relaxation chairs for you to rest on pre-treatment
In addition to the stunning grounds, Amara also has a ton of amenities should you wish to use them. For starters, it is super pet friendly! There is a sign at the front of the lobby that welcomes each and every furry friend that is staying there. They have dog treats and water bowls too.
Amenities we took advantage of: the daily valet service as we were often in and out for some hikes. One morning I set out at 5AM and was shocked that they even had someone at that hour! They also have a shuttle that brings you into town. My daughter especially loved zooming up the hill in the golf cart ( she thought it was a ride) and my mom- who has some hip issues- most definitely appreciated this too.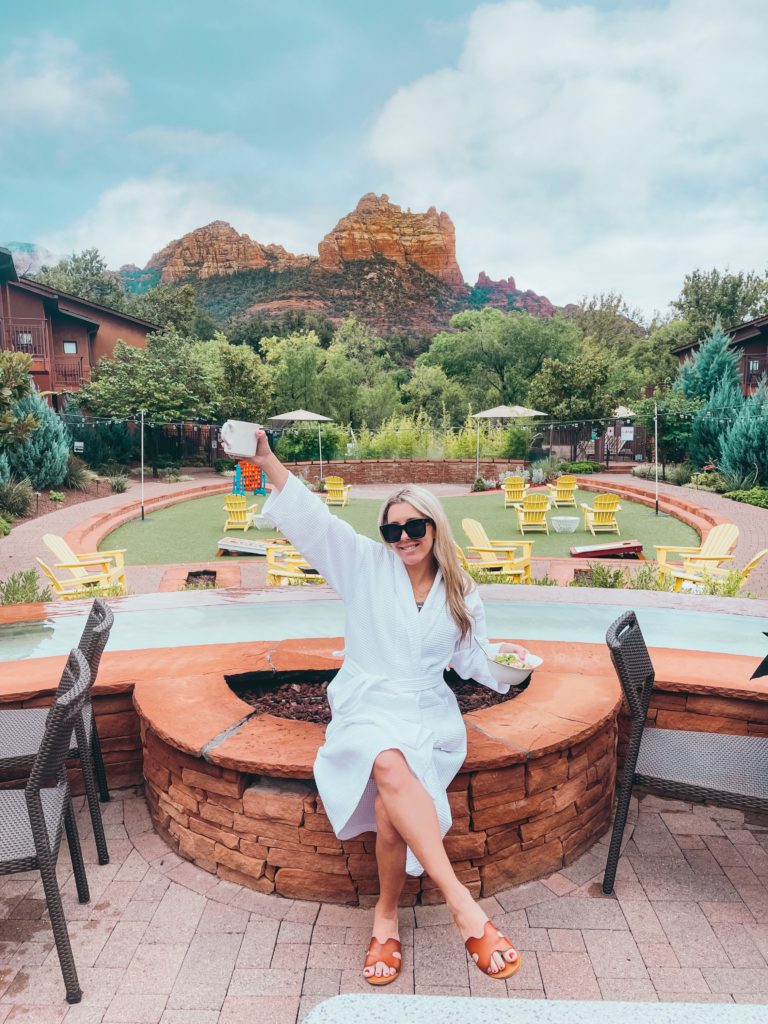 THE ROOMS AT THE AMARA RESORT & SPA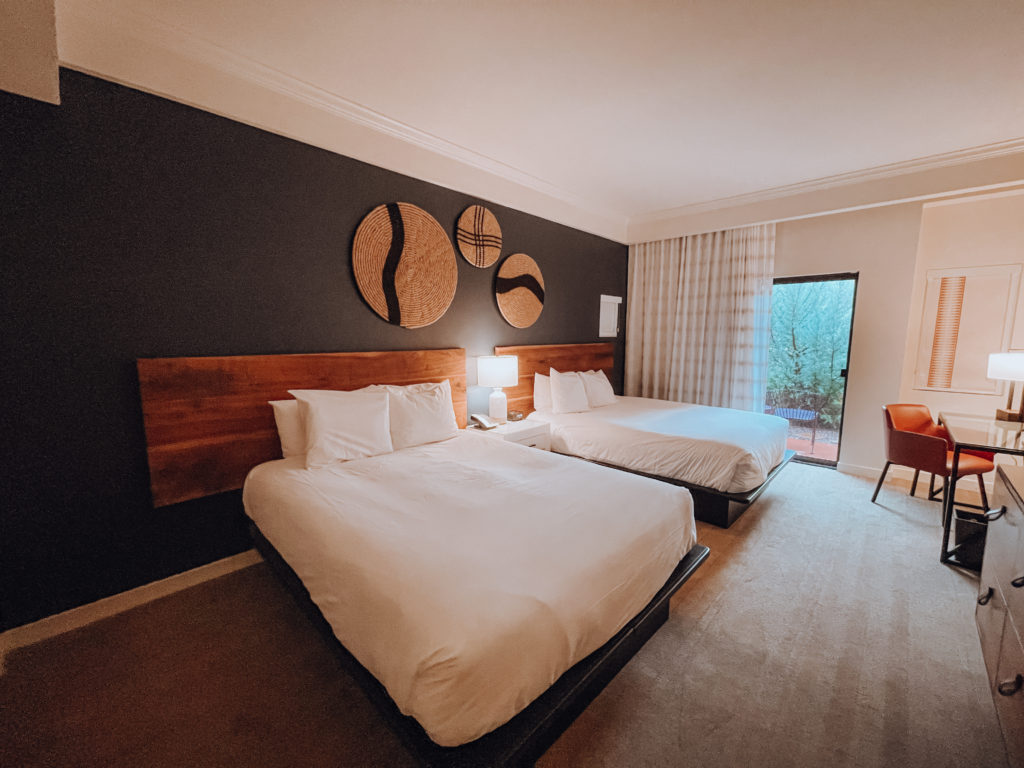 The Amara Resort & Spa, as of May 2021, embarked on a multi million dollar renovation project. The new concept of the hotel is set to have a "tree lodge" aesthetic to reflect the area's natural surroundings. We were lucky enough to get a newly renovated room that definitely brought that concept to life.
The wooden headboards are made and crafted from local trees in the area while modern decor accents still give you that contemporary design element that the Amara has always been known for! It also featured leather dresser handles, eclectic artwork from Sedona itself and a HUGE closet ( pretty much like a walk in closet) for all your stuff. We put all our luggages in here and it was so nice because it felt like the room was bigger!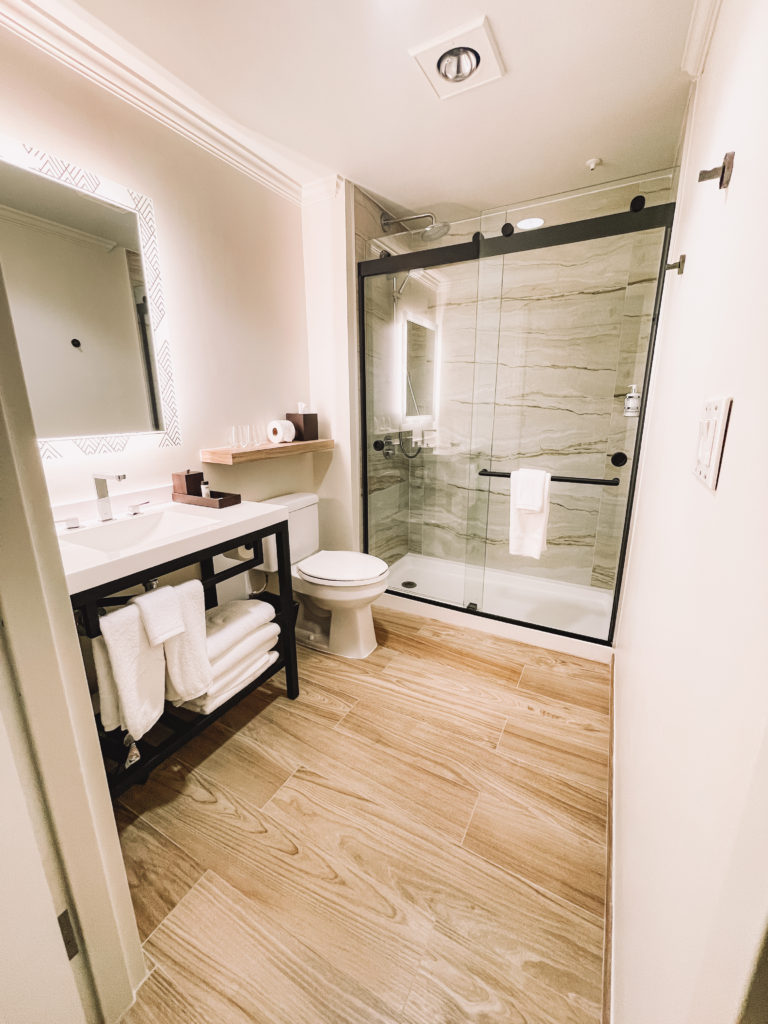 My favourite part of the room though was the bathroom. The sleek marble in the shower and the black finishes throughout made me feel like I was pretty fancy. Having a beautiful bathroom like this after a long day of hiking was so enjoyable. I think I took a 20 minute shower one day. The room also comes with Robes so you can slip right into one afterwards and continue to relax.
Lastly, the views from the rooms can not be beat here. We opted for a ground level floor since we were travelling with Chloe and were lucky to be right by the pool! Requesting a room that faces the courtyard/pool, will give you the views of the stunning red rocks each day.

IMPORTANT TIDBITS ABOUT THE AMARA SPA + RESORT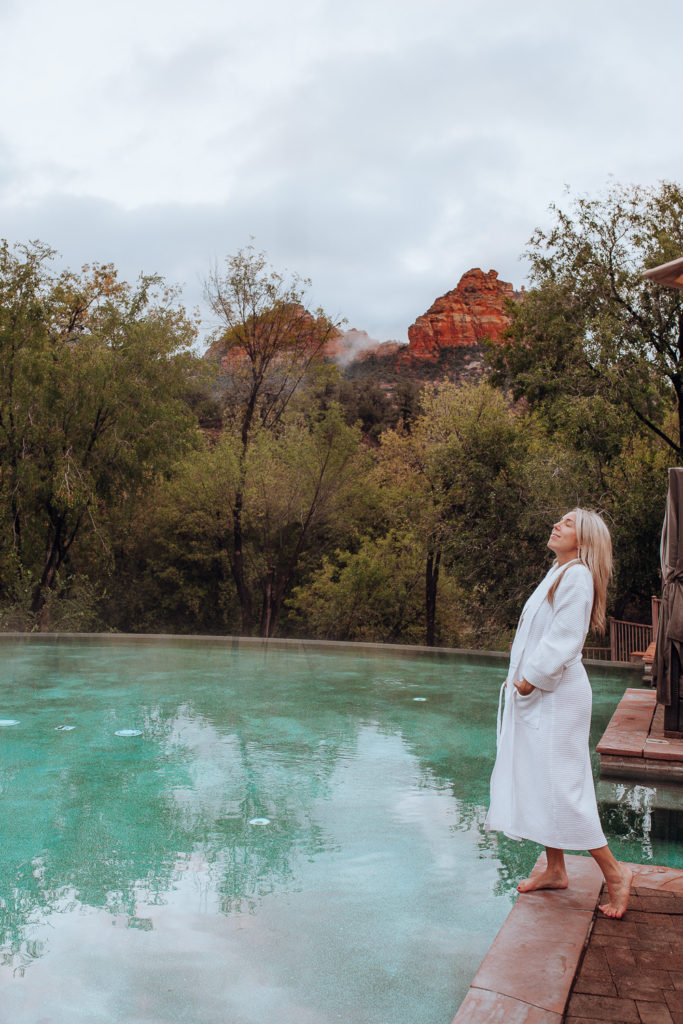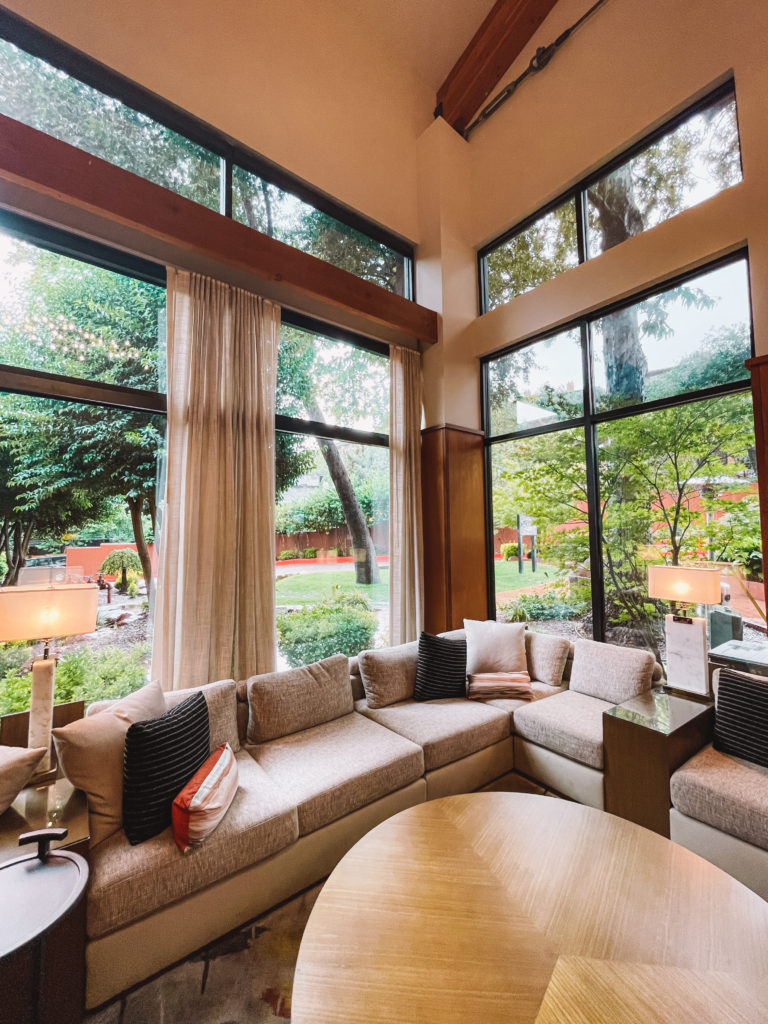 | | | | |
| --- | --- | --- | --- |
| PRICE | Rooms range from $350 CAD and upwards depending on room type and the season | MINI BAR | Yes! |
| WIFI | Yes | YEAR OPENED | 2003 and was originally owned by Kimpton Horels |
| POOL/GYM/SPA | Pool/Full Service Spa called Amara Spa/Gym | LOCATION | Located right in the heart of downtown Sedona |
| CHILDREN | Yes! There are TONS of kid friendly activities on site like life size connect four and shuffle boards to play with. The pool was also very enjoyed by Chloe | RESTAURANTS | Yes. 1 full service restaurant. Room service all day. |
PIN IT