My mom and I wanted to plan a girls getaway where we could bring along my daughter Chloe as well! On our list of must haves when choosing the destination: Hot temperatures, good food and restaurant scene, poolside lounging and overall culture!
We decided on Arizona and narrowed it down to the specific city of Tempe! Located a hop, skip and a jump away from Phoenix, Tempe is easily accessible! You can essentially land from your flight and be at your hotel sipping on a margarita in under an hour. When travelling with a 2 year old…or travelling at all, this is KEY!
The city itself is home to Arizona State University which boasts one of the most beautiful campuses around ( more on that later) but the city is so much more than just a university! It is a lively, energetic and happening place with gorgeous cacti and palm trees everywhere you look! Often overlooked by its neighbors Phoenix and Scottsdale, Tempe is a place you do NOT want to miss. I'm breaking down all the must see spots so you can have the perfect weekend in Tempe!
HOW TO GET THERE
FLYING: Phoenix Sky Harbor International Airport is the nearest major airport and it is 10 minutes from town! We flew from Toronto on a direct flight which will run you 4.5 hours. Air Canada and WestJet have direct flights there several times a week. You can also travel from Buffalo to Phoenix on Southwest which is a very affordable option too!
DRIVING FROM SEDONA – Pairing your Tempe trip with a few days in Sedona was what we did and I highly recommend it! It is a short 2 hour drive on one main highway pretty much!
WHERE TO STAY
There are a ton of accommodation options in Tempe so you won't have a problem finding a place to crash! The city has everything from budget friendly options to family friendly resorts to hotels that are geared towards the business traveler. Having the airport so close makes it a hub for endless hotel options.
We chose to stay at the quirky and hip Graduate Tempe and we are sure glad we did. Located just steps away from the ASU Tempe campus and Mill Avenue, staying here made us feel like we had everything at our fingertips! In addition to having a killer location, this eclectic boutique hotel is perfect for design lovers. If you didn't know- my husband and I are really into mid century design and aesthetic, and this hotel was all of that plus more! I spent a good hour just roaming around taking in all the unique details that make this hotel so special. Everything was curated so perfectly – they even have desert themed carpet! While we did spend most of our time in Tempe exploring the city itself, we were thankful for the on site pool that cooled us off each day when we got back. They also have a very cool restaurant on site that is situated right next to the pool so you will have no issue getting yourself a cold beverage if needed!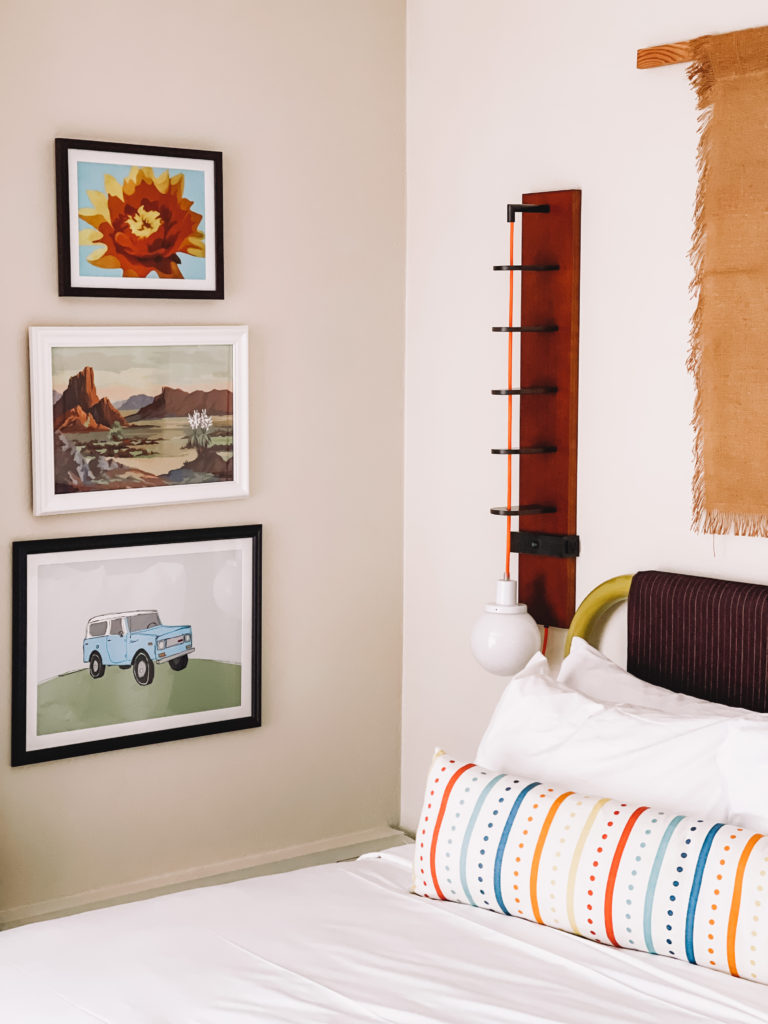 OTHER PLACES TO STAY AT:
–Canopy by Hilton Tempe Downtown is a beautiful hotel located in the vibrant downtown district. The interior design was inspired by the spirit of the Southwest and is complemented by modern accents that pair together perfectly! This hotel has a gorgeous rooftop pool where I am sure many stunning Tempe sunsets can be seen!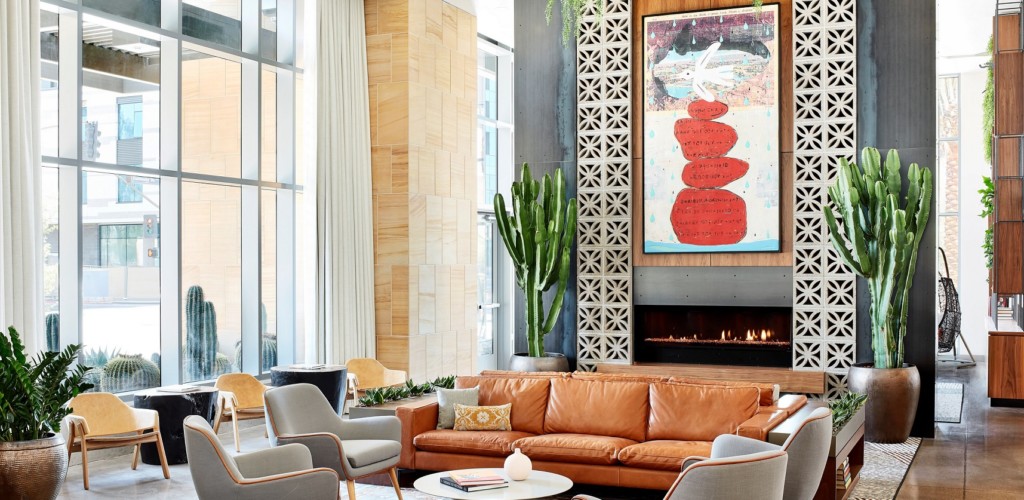 –The Westin Tempe is another great option if you want to stay somewhere brand spanking new! With views of "A" Mountain, proximity to downtown and a happening rooftop lounge, it checks all the boxes! The rooms have a modern and contemporary feel to them and if you are a Marriott Bonvoy member, you can collect points here since it falls under the Marriott umbrella!
WHERE TO EAT OR DRINK
If there is one thing that Tempe does not have a shortage of, it is good places to eat! You can literally fill up your days just trying out the amazing restaurants around town and let me tell you, we pretty much did just that! Probably gained about 5 lbs in 3 days and I have zero regrets.
BREAKFAST
Having breakfast at Morning Squeeze made me feel like I was on a movie set! It was seriously one of the cutest places we visited in Tempe! Between the retro diner feel and the punches of mid century decor, I must have taken 20 photos before the food even arrived! The place is known for having organic and locally sourced ingredients and you can taste the freshness in every dish. One of their specialties there is the stuffed French toast so I obviously had to try it! After I shared it on my Instagram Stories, a few people thought it was for Chloe. Nope. For me! Everything was absolutely delicious ( my mom got their avocado toast and Chloe got a signature breakfast dish of eggs and potatoes). They also have a signature mimosa flight ( served with 4 varieties of freshly squeezed juice) which I FORSURE would have got if I wasn't pregnant!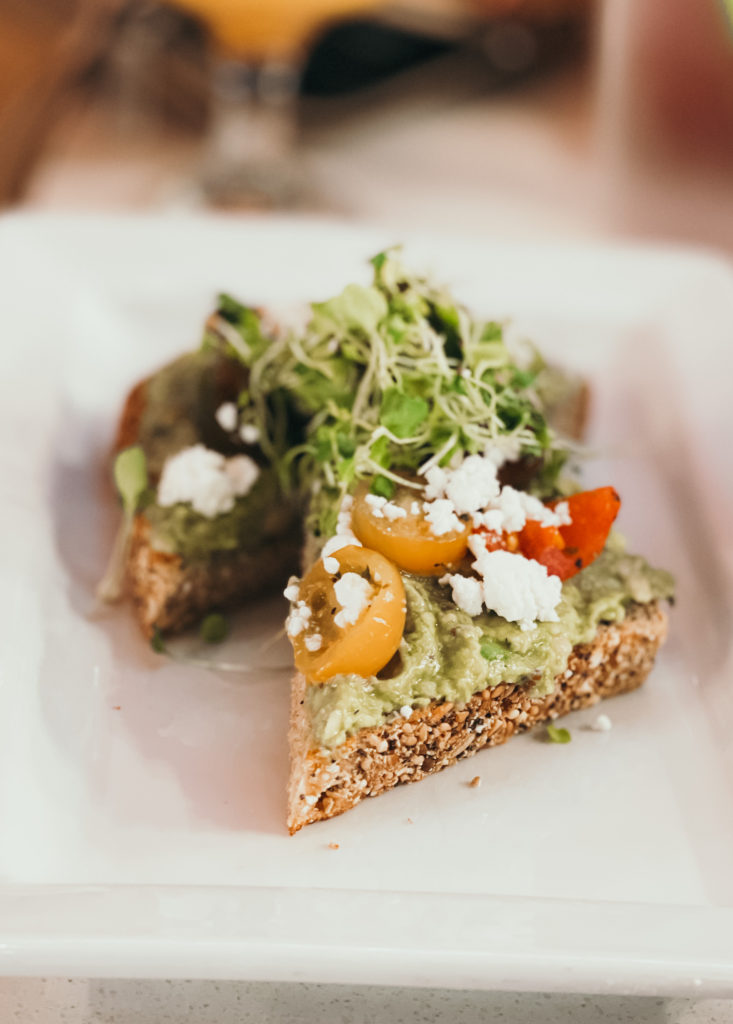 Located right across from the city's famous "A" Mountain, the Daily Jam is a perfect place to grab a quick and casual breakfast. If you do choose to do a morning hike, I would certainly recommend coming here afterwards to fuel back up! One of their most famous dishes is their Red Velvet Waffles and while they looked mouthwatering, I couldn't resist their cereal ones ( they actually have a lot of different toppings/customization options for the waffles!) Chloe and I split this dish but I really wish I got my own!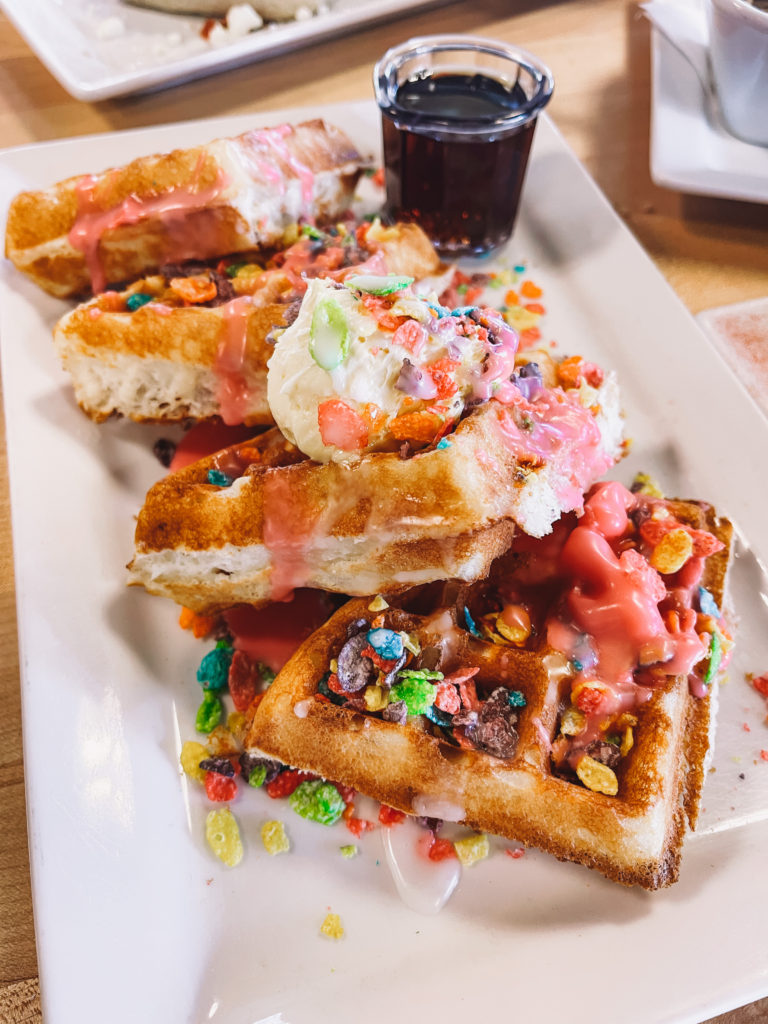 Just looking for a quick brew?
HERE ARE 3 PLACES TO TRY:
LUNCH
One of the days there, we decided to have a big late lunch/early dinner. I was headed to see HAMILTON that night so I wanted to eat something a little more filling. Perfect Pear Bistro is known for healthy American comfort food which sounded like the perfect ( pun intended) place to try! The food did not disappoint. With lots of pasta, salad and sandwich options, it was hard to choose what to get! We opted for the Rigatoni a la vodka, pancetta Brussel sprouts and a killer Greek salad. The atmosphere is so welcoming and inviting as well.
This place is legendary. It originated in Arizona and became so popular over the years that they now have 14 locations- Tempe having one of them! I have seen this place online before visiting and was so excited to try it! It lived up to the hype for sure. With healthy options in abundance like salads, power bowls, smoothies and acai, it will leave you feeling full without any sacrifice on taste. It is truly delicious….to the point that I went there 3 times in 3 days LOL. Once for lunch, once for a quick breakfast before leaving for the airport and once just for a smoothie! Not mad about it at all.
MORE PLACES TO TRY:
DINNER
Looking for a top notch meal during your time in Tempe? House of Tricks is your place. This award winning restaurant has been in business for over 30 years and features a seasonal rotating menu with items like beef tenderloin, arctic char and roasted lamb. Situated in a 1920s cottage, it feels intimate, romantic and cozy. It even has an outdoor fireplace and bar that is surrounded by beautiful vines. We dined al fresco and loved taking in the scene! The dishes were 5 stars and I don't think we left one thing on our plate! Highly recommend the Chocolate Pot de Cream for dessert- best dish I have tried in a while!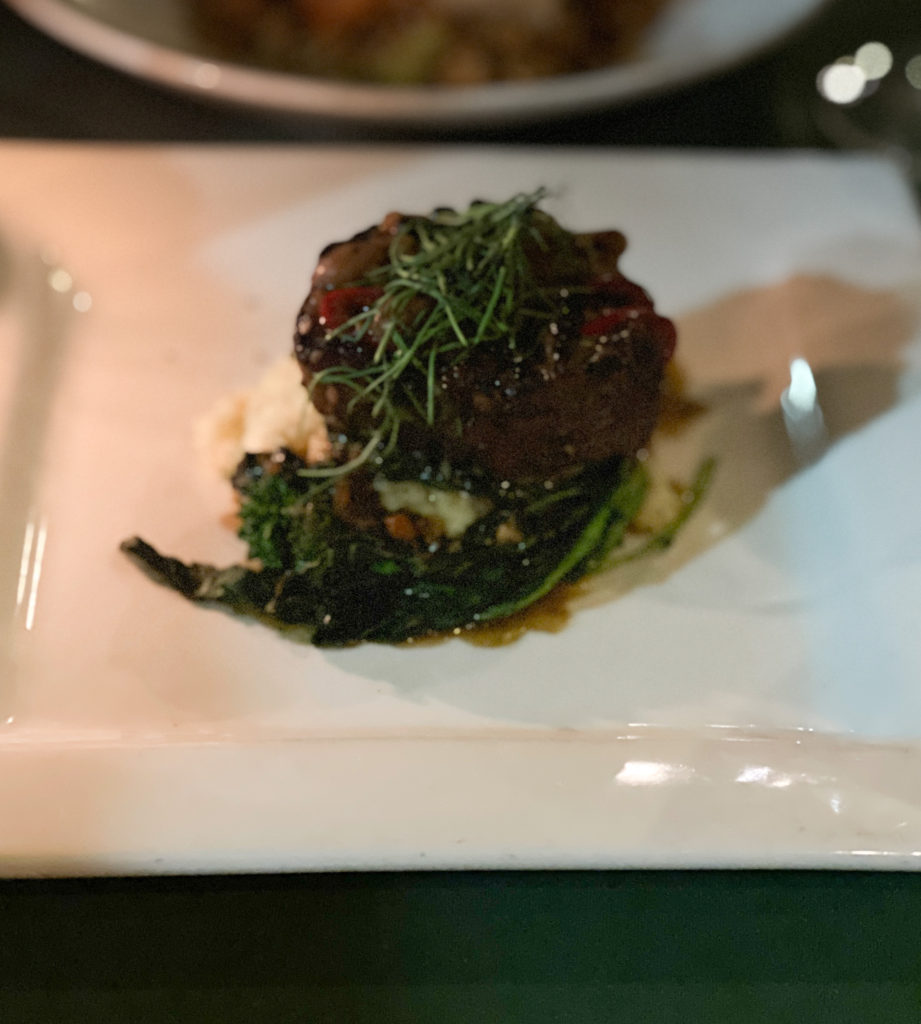 Arizona is known for its Mexican food so you know that getting tacos was a must when we were there! We decided on locally-owned Barrio Queen which can be found at Tempe Marketplace. The interior is absolutely stunning and the food is known as some of the best authentic Mexican food in the area. It features a large expansive patio with over 300 different kinds of tequilas. We saw a margarita flight at one of our neighboring tables ( 3 different mini margs served in a flight dish) and I really wished I was able to try it- it looked phenomenal. The enchiladas, guac and tacos easily took my mind off things though!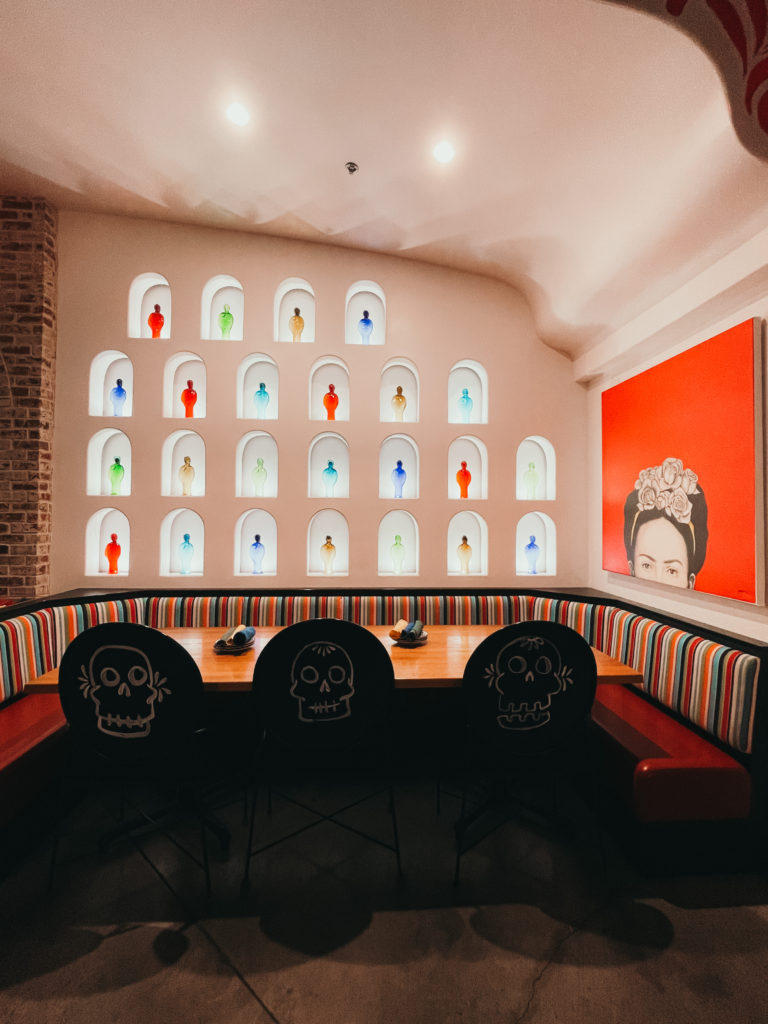 MORE PLACES TO TRY:
SHOP THIS POST
DRINKS:
THE GOLDEN PINEAPPLE: Looking for a pre or post dinner drink? This is your place. The Golden Pineapple- just recently opened- features handcrafted cocktails, an extensive beer list and Baja Mexican style foods if you fancy a small bite as well. The vibe inside feels like an oasis with dimmed lighting, botanical accents and a welcoming bar where you can watch the bartenders perfect your drink. If I lived in Tempe, I know I would be a regular here!
WHAT TO DO
The city of Tempe is ALIVE! At any time of the day, we could feel the action that the city has- people biking, events happening, restaurants filling up. I'm not one to sit idle so I love the endless options for things to do. Just when I thought I checked off everything, I would wind up finding another activity that I would add to the list.
Whatever you end up doing, one thing is for sure: Tempe has a community feel to it. I could easily see myself living there. It has the perfect balance of city living and small town charm. There are activities for every type of traveler too! While we went for a girls trip, I would love to come back and do a trip with my husband. We focused a lot on activities that were kid friendly ( I actually will be doing another post on all the Kid friendly options it has) but there are things to do for the relaxed traveler, the nature lover or the traveler who loves non stop action.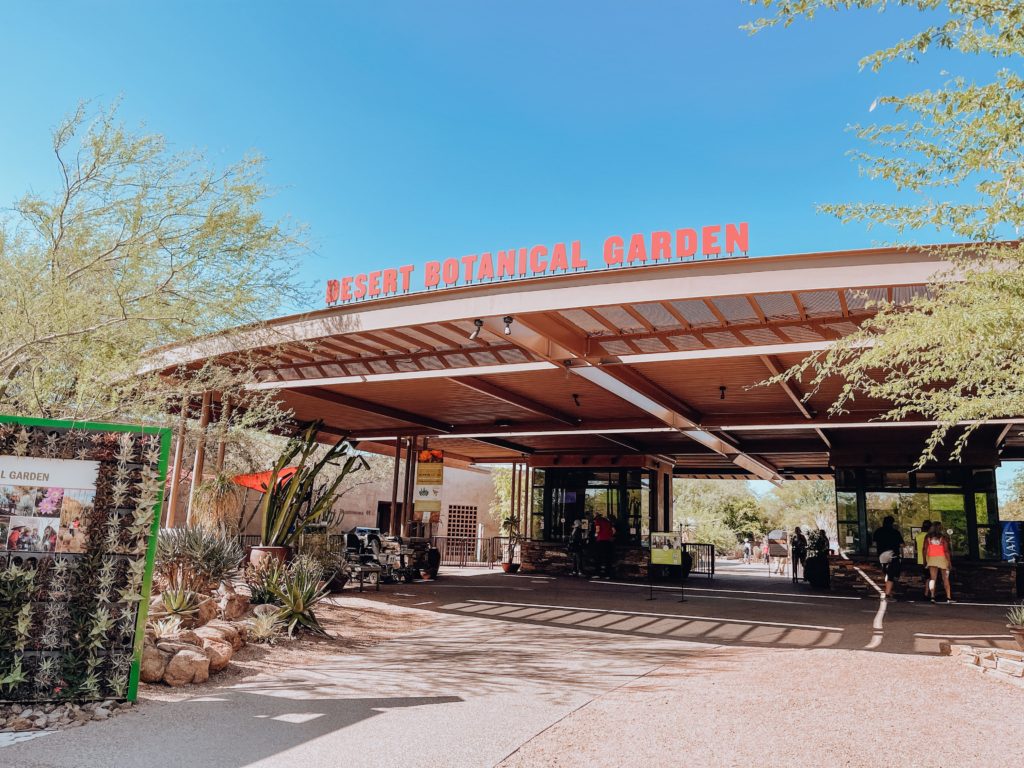 I was excited to visit Arizona for many reasons but seeing Cacti in real life- probably at the top of the list! Visiting the Desert Botanical Garden took my obsession further and made me really appreciate how unique desert landscapes can be. The Garden spans over 140 acres and you can find everything from prickly pears ( also love these) to wildflowers and desert shrubs. Each mini garden features background information on each of the plants and cacti which I also really enjoyed reading about. Chloe's favourite part of the Gardens? The Butterfly Pavilion park!
I was also fascinated by the glass sculptures at the entrance of the Garden. So fascinated that I had to find out more about them! Turns out they were hand sculpted by renowned artist Dale Chihuly. The Desert Botanical Garden actually purchased the pieces so that they are permanent fixtures at the location. Another fun fact I discovered is that sometimes they have special events and exhibits here and sure enough they have a Dale Chihuly exhibit returning in December. Before you visit, check out their upcoming shows ( I also missed a concert by just a few days!! How cool would that have been?) You can see the upcoming line up HERE!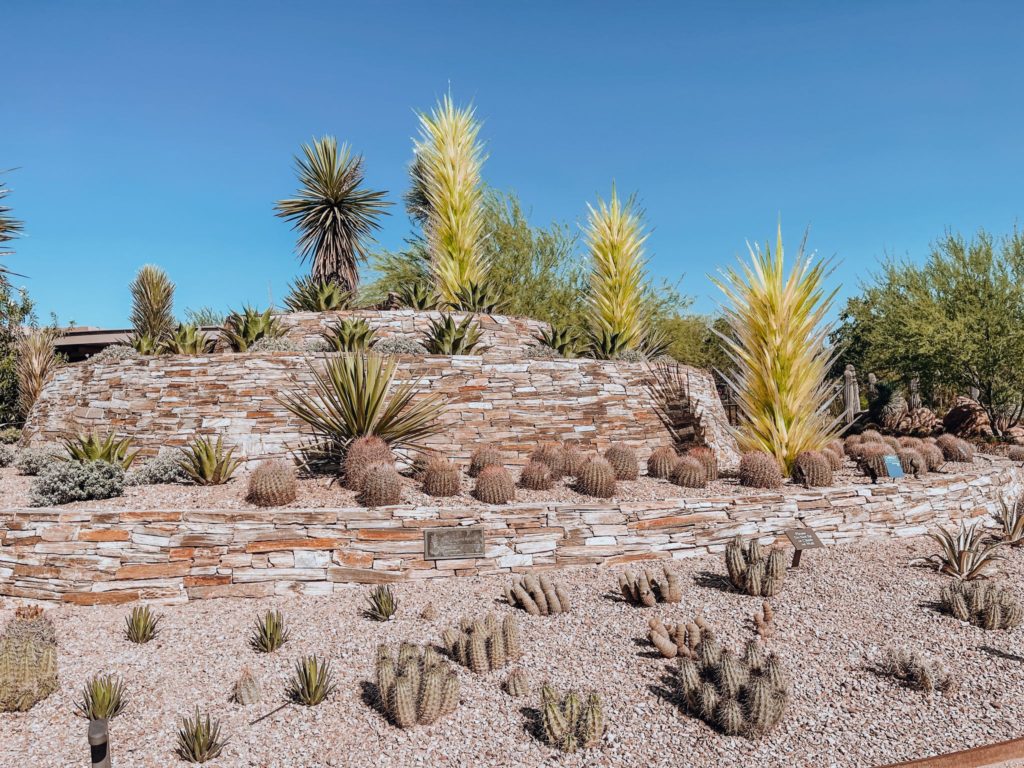 GO ON A SELF GUIDED ART TOUR
Ahhh how I love me a good mural wall. Not only does it make for the perfect IG backdrop but I truly love seeing local artists showcase their work on such a large scope. We spent about 1.5 hours one morning heading to all the recommended murals and public art pieces within the city. My favourite one was the "GET TOGETHER TEMPE" piece that can be found at: 715 S. McClintock Dr., Tempe, AZ 85281.
Tempe Public Art's goal is to strengthen the sense of community in the city and identify itself as a place that is vibrant and progressive. This can truly be seen through the pieces throughout the city. I also liked doing this as I was able to see different parts of the city that I maybe wouldn't have discovered otherwise.

Here is a list to help you go Mural hunting yourself!
Here are some of my favourite ones though:
"Don't Wake the Dreamer"– Hardy Drive (South of 5th Street, just west of Downtown Tempe near Jaycee Park)
"You are Amazing"– ( pictured above)-Beck Avenue south of University Drive at the corner of Beck Avenue and Laird Street.
"Rangoli Sunrise"– Located at The Dhaba, 1872 Apache Blvd.
Yes you read that correctly- Tempe is home to the STUNNING ASU Gammage theatre which is a performing arts center at Arizona State University. It holds lots of Broadway shows throughout the year, off Broadway plays and events as well! I was lucky enough to see the play Hamilton (!!!!) when I was there which was a dream come true! Some people visit Tempe just to see a show since tickets are normally less expensive than other major cities. Another big bonus.
Even if you don't want to commit to a play or show, you MUST MUST MUST visit the theatre itself. Designed by famous architect Frank Lloyd Wright, it is truly one of the most remarkable buildings I have ever laid eyes on. The design was originally intended for a King in Baghdad, Iraq as an opera house but the plans fell through and the designs sat idle. ASU past President Grady Gammage, who knew Frank personally, asked if he had any designs that could work for their new theatre. He pulled out his drawings and plans for the project in the Middle East and ASU Gammage was born. It was his last piece of commissioned work and opened to the public before he died which makes it more iconic. My camera roll has about 67 photos of the building. Masks were required at all times while inside the theatre unless eating and drinking and a clear bag policy was in place, however small clutches were allowed. The show was sold to full capacity of 3,000 seats.
Tempe Town Lake is an oasis in the center of town. I recommend coming here early in the morning or at sunset for the best views. With a variety of rentals available from Boat Rentals of America ( paddle boarding, kayaks and themed pedal boats which are perfect for the kiddos), there is something for everyone. If getting onto the water isn't your thing, you can just walk on the pedestrian pathway which allows you to take in the beautiful scene.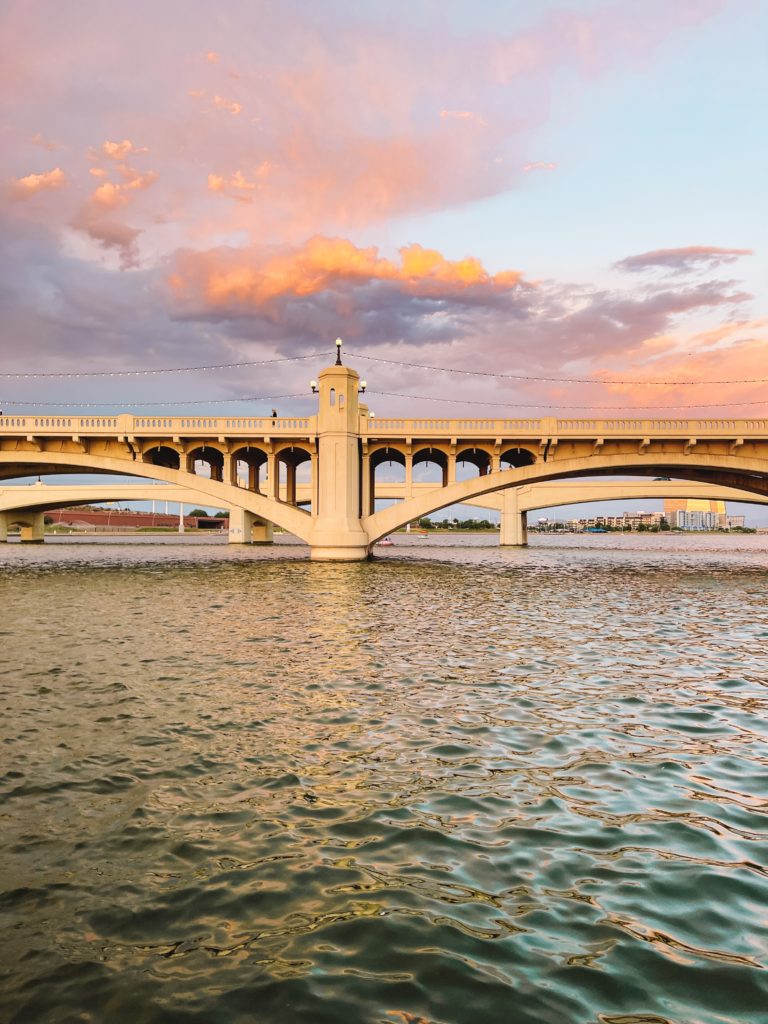 Just like the ASU Gammage Theatre, the ASU Art Museum is worth checking out for the architecture alone. Designed by Antoine Predock, this building features one of a kind modern architecture and a beautiful plaza behind it with public art. The best part about it? It's free to visit!
The list of things to do is endless here! If we had more time ( and I wasn't pregnant- I am looking at you horseback riding)- these are a few other activities I would have added onto my itinerary!
THINGS TO NOTE
HOW TO GET AROUND: My favourite way to get a feel of a city is to explore it on foot and Tempe is one of the most walkable cities. While you don't need a car, Ubers/Taxis are reasonable for the distances you are going. You can also hop on a bike if you want! We rented a car because we also added Sedona to this trip and with Chloe in tow, it was nice to be able to hop in and out quickly.
HOW MANY DAYS DO YOU NEED: We did 3 nights and in that time we were able to see a ton! I would probably add on another night to spend some time relaxing by the pool/do a day trip.
COST: Tempe was a very reasonable city! Hotels are anywhere between $150-$300 and you can easily score a delicious meal for $15.00 per person!
WEATHER/BEST TIME TO VISIT: Best time to visit is between October-May when temperatures are not as hot. With that being said, we visited in September and enjoyed that desert heat ( classic Canadians haha). Arizona in general has on average 330 days of sun so chances of rain are quite slim! Winter temperatures: 70 F during the day and 40 F at night. Summer temperatures: 110 F during the day and 75-80 F at night! .
**This post was done in partnership with Tempe Tourism but all opinions and views are my own**
PIN THIS POST