When you think of Las Vegas, most people have an image of casinos and gambling in their heads. While you can find a blackjack table or slot machine at every corner in the city, there is SO much more to Vegas than that. On our latest trip to Las Vegas, we basically did everything besides gambling! And guess what? It might have been our most favourite trip yet!
With new attractions and activities popping up left, right and center, Las Vegas is a happening place where you can not only find something to do at any given hour but you can also find a lot of FREE things to do!
Let me show you the best things to do in Vegas that do not include gambling! If this is your first time heading to Vegas especially, you need to check out this guide
#1. AREA 15: A MUST SEE!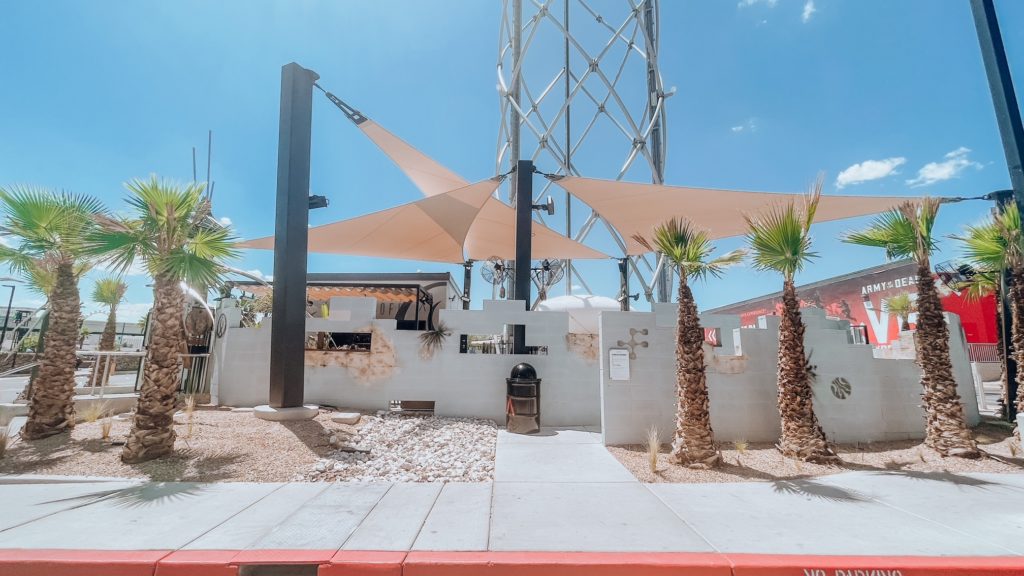 AREA15 is a place where you can literally spend the entire day! Located about 15 minutes from the Las Vegas strip, it is a new experiential entertainment district that has art installations, restaurants and bars, live events, activities like zip ling, axe throwing, golf, immersive experiences and elements and just all around unique things to do. Like I am talking things that I have never seen before in my life! All under one roof.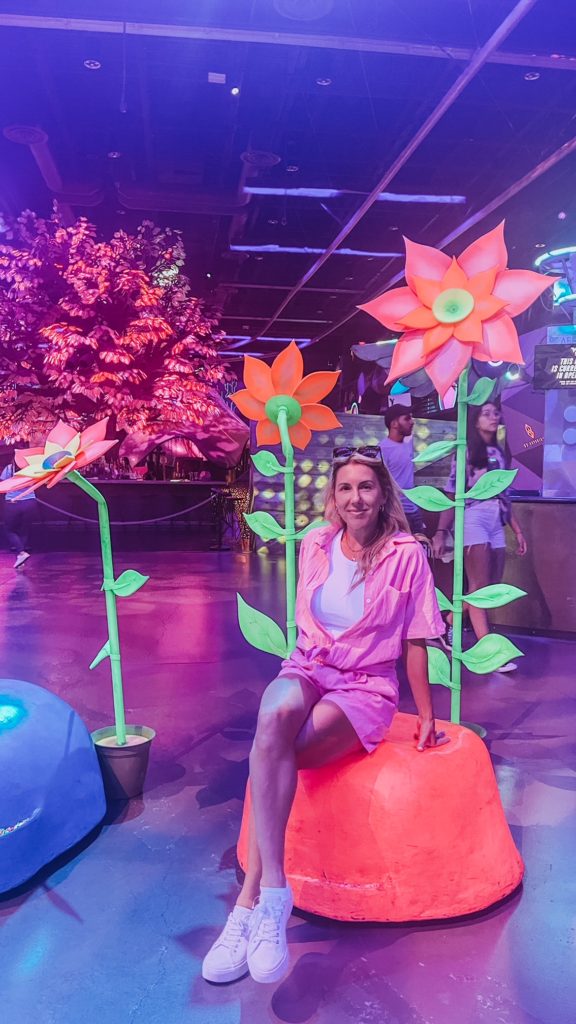 We decided to get tickets for Meow Wolf's Omega Mart and the Museum Fiasco and I couldn't recommend them more!
Meow Wolf's Omega Mart is set up like a grocery store- almost like a Pleasantville style store where everything looks picture perfect at first. Once you start exploring the store and cruise down the aisles, you start to see it is far from that. Something is off about the store and you almost feel like you are being watched. Are the weird products watching you? Will they come to life once the store is closed?
Each of the products are custom made for the experience and have a satirical message behind them. The turkey is tattooed, they have "Wake up Please!" Energy drinks, their own version of La Croix, an inflatable Swan called "Some ridiculous pool float" ( I felt seen by this one) and vegetables with evil faces on them. Their pharmacy reads "From Pharma to Table". All of these messages start to act as clues to the mystery behind the store…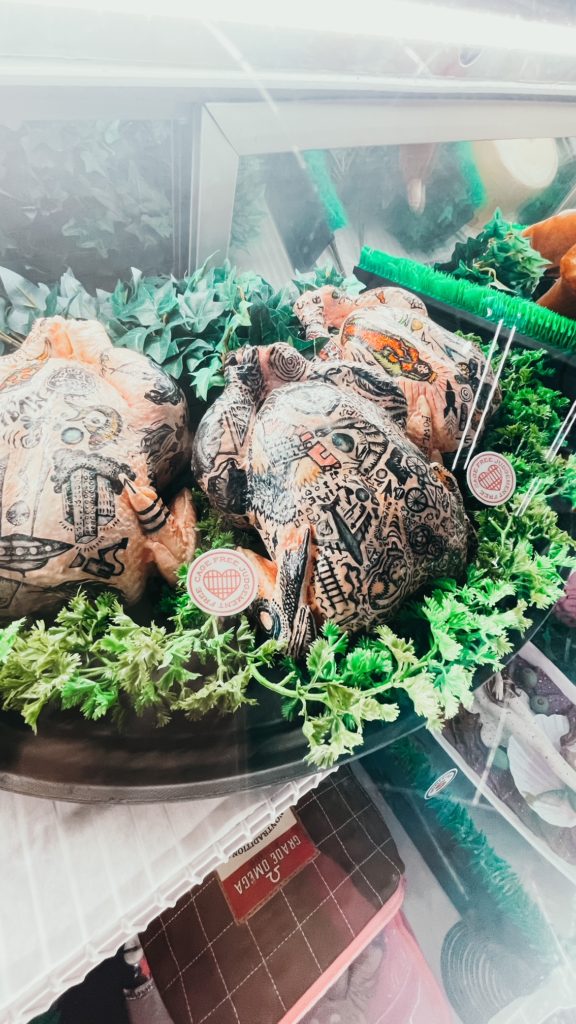 Without giving away too much, you do find your way to the employee entrance area and things really then take a turn to a psychedelic world like no other. Once you are into the behind the scenes portal, there are themed rooms, mazes, lights, and also sets that give away clues for you to discover more about the people behind the Omega Mart. It's like Disneyland meets Burning Man! haha.
Meow Wolf, who is behind this exhibit, has collaborated with over 50 artists to create this experience. It's also so cool that Britney Spears just went there!!
Tickets: $59.00 for adults (14 +) and $50.00 for children (4-13+)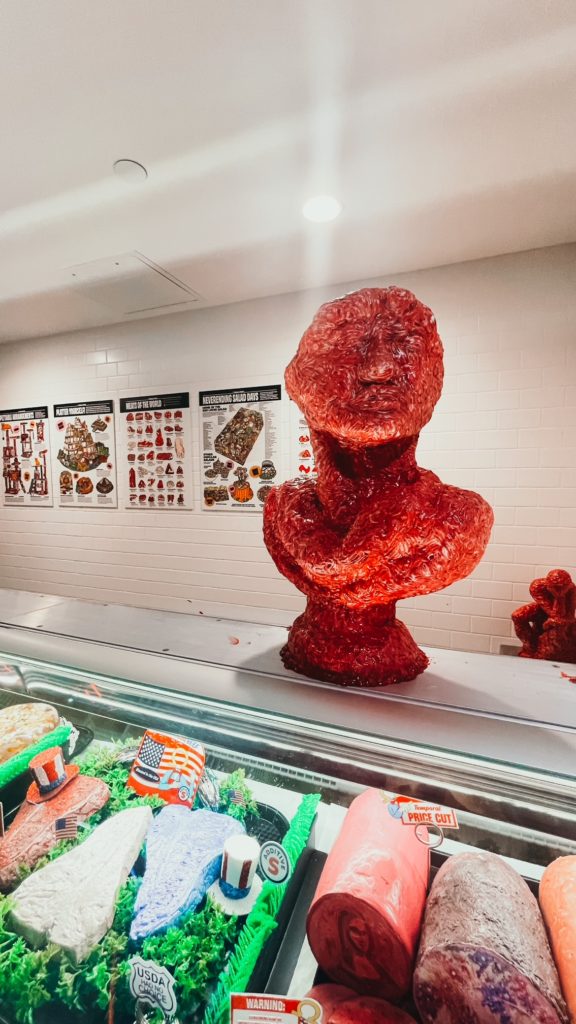 Next up on our list: Museum Fiasco! This room within AREA 15 was like being in a curated light and sound show. You can expect laser beams, vibrations, colours and geometry all tied together to produce a crazy experience. You have the option of putting on 3-D glasses to heighten the experience and I definitely recommend that you do. Each show is 12 minutes long and I suggest you staying for two rounds of it just to experience it fully. The lights and sound slowly built up to the peak of the show and it is a buzzing experience.
Tickets: $18.00 for adults and $12.00 for children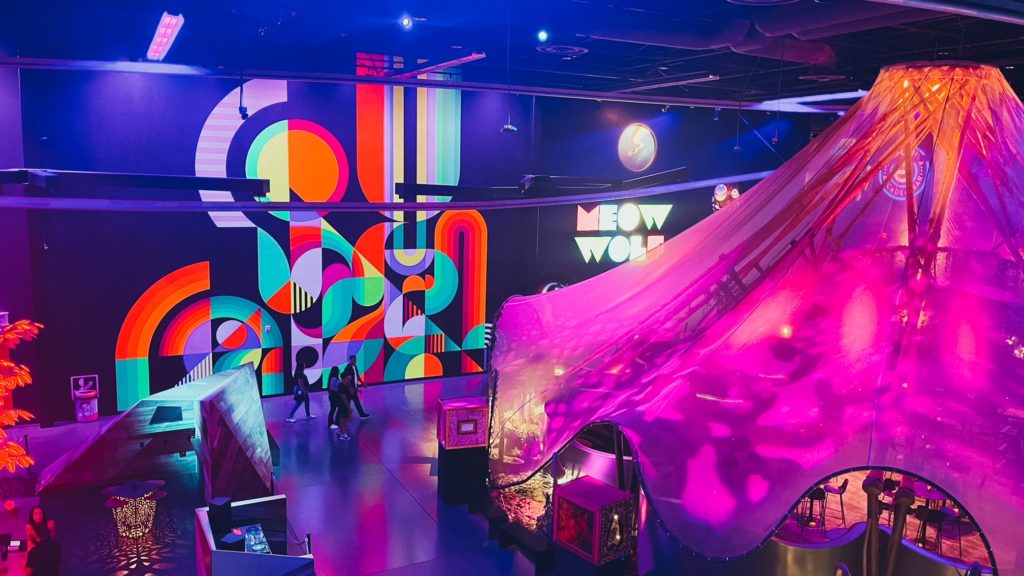 #2. THE LAS VEGAS SIGN-(ONE OF THE FREE THINGS TO DO IN VEGAS!)
Wondering what the MOST visited sign in the entire world is? THIS ONE RIGHT HERE!
With over 42 million visitors each year ( crazy, right?), many people add this into their itinerary of things to do in Vegas! How could you resist? It's the perfect photo op and you can take a picture with a little slice of Las Vegas history!
The sign which made it's debut in 1959, was built by a woman named Betty Willis! The sign is located at: 5100 Las Vegas Boulevard South which is considered to be the official Southern end of the Las Vegas strip. It's become so popular that they ended up having to build a little parking lot close by and you can often find impersonators there ( think Elvis) which add to the excitement of the experience!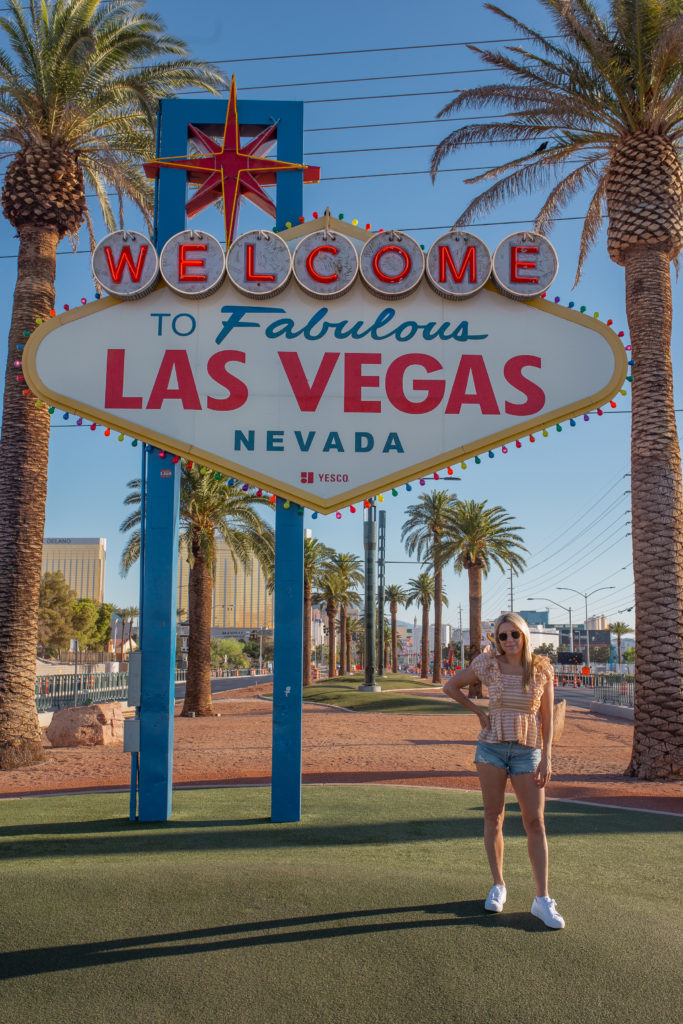 TIP: Make sure to come here EARLY! I am talking like 8AM early. We got here at this time and there was about 5 other people there. We had the chance to take our time with the videos and photos we wanted but most importantly got to really take it in! We spoke to some people who said that mid day or when the sun is setting, you can expect to wait in line for up to an hour!
ANOTHER TIP: If you can't get there early, you can actually take a photo from the side of it which would require no line at all. Just a different angel of it!
#3. GO TO THE NEON MUSEUM
If you love history, design and art, The Neon Museum is a must visit! My husband and I were SO excited to visit here as we actually have a neon sign from Vegas in our house so we very much appreciate this kind of stuff ( we have a light up sign from The Mirage that we got from an antique show).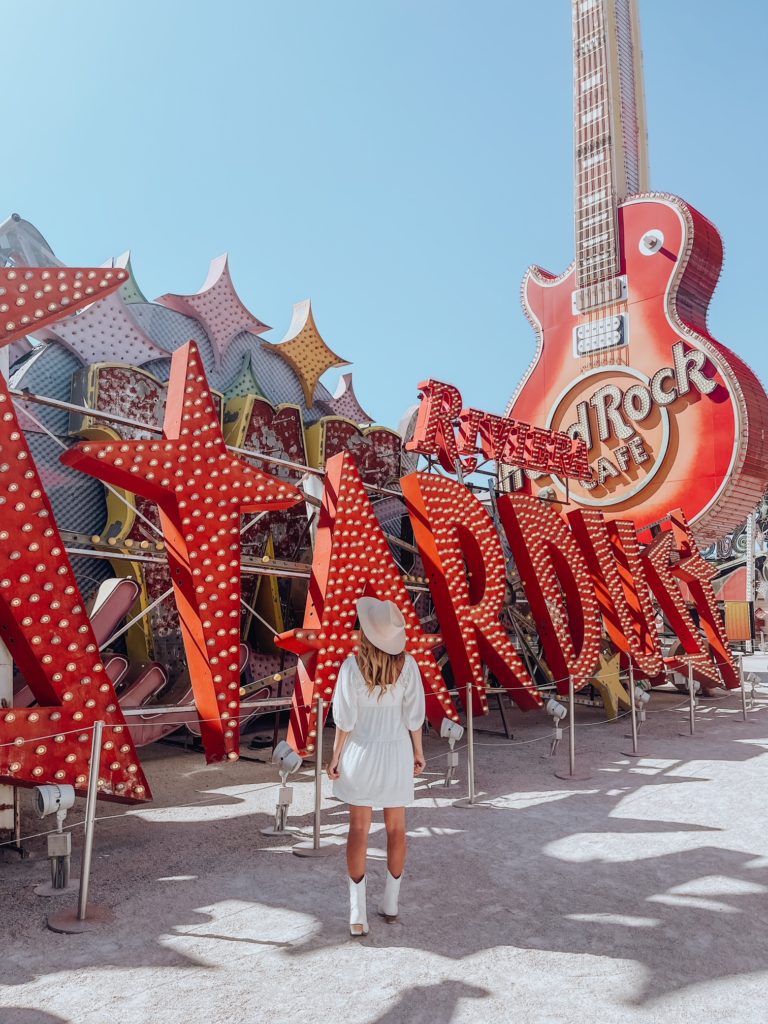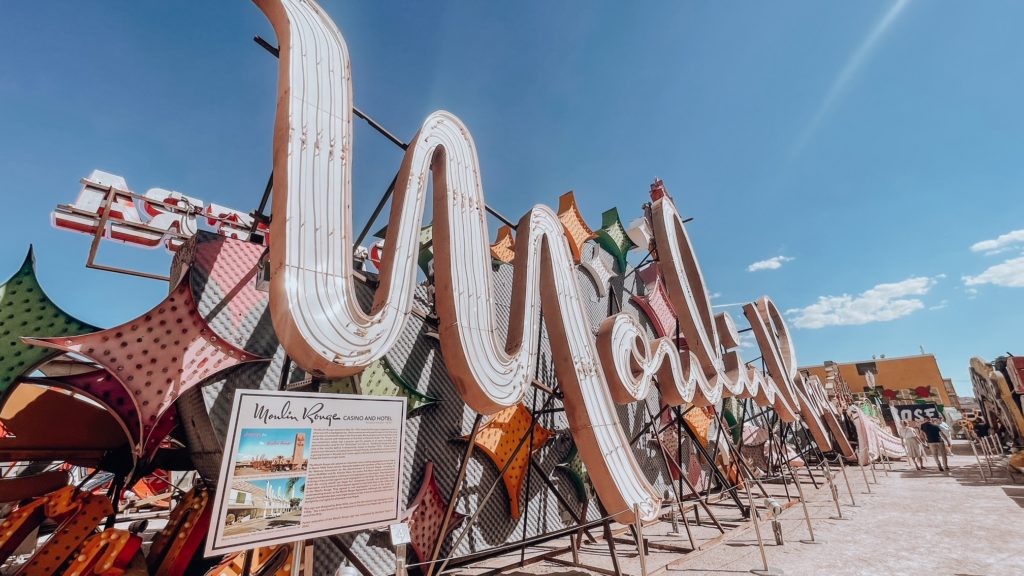 The Neon Museum was created in 1996 when there was a big turnover of older Las Vegas hotels being demolished and new, bigger resorts being built! It's main goal was to preserve, collect and exhibit these iconic Las Vegas signs that were such a vital and monumental part of the city. New pieces are added from time to time and some of them are even restored back to life.
There is the main area called the "Boneyard" which is where the majority of the signs are. They also now have a second area called the "Gallery" which features another collection of signs. We only did the Boneyard tour as the option of seeing both is only available at night time ( and tickets are more pricey too!)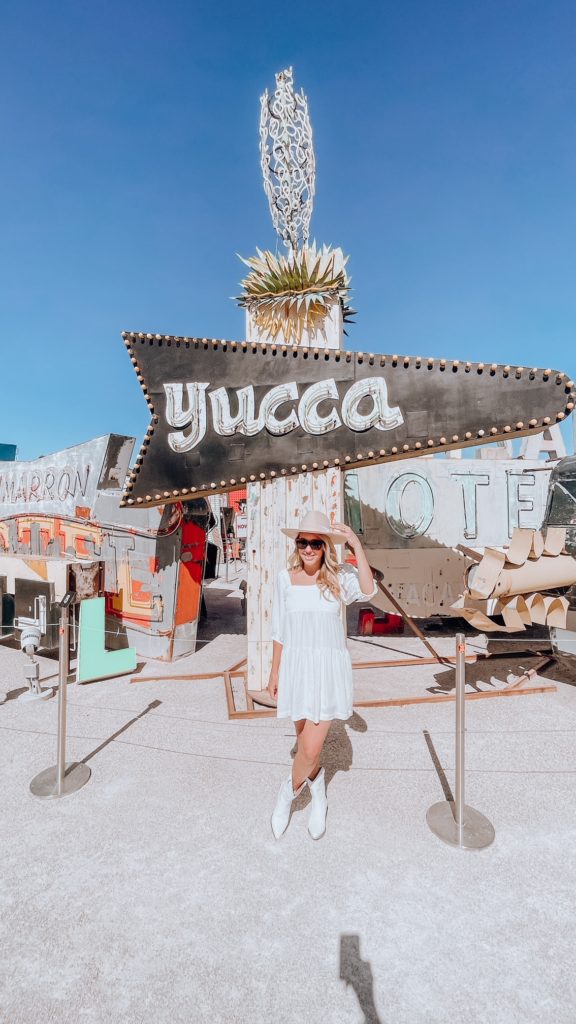 We did a tour at 4PM (the time it opens) and it was amazing. Not tons of people so we really go to take our time there ( also great for photos). It would be SO amazing at night too though when the glittering signs really shine. We did hear from one of the employees that night time tours are definitely a bit more busy!
Tickets: $20 for adults ( during the day) and $22 for children ( 7-17). $45 for adults ( for the night slot that features access to both galleries) and $10 for children ( 7-17). Kids 6 and under are free!
NOTE: You cannot bring a DLSR camera into here , tripod or selfie stick!
#4. VISIT THE ICONIC HIGH ROLLER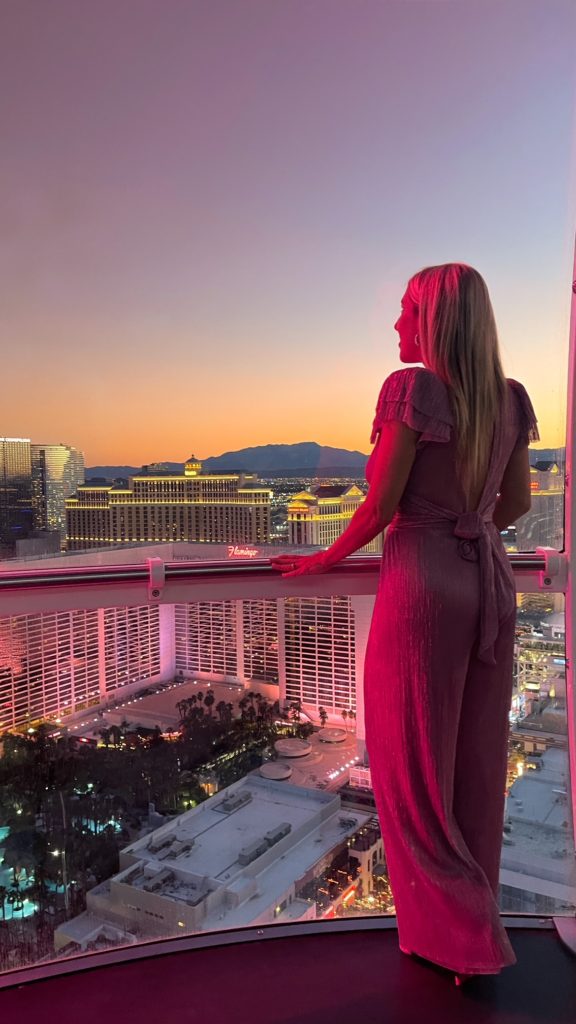 Ok this might have been my favourite thing we did during our 3 days in Vegas! The views you get from here are like no other!
The High Roller is located within The Linq area of the city and is the largest observation wheel in North American. It allows you to soar over 500 feet into the air and the glass pods on the High Roller offer up 360 degree views so you can see every inch of Vegas. The trip is 30 minutes in duration and each pod can hold up to 30 people. They are incredibly spacious and even have benches in them if you do not want to stand the entire time! I would definitely recommend coming in and around sunset because it is truly magical seeing the sun lit up and the lights get brighter!
Tickets during the Day ( 2PM-7PM): $23.50 for Adults and $8.50 for children!
Tickets for the Night time ( 7PM-12AM): $34.75 for Adults and $17.50 for children!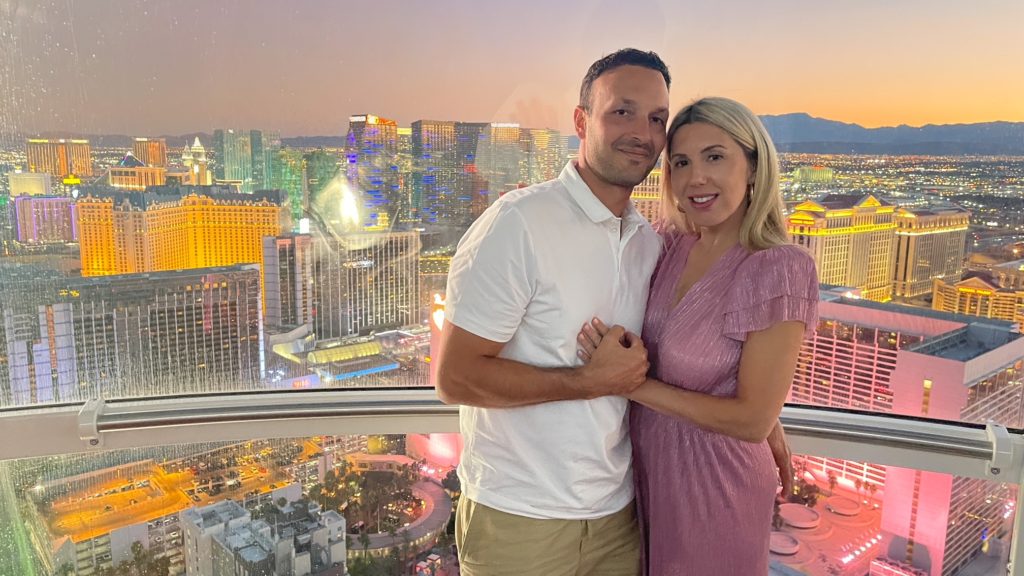 If you are looking to see the Vegas skyline from an even higher angle, I would look into a Helicopter Tour!
#5. SEE A SHOW
There are a lot of reasons why people book trips to Vegas but one of the main things to do in Vegas is to see a SHOW! Vegas is known for it's incredible acts, talents, residencies and it is virtually impossible to find a performance that you wouldn't like!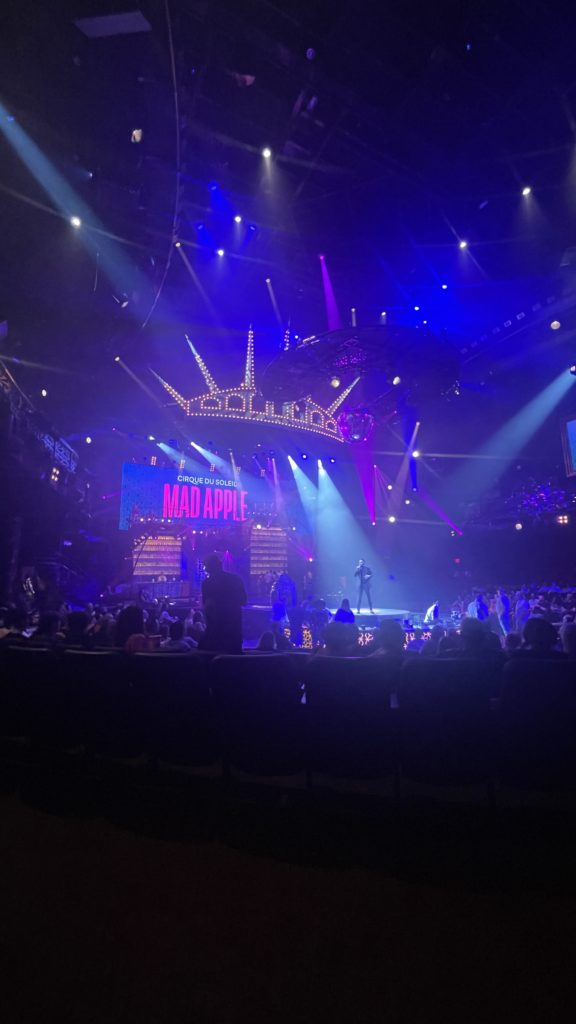 The talent out of this world and they also have some pretty elaborate sets that are visually mesmerizing!
We went to see Mad Apple which was located in the New York New York hotel and I kid you not when I say it was my favourite show that I have ever seen. It was a Cirque Du Soleil style show that not only had some pretty crazy acrobatic performances that the Cirque shows are known for but it had dancing, singing and even some comedy acts. The comedians were SO funny and each of them were so different. The show was 90 minutes in length and kept me on my toes the entire time.
If I was to return next time, I would love to see Usher or Shania Twain who currently have residences there. If Britney Spears or Celine Dion ever came back, I would DIE to see them too!
#6. TAKE A DRIVE TO SEVEN MAGIC MOUNTAIN
We were on the fence about visiting Seven Magic Mountains, simply because we had such limited time in Las Vegas! We are SO glad we went though as this was such a unique sight that allowed us to see the outskirts of Las Vegas. The exhibit, created by renowned Swiss artist Ugo Rondinone, is about 10 miles from the Las Vegas strip. It is a public art installation so it is free which definitely makes it an attractive option for things to do in Vegas! The display is made up of seven towers of colorful boulders that stand over 30 feet high and it is very mesmerizing.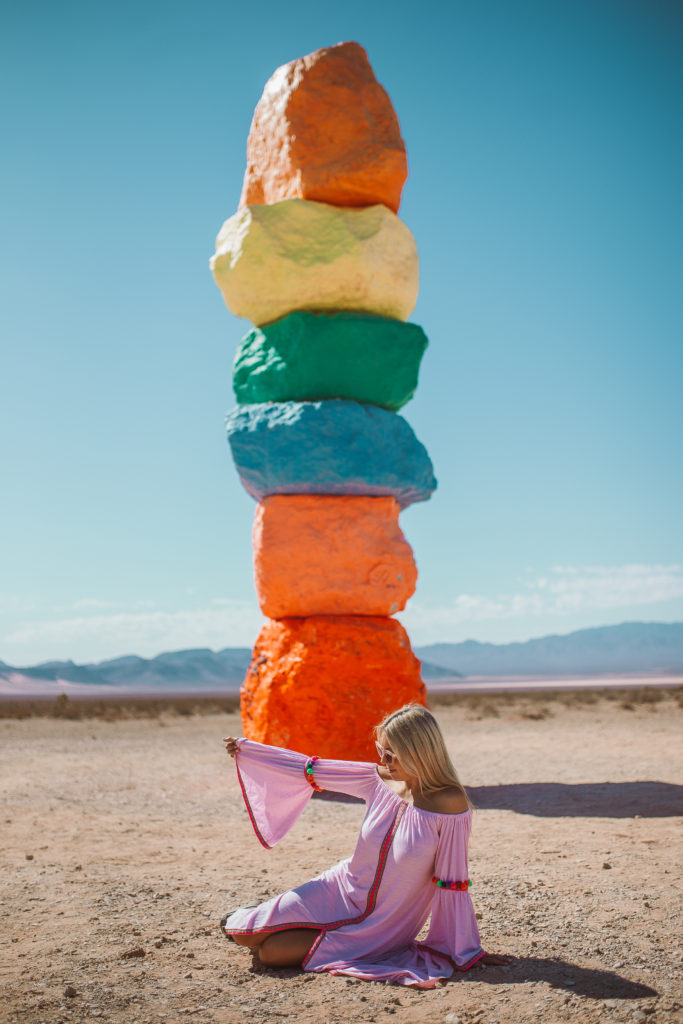 If you don't have a car, you do have to allocate some money for a Taxi or Uber. It costed us about $35-$40 each way to get there and I recommend talking to your Uber ahead of time and see if they will wait for you when you explore.
Service can be spotty there and you are pretty far out that by the time you do find a driver, it will take them a bit of time to get there. There is no shade or washrooms so not a place you want to be waiting around for too long! We spent about 15-20 minutes there.
Another tip is to go early. We got there by 9AM and there were about 30 people already there. It still allowed us to take some pictures without massive crowds but still-we were not able to capture all seven boulders without people in them!
There is actually a ton of places to see on the outskirts of Vegas so we hope to check out a few more spots next time!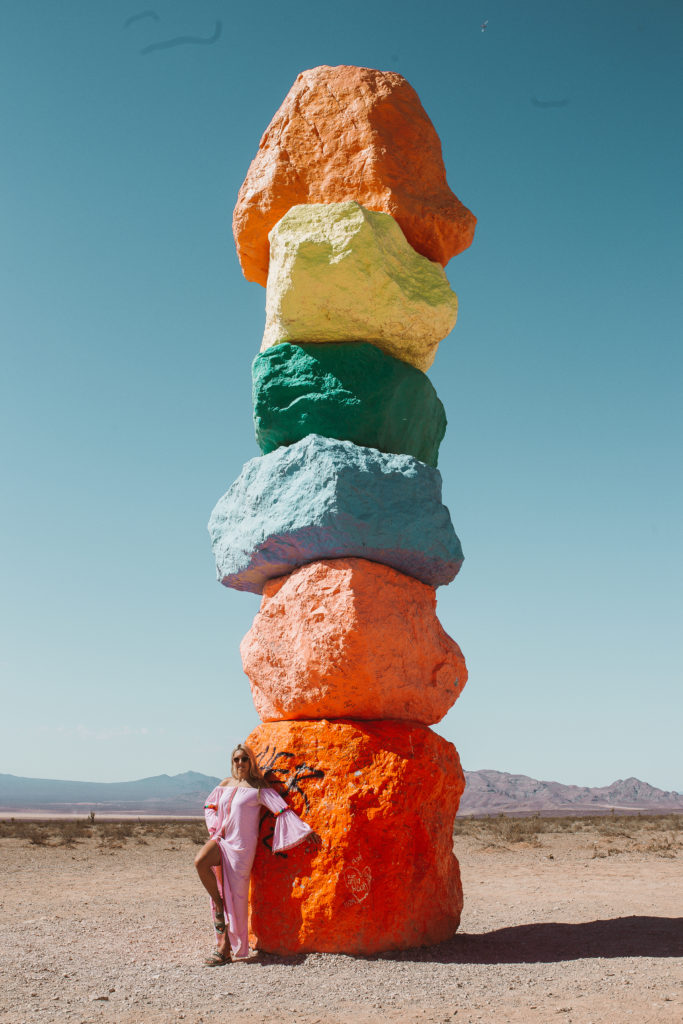 #7. GO ON A GONDOLA RIDE IN VEGAS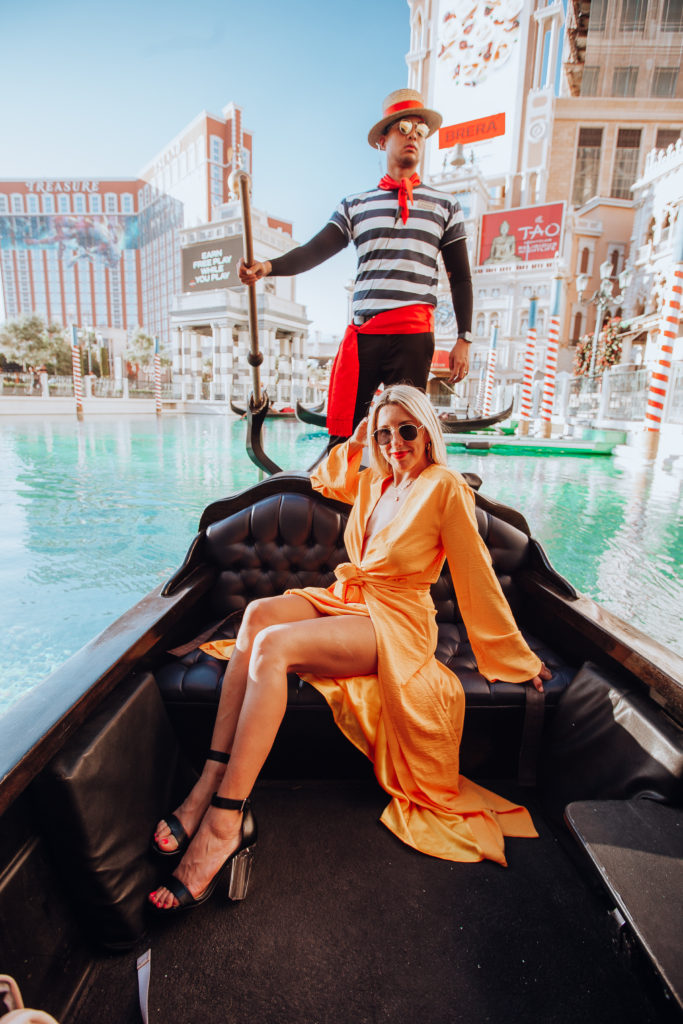 Want to transport yourself from Vegas to Italy for a second? Then you MUST take a Gondola ride at the Venetian hotel! Not only is it romantic but it is a great way to explore the grounds at the Bellagio hotel! The owner of the Bellagio originally created the hotel to replicate the city of Venice after his wife fell deeply in love with it on their honeymoon. Husband of the year if I do say so my self! He did an incredible job though as you really can feel the "amore".
You have the option of doing an indoor or outdoor ride. The length of time is roughly the same at 12-15 minutes ( so it's not a super long one) but it really is special. The people operating the gondolas serenade you at some point on the ride and sing out some Italian opera! Mamma Mia.
Tickets: $39.99 per person from Thursday- Sunday and $34.00 from Monday-Wednesday. Private boat can be a bit more
---
I hope you enjoyed all of these unique things to do in Vegas! We can't wait to head back there with the girls one day as there is also a ton of family friendly activities too!

---
PIN IT