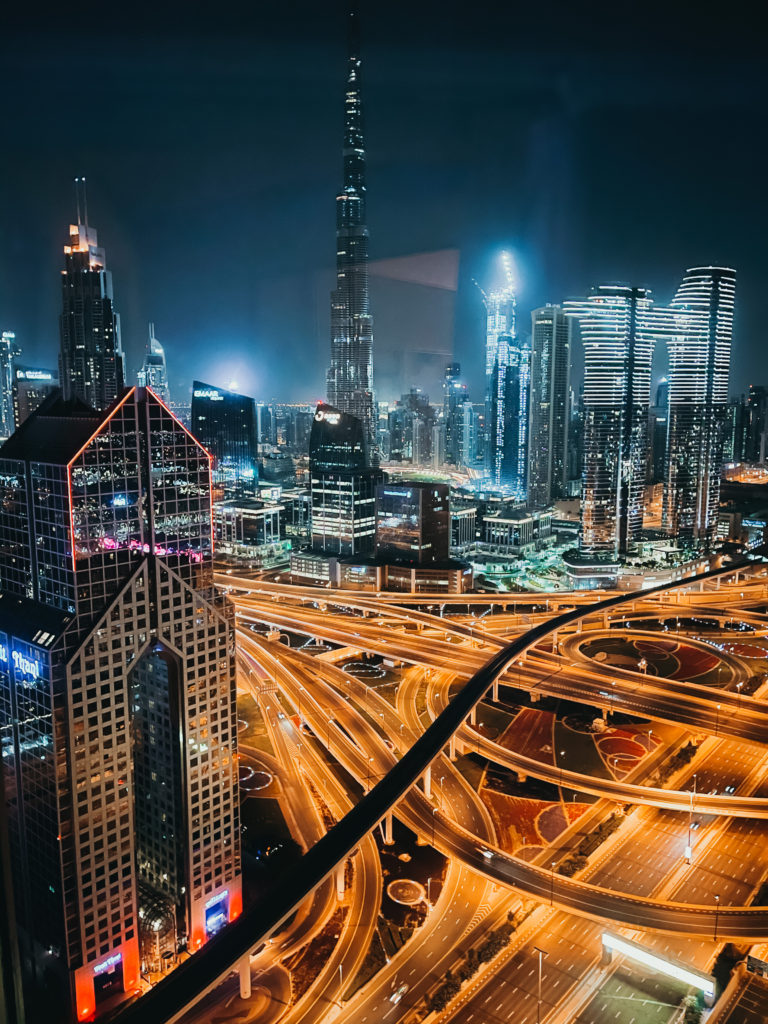 Dubai is truly a city that fascinated us like no other. Creating a Dubai Travel Guide was something that I knew I needed to do after visiting because there is so much to share with you all!
With it's over the top design and architecture, luxe offerings and state of the art functionality- it is a city where ANYONE can find something to do that suits their needs. It is the largest city in the United Arab Emirates and definitely one of the most modern in the Middle East! If you go it will completely exceed your expectations in everyway and if you are like us, you will be thinking that you HAVE to return someday.
Often used as a stop over destination to places like Maldives, India or Africa where people fly in quickly for a day or two then move on. This, however, would have you barely scratching the service of this amazing and layered city.

HOW TO GET THERE
As I mentioned, Dubai is a huge stop over city which means that TONS of international flights land here. There are direct routes from any big airport. For us in Toronto, there was the option of a direct flight to Dubai and Abu Dhabi – both taking you 14 hours total. There are direct flights from New York, LA, Europe etc! If you find a cheaper flight into Abu Dhabi- that is an option worth exploring. With only 1.5 hours between these Emirates, you can land in Abu Dhabi- spend 2 days there and find transportation to Dubai. Unlike Dubai, most people recommend needing only 2 days max in Abu Dhabi!
BEST TIME TO VISIT
The weather in Dubai is sunny year round! But that sun REALLY peaks during the summer making it almost unbearable to be there
November- April is considered high season with temperatures hitting anywhere from 70-80 degrees F in the day and dropping to 50-70 degrees F at night
May to October is considered low season with temperatures climbing to 120 F and above. Some days can get as hotel as 140 F! If you are looking at scoring some hotel deals, travelling during this time would be the way to do it but you might want to ensure that your hotel has a VERY good pool ( and AC!)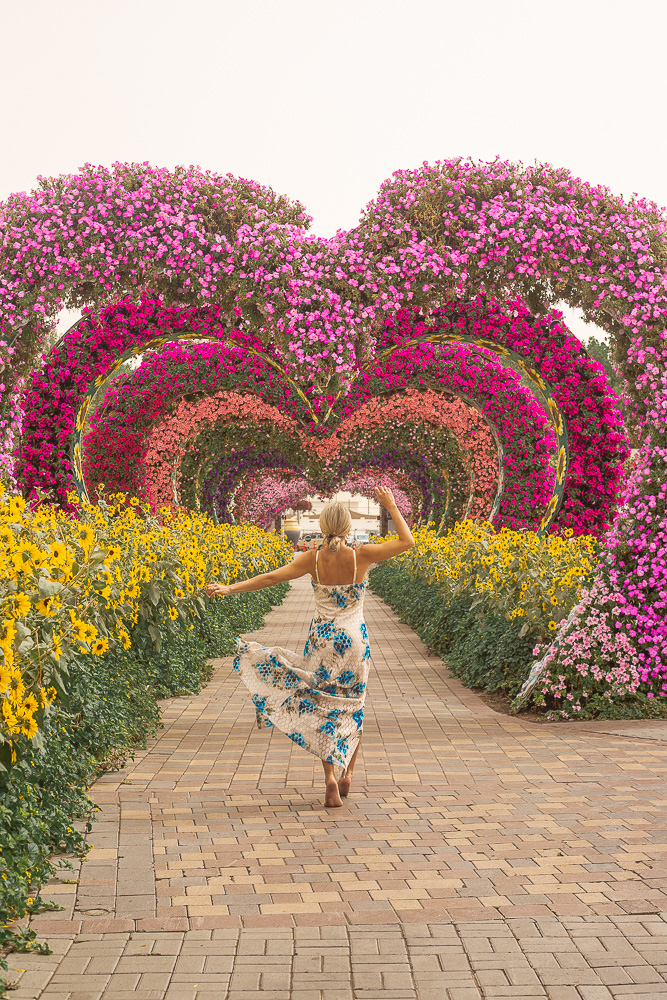 HOW MANY DAYS NEEDED?
We were there for 6 nights and got to see a lot! However, we still were not able to cover everything! I would recommended anywhere from 7-10 days if you want to explore every element the city has to offer (or take a day trip to Abu Dhabi). Of course a layover here is also great and you can still see a few major sites in a short 48 hours.

GETTING AROUND IN DUBAI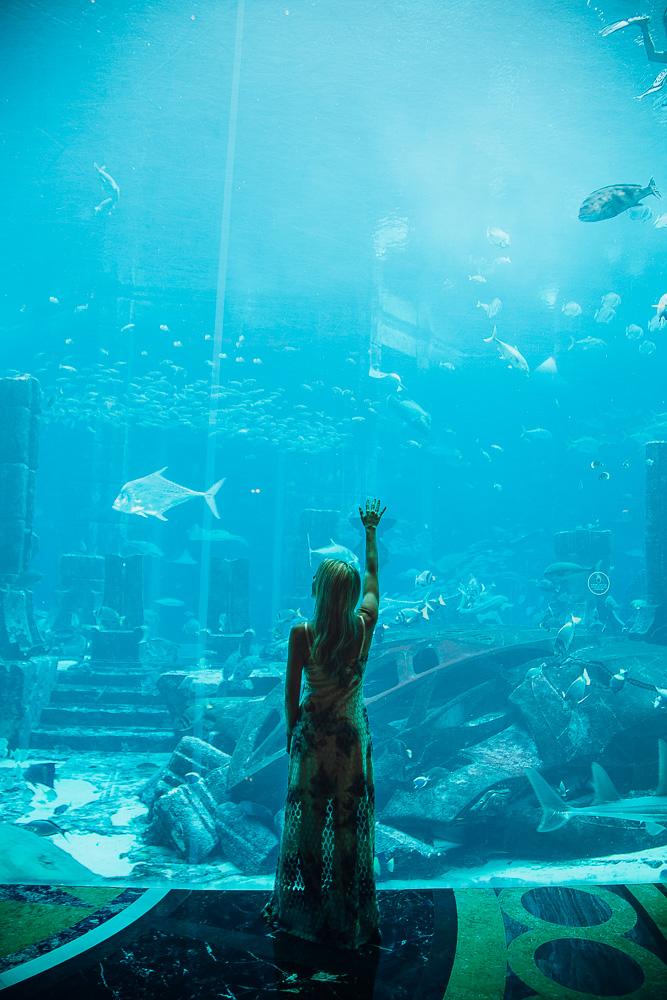 Dubai is an expansive city- like HUGE! The bad news is that you can't walk everywhere. The good news is that Ubers and taxis are SUPER cheap in the city. I'm talking around $5 USD for a 15 minute ride.
Taxi/Cabs: You can easily catch an Uber ride or Taxi! The ride into downtown Dubai from the airport is only 15 minutes so no need to pre-book transportation ahead of time
Public Transport: Dubai's metro consists of nearly 50 stations. You can get to wherever you need to go, or close to it, with public transportation. Hours of operation are quite long ( roughly 5AM-1AM). While this route is done by many, it takes a lot longer to get around but can be more cost efficient than Ubers/Taxis
Car rental – If you plan to really move around, you can rent a car. Rentals can range anywhere from $50 a day upwards. I wouldn't suggest this option if you are just staying in the city as parking is quite annoying there ( many underground parking lots that are $$).
Boats: A lot of attractions in Dubai are on or near the water so there are water ferries and taxis that run at 10 A.M., 12 P.M. and 5:30 P.M. You can also take a ride on a traditional "Abra" boat down Dubai Creek or through Souk Madinat Jumeirah.
Walk: As I mentioned Dubai is a sprawling city, however, there are certain areas you can walk in. Near the La Mer beach strip, you can walk on the public beach and check out a few restaurants there. In downtown Dubai, you can check out the Mall then head to the neighboring Palace Hotel which is another popular tourist destination to see
WHERE TO STAY IN DUBAI
The good thing about Dubai is that there is a TON of hotels so you will have no problem finding a place for your budget! The options range from luxury to budget-friendly hotels. Most of the luxury hotels are located in Palm Jumeirah and Dubai Marina, offering you access to a private beach and also an amazing view! We split our stay between the downtown city center and then finished our time there on the beach. Highly recommend this way of doing things!
SHANGRI- LA DUBAI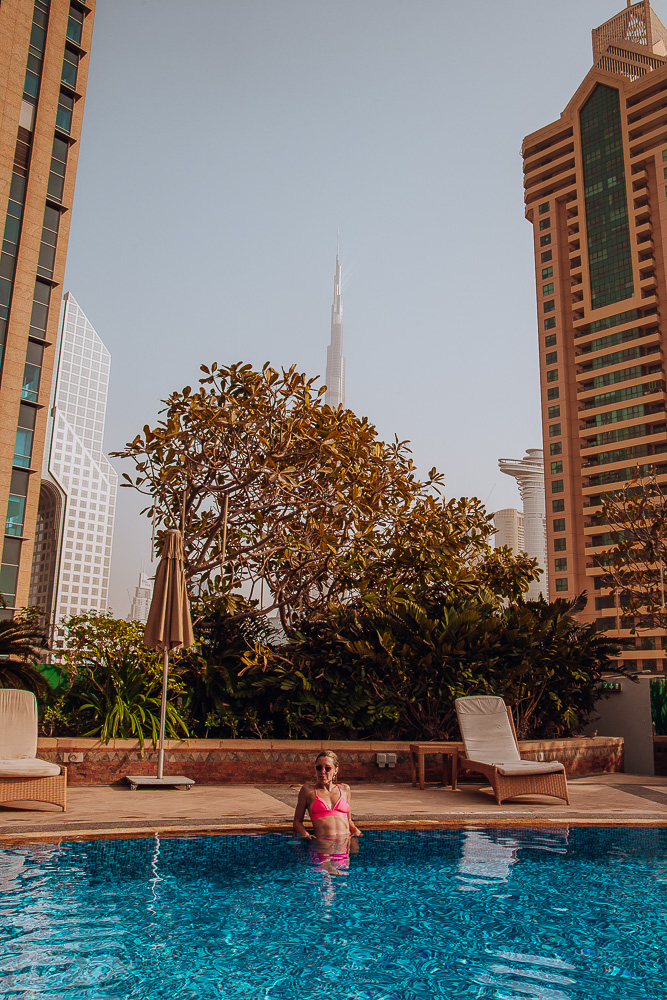 When we were downtown, we stayed at the Shangri-La Hotel Dubai. As you would expect from the Shangri-La brand, the hotel was gorgeous and immaculately maintained! It is so centrally located ( 10 minutes from the airport) and has the most insane views of the city skyline. The outdoor pool was like a secret escape after a long day of touring the city and the food was BEYOND amazing!

LE MERIDIEN MINA SEYAHI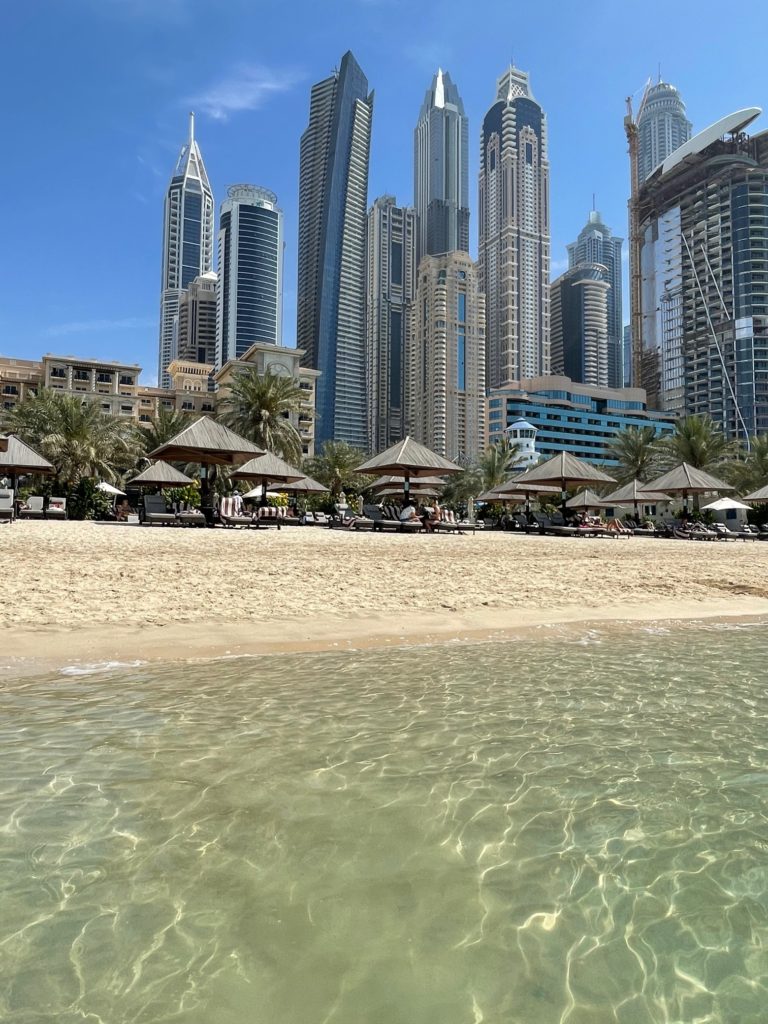 This 5 star resort by the beach was perfect in everyway. Reasonably priced, expansive with numerous restaurant options and beautiful balconies overlooking the water- we would 150% book this place next time. It has something for everyone with hip lounge areas if you are travelling as a couple and a full blown water park ( which guests have access to) if you are travelling with kids. We were so impressed with this place and actually ate at 2 of the restaurants there for dinners.
WHERE TO EAT
I could sit here for hours listing restaurants and restaurants that were recommended to me and that were rated 5 star! Dubai is a foodie dream destination with an abundance of Michelin Star restaurants, restaurants with a multi million dollar interior and new ones popping up everyday! Basically if you are a picky eater- you will NOT have a problem finding something in Dubai. Below I am outlining a that we tried and LOVED! While I wish we were able to try more, we only had so many days there! The pricing in a lot of the well known restaurants isn't cheap- something to know. If your hotel has the option to throw in a breakfast- I would try to go down that route as you can really save
With 2 locations to check out ( one in the DIFC and one by the beach), you can't miss this spot! It features a funky and eclectic atmosphere where you can easily get your next photo for the gram! Instagram worthy in every corner. Each plate of food is also visually so pretty that you almost don't event want to eat it. Sometimes places like this are all hype and the food quality doesn't match up, however, this place is the exception. The food was truly mouth watering and we actually went back and grabbed an acai bowl the next day!!
This hip Mexican restaurant where you can dine on alllll the tacos, margaritas and guacamole. This is just what we were craving the last night of our trip and our meal was incredible! The fish tacos I had were better than any I've ever ordered from a restaurant in New York.
This restaurant came up on pretty much every Dubai list I saw when I was researching places to hit up…. and I now understand why. Situated in the old town of Dubai, this place boosts the charm and style of how Dubai must have been like back in the day. It is authentic, features delicious middle eastern flair and the atmosphere is so cozy ( think bougainvillea bushes on every corner)
Like the name suggests, this is the place to go for breakfast and brunch! With beautifully curated dishes ( like pink pancakes and blue lattes), it is a place that appeals to all the senses! The decor is basically my dream house and I enjoyed the atmosphere just as much as the food!
This place was like stepping into Mykonos, Greece ( and was located in our beach hotel the Le Meriden). It featured SO many amazing Mediterranean dishes (think whole grilled fish cooked at the oven burning stove on site!) and made for the perfect romantic date night set up. I must have taken a million photos here!!
OTHER NOTABLE RESTAURANTS THAT ARE WORTH CHECKING OUT:
Koko Bay ( amazing for sunset drinks!) // Amazonico ( stunning setting/make reso's well in advance) // Shimmer's On the Beach // Forever Rose Cafe ( one of the infamous 3D cafe's!)
WHAT TO DO IN DUBAI
( Top 5 Activities)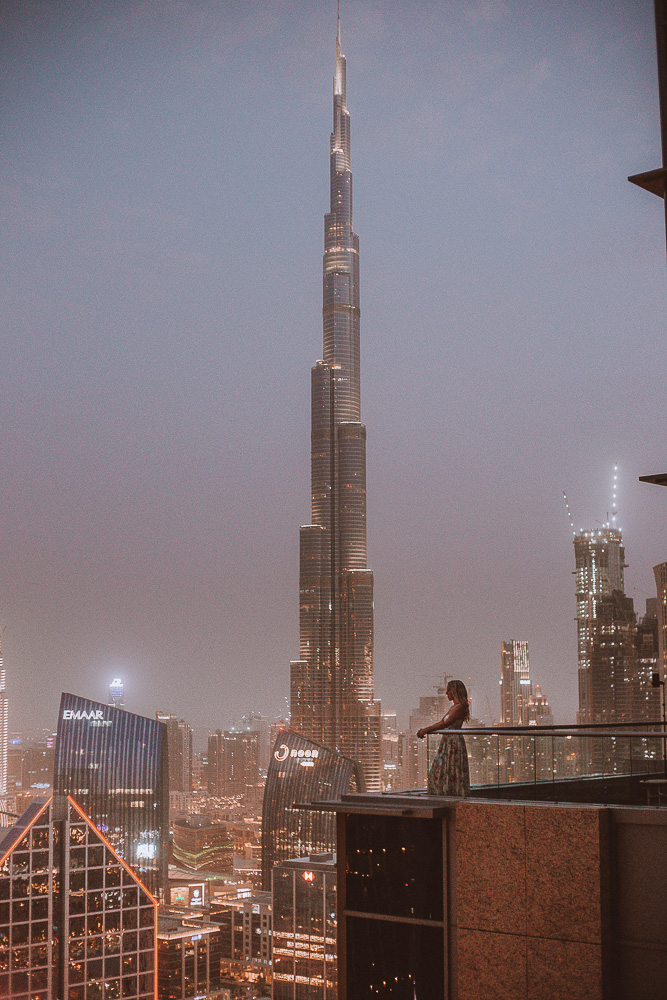 #1. BURJ KHALIFA
Aka the tallest building in the world! This is hands down the most mesmerizing site we saw in all of Dubai! We had the best view from our hotel ( The 42nd floor at the Shangri-la) but if you aren't staying here you can visit and go all the way up! The entrance is roughly 30 US for the day and shoots up to 50 US for the night! Definitely book tickets ahead of time. The entrance to the Burj Khalifa is located in the huge Dubai Mall and the building itself undergoes a light show every night ( I think every 30 minutes)
#2. AL SEEF /OLD TOWN DUBAI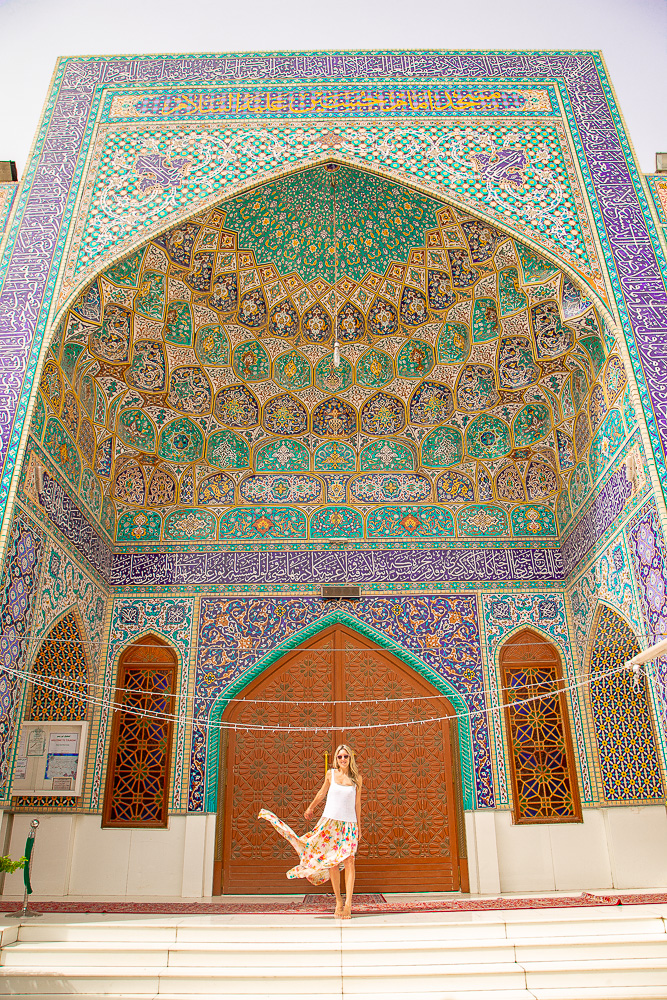 Dubai is famous for its sky scrapers and never stopping development, but there is a part of the city which offers a great contrast to it. There are endless rows of different spice shops, hand crafts and restaurants in this area. You only need 2-3 hours in the area and I recommend pairing it with a visit to the Arabian Tea House for a lunch after!
#3. DESERT TOUR
This is an absolute must if you are visiting Dubai! The landscape that you experience makes you feel like you are on another planet and there are so many different, fun activities that are offered depending on your tastes and likes. I would recommend going with a personalized tour option so you can take your time, take photos and are not crammed in a jeep with 10 other people. We booked ours through Get your Guide and we were so happy we did! We did the Vintage Mercedes Tour which was about half the cost of the very popular Heritage Safari ( the ones with the Vintage Landrover). We even got to drive the vehicle ourselves for a portion of the tour. It was epic!! After all the adrenaline was pumped out of our veins, we went to a traditional desert Bedouin camp where we watched the sunset, listened to live Arabic music, had a delicious dinner and got to watch live performances.
s.
#4. DUBAI MIRACLE GARDEN
Dubai is famous for its sky scrapers and never stopping development, but there is a part of the city which offers a great contrast to it. There are endless rows of different spice shops, hand crafts and restaurants in this area. You only need 2-3 hours in the area and I recommend pairing it with a visit to the Arabian Tea House for a lunch after!
#5. DUBAI MALL & FOUNTAIN SHOW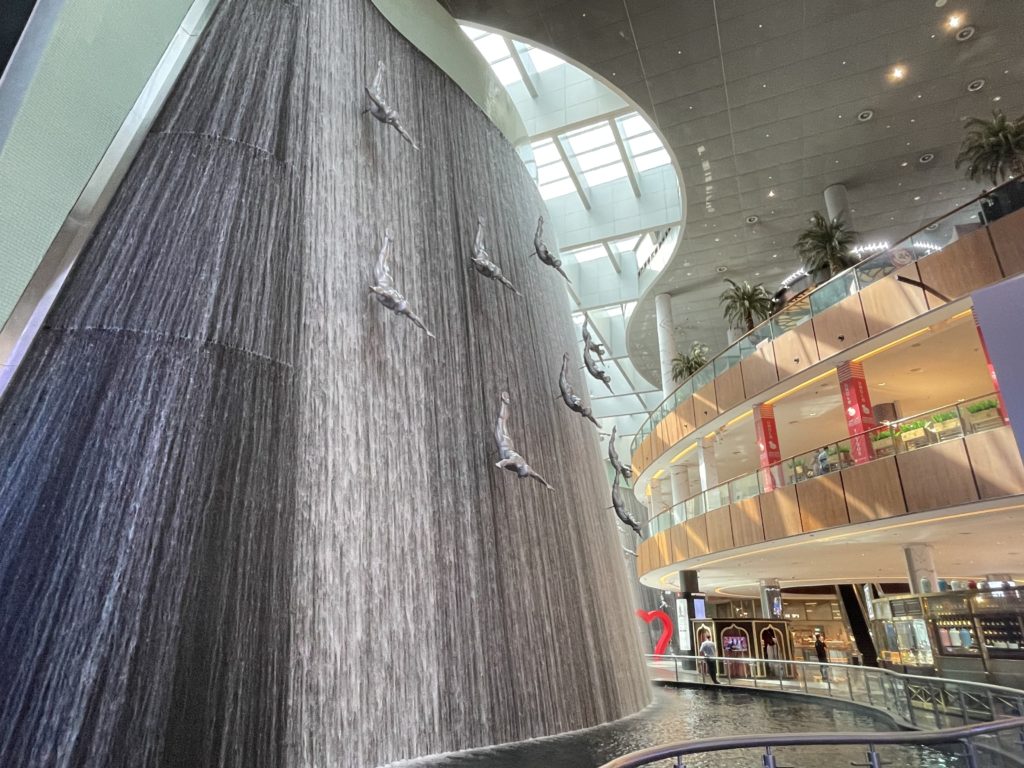 Two things to note: I hate malls and I had ZERO desire to check out the Dubai Fountain Show but trust me when I saw as someone who wasn't interested in visiting either…..IT IS A MUST SEE! My husband was dying to grab some new gear after all our malls being closed all year due to Covid ( and after him taking 1238 photos of me haha)- I owed it to him to join him! Dubai Mall is the largest mall in the world and is equivalent to over 50 soccer fields! We barely scratched the surface and we were there for 2 hours! They have an ice rink, massive indoor movie theatre, underwater zoo and even a ski hill!! *mind blown*. I would check out the Dubai mall during the day and then back your way back for dinner or drinks there again to see the Dubai Fountain and Light Show!
The dancing fountain performs daily, every half hour between 6 pm and 11 pm and lasts 15 minutes. It is hard to take everything in in just 15 minutes so I would make sure to watch 2 shows forsure!
Tip: For the best view, you can choose to eat at one of the restaurants in Dubai Mall that are situated at level 2 or 3 facing the fountain. ALSO: Note that not all restaurants serve alcohol here. Few and far in between actually!
PIN THIS!