When researching where to stay in Dubai, I was overwhelmed! There were so many choices and options! Not to mention the city is sprawling so finding the right location where you can easily bounce around from attraction to attraction is key.
One place kept coming up through my pre-trip research and that was the Shangri-La Hotel.  I kept seeing comments like "Best Views of the Dubai Skyline", "Perfect location" and "Favourite Dubai hotel!". After seeing some of the shots from the hotel's rooftop level, I was sold and I am so glad we booked it! 
Located in a prime spot downtown, the Shangri La is essentially in the epicenter of Dubai. You are a quick 10 minute taxi drive to the Mall, Burj Khalifa, the DIFC area ( where so many restaurants are), another quick 10 minute drive to hot spots like La Mer Beach and best of all- only 15 minutes from the airport!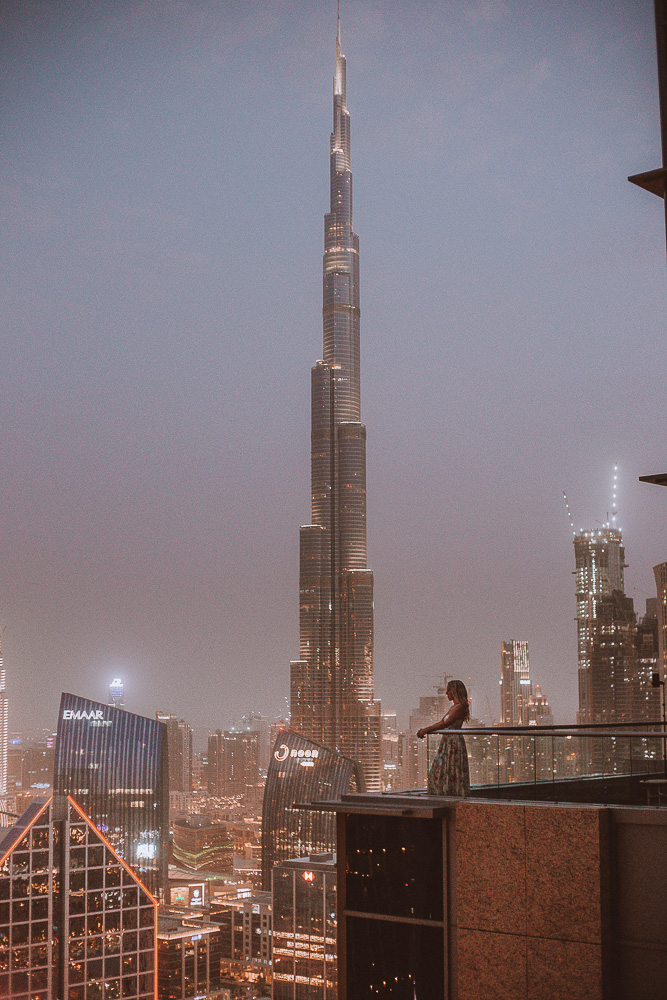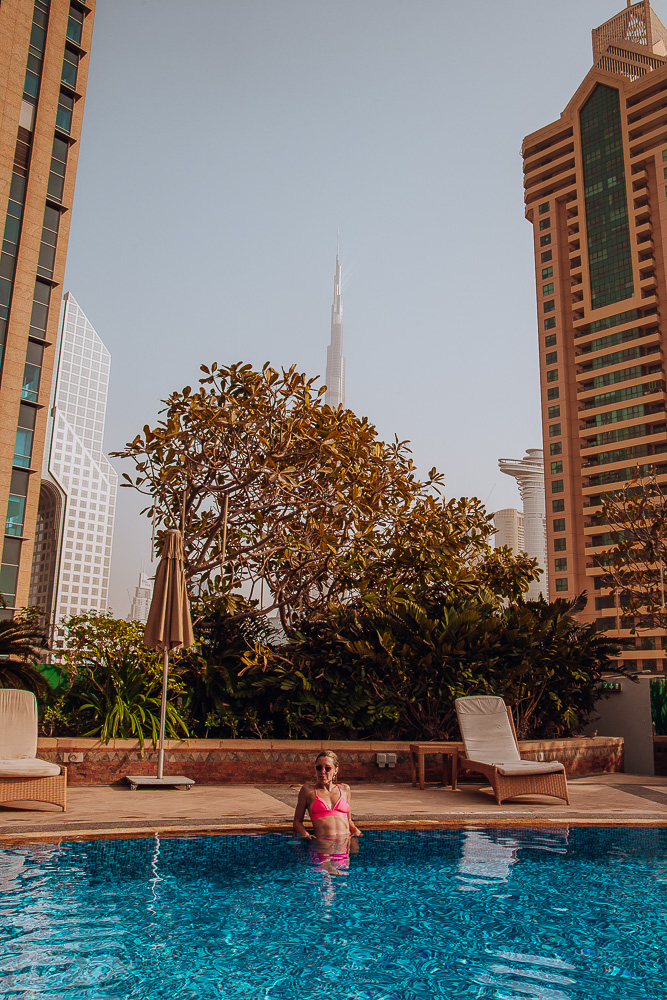 THE GROUNDS
Walking into the lobby of Shangri- La you instantly noticed the tranquil yet luxe vibe that the brand is well known for. Between the lobby and the second floor, you can find numerous areas to set up shop at or eat! With fresh flower arrangements, gold accents and super high ceilings, it truly felt like a breath of fresh air walking into the space each day!
The hotel's main breakfast buffet is located on the main level of the lobby which we ate at everyday! It offers loads and loads of selections that would whet any sort of appetite. I'm talking options like fresh Omelet stations, Yogurt Bars, Waffles, Fresh Juices and my favourite of all- a little fresh bakery station with mini donuts, scones, mini muffins, and croissants! Yes please.
In addition to their breakfast offerings, they also house some well known and mouth watering restaurant options like The Shang Place which features traditional Chinese cuisine or Hoi An, a Vietnamese restaurant with items like Pho and other creations that feature delicate spicing and flairs.
One of my favourite amenities though was the afternoons spent at the hotel's outdoor pool located on the 4th floor. Accessibly by a bridge that connects to the hotel, this felt like a true sanctuary after a long morning exploring the city! The main pool area is circled with palm trees, has bright pink cushions and accents and fresh cocktail offerings! All in all a perfect way to enjoy that hot Arabian sun! If the heat is too much for you, don't worry- they have you covered! Located on the 42nd floor, there is also an indoor pool where you also get incredible views of the Burj Khalifa

THE ROOMS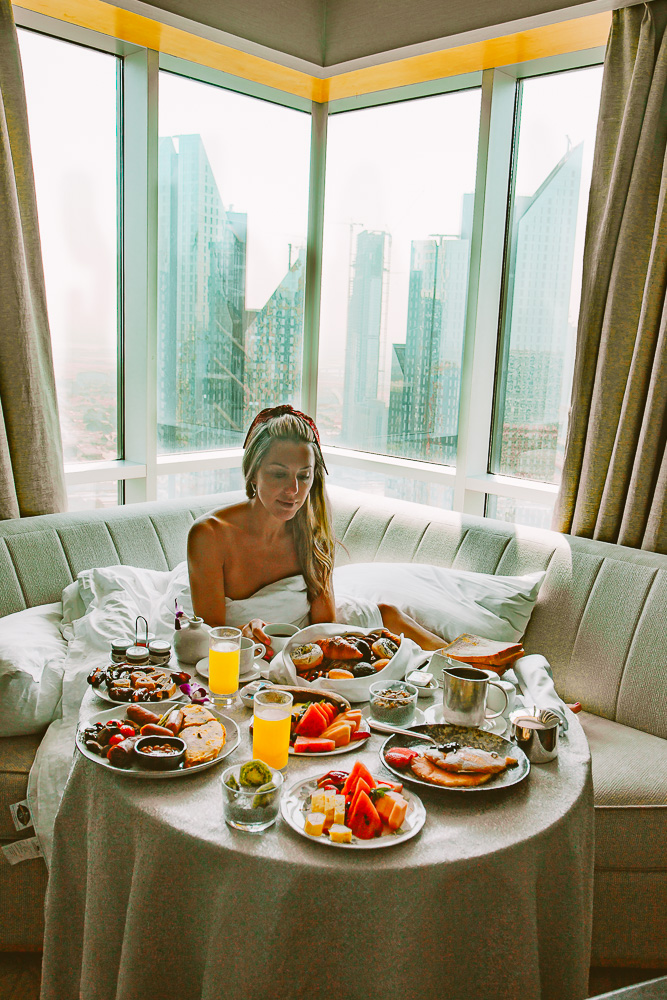 With just over 300 rooms, the Shangri- la offers sleek, sophisticated nd modern rooms filled with lots of amenities to keep you comfortable! Our room was situated on the 38th floor and faced the Burj Khalifa. If you are able to upgrade to a Burj Khalifa room, I HIGHLY recommend reserving the "Deluxe Burj Khalifa View Room". I will truly never forget opening up our hotel room curtains to see the Dubai skyline glowing at night time. It made my jaw drop! Our king size bed was named our "favourite bed of our trip" after staying in over 4 hotels to compare it to! The sheets were super soft and the mattress similar to a cloud. I had a hard time getting myself out of bed here! And one day we didn't! We kicked up our feet and ordered room service and truly enjoyed soaking up all the last moments of our room. Just like the pool area, it felt like a sanctuary coming back to our room after a full day in the city.
The bathroom space is also impressive. Made up of a soaking tub, separate glass shower and large, expansive sink area ( for all my skin care products that seem to take up 3/4 of the vanity when we travel LOL), it checked all the boxes. It mainly features elegant marble accents which is a very Shangri-la.
Our favourite spot in the room was the V shaped couch that was tucked perfectly along the windows allowing us to take in the mesmerizing views. Before leaving for dinner, we would have a glass of wine and sit here and it was so relaxing. When we wanted to take it up a notch, we made our way up to the 42nd level where there is an outdoor terrace which you can use to enjoy the view even more!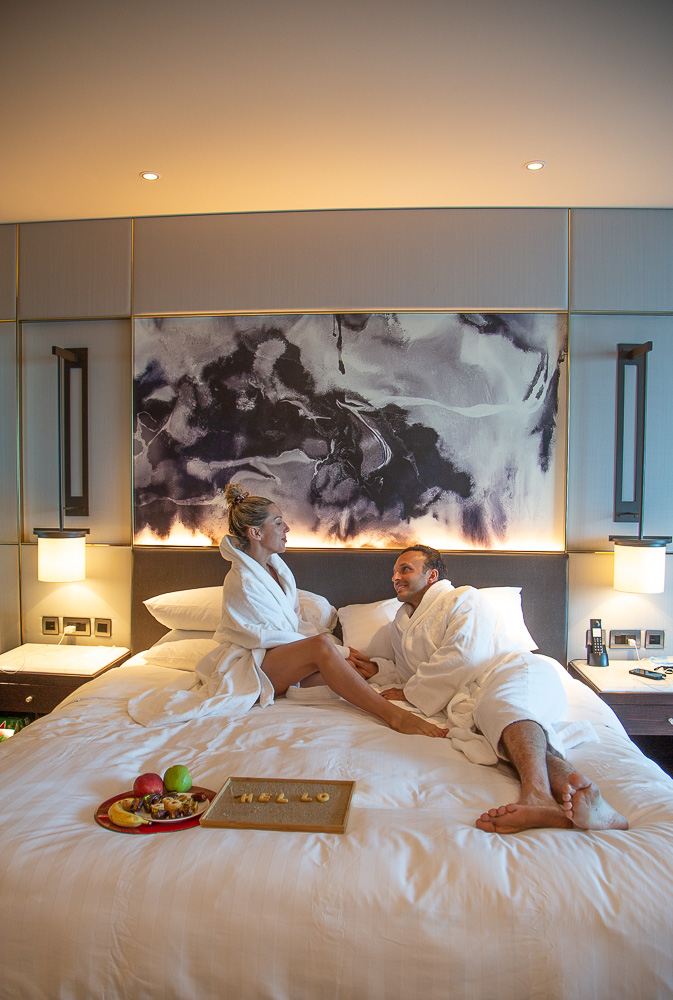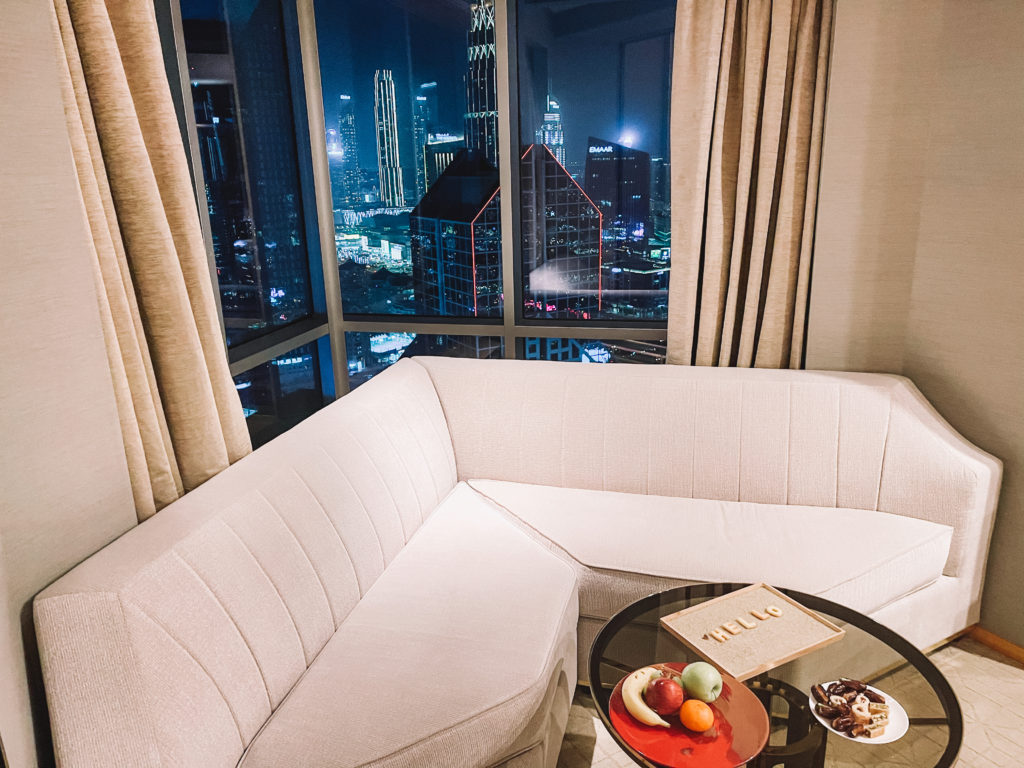 HOTEL TOUR BELOW
OVERALL…
The Shangri-La Dubai is one of the best hotels in the city and for good reason.
It combines the perfect balance of luxury, 5 star service, ideal location, endless restaurant options and views like no other hotel! We would not stay anywhere else when we go back to Dubai
IMPORTANT TIDBITS ABOUT THE SHANGRI-LA DUBAI
| | | | |
| --- | --- | --- | --- |
|  PRICE | Rooms range from $300 CAD and upwards depending on room type and the season |  MINI BAR | Yes! Wine, drinks, snacks etc |
|  WIFI | Yes! Also have a beautiful desk in the room where you can work if need be! |  YEAR OPENED | July 2013 but renovated in 2018 |
|  POOL/GYM/SPA | 2 pools, full spa and 2 different gyms! They even have a handball court which we used! |  LOCATION | Located in the heart of downtown Dubai |
|  CHILDREN |  Yes! There is a little wading pool that would be perfect for kids in the pool area. |  RESTAURANTS | Yes. 5 full service restaurants. Room service all day.  |