There is nothing that brings me more joy than travelling ( hence why I went into travel blogging LOL) and because of that I have a list of dream destinations that I want to visit! 
Slowly but surely I am trying to check these off and I know there are soo many other countries that still need to be done but through all my travels, these dream destinations are ones I couldn't recommend more. If you are looking to make a dream destinations travel list- take a look at my favourite 23 places below to add to yours!
Quick Links: Shop My Favourite Amazon Products For Your Dream Destinations Trip
, , , ,
23 Dream Destinations That You Need To Travel To:
#1. Maldives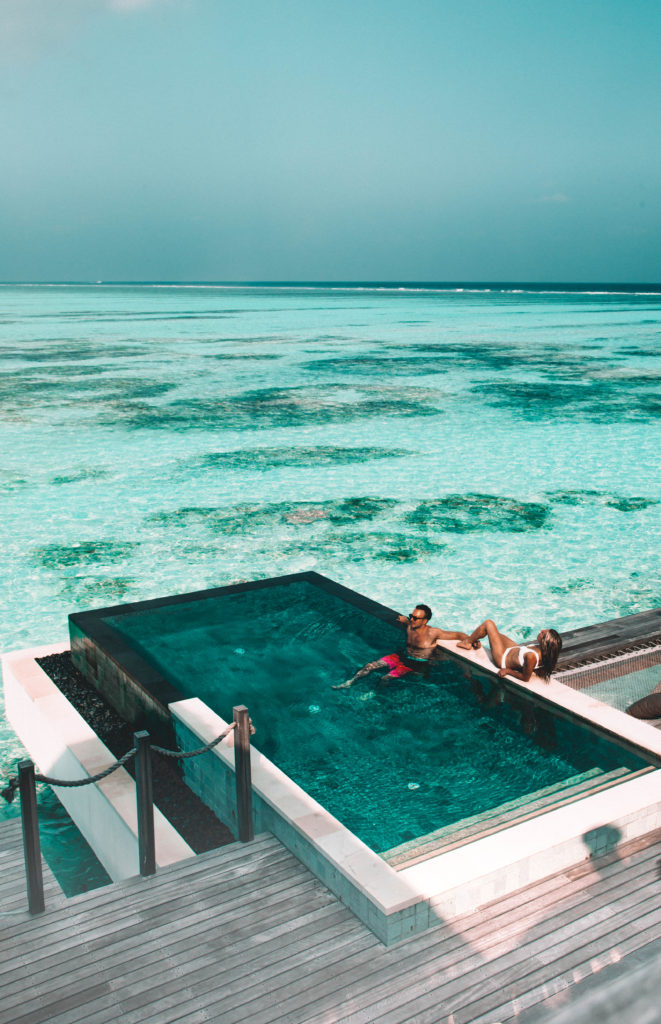 I am starting this dream destinations list of with my favourite place in the world. Literally.
Out of all the places I have travelled, nothing quite took my breathe away more than the Maldives. It is like living in an actual screen saver and is a true slice of heaven in every sense of the word.
I would recommend staying at Gili Lankanfushi ( ranked one of the best hotels in the entire world several years in a row by Trip Advisor) if you do make this bucket list dream destination come to life!
The Maldives is made up of tons and tons of islands and each hotel essentially owns their own island or atoll ( as they officially call them) so it is super remote and exotic. It has the whitest sand and the clearest waters and you really just can't beat the overwater bungalows that most of the resorts feature. It's a total dream.
This is probably one of the most well known dream destinations in the world and for good reason.
#2. Lake Louise, Alberta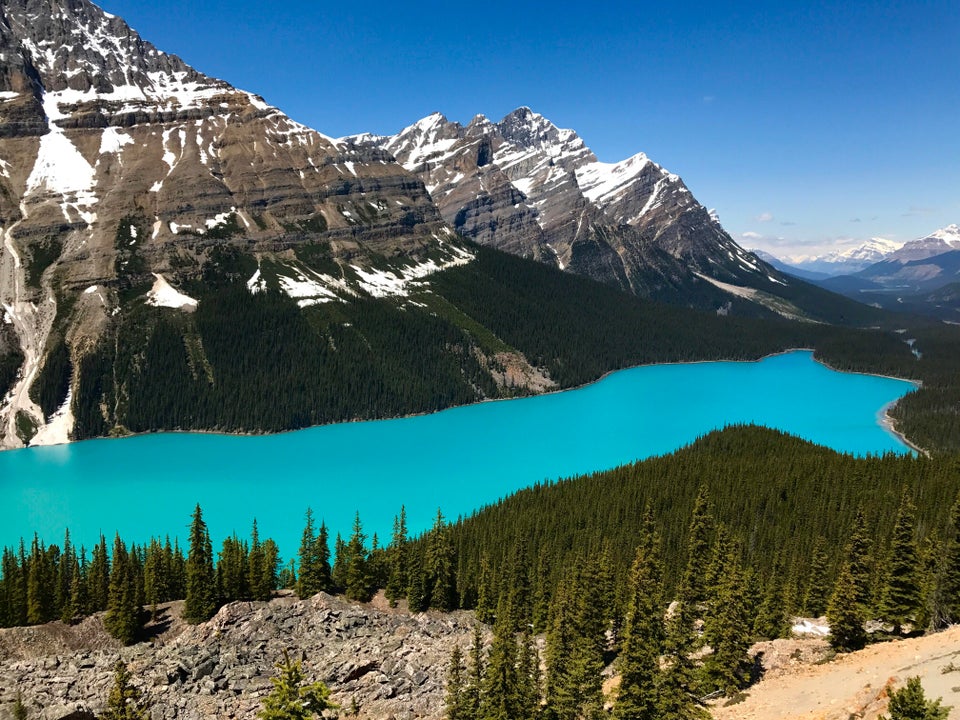 Of course I need to include my home country of Canada in this dream destinations list and it's not just because I am biased! There are so many places in Canada that people travel to from all over the world but as a Canadian, I can confidently say that Lake Louise, Alberta is truly remarkable and one of the most unique lakes you will ever lay eyes on. The shade of turquoise is so bright that it almost looks like it's photoshopped in some photos.
I found myself rubbing my eyes because I was truly in disbelief of the beauty in front of me.
What I love about Lake Louise is that it's one of those dream destinations that also allows for some adventure. You are not just sitting on a beach and reading. If you like to explore and sight see a bit, there are so many amazing hikes in the area.
You can even kayak on the lake itself! Or if you visit in the winter, you can skate
Whatever you do, you need to stay or at least visit the iconic Fairmont Lake Louise that sits right at the foot of it. It is honestly a dream destination in itself!
#3. Kauai, Hawaii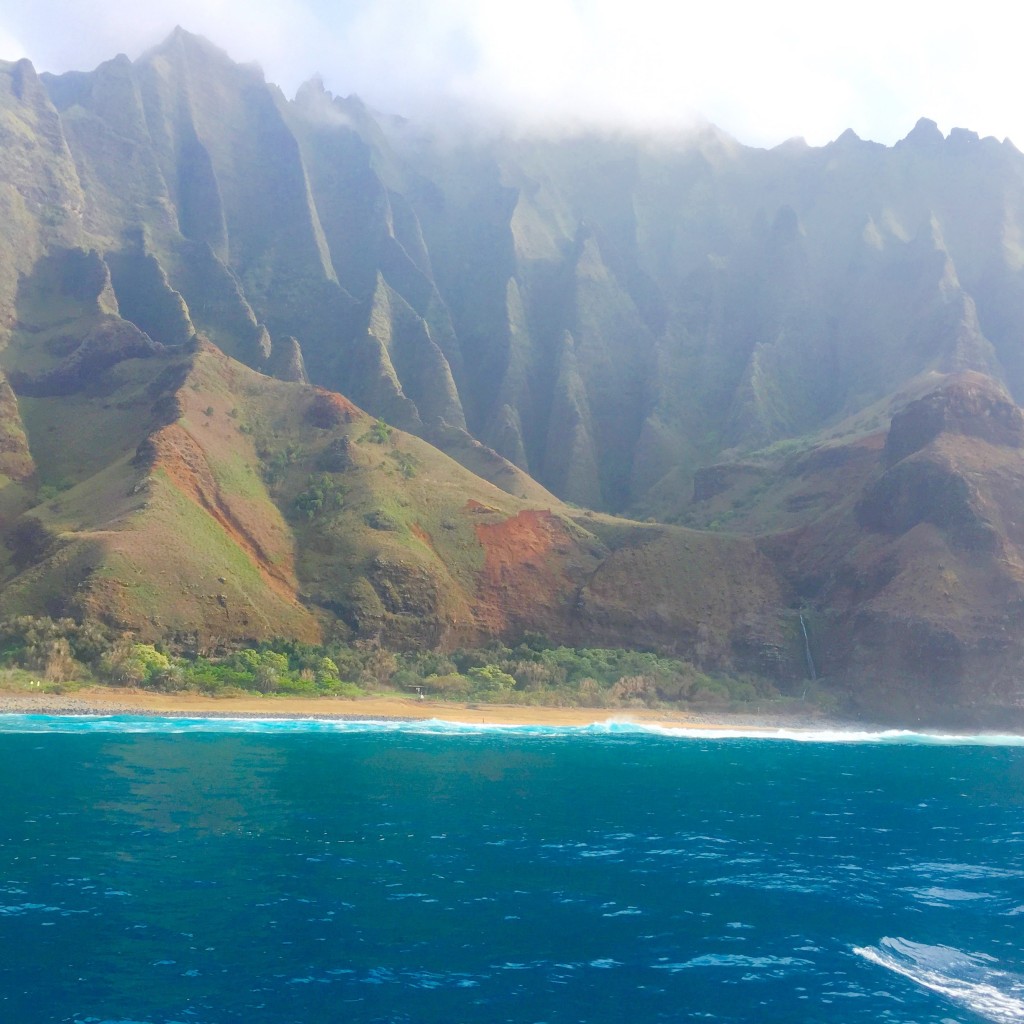 Arriving in Kauai, Hawaii makes you feel like you have arrived at a spot where Heaven got it's inspiration from. It's simply out of this world.
The Na Pali coast ( pictured above) is home to some of the most dramatic landscapes and truly one of the most beautiful places on earth. You can hike the Na Pali Coast or sail through the waters to see it ( we did both) and I can confirm it was the most stunning thing I have laid eyes on.
I have been to Maui and Oahu and I personally feel they don't even compare at all to Kauai!
#3. Moorea, French Polynesia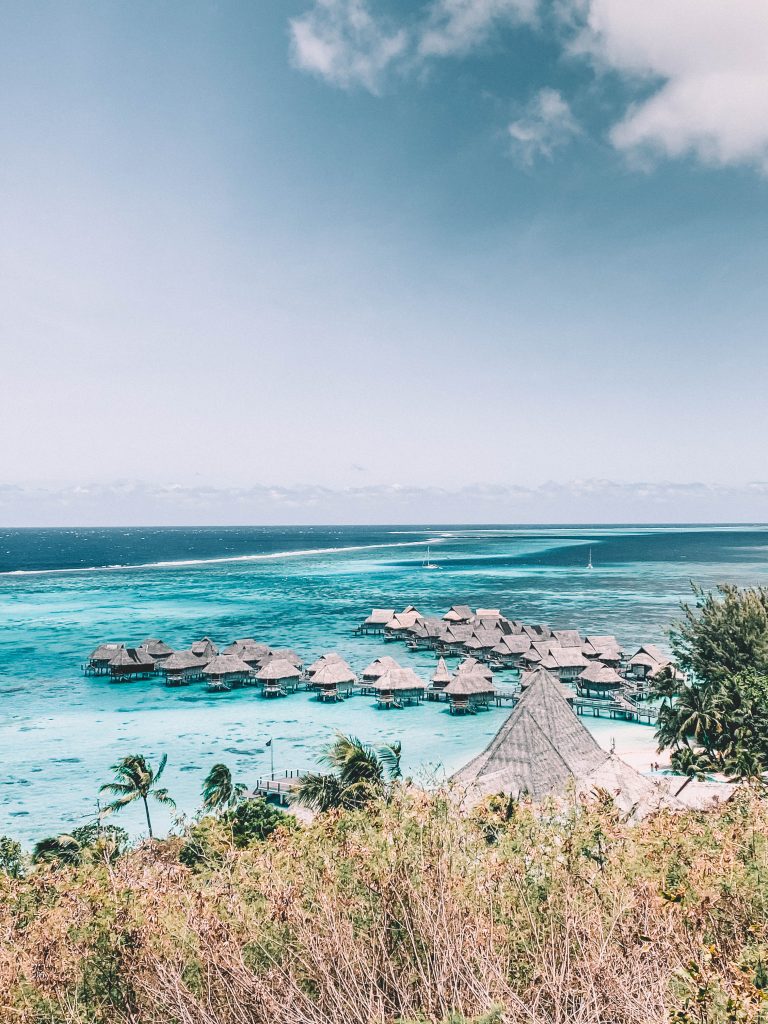 Ahh French Polynesia- another absolute favourite of mine.
While most travelers flock to Bora Bora, I prefer Moorea and for good reason. It has the right mix of luxury, culture, beauty and allows you to really take in the entire island overall.
Moorea, French Polynesia is a close 2nd to the Maldives in terms of my own personal dream destinations preference.
If you decide on French Polynesia, most people decide to visit a few of the islands and a pretty standard route is Tahiti, Bora Bora and Moorea.
#4. Key West Florida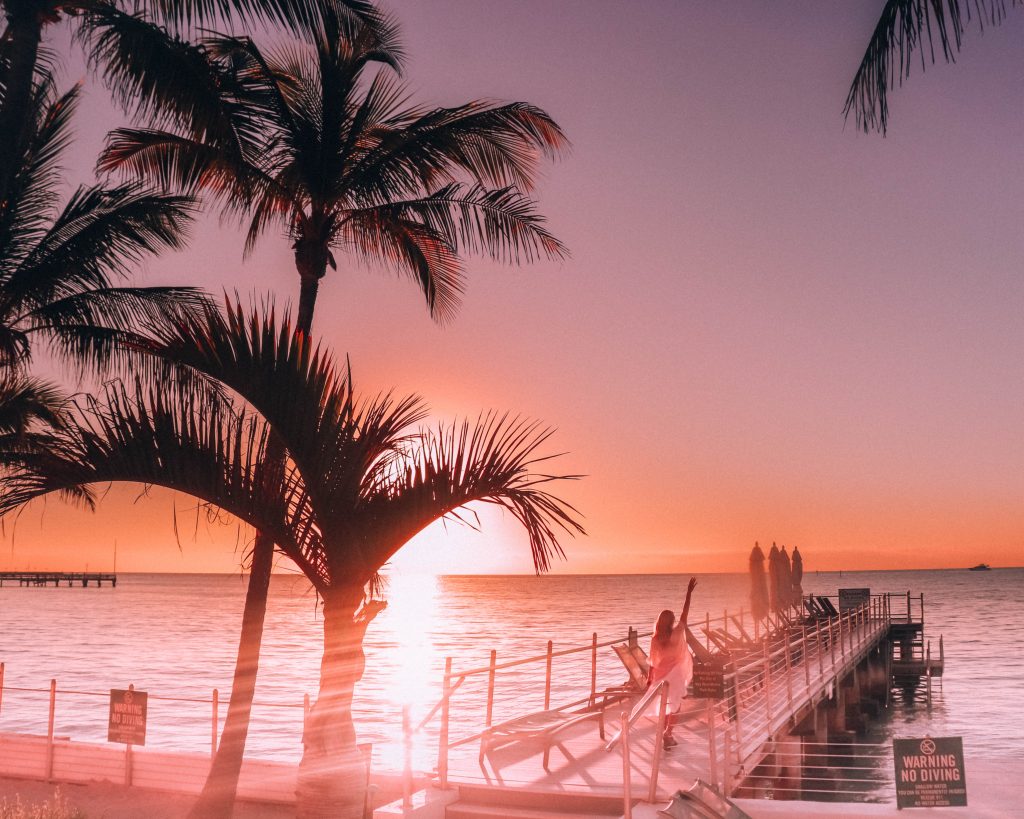 You might be thinking…Florida? One of the best dream destinations? Really?
But honestly, Key West, Florida is one of the most unique and special places I have visited. With the comforts of the North American way of life but with water colours as blue as can be, it is a place that must be experienced at least once in your life.
I recommend starting a road from trip from Miami and making stops along the way until you reach the very tip! We loved the stop in Islamorada and enjoyed eating all of the Key Lime pies ( what Key West is also known for!)
#5. Cinque Terre, Italy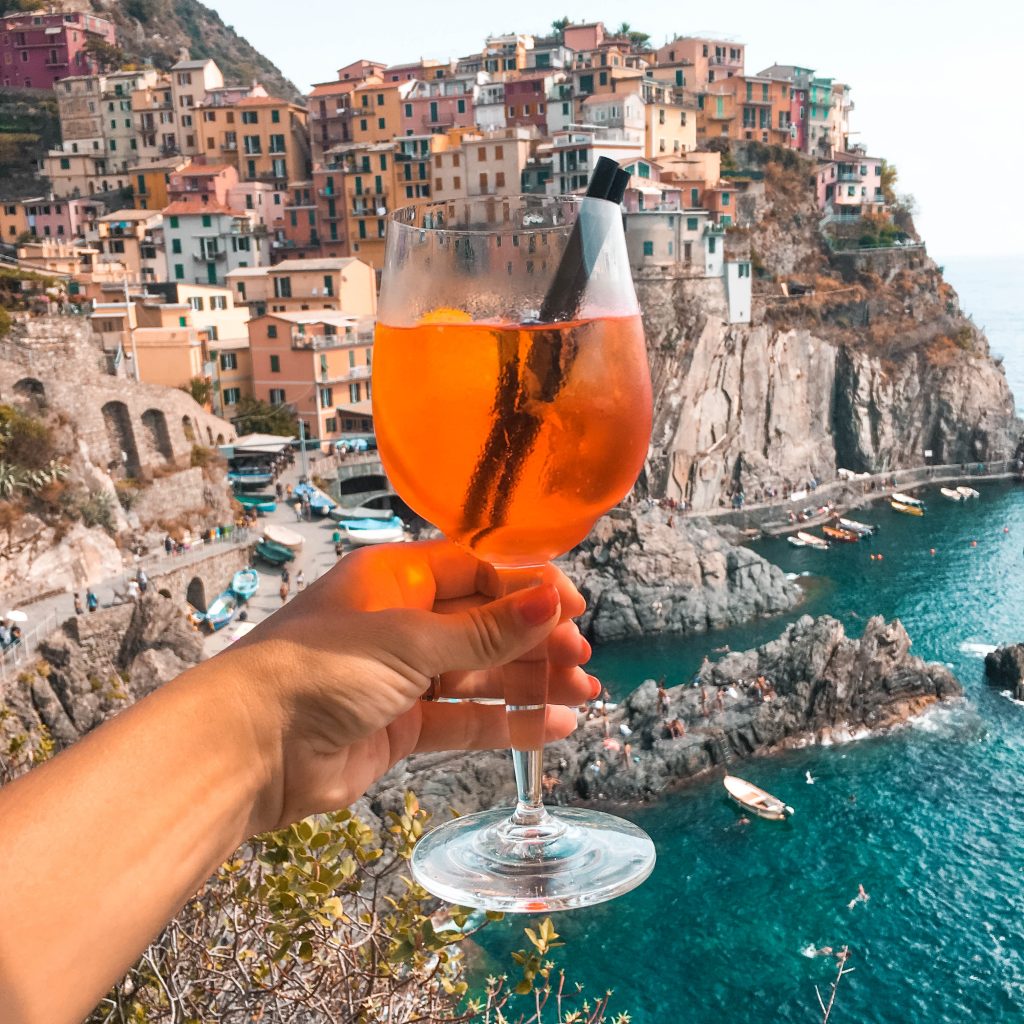 You really can't go wrong with any area of Italy but Cinque Terre, a charming and colourful seaside area on the east coast of Italy is definitely a dream destination to add to your list.
With 5 towns total that make up the Cinque Terre region (Cinque means 5 in Italian!), you have plenty of areas to explore…and eat at. Oh boy the food in this area!
This region is specifically known for Pesto and Limoncello and we basically spent our 5 days there eating and drinking just that.
While some people recommend Cinque Terre for only 2-3 days, I would recommend visiting for a week to really experience each of the towns and their charm. It's also much more reasonable than Capri or the Amalfi Coast!
#6. Muscat, Oman – One of the Most Unique Dream Destinations That You May Never Heard Of!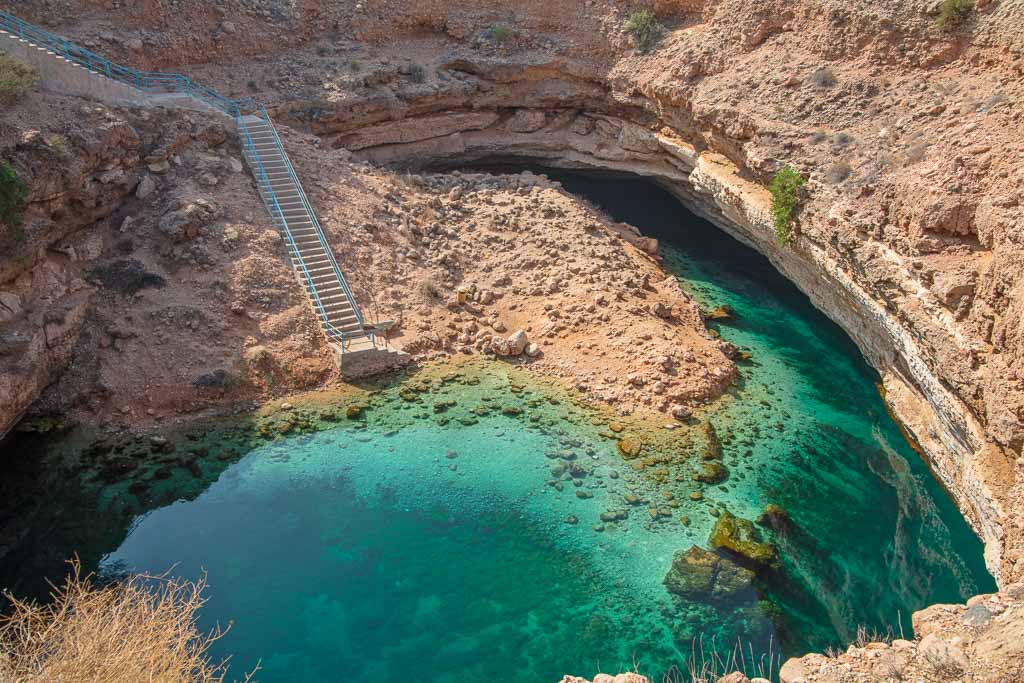 Image Via Adventures of Nicole
I bet you are wondering where the heck is Oman??
Well, you are not alone! This under the radar country is in the Middle East ( just a few hours of a drive from the well known Dubai) and is slowly becoming more and more known due to it's extremely beautiful architecture, turquoise waters and mountainous views.
It's a luxurious Arabian hideaway that you need to visit before it gets too popular!
Here are some other related posts for all the hardcore travel lovers out there:
#7. Marrakech, Morocco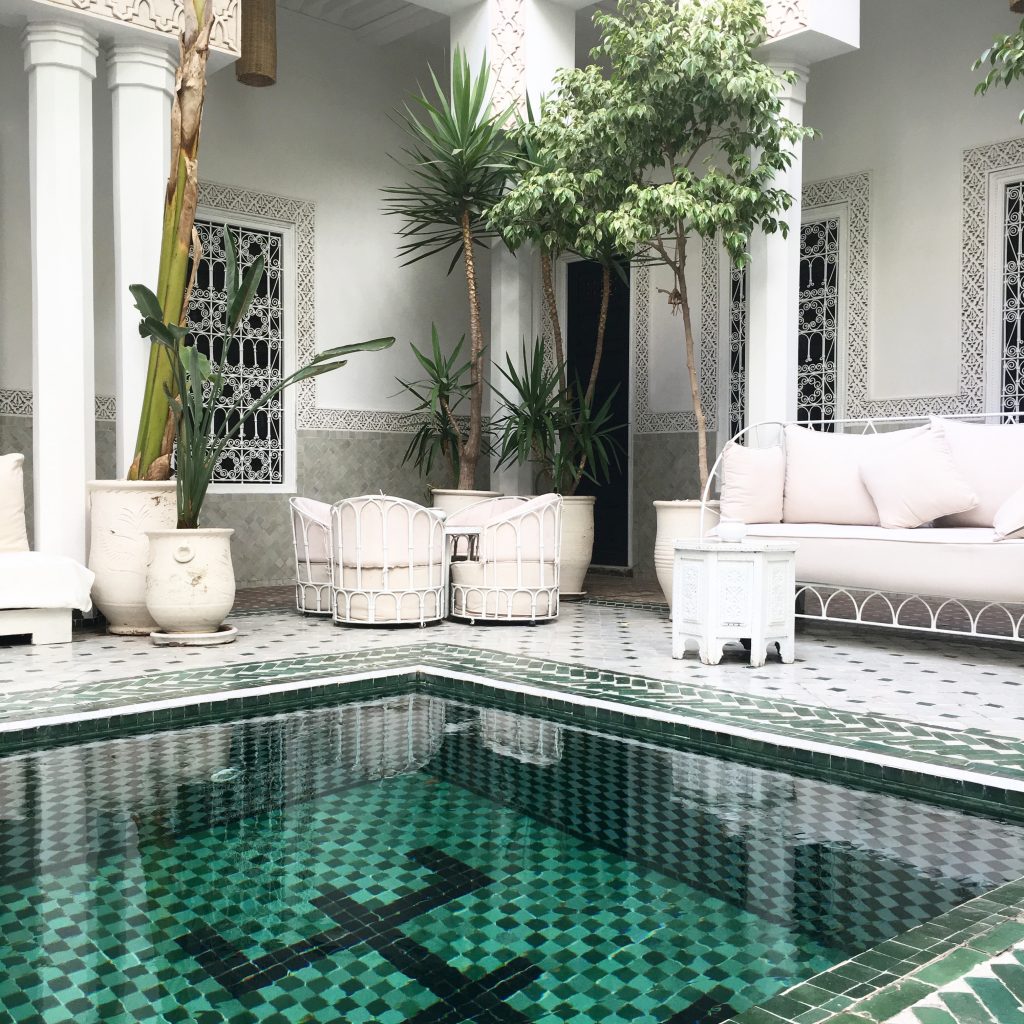 Marrakech, Morocco is one of the dream destinations that will ignite all of your senses.
It is colourful, fascinating, and vibrant city and it's one that you really can't explain fully unless you go.
Between the bustling souks, relaxing hammams, architecture and historical landmarks, there is plenty to do and discover. The best way to experience Marrakech is to just immerse yourself in the streets and culture. I also recommend staying at a really nice Riad to fully get the Marrakech experience. We stayed at Riad Yasmine and it definitely lived up to the Instagram hype.
#8. New York, New York- A Christmas Dream Destination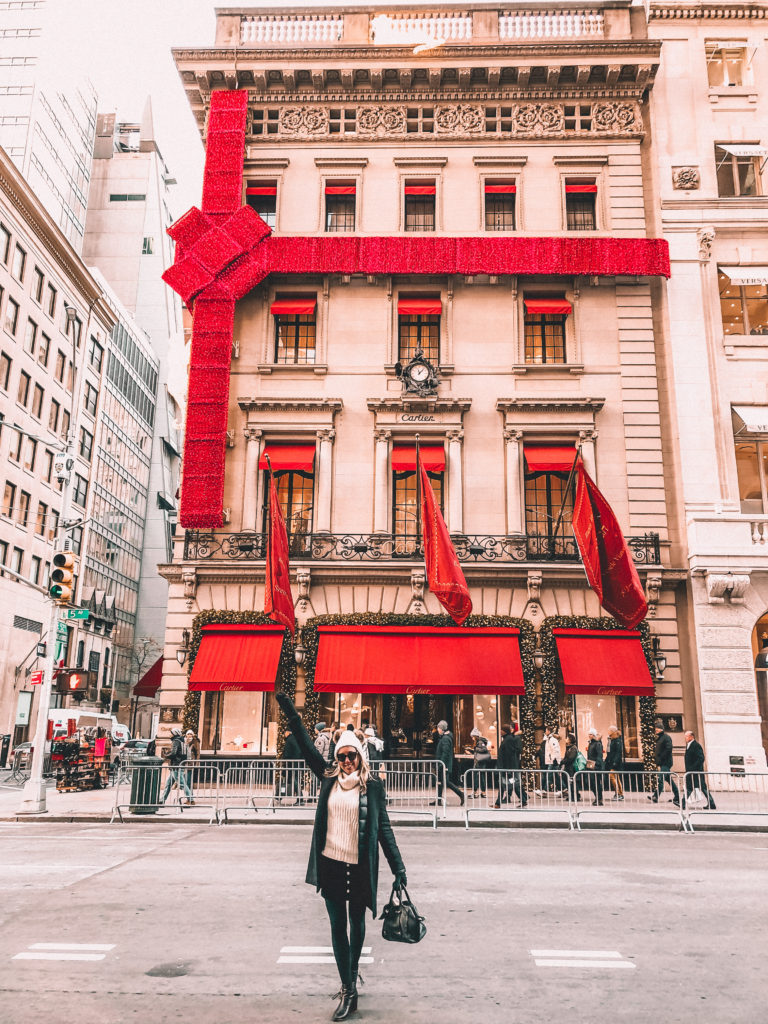 Visiting New York City at Christmas time is something that should be on everyone's bucket list! There is a magic in the air like no other and though photos online really do showcase the beauty of it- it honestly needs to be felt.
Between Rockefeller Center to Skating in Central Park to all the window displays that are decked to the 9's, it is one of those dream destinations that you will never forget ( even coming from a girl who hates winter!)
#9. Santorini, Greece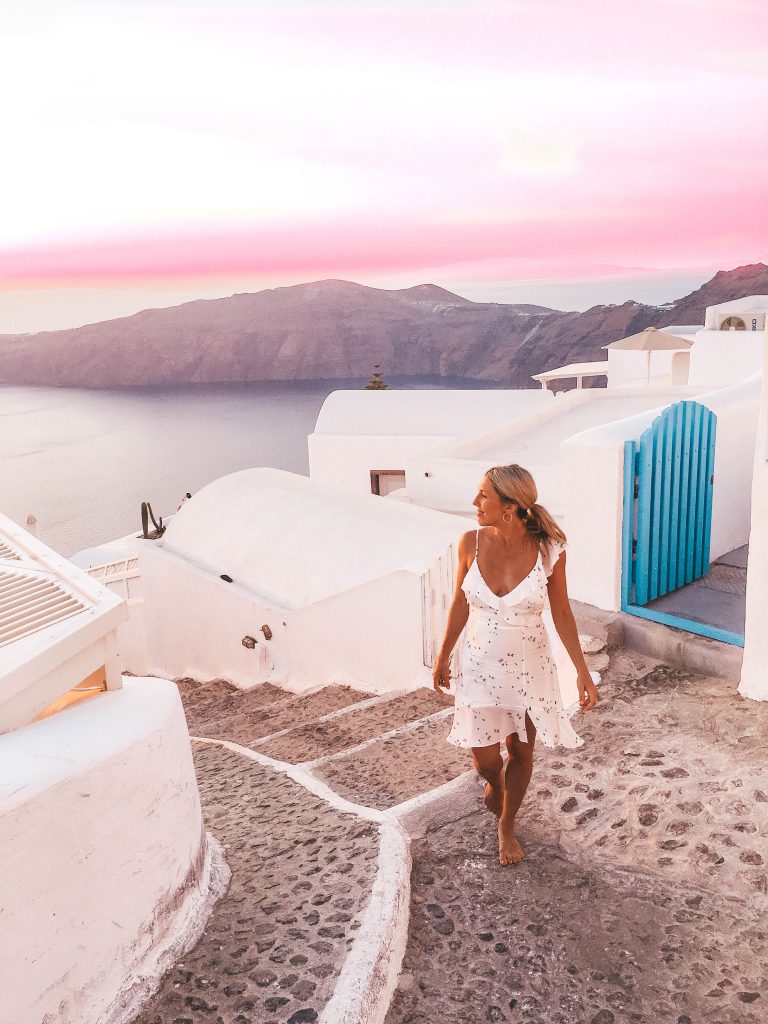 If you are looking for some dream destinations for your honeymoon, make sure to add Santorini to the list. Santorini is pure magic and is one of those places that I really cannot say anything bad about.
Between the iconic white and blue buildings, firey sunsets and bougainvilla flowers popping out from here there and everything, it is easy to see why this is one of the most romantic spots in the world.
Stay in Oia and prepare to feel like you are living in a postcard.
#10. Iceland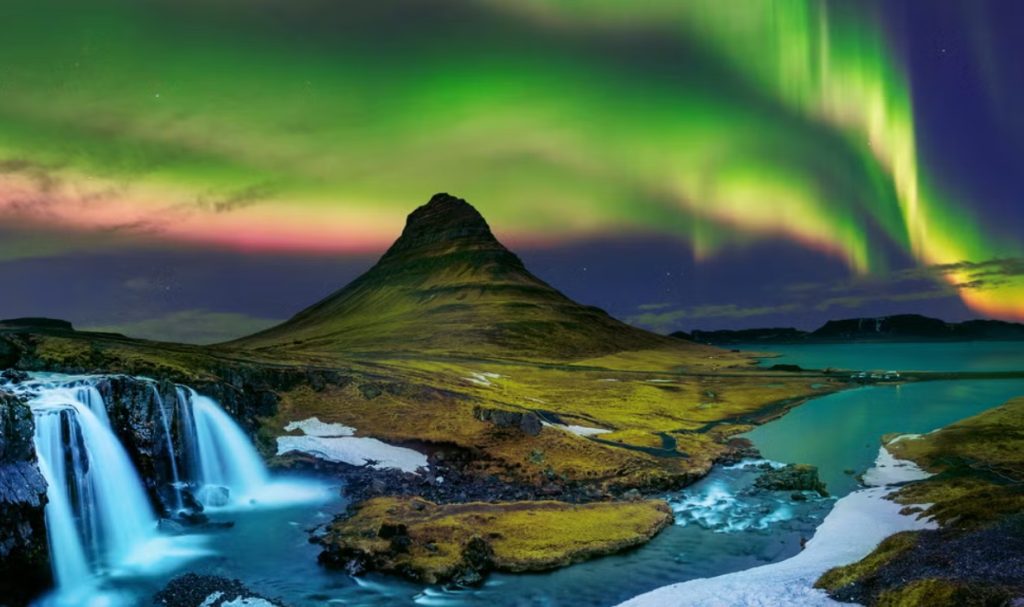 Image via Getty Images
Normally my dream destinations do not include places that are cold but Iceland is the exception.
Visiting Iceland feels like you are visiting a different planet ( I honestly felt like I was on Mars at times).
Located between North America and Europe, Iceland -despite it's name- is actually more green than cold. It is home to the famous Blue Lagoon, it has tons of waterfalls ( you can't drive 5 minutes without seeing one) and has some of the coolest black sand beaches.
Make sure to visit Thingvellir National Park
#11. Seychelles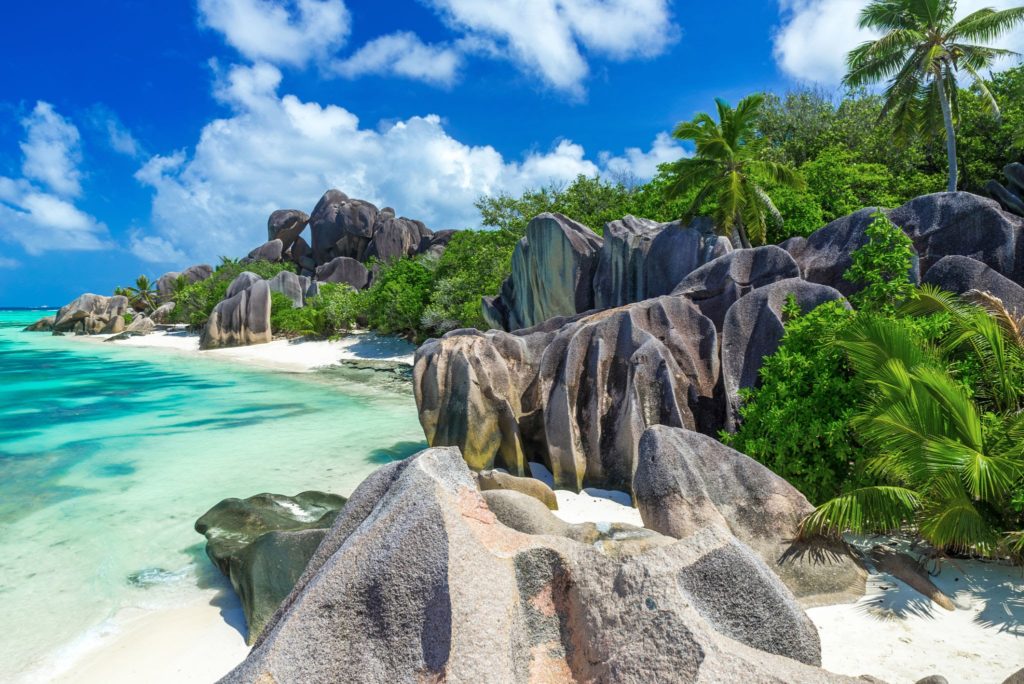 If Jurassic Park existed and decided to marry a tropical island, it would produce the gem of a spot that is the Seychelles.
This dream destination is situated in the Indian Ocean off the coast of Kenya and Madagascar. It features unique coral species, spectacular nature, and pristine beaches. There is over 115 islands all together that make up this beautiful place and one of the most well known ones is the Anse Source d'Argent (pictured above)
Truly exotic spot!
#12. Postiano, Italy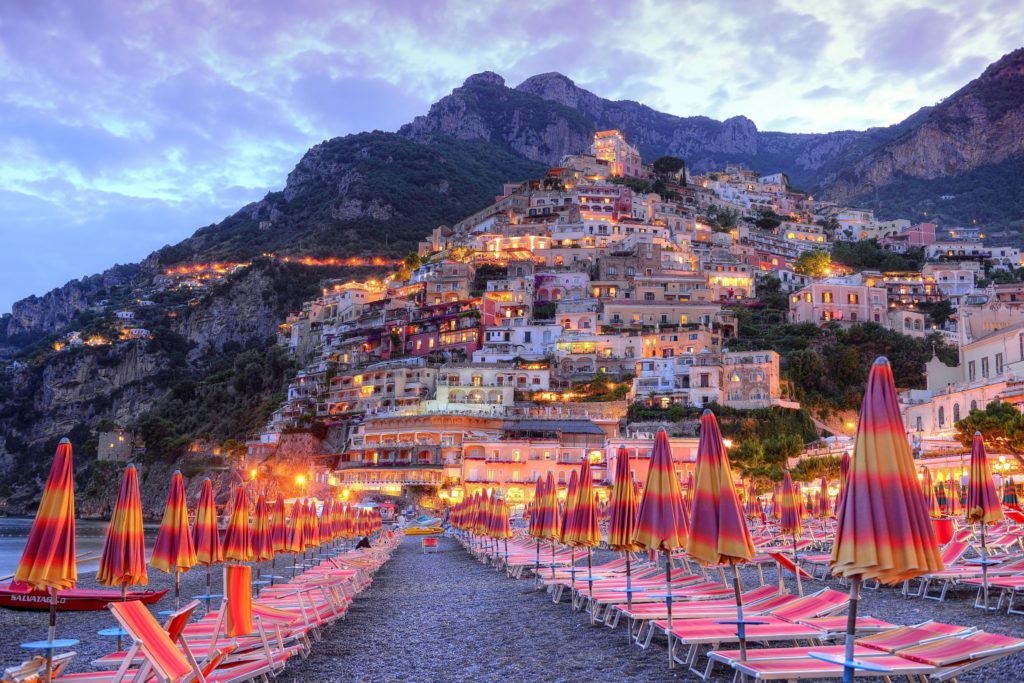 Positano, part of the Amalfi coast in Italy, is a cliffside village that is bright, colorful and has the best pasta and wine in the world.
If you are a foodie like me, Positano, Italy is a dream destination! There are bougainvillea bushes that fill up narrow, cobblestone paths, little cafes serving up delicious espressos at any time of the day and of course they have their famous pebble beachfront with it's iconic orange umbrellas.
Positano is one of the most popular destinations in all of Europe…especially during summer time. I recommend visiting in June or September to avoid the heavy crowds!
#13. Exuma, Bahamas- Dream Destinations That Are Extremely Remote!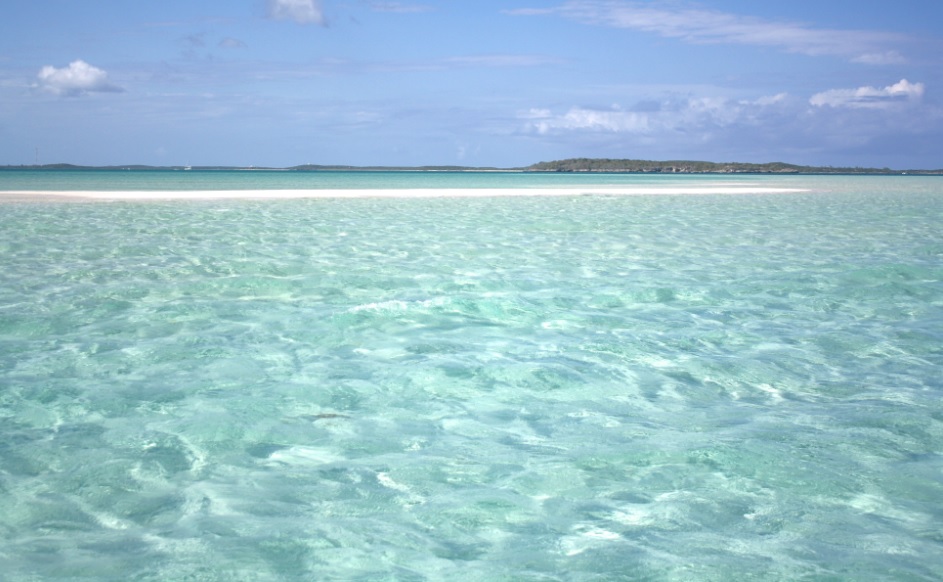 If you are looking for dream destinations that are off the grid, Exuma, Bahamas is for you.
Located south from the popular island of Nassau, Bahamas, Exuma is home to over 360 little islands that hands down have the most insane shades of blue I have ever seen. Most people take boats to some of the neighbouring cays as it's the only way to get to them.
One of the coolest cays to visit is Pig Island where you can find families of pigs that have made this tiny island their home. This is not a typo!! haha. You can see some Snaps from my trip years ago when I had the chance to swim with some.
#14. Dubai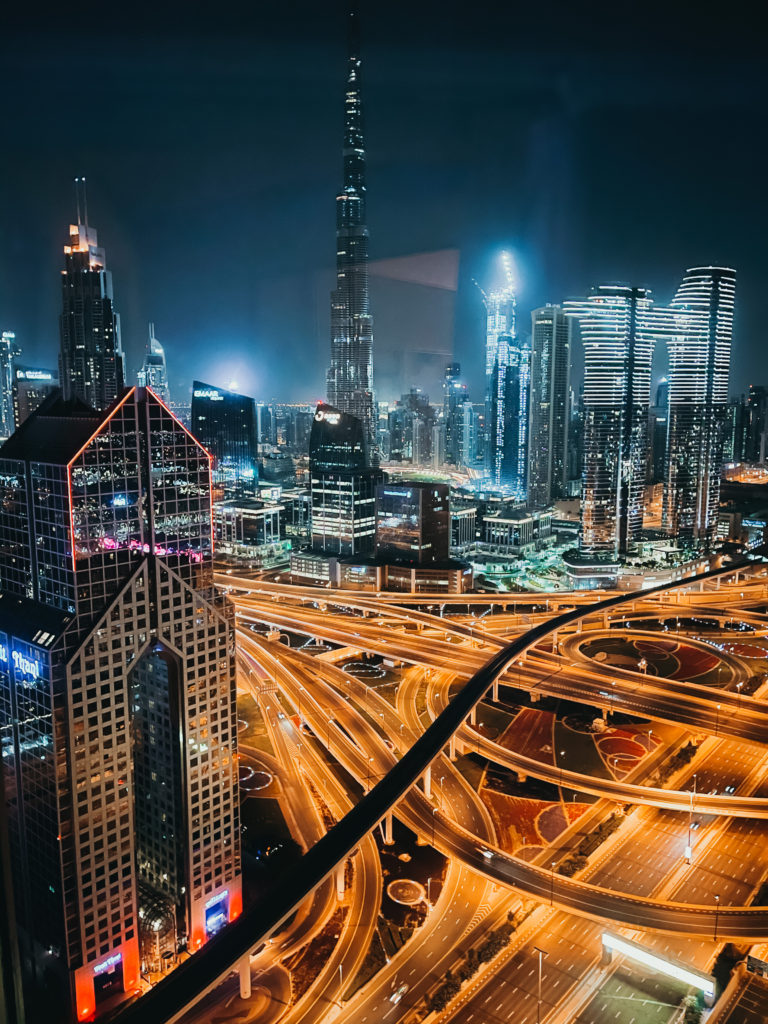 Dubai is one of the most advanced, modern and luxurious cities in not only the United Arab Emirates but in the world.
It features an iconic skyline with state of the art skyscrapers ( including the tallest building in the world – The Burj Khalifa) but it also features some of the best beaches and restaurants. It truly has it all and each year more and more things are popping up.
What I love about Dubai is that you can get a city fix and just a car ride away, you can visit the full on desert and be on a camel. It's also a great place to fly into if you are visiting places like the Maldives or Seychelles!
#15. Hong Kong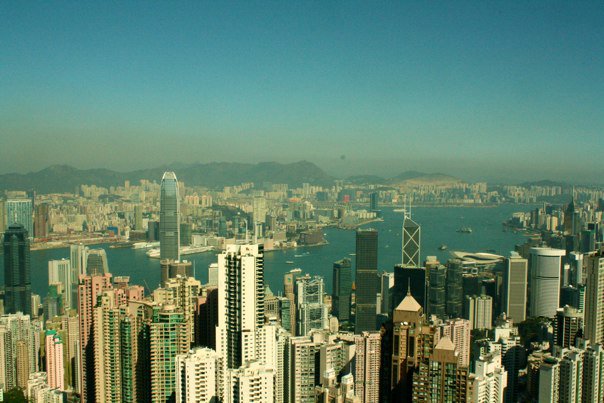 Hong Kong is hands down my favourite city in the entire world. I have visited 3 times now and I still cannot get enough!
It reminds me of a mix of New York, London and LA all rolled into one amazing place. You can find some of the craziest and most luxurious shopping ( There are designer stores every few blocks), some of the world's best restaurants and what makes this city even more cool- is that it offers a slice of nature even though it is a sprawling Metromalitan center.
If you haven't visited Asia at all, this is a perfect starting point to experience the amazing and fascinating culture.
#16 Malibu, California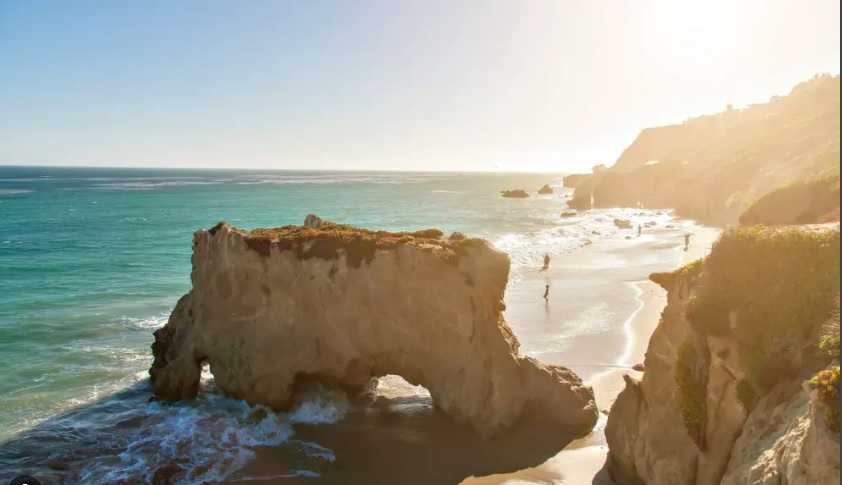 I couldn't do this dream destinations list without including one of my favorite places in North America and in the United States. Though California is one of the 50 states, to me it truly feels like it's own world.
I love California and I specifically love Malibu.
Driving up the Pacific Coast Highway from the madness that is LA will never get old and there is a reason why this highway is written into so many songs. It's mind-blowingly beautiful.
Further more, the beaches in Malibu truly compare to some of these other exotic beaches that I have included in this list. El Matador State Beach is at the tip of Malibu and is a place not to be missed if you visit. I also recommend driving from Santa Monica all the way up the coast of California if you do have the time! There are many road trip itineraries you can find that take you through some pretty phenomanal routes.
#17. Zanzibar, Tanzania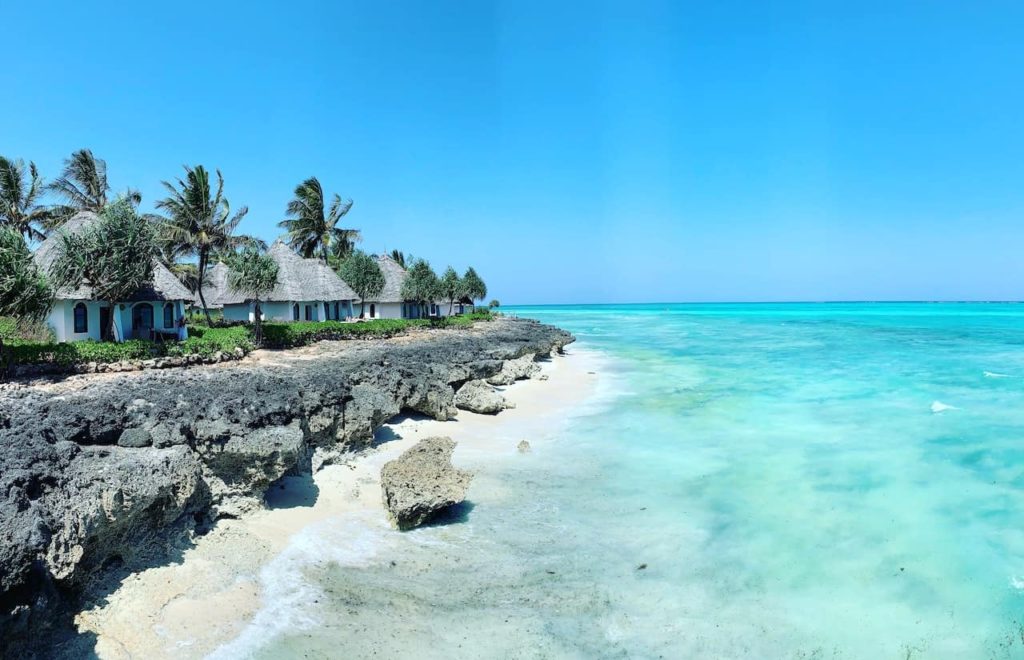 Oh Zanzibar! This island in Africa is one of the most beautiful ( and affordable) exotic destinations you can visit! I call it the Maldives of Africa as it truly has some of the whitest sand and clearest water- just like you would find in the Maldives.
Unlike the Maldives however, Zanzibar is very, very reasonable and you can find some luxury hotels and accommodations for under $350 a night.
Zanzibar features shallow sandbars so you can quite literally walk out into the ocean and you can whisk yourself off to other nearby islands. What makes this place even more special is that you can get a dose of culture along with some of the best beaches in the world!
#18. Tulum, Mexico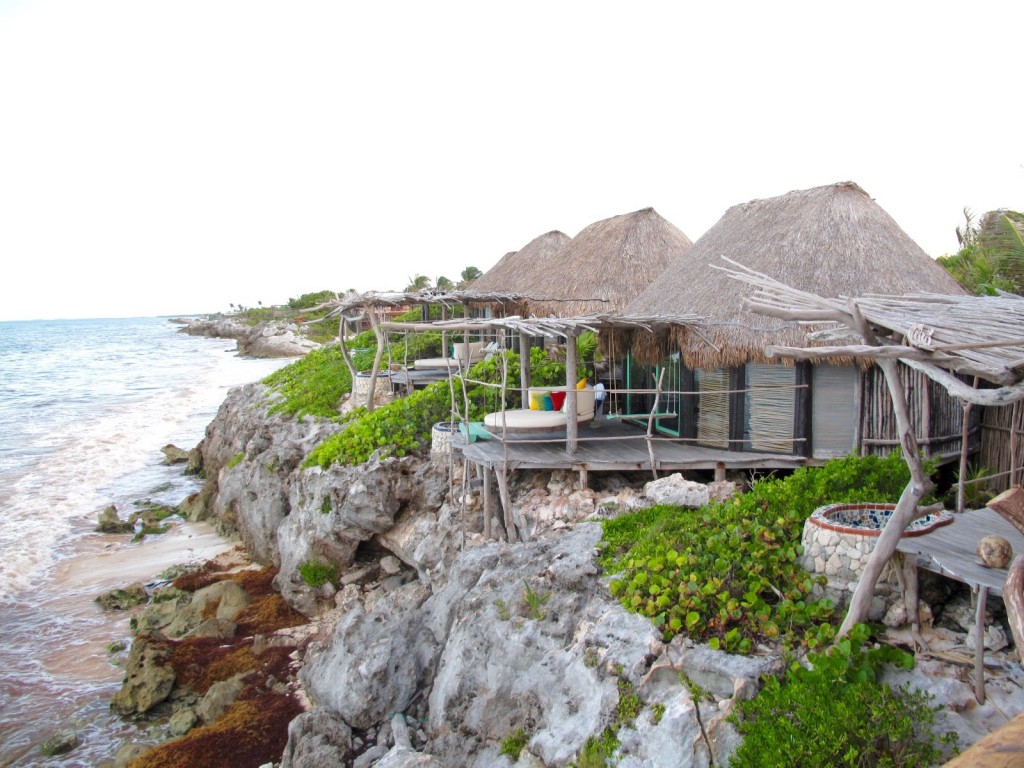 Tulum, Mexico is a destination that has gained a lot of popularity over the years
Known for it's buzzing restaurant scene, design savy hotels and complete jungle vibe, Tulum is a really, really cool and unique place to visit!
While the main strip can put you in a trance you for the entire duration of your trip, what makes Tulum even more cool is that you can visit neighboring cenotes ( large swimming holes) if you are craving some adventure and activities. They are ONE OF A KIND and just a short drive from town.
#19. Nosara, Costa Rica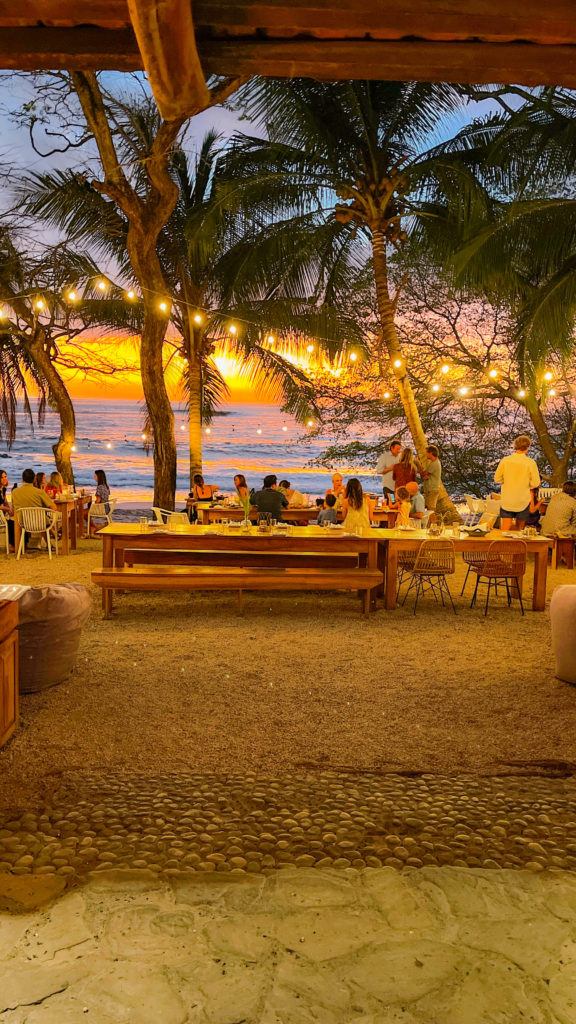 Nosara is a small surfing and yoga haven in the middle of Costa Rica's Guanacaste province that stole a piece of my heart. It is a special place and I am not alone in saying that I could very well pick up and spend the rest of my days there.
It's immersed right into the jungle, has nightly sunsets that are some of the best I've ever seen and is a mecca for living that pura vida lifestyle.
PS: If you are looking to visit the infinity pool pictured above, it's actually an AIR BNB we stayed at!
#20. Ochos Rio, Jamaica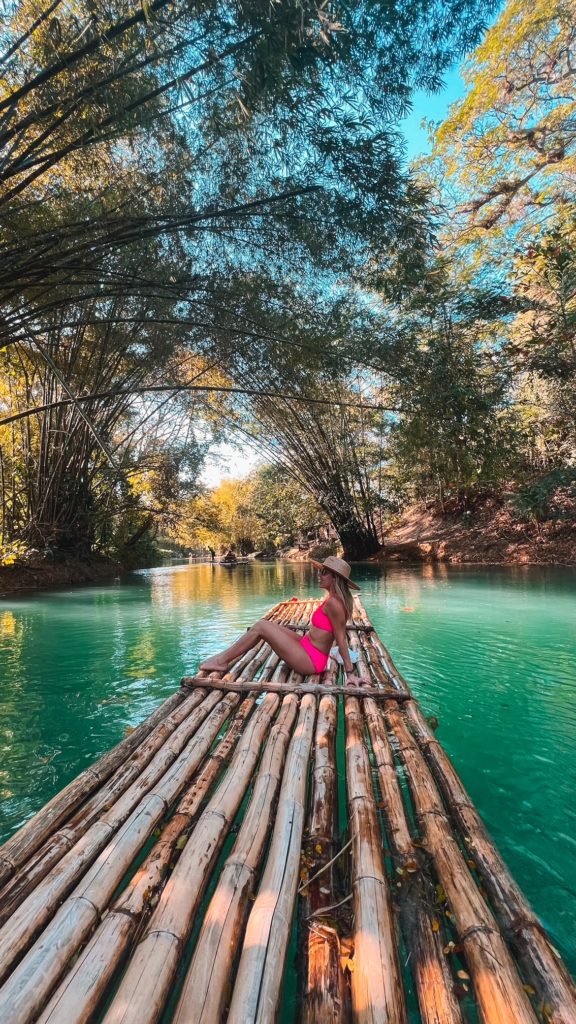 Waterfalls, lush vegetation, stunning beaches and Jamaican patties 24/7…does it get much better than that? If that sounds like a dream destination to you- add Ochos Rios, Jamaica to your list!
What makes Ochos Rios so special is that you can experience so many adventurous activities as well as pure relaxation.
The Dunn's River Waterfall and cruising along the Martha's Brae River in a traditional bamboo raft are two things that need to be done in this lifetime!!! One of my favourite days EVER!
#21. Jaipur, India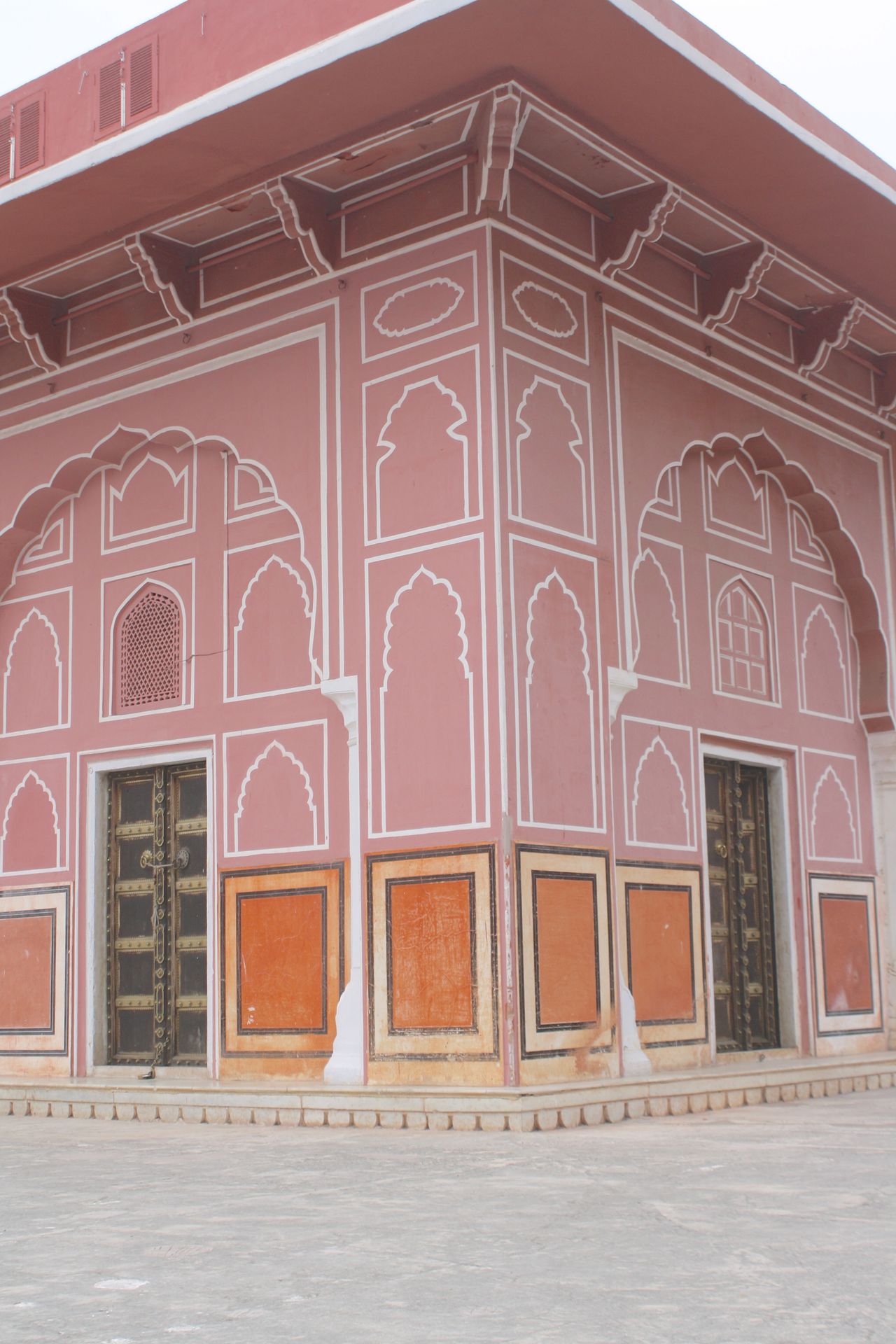 Ahh India- a place that really captured my heart in so many ways.
Between the world famous sights like the Taj Mahal, the colors, the many UNESCO World Heritage Sites, the food and the hearts of the many locals I came to meet, India is a once in a life time trip that will surely rock your core and fill you up all at the same time.
Though many put the Taj Mahal as the top priority on an India trip, I really recommend the romantic and pink city of Jaipur. It is a dream destination and one that has a lot of beautiful and luxurious hotels. It's a nice place to visit after the craziness of some of the landmarks in India that are super busy and hectic!
#22. Scotland- Dream Destinations That Feel Like a Fairytale!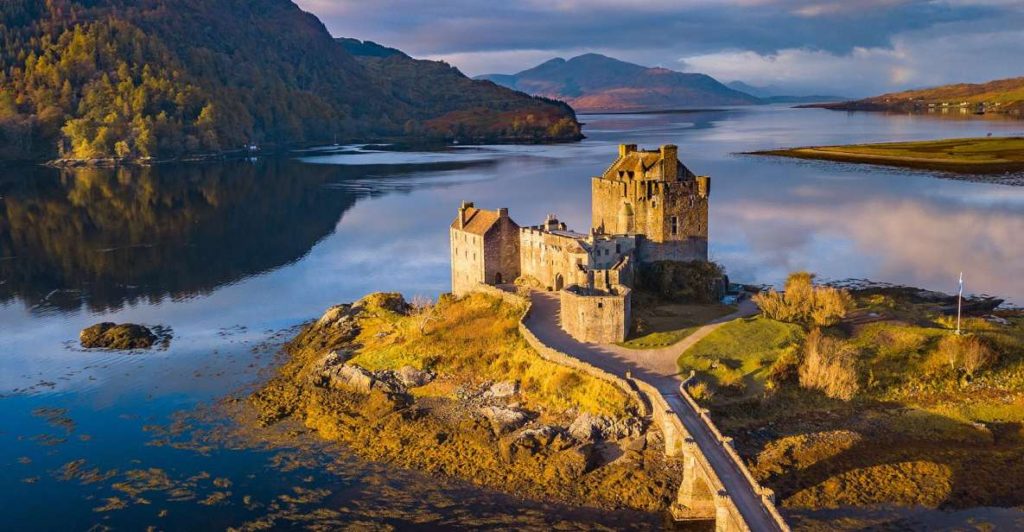 Out of all the coastlines in the world, I think that Scotland takes the prize for the most dramatic and beautiful ones.
With it's red and yellow sand cliffs, lush greens , loch views and enchanting castles, it is one of those places that feel like you are living in a fairytale.
The Eilean Donan Castle, pictured above, is worth the trip alone and it is a place where many movies have been filled.
Scotland is also home to the most pubs per square foot so you are almost guaranteed a good time…even with all the rain that it gets!
#23 Rio de Janerio, Brazil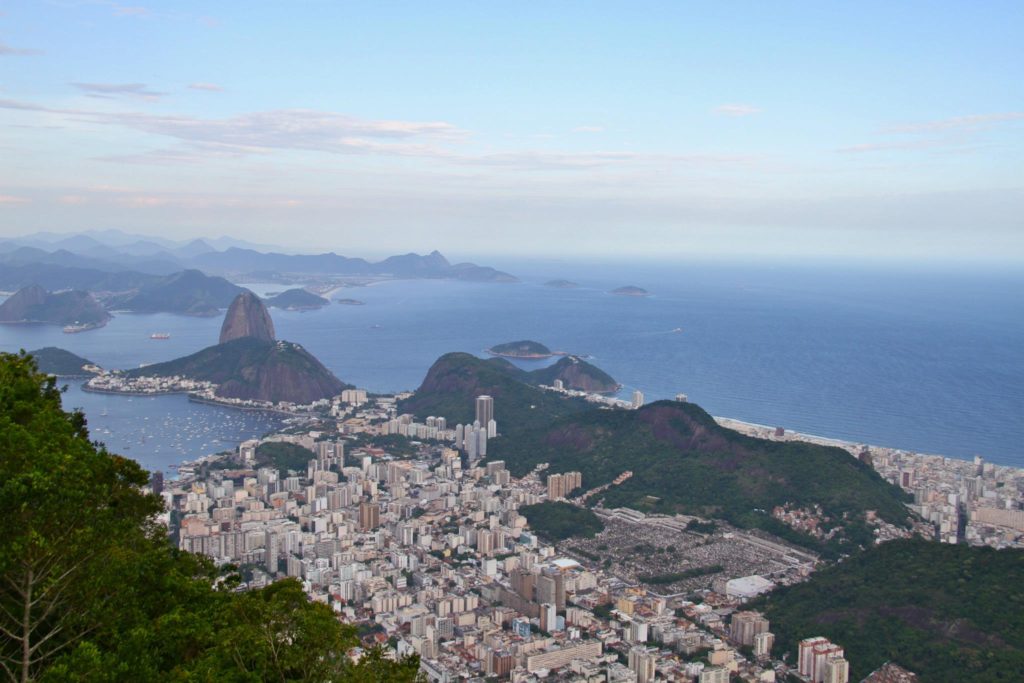 Rio de Janerio, Brazil is a land filled with samba, dramatic mountain landscapes, rich city culture and some of the best beaches.
It is also home to Carnival, one of the biggest festival ins the world that brings in over 2 million attendees. This world renowned festival showcases Brazilian culture and is filled with parades, costumes, music and parties. Carnival alone is a bucket list item for many but visiting Rio is also exhilarating on it's own!
South America in general is filled with so many dream destinations and I recommend pairing Brazil up with some other popular spots down south to truly get the feel of this continent!
#24 Algarve, Portugal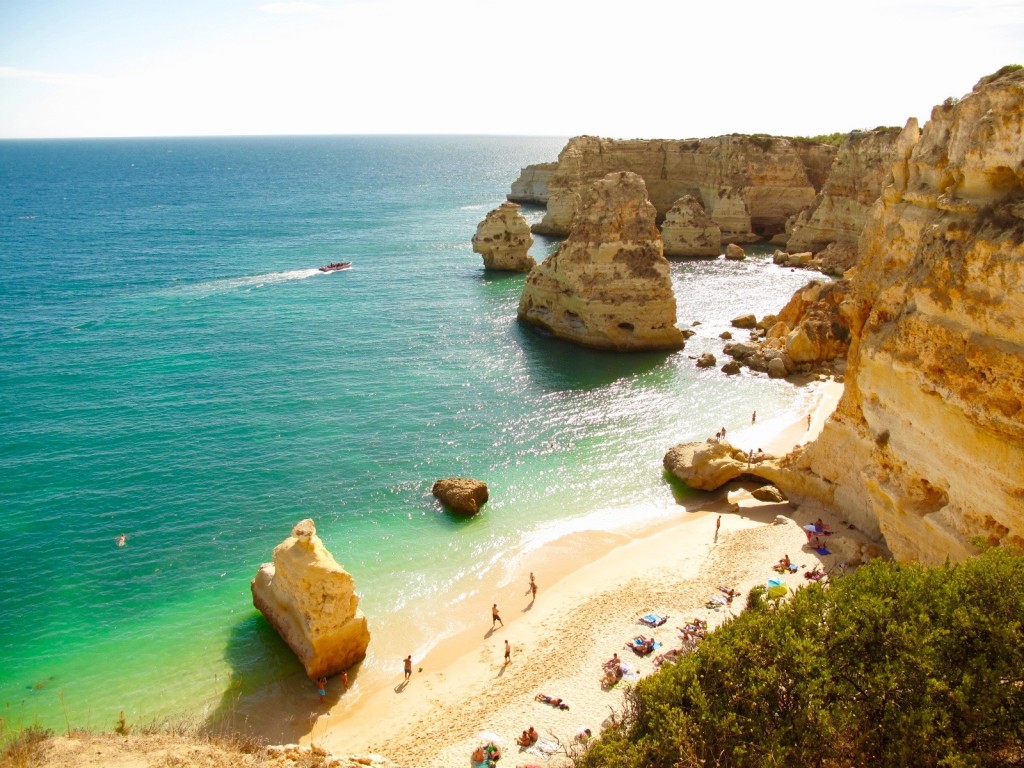 The coastline of Portugal is one of the most beautiful in the world. Their towering deep orange cliffs, glorious sandy beaches and bright waters make it one of Europe's most visited spots!
There are several towns to visit in the Algarve but some of the most famous spots are Faro, Praia da Marinha, Lagos, Praia de Dona, Portimão and Albufeira.
Add in Portugal's cuisine and you certainly have a dream holiday! I personally feel that Portugal is one of the best dream destinations in Europe!
#25 Sri Lanka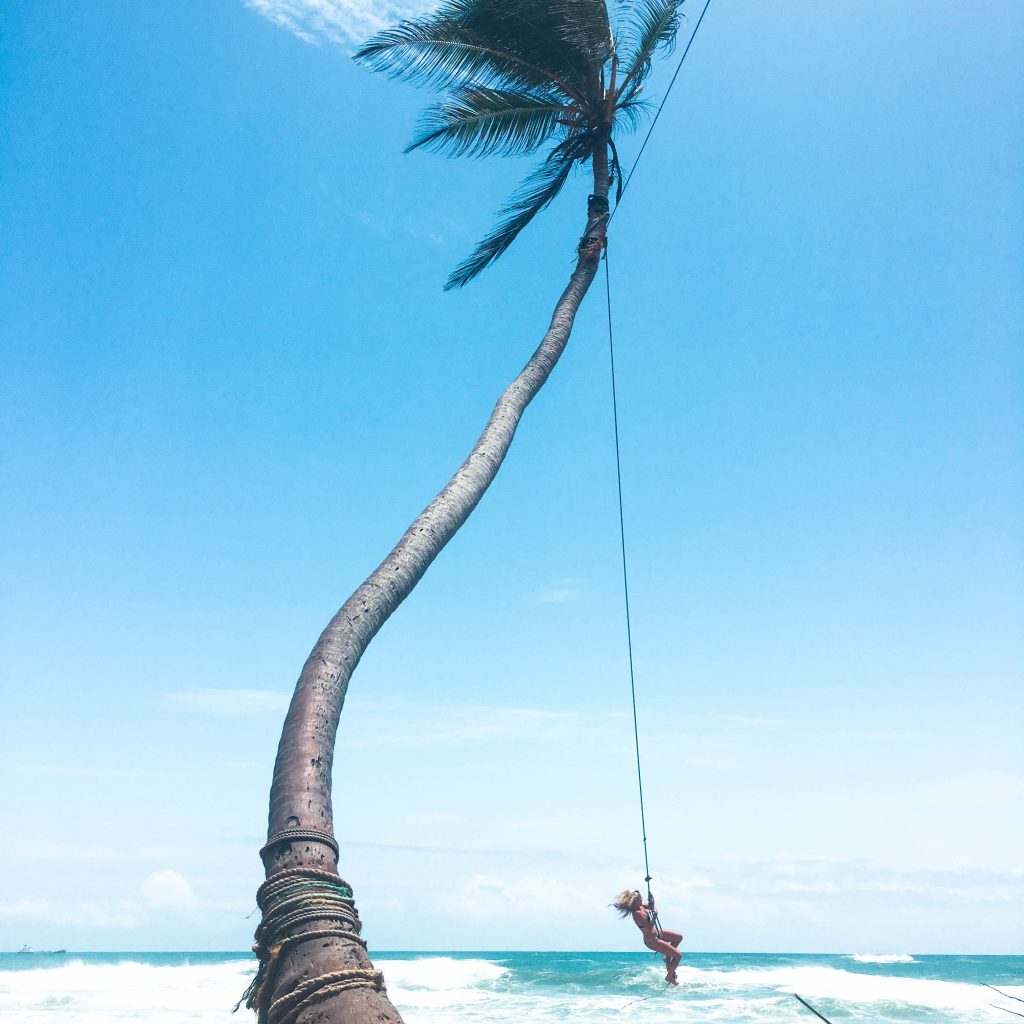 We visited Sri Lanka as part of our honeymoon and we fell so in love with the country.
It is such an underrated country and between the hospitality of the locals, the beaches, the historical sites and even safaris, it checks so many boxes. You can literally be spotting Leopards in the wild one day and the very next day be on one of the most beautiful beaches.
Your money also goes a long way here as well which is nice
You can read all about the best things to do in Sri Lanka HERE
#26 New Zealand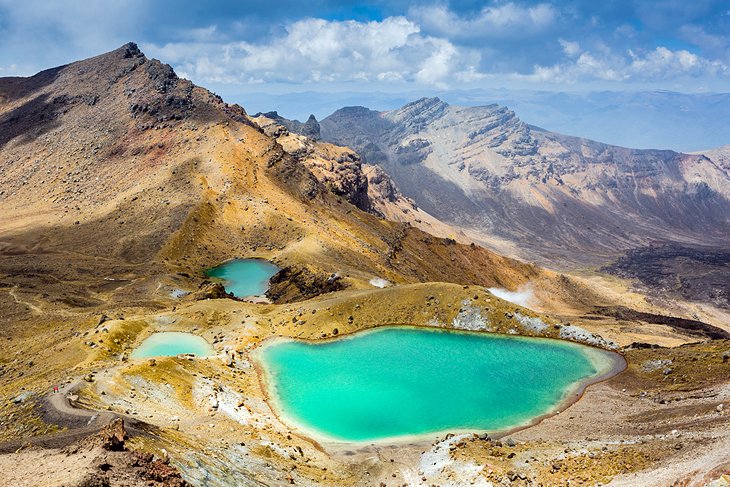 Image via Planetware.com
This is one of MY dream destinations!
While I visited all of the locations within this post, New Zealand is a place that is on my list that I have yet to experience! I thought I would include it so I can perhaps manifest me getting there soon haha
With so many national parks, wine regions, mountainous landscapes and scenes that honestly look like a scene from what I imagine Heaven being like, I need to get there asap.
It is a massive country though ( and quite far from North America) so people that do end up getting there often stay for a long duration in order to see all the sites!
#27 Turks and Caicos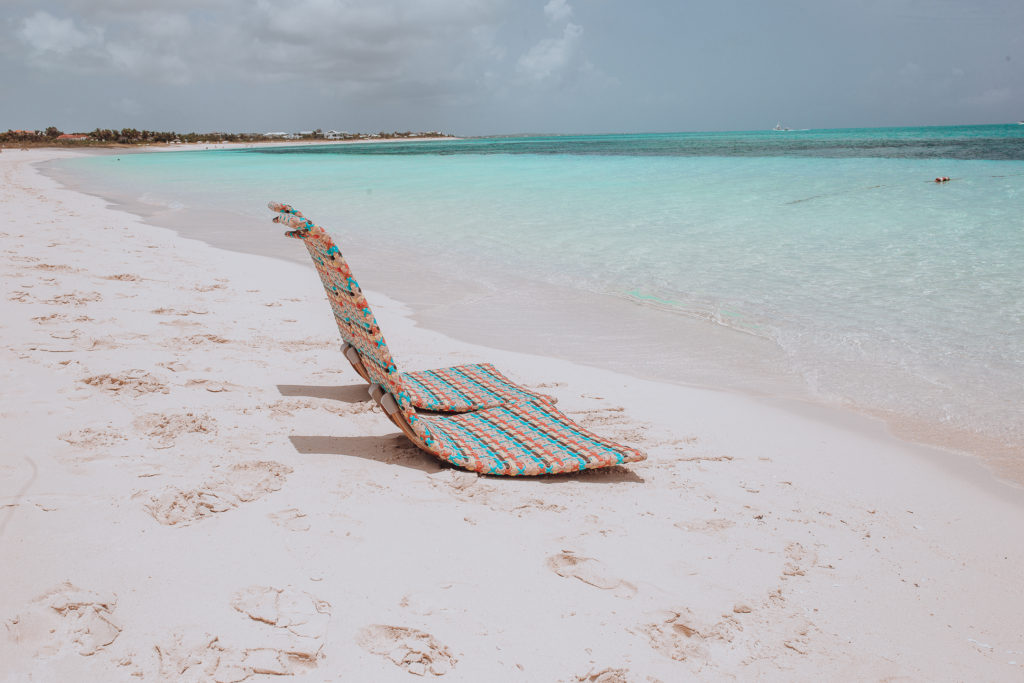 I couldn't do up a list of dream destinations without including one of my all time favourite places in the Caribbean– Turks and Caicos!
Turks and Caicos is home to Grace Bay Beach which has been named one of the number one beaches in the world year after year ….and for good reason.
It features crystal clear waters and the whitest, softest sand that stretches over 5 miles. It's so serene and because of it's size, you often feel like you have it all to yourself!
When I visited Turks, I couldn't stop taking photos because it was honestly too beautiful.
If you are looking for a place to stay as a couple, I definitely recommend the luxurious and modern Wymara Resort and if you are visiting with a family, there is no better place than Beaches Turks and Caicos.
---
I hope you enjoyed reading through the Top 27 Dream Destinations that you need to add to your travel bucket list!
I've included 27 but when I started to write up all the destinations, I found myself thinking of even more place. Like Ankor Wat in Cambodia home to the largest religious monument in the world or Paine National Park in Chile…and ugh, it got me realizing how beautiful this planet is and how many wonders there are!!!
I hope to add ( and eventually check off) many more countries in the years to come and I hope you get the chance to do a few of these spots yourself!
DREAM DESTINATIONS PIN THIS POST