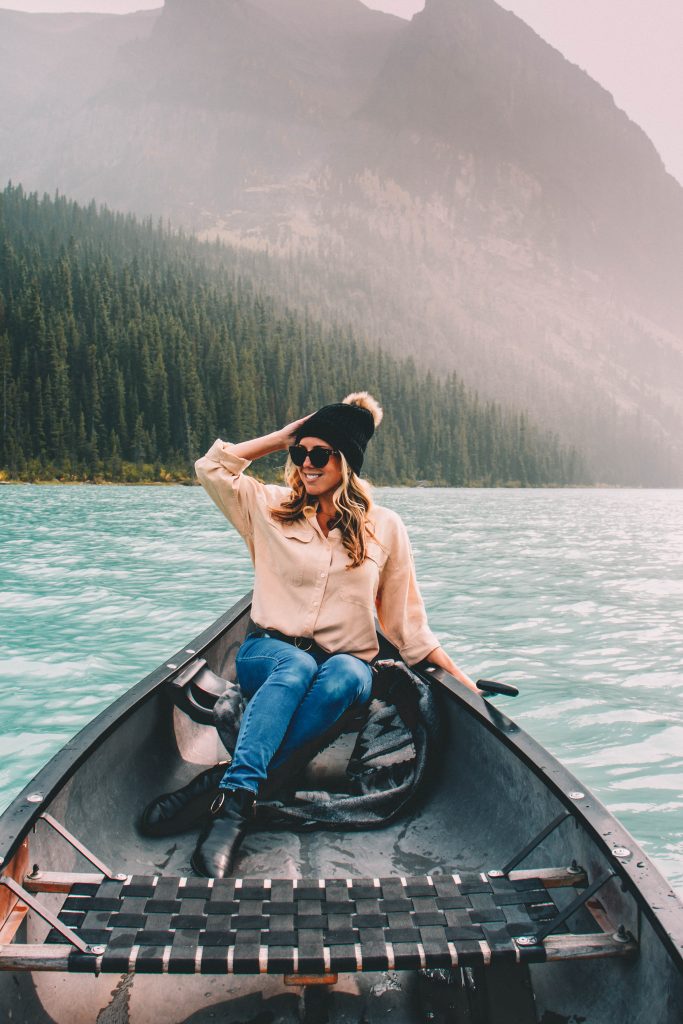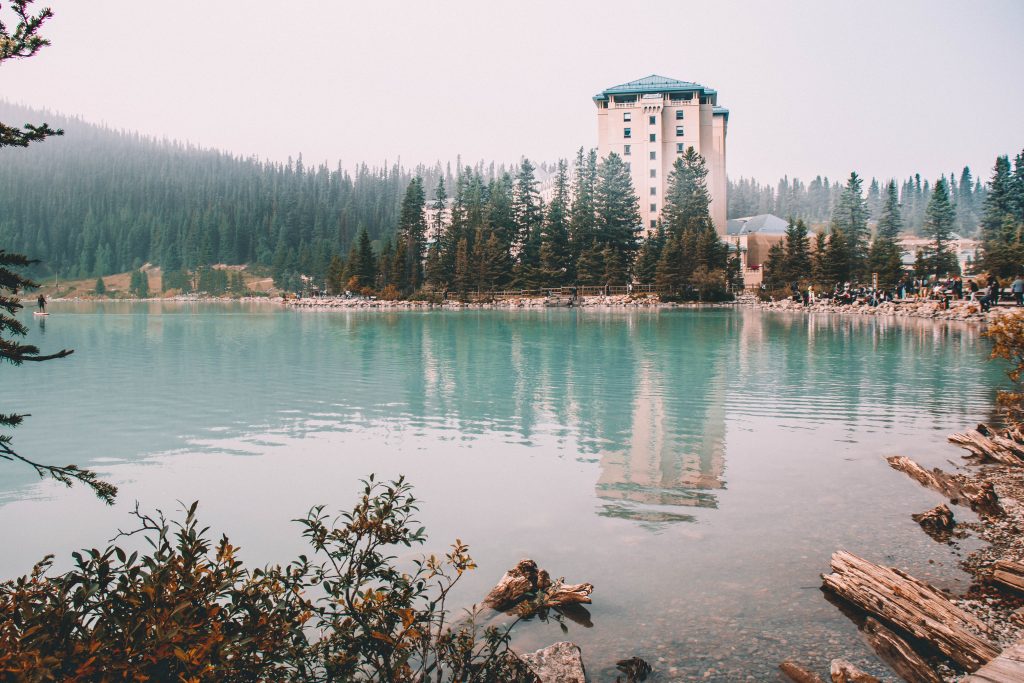 When I was 22, I first visited Lake Louise. We came for the day and ate at one of the Fairmont Lake Louise restaurants. I'll never forget the emotions I felt when I saw the lake. HOW IS THIS REAL? I remember thinking..
I also vividly remember turning my head the opposite way of the lake and staring at the magical and enchanting building that is the Fairmont Lake Louise. Just like the lake, it had me feeling lots of things. At that moment, I officially added "Staying there" onto my bucket list.
Well- I am extremely happy to announce that I have officially checked off this item on my bucket list and it was everything I hoped and envisioned it would be.
The place is impossible not to fall in love with. Every corner of the Fairmont Lake Louise makes you feel like not only you are somewhere special but that YOU yourself are special. I pranced around the grand and very blue halls and felt like I was in a Disney movie. I wouldn't have been shocked if chipmunks started following me…singing in happiness and helping me get dressed. I truly can't remember a time where I felt so happy in a space!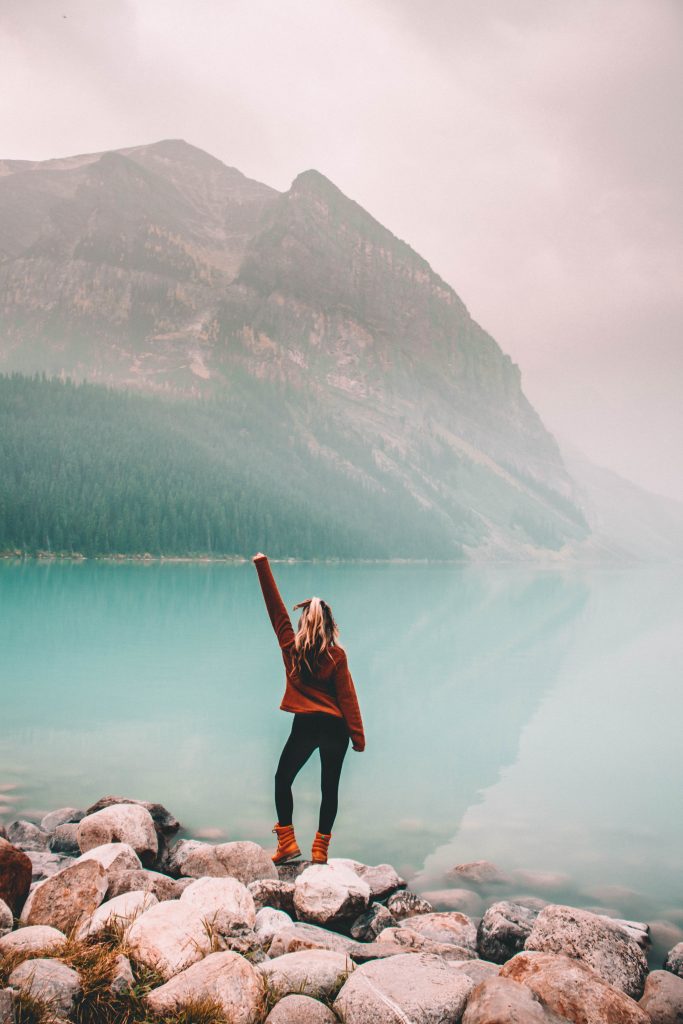 THE GROUNDS AT THE FAIRMONT LAKE LOUISE
The hotel sits directly behind Lake Louise…meaning that you can get a prime time view of the Lake at breakfast, lunch, dinner, walking the halls, leaving the resort, checking in…. aka the grounds are in the most perfect settings. Each of the 12 foot arch windows on the lake side make the view of the turquoise water even more mesmerizing.
Like the Fairmont Banff, this Fairmont too features a grand staircase in the lobby. Although we didn't need to use it to access our rooms, I still felt the need to walk up the stairs like I was someone important…because that's the way the stairs and lobby make you feel.
While the Fairmont Banff is a bit bigger and sprawls out across a lot more space, the Fairmont Lake Louise is a bit easier to navigate. There are still tons of shops ( if you forget your sweater, they have plenty of Patagonia sweaters for sale in one of their amazing clothing stores), tons of restaurants, a fitness center and spa! They even have their own Roots store. Yes, you read that correctly!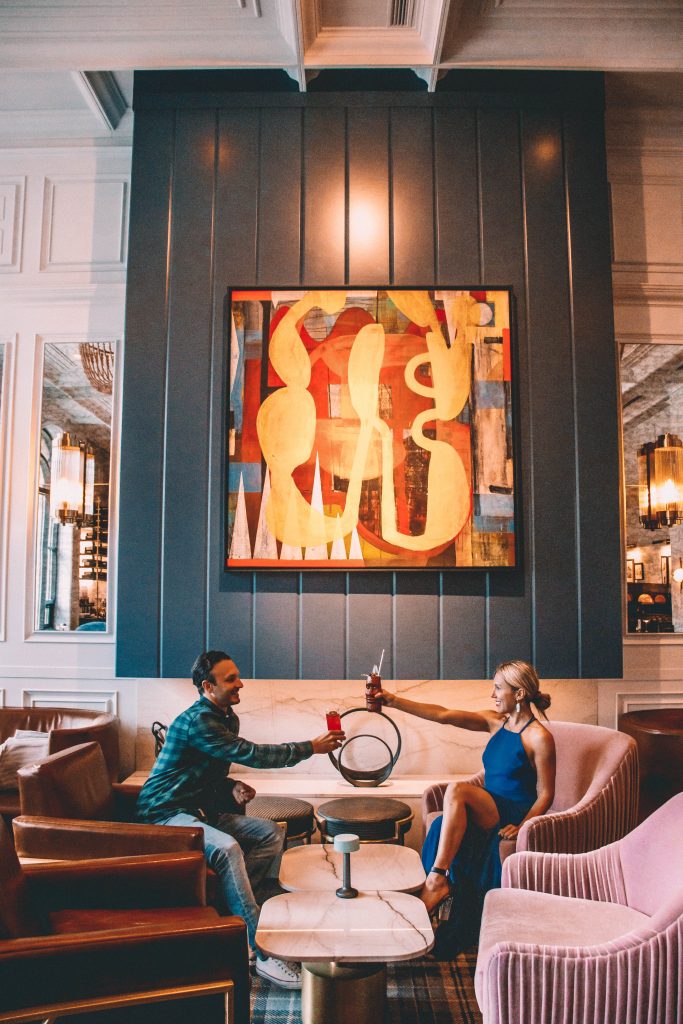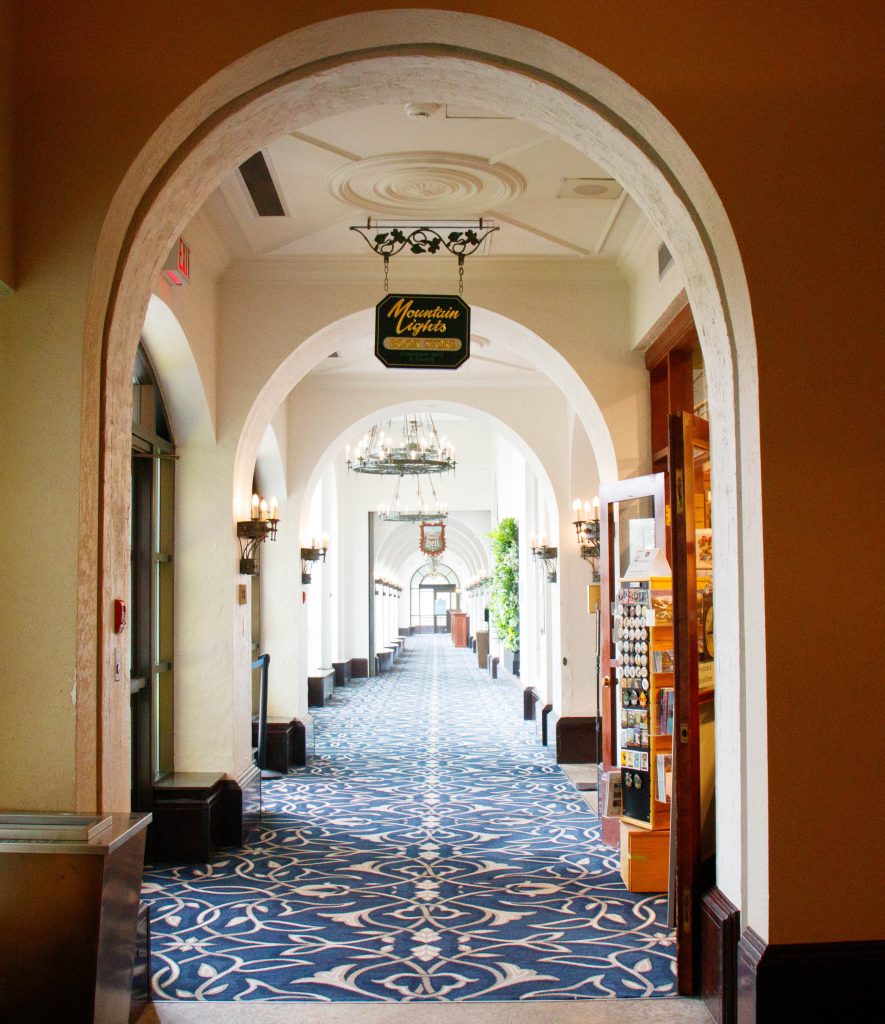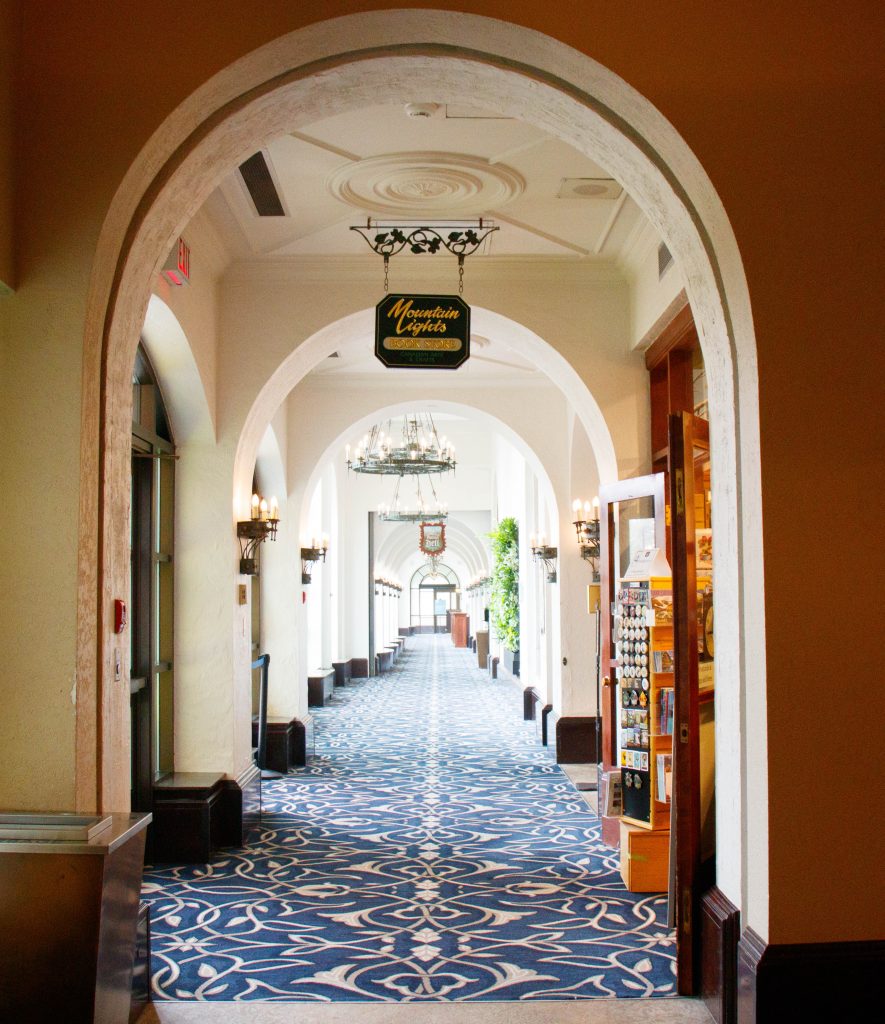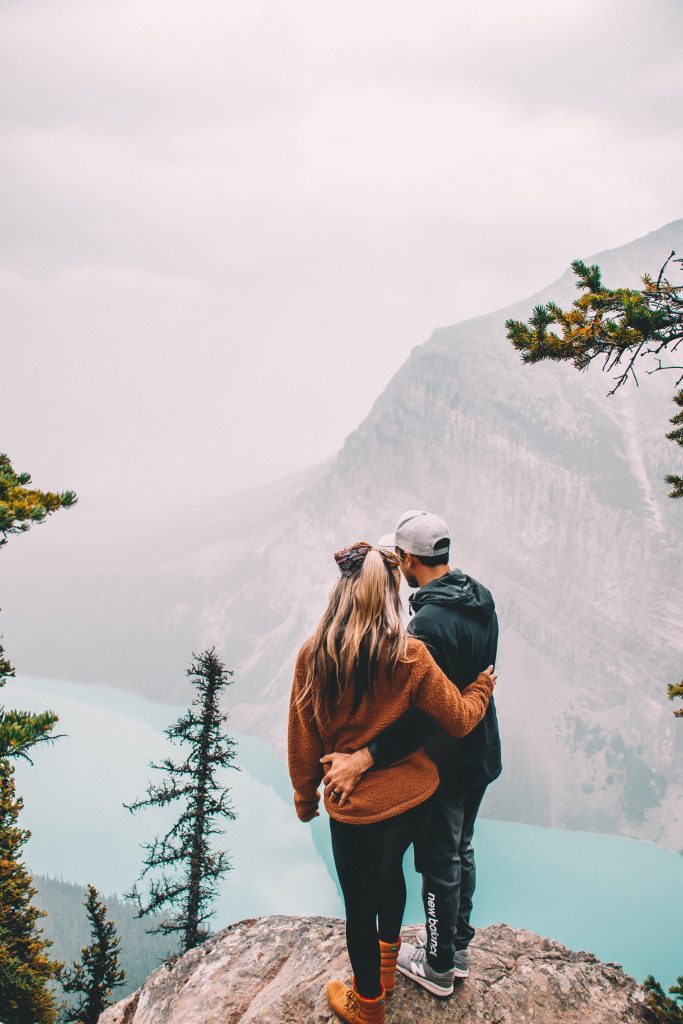 FAIRMONT LAKE LOUISE RESTAURANTS
The restaurants at the Chateau Fairmont are what I really want to talk about though. My husband, who is literally hungry every 1-2 hours, said his favourite part of Lake Louise was the food. Given that we were situated RIGHT in front of one of the most beautiful sites in the world, to say the food was his favourite part says a lot!
Normally there are more than 5 functioning restaurants on the premise but due to Covid there were 3 opened. We had the pleasure of eating at the Lakeside Lounge for one night and at the newly renovated ( and a little more upscale) Fairview Diner the other night. Both were INSANELY delicious. I'm currently sitting here drinking a green smoothie so looking back at these photos is really making me dwell.
The Fairview Diner was so chic, had an insane cocktail list and the interior of it made me feel like I was on Pinterest. I wanted to save every mental picture I was taking in and file it under my board called "Home Decor goals".
There isn't a ton of restaurants in Lake Louise whatsoever so a big perk of staying here is that you do not need to leave the hotel after a long day of hiking or exploring. We loved having a drink or two then just moseying upstairs to our room to get cozy.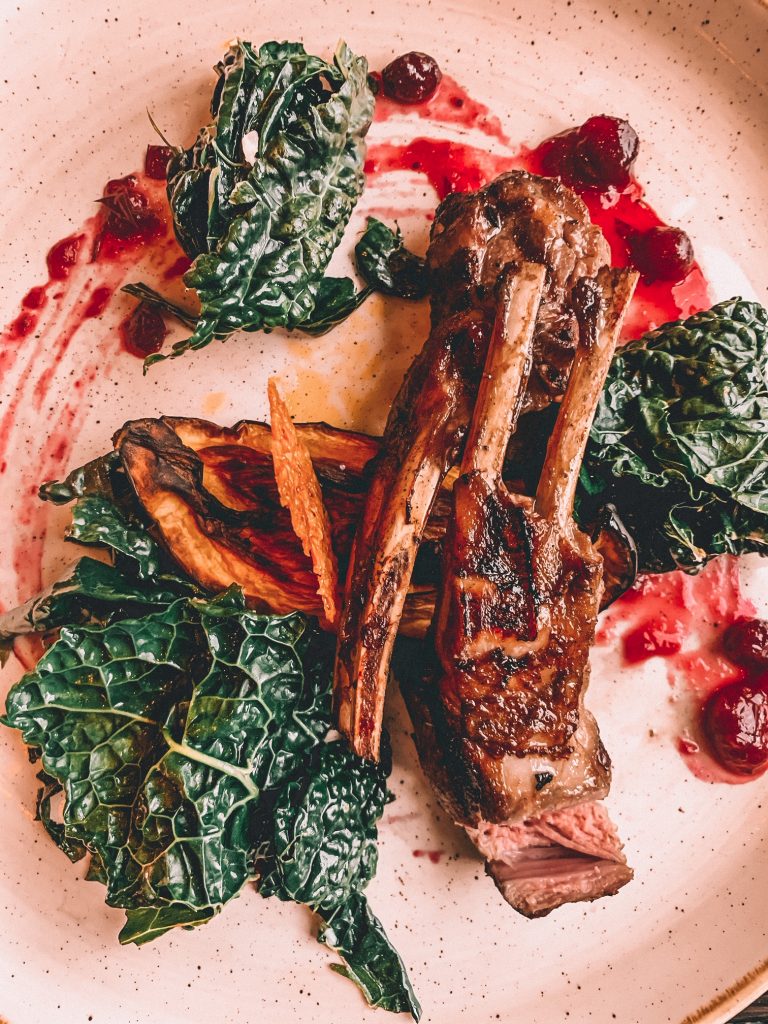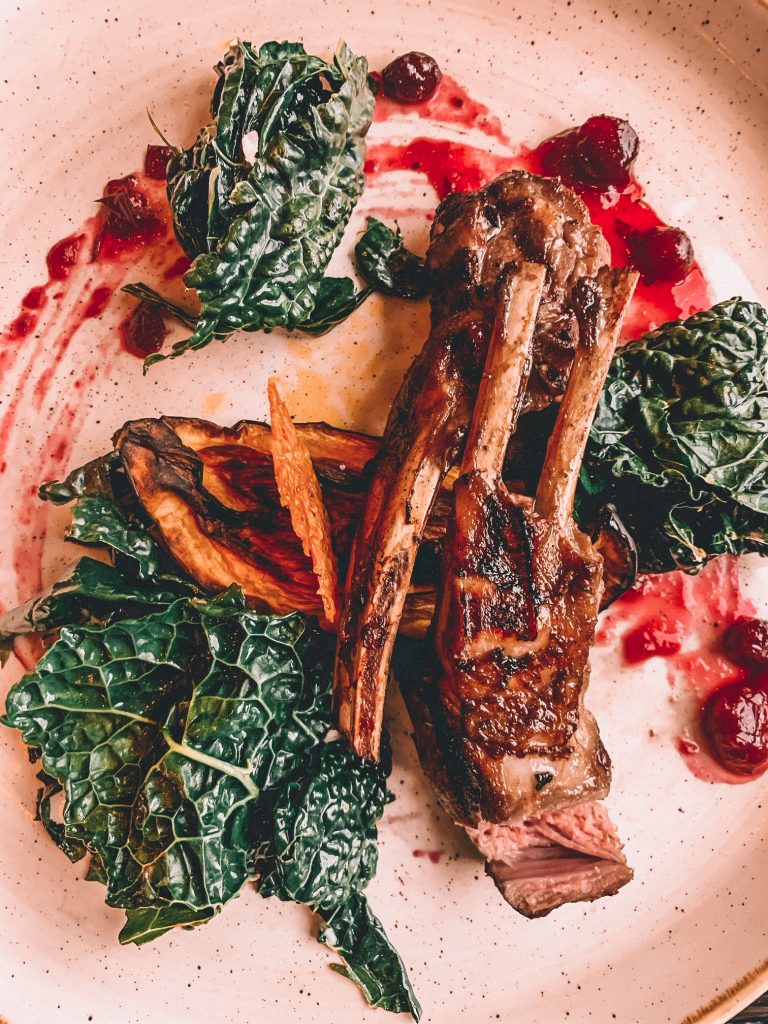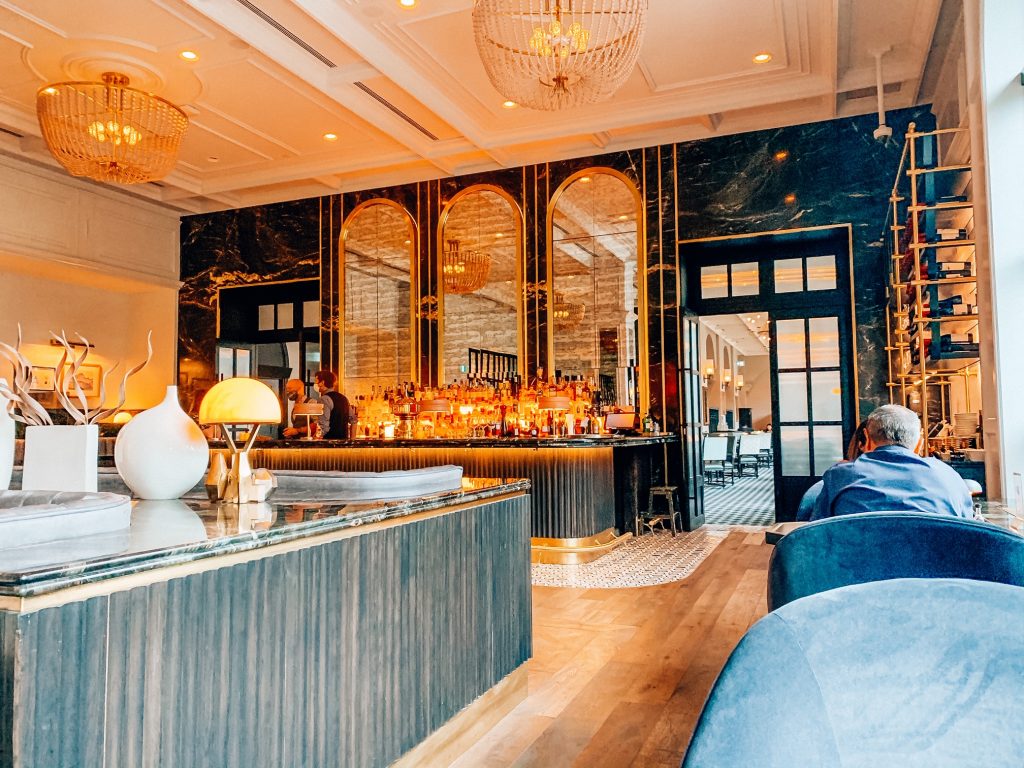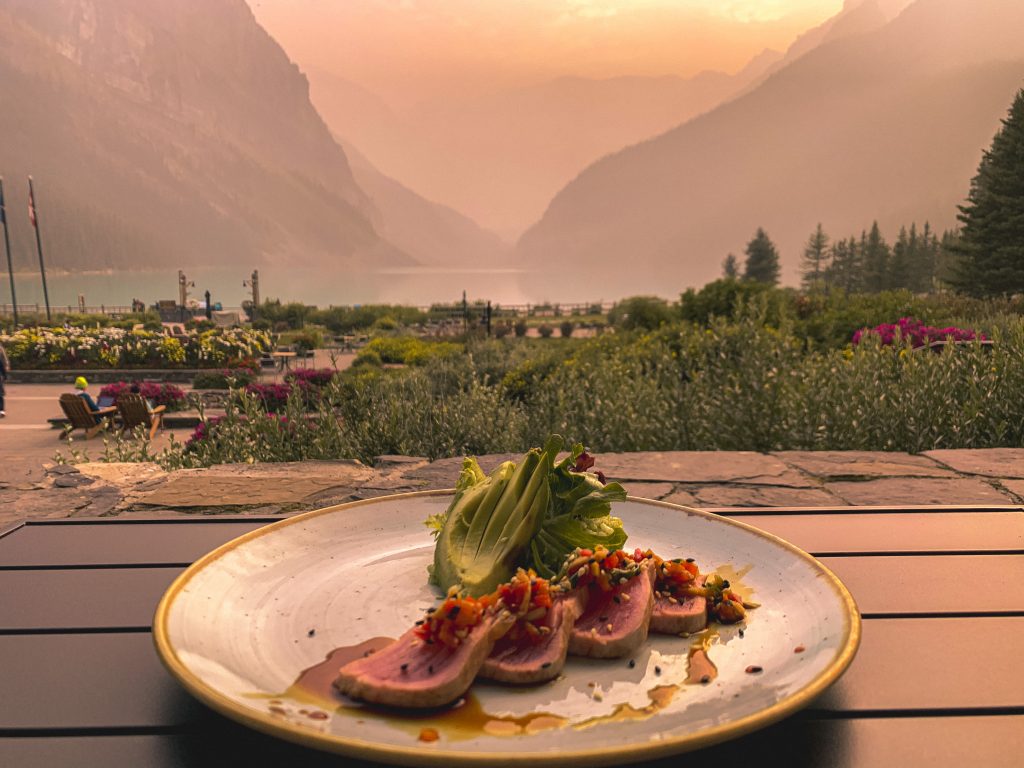 THE ROOMS AT THE FAIRMONT LAKE LOUISE
If you have the option to upgrade to a lakeview room while staying here- I would say do it. There is nothing better than opening the curtains in the morning to the epic view that is Lake Louise.
Our room was incredibly spacious and elegant. There was a lot of space for luggage, for lounging, and an occasional dance off ( obviously). Although the room decor was very traditional, it was equipped with all the modern conveniences, including Wi-Fi , flat-screen TVs, a Nespresso and my favourite add on- Le Labo bath products.
We had drinks from the Fairview diner sent to our room ( it came in the cutest packaging where the drink was premade in a bottle with a side garnish) and enjoyed these delicious hand crafted cocktails in the lounge area.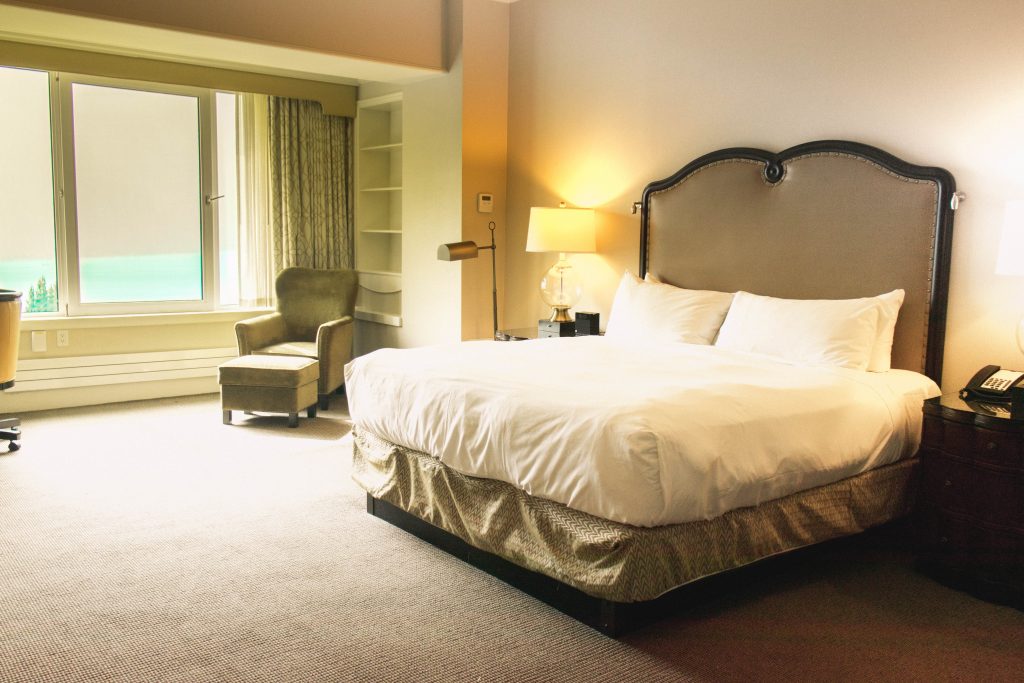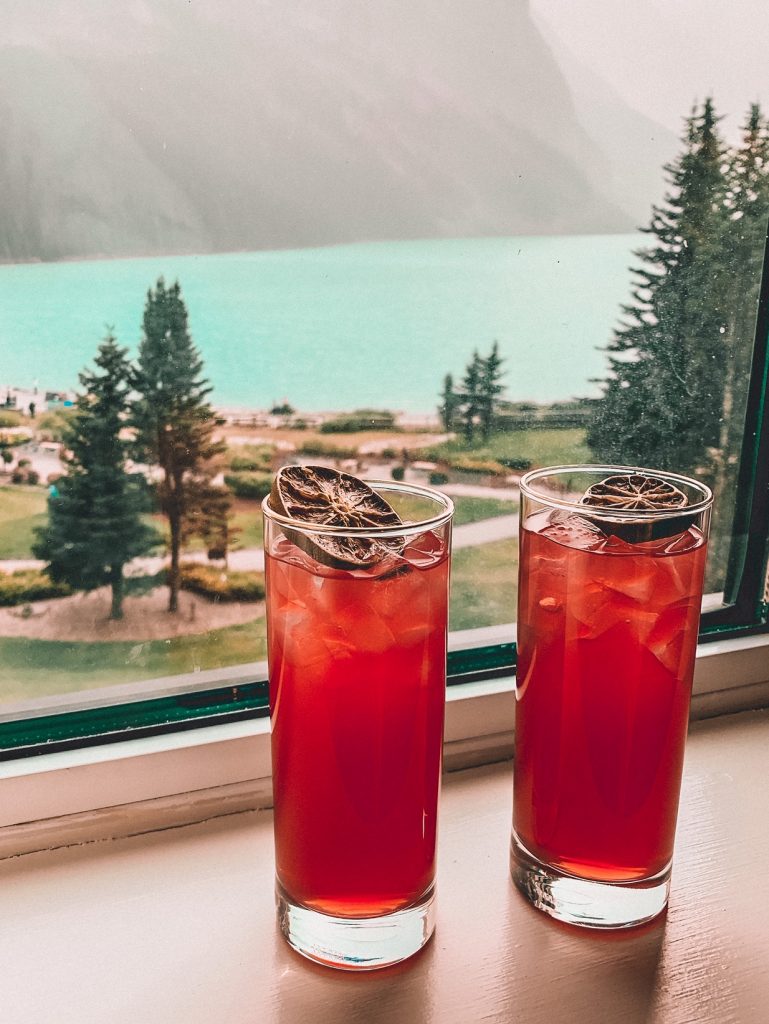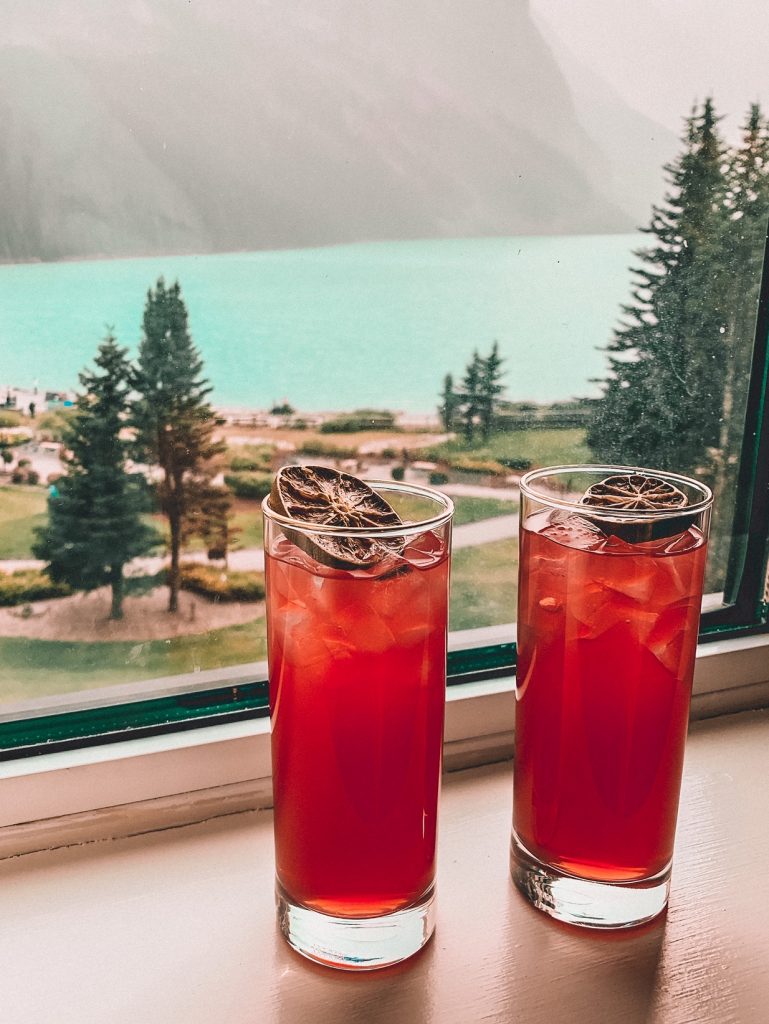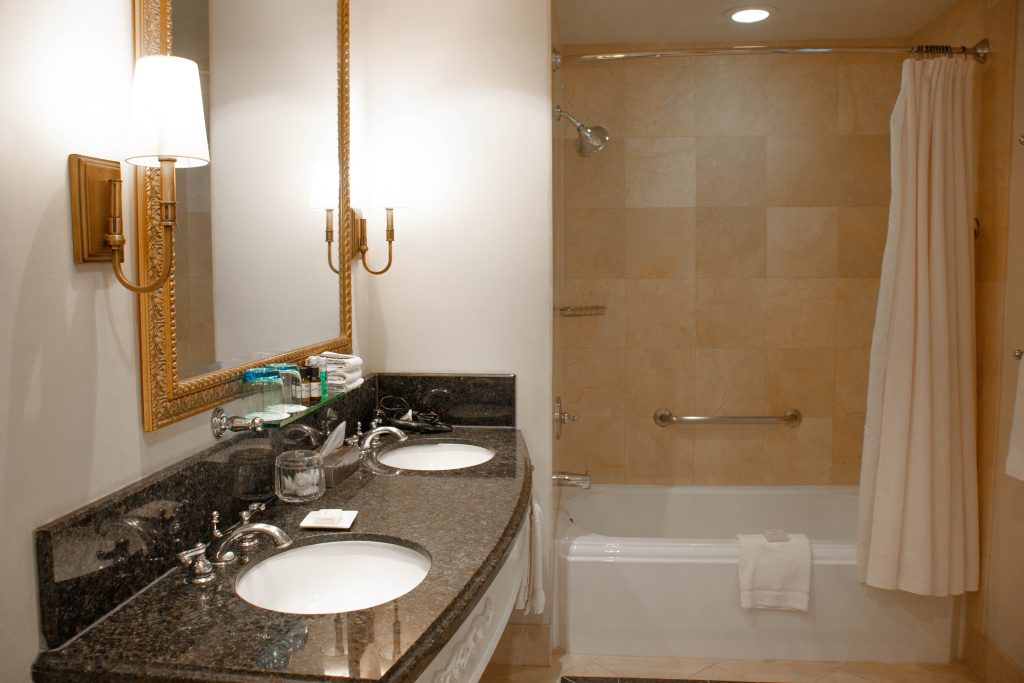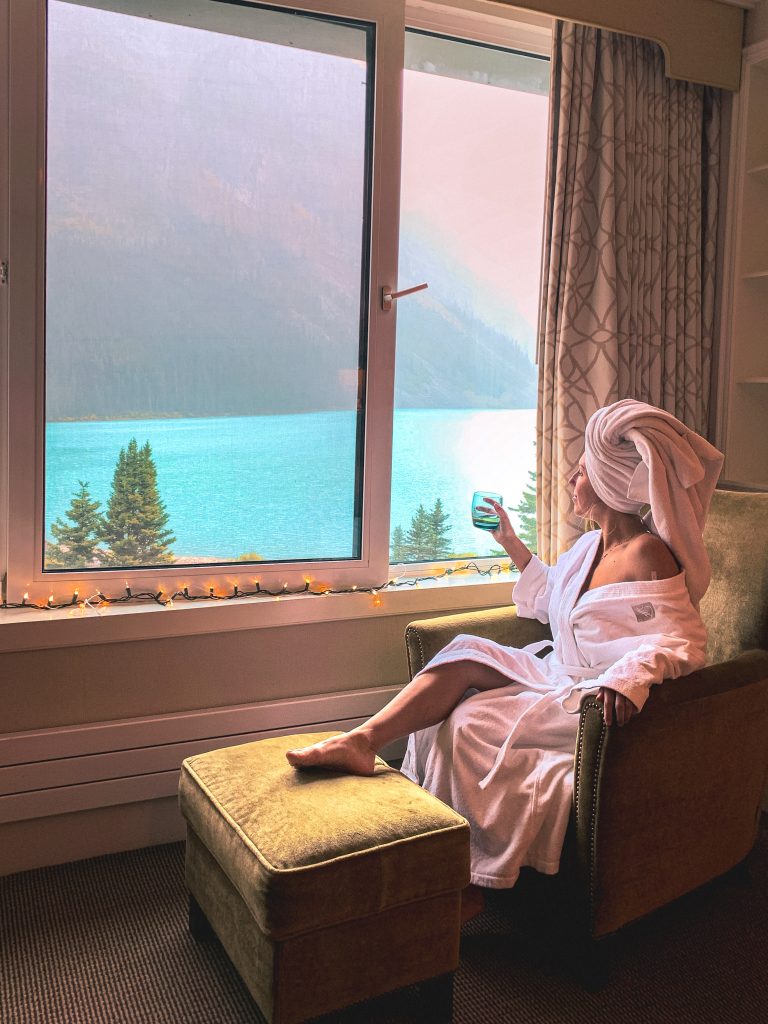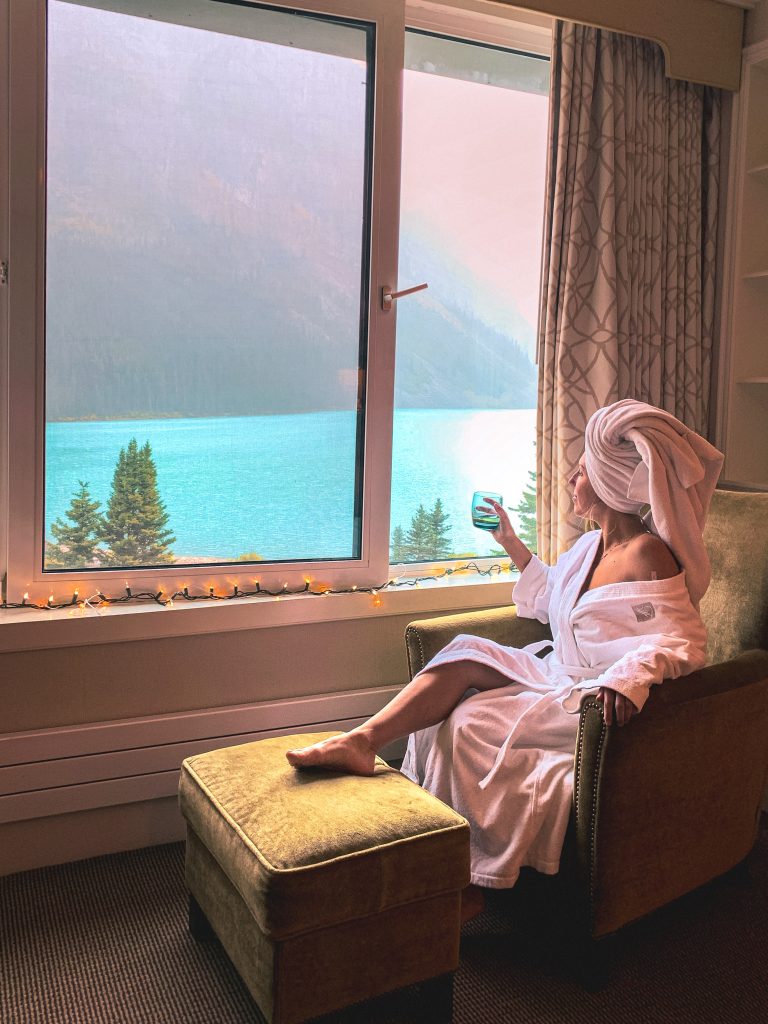 IMPORTANT TIDBITS
| | | | |
| --- | --- | --- | --- |
| PRICE | Rooms range from $350 CAD and upwards depending on room type and the season | MINI BAR | Yes! No products available for purchase though. |
| WIFI | Yes ( Also a business centre) | YEAR OPENED | 1913 but wings and storeys were continuously added to the building over the years |
| POOL/GYM/SPA | Pool within the spa! | LOCATION | Located 45 minutes from Banff and 2 hours from Calgary |
| CHILDREN | Yes! There is TONS of kid friendly activities on site. We cannot wait to go back with Chloe and see the experience through her eyes | RESTAURANTS | Yes. 5 full service restaurants. Room service all day. |
PIN IT