Thunder Cove Beach in Prince Edward Island was one of the most amazing and unique beaches that I have ever visited! Filled with rich sand, stunning greenery, sandstone cliffs and epic views of the Prince Edward Island coastline, it is one that you simply cannot miss.
We only had 3 nights in Charlottetown, PEI and managed to make our way out there and spend the afternoon driving further down the coast. In fact, I would recommend Thunder Cove Beach as a starting point if you were looking to visit the Central Coast of PEI or a few PEI Beaches in general.
A lot of people used to come to Thunder Cove Beach for Tea cup Rock (spoiler alert- it is not there anymore) but trust me when I say it is still 110% worth it to visit!
Looking for Other Canadian Travel Inspiration? Check Out These Posts:
Thunder Cove Beach is only 1 Hour from Downtown Charlottetown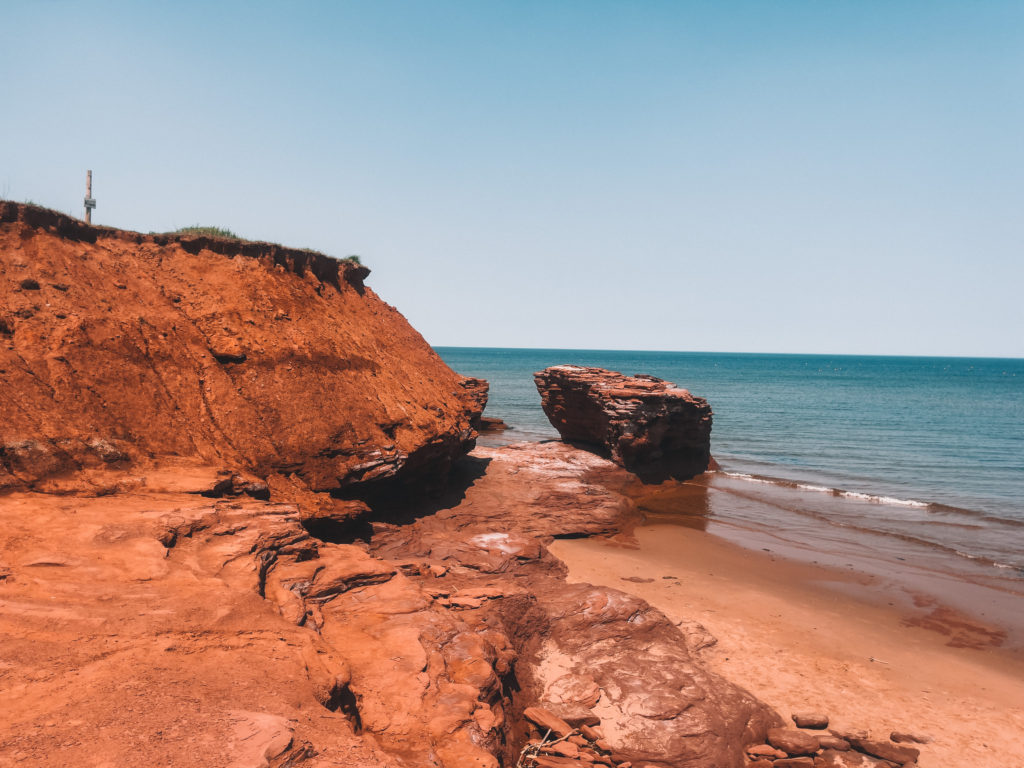 A few islanders deemed Thunder Cove "far out" from Charlottetown. While other nearby beaches like Brackley Beach are much closer to town ( only 20 minutes), Thunder Cove is still only an hour.
We often visit Toronto from where our home is located which takes us an hour or visit other local places for day trips that take us an hour and a half to visit, so we found this drive completely fine!
I recommend starting here and then making your way to Cavendish, Rustico and finally Brackley beach if you want to visit a few in one day! The whole road trip ( with multiple stops and lunch) took us 5 hours.
, , , ,
How Do You Find Thunder Cove Beach?
The easiest way is to just put "Thunder Cove Beach" into your GPS! It took us right there.
It is roughly 66 KM from Charlottetown if you take the PE-2W highway ( we did!). It's an easy peasy drive.
After PE-2W, take PE-20 toward Darnley.
Make a Left on Lower Darnley Road
Make a Right into Thunder Cove Road.
There aren't any signs that say "Thunder Cove Beach" so keep that in mind. If you follow these instructions and expect to see a sign, don't worry you aren't lost.
You will also see a lot of other cars parked there after driving on some pretty deserted roads. You can park along the side of the road for free.
Keep in mind this is a residential area so I would avoid parking close to the houses if you can avoid it
Getting To The Actual Shore at Thunder Cove Beach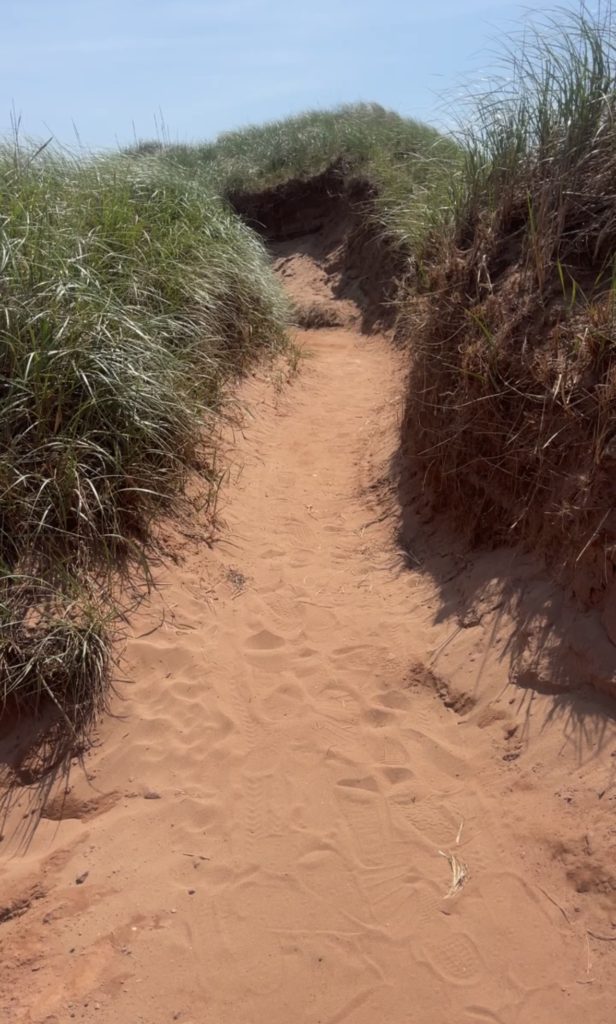 Once you park, walk to the right/follow the road path and you will see a trail leading to the beach as pictured in the left photo above. Once you reach the beach ( picture above), turn left and you need to walk about 15 minutes! To reach the interior of Thunder Beach Cove, you can either climb up the rock ( not hard) or walk along the water.
Walking along the water may be difficult depending on the time of day and tide situation! I was wearing runners so I climbed the rock.
Can you Swim at Thunder Cove Beach?
While the actual sand area is more narrow and smaller than other Prince Edward Island beaches, you can absolutely swim there! We visited in June and the water was not bad at all. Cold, yes but bearable ( and I am a suck with the cold!).
Like any ocean waters, it is important to take note of the weather conditions and not go in if it's too wavy. We had perfectly calm waters and took a glorious dip!
We actually found that swimming at Thunder Cove Beach was more private than other beaches we visited that day since as the name suggests, it "coves" in;)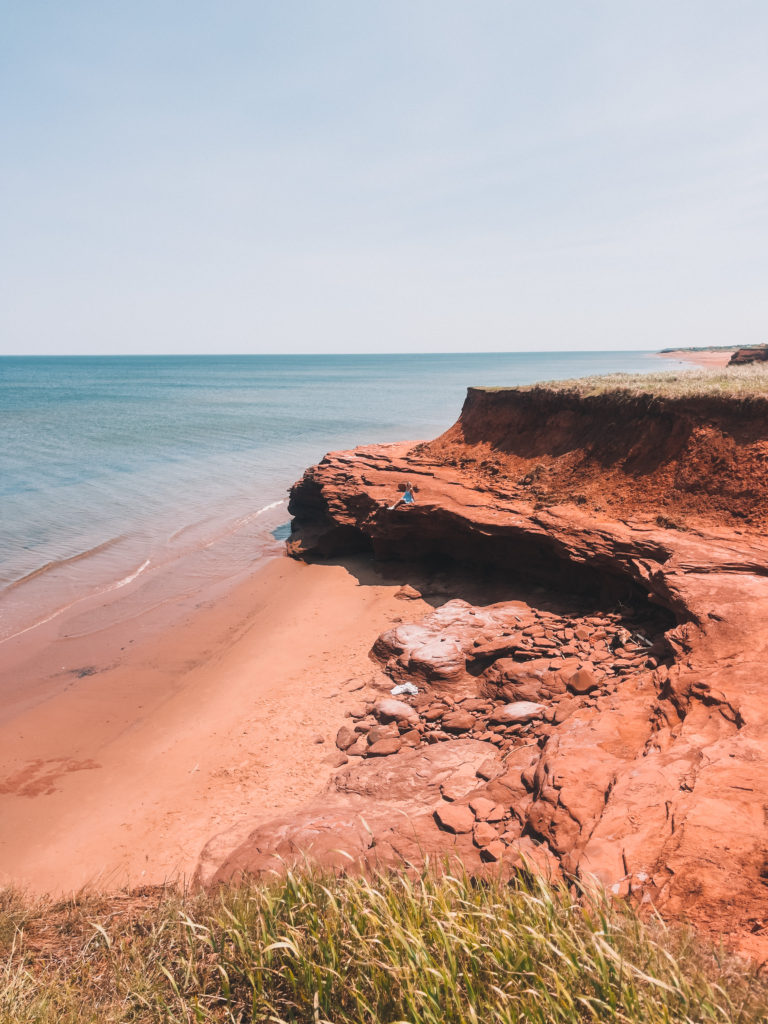 Is Tea Cup Rock still at Thunder Cove Beach?
Unfortunately Tea Cup Rock PEI is no longer part of Thunder Cove Beach as briefly noted above. This was one of the most photographed parts of Prince Edward Island for this reason. It was truly a remarkable stone fixture but due to the violent ways of Hurricane Fiona, it was destroyed.
I am so sad that I never got to see Tea Cup Rock at Thunder Cove Beach in real life but at least there are plenty of photos to remind us of the beauty.
With that being said, Thunder Cove Beach after Fiona is still jaw droppingly beautiful with or without Tea Cup Rock.
Important Tips for Visiting Thunder Cove Beach:
-Although it's a well known spot, when we visited ( on a Friday) it was not busy at all. Even though it's been photographed so many times, it is still off the beaten path since you do have to walk a bit to reach out. Keep that in mind as well!
-There are not many places around there to eat around there. We ended up driving to a place we had on our radar ( I am looking at you Blue Mussel Cafe!) so we weren't bothered by this but if you planned to grab lunch close by- you will only have generic options like Tim Horton's (about 20 minutes away)
-There are no washrooms at Thunder Cove Beach so make sure to keep this in mind before your visit!
-If you decide to climb a few of the rocks, please me respectful of the nature of them. Only walk on the rocks that are visibly fine to walk on. In order words, do not climb up them not only for respect person but also because it can be dangerous.
-The Red sand is a little more difficult to come off than regular sand so do not wear white running shoes like I did LOL
-Thunder Cove Oysters can be found on some menus on the island! Make sure to keep your eyes peeled when eating in PEI!
---
I hope you enjoyed my review of Thunder Cove Beach and that you add it to your list of things to do when you visit Prince Edward Island or Charlottetown.
If you ever have any specific questions, feel free to DM me on instagram or reach out via email! I would be happy to answer any Thunder Cove Beach questions to make your visit enjoyable and easier.
PIN THIS POST