Visiting Quebec City in the Winter is a must do if you want to embrace Canadian winter. While I am always more of a hot weather girl than a cold weather one, I couldn't have enjoyed myself more during our recent trip to Quebec City this past December.
With Christmas decorations decking the old cobblestone streets, cozy restaurants available on every corner to warm up at and lots of different winter activities to keep you busy, Quebec City during the winter months should be added to your list
Whether you are taking a road trip to Quebec or heading there for the weekend, I will take you through the perfect way to spend 1 day there.
1 DAY ITINERARY IN QUEBEC CITY
Rise and shine, mes amis! While it is tempting to stay warm in your bed, it is best to get up early before the crowds hit the streets.
It is no secret that Quebec City in the winter is the place to be and because of that it is best to explore some of the streets before everyone else. Especially if you go near the holidays- it gets busy!
I suggest getting up and out around 8AM. Not only will you get to take in all the beauty with few people around but you can also get yourself a cup of jo from one of the amazing coffee shops in town.
MORNING: GRAB YOURSELF COFFEE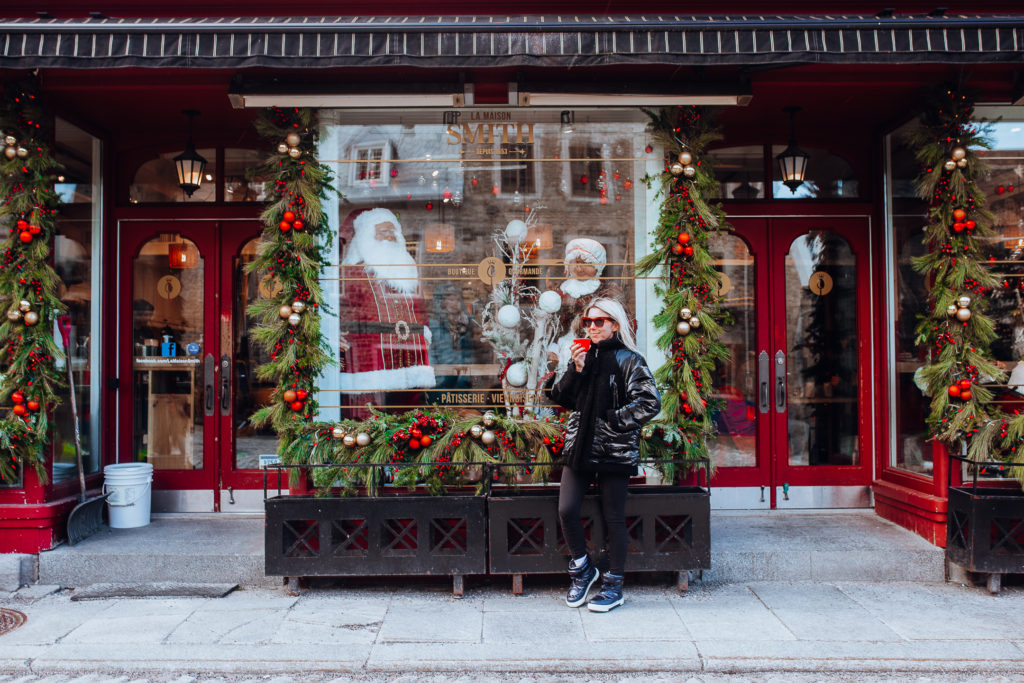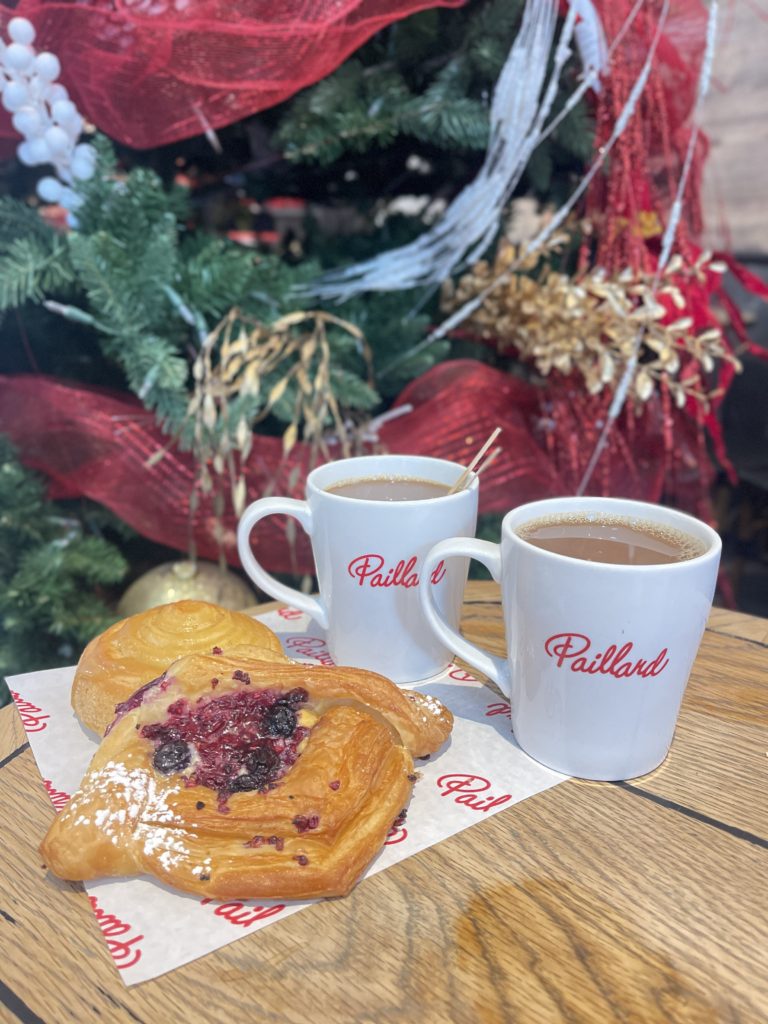 The French people do a lot of things right when it comes to food and beverage and coffee is one of them!
There are so many cute coffee shops to visit within Quebec City that you can really fill up one day just sipping some hot bevy's around town! With colder temperatures, it is the perfect activity to keep yourself warm and also gives you a taste of how cool the culinary scene is in Quebec City.
Here are some coffee shops that we visited during our winter trip in Quebec ( AND LOVED).
GO ICE SKATING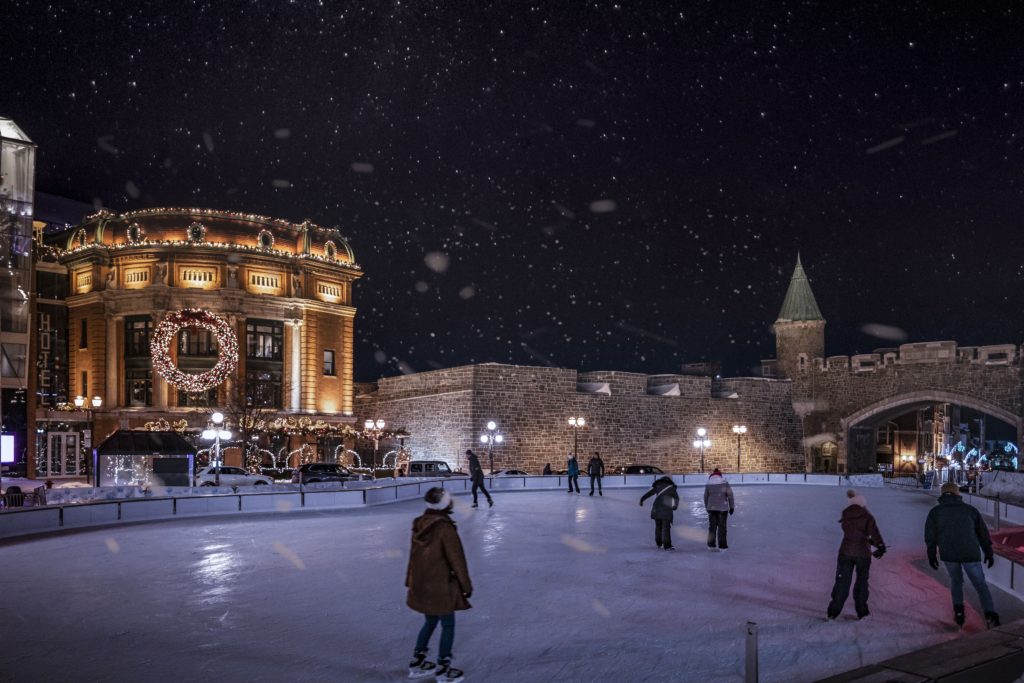 Despite not being the most graceful skater, I SO enjoyed skating outdoors in Quebec City. Whether you are rusty like myself or can twirl around on the ice like Nancy Kerrigan, you are sure to have the best time. There is room for everyone.
There are a variety of ice rinks to discover in Quebec City. We visited Place D'Youville which has a beautiful ambience and is located very close to Old Quebec. It is free to visit which is another bonus!
If you want to have a bit more space and to glide along a more trail style rink, hit up Plains of Abraham skating rink!
GET A POUTINE FOR LUNCH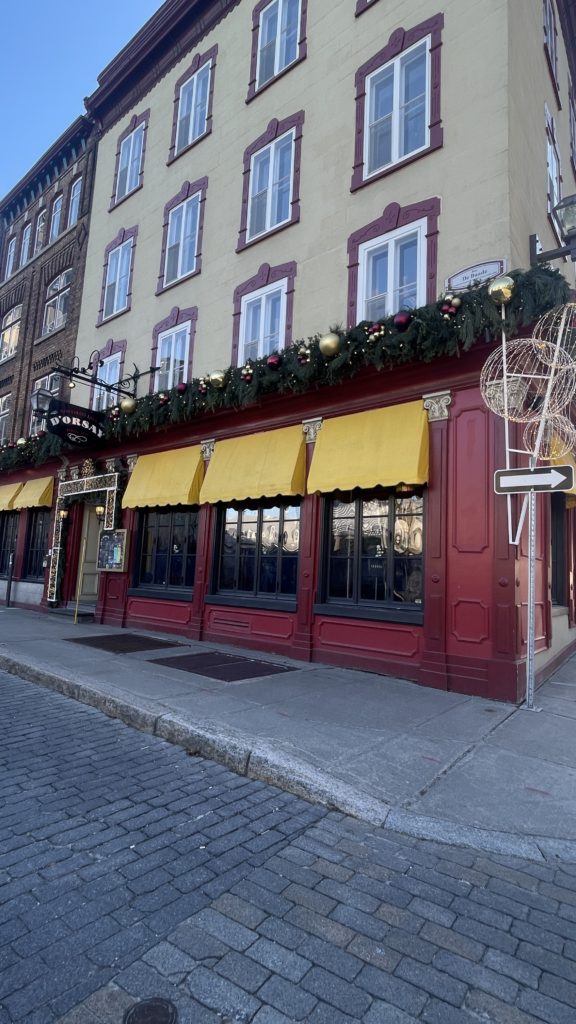 After working up an appetite from skating, you are ready for lunch! And you probably deserve a Quebec City staple- Poutine!
We had a poutine everyday of our trip so I challenge you to do the same! After all you might want to see which one in the city is best.
There are so many awesome places to get a great lunch in the city (Poutine or not) but I'll narrow down the list to places we have visited that ALSO have the best cozy vibes for a winter meal:
HERE ARE SOME LUNCH SPOTS IN OLD QUEBEC TO ADD TO YOUR LIST:
Pub L'Oncle Antoine- This old pub located on one of the quieter streets of Old Quebec really charmed us. Stepping inside instantly makes you feel cozy and their cocktails and dishes also make your insides feel the same!
D'Orsay Pub -This is an amazing (and classy!) pub in the most central of locations. Expect your traditional pub fare with some elevated offerings like Mussels)
Chez Ashton – THIS IS YOUR PLACE FOR POUTINE! It is rated one of the #1 places to get one!
Le Chic Shack– Historic restaurants featuring gourmet burgers and other delicious eats!
GO SHOPPING AT ALL OF THE QUEBEC STORES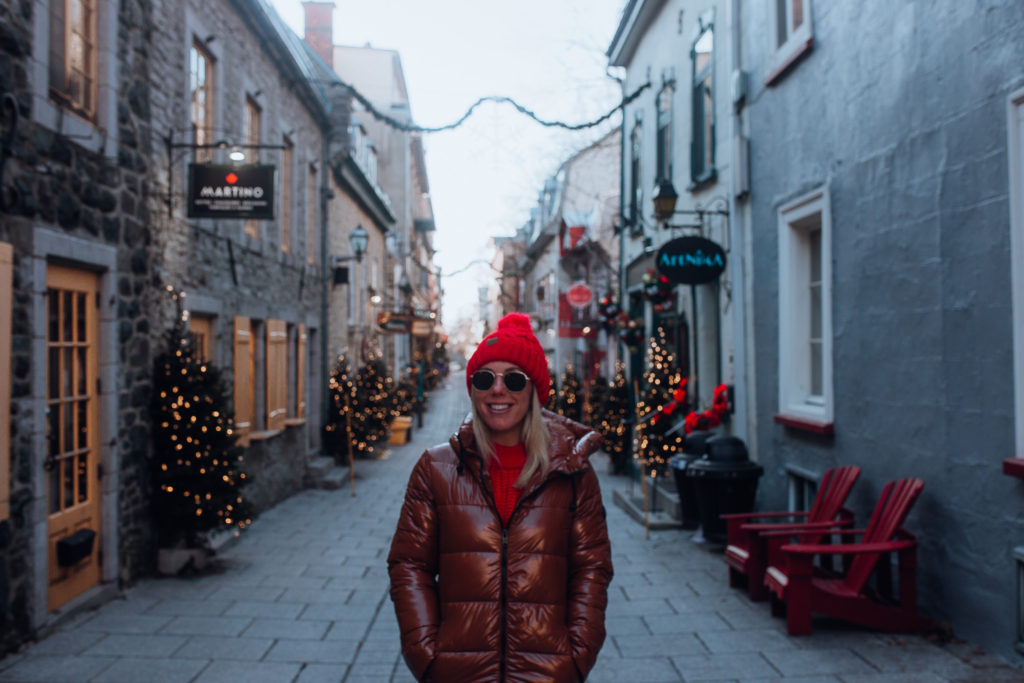 After lunch, you will want to walk off some of that poutine! Or hot cider. Or both!
It's time to explore all of the wonderful stores that Quebec has. From little locally owned boutiques to the larger shopping stores like Simon's, you can really do some damage if you wanted!
All of the storefront are decorated for the holiday season and often a lot of them will leave their decorations up well past the holidays! Winter in Quebec City is cute all season long!
HERE ARE SOME FAVOURITE PLACES TO SHOP IN QUEBEC
Petit Champlain District: You will find boutique stores in this area with charming and inviting storefronts. There are also some great spots to grab some Souvenirs
Saint-Roch District: This is where the local's shop! It is an emerging district with loads of cool new shops and restaurants popping up and worth checking out if you want to see an area outside of the core!
Rue Saint-Jean: European vibes are amplified on this street! There are lots of clothing stores and artisanal shops alike!
Shop My Favourite Amazon Items for Winter
DINNER AT L'ATELIER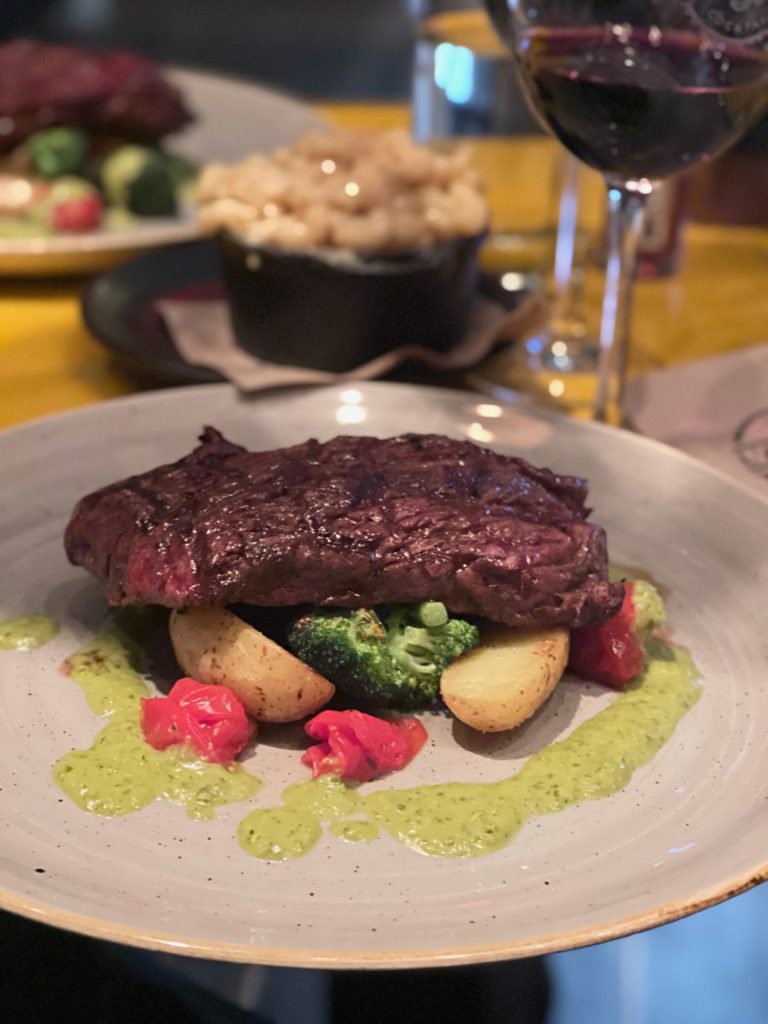 It's time to turn it up a notch for dinner and to do this, you will want to make a reservation at one of the hottest places in town: L'Atelier!
This restaurant is known for it's killer cocktails, sophisticated atmosphere and raw menu options
TIP: If you want to get the true Winter in Quebec experience, book one of their patio Igloo's. They are fully heated, cozy and you truly feel like you are inside a Snow Globe. Book these in advance as they fill up quickly.
SOME OTHER WINTER ACTIVITIES IN QUEBEC CITY TO ADD TO THE LIST:
Some may assume that a visit to Quebec in the Winter has to happen in December at Christmas time but the Winter magic does not end in December! There are so many cool events
A VISIT TO THE ICE HOTEL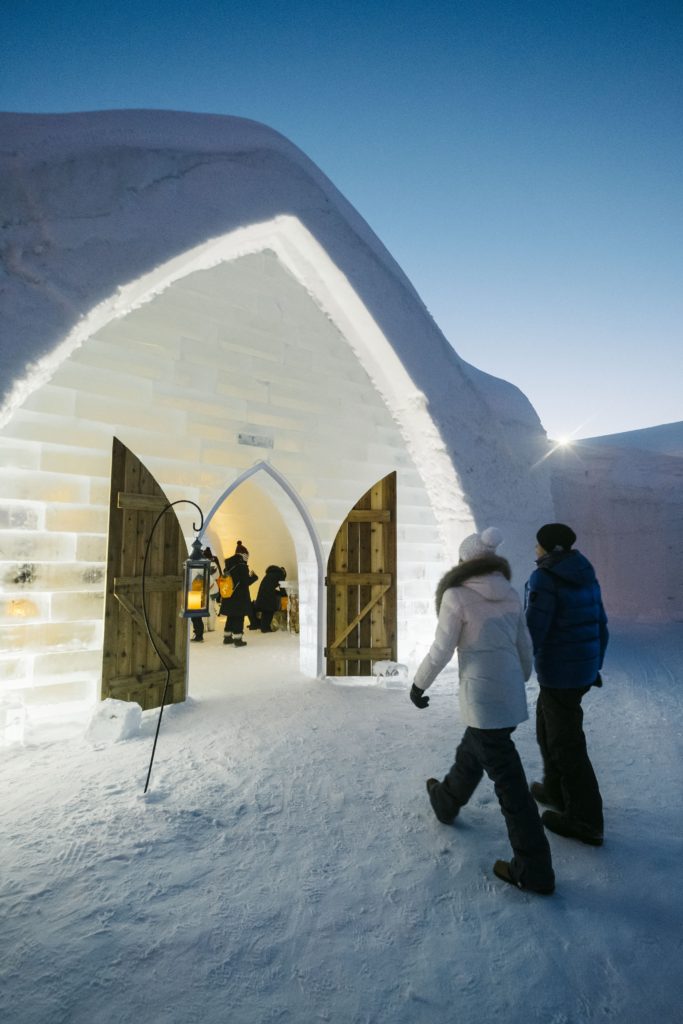 Book a room or simply just visit the ONLY Ice Hotel in North America, Hotel de Glace! Opened from January- March, this hotel is a design masterpiece! It features rooms, an ice slide, a chapel ( hello winter wedding!) and a full on bar!
It is a site to be seen and one that has been featured in so many magazines because it is that cool!
VISIT AN OUTDOOR SPA IN QUEBEC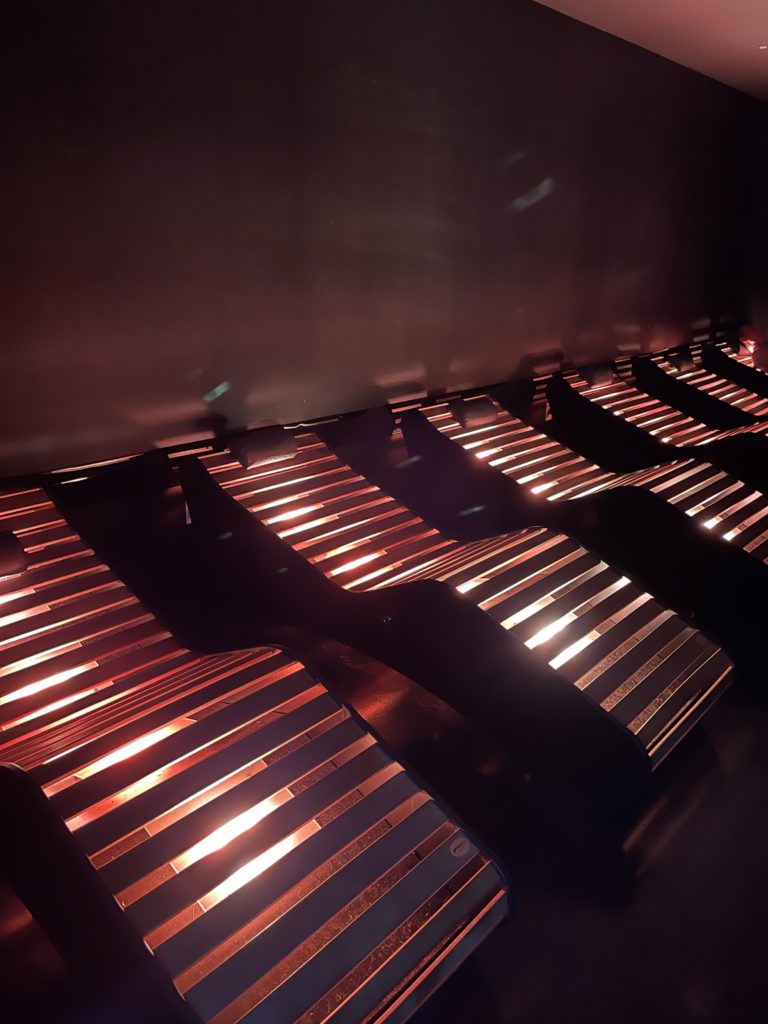 While there are plenty of warming stations within Quebec City in the winter and some great restaurants to get cozy in, the best option is to make your way to one of their outdoor spa's!
Strom Spa is the best in town and is literally 10 minutes from the city of Old Quebec! A great thing about visiting here is that you can just pay for a day pass and use all the thermal pools, red light rooms, heating areas and more!
ROMANTIC WINTER HOTELS IN QUEBEC CITY TO BOOK: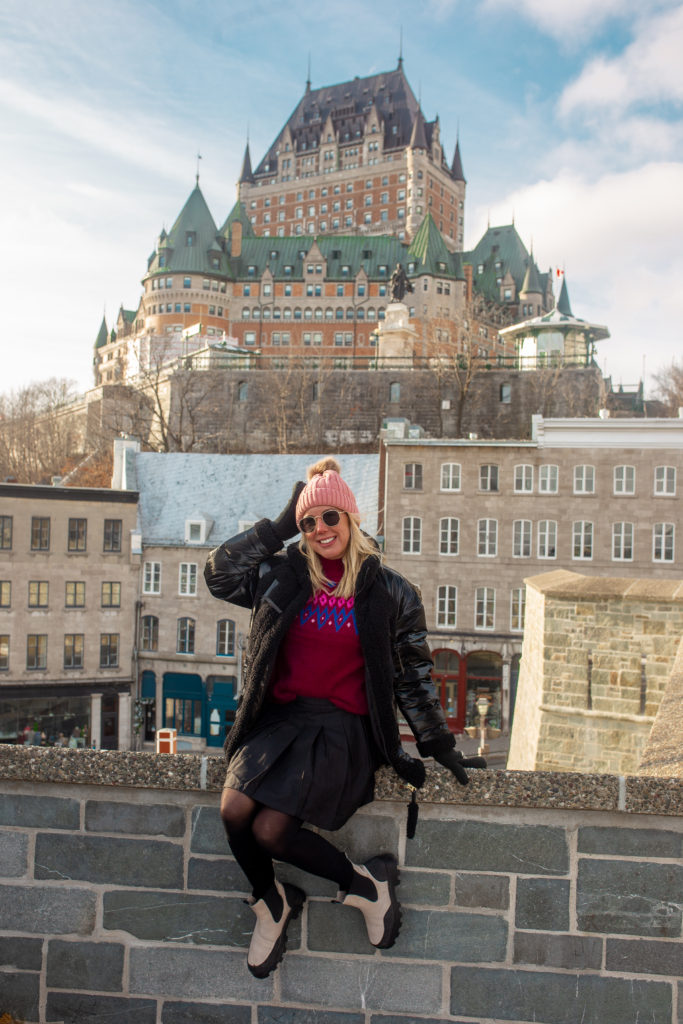 No need to rush home after spending 1 day in Quebec City! Each time we have visited we stayed in Quebec City for 3 nights and felt it was the perfect amount of time. If you do live closer to the area, I still recommend grabbing a hotel for the night.
If you don't want to stay at the Hotel De Glace, I would check into Hotel 71 for a more boutqiue experience, Fairmont Chateau Frontenac for a classy and iconic time or Monsieur Jean for a sexy and modern check in! Right off the highway there are 3 hotels – Courtyard Marriott, Holiday Inn and Comfort Suites. Having these three hotels located here makes it easy to hop on and off the highway and get situated quickly!
---
I hope you enjoyed this 1 day itinerary to Quebec City! If you found this itinerary too busy, definitely spread it out over 2 days. Regardless of your pace, I can guarantee that you will have an amazing time visiting Quebec City!
In partnership with Destination Québec cite
PIN THIS POST