One of my favourite fall activities is visiting all of the pumpkin patches in my area! Pumpkin spice lattes, fires outside with cider…..FALL IS MY LOVE LANGUAGE! In this post I will share all of my favourite pumpkin patches in Hamilton Ontario and ones that are very close to it!
A lot of the pumpkin patches in this list do not only have pumpkins for you to pick and bring home but they have a lot of other fall activities to take part in when you visit such as hay rides, mazes, live music and little areas for the kids to explore!
Some of these pumpkin patches require reservations or have seasonal hours so it's best to always call ahead and make sure you are good to visit!
When is Pumpkin Patch Season?
Pumpkin patches normally are ready for visitors at the end of September until Halloween.
The middle of October or Thanksgiving weekend is generally the busiest for pumpkin patches in Hamilton but it all depends on the weather.
If you have the flexibility, a middle of the week visit is the most ideal since it would be way less crowded.
The Best Pumpkin Patches in Hamilton Ontario
#1. Merry Farms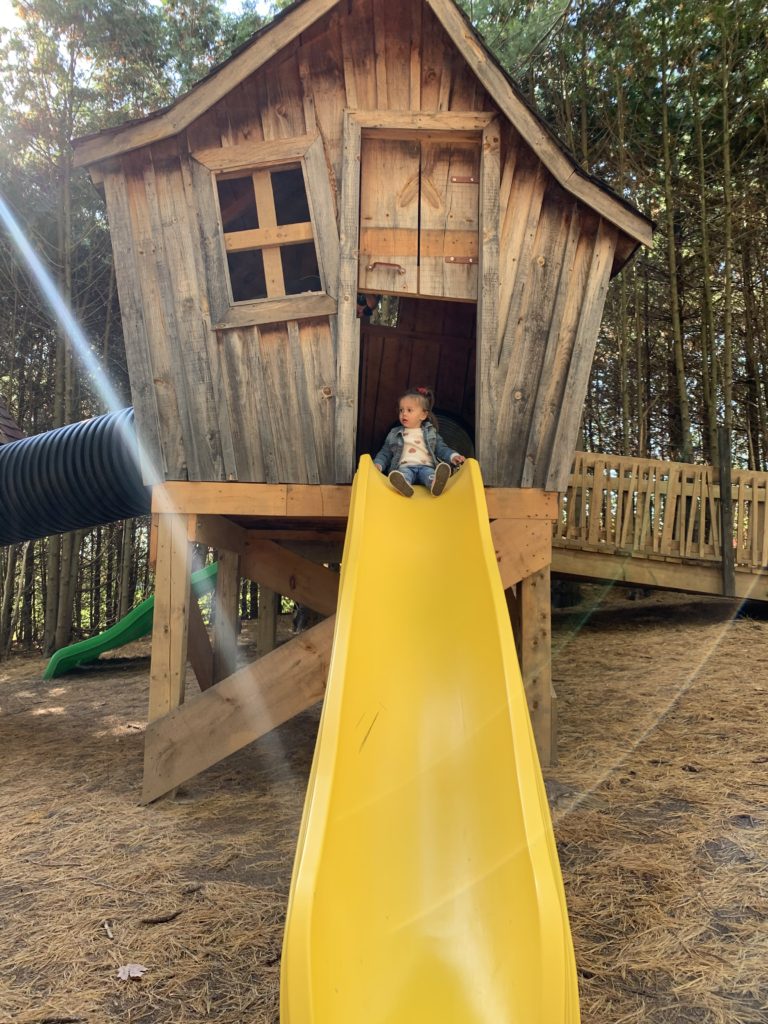 Address: 1974 Concession 2 Rd W, Lynden, ON L0R 1T0
Merry Farms is a place we visit every fall AND christmas season. It has become a tradition that I look forward to and now that we have two girls, we enjoy it even more!
During the fall pumpkin patch season, they go all out with rides, games, mazes, photo ops and food for the ultimate fall visit!
If you are looking for a large pumpkin patch equipped with all the bells and whistles then I would recommend Merry Farms. They have hay rides that take you to each of the activities as everything is very spread out. I would plan to spend a solid morning or afternoon here.
COST: General Admission Tickets are $17.99 and any child under 1 is free
Shop My Favourite Fall Items From Amazon
#2. Puddicombe Farms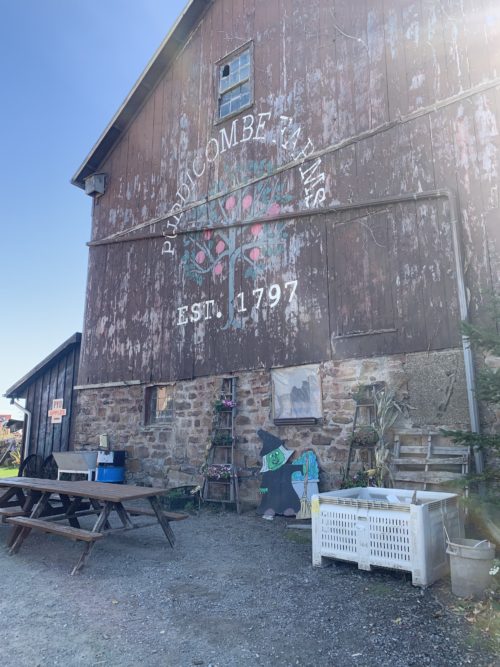 Address: 1468 Hwy 8, Stoney Creek, ON L8E 5K9
Puddicombe Farms is a special spot for us as this is where we go as a big family every Thanksgiving. There is about 20 of us that gather to kick off our Thanksgiving festivities.
While we come here for apple picking and ciders, we also come here for their pumpkin patch!
The entire grounds of this fall spot are amazing – it's a one stop shop kind of place with an incredible ambience. They often have live music, full on wine and cider tastings, a delicious bakery with hot food items and a bunch of picnic tables for you to hang out around. They even have fire pits!
The fall vibes are immaculate and for me it really kicks off the season when I visit here in October!
BRINGING KIDS? They have a mini train that can take your little ones on a little spin through the property!
#3. Lindley's Farm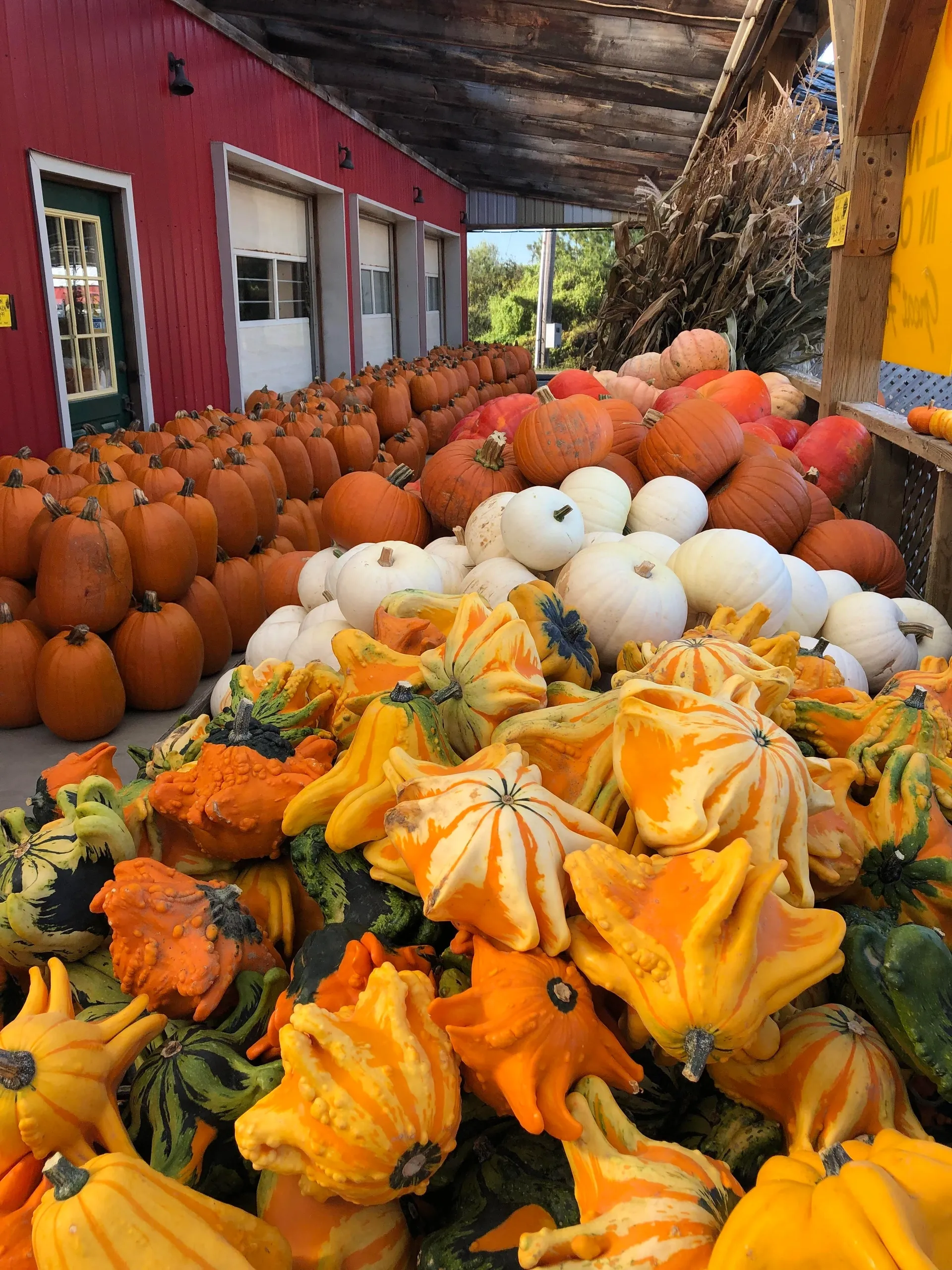 Address: 900 Fiddlers Green Rd, Ancaster, ON L9G 3L1
Lindley's Farm and Market is not only a place to pick your own strawberries in the summer, it is also one of the best pumpkin patches in Hamilton!
What I love about Lindley's Farm is that they are open daily from 9AM-6PM and you don't need a ticket to explore the grounds. It's one of the OG's of the pumpkin patches!
Their fall set up is more simple compared to say Merry Farms but it's still super cute and a fun place to get some pumpkins from! It is usually less crowded since they are open daily too
Unlike some of the bigger fall pumpkin patches in Hamilton, Lindley's Farm and Market is more about the baked items and less about the whole show. Their pies are some of my favourite and we also always get our bacon from here. It's SOOO good!
#4. Dyment's Glen Drummond Farm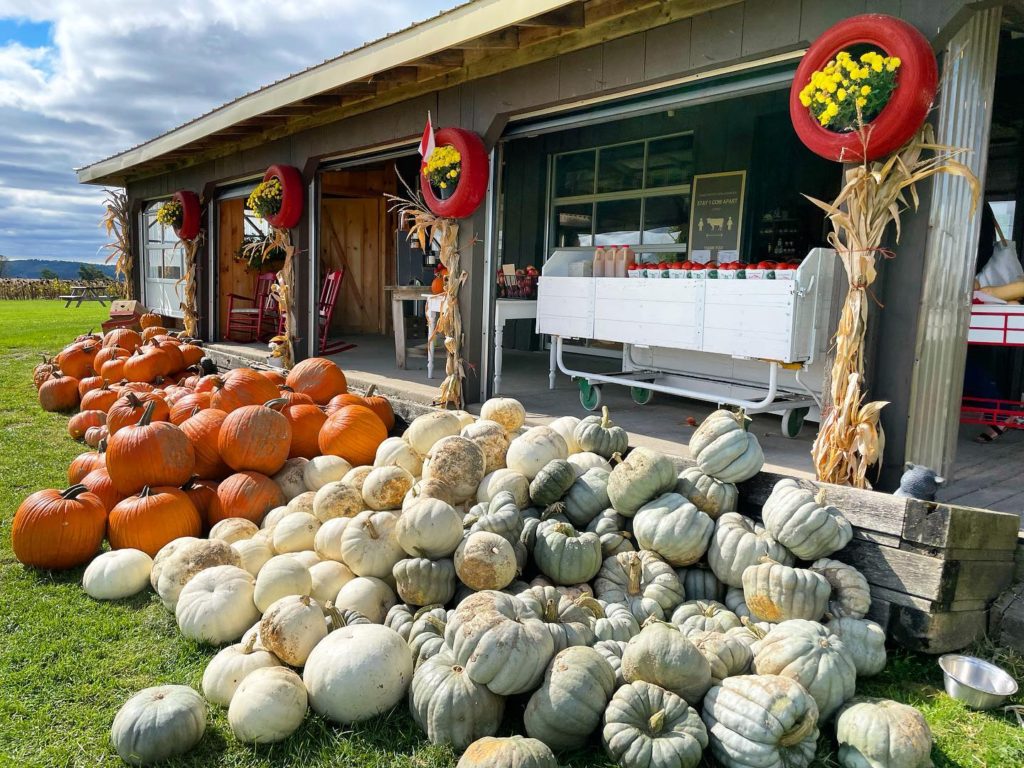 Address: 416 Fallsview Rd E, Dundas, ON
With a mini putt course, haunted house, wagon rides, and a fun of photo op's scattered throughout, Dyment's Farm will sure keep you busy! They also have their own food truck set up on site so you can make a solid afternoon of it!
We also recommend stopping by their Market which is just 5 minutes away from the farm to get one of their cream pies! I know baked pies are normally big for fall but their Chocolate Peanut Butter and Banana Cream pies are out of this world amazing. If you only want a pumpkin and don't care for any of those activities you can buy one at their market
HOURS? They are open Saturday and Sundays from 10AM-5PM!
COST? General Admission as of 2023 is $16.00 + HST. 2 Years and Under is Free. You cannot buy tickets in advance and only at the door!
#5. Brantwood Farms
Address: 251 Powerline Rd, Brantford, ON N3T 5L8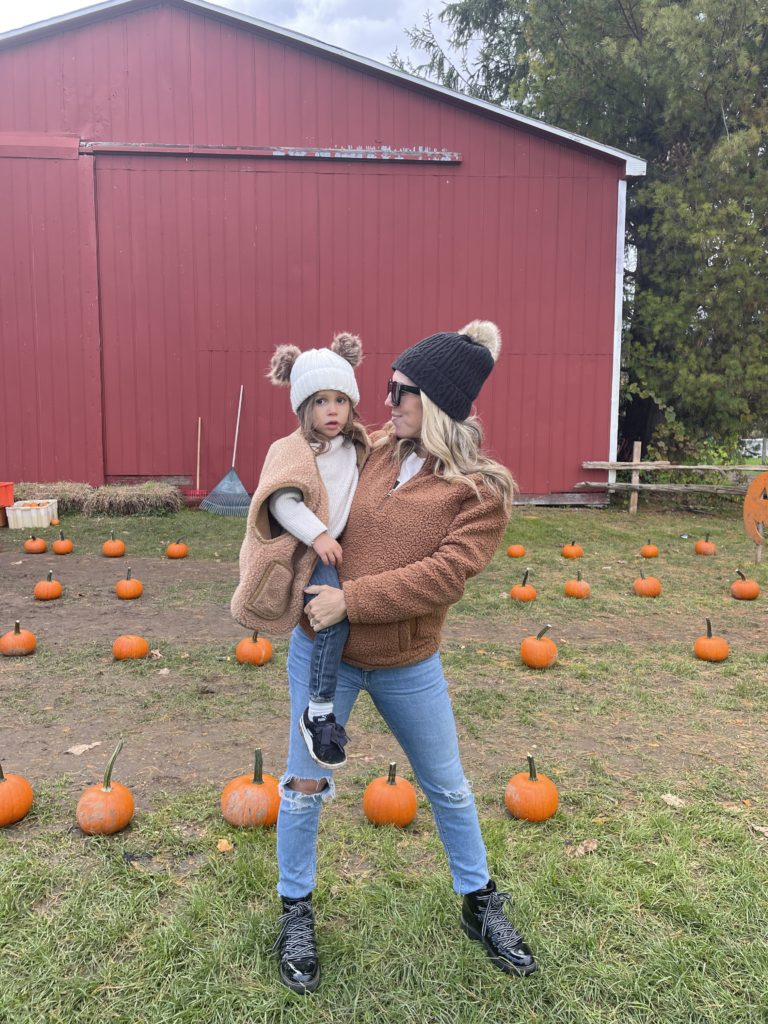 Brantwood Farms has slowly but surely become one of the best pumpkin patches in the Hamilton/Brantford area over the last years.
I feel like each year the fall event that they put on gets better and better. We started going here years ago and have seen it evolve. What started as your typical pumpkin patch with some photo ops and corn maze has turned into a mini amusement park.
They have haunted houses, bouncy castles, obstacle courses, pumpkin bowling, and even tractor go carts! You can see the full list of stuff here
COST: General Admission is $16.00 and kids under 2 are FREE
TIP: Definitely book your slot ahead of time here!!!
#6. Hanes Corn Maze & Pumpkin Patch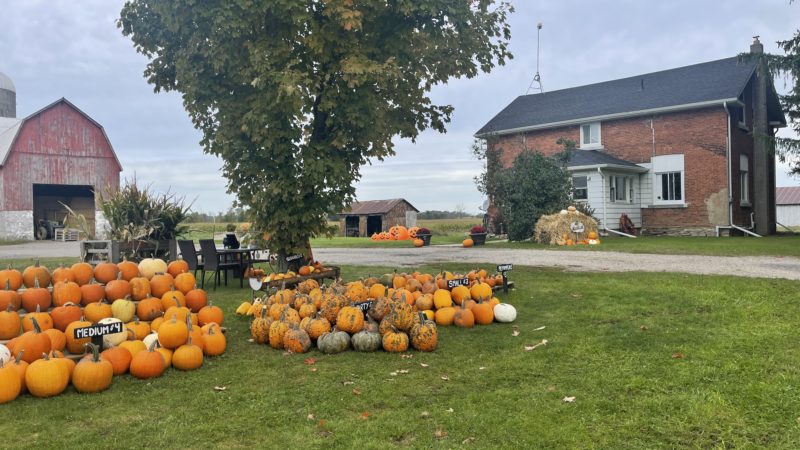 Address: 1001 Highway #5 West, ON-5, Dundas, ON L9H 5E2
File this Pumpkin Patch in Hamilton under "Small but Mighty!"
We love this pumpkin patch in Hamilton because it feels like are you picking out a pumpkin from a family friend! Last year when we went it only cost $5.00 to get yourself a pumpkin ( regardless of size) which is probably the most price friendly option in this list!
Not only does Hanes have 20 acres of cornstalks to run through on site but their tiny bakery attached to the farm has some of the best baked goods in the area. Honestly the Belgium cookies are especially my favourite and I always leave with at least 2 dozen. I have every intention of only eating 1 per day but our family of four somehow moves through them WAY too quickly. They melt in your mouth. Do not miss them!!!!
NOTE: Admission to the Corn haze is additional and not free. At the time of writing, the prices were as follows: Adults $17.00, Teens- $14.00 and Kids $11.00
Looking for other posts in Ontario? You Should Check Out These Posts:
#7. The Apple Orchard Inc.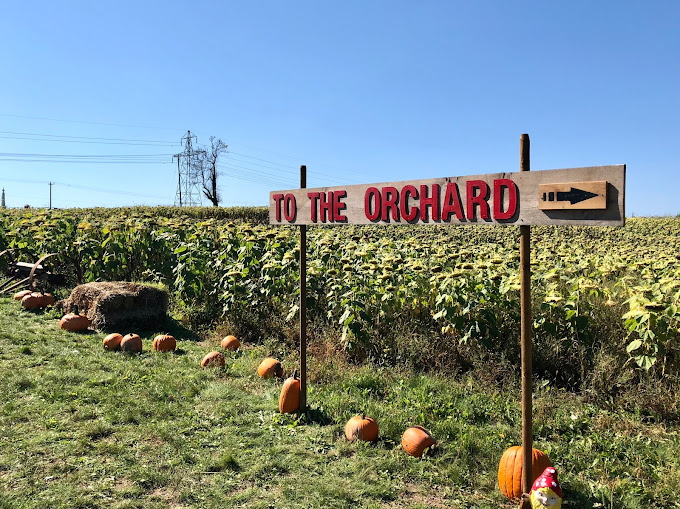 Address: 1668 Hwy 6, Hamilton, ON L8N 2Z7
The Apple Orchard Inc is a place you should visit not only during pumpkin patch season but also during sunflower season. They have the BEST sunflower patch in the area. Their pumpkin patch fall farm is also just as cute and is definitely worth a visit!!
Not only do they have pumpkins during the fall but they have beautiful squash and gourds making it very easy to get all your fall decor here!
COSTS? Adults are $10.20 + HST, 2-17 are $9.29 + HST and under 2 are FREE. This ticket gives you access to their wagon rides, corn mazes and grain bins! Pumpkins are additional $2.50 for mini ones, $6.00 for small ones, $8.00 for medium, $10.00 for large and $15 for extra large
OTHER PUMPKIN PATCHES CLOSE TO HAMILTON:
Downey's Farm: 14800 Innis Lake Road, Caledon, ON. This is probably the most popular pumpkin patch near Toronto! The main market house is FILLED with thousands and thousands of pumpkins!
Colton's Farm Fun: 109 Jerseyville Road, Brantford, N3T 5M1, Ontario
Springridge Farm: 7256 Bell School Line, Milton, ON L9T 2Y1. This is another popular spot for pumpkins if you live near Toronto! This is a pumpkin farm filled with so many fall activities and games for the kids including 5 acres of a corn trail
---
There are so many amazing pumpkin patches in Hamilton Ontario and the surrounding areas to keep you busy this fall season! Whether you are looking for pumpkins as decor, ones for decorating with the kids or even just to hit up some fall farms- you will find the best spot close to you in this list!
PIN THIS POST