Planning a trip to Turks and Caicos and looking for the best restaurants to try on the island? This guide is for you!
While the main draw of Turks and Caicos is the pristine white sand beaches, there are so many Turks and Caicos restaurants that add to why this place is so special too. Picture this scene: Island music playing, warm breeze in your hair, delicious cocktails ( rum punch I am looking at you!), and fresh food bursting with flavours. This is what the Turks and Caicos Restaurants are like!  
Since eating and dining out is pretty much part of every travel itinerary and trip I go on, we tried out ALOT of restaurants there in our short time.  It's one of my favourite parts of travelling or experiencing a new place after all.  Here are some of our favourite Turks and Caicos restaurants that we ate at:
#1. INFINITI RESTAURANT & RAW BAR- A TURKS & CAICOS RESTAURANT THAT HAS IT ALL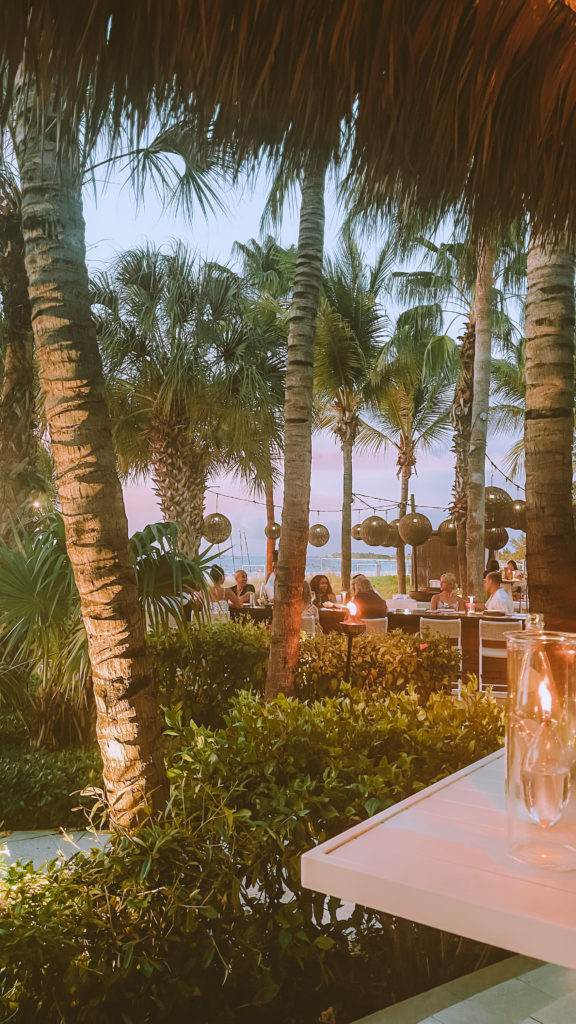 Are you looking for phenomenal sunset views? An amazing menu? Handcrafted cocktails? And one of a kind ambience? Well Infiniti Restaurant Raw Bar at the Grace Bay Hotel checks all the boxes. It was probably our favourite overall dining experience for a dinner in Turks. While it isn't "eating on the cheap", we felt it was worth every penny.
It has a sophisticated and upscale vibe with open air seating, a long modern communal dining table, palm trees that wrapped with twinkle lights and woven baskets that hang from the ceilings were possible. It's romantic yet fun.
Their menu matches their sleek and beautiful décor with notable items such as fresh sashimi, sushi, lobster, Miso Cod ( what we had) and other menu items that are said to change weekly. They certainly keep it fresh and I'm sure each dining experience there would feel unique.
It is truly one of the best restaurants in Grace Bay!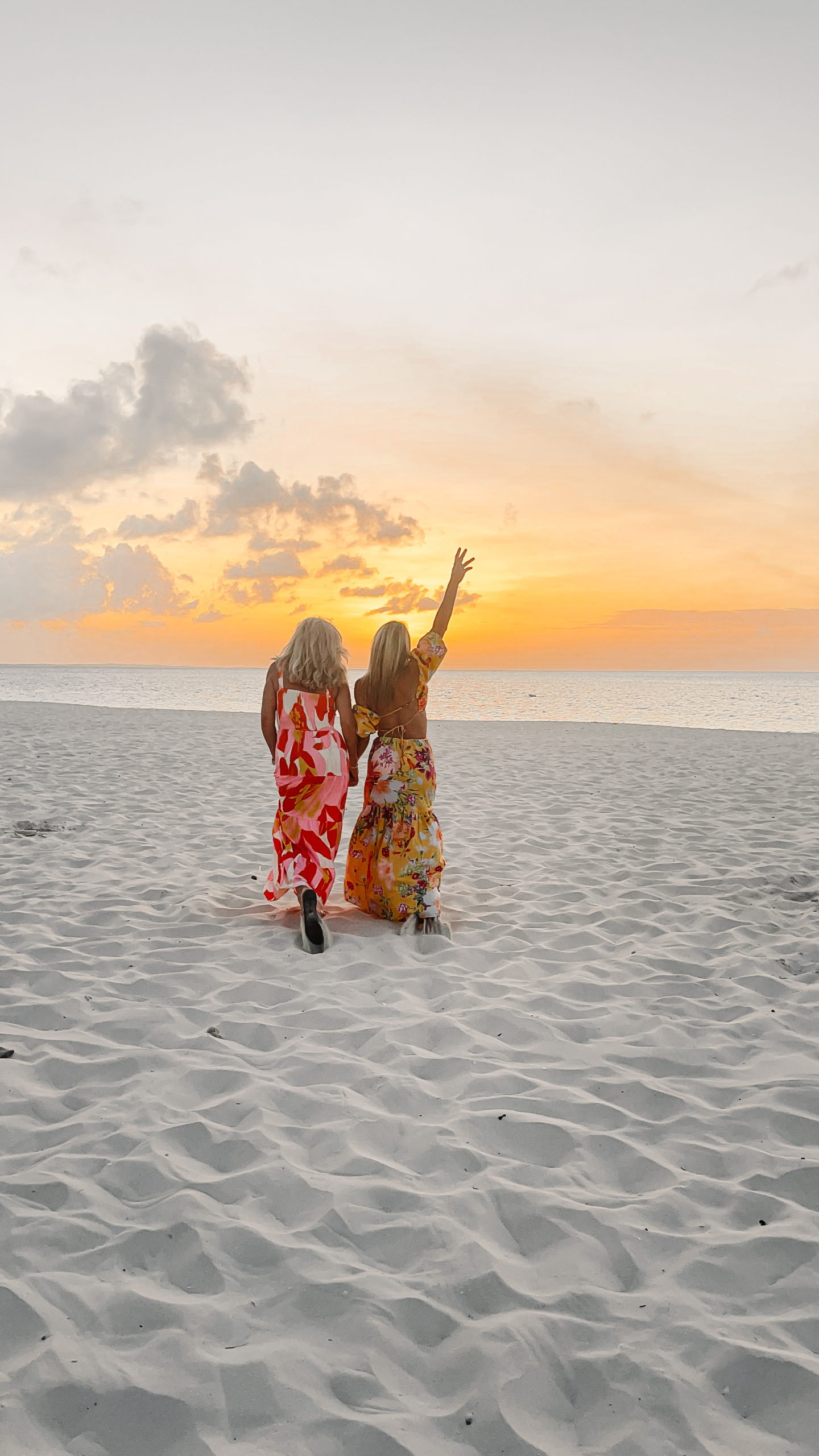 #2. SOMEWHERE LOUNGE & CAFE
This restaurant was a 5 minute beach walk from our hotel on Grace Bay Beach ( sandwiched betweem Wymara Resort and Beaches Resort) so it was the perfect lunch spot for us to try out! It offers casual fare at amazing and reasonable prices which is not always the case for Turks and Caicos Restaurants. It also was really cute with string lights and direct beach views!
Somewhere Lounge and Cafe had some really great Nachos and Tacos so make sure to order those if you happen to go! We recommend this place for lunch but we did hear that dinner is great too!
#3. DA CONCH- A TURKS & CAICOS RESTAURANT FAVOURITE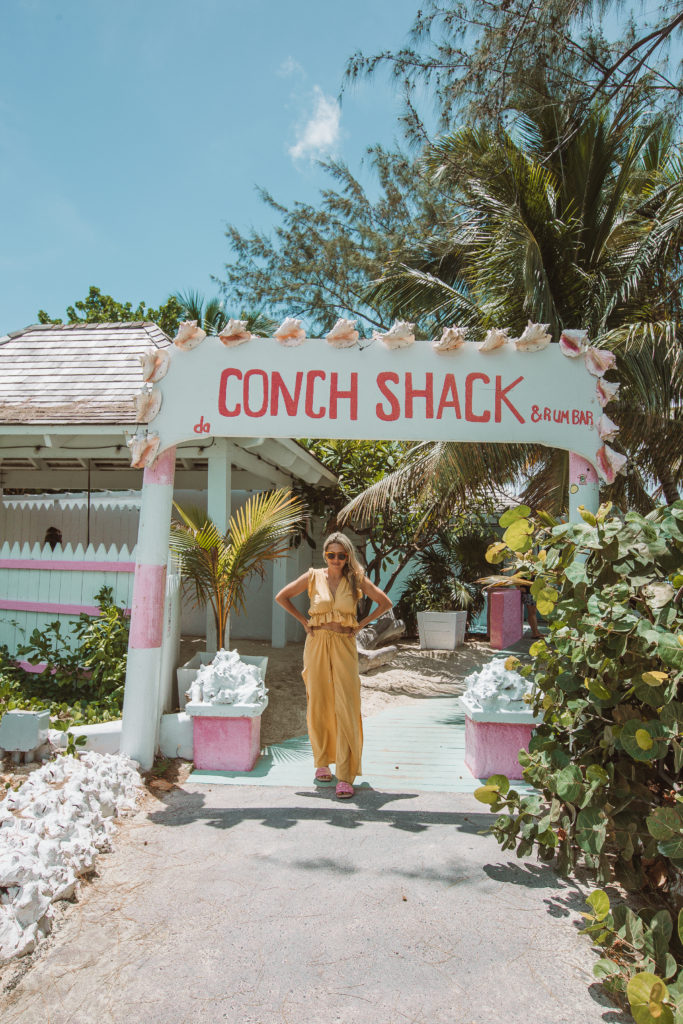 Did you even go to Turks and Caicos if you didn't eat at Da Conch? This place is an institution and is probably the cutest restaurant I have been…maybe even ever!
Decked out with pastel pink touches, conch shells, colored picnic tables and very "instagram-y" accents, this place cannot be missed. The best part is that the food is equally as delicious with fresh conch being a main part of some of their menu items ( obviously!). We had the conch fritters and blackened fish tacos and some good old fashion Rum Punch to wash it all down with.
Plan to spend a good 2 hours here minimum as the beach and atmosphere is something to be enjoyed. The staff also encourage patrons to come and help them pull some fresh conch from their shells and seeing the process alone is worth the trip here. Very cool! I even took a Conch shell home with me.
Tip: When planning your visit, make sure to preorder a taxi ahead of time as it takes a bit of time for a driver to get there ( 20 minutes).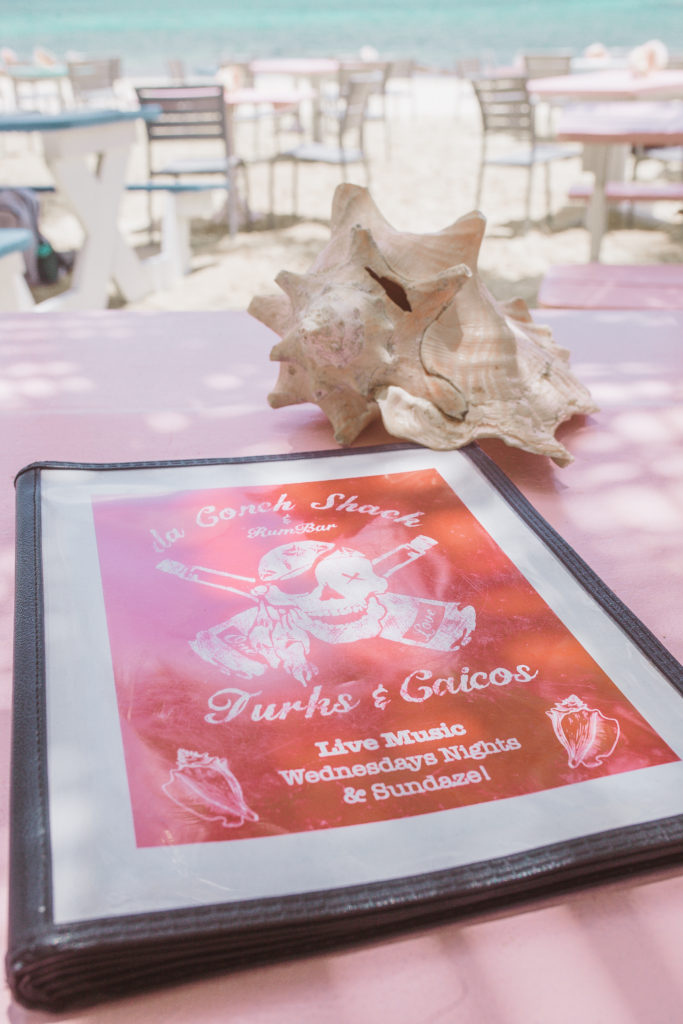 #4. INDIGO AT WYMARA RESORT
Rated one of the best restaurants in Turks and Caicos, Indigo at Wymara is top notch all around. We stayed at the resort that this restaurant is situated on and this place was PACKED every night. And for good reason.
It is a Caribbean inspired restaurant run by award winning chef Andrew Mirosch. The dishes there include Caribbean Mahi Mahi to various char gilled meats and a cocktail list that will have you swooning. The interior setting is luxurious and makes you feel like you are in a big city. It's grand. Yet the patio space has a perfect island feel with lots of greenery, pool views, and even a modern lounge area with a big firepit.
Reservations are recommended here forsure! This is fine dining Turks and Caicos style and located in one of the best Turks and Caicos resorts.
Quick Links: Shop My Favourite Amazon Travel Items
, , , ,
#5. BUGALOO'S- TURKS AND CAICOS RESTAURANT WITH THE BEST BEACH
Bugaloo's is a beach side restaurant on Five Cays where you can eat all sorts of Conch creations! It feature a big expansive deck and tables that also sit directly on the beach. If that still doesn't get you excited, you also have the option to have your table DIRECTLY in the water itself. The water colour here is something special and the water level is so low that you can walk out pretty far without getting that wet!
I would recommend this place for lunch but they do offer dinner as well where they sometimes feature live entertainment.
#7. GRACE'S COTTAGE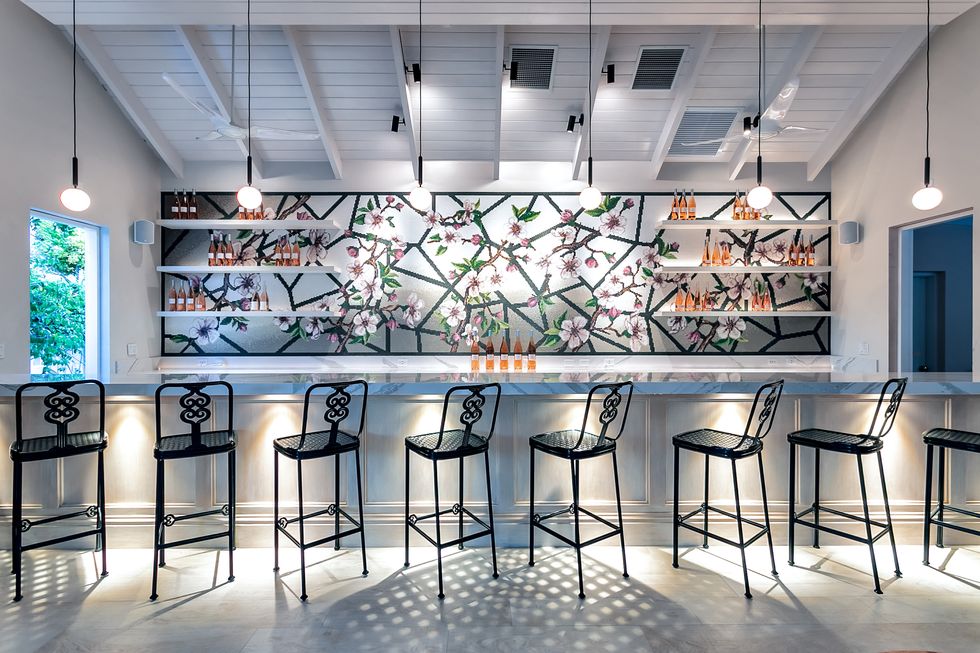 Situated within the Point Grace hotel, Grace's Cottage is a special spot out of this Turks and Caicos restaurant list. I would recommend this place for a special dinner ( maybe your last night?) as it is very romantic, upscale and elegant. The inside area is small and cozy but the real draw for the interior space is their bar. It is seriously beautiful with tiled hand painted backdrop that will have you swooning.
It serves gourmet french cuisine and island classics with a twist as well. They also have a premium wine list where you can likely find a delicious bottle of choice very easily
#8. COCO BISTRO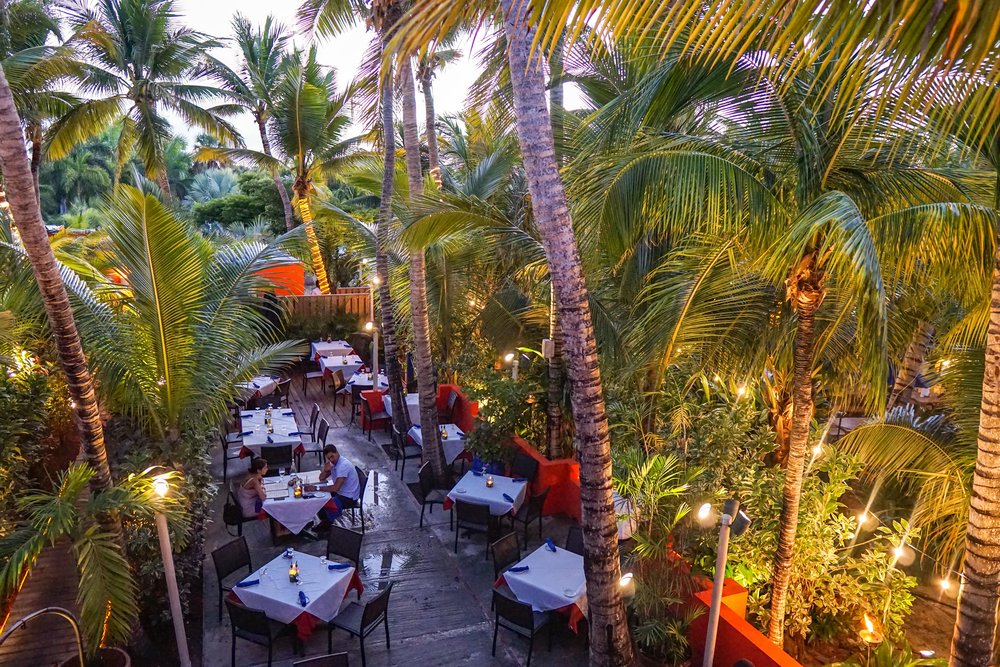 Coco Bistro is located in the center of town and in the center of the largest palm grove in Turks and Caicos! It feels like you are really away when you there even though you aren't sitting by the beach. The numerous palm trees that surround you really set the tone and the food is to die for!
Coco Bistro's menu has a wide variety of options but if you are going to get one thing, I would NOT skip out on the Seafood Fettuccine! Just thinking about it makes me hungry!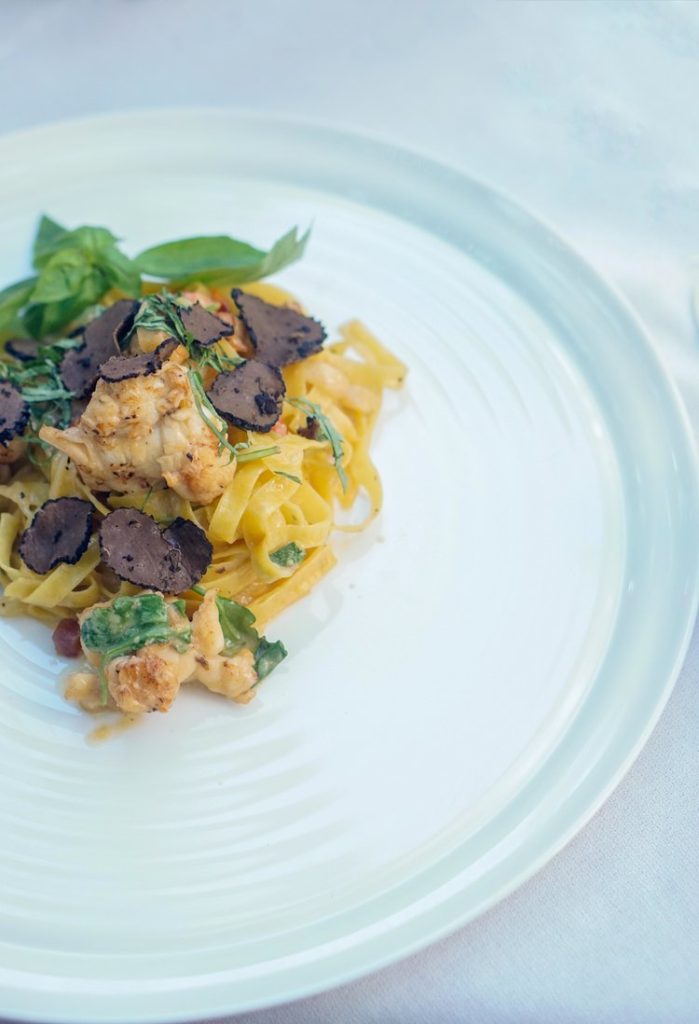 Since it is pretty central to a lot of the beaches and areas, it definitely gets busy so make sure to secure a reservation before going.
#9. CREST AND BERRY- ONE OF TURKS AND CAICOS NEWER RESTAURANTS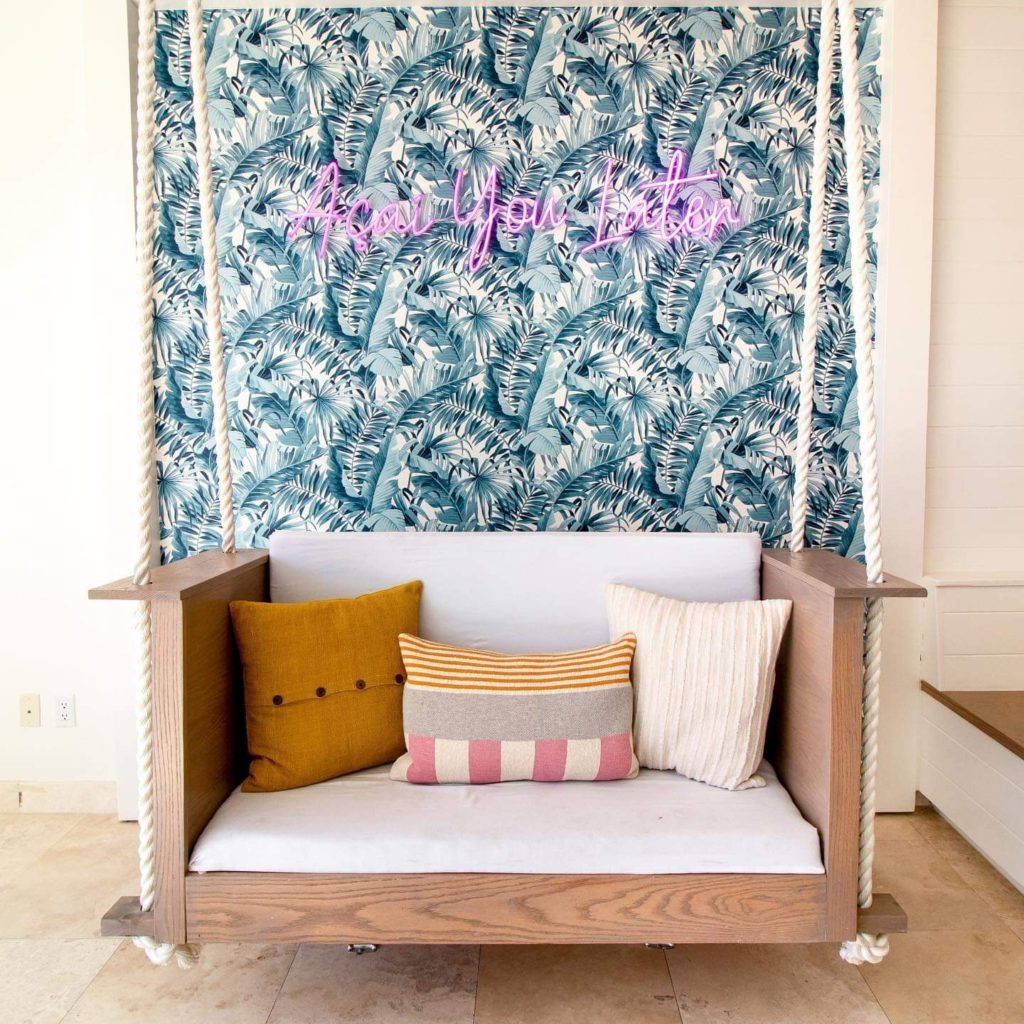 Opened in more recently, Crest and Berry serves up the best healthy bowls. Think: Acai, Pitaya, & Green Bowls and a slew of smoothie and juice options. As a Acai bowl snob ( not mad about this), I can firmly say this place nailed it!!
It's located in the center of town so it's definitely worth it to head there one morning for a breaky or lunch and also explore town while you are at it!
It's Vegan friendly too and for a Caribbean island it's sometimes hard to find!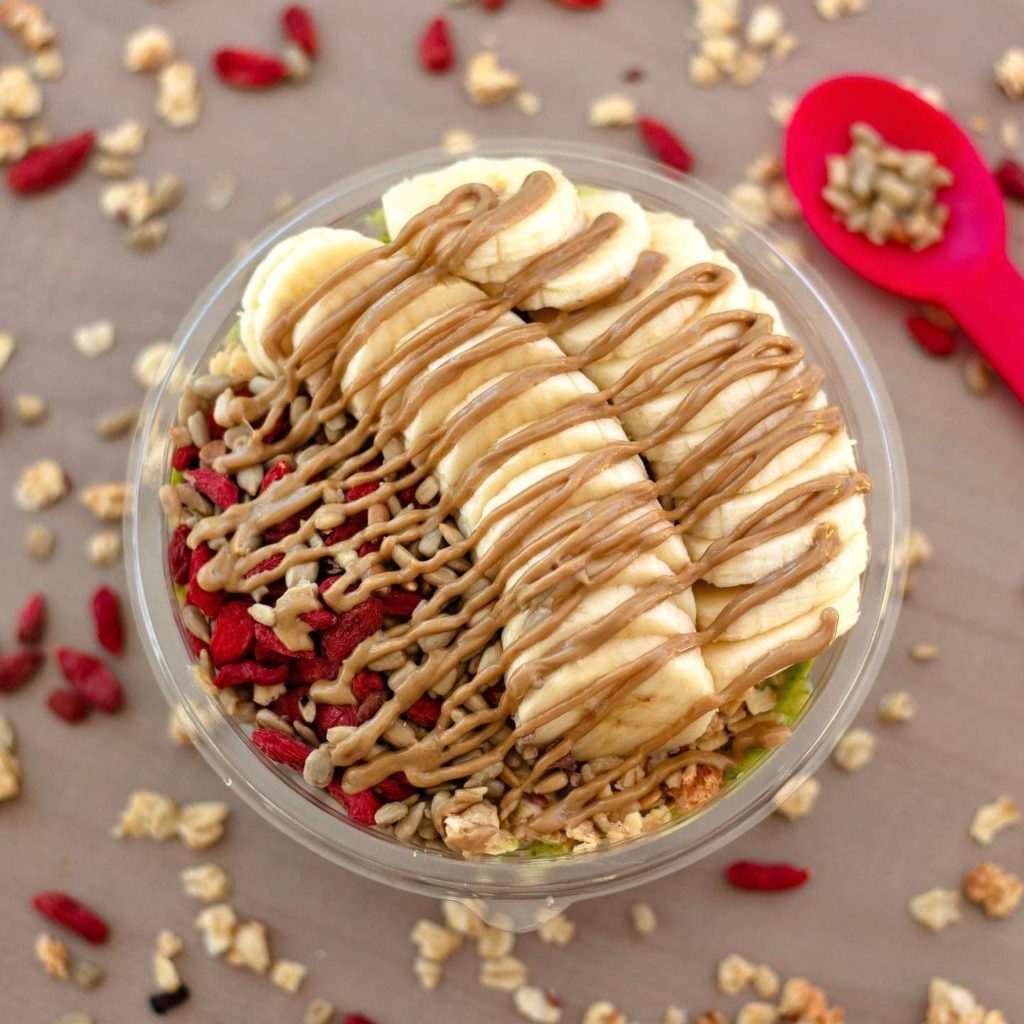 #10. OMAR'S BEACH HUT
Out of all of the Turks and Caicos restaurants listed here, this one has been gaining a lot of popularity over the last little bit. It is priced phenomenally, has tons of food options ( tacos, jerk chicken, pastas, fish, burgers etc) and has a relaxed beachfront vibe!
Omar's also has picnic tables that sit in the water when the tide is low and it is something not to miss! It is a local favourite and because of that feature local dishes as well!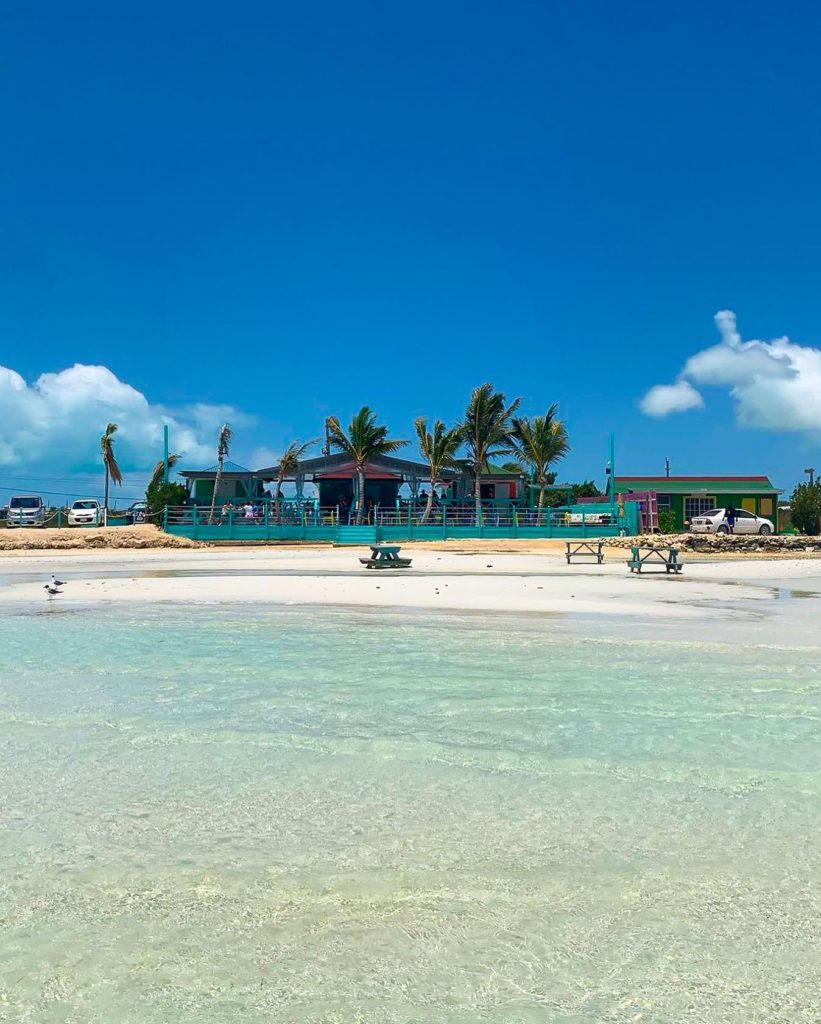 Other Notable Restaurants in Turks and Caicos Islands:
Mango Reef
Bay Bistro
Mudjin Bar and Grill
Mega Hotel Beaches Turks and Caicos restaurants are known for being really good!
Restaurants near the Osprey Beach Hotel area if you are looking for cheaper ones
I hope you are excited for your Turks and Caicos trip and that you get to enjoy some of the best restaurants in Providenciales listed here. The only problem is that you might not have enough time to try them all but the solution for that is to just book another trip to Turks and Caicos…
---
PIN THIS POST