Looking to take a weekend getaway to Quebec City? I got you covered! Summer in Quebec City is a special vibe and also SO romantic.
If there was one positive of COVID this past year and a half, it is that we have gotten the chance to explore more of our own backyard. We debated New York City, Montreal and then Mont Tremblant but are so happy we decided on Quebec!
Quebec City has been on our radar for a while now but we never had the chance to make it there! We decided to go for our babymoon before baby #2 arrives! I was in the second trimester so my energy was still up and I could easily walk a lot.
With domestic travel being SO much easier than international right now, we finally took the plunge and planned our Quebec trip. We are sure glad we did.
With a romantic charm flowing through the air, cobblestone streets, delicious restaurants at every corner and the picturesque St. Lawrence River situated on the edge of town, it has everything you would want in a destination. We fell in LOVE because it's basically like experiencing Europe without having to cross an ocean! Having been to Paris twice now, I feel like I can honestly say that Quebec City may be my favourite French speaking city now!
With it being the second largest city in Quebec, we decided to visit for 3 days and I am excited to share all the gems that we visited during our few days there..
Interested in other Canadian Travel Getaways?
HOW TO GET TO QUEBEC CITY FOR A WEEKEND GETAWAY
DRIVING – From the GTA, you can easily drive to Quebec and make some stops along the way ( Montreal, Ottawa, Prince Edward County) but it definitely isn't a short drive.
From Toronto to Quebec City the drive is roughly 10 hours
From Montreal to Quebec City the drive is 3 hours
If you are looking to do a short weekend getaway to Quebec City, it might be better to fly…
FLYING – We choose to fly and we were happy we did. With direct flights leaving from Toronto Pearson and options on Porter Airlines as well- you are saving a lot of time as the flight is only 1.5 hours! The best part about flying too is that the airport is only 15-20 minutes from the downtown core!
If you are coming from the US, you can still drive or fly. There are, however, limited direct international flights to Quebec from the US so your alternatives would be to have a layover in Toronto, Ottawa or Montreal. The closest state is Maine so if any of my Maine friends are looking for a getaway I hope you find this post useful!
WHERE TO STAY FOR A WEEKEND GETAWAY IN QUEBEC CITY
There are a ton of accommodation options in Quebec City ranging from bigger chain hotels to quaint B&B's. I personally would recommend staying right in Old Quebec for how accessible it is to explore town! You can walk everywhere if you stay in this area and we did just that!
We choose to stay at this iconic, 5 star Fairmont which is considered one of the most photographed hotels in the WORLD! It is such a romantic place to stay in Quebec City.
After spending a day there, it is easy to see why! It feels like you are staying in a castle! It is enriched with historical character and an overall grand feel! With a massive renovation under it's belt in 2014, it added modern sophistication to it's rooms which can be felt all while preserving the unique features that make it so special. It literally spans over 12KM and it is a landmark in the city- being visible from so many view points! If you don't stay here, it is certainly worth visiting regardless!
They have so many top notch restaurants which I will get to a bit later…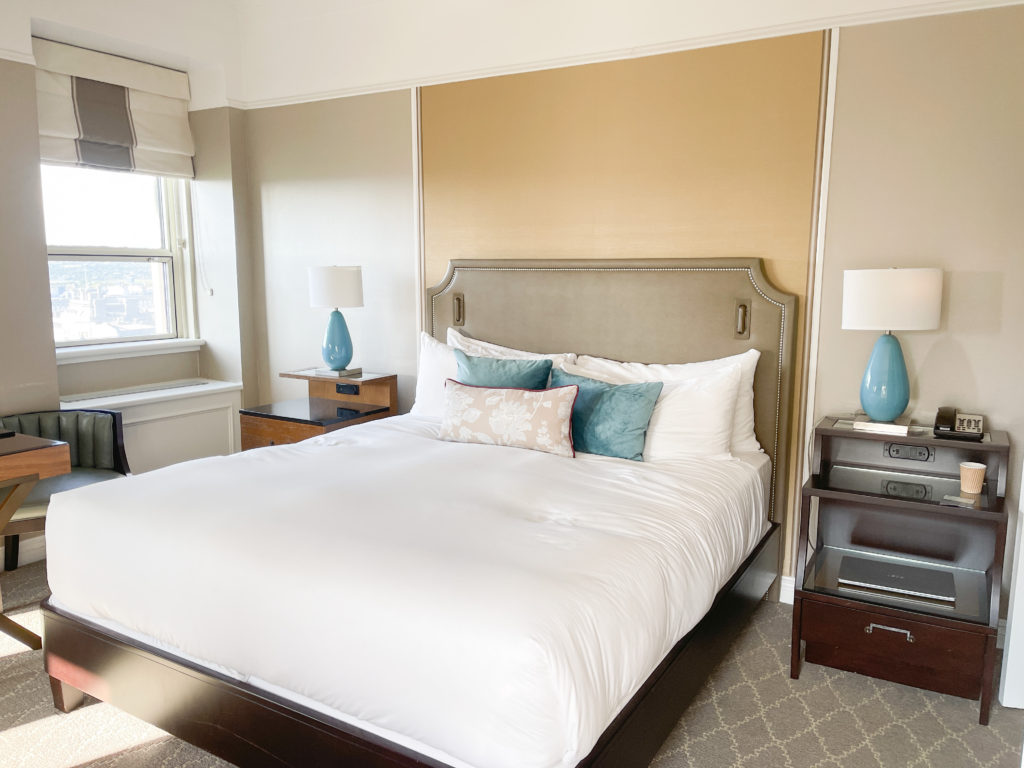 OTHER PLACES TO STAY AT FOR A WEEKEND GETAWAY TO QUEBEC CITY:
-If you prefer small boutique hotels, check out Auberge St-Antoine. It is located on a beautiful cobblestone street that is just a hop, skip and a jump from the main streets of old Quebec.
–Monsieur Jean is another great option if you want a modern and personalized feel! Set up as suites, all of the rooms here come with little kitchenettes giving you the comfort of home with a glamourous hotel feel!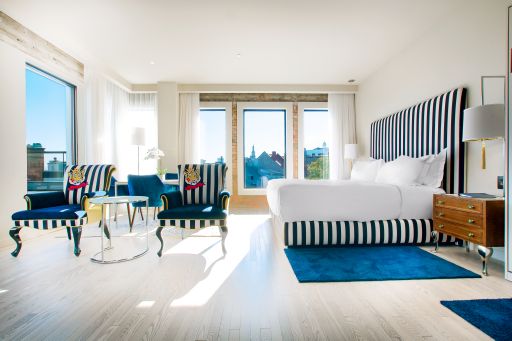 WHERE TO EAT OR DRINK IN QUEBEC CITY
If there is one thing that Quebec does not have a shortage of, it is good places to eat! As shown in my Instagram Reel HERE, you can see that we basically ate our way through the city munching on poutine, croissants, steak and frites and so many unique offerings!
Admittedly, in every city or place we visit, we always have to have one night where we chow down on Italian food! With me being Italian, I generally crave a bowl of pasta or pizza once a week. I'm also a bit picky when it comes to my Italian food ( can you blame me when I had a Nonna who handmade everything!). I am happy to report that my picky Italian self absolutely loved EVERYTHING about our meal at Bello. We went for a salad, pizza and shared two pasta dishes. Their Duck Confit pasta was surprisingly our favourite and left us kind of fighting for it!! haha. The interior and ambience inside also checks all the boxes ( think old stone walls, wood burning oven paired with modern/black and white art pieces).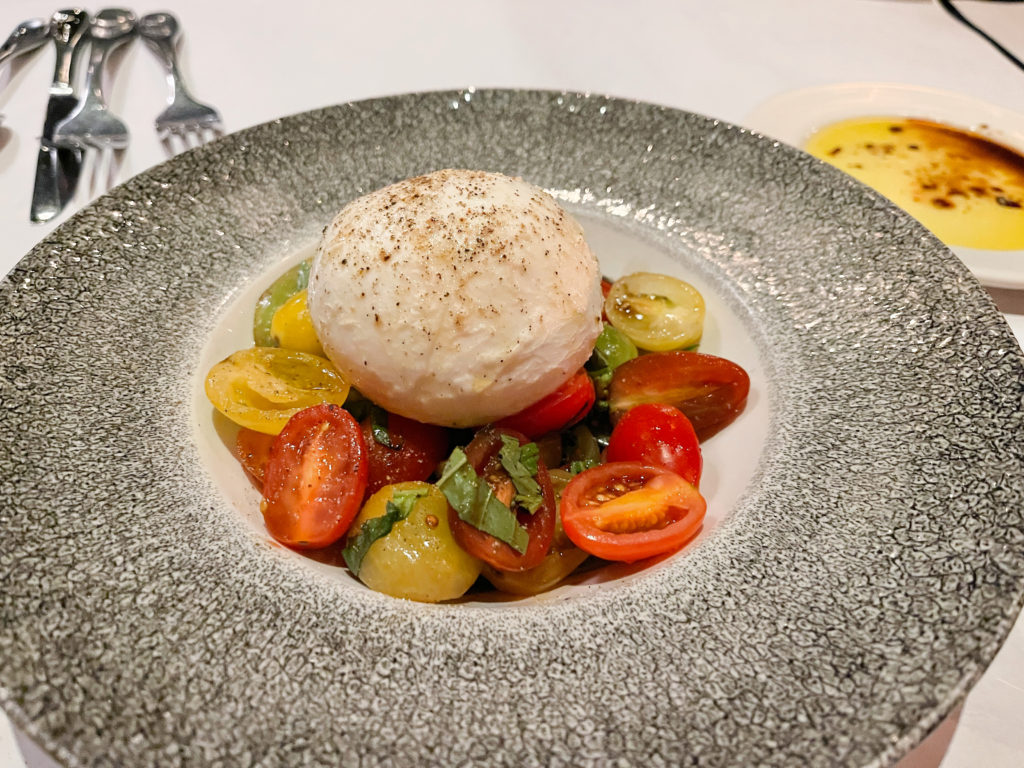 This was the first restaurant we ate at and it truly set the tone for the entire trip. Alphonse's offers a casual yet upscale vibe! You can come here for a more relaxed lunch ( which we did) but it also offers a chic setting for a romantic dinner too. We opted for steak and frites ( for me) and Aaron got their gourmet hotdog with frites. The service matched the delicious food!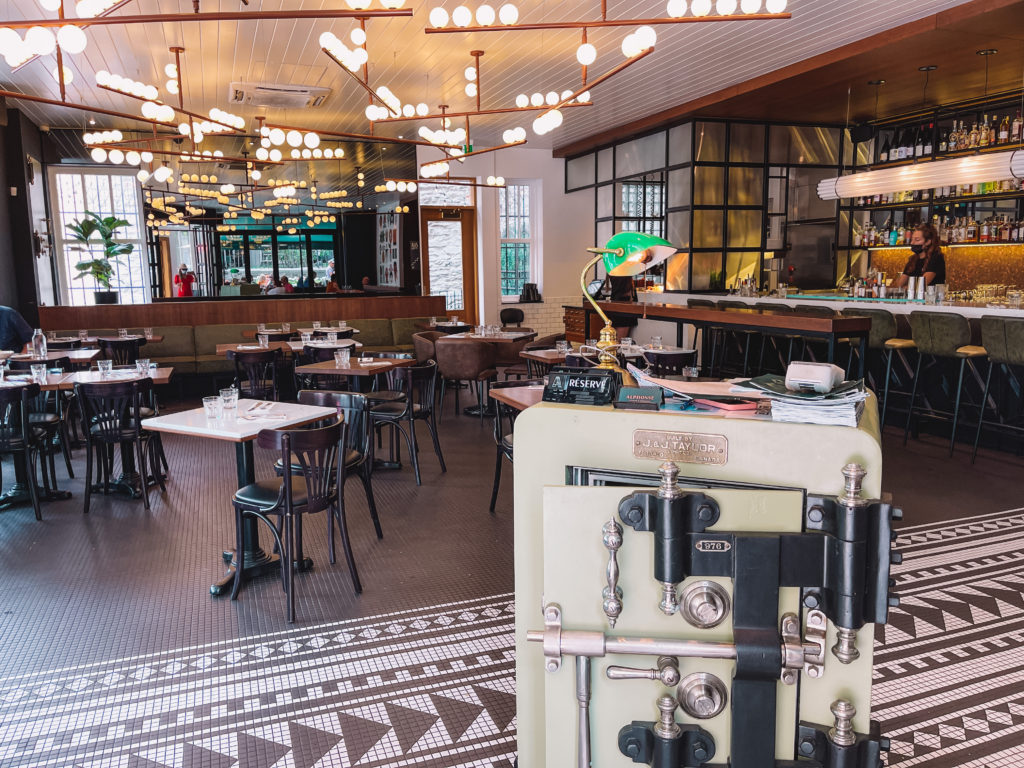 Remember when I said that the Fairmont Hotel houses some of the best restaurants? Well Sam's Bistro is one of them!!
Not only is the space jaw dropping, but the food is out of this world! It features dishes that are made with all local and seasonal ingredients and the menu has something for everyone! While they have some casual options like burgers or sandwiches, it also has a variety of upscale cuts of meat and fish varieties ( we went for the Filet and Lamb but let me tell you that the Cod was really calling me too). Since I am pregnant, I couldn't have one of their hand crafted cocktails….or so I thought. Their talented mixologist created a spin on one of their raspberry infused drinks that was alcohol-free and it was hands down the best mocktail I have ever had in my life. My husband had their house spritz which was also beautifully presented and equally as delicious.
We actually had to take photos of every dish because they were all so pretty. If you don't want to commit to an entire dinner there, the lavish bar area is worth a visit on it's own!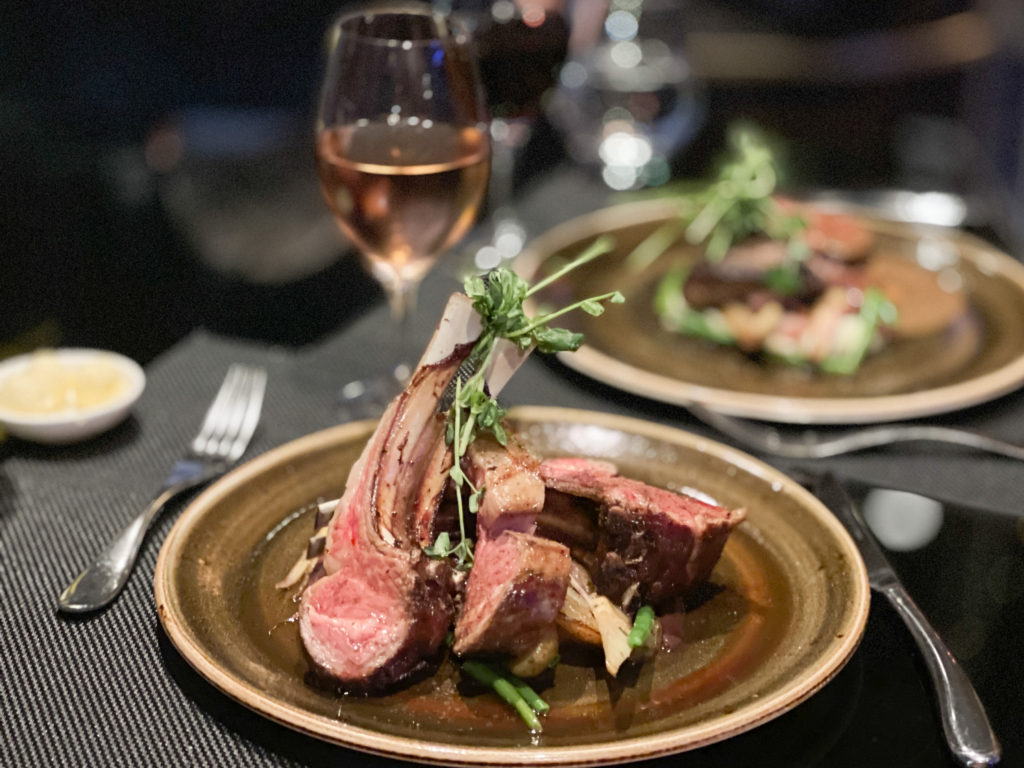 Located right by the port of Quebec, this is the place to cool off and let loose! It is something like I have never seen before and Aaron and I had the absolute best time! With over 40 beers on tap, it is easy to find something to sip on. They also have sangria, mojitos and margaritas by the pitcher so it's easy to set up shop there. Did I mention that a portion of the seating is set up IN the on site pool? Yes…you read that right! You can dip your feet in the water while sitting on one of their colourful Muskoka chairs. This place is a must!
SHOP THIS POST
OTHER PLACES TO CHECK OUT DURING A WEEKEND GETAWAY TO QUEBEC CITY:
Le Chic Shack: Craving a poutine? Grab one at this popular joint that is located right across from the Chateau Frontenac. Good, hearty poutine ( which is not only a Canadian classic but specifically a Quebec classic) and also offers up a great view! The difference between their poutines and other places is that they have more unique toppings like smashed potatoes or braised beef!
Café Le Clocher Penché– Located in the trendy Saint Roch district, this is a place where you will find locals dining and hanging out. It has been included in numerous "Top Restaurant" lists in Quebec and it is easy to see why. The dishes are an art and you can grab a good meal here any time of the day. Fan favorite dish? A Faisselle!
Le Lapin Saute– Want to eat right in the heart of the Petit Champlain area? Le Lapin Saute is your place! It features unique rabbit dishes ( sorry vegetarians) and has all the charm in the world! It also features a cozy side patio.
WHAT TO DO IN QUEBEC CITY
The best thing about Quebec City is that you can easily fill up your days with loads of activities OR you can leisurely take in the city and still have a remarkable time. We had 3 days of non stop fun and then on our last day, we took it easy and soaked up the streets at our own pace.
Whatever you end up doing, one thing is forsure: you will quickly feel the undeniable charm that Quebec possesses. There are activities for every type of traveler too! While we went for a Baby Moon, we are actually really looking forward to coming back with the girls and doing some kid friendly activities ( maybe even in the Winter which is apparently AMAZING too!) I also couldn't mind coming back for a Bachelorette getaway or a girls trip. Basically I am already yearning to go back….haha!
If there was one place that blew me away in Quebec, the Strom Spa might be at the top of the list. YOU GUYS THIS PLACE WAS OUT OF THIS WORLD!! I would fully travel to Quebec, just to visit here. Situated right on the St. Lawrence River, the Strom spa is an oasis retreat where you can not only book a treatment but you can also enjoy lunch on-site, lounge in their many thermal pools, and unwind for the entire day. It is an experience not worth missing. Best part? This spot is located RIGHT in the city…yet you feel like you are worlds away.
Since we only had 3 days in the city, we opted for a Thermal Circuit pass verse a treatment so we could enjoy all the different lounge areas and outdoor pools. This place is perfect for a girl's bachelorette day, a romantic day for 2, a mother/daughter self-care session, or simply a day to enjoy by yourself! Also if you are on a babymoon in Quebec City like I was, this kind of pampering was necessary!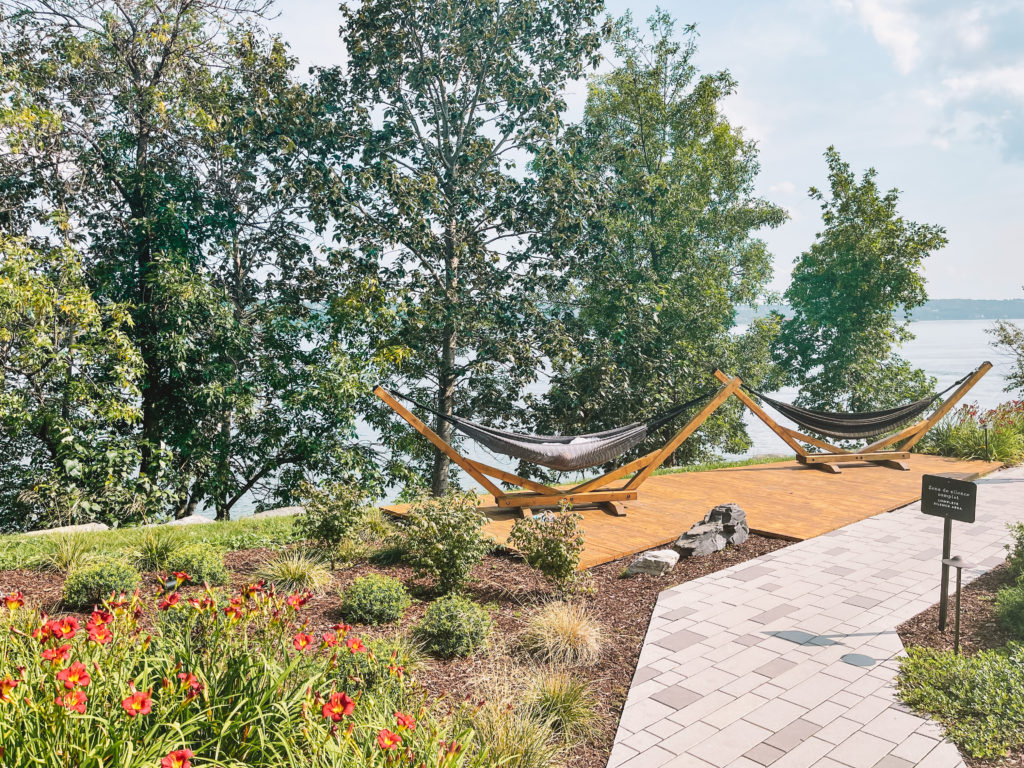 VISIT THE ROMANTIC STREETS OF OLD QUEBEC
Taking a weekend getaway to Quebec City wouldn't be complete without visiting Old Quebec!
Did you know that Quebec City has been recognized as a UNESCO heritage site?!? Normally, UNESCO heritage sites are the prettiest places ever and with French architecture, cobblestone streets and streets lined with cute cafes and shops, it is easy to see why this area makes the list! We visited the area over 5 different times and I recommend seeing it at different times of the day as they all offer something unique. TIP: If you are looking to capture photos here without the crowds, come around 8AM. We had the streets to ourselves and it was so magical.
Start your tour of Old Quebec by taking in the view from on top of the Breakneck Steps, Quebec City's oldest staircase, before wandering down. The stairs can be a bit of a work out but if you plan to eat croissants everyday like I did, it was a good way to work them off! haha.
Place Royale is a historic plaza that's home to the famous Notre Dame church!! We enjoyed coffee in this square every morning before the crowds came in.
Rue du Petit-Champlain is the most photographed street in all of Quebec
Rue du Cul de sac is the street with the Umbrellas!! I loved this street the most. There are a few restaurants on this street and along with the umbrellas, you get an amazing view of the Chateau Frontenac
Rue du Sault-au-Matelot is a street that makes you feel like you are in Soho New York! It is less narrow than the other streets and features some taller/wider buildings that I can very much picture myself living in! What a dream
Rue Sainte-Anne is a street on the upper side of the steps. It is a great place to come at night with lots of live performers lining the streets! It also is across from the Holy Trinity church- another remarkable building!
Discover this unique and impressive site with its 83-meters fall! No offence to Niagara Falls but this is way more beautiful ( and 100 feet higher!!). You feel like you are immersed in nature here with suspension bridges, easy hiking trails surrounding the site and cascading stairs that can even bring you up close and personal to the waterfall. It was a site to behold! If you are into Rock climbing, they also have that on site and if stairs or trails aren't for you- they have a Cable car that runs from one side to the other. Definitely do not miss this! I would save about a 1/2 day for this spot and pair it with my next recommendation on the list ( see below/ Île d'Orleans)
Picture being in a European city but in just 20 minutes you can transport yourself to a little island that feels like you are in wine country! Called Île d'Orleans, this little island smack in the center of the Saint Lawrence River, is the ultimate retreat if you want to escape the city. You can certainly spend an entire day there if you wanted to and I would recommend doing that if you have 4 days in the city.
There is a lot to explore there and a day would give you the best amount of time to do just that. This island houses tons of fresh, organic produce that is used in tons of dishes at top restaurants. You can visit the many wineries that are situated throughout ( very Prince Edward County vibes if you are familiar with the region) and also visit their farm-to-table restaurants! Our favourite place that we visited on the island ( and maybe even our favourite restaurant out of the entire trip was Cassis Monna & Filles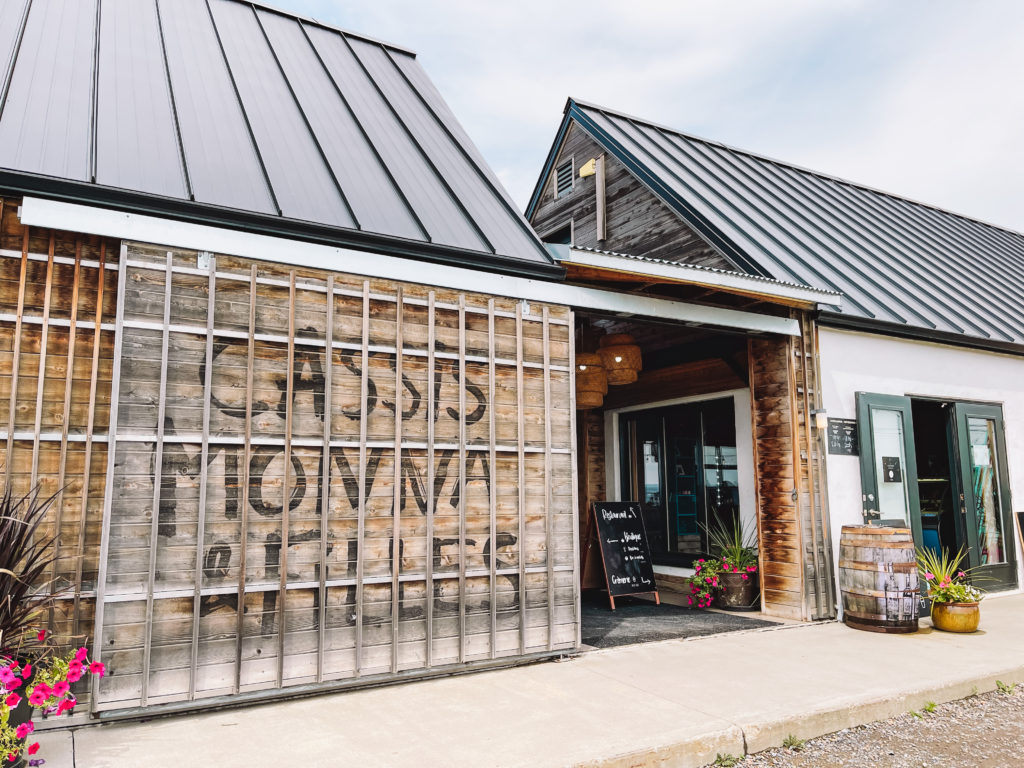 This place is special, guys. It is a currant farm offering unique currant infused products such as liqueurs, dressings and spreads but it is so much more than just a place to get currant products! It is a vibeeee. With an on site restaurant, a sprawling lawn patio where you can enjoy sangria and some of the best ice cream we have tasted, we didn't want to leave.
With just a weekend getaway to Quebec City you might think it's a bit aggressive to fit this in but I highly recommend it!
If you want to discover local artisans, produce and eat different delicacies all under a beautiful roof, I highly suggest checking out Le Grande Marche! It will have you drooling over all of the local flavors and really offers great insight to the city's culinary scene. We actually decided to pick up a bunch of items and headed to a local ( and popular park) to have a picnic with them! If you want a great restaurant on site and feel that picnics aren't for you – there is a microbrewery on the backside of the market with the cutest outdoor patio!
We decided on donuts from Beignes D'Antan ( OMG guys- just trust me when I say that you need these) , charcuterie items from Panier & Pignons and lots of fresh fruit from multiple vendors. We packed all of our goodies up ( that we didn't manage to nibble on as we walked around) and had a picnic in what I believe to be the best viewpoint in Quebec….
BEST PICNIC SPOT IN QUEBEC CITY??
This somewhat hidden green space is located right off Saint Denis avenue! If you are exploring the Chateau Frontenac, it is easy to head right over there after! It offers jaw dropping views that literally look like a post card and gives you one of the best sight lines of the city. You get views of Old Quebec, the St. Lawrence River, Dufferin Terrace and of course the Chateau Frontenac.
If you want to see different parts of the city, a tour is a great way to do just that. Get a glimpse of some of the famous landmarks, architecture and learn about the rich history that Quebec has! We choose to do an audio tour and downloaded an App right from our phone that helped guide us around. It was straight forward and truly enjoyable. We liked going at our own pace and were able to see some things that we likely would have missed. Our favourite was seeing the art exhibit placed throughout the city called Les Passages Insolites
They also offer private tours if you like someone to lead you along the way!
We had almost perfect weather in the city during our 3 days there but got hit with terrible rain one morning! Since we are not the type of people to sit in the hotel, we got right to it and made our way to the Museum! The Musee National Des Beaux Arts was actually showcasing the Picasso Exhibit which made us even more excited!
While this is set to end on September 12th, they normally house some of the best exhibitions and you should definitely check out what they have going on before you go. The building itself is a piece of art ( I'm looking at you staircase!) and you can easily spend a half day there wandering around. Tickets for adults are $30.00
THINGS TO NOTE FOR A WEEKEND GETAWAY TO QUEBEC CITY
HOW TO GET AROUND: My favourite way to get a feel of a city is to explore it on foot ( or bike) and Quebec City is beyond walkable!! You definitely do not need a car there. If walking isn't your thing ( keep in mind there are some hills and steps), there are plenty of Taxis and Ubers readily available. You can also use their public transportation system!
A taxi from the island to our hotel ( The Fairmont) ran us about $35.00 which was the highest amount we paid otherwise most taxis are generally on pair with any major city for short routes and distances.
Another option for exploring is by bike which we did one of the afternoons!. A series of bike paths start from the Old Port area where you can travel along the river. We got our bikes from Cyclo Services which came with locks, baskets and even some water! Bonus! We rode along this beautiful scenic path that took us into some local areas ( Saint Roch!) to our final destination of the Grand Marche Market!
LANGUAGE: The prominent language spoken is French, but you will find English-speaking people in a lot of the tourist areas. It wouldn't hurt to have a Google Translator App downloaded for Uber/taxi rides! We didn't have a problem in most places but when trying to get around, sometimes the drivers weren't clear on what we were asking
HOW MANY DAYS DO YOU NEED: A weekend getaway to Quebec City is just the right amount of time! We did 3 nights and we felt it was a perfect! We did feel though that we could have easily added 1 more night to see more of the island and just explore a tad more! 3 nights will still leave you with plenty of time though!! It was a perfect babymoon destination for 3 nights though.
COST: Like most epic cities that attract tourists, certain things in Quebec City are not cheap. If you wanted to budget though, there are many affordable ways to enjoy the city ( Air Bnbs, cheaper eats, free activities like a park picnic). On average though, a hotel will run you about $200 + a night! We found restaurants to be on par with Toronto or Montreal!
Also if you were looking to add some time to your Quebec trip, I would recommend exploring Montreal!
**This post was done in partnership with Destination Québec cité but all opinions and views are my own**
PIN THIS POST