Glamping in Ontario ( my hometown province!) has become a summer tradition that I have fallen in love with. Even though I do not like Camping whatsoever, Glamping is absolutely my speed and is perfect for those who like a bit of luxury in nature. We discovered Long Point Eco Adventures- a Glamping spot in Norfolk County- a few years back and since then, have gone back on a yearly basis.
After checking out some Glamping near Toronto, Whispering Springs Wilderness and a Glamping spot in Elora, I find Long Point to be the most well rounded resort among the bunch. It is such a perfect spot for any occasion and this time we decided to bring the girls on our Glamping adventure!
The great thing about this Glamping Resort is that it is suitable for families, couples, group trips, solo travellers or girls trips. Now that I have done a couples and family trip here, my next visit will hopefully be with my girlfriends where we can do some Wine Touring (I actually like their wine region a bit more compared to Prince Edward County)
Favourite Features of Glamping at Long Point Eco Adventures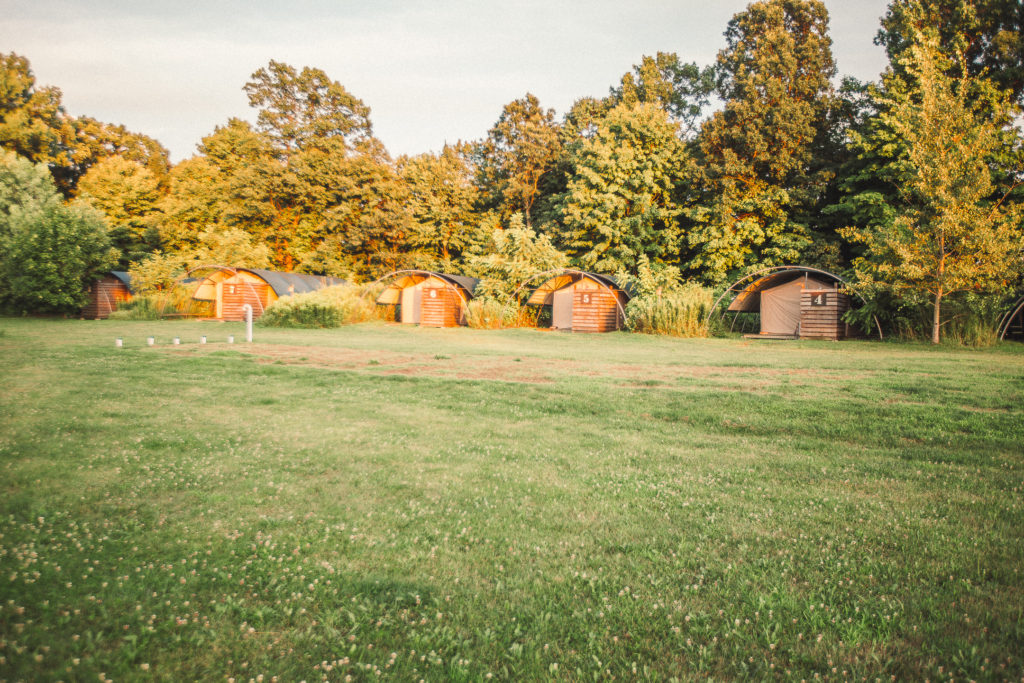 With its combination of natural elements and modern glamping vibes, Long Point Eco Adventures is an awesome accommodation option near Toronto and in Southwest Ontario for that matter. My favourite feature overall is the ambience of the spot. You are fully emersed in nature but it is not quite as bare bones as camping is whatsoever. We shot up the drone at one point in our visit and were even more amazed at how lush the surrounding areas were.
While you are in the center of hiking and biking trails, have epic views of the Long Point Marsh and can see a ton of wildlife here, they also have a very happening restaurant on site as well as a brewery. If we wanted to stay put on the Long Point property, we could have done so. They truly have it set up that you can stay there the entire time!
Another favourite feature is the fire pits that each Wilderness Suite has. The pit is circled with beautiful Muskoka chairs and there are S'more kits for toasting. The office even gives you S'more Toaster which are like the 5 star accessory of making a top notch S'more.
Lastly, the view they have from their restaurant is not only one of the best in the Norfolk area but it is a view that other Glamping spots in Ontario do not have. It is what makes it super unique in my opinion.
Accommodation Options (Some of the Best Glamping in Ontario Units)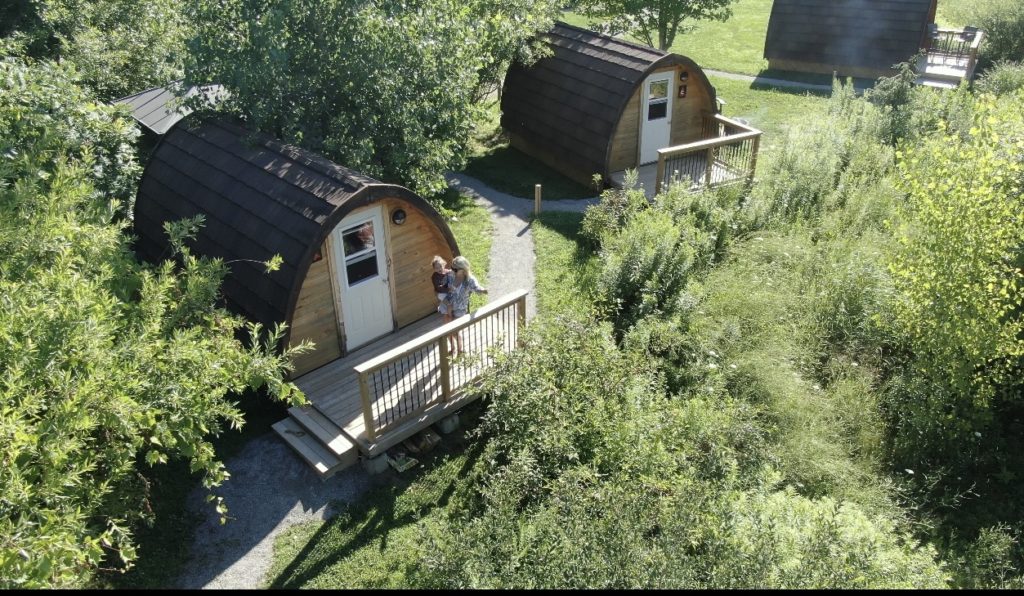 There are 3 main accommodation options at Long Point Eco Adventures. This is what I love the most about Long Point Eco Adventures! If glamping in a tent isn't for you, there are a variety of rooms and you can easily find one that fits your style the most. Each unit has bathrooms ( no shared bathrooms!) and hardwood flooring
WILDERNESSS SUITES AKA LUXURY TENTED CAMPS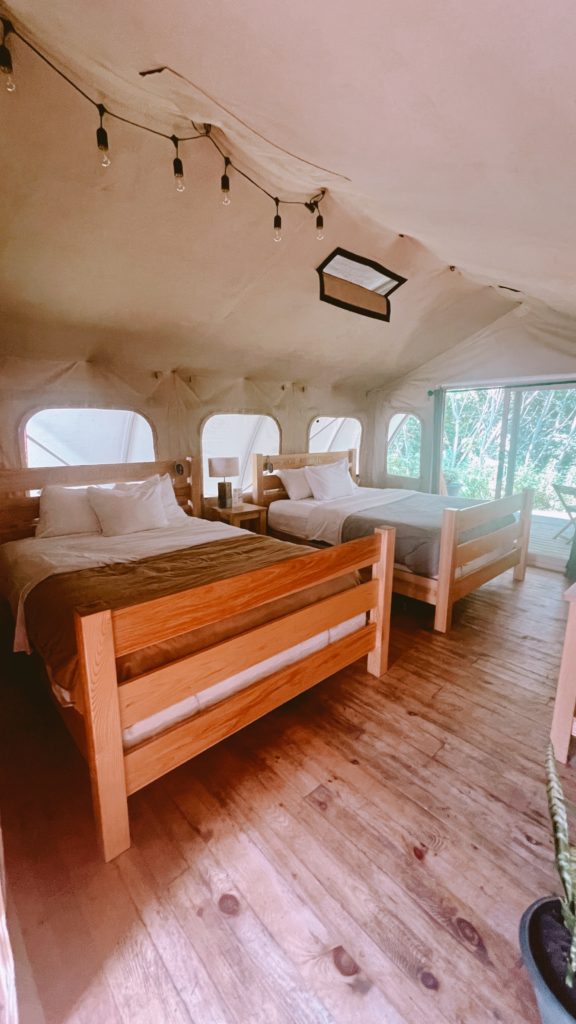 The Wilderness Suites come in two styles: With a King Size Bed or 2 Queen Size Beds. Each of the suites feature a canvas style tent that has it's own private bathroom (with a outdoor shower), a mini fridge, heated blanket, heater, fan and some lamps/lighting. Both offer the same set up but lay out is slightly different.
Both Wilderness Suites come with a private firepit as well. The only difference between the two is that the 2 Queen bed tent is suitable for 4 people.
POD UNITS AT LONG POINT ECO ADVENTURES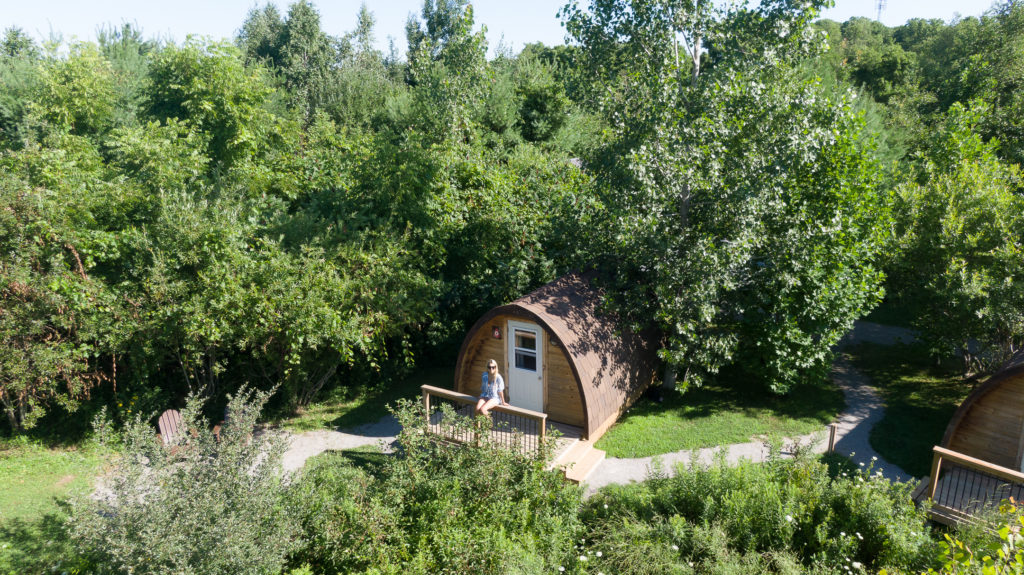 The Yurt style Pod Units are so adorable and I think they would be perfect for a girls trip next time as you can rent a Cluster of them if you want! These are a bit smaller in terms of space but still come with all the fixings (indoor bathroom, heater etc). You can book them with queen bed and some units have a pull out couch additionally for a total sleep count of 3. Just like the Wilderness Suites, these Cabin Pods also have Firepits now too! The Pods are slightly further back from the restaurant but only by a few minutes. Pro of this? A bit more privacy!
MABEE MARSH CABIN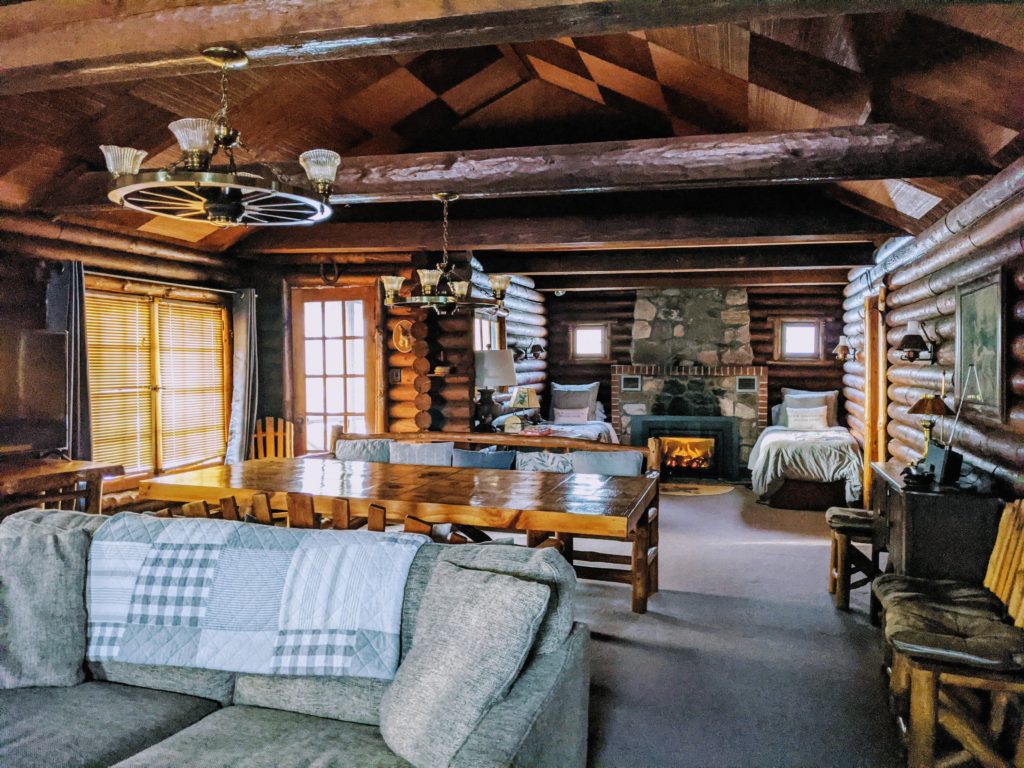 Travelling with a big group and looking to keep everyone in the same space? The Mabee Cabin is for you! Equipped with four bedrooms which can occupy up to 16 people, this cabin is perfect for large groups. If a Cottage and a Glamping tent got married, it would be the Mabee Marsh Cabin. The luxury elements in this cabin are kicked up a notch with full privacy within the Carolinian Forest, full kitchen and a brand new heating and cooling system.
PROS OF BOOKING THIS CABIN: It is available year round so you can book a cozy winter glamping stay! This would be magical around Christmas time.
What To Do At Long Point Eco Adventures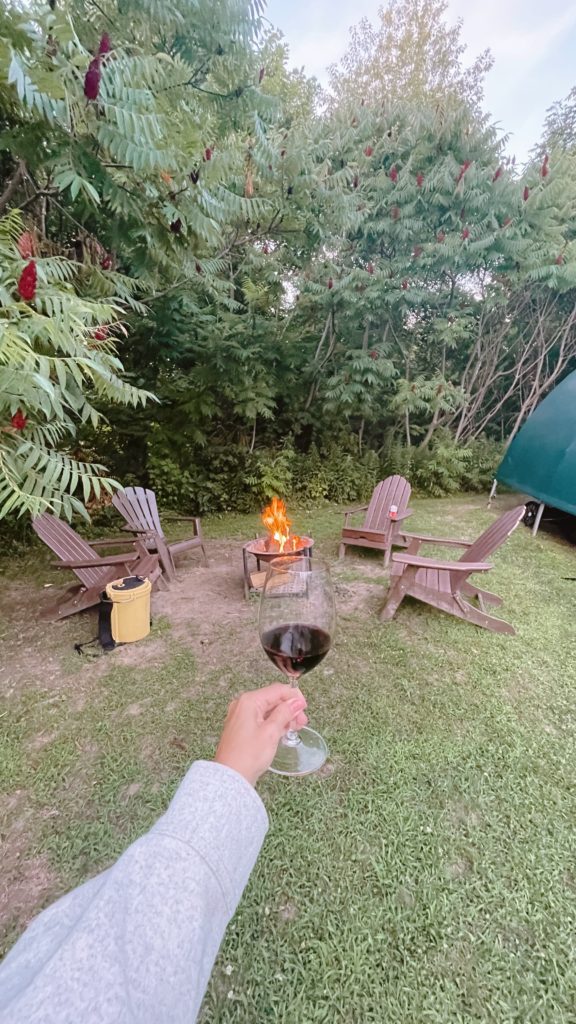 At Long Point Eco Adventures, you can have a Glamping vacation that is action packed or you can curl up with a book by the fire pit and relax. We had a mix of both as we were with the girls this time around and they needed some down time!
Last time we did a Zip Lining tour which was EPIC. The tour runs 2.5 hours and has you flying through the trees of the Carolinian Forest with view points of the Turkey Point Marsh. It's not for the faint of heart though of course! There are not many other Glamping in Ontario resorts that offer something like this.
We did the Star Gazing tour which BLEW OUR MINDS! The skys out this way are so open and clear and we fully saw the Milky Way which was so cool.
We also hit up Long Point Provincial Beach which is a hidden gem of a beach right by Port Rowan. You can see a Tik Tok I made about it here.
ADDITIONAL ACTIVITIES YOU CAN DO AT LONG POINT ECO ADVENTURES: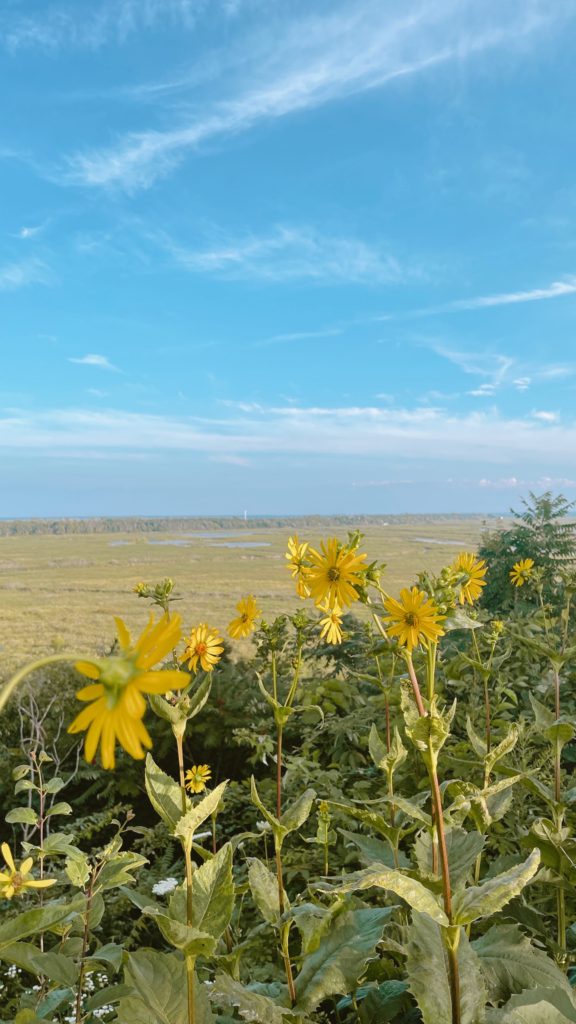 If you were Glamping within somewhere like the Algonquin Provincial park or somewhere more remote, your activity list would look much different. For me, the activities that are offered here are a mix of nature, fun, adventure and have a gastronomic element to them. You are close to convenient stores and towns so that if you want some activities that are a bit more lively, it is easily available! Here are some unique activities to do during your Glamping stay:
Axe Throwing
Honeybee Apiary Tour
Honeybee Apiary Tour
Big Creek Kayak Tour
Insect Program ( NEW TOUR FOR THE KIDDOS!)
Star Gazing Tour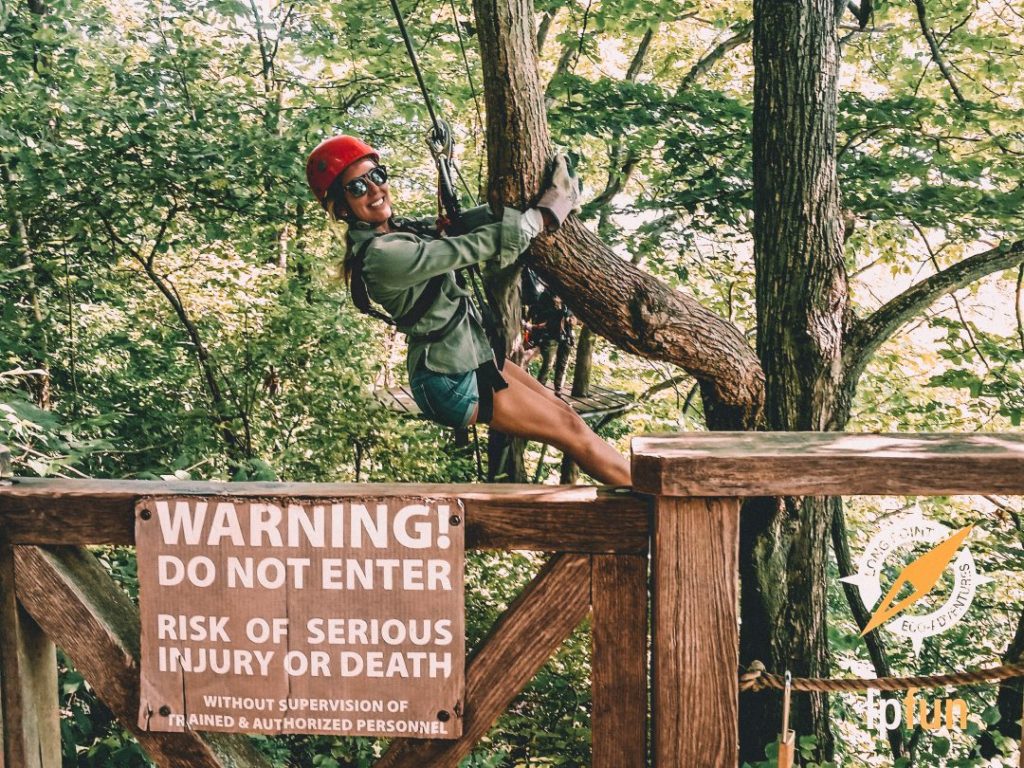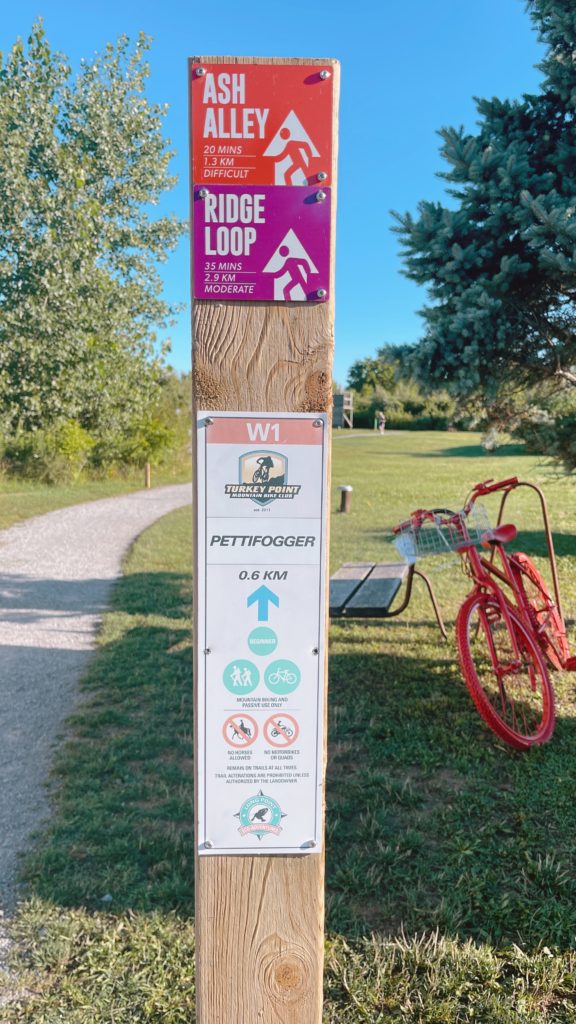 Restaurants and Eating Options at Long Point Eco Adventures
You may picture Glamping in Ontario consisting of catching fish to eat or grilling up things over the fire. Not at Long Point Eco Adventures, my friends! There is actually a food and dining scene at the glamping site and at many areas around there which is why I feel it is one of the best Glamping spots near Toronto. If you are into wining and dining ( which most city people are), you won't be disappointed!
When we booked our stay at Long Point, we decided to get the "Foodie" Package since both my husband and toddler are hungry every 15 minutes basically. HA! But no really, we both really enjoy food so we were very intrigued by this add on package. We were so happy we got it!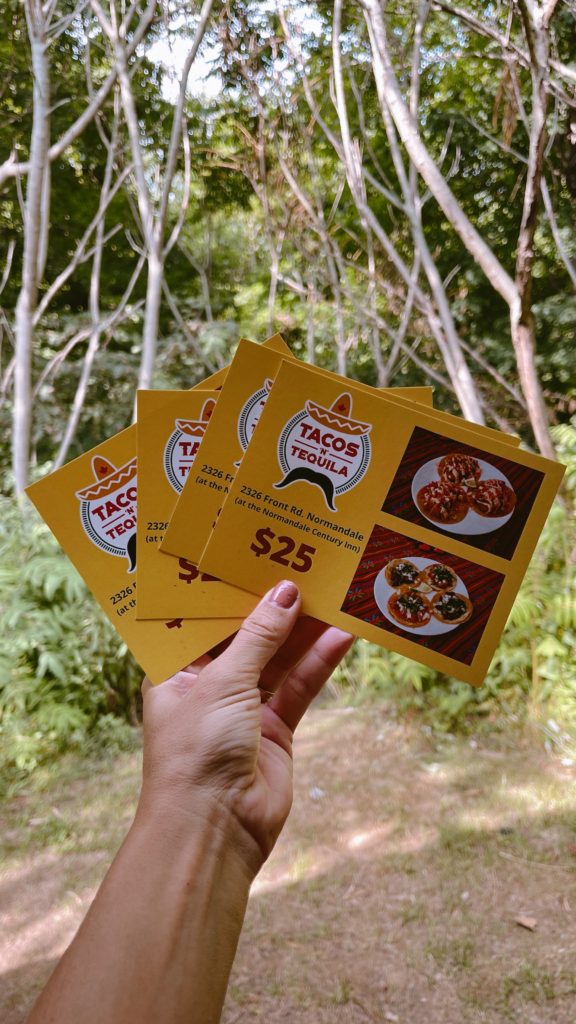 With this package, we got a S'more Kit, 1 Bottle of Wine + Beer Pack, Gift Certificate to near by Restaurant Tacos N Tequila, Breakfast included and another Gift Card to their Marshview Patio (which we used for drinks!). If you do not add on this package, you can easily have a Foodie experience still! Here are some places to eat at Long Point Eco Adventures or near it:
MARSHVIEW PATIO
Long Point Eco Adventure's on site restaurant is called Marshview Patio for good reason. It offers up epic views of the Turkey Point Marsh and it really makes you feel like you are somewhere super unique. Open for breakfast, lunch and dinner, you can find some delicious menu items being served up.
We had breakfast from here in the morning and I was blown away by it! We sipped on a hot cup of Jo while taking in the views, listening to the birds chirp and had a mixture of items ( Classic breakfast for me, Pancakes for Chloe and an Omelette for Aaron). It is open 7 days a week!
HOMETOWN BREW
 Sit back and enjoy locally crated brews from Hometown Brewing which is served up out of a Seacan on site. There are picnic tables, music playing and it is a really fun vibe day or night. There is actually some Hometown Brew cans also included in your Foodie Beverage Pack if you don't get to try one of them on site!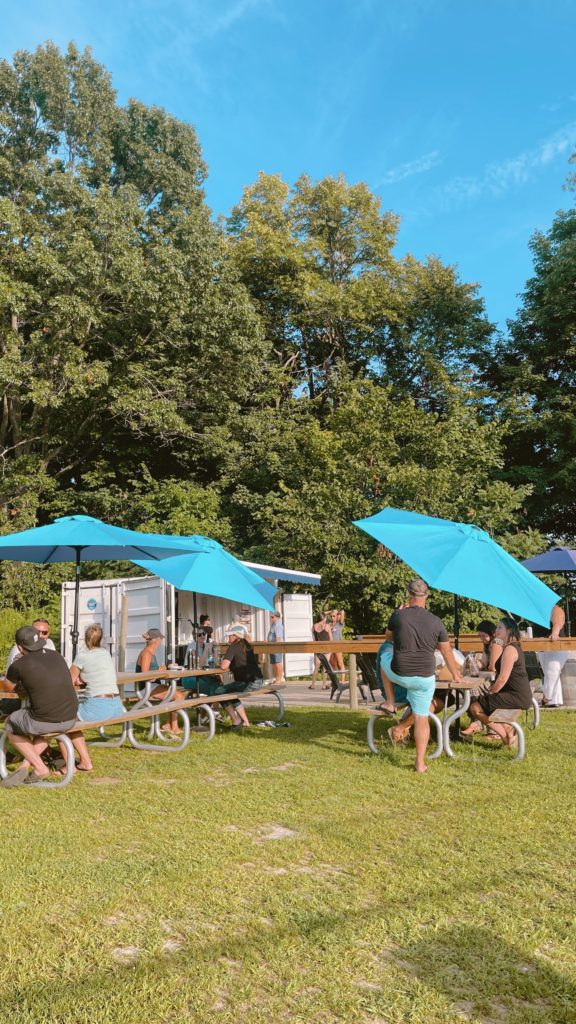 BURNING KILN
Burning Kiln Winery is just across the street from Long Point Eco Adventures and it is proof that Glamping in Ontario can be pretty chic if you want it to be. They not only have award wining wines to sip on but their menu is *Chef's Kiss*. It is literally a 5 minute walk over! I suggest making reservations as it can get busy- even during the week!
TACOS N TEQUILA
Tacos N Tequila is a cute little Mexican joint located in the town of Normandale. It is a 5 minute drive from the property and has a killer patio. We literally felt like we were in Mexico as it is not only run by a hospitable Mexican woman who serves up homemade tasting dishes but the vibe itself makes you feel like you have been transported there.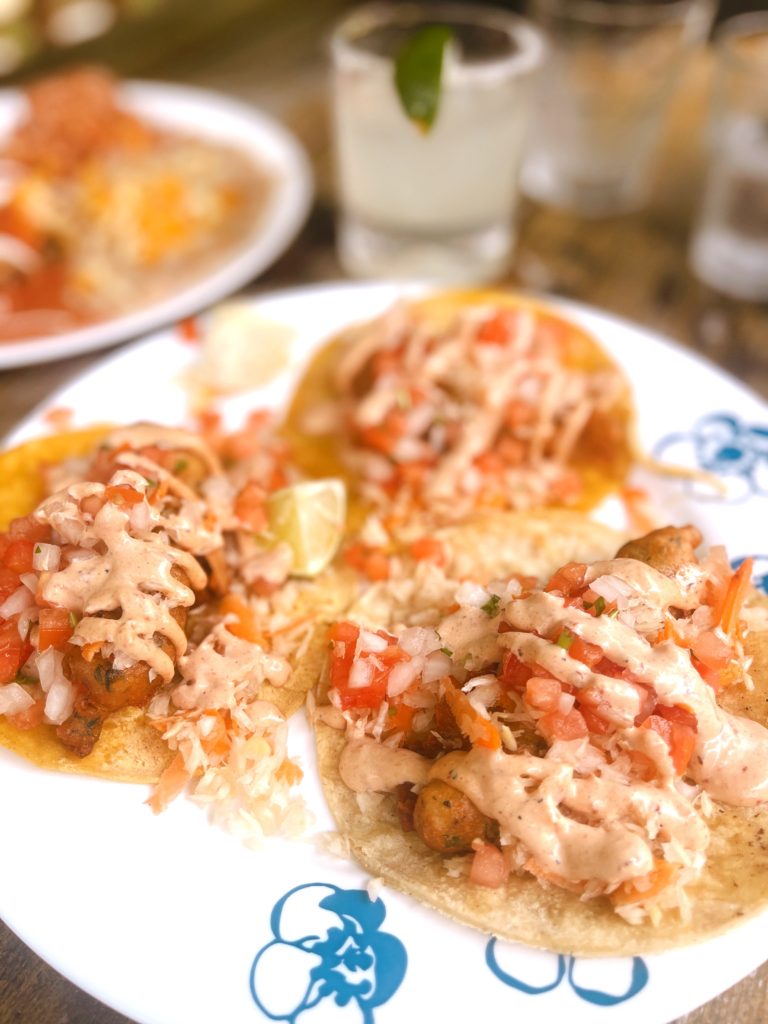 RESTAURANTS IN PORT ROWAN
If you end up checking out Long Point Provincial Beach, you will pass through the little town of Port Rowan. This town has some really cute spots! We went to Twinny's for ice cream ( old diner style setting) and it was worth it for the photo op alone. Port Rowan is about 20 minutes from Long Point Eco Adventures so not super close but the drive did go by fast and it was really nice to check out the provincial park areas around it.

A Few Helpful Hints For Your Stay: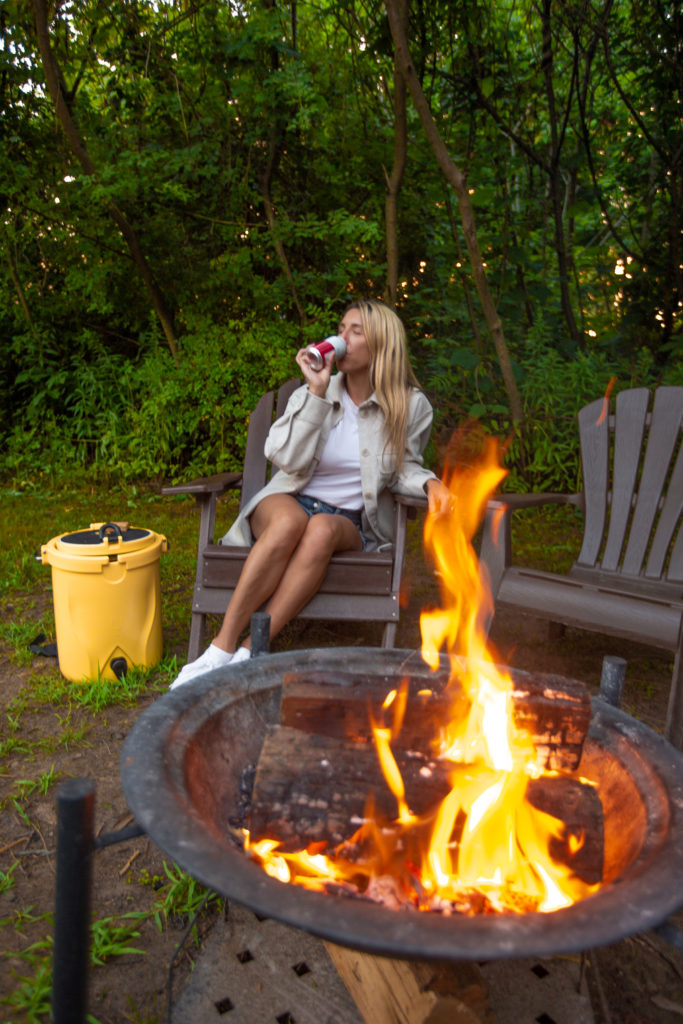 •Make sure to bring lots of Bug Spray! If you glamping in Ontario- deep in the forest or closer to the city- one thing is for sure- the bugs can be bad! Mosquitos I am looking at you.  While Aaron, Gemma and Chloe came out unscathed, I got bite quite a bit ( Obviously Mom forgets about herself and made sure everyone else was covered). We use these patches that work great for babies and kids!
•The water from the tap is safe to drink there but I would bring a Reusable Water bottle as the glasses are smaller if you are looking to really stay hydrated. You can also bring some plastic water bottles and keep them in your mini fridge!
•Toiletries are not included there so make sure to pack your fav shampoo, condition etc. They do have soap for the shower there along with Towels. 
•Bringing a baby? They do not have Pack and Plays or Cribs so make sure to bring one with you! Also the entire property is very stroller friendly so we brought ours! I would also bring a baby carrier if you plan to do some hiking!! Glamping in Ontario can be done with kiddos but I would certainly pick a place like Long Point since it is more like a hotel than somewhere remote. If anything went south, you don't have to worry!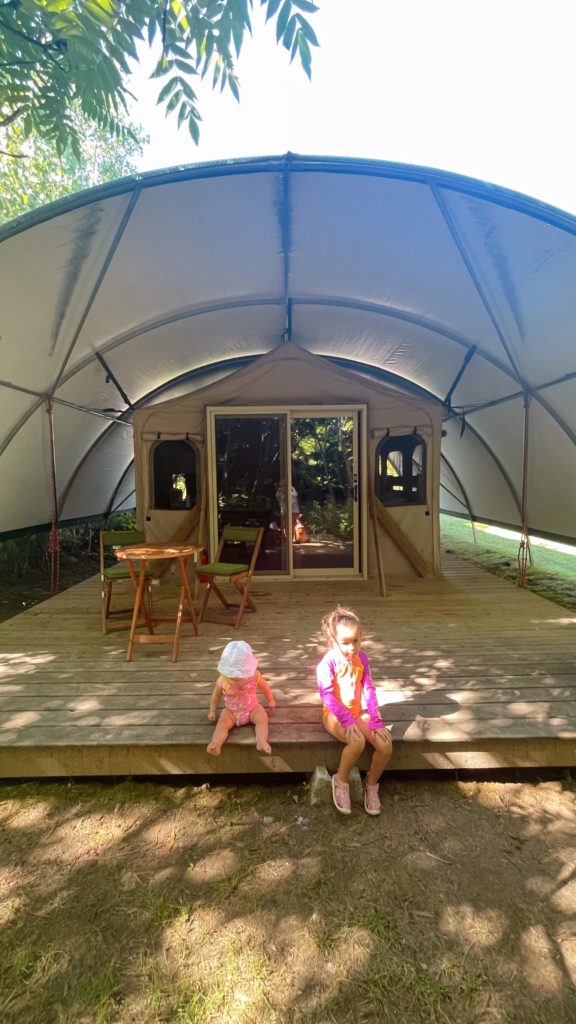 ---
Glamping in Ontario this summer or fall? Make sure to let me know when you do or reach out to me on Instagram if you have more questions!
---
PIN THIS POST