Seeing the fall colours in Ontario might just be my favourite thing about living in Canada! We are so lucky we get to experience all of the seasons ( despite winter being horrid at times haha)
The transformation from summer to fall is one that comes and goes too quickly so whenever the leaves start changing, I really try to soak up every moment of it all!
I always make a list of places to see the fall foliage in Ontario and plan a lot of road trips during this time of year! I hope this list of places for fall colours in Ontario inspires you to do the same!
When is Fall in Ontario?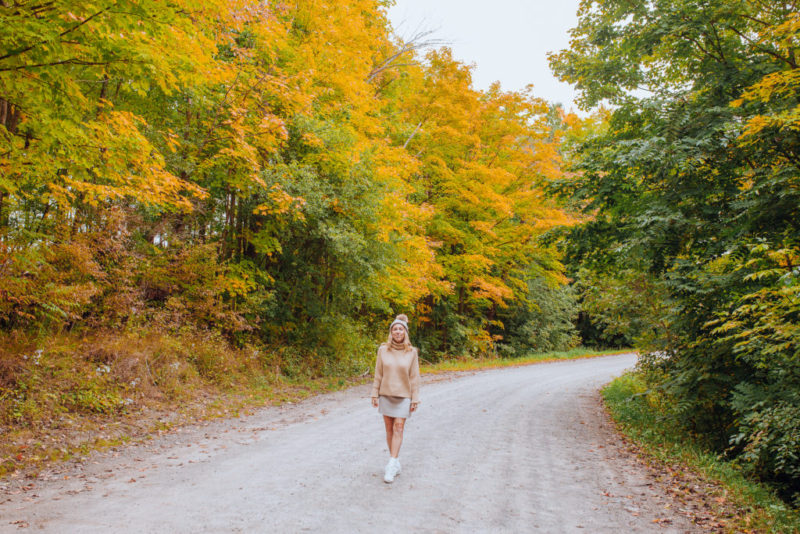 Fall in Ontario runs from mid September to late October! In the last year or two though, we have experienced some amazing fall weather even into November.
The fall foliage colours change at different times depending on the weather. You can keep up to date on the fall foliage predication map created by Ontario Parks ( we love a good map!!)
The northern area of Ontario generally seems to experience fall first ( think: Sault Ste Marie and Haliburton) and as the temperatures begin to drop off in those areas, the rest of Ontario starts to experience the beauty!
The Best Places to see Fall Colours in Ontario
#1. Dundas Peak in Dundas, Ontario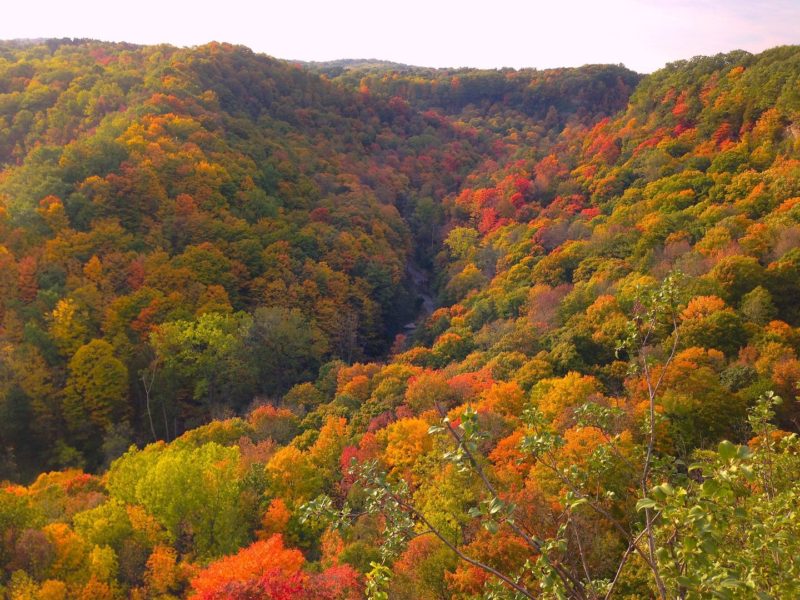 Image Via Tourism Hamilton
Dundas Peak in Dundas, Ontario is my favourite place to see fall colours in Ontario. I may be biased because I live super close to this amazing trail and view point but I really don't think I am as the place has really gotten popular over the years. So much so that you now have to book tickets and a time slot when you plan a visit to the area.
Fall, of course, when the foliage is at it's peak makes this a really hot ticket! I would definitely recommend making the trip to Dundas Peak to see the fall colours between Monday-Thursday
The hike itself to the top is about 20 minutes from the base point ( at Tew's Falls) so it's definitely considered an easier one of the bunch! Not only is the peak worth it for a visit for Fall colours but Tew's Falls and Webster Falls also make for a stunning site!
TO MAKE RESERVATIONS: You can book a time here. It costs $10 CAD!
TIP: You can keep up to date on the Fall Colours in Hamilton at the Hamilton Conversation Authority Page.
BABY FRIENDLY? If you use a carrier, yes. It is not stroller friendly
LOOKING TO STAY ALL WEEKEND IN THE AREA? Book a stay at The High Acre Hotel and Spa ( it's only a 5 minute drive from the Peak!) and oh so luxurious!
Shop My Favourite Fall Items From Amazon
#2. Lion's Head Provincial Park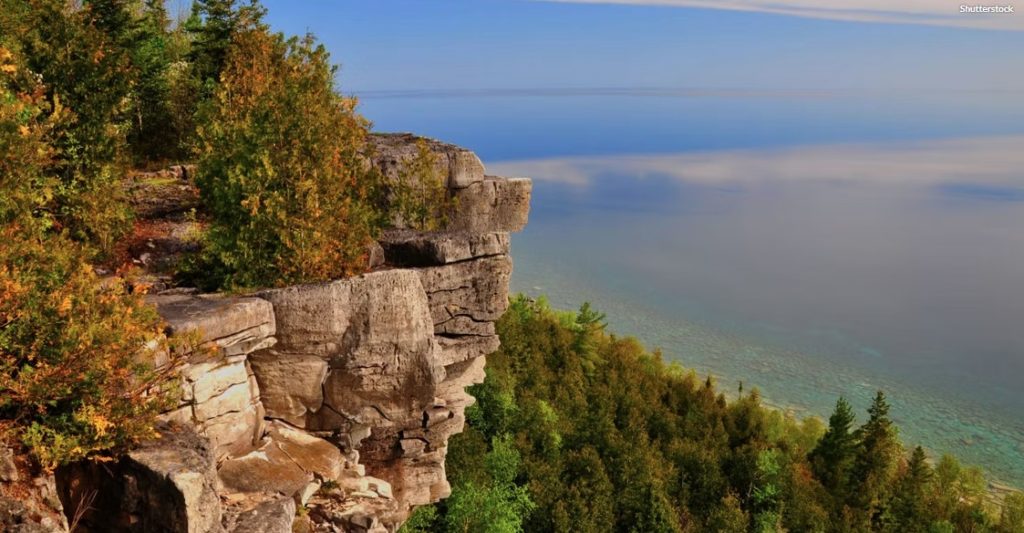 Image Via Alltravel.com
We call this place for fall colours: PLACES IN ONTARIO THAT DON'T FEEL REAL!
Located in Port Elgin, this cliff on the Niagara Escarpment provides sweeping and dramatic views of the lake from one of the most unique rock formations! The rock formation actually resembles a Lion- hence the name making it even more cool. It's so unique that people come from all over Canada to see this in real life.
It is not a park that is exploding with fall trees but combining the view with some pops of the fall foliage in between makes it a special spot to come to!
It takes about 2 hour round trip to get to the view point and back and I would rate this hike moderate.
TIPS: The hike to the top provides little shade so plan accordingly. I would recommend visiting in the morning or before sunset ( you want to allocate time to hike back when it's still light)
PARKING: You need to book your parking a head of time which you can do here. The pass will run you $20.00 CAD
BABY FRIENDLY? I would not hike this with kids. It is extremely rugged and not a straight path.
#3. 1000 Islands, Ontario: Fall Colours in Ontario in Many Forms!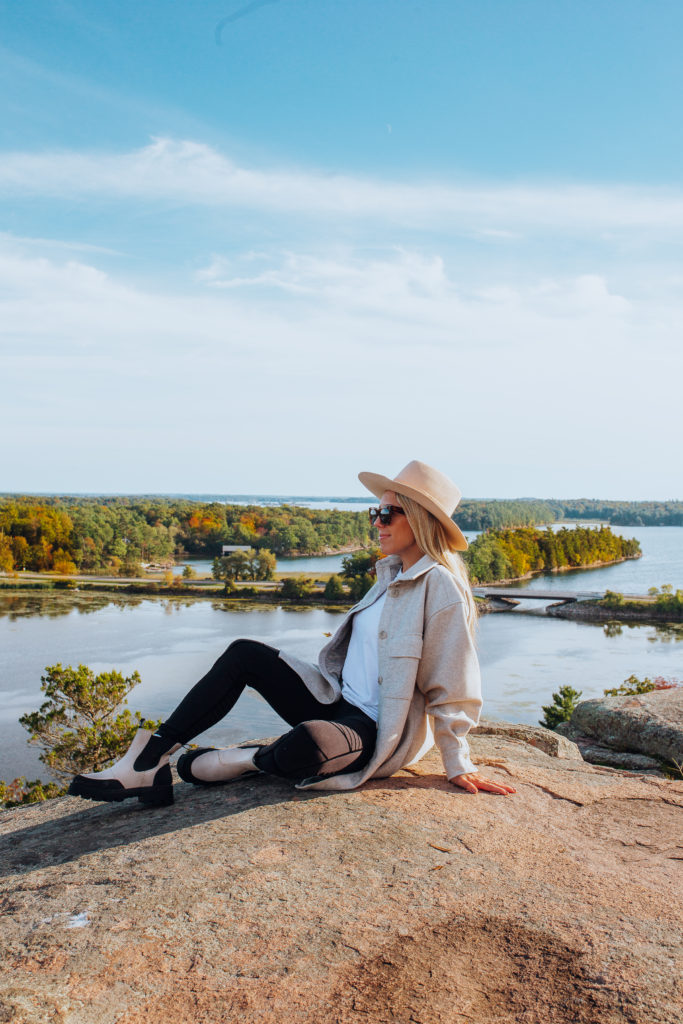 There are several plays to see the fall foliage in Ontario when you visit 1000 Islands! You can hike to some awesome view points, see some colours by boat or even hop in a helicopter to view the fall colour from above!
Out of all the places in Ontario to see the fall colours, I feel like 1000 islands/Gananoque offers the most unique view points.
As the name suggests it is made up of 1000 mini islands that span over it's waters so seeing all of that in it's fall form is really something! The town of Gananoque is also very cute ( I have a full guide on visiting HERE)
The Best Places to see Fall Colours in 1000 Islands:
Hiking to Landon Look Out
This hiking trail is a great FREE option to see fall colours in 1000 islands. The hike is only about 15 minutes each way and the reward is truly breathtaking! The terrain is not rough at all so I would say this is also kid friendly too.
1000 Islands Tower
Hop in an elevator ride and get a 360 degree view of all the fall colours in town! This is a convenient way to see things if you are strapped on time. Tickets are $12.00 each and can be purchased here
Helicopter Tour Over the 1000 Islands Canada and USA
Nothing quite like seeing the fall foliage from above! Take a helicopter ride in Gananoque and get ready for a flight of a lifetime! Most of the heli rides are only 10 minutes long so it's short but oh so sweet!
Thousand Islands Boat Cruise
Hop on a cruise on the beautiful waters of the St. Lawrence River and get to see some of the historic landmark islands and scenery up close! We went on a 1 hour cruise with Rockport Cruises and we were blown away by how much we enjoyed it!
#4. Lake Superior Provincial Park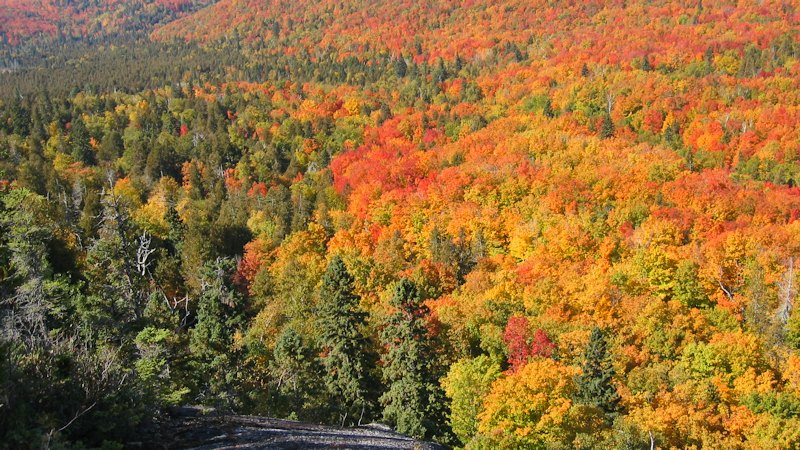 Lake Superior Provincial Park is an amazing place to see fall colours in Ontario as it is one of the most photographed spots in general in Ontario. Bring in the fall colours and it definitely takes things up a notch!
Lake Superior Park is a MASSIVE park that stretch from the Montreal River all the way to North Sault Ste. Marie to Smokey Point which is very close to Wawa.
Nokomis Trail is considered one of the best trails in the park ( from many people that have done many trails!)
It's a good idea before visiting to always check the Ontario Parks website for the latest, most up to date information on the trails and conditions of the park!
TIP: If you have a drone, this area is a good place to use it! You can get the fall colours in AND the Trans Canada highway sandwiched in between! *Chef's Kiss*
#5. Chedoke Rail Trail on the Bruce Trail Path: Fall Colours in Ontario that you can't miss!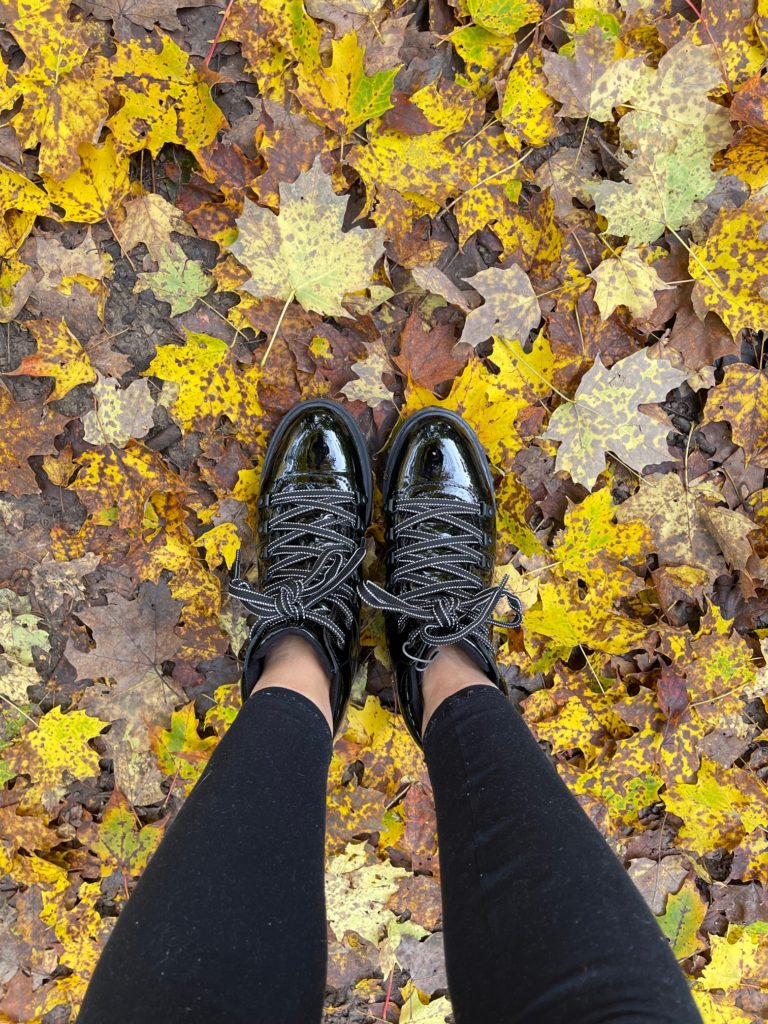 This is a place to see fall colours in Ontario that will not be on everyone's list. It is definitely under the radar yet one of the most beautiful trails you can find for fall colours. I live about 10 minutes from here and even though I have visited all the places on this list, the Chedoke Radial Trail is just something special.
It is a 2.7 kilometre section of the Bruce Trail and has you cutting through waterfalls, bridges, a golf course and even leads to escarpment stairs if you want to get a higher view point ( or a work out in).
The trail was designed to be a pedestrian path so it is definitely great if you are hiking with a group or going with kids. I love the distance of it and the way the trees soar over the path- it results in the most beautiful sun rays peaking through at you and hitting in just the right spots when you walk.
TIP: While you can enter this trail off Beddoe Drive and park there, I much prefer parking on Scenic Drive and entering the path that way. The parking lot on Scenic is pretty much but you can park on the neighboring streets if it's too busy. Parking is free in either lot!
BABY FRIENDLY? Yes you can do this trail with a stroller!
#6. Niagara Glen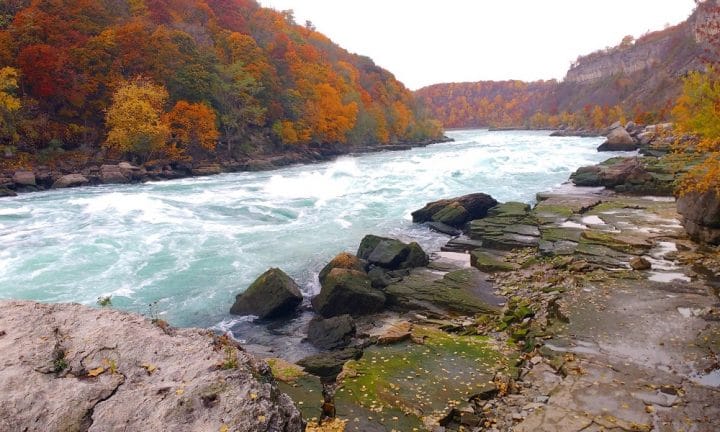 The Niagara region makes me feel like I am somewhere far from Ontario every time I visit! Between the valleys, rolling vineyards and gorges, you really can't beat the area!
Fall in Niagara is pretty much my favourite time to visit the area and the Niagara Glen is THE place to experience the fall foliage in the area. It overlooks the phenomenon that is the Niagara River Whirlpool which is a fast rapid river located in the valley of the gorge.
For the easiest way to get views of the Niagra Gorge, head to the Niagara Glen Nature Centre and just park your car. You can see the river right away.
If you want to fully immerse yourself in the trails and get deep into the Niagra Gorge strap on some serious hiking shoes, pack a lunch and get ready to sweat. These fall hiking trails are definitely for more advanced hikers so if you are just after some pretty fall foliage views, stick to the parking lot.
You can also add in a trip to Niagara Falls as it's a perfect time to visit ( the crowds normally are more tame compared to summer!)
#7. Muskoka, Ontario: Fall Colours in Ontario and So Many Fall Activities To Do!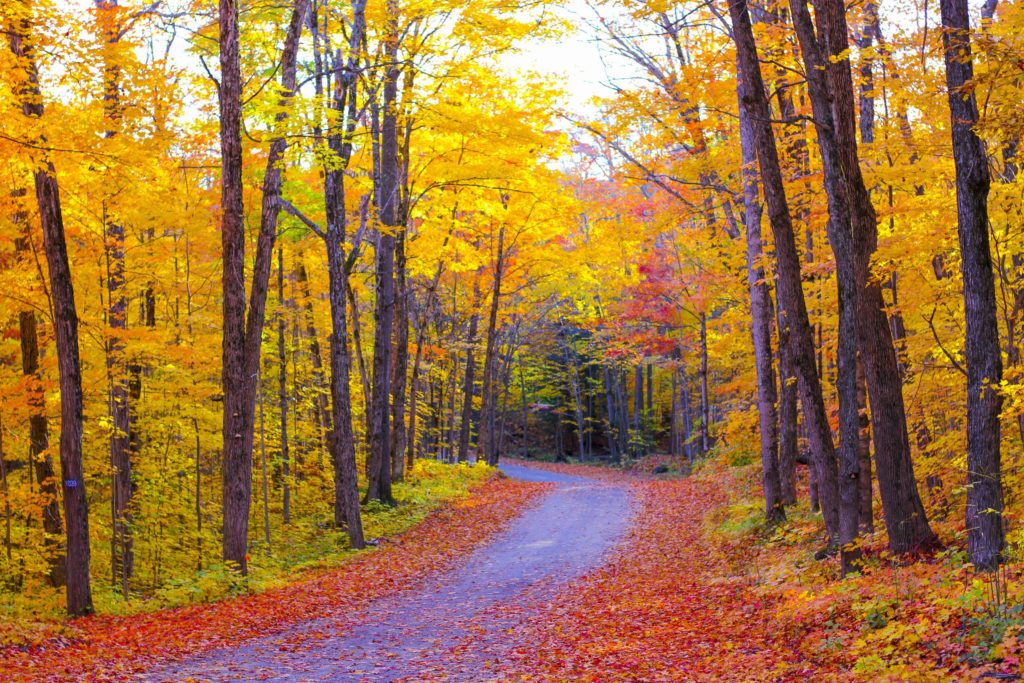 Image Via Here
Muskoka, Ontario is a well known summer getaway destination for many people who live in the GTA. It's home to some of the best lakes ( and the most glamorous cottages that surround them) and it is a place that is so beautiful that it has even garnered the attention of some A-list celebrities. Everyone from Cindy Crawford to the Beckhams visit Muskoka every summer because it is that beautiful.
Though it's claim to fame is the summer months, Muskoka's Fall colours are a close second.
Not only that but there are so many fun fall activities to do in the area that make it worth a visit during this season. Between the annual Cranberry Festival ( which happens the weekend after Thanksgiving) to wagon tours, wine tastings and hiking trails, it is a destination that you should add if you want to see fall colours in Ontario!
Here are some of the best areas in Muskoka for fall colours:
Lions Lookout in Huntsville
Huckleberry Rock – 1057 Milford Bay Rd, Bracebridge.
Dorset Tower Trail (You can purchase tickets in advance for this!)
Georgian Bay Islands National Park (near Muskoka)
The best time to see fall colours in Muskoka is around mid October if you look at the last few seasons so keep that in mind when visiting!
#8. Algonquin Park- Voted the best place to see fall foliage in Ontario!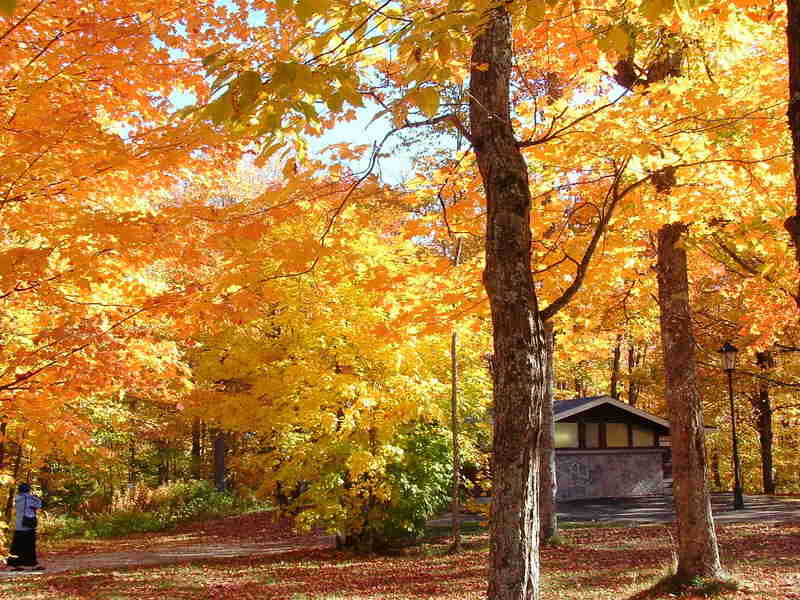 Algonquin Provincial Park is arguably the best place to see fall colours in Ontario. This is one of the oldest provincial parks in Canada and one of the largest as well! There are over 20 different kinds of trees making it a massive mix of colours!
It features the best of the best when it comes to Canadian landscapes and nature. Within the park you can find over 2,400 lake and 1,200 streams so there is no shortage of beauty.
While Algonquin Park in the fall is beautiful, you really can't beat it anytime of year!
COST: $12-21 for the daily vehicle permit to enter the park. Price depends on the vehicle you are coming in!
TIP: Given it's size, it is best to plan your route within Algonquin Park ahead of time. Make sure to follow the trails and maps. Hiking to the viewpoints will offer the best views for fall foliage but doing the trails at ground level are also stunning in their own ways.
BABY FRIENDLY? Certain trails in the park are but some are very rugged. It is best to look up the descriptions on the map!
FAN FAVOURITE OF THE TRAILS? Crests of Kennisis Trail. This is a 6KM trail that offers you one of the best look out points in the entire park. It isn't a whole loop though so you will basically hike to the look out point and then back making it a 12KM hike in total. WORTH IT THOUGH!
#9. Rattlesnake Point- Fall Colours in Milton, Ontario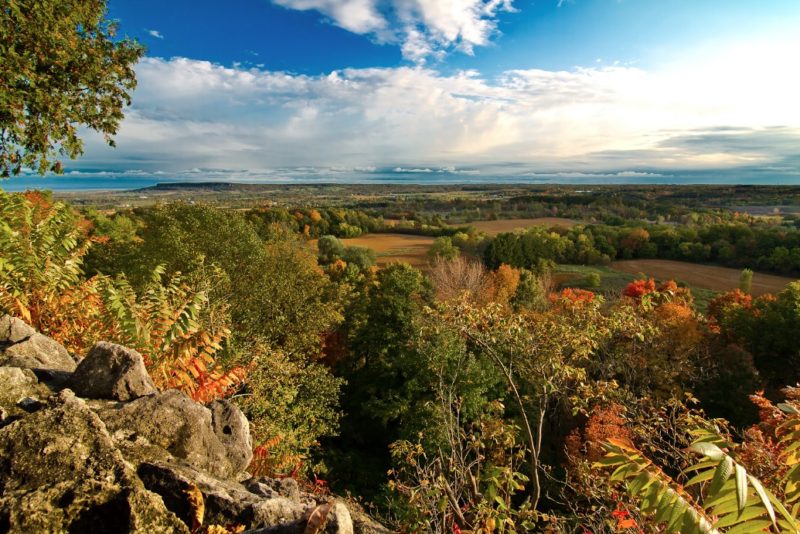 Image found here
Located in the Rattlesnake Point Conservation Area of Halton, Rattlesnake is a breathtaking spot to immerse yourself in the fall. With look out points, natural rock formations and various cliffs, it is home to some really good hiking! It is also only about 45 minutes from Toronto which is a short drive for the beauty that you get!
You can visit Rattlesnake for some fall colours without breaking a sweat though or rock climbing!! The Buffalo Crag Trail is probably the easiest one to take in and I would recommend that for first timers.
WHAT TO KNOW: Like some other trails on this list, Rattlesnake Point requires a reservation in advance. You can make one here
#10. Sherman Falls – Fall Colours in Hamilton, Ontario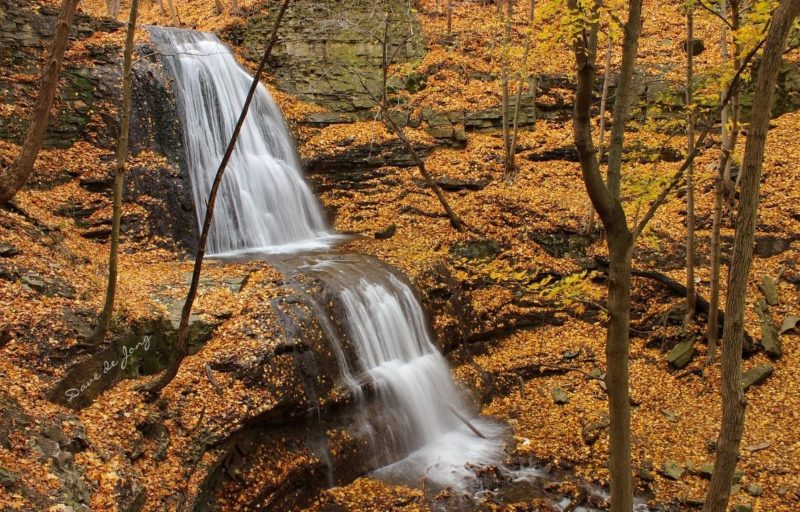 Image Found Here
Sherman Falls in Hamilton, Ontario is a 2 for 1 kind of deal on this list! Not only do you get some of the most stunning fall colours in Ontario here but you also get a waterfall that makes you feel like you are in South America.
Sherman Falls is a hike in the Hamilton area that some locals still don't even know about ( I am a local and I can attest to this!). It's a low key place for fall colours and the best part is that it is easily accessible. I wrote all about my favourite waterfalls in Hamilton here which breaks down how to access this hike!
BABY FRIENDLY? If you use a carrier, yes. It is not stroller friendly
#11.Restoule Provincial Park
If you are looking for an action packed fall adventure, you should consider Restoule Provincial Park! This park is known for it's mountain biking so you can cycling through the trails and taking in the fall colours here. If the weather is nice, you can also do some canoeing which is another popular activity here!
The most popular trail is the Fire Tower Trail which offers the best views of the park's well known Stormy Lake!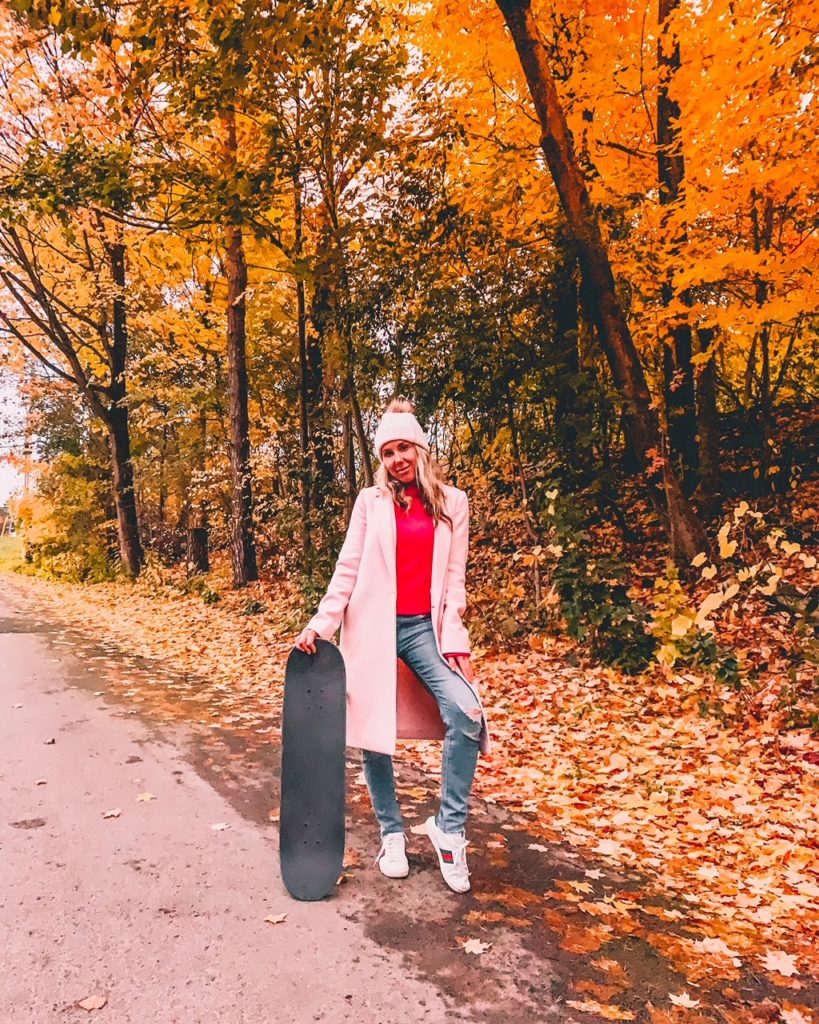 #12.Cheltenham Badlands- The Most Unique Place for Fall Colours in Ontario
Transport yourself to a different planet at Cheltenham Badlands in Caledon, Ontario. This place literally makes you feel like you are on Mars and seeing the fall foliage here is truly unique!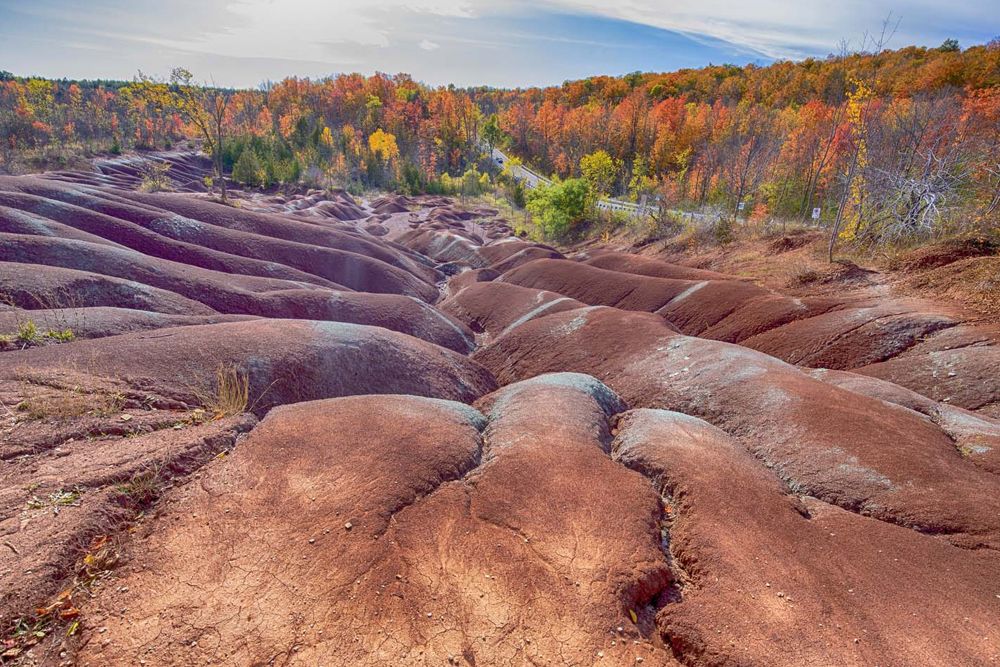 This landscape was formed over 450 million years ago and has become one of the most iconic landscapes in Ontario. It is part of the Niagara Escarpment which was designated a UNESCO Biosphere Reserve earning it even more cred!
TIP: With it having red clay as it's base, I would recommend some shoes that you don't mind getting a bit dirty! Also I recommend visiting in the morning before the crowds roll in
#13. Norfolk, Ontario
Norfolk, Ontario is about 2 hours from Toronto but makes you feel like you are worlds away.
Home to some amazing wineries and breweries, you can really have yourself a fun fall time here
I recommend checking into Long Point Eco Adventures which is the ultimate place to Glamp in Ontario and really immerse yourself in nature.
The Norfolk Region offers views of the Turkey Point Marsh Overlook and there are a ton of biking and walking trails that take you to these view points.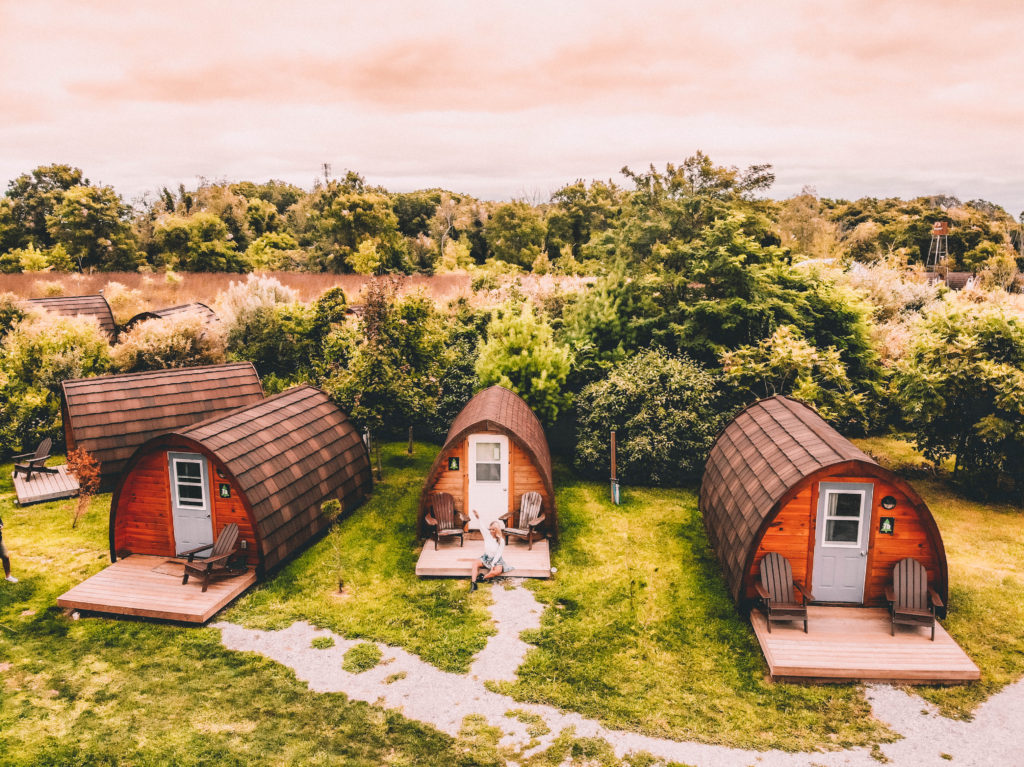 , , , ,
Looking for other posts in Ontario? You Should Check Out These Posts:
#14. Coronation Park- Best Place To See Fall Colours Near Toronto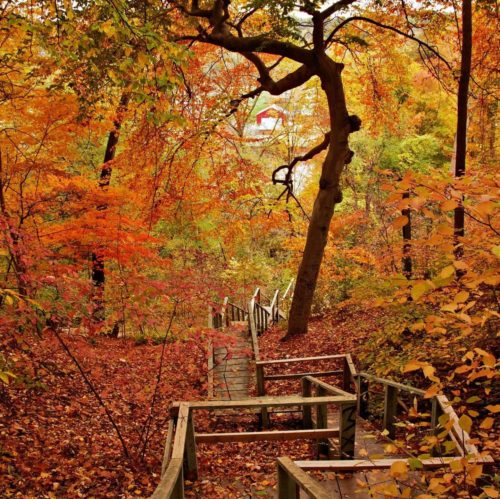 Image via Destinationtoronto.com
Just a hop, skip and a jump from the core of downtown Toronto sits Coronation Park!
You can find this beautiful trail along the Martin Goodman Trail ( near Ontario Place) and it sits along the water. Double whammy!
There are obvious spots in Toronto for Fall foliage like the Scarborough Bluffs or High Park but Coronation Park is often much quieter- especially in the mornings!
---
Fall Colours in Ontario are probably some of the best in the world and if you are looking to experience the ultimate fall getaway, I would suggest doing a weekend road trip to a few of these places!
Grab yourself some hot cider and a cozy sweater and have the best time soaking up this amazing season!
PIN THIS POST