Some of the Breweries in Hamilton Ontario are some of the best in the GTA! You may be thinking "Well you live there- this sounds biased" but I can assure you it's not. They really are some of the best around and trust me- my hubby and I have had our fair share of brewery hopping!
When we lived in Toronto we would always hit up locals ones in the city and while they were great too, the breweries in Hamilton Ontario are a t-h-i-n-g. It's becoming a hub for them and new ones have been emerging over the years that have really put Hamilton on the map as the place to go to have a good brew!
I am sharing my list of all my favourite breweries in the area for you to check out ( highly suggest doing a little brewery tour with friends one day and experiencing a few of these)
Here are the best breweries in Hamilton Ontario that you need to visit asap:
#1. Grain and Grit
Address: 11 Ewen Rd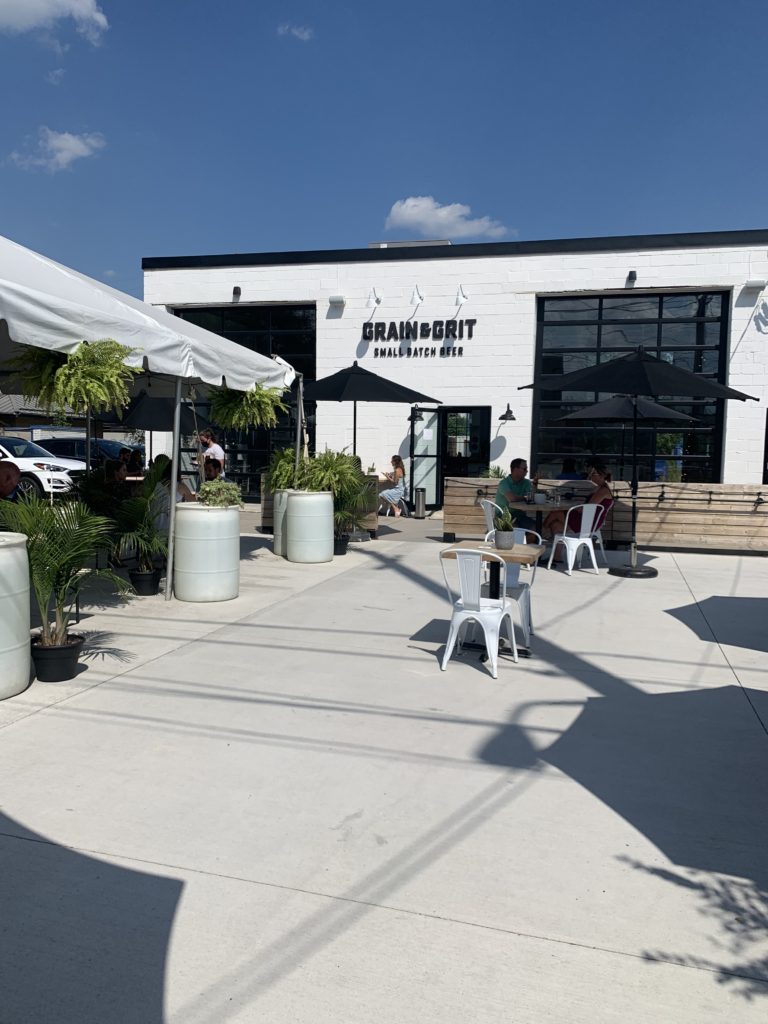 Grain and Grit is definitely my favourite brewery in Hamilton!
We first went here when I was on maternity leave and started visiting on a bi-weekly basis every since.
It is owned and operated by the SWEETEST couple who have created a special spot. They often have weekly food truck pop ups, do trivia nights and even have a "Babies and Brew" weekly event where, as the name suggests, you can come in and hang with your baby. The Babies and Brew event seriously made my mat leave. I was able to hang with other moms who also had babies around the same age as mine and it was nice to meet new people from the community.
Grain and Grit has both an indoor and outdoor space making it a perfect spot to visit year round.
#2. Collective Arts- One of the first Hamilton Ontario Breweries
Address: 207 Burlington Street East , Hamilton, Ontario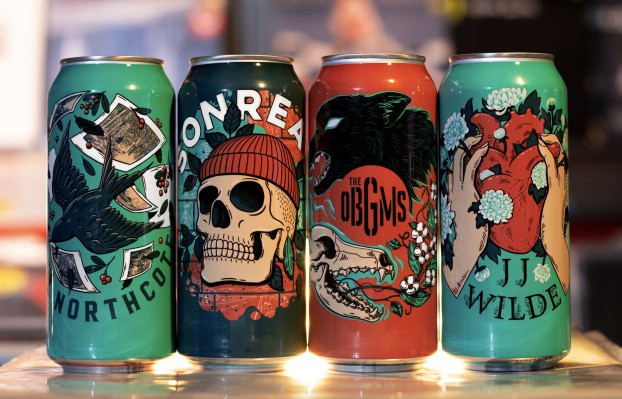 Collective Arts is one of the biggest breweries in Hamilton Ontario…and one of the OG'S!
It's bottle shop is worth a visit alone where they showcase every artist that has collaborated with Collective Arts on one of their cans. If you didn't know every bottle of Collective Arts features original artwork from either an emerging artist or a well known one!
Their cans are always interesting to see and as someone who loves branding and a good label, this always gets me when shopping at the LCBO!
Not only does this make Collective Arts cool but its one of the Hamilton breweries that always has a serious good line up of musical pop up events. Just like they focus on the art of their cans, they also highlight up and coming bands on site at their brewery.
If that's not your thing you can book a brewery tour where you can learn more about their operations and get yourself a flight ( Collective Arts beer flights include up to 10 selections/beers!)
Looking to visit the Niagara area? You might enjoy some of these other posts:
#3. Fairweather Brewery Company
Address: 5 Ofield Rd, Unit 1, Hamilton, Ontario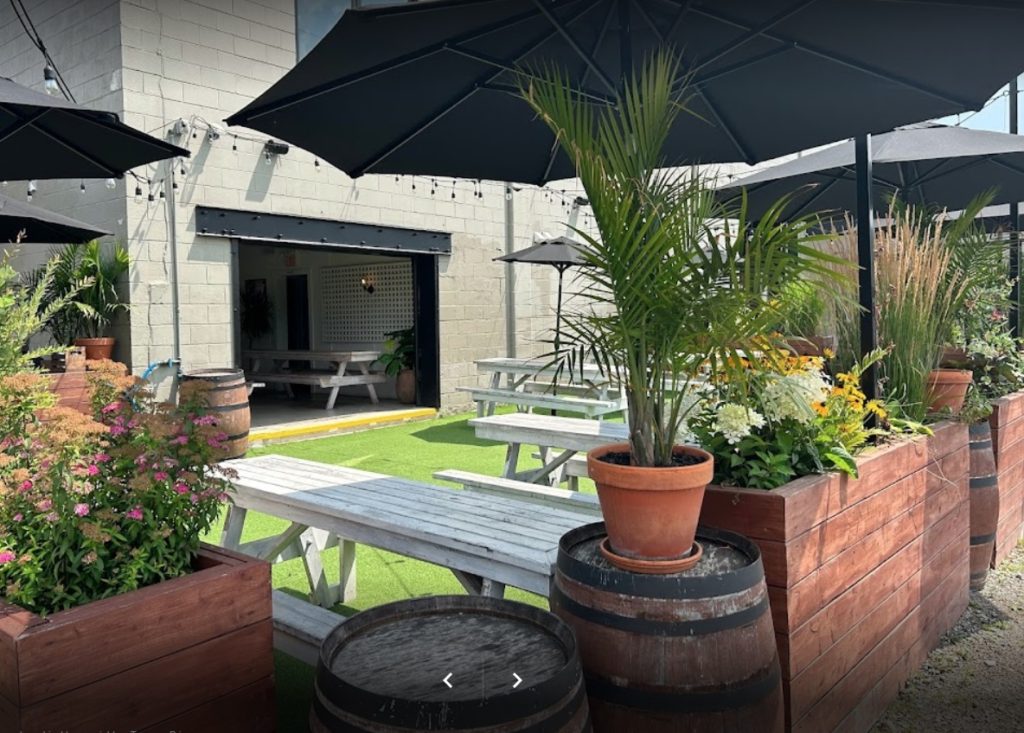 Located just down the street from Grain and Grit, you can find Fairweather Brewery.
Featuring the best patio of the bunch, Fairweather is the perfect place to grab some beer on a hot summer day. I love their fruity selection of sour beers and the branding here is *Chef's Kiss*. I love the patterns of each of the beers and we often grab a few to take home because a: they are delicious but b: they look damn cute in our fridge
I love that at Fairweather Brewery you can bring your own food! We have often come in with a pizza and grabbed a flight and it's made for the best of afternoons. They do sell Kettle Chips to munch on and have a few non alcohol drink options as well!
Another bonus points for their custom apparel. My husband owns a few hats and sweatshirts from Fairweather and the quality is unreal.
#4. Tall Post Cider- Smallest and Cutest Brewery in Hamilton
Address: 110 Hendershot Rd, Hannon, Ontario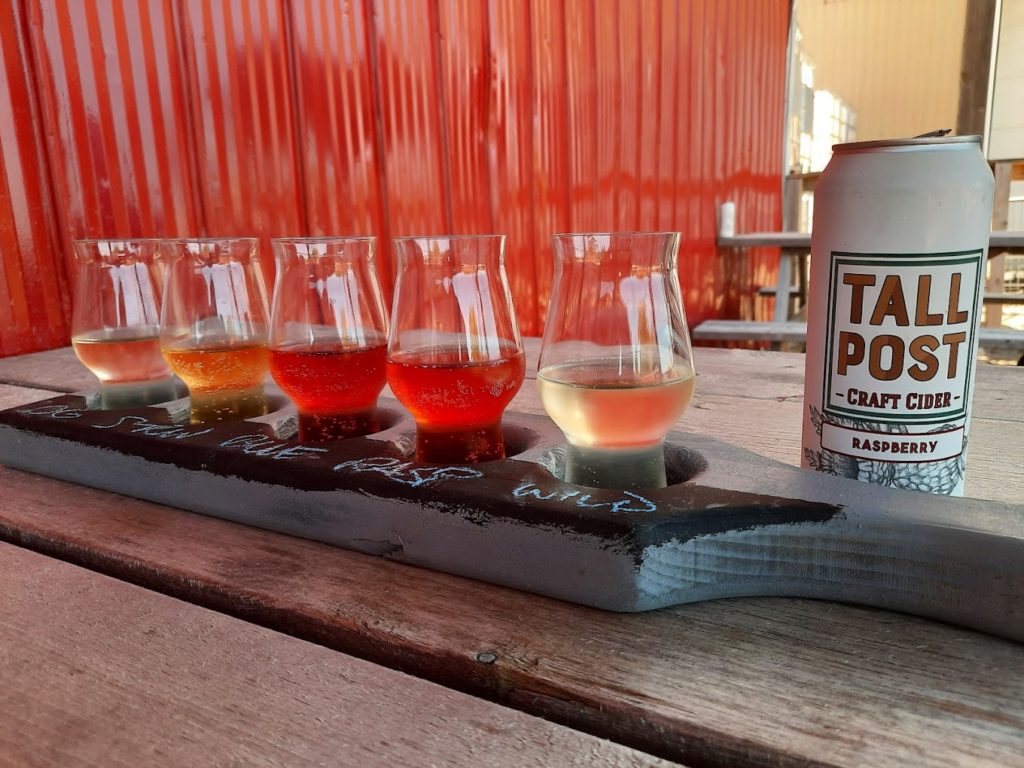 Tall Post Cider is part cider house and part adorable farm making it the perfect spot to go with the family.
Their apple ciders have a strong and delicious aroma and are perfect for a fall drink! They focus on small craft batches and are always testing out new batches that are made with local fruits! They have a little pond on the property and as the years have went on they have added a few more fall touches and activities to the line up.
We first went a few years ago so we are looking forward to checking it out once again! It's definitely the best of both worlds for kids and adults so I would recommend this place if you are looking to do one of the breweries or cider hours as a family!
#5. Merit Brewing Co – Brewery in downtown Hamilton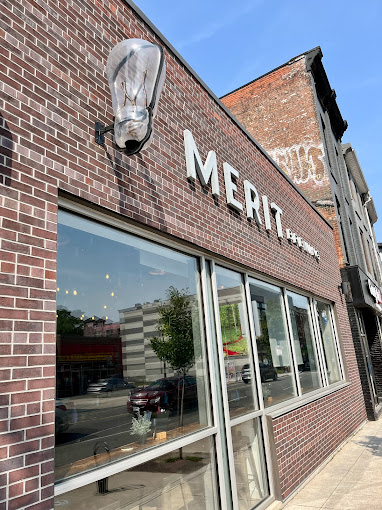 Address: 107 James St. N, Hamilton, ON L8R 2K6
Merit is the brewery right in the core of downtown Hamilton on James Street.
Not only is Merit a solid brewery option on this list but it also is a full kitchen serving up all different kinds of sausages. Name a combo better than Sausage and a beer…I'll wait.
They have a great interior space that is filled with communal wooden tables and large windows that peer into their massive kegs and beer systems. For a downtown property, its quite impressive! They even have a small patio out back if you want some air.
We love coming here in the fall to get some good grub and a flight! Their smaller bottle shop at the front is also great if you want to grab a few beers to go.
#6. Barrel Heart Brewing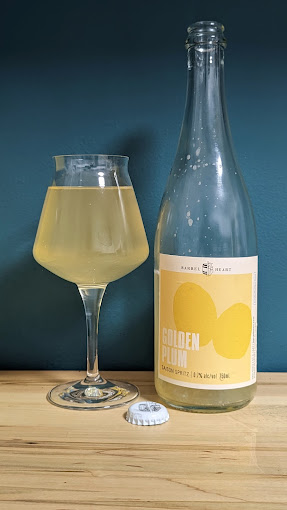 Address: 53 Bittern St Unit 20, Ancaster, Ontatio
One of the newest kids on the block in the Hamilton brewery scene is Barrel Heart Brewing!
We came across this new Hamilton brewery when we were at the Ancaster Farmers market. We came home with one of their 750 L ciders and were not mad. It was the perfect treat on a hot summer night.
The brewery is inspired by the traditional saison style of farmhouse beer and a lot of their craft selections include locally sourced fruits. Barrel heart definitely has heart as it's run by an awesome local couple
#7. Shawn and Ed
Address: 65 Hatt St, Dundas, ON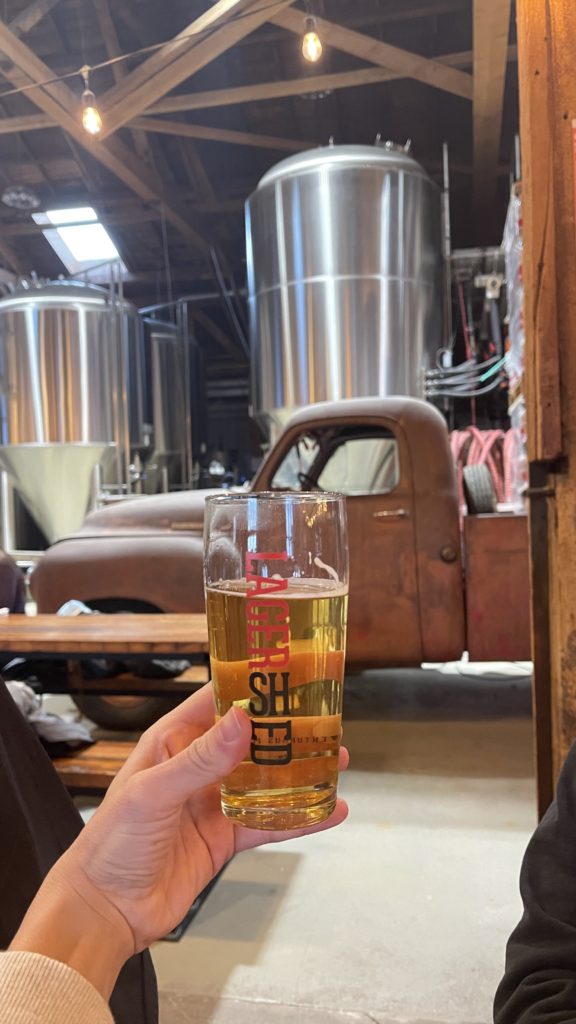 Shawn and Ed Brewery is a brewery, taproom and kitchen located in the cute town of Dundas.
Their original lager is probably my favourite as it's a dry body, light, pale in colour and goes down real easy! They have a great little food menu on site with items that pair beautifully with all of their beer.
You also can't beat one of their tasting flights which normally come with a selection of 4 beers to try.
If you can't make it to Shawn and Ed Brewery in Hamilton, you can likely find their selections in a lot of local restaurants but I do suggest making your way to this brewery- especially in the winter! It's super cozy inside, spacious if you plan to go with a big group and if you give them a follow on IG you will see they often do special events from time to time ( Christmas markets, live music etc)
#8. Steel Town Cider
Address: 150 Chatham St. Hamilton, Ontario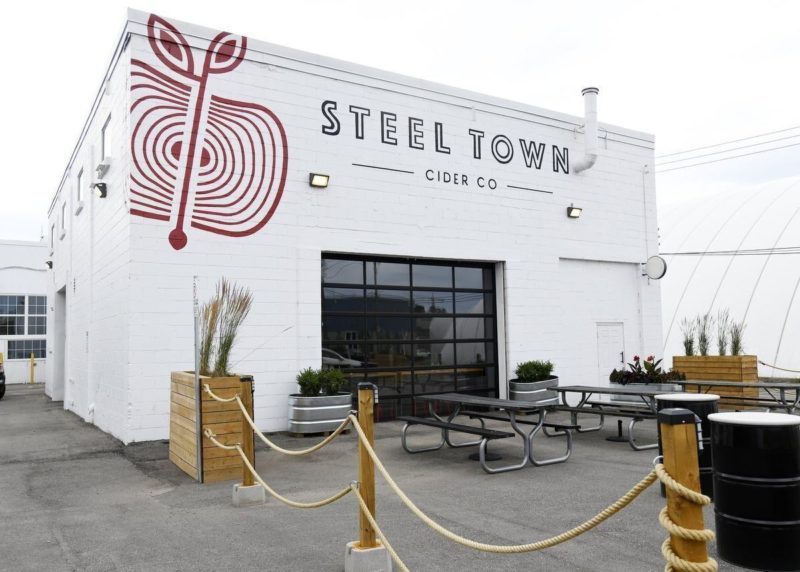 Another new kid on the block alert! Steel Town Cider is one of the newest cider houses to open in Hamilton as of May 2023!
Located off Frid Street in an older warehouse, the space has been transformed with a new bay garage door and modernized picnic tables on their patio. It definitely gives off Venice Beach vibes
Steel Town Cider was brewed up ( pun intended) by three local guys who started to wonder why there wasn't better craft cider in the area. They took matters into their own hands and after many years, some funding and probably a lot of other hurdles their baby Steel Town Cider was born!
#9. West Avenue Cider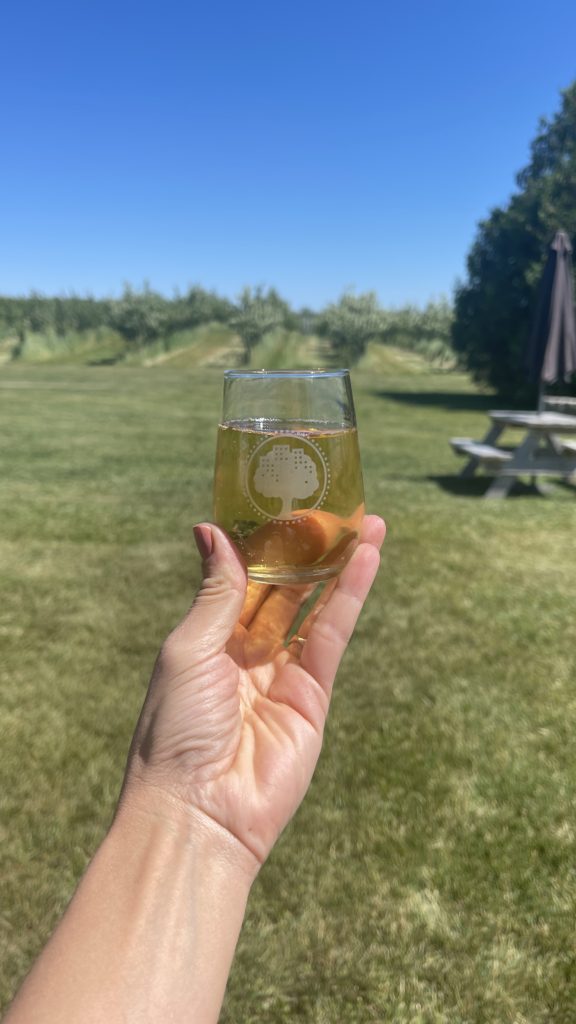 West Avenue Cider has my heart! Located between Hamilton and Waterdown, the property is a dream.
All the cider comes from 100% fresh pressed juice made from Ontario apples! And you can test it! The property has a bottle shop onsite where you can get flights at their communal table or bar. But if the weather is nice I can guarantee you find yourself on a picnic table on their stunning, expansive farm.
They have gorgeous, mature oak trees throughout and of course all of the apple trees at the back that you can frolick through.
This is another great place to come with the kids! They have some farm animals on site and while you can't pet them, they make for great entertainment! ( they have chickens, goats and some horses).
They used to allow outside food to be brought in but as of 2023 they put a halt to this rule and now offer baked items, charcuterie boxes, sausage rolls and stone baked pizzas in the summer. You can also check out their event line up as they sometimes have food trucks on site too!
LOOKING TO PLAN A TRIP IN ONTARIO? Here are some booking sites that can help you plan
---
The local food vendors that normally pop up at some of these places paired with some of the best craft beers in Ontario make for a day you won't forget!
I hope you enjoyed reading about the best breweries in Hamilton Ontario and that you get to hit a few of them up soon!