Gananoque is one of the prettiest towns in eastern Ontario that I have visited! It has a charming small town feel with cute restaurants and shops but also has some pretty big draws that bring in a lot of tourists each year. It is considered the "Gateway to the 1000 Islands" which are scattered along the St. Lawrence River making it the perfect place to base yourself to explore these beauties.  
When visiting Gananoque and a Thousand Islands, you will quickly learn there is something for everyone here. Whether you are into nature, history, art or adventure, there are so many amazing things to do in this South East area of Ontario. 
The cherry on top about visiting here is that everyone we met was SO nice! They were there to help you make your 1000 Island's experience a good one.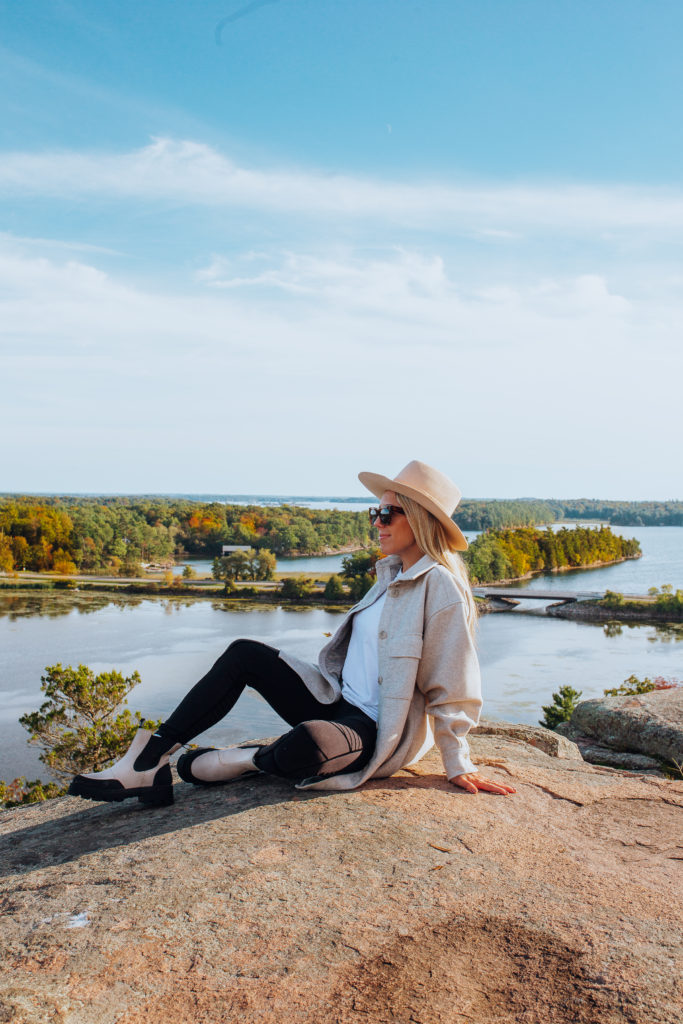 LOOKING FOR OTHER THINGS TO DO IN ONTARIO? CHECK OUT THESE POSTS FOR MORE INSPO
Now, let's get to the best things to do in Gananoque and the 1000 Islands Canada!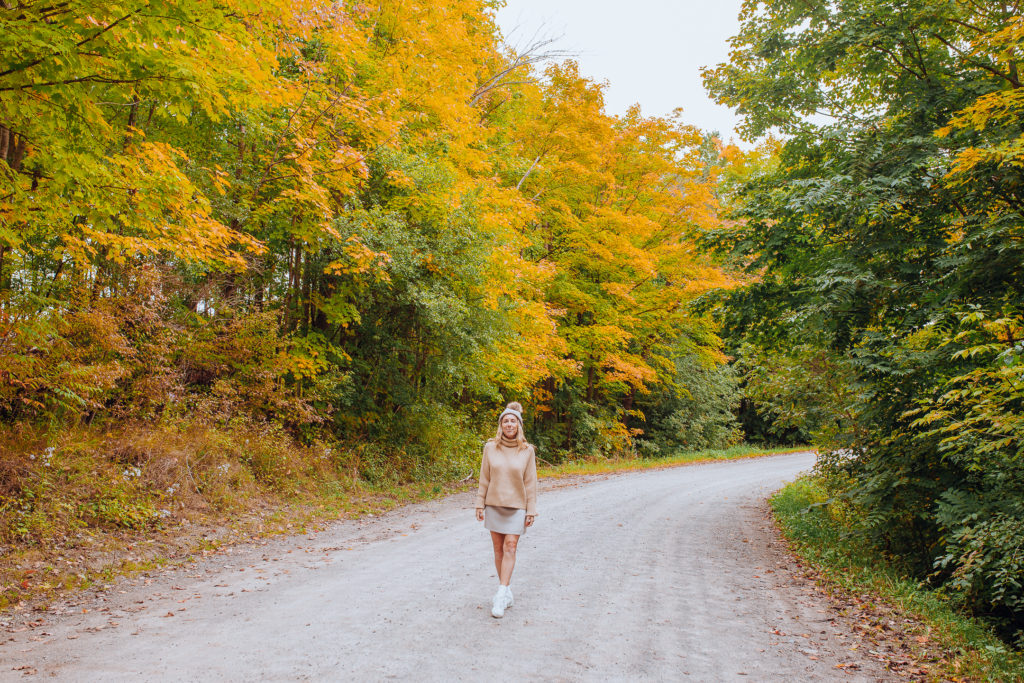 When is the Best Time To Visit Gananoque Ontario?
Gananoque, Ontario and the 1000 islands has a lot of things to do year round however I would recommend a trip in the Spring, Summer or Fall! This will ensure you are able to see all the elements of nature and get out onto the water especially which offers a great perspective of the land!
We visited at the start of fall and the leaves were starting to change ( last week of September). I bet during October the colours would be even more beautiful!!
How To Get to Gananoque and the Thousand Islands?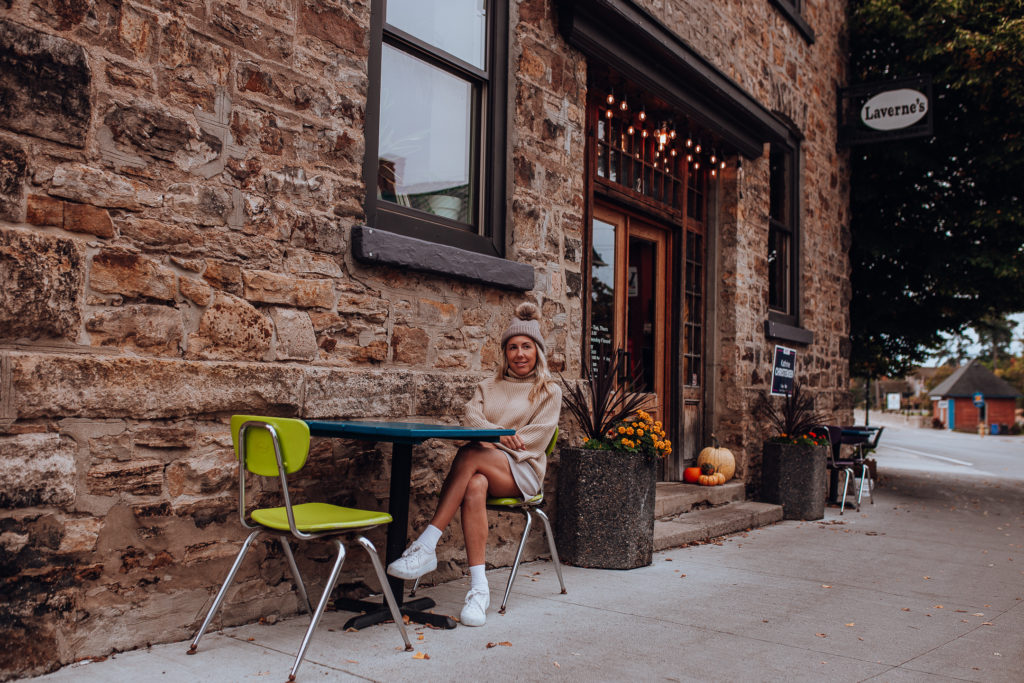 By Car: Gananoque Ontario is located off Highway 401 about 30 minutes from Kingston. It also lies 15 minutes from the International Border so if you are from the US and live in New York State it would make for a beautiful road trip!
DRIVING TO GANANOQUE FROM OTHER CITIES IN ONTARIO:
Toronto to Gananoque: Driving this route will roughly take you 3 hours.
Prince Edward County to Gananoque: Driving this route will roughly take you 1 hour and 15 minutes
Hamilton to Gananoque: Driving this route will roughly take you 3.5/4 hours.
Where to Stay in Gananoque and the 1000 Islands?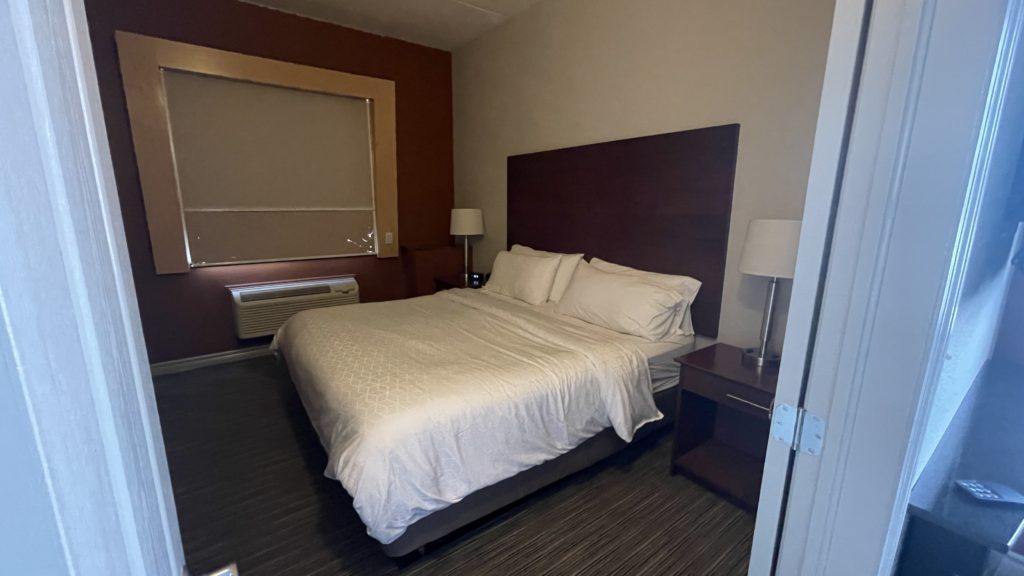 We stayed at the Holiday Inn Express which is right off the highway. It has free breakfast, a pool/sauna and is priced very fair. We loved being able to get a quick bite and coffee the minute we got up before exploring a bit!
The rooms were super spacious ( we opted for a suite) and if we brought the kids next time, we would definitely get a suite again! The location right off the highway is ideal because a few of the attractions require you to drive a little bit!
Other Hotels or Places To Stay In 1000 Islands Canada
The Gananoque Inn and Spa
This was originally the Gananoque Carriage Works factory back in the 1800's and was converted to a hotel in 1896. I always love places with history like this! The great thing about this place is that there is a Spa onsite to relax at after all the hiking or adventuring you may do!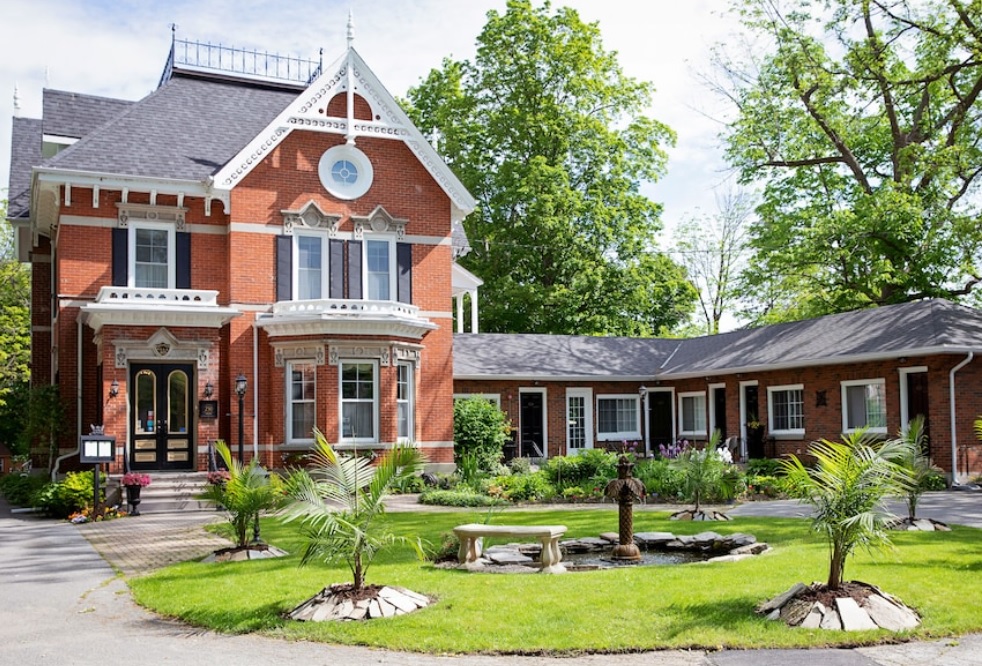 Not only is this place romantic and historic but it has recently re-opened under new management in 2021. While they have given it a refresh and adjusted the concept a bit, it still has all the charm that and personality that you would want when booking an Inn. It offers spacious suites ( some with stunning soaking tubs and fireplaces) and has a top notch restaurant on site called Graydon's!
What Are The Best Restaurants in Gananoque, Ontario?
For a smaller town, this place has a dining scene that can keep you busy! Not only can it keep you busy but on the weekend we were there, it was hopping! Every place was busy and buzzling and I loved it.
We got to experience a few different places and I have rounded up the best places to eat in Gananoque!
Riva Restaurant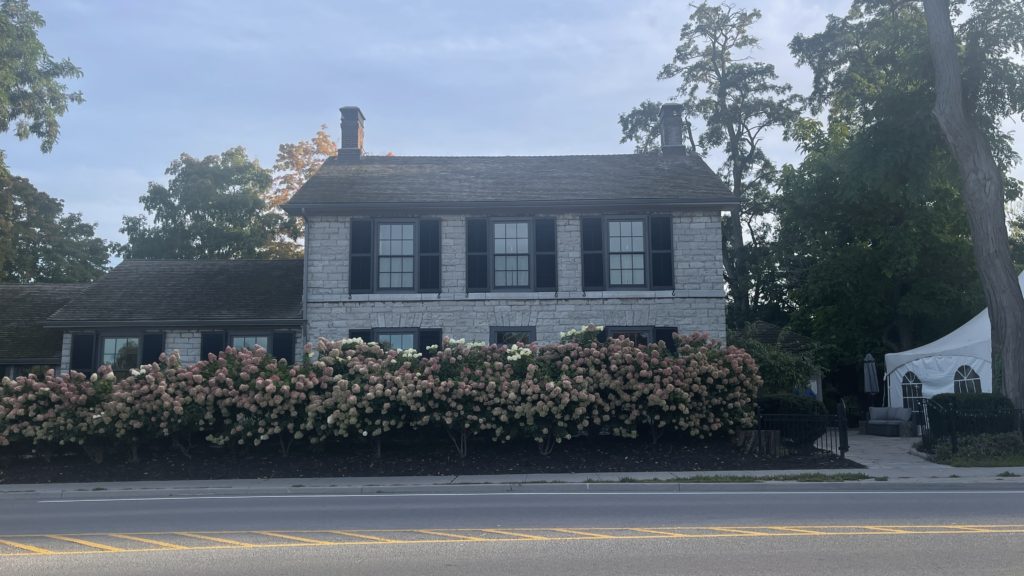 Riva Restaurant has my HEART! Not only is the stone building a site in itself but the interior and food match up. It was hands down my favourite restaurant in the 1000 Islands!
Located in an historic but renovated building off the main street in Gananoque, this place has it all- ambience, killer cocktail and wine list, inviting bar, pizza menu and delicious dishes overall.
As an Italian I am a bit picky when it comes to pasta and pizza but the selections here were out of this world. It is definitely a more upscale option if you are looking for one ( without any sort of pretentiousness)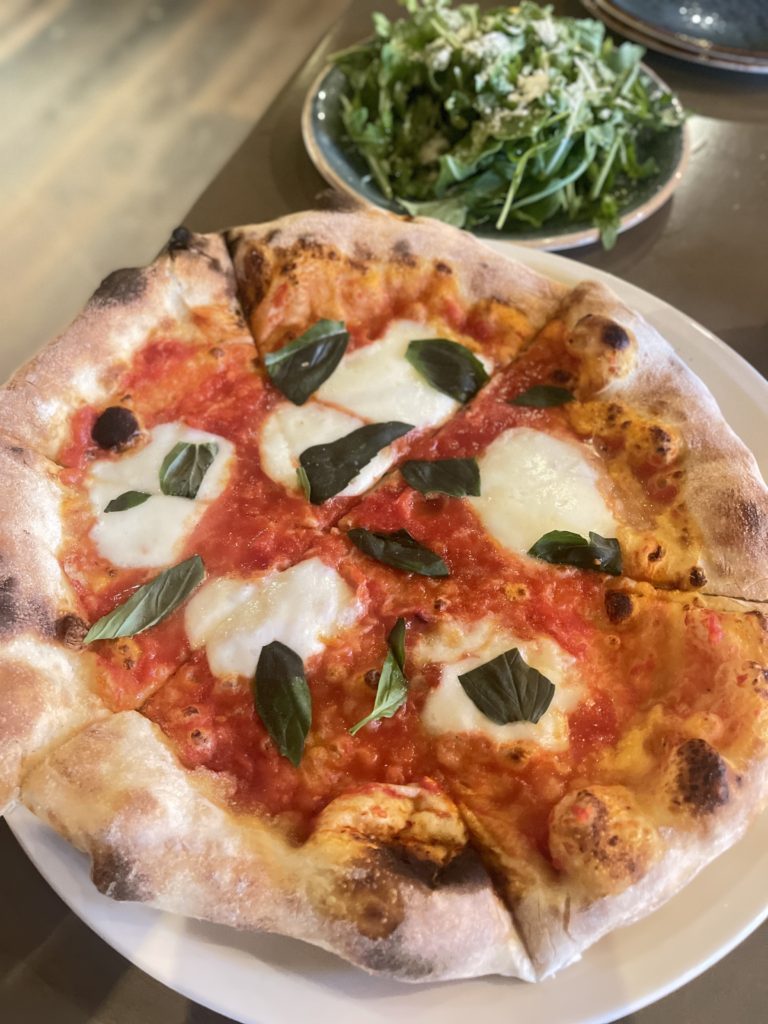 The Maple Leaf Restaurant
Want to transport yourself to Germany or Czech? The Maple Leaf Restaurant will take you right there and gives off all of the cozy vibes with it!
Owned by a Czech family ( making it very authentic European style cooking), this place serves up all kinds of Schnitzel, Perogies and craft beer and it's located right on the main street in Gananoque! We visited here in the fall and it was SO fitting!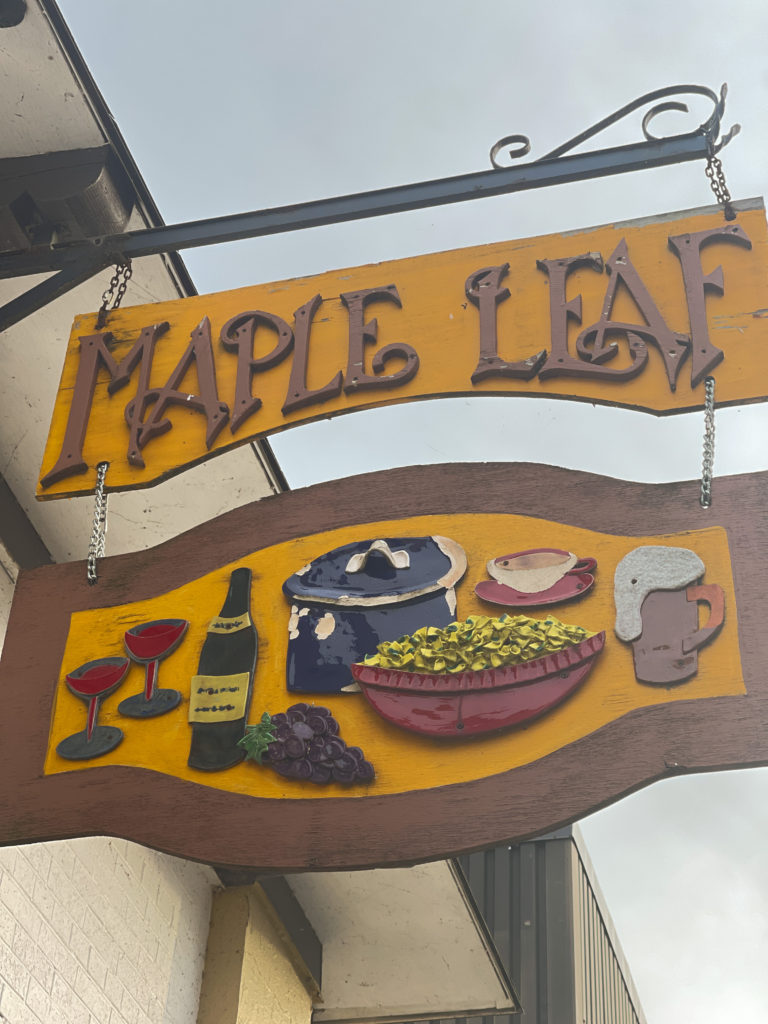 We may have taken about 1389 photos here before we ate because this eclectic breakfast spot was all sorts of cool. But what really made this place special was that everything was made fresh.
Laverne's Eatery uses all seasonal ingredients and has unique dishes ( think Sourdough Avocado Toast with Sliced Almonds, Honey and Feta). All their baked items were also made in house.
You can taste the love that is put into it which made the experience even more enjoyable.
If you miss the breakfast here, you can stop by later on as they also have a lunch menu and a great cocktail list ( with a side patio to enjoy them on)
​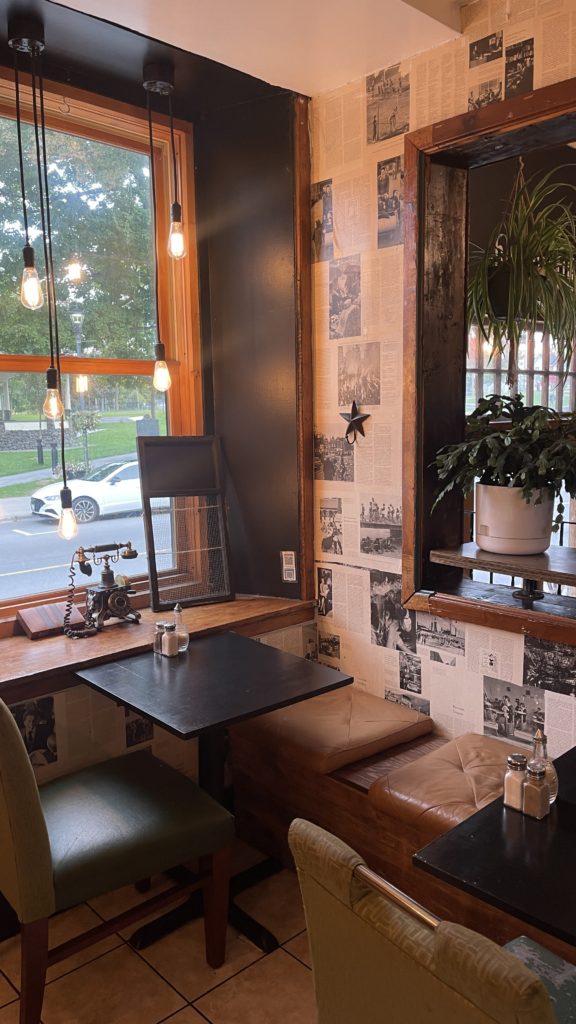 Gan Brewing Co
Gan Brewing Co. is SO cute! If you visit in the warmer months they have a beautiful patio with picnic tables, string lights and a great view of the main street in town. They even have little fire pits if the weather dips. The inside though is also adorable. Decked out in wood, Gananoque Brewing makes you feel cozy ( like you are entered a little Post Ski Chalet bar).
Try a seasonal brew like a Pumpkin Ale or go for a beer flight where you can try a bit of everything!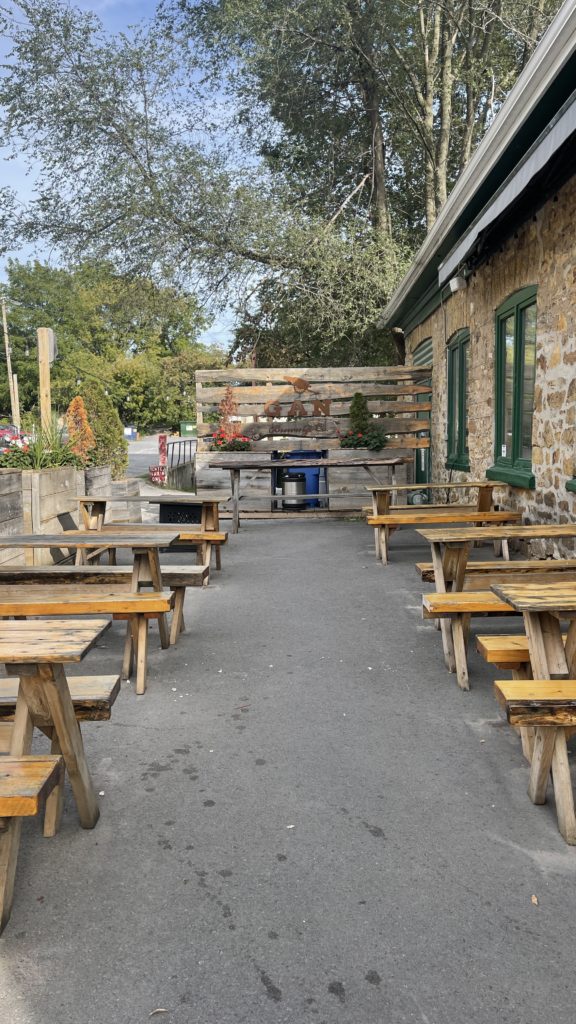 Cornwall Pub
This legendary pub is situated right on the water in Rockport and has an amazing view and ambience. Serving up classic pub fare like fish and chips, beef dips and French onion soup, you will not be leaving hungry.
I recommend pairing a visit here with a water cruise tour!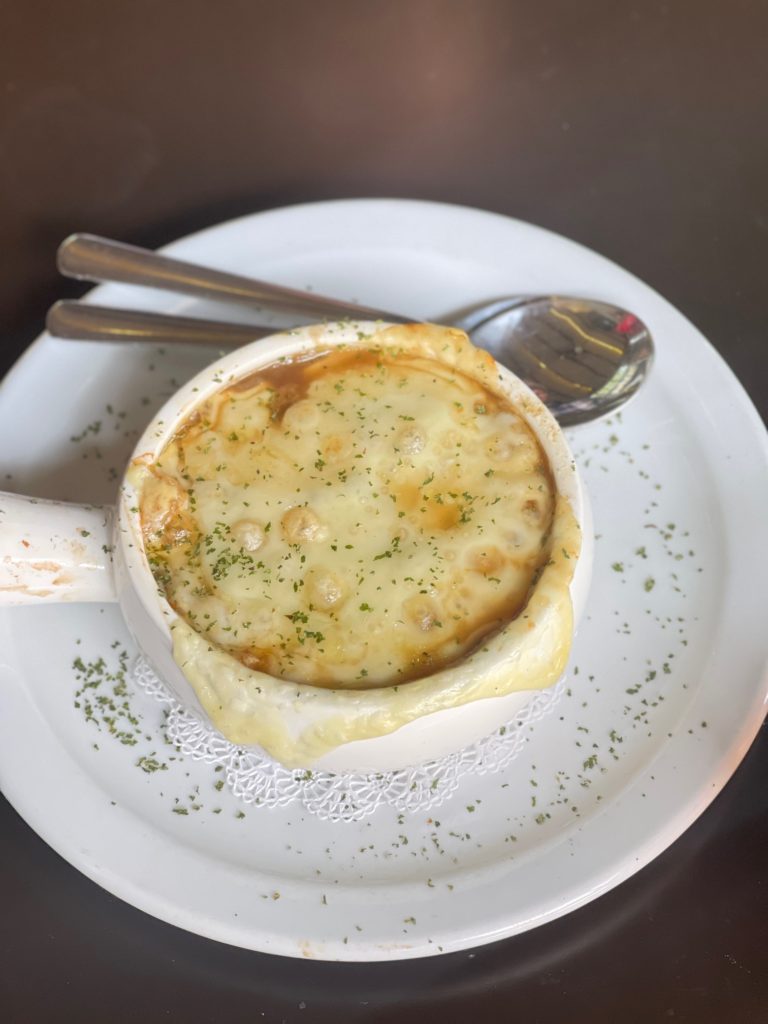 Pistachio Cafe
Pistachio Cafe is one of those places that if I were a local, I would be at all the time. It is opened for breakfast and lunch but they also have a grab and go section with fresh juices, soups and pastries.
They have a pretty extensive coffee menu and baked items that are worth ruining your diet for ( I'm looking at you Butter Tarts).
Their side patio ( pictured below) is just as big as the restaurant itself and if the weather is nice, I suggest grabbing one of their homemade Gelatos ( !!) and enjoying it out there.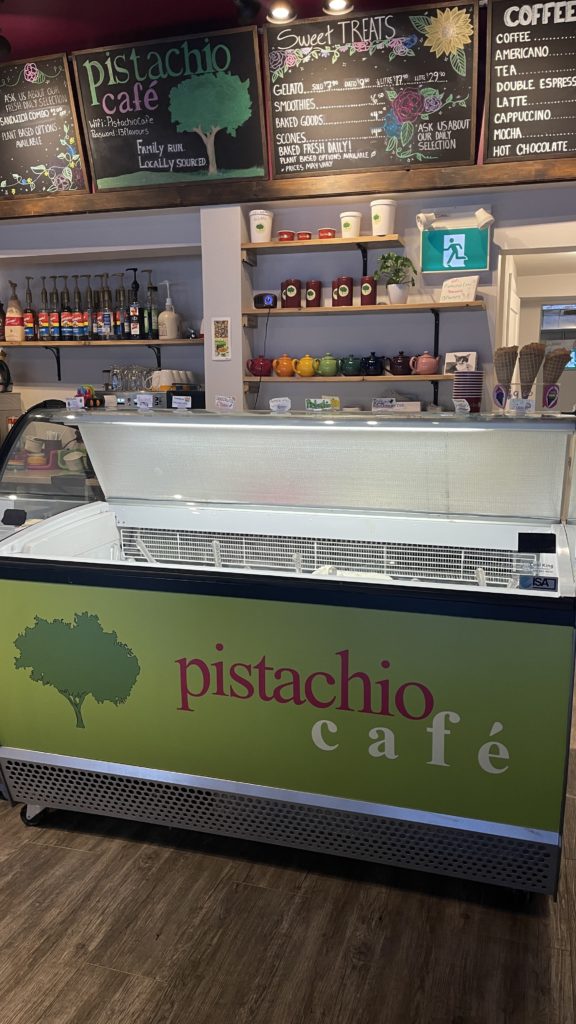 The Best Attractions in 1000 Islands Canada
You may be wondering if there are actually 1000 islands to explore. In fact, there are 1874 islands!
With that many islands in and around Gananoque it is safe to say you can stay busy during your time there and find lots of things to do! As a couple who loves adventure and nature, we opted for attractions that were busy and mainly outdoors.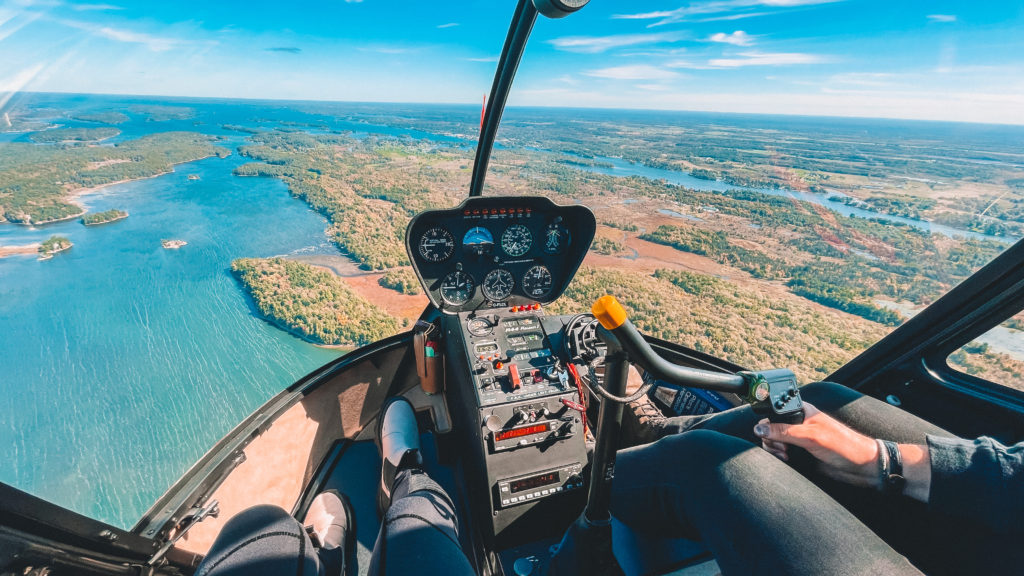 Thousand Islands Boat Cruise- The Best Attraction in Gananoque in my opinion!
Hop on a cruise on the beautiful waters of the St. Lawrence River and get to see some of the historic landmark islands and scenery up close! We went on a 1 hour cruise with Rockport Cruises and we were blown away by how much we enjoyed it!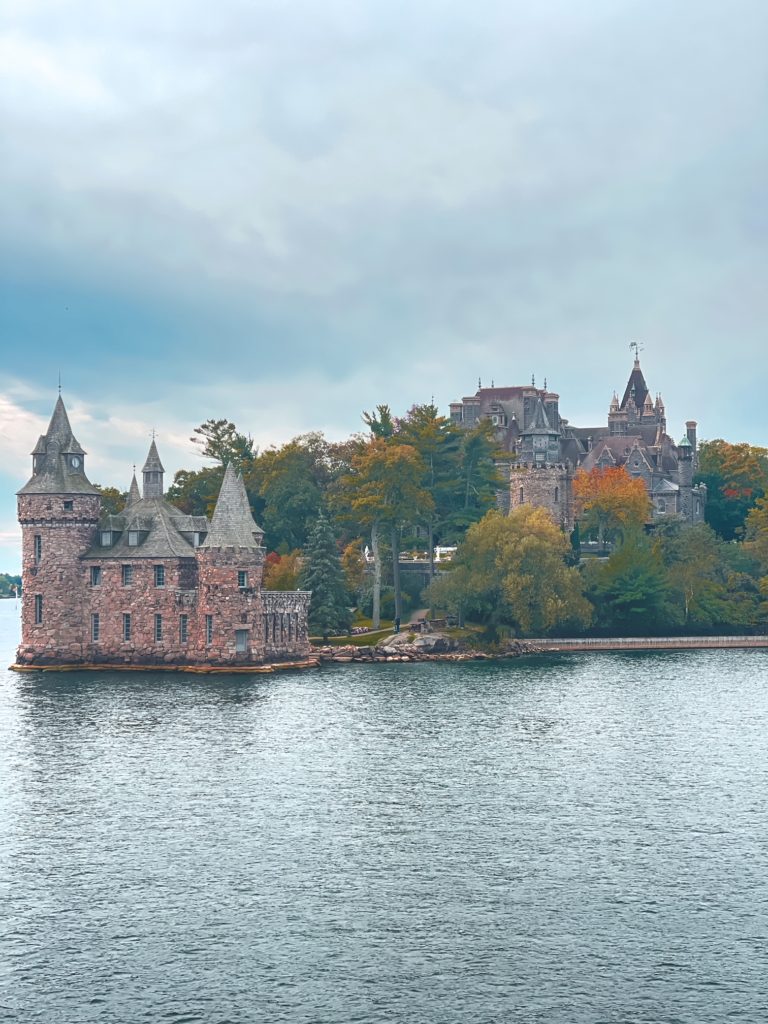 On our tour we got to see the Boldt Castle up-close and learned the history behind it, we saw the smallest bridge in the world that connects two countries ( Canada and the US) and we learned that the Thousand Islands area is known as the "Garden of the Great Spirit" by the Indigenous People.
There is a lot of 1000 Islands history on this tour which we very much enjoyed!
THINGS TO KNOW BEFORE GETTING ON A THE ROCKPORT CRUISE: The best way to see the sites is on the outdoor decks so dress appropriately and bring some extra layers. After your cruise, there is an awesome Pub right near the dock which makes for a great post cruise lunch!
Thousand Islands Playhouse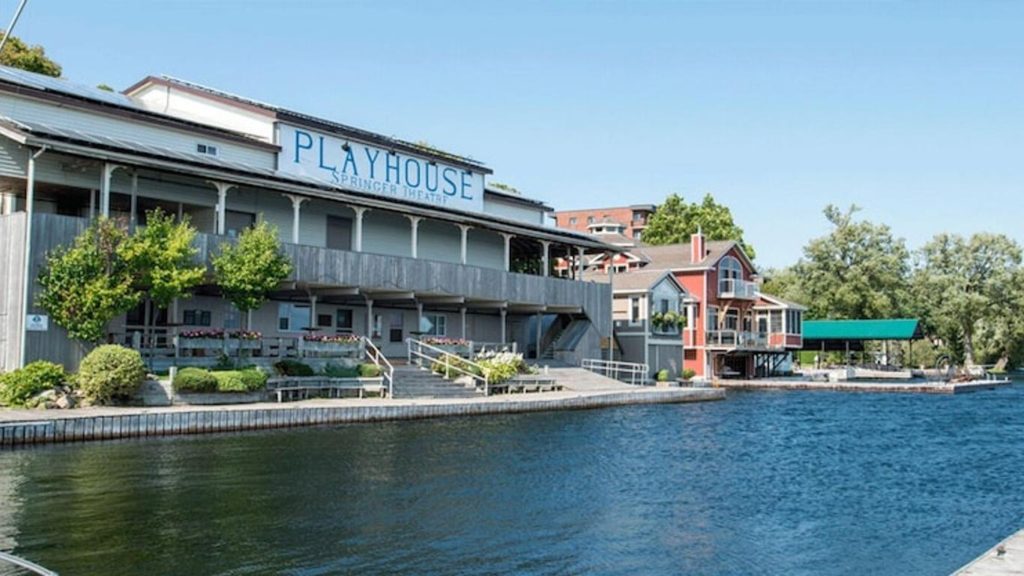 This theatre sits right on the waterfront and feels like you are legitimately in a movie. It reminded me of a place people would get married in a Romantic Comedy- just adorable.
Though it's cute and intimate, the theatre performances are serious. They have had very successful plays and performances over the years. Their theatre schedule runs from May to November and are a very hot ticket in town. We almost couldn't get tickets side by side!!
We saw Jersey Boys and it was one of the best live shows we have seen in a while. Seriously.
After adventuring all day it was also nice to switch up our pace and get dressed up!
Helicopter Tour Over the 1000 Islands Canada and USA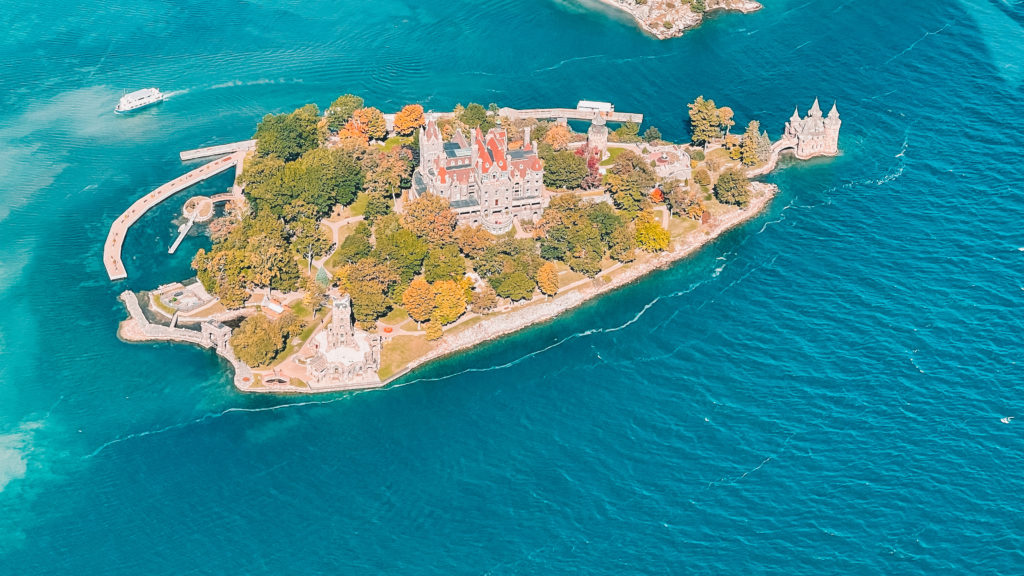 Though I am slightly afraid of heights, booking a tour with Fly 1000 Islands was an experience I would do again in a heart beat! The views that you of 1000 Islands are like no other and will leave you speechless.
It is a 20 minute ride so it was just the right amount of time to see everything. They do offer longer tours where they can actually take you to a local brewery for lunch OR even arrange a day trip to Prince Edward County. If you are wanting to feel like a celebrity, this is a very nice way to do so.
Our pilot during our 20 minute ride was so knowledgeable, made us feel calm and kept us interested. You get to wear headphones so that everyone can hear things clearly and it added a really nice touch to the already breathtaking views.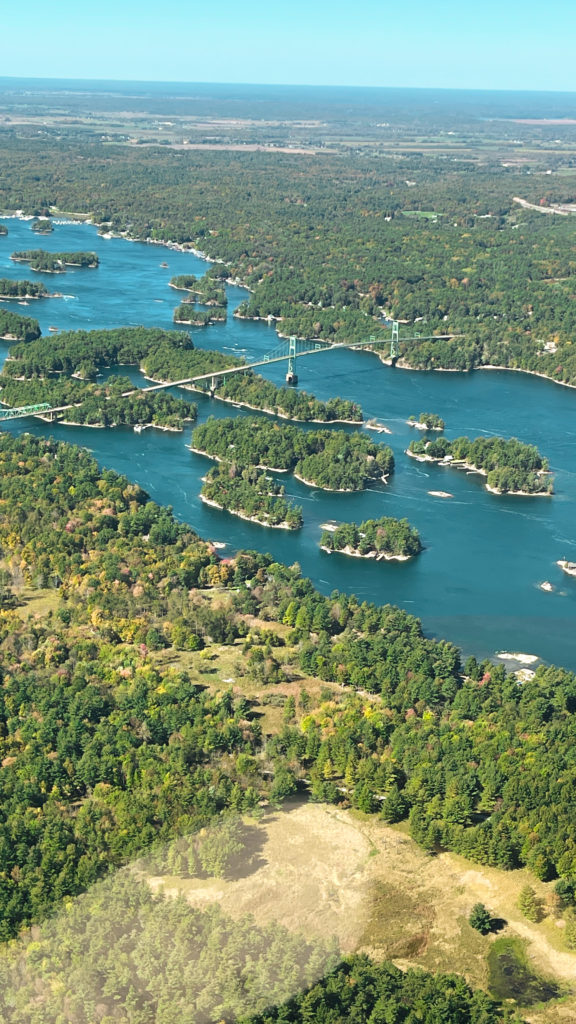 Kayaking or Canoeing through the 1000 Islands
If riding helicopter wasn't enough for you, head out directly onto the water on a Kayak or Canoe! The guided tours that are offered have you going through smaller channels and interesting spot otherwise hard to reach or see up close.
They have full day tours or half day ones depending on how much you want to see! We opted for the half day one in the morning which I would recommend as the temperatures were nice and the light is just so beautiful at that time ( 8:30AM-11:30AM).
Hiking to Landon Look Out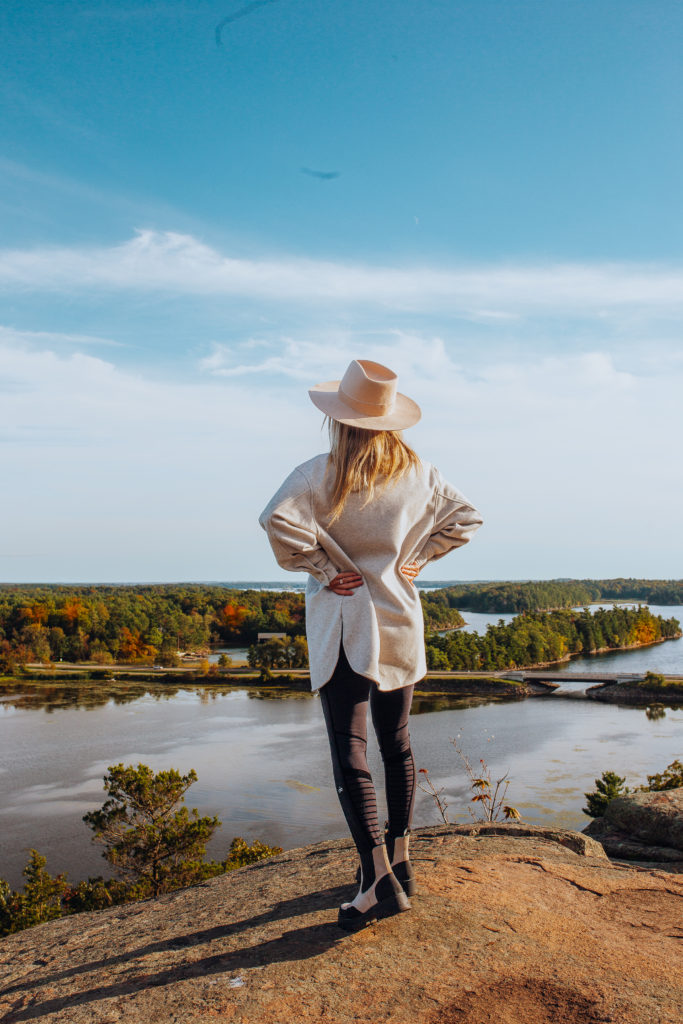 There are many hikes in and around Gananoque but this one is A: not long at all and B: gives you 10/10 scenic viewpoints as a reward. Not only can you see all of the islands from a higher angle but you can also see the Bridge that connects Canada and the US!
The terrain is not rough at all and there are carved out wooden stairs in various sections. Roundtrip it took us about 30 minutes but plan to stay at the top for at least 20 minutes to soak up the views.
Parking is free ( or at least it was when we were there) just outside the trail head!
Berry Homestead Farms- A unique thing to do in Gananoque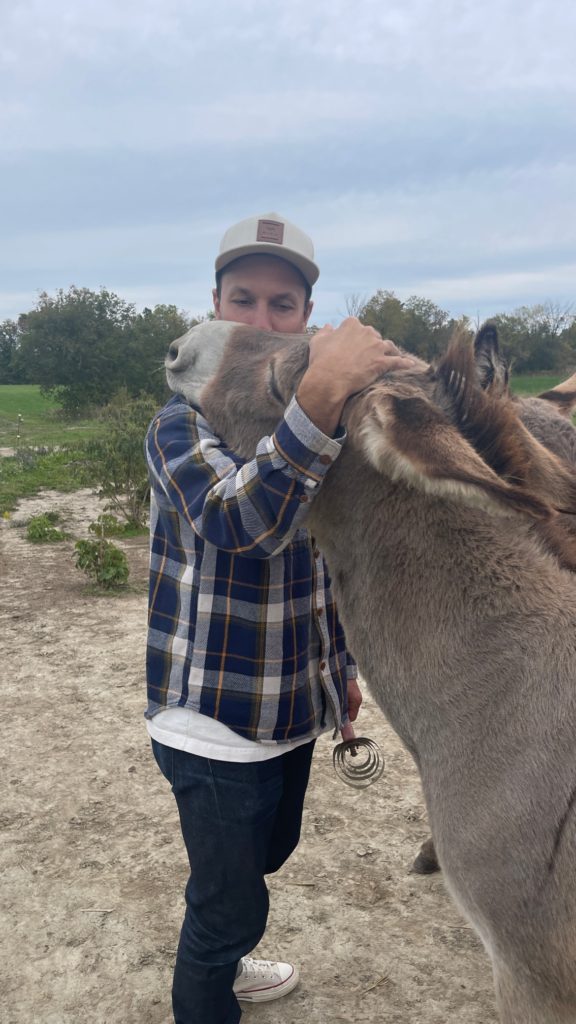 Have you ever been to a Donkey Farm? Nope- me either!
Thankfully that changed after visiting Berry Homestead Farms. This sustainable farms is all sorts of WOW. Not only did we get to cuddle with a family of donkeys but we got to learn about organic farming practises that owners Annick and Jean are extremely knowledgeable on.
Their passion for the farm, their animals and living off the grid can be felt on the tour here and it is definitely one that pulls at your heart strings.
They often have school trips at the farm, sell products that are made from Donkey milk but most importantly they hold therapy sessions with the Donkeys for those that have Autism, PTSD or any sort of mental illness.
Some Other Fun Things To Do In Gananoque and the Thousand Islands Canada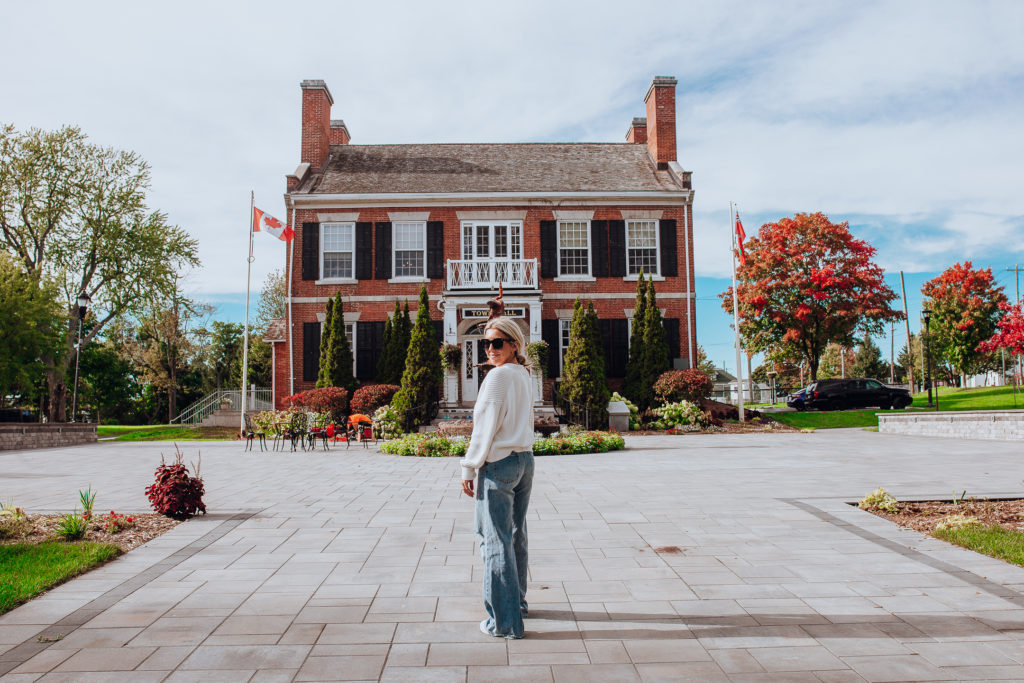 We had a full 2 days and 2 nights in Gananoque and the 1000 Islands and I felt that it was a great amount of time as first time visitors. I think if you planned to do some more aggressive or longer hikes that 3 nights and 3 days might be a better call!
Here are some other Attractions in Gananoque and the 1000 Islands that are worth checking out:
Go Shopping downtown! There are so many cute local shops to discover
Thousand Islands Boat Museum
Joel Stone Heritage Park (perfect place to grab a coffee and walk around in)
Hiking at Jones Creek or Mallorytown Landing
Thousand Islands Casino
Boldt Castle Tour
As you can see there is a ton to do in Gananoque and the surrounding areas depending on what your interests are! I hope after reading this 1000 Islands Travel Guide you were able to see why this place is so special and unique!
---
PIN THIS POST