Visiting Ontario's cutest town aka Perth, Ontario? You will want to check out this guide for the best restaurants in Perth Ontario that you cannot miss! 
Out of all the places I have visited this past summer, the culinary scene in Perth really stood out to me. For it being such a small town, it's food and beverage scene was very "big city" vibes. They had top notch restaurants that seriously rivaled some of the places I have visited in Toronto as of late.  
Between the fresh baked goods ( I feel like pastries and pies taste better when I know they are from a small local kitchen) to the beer and distillery scene to all of the comfort meals, you will be content with your eating experience in Perth Ontario! 
The best restaurants in Perth Ontario are all walkable for the most part which we loved! We were able to have a delicious breakfast and then check out some of the fun things to do in Perth and then grab lunch right after! 
No matter what your eating style is ( fine dining, casual) OR if you are 
Visiting the area soon? Check out my Complete Guide of the Best things to do in Perth Ontario
Here are the Best Restaurants in Perth Ontario
#1. The Stone Cellar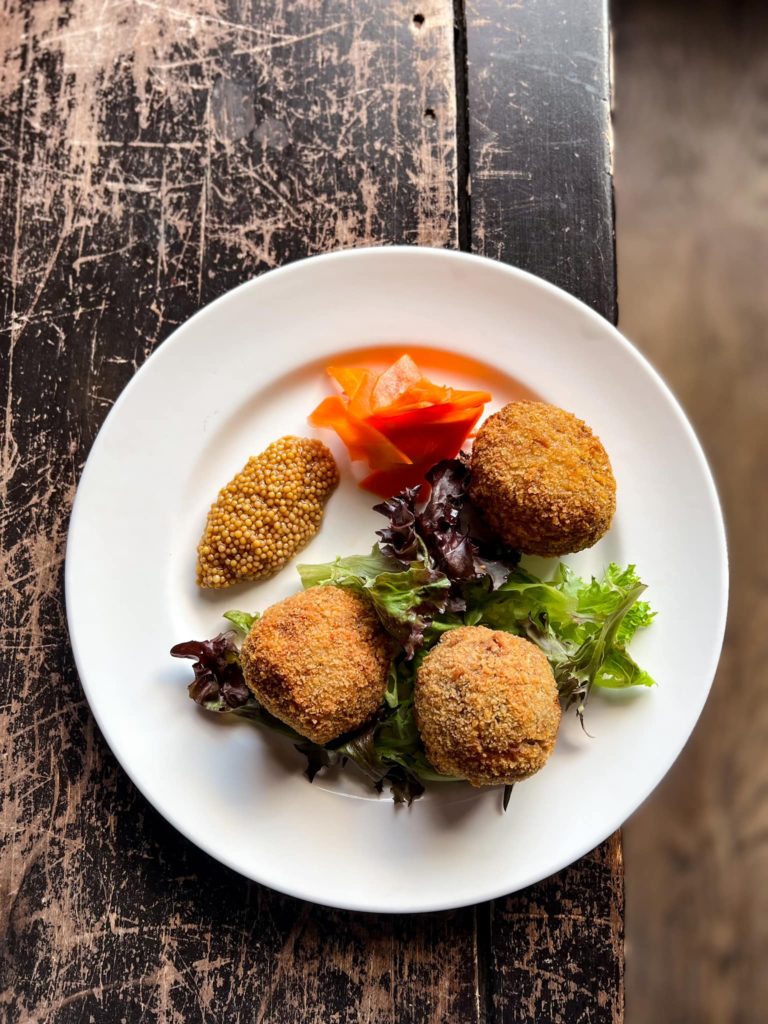 The Stone Cellar located right in the smack of downtown Perth is the perfect blend of upscale, modern and inviting.
Their small sidewalk patio is the perfect place to grab a little lunch on a hot summer day and their interior space is very lovely for a date night dinner or an evening out with friends.
Most importantly, the food is top notch! We went for dinner and had their crab cakes to start, gnocchi pesto and lamb as our entrees and mason jar tiramisu to finish. We decided to share everything and found our forks wrestling with each other over the last bites. It was delicious.
Tip: The menu changes seasonally so if you are researching a head of time it might be different once you actual visit! Also at the time of writing, we found their lunch menu a bit more casual compared to dinner which we would have definitely been in for if we had more time in Perth!
#2. Rocky River Cafe- One of the best rated restaurants in Perth Ontario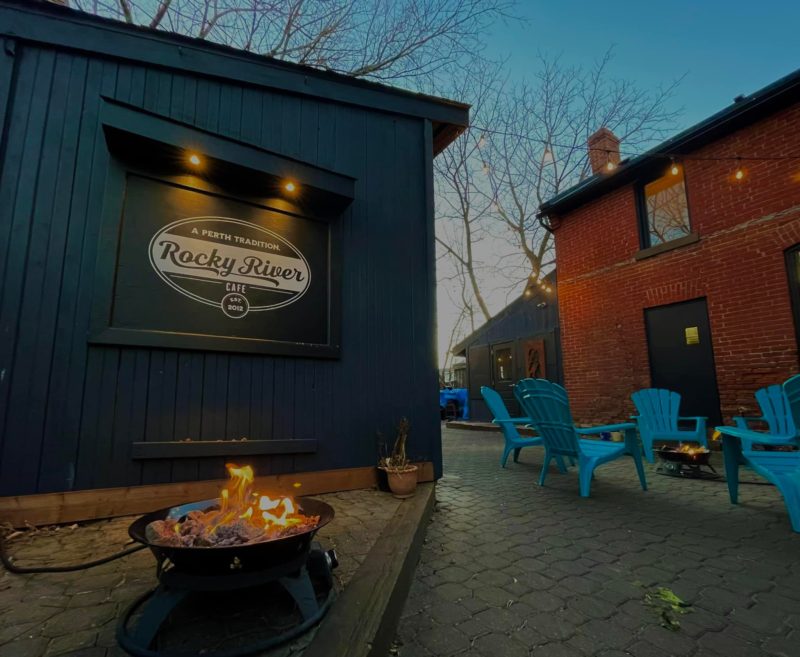 Rocky River Cafe is a fan favourite in town…and for good reason!
The place has it all: amazing location ( located on the river), cute atmosphere ( think string lights and a garden feel) and most importantly some of the best dishes in town. No literally- this place has some of the best reviews out of every restaurant on this list.
We love the diversity of the menu ( everything from shrimp cocktails to salads to burgers) and their cocktail list is also a reason to visit
Important to note: This place is closed on Sundays!
You Might Like These Other Ontario Posts
#3. Michael's Table- Best Perth Restaurant in Perth Ontario for a Family!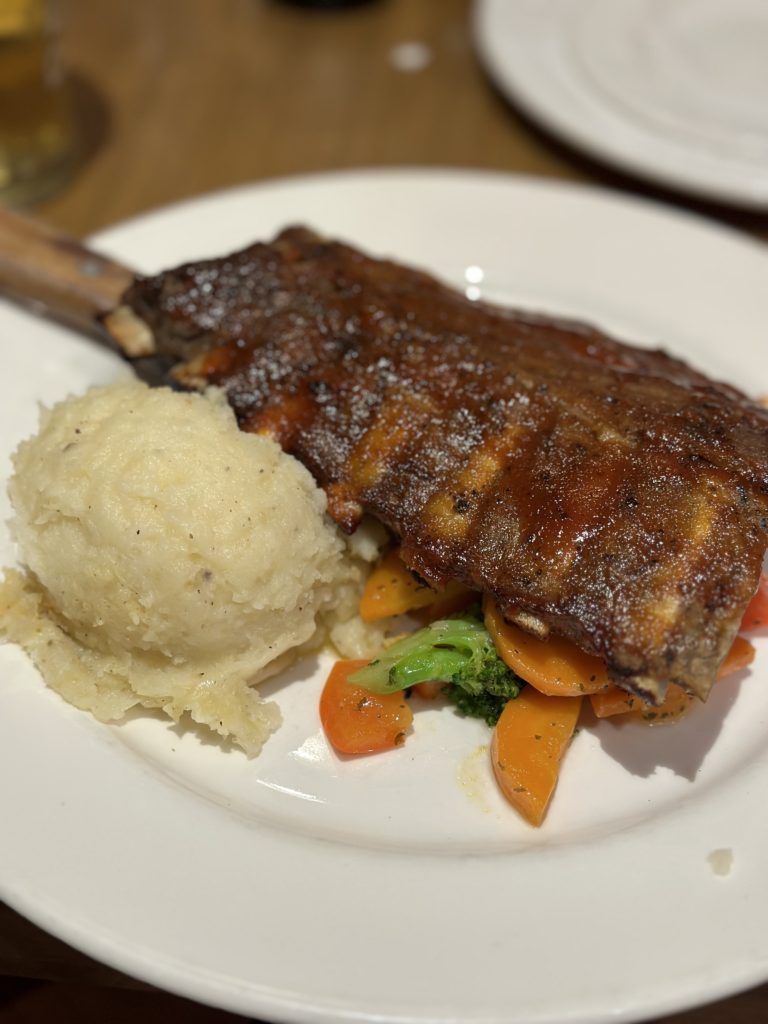 If you are looking for a great restaurant to visit as a family, I would recommend Michael's Table.
I love, love, loved our dinner there! It has a comfortable and inviting atmosphere, classic entrees and a wonderful kids menu ( with crayons and a colour pad as well which we all know is very key and helpful!)
My husband had Chicken Parmesan and Ribs and we both left full and happy!
Like many of the restaurants in Perth, they served up some varieties from Perth Brewery and we couldn't help but choose their classic lager to wash it all down with!
Quick Links- My Favourite Amazon Travel Items
, , , ,
#4. The Hungry 7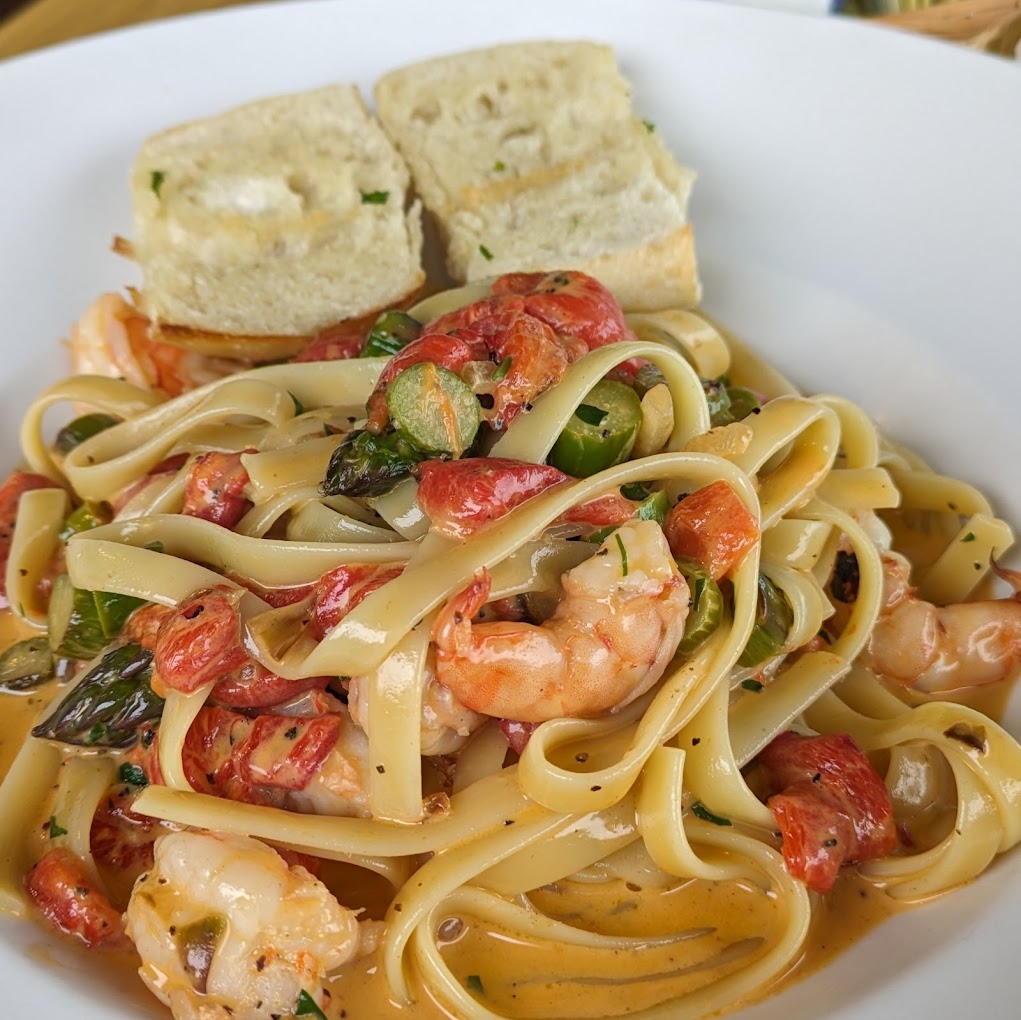 File this spot under "Legendary Restaurant That you cannot miss!"
With a very unassuming location, The Hungry 7 might be a spot that you would potentially drive pass without thinking too much of it. However this spot is filled with high quality, delicious dishes that operates like a modern diner. It's specials change daily, are featured on a classic chalkboard like you see in a movie and it's reviews are stellar.
The fresh made pies, perogies and pastas are known to be their specialities but you honestly cannot go wrong with anything here. It's a great spot to come for breakfast, lunch OR dinner making it a place that you can easily visit anytime when you come to Perth!
#5. The Fieldhouse – One of the best restaurants in Perth Ontario for lunch!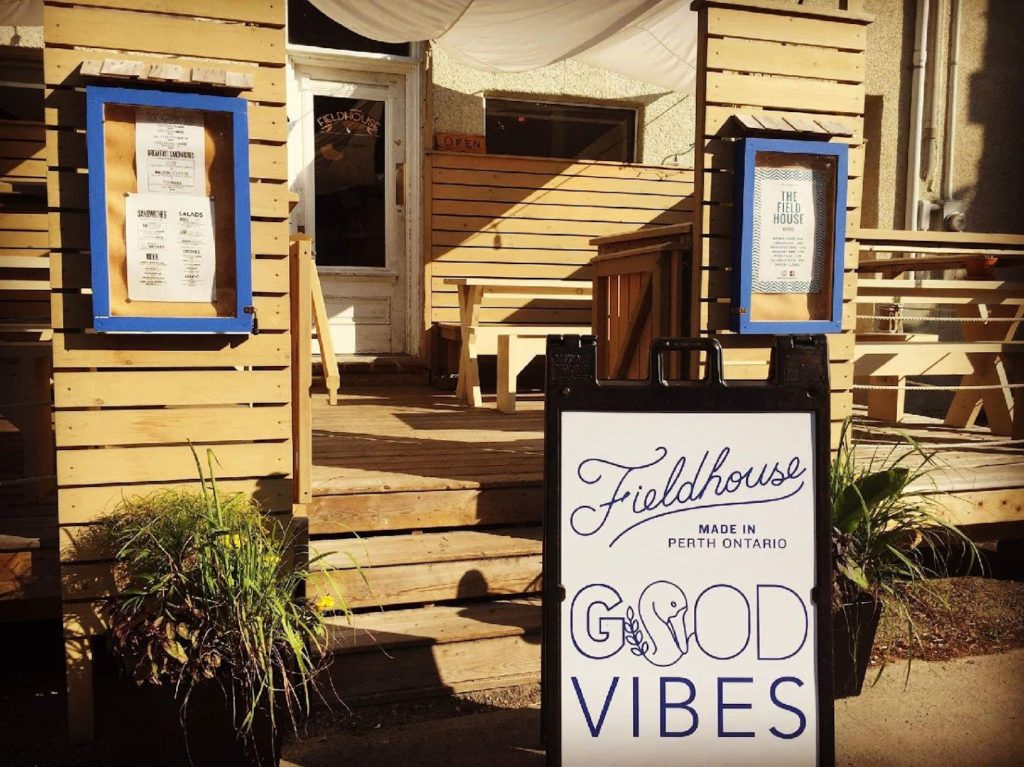 The Fieldhouse is a magical little spot in Perth Ontario. They serve delicious sandwiches ( think classics like Ham and Swiss and Chicken and Brie but with a twist!), fresh salads and wholesome, mouthwatering baked items to top it all off with.
Their food is all made in house and they have coffee, fresh juices and even some brew-skis if you want to add a little excitement to your lunch!
They are open Tuesdays- Saturdays from 10AM-3PM
#6. Mex and Co.- Best Patio Restaurant in Perth Ontario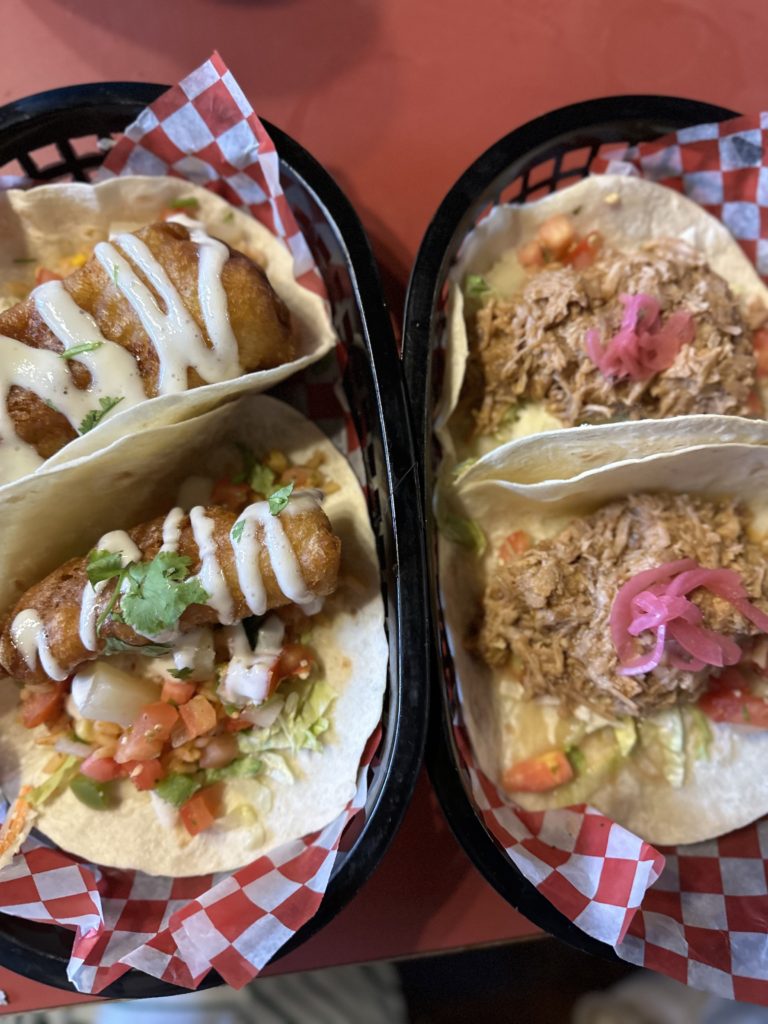 Ok so Mex and Co. has hands down the best location in Perth. Perched along the Tay River, it's patio tables quite literally give you an upfront close up and personal view of it! It's a beautiful spot to come for a lunch or happy hour.
Though the patio is the real winner at Mex and Co, the ambience inside with its eclectic decor and colourful walls is really not a bad 2nd option. We actually sat inside because we were with our kids and needed a bit more room and had an amazing time.
TIP: Get the Taco Salad. We saw so many people ordering this Margaritas that we washed it all down with. OMG! I kept stealing sips of my husbands after I finished mine because it was that good.
#7. Kothu Labs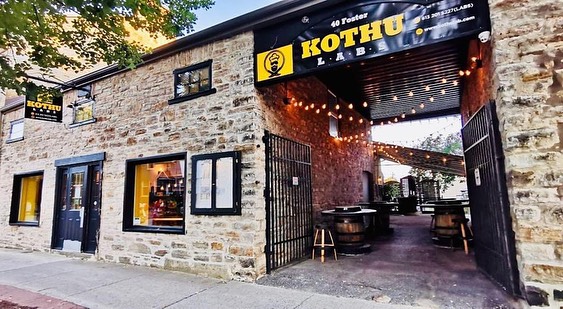 Cool restaurant alert! If you are looking for a unique restaurant ( both in terms of location and menu), you need to visit Kothu Labs
Their menu features traditional Sri Lankan dishes with a modern twist. And let me tell you – as someone who has visited Sri Lanka, their food tastes super authentic.
It was so cool to visit this restaurant in Perth and feel like I had been transported back to Sri Lanka itself but in a trendy and happening setting. Their alleyway patio is very Instagram worthy and their drinks are also something that you shouldn't miss! 10/10!
#8. Coutts Coffee Roastery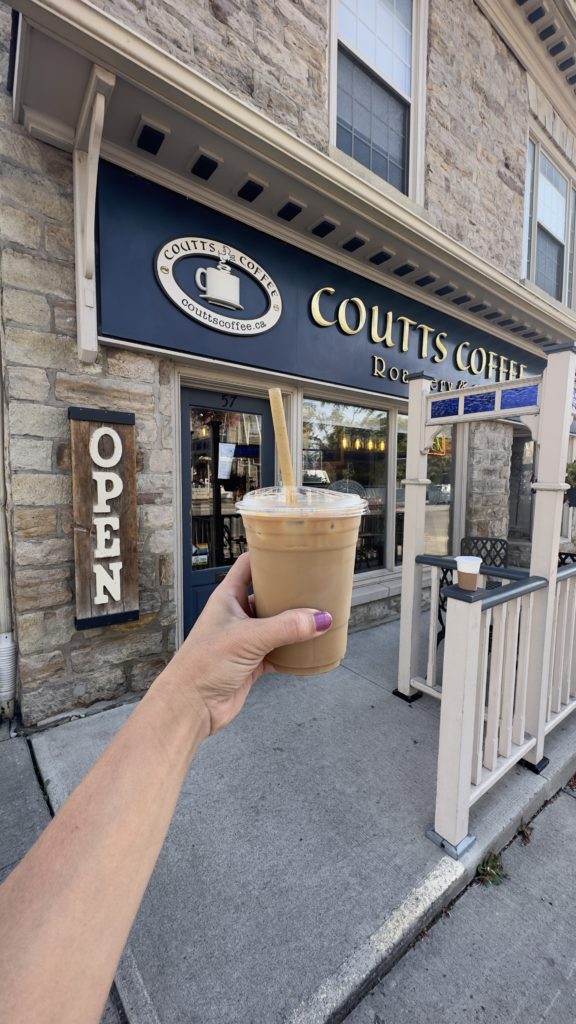 Coutts Coffee was recommended by a local who said not only do they visit weekly but they brew up the coffee at home.
We showed up at 8AM and there was a line up out the door. We took this as a very good sign!
The line moved fast and shortly after we were sipping our coffees by the Tay River where we confirmed the hype was real.
They have a variety of coffee drinks available: classic options and different specialty lattes as well.
#9. Maximilian restaurant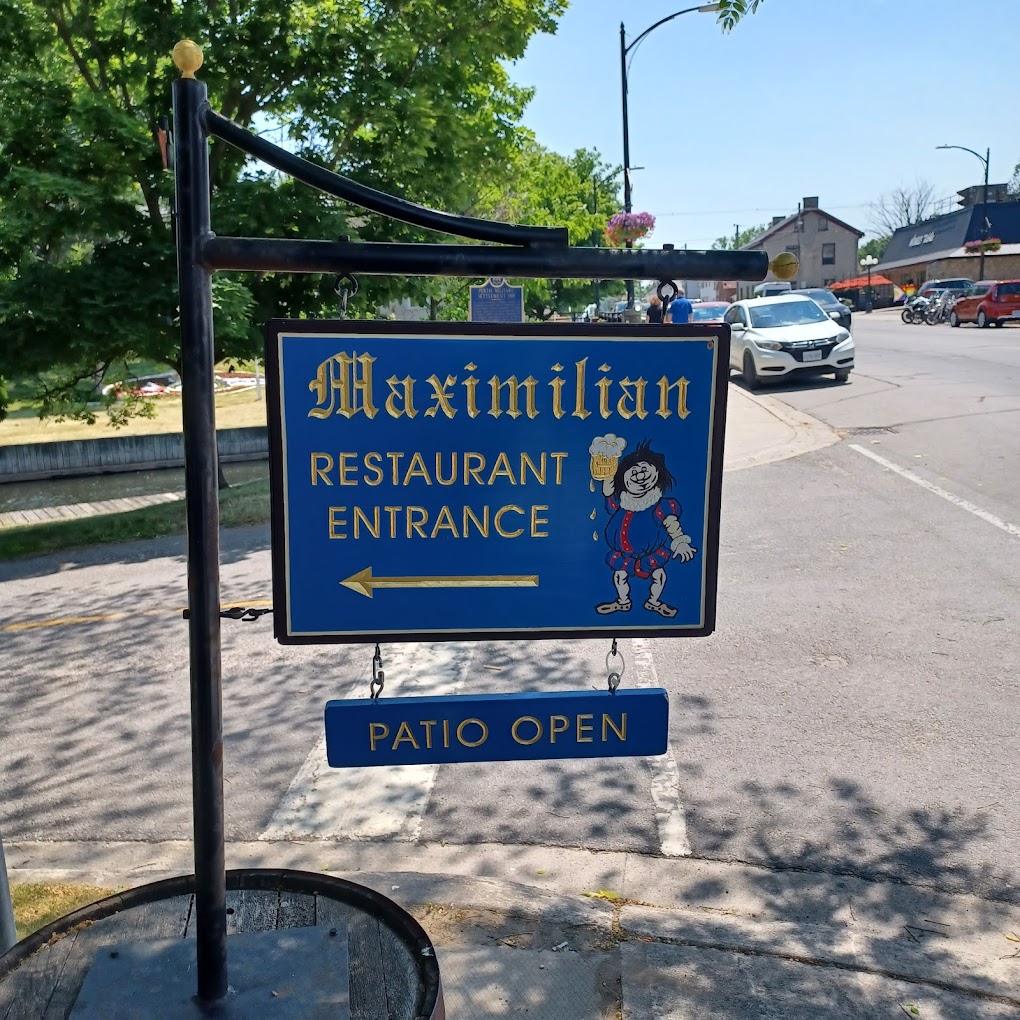 One of our faovurite fall activities is hitting up a classic German restaurant and getting a traditional Schniztel meal. We have a restaurant like this in our hometown of Hamilton but finding one in Perth, Ontario…during our fall visit no less, was just so perfect!
Maximilian restaurant is right in town and right on the river. The interior is cozy and welcoming and the food will have you leaving very happy. If you are looking for comfort food, this is the Perth Ontario restaurant to add to your list!
Tip: Get yourself a seat in their Verandah dining room for the best seat in the place!
The Best Restaurants in Perth Ontario: Continued List!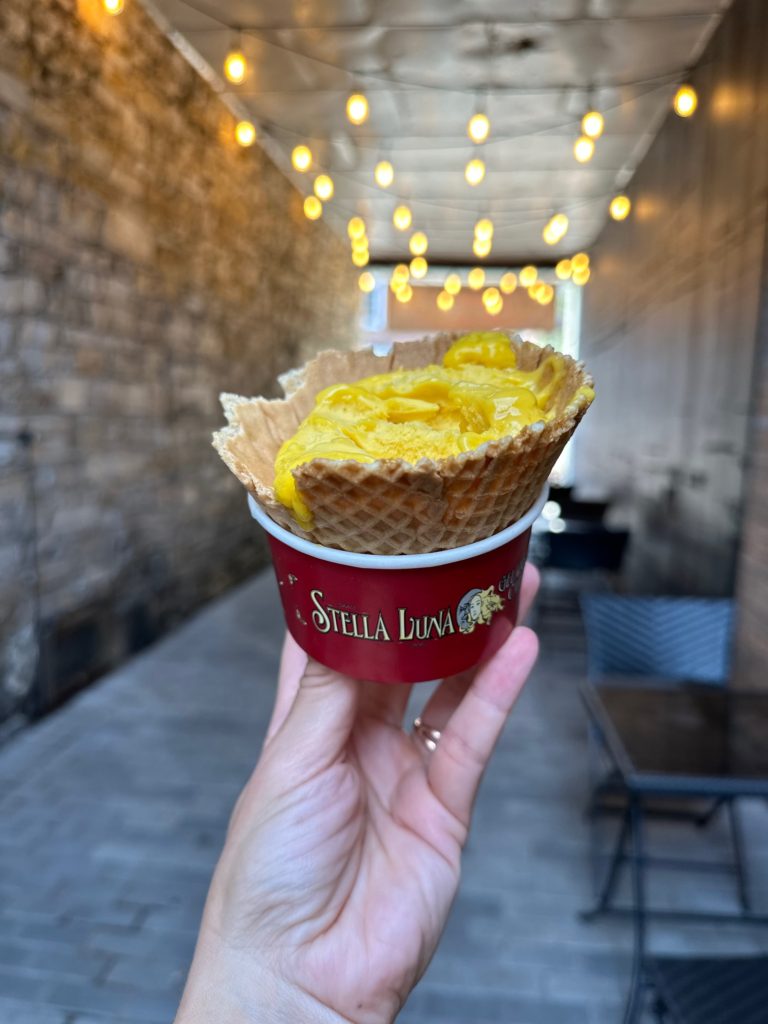 Perth Pie Co. This bakery serves everything from traditional sweet pies to savoury ones. There is no flavour or kind they can't do!
Fiddleheads Bar– This spot serves great pub food in the Code Mill's building aka the cutest builing in all of Perth Ontario
Bistro 54- Looking for a fancier Italian option? I got you boo! Hit up Bistro 54 for pasta just like how your Nonna makes it!
Stella Luna Gelato- Tucked down an inviting alleyway, this gelato shop is a must visit!!
The Golden Arrow Pub & Eatery This spot is perfect for a beer and a burger if you are looking for a fast and easy meal!
Peter's Family Restaurant- This place is old school…..and legendary. A follower from Instagram reached out and said that she used to live in Perth and their sandwiches were the BEST. She wasn't lying. Shortly after I had another few messages from people sayin the same thing!
Perth Brewery- Perth is known for it's beer and while this place is closer to the highway and not directly in town, I would recommend stopping here for a cold one…and to learn a little more about the Perth beer scene in general!
While I have highlighted the 9 Best Restaurants in Perth, Ontario, I could have easily written a much bigger list because there are so many amazing places in town. I keep referring to Perth as "small but mighty" because it's a small town with a big personality!
The restaurant scene is filled with endless options and if you are picky about what you like to eat, trust me when I say that you won't have a hard time finding a spot that suits your needs! If you aren't a picky eater, have fun trying to decide where to go with all the options haha.
---
Shop My Favourite Amazon Fall Items