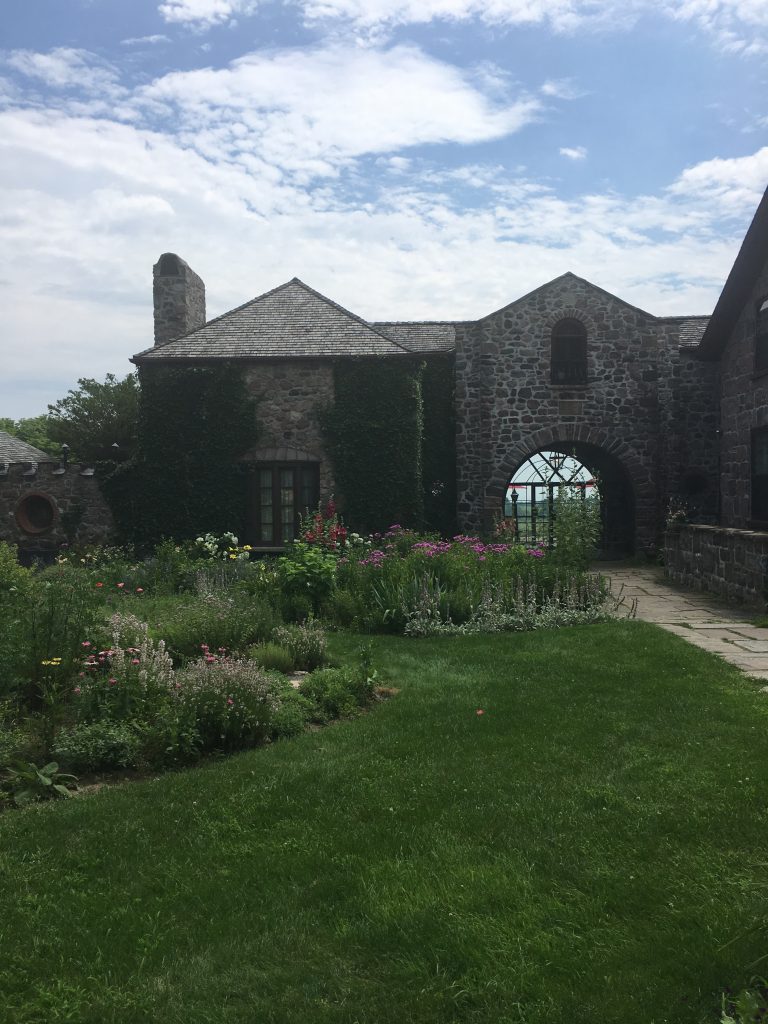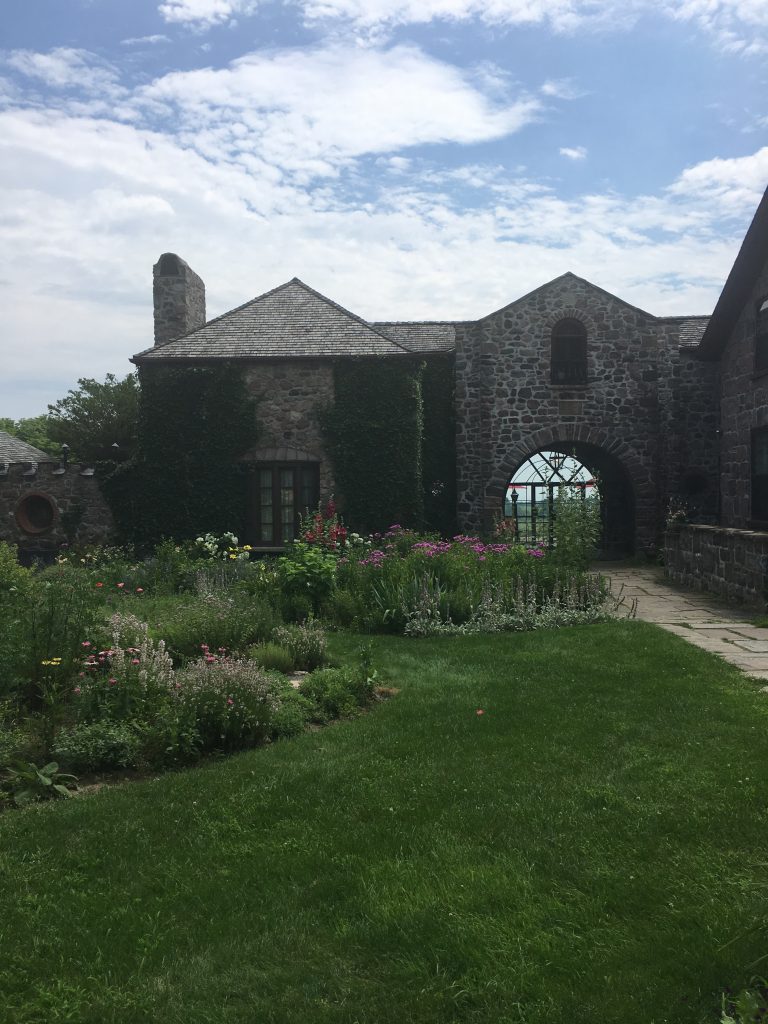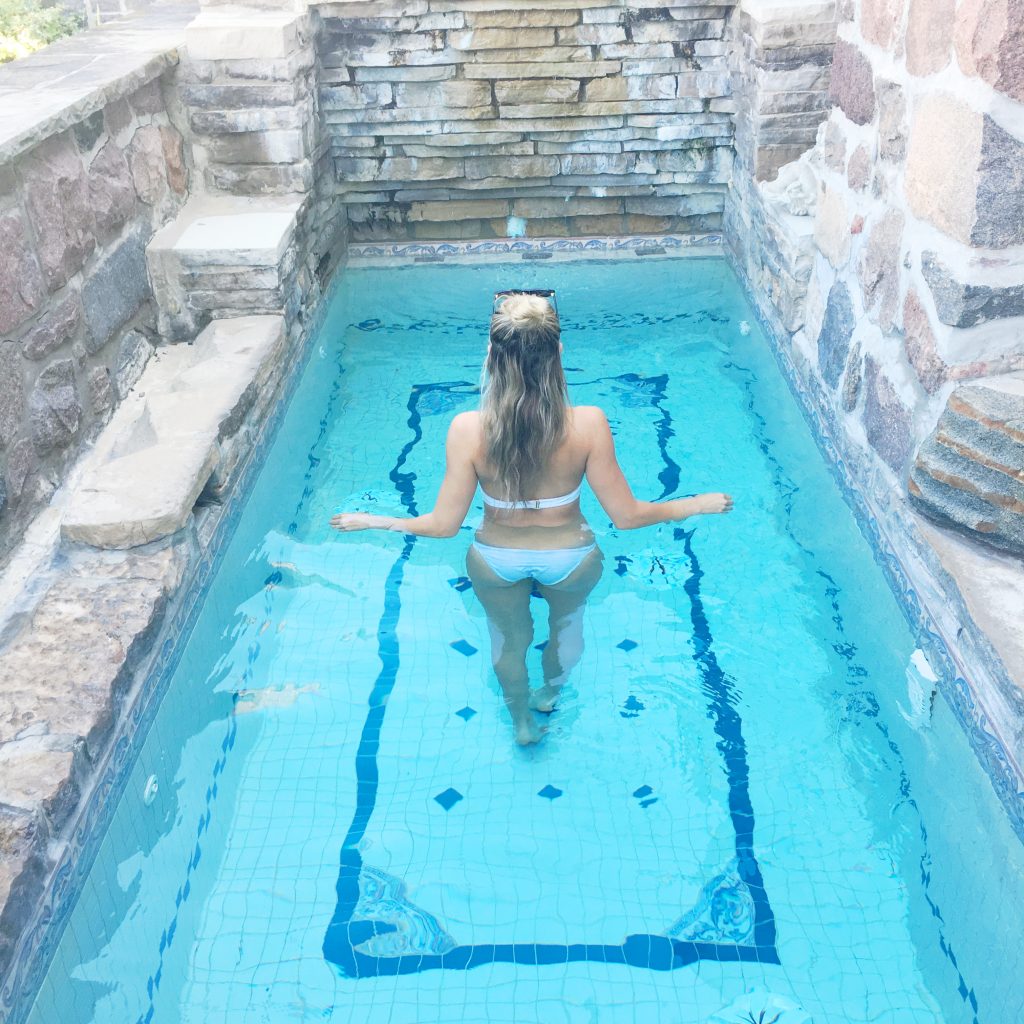 Before my wedding, I was starting to feel stressed! It was crunch time and the to do-lists were piling up! Instead of letting this get to me, my mom and I decided that we would take off for two days and unwind before the madness really began!
After some research, we decided on Ste. Anne's Spa. With it being just 1.5 hours from Toronto, it seemed like the perfect mini getaway.
When we arrived, we were given a quick tour of the space and an itinerary of what we had planned-spa treatments, yoga and some good eating! Next, we were given our robes. We put them on pretty quickly and little did we know that we wouldn't really be getting out of them too often. My kind of place. Insider tip: Do not pack that much because you really won't leave your robe much! Seriously, everyone walks around in them -even for dinner!
THE GROUNDS
The stone spa is situated on the rolling hills of the Grafton, ON countryside. When we started to approach the area, we kept saying that we felt like were in the countryside of either Tuscany or Scotland. The spa, the rooms, the pool- everything is spread out on the property. You had the option to either walk, get a shuttle ( that comes within minutes) or bike. We did a little bit of everything.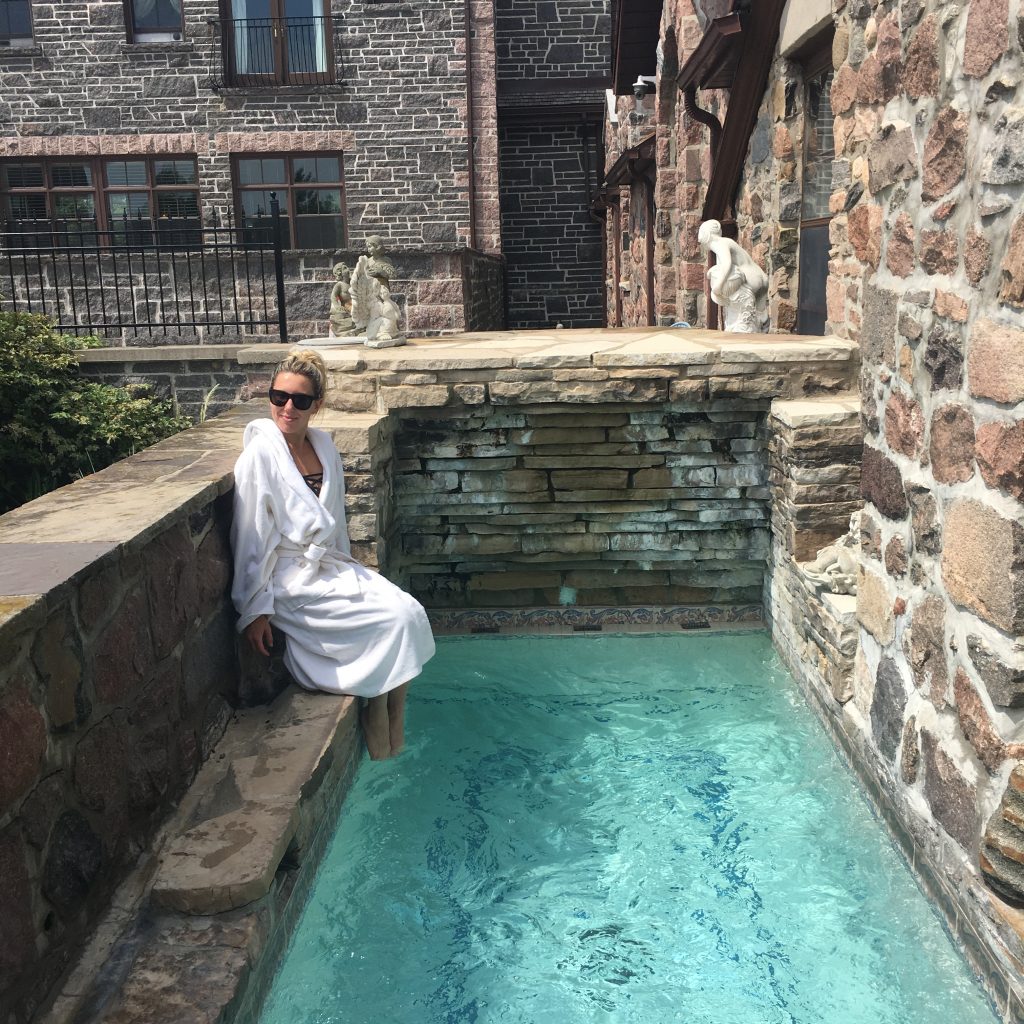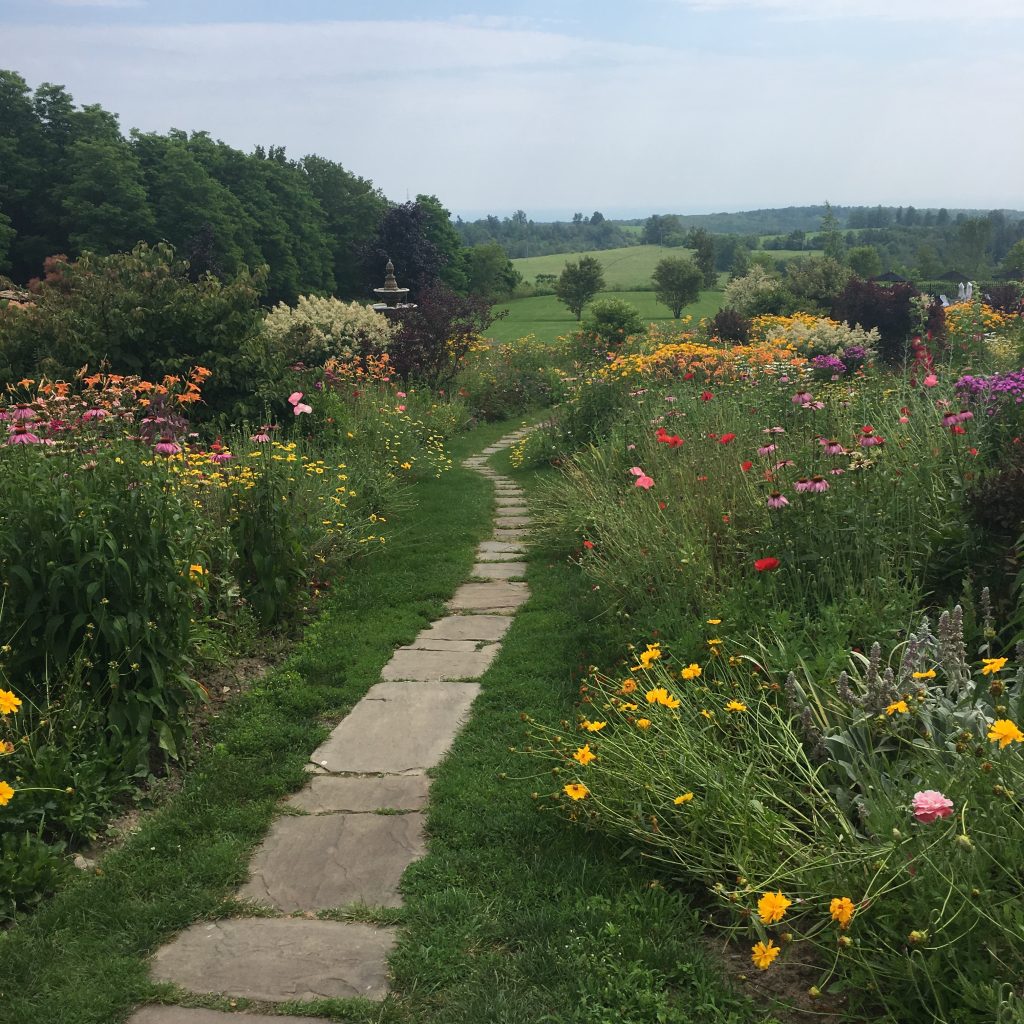 We could have spent hours just walking around the property and taking in all the beautiful sights. The gardens alone are a site to be discovered. With only a night though, we decided we would get to the "Spa"ing activities first! The Eucalyptus Steam Room was the first thing we tried and it ended up being my favourite. My mom had to drag me out of there a few times! We eventually moved on over to the cold plunge pools to cool down. It was so refreshing and not to mention good for our circulation!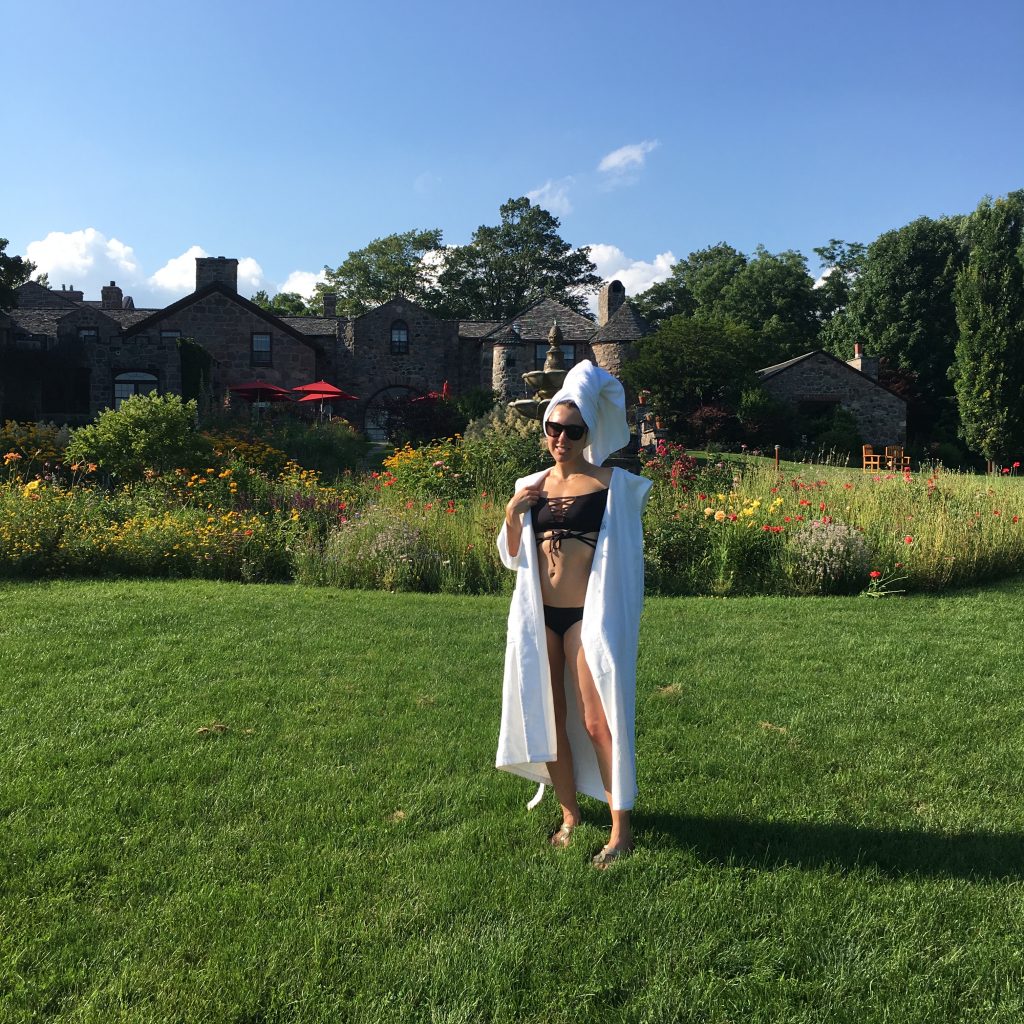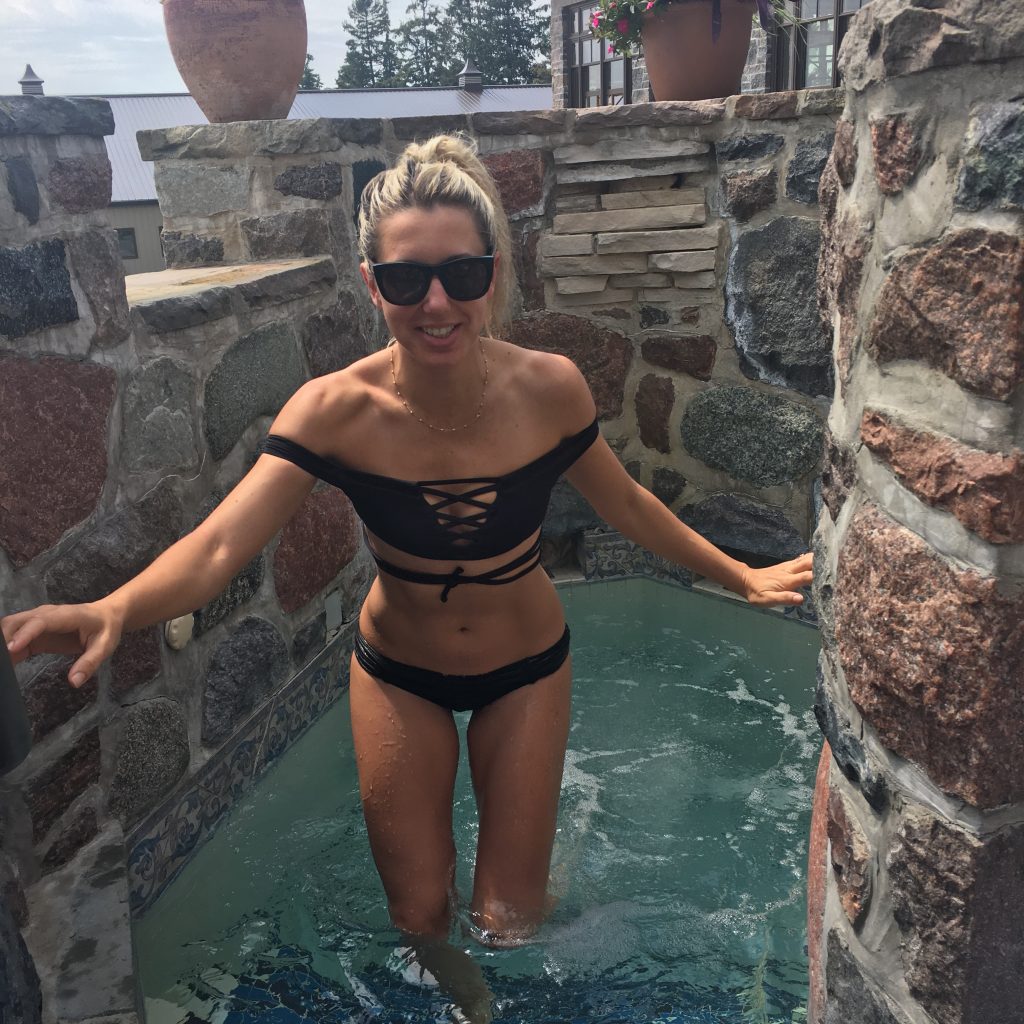 THE ROOMS
There is several options in terms of rooms! There are a few cottages situated minutes away from the main building and there are also rooms that are within the main building itself! Given the variety of rooms and sleeping accommodations, there is something for everyone! If you went with a big group of girls, you can basically have your own big cottage to yourself! We stayed in a room within this little cottage below. It had a communal kitchen with teas, coffees and a mini fridge if we wanted to store anything! It also had a big, big bathroom equipped with a whirlpool and shower!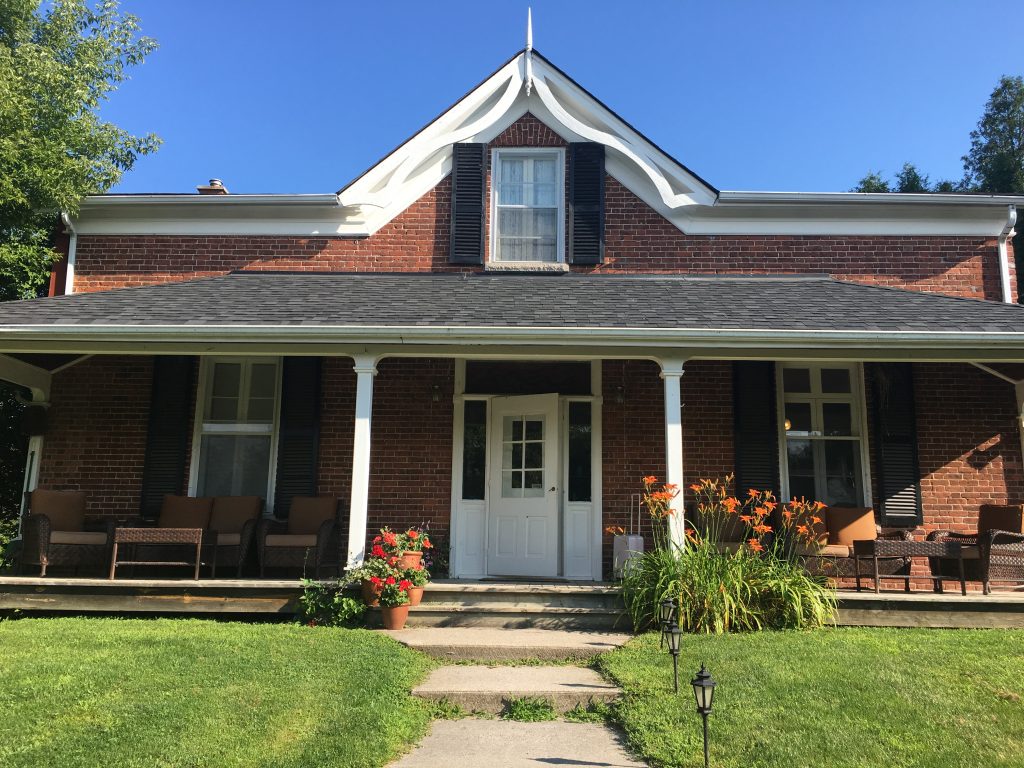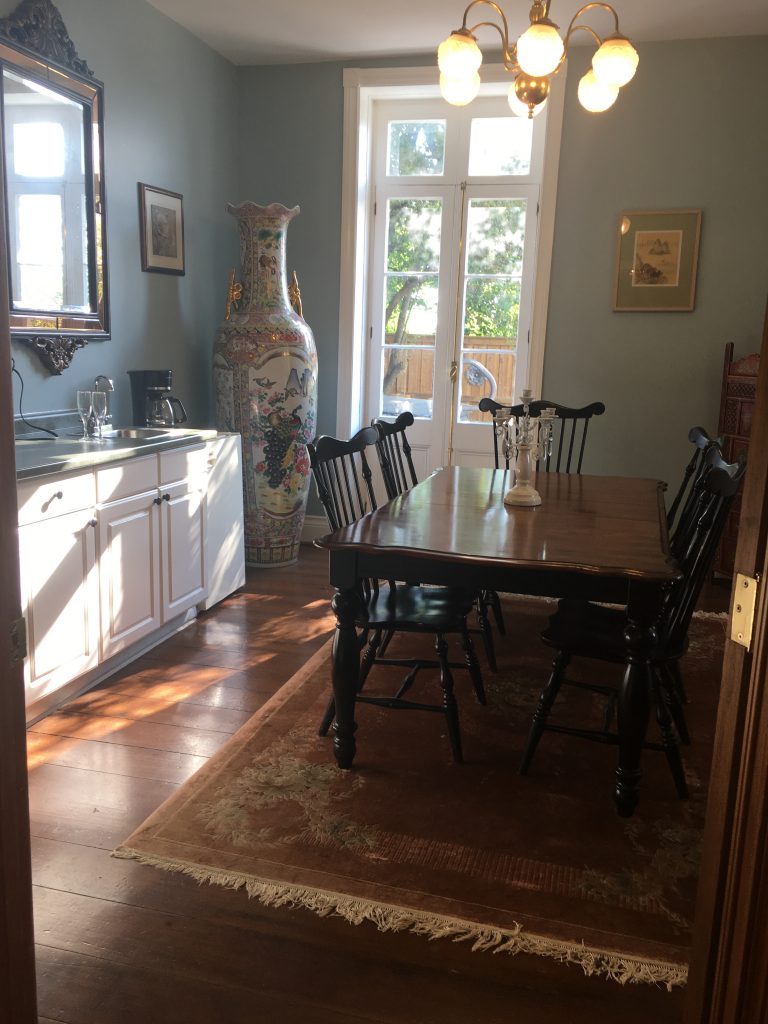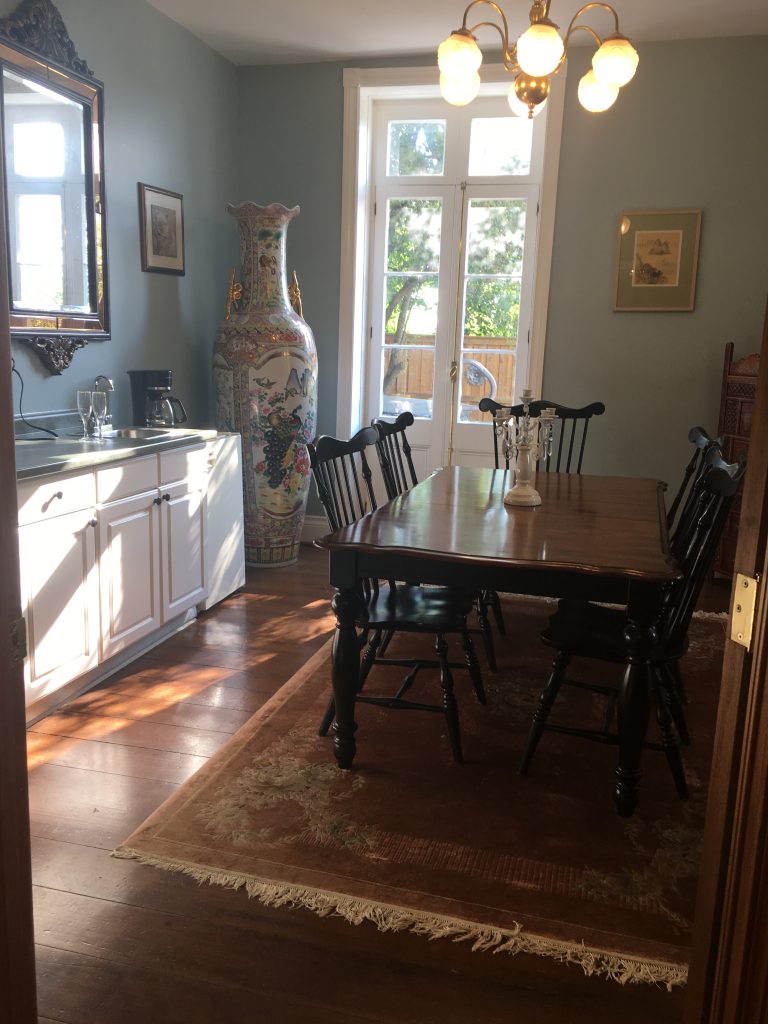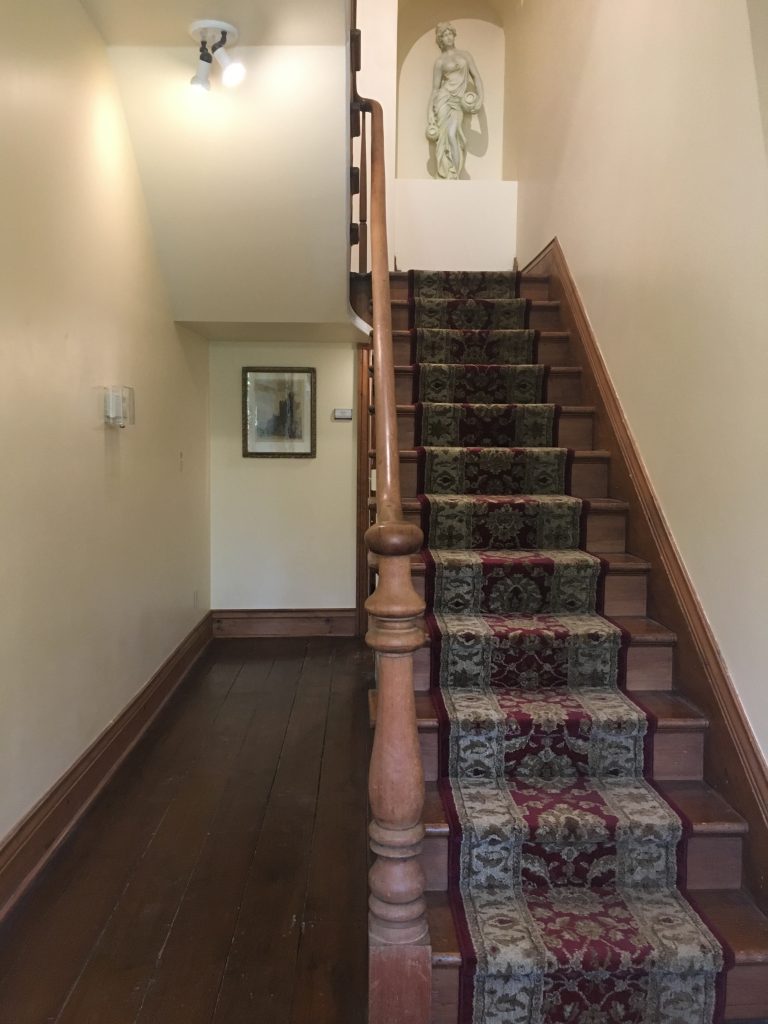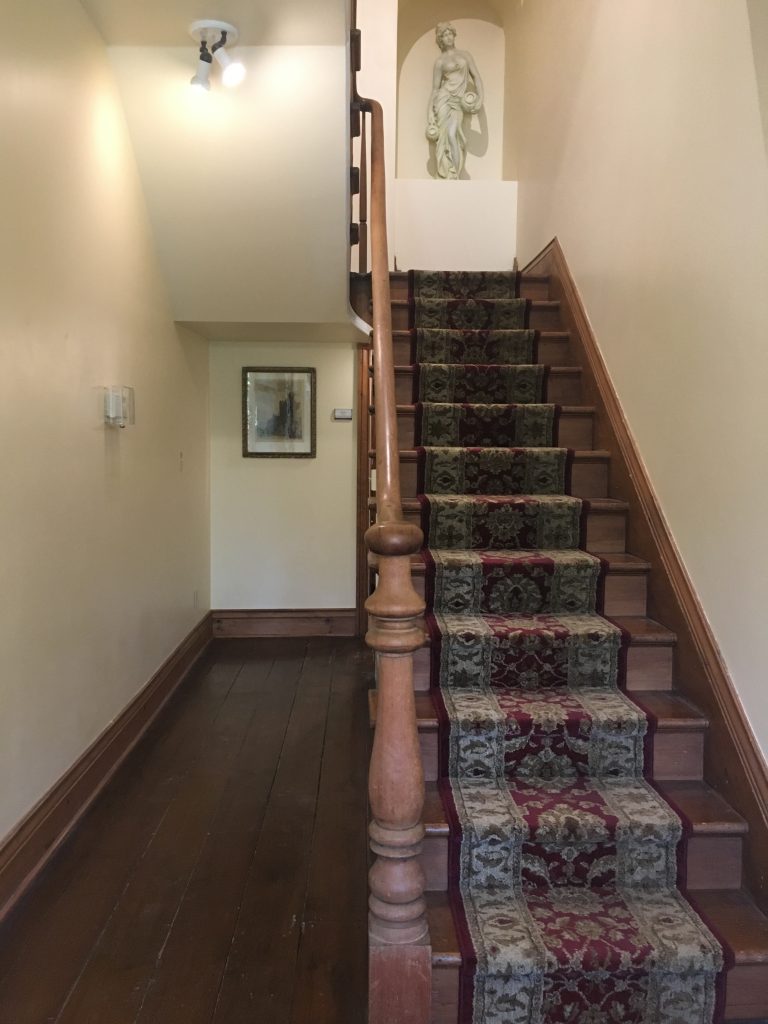 THE FOOD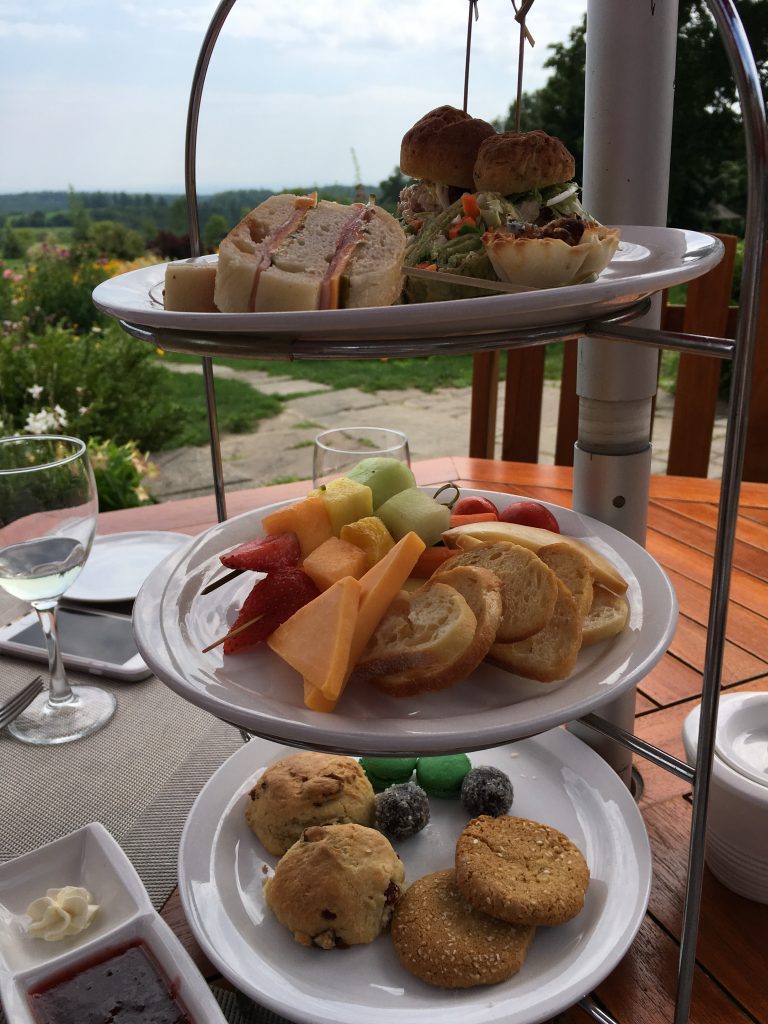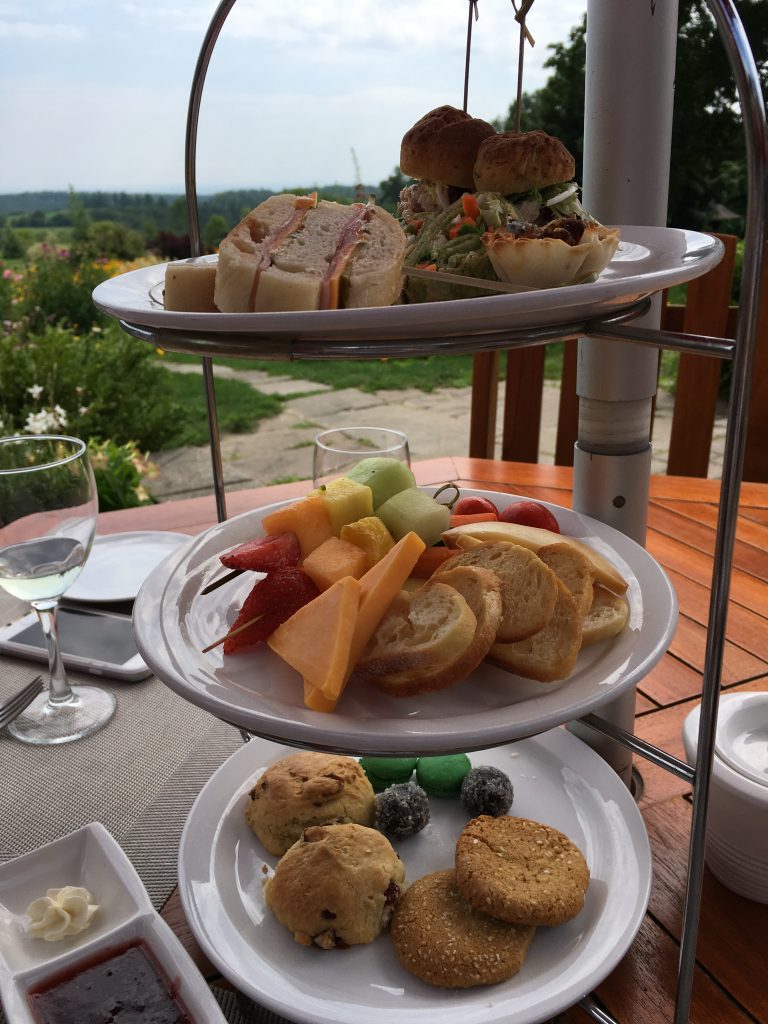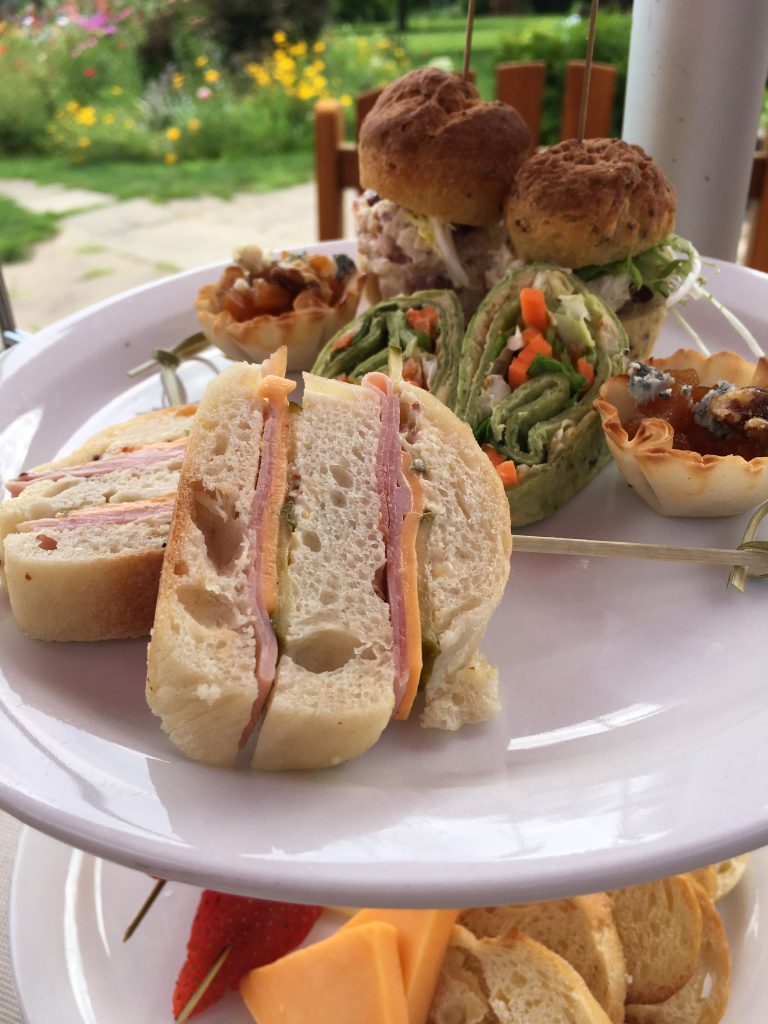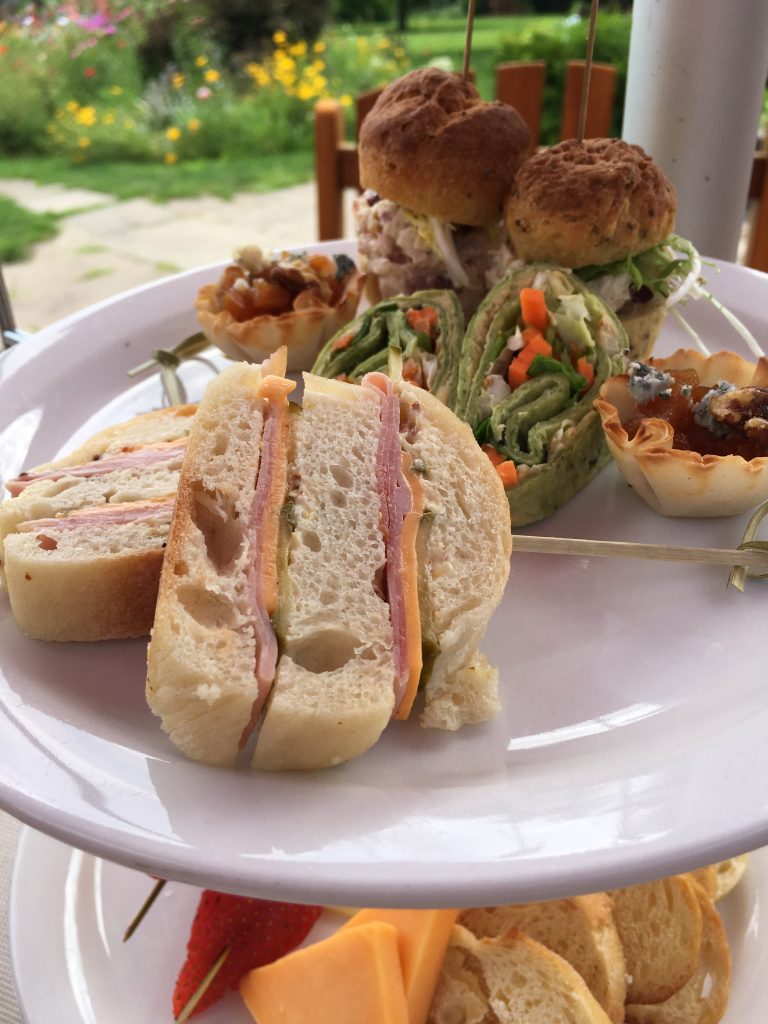 Ste. Anne's Spa believes in the idea of not only helping you achieve health and wellness through treatments but also believes in nourishing the body through food as well. All items were made from local and organic ingredients and you could literally taste the freshness! One of my favourite things they had there was the house made granola. I am not joking you- it was the best granola I have ever had. I asked the server if she could share the recipe so I could try to make it back home and she actually told me I could find some of their recipes on their website!!! Check some of them out HERE! Another favourite meal was our Tea Time! We were given a sampler menu which included a variety of tiny sized items so we could sample a bit of everything. We had healthy wraps, fruit and even a little something to indulge our sweet tooth with!
In terms of drinks, there is so many health juices that I almost got full off trying so many of them! If you are looking for something a bit stronger if you will, they do not have a liquor licence. BUT! You can bring your own alcohol! Your servers can even put a bottle on ice for you and keep it next to the table for you to enjoy. Since my mom and I were having the ultimate girls weekend, we definitely took advantage of this! .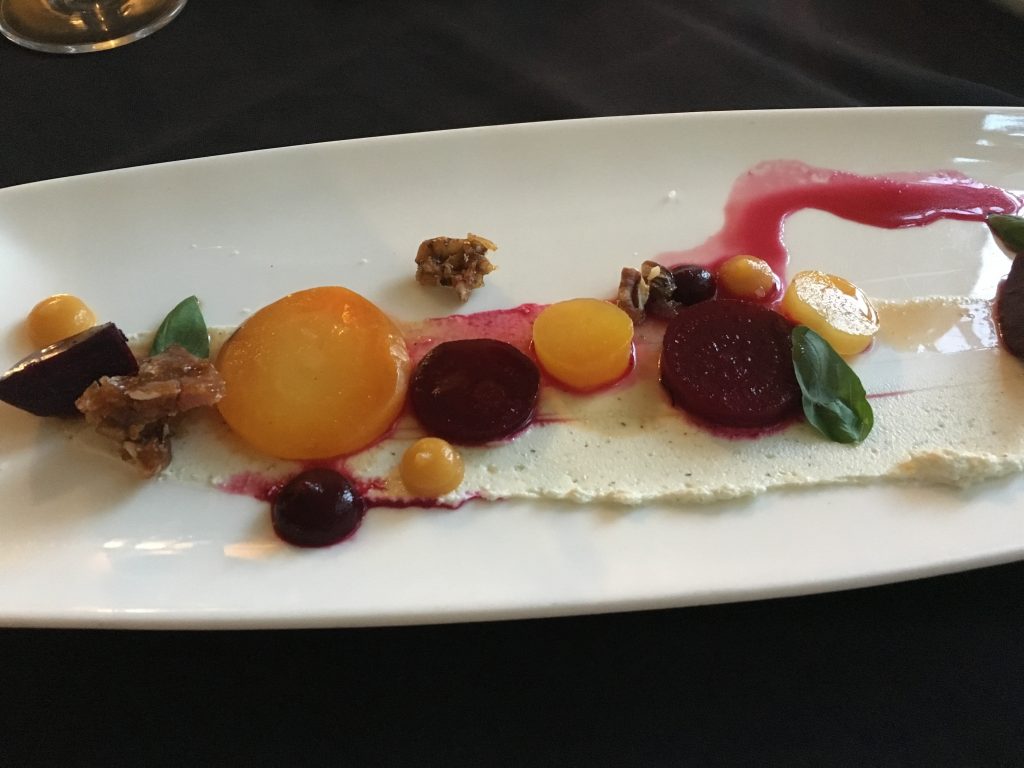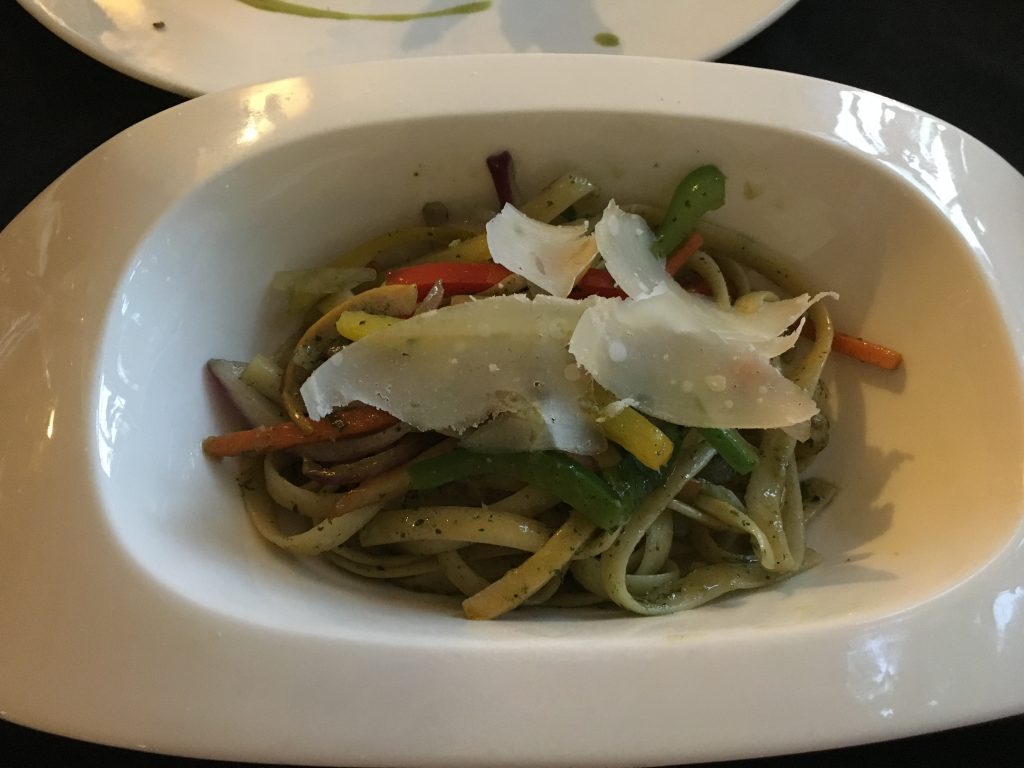 IMPORTANT TIDBITS
| | | | |
| --- | --- | --- | --- |
| PRICE | There is no rate for Rooms only. St. Anne's is an all inclusive style spa. The rates include room, food and some packages include a spa treatment | MINI BAR | In some rooms |
| WIFI | Yes. | YEAR OPENED | 1985 |
| POOL/GYM | Pool. Multiple Fitness Classes | LOCATION | Grafton, Ontario |
| CHILDREN | No | RESTAURANTS | Yes! |
5 things to do here
#1. Have a Spa Treatment
Duh! Pretty obvious why this is at the top of the to do list here! My mom and I opted for a signature facial. All of the products are from their own personalized skin care line that you can buy on the premises. They truly go beyond a typical spa service though and when in the treatment, I was so relaxed that I dozed off for a bit. The facial itself left my skin glowing and leading up to my wedding, I kept getting compliments about how my skin was glowing! You can browse through the services here: http://www.steannes.com/spa-services.html.
#2. Do a Wellness Class
Adding to their spa, relaxation and unwinding vibe, the Ste. Anne's Spa also has a wide list of wellness classes! I opted for a yoga class in the morning to kick start my day and my mom did a meditation class!
#3. Test out their Quiet Room
Ste. Anne's has an area called the "Quiet Room". It is in the main house right near the steam rooms and plunge areas. Named the Quiet Room for a reason, you cannot talk inside the space and they encourage you to unplug. As someone who is attached to her phone and can be a Chatty Cathy, I felt a bit nervous entering the room but it was surprisingly one of the most enjoyable things I did all weekend. The energy in the space made you zone out and it was easy with the massage chairs that they had in there and all the magazines!
#4. Lounge by their massive pool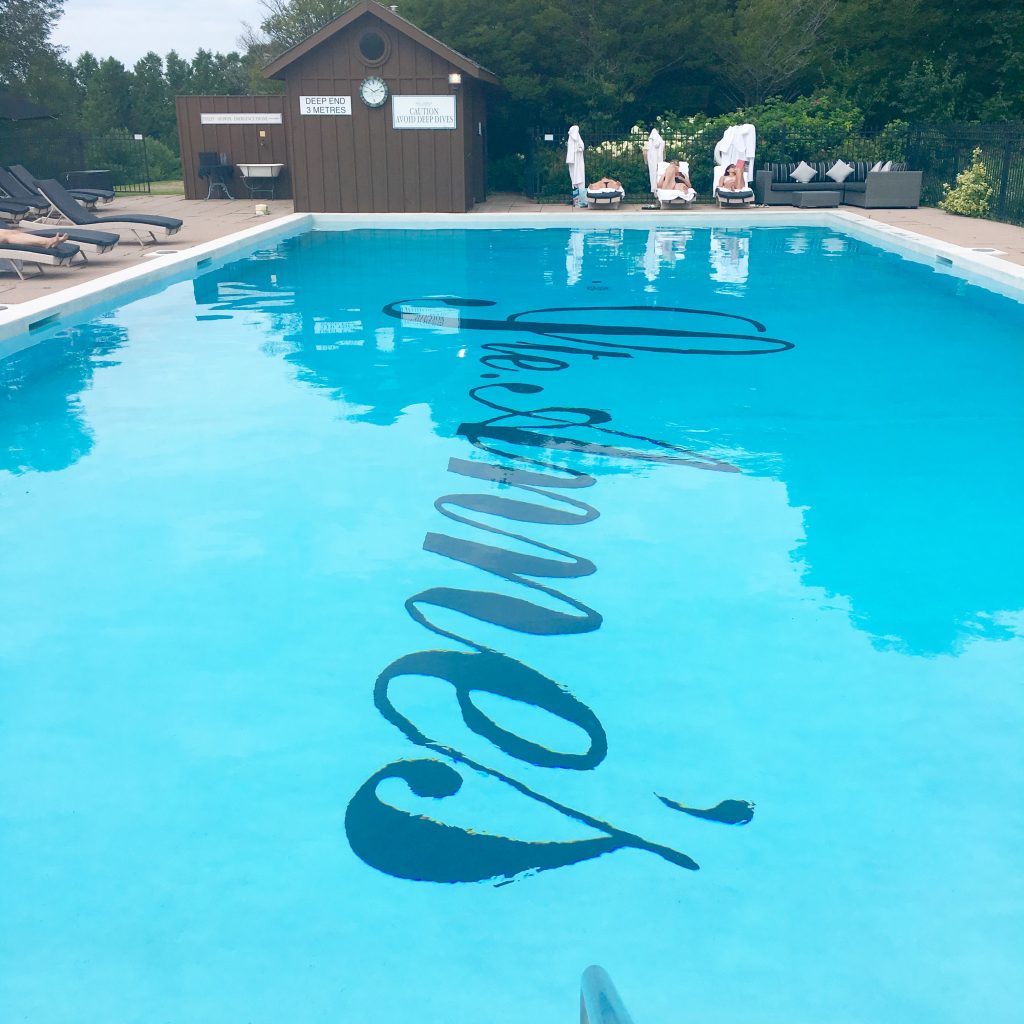 After looking at this photo, need I say more? The pool is situated about 50 metres back from the main building in the middle of the sprawling back lawn. I spent the afternoon here reading a book and basking in the sun! It was perfection
#5. Buy their Cookbook!
When you leave the Ste. Anne's Spa, you will leave wishing you could bring all of their chefs with you. The food was THAT good! Thankfully they have a cookbook that you can purchase with all of their guests favourites in there! I bought one for myself and one of my aunt as a Christmas gift as she has been to the spa before herself and LOVED the food!