Ahhh Mo'orea! Just typing the word out gives me all the feels. People always ask what my favourite place that I have been to is and I always struggled to answer. After visting Mo'orea though, I can honestly say it is at the top of the list. I would describe it as the Maldives meets Hawaii which if you have been to either, you would know that both are pretty freaking epic on their own. Putting those two together? MAGIC! And that is what Mo'orea is- M A G I C!
Known as the Heart of the French Polynesia ( the island is literally in the shape of a heart), it is a place you should never miss if visiting the French Polynesia. I am going to break down exactly what we got up to including the best Moorea AirBnb to stay at, where to eat and what are some Moorea must see's!
Thinking of heading to French Polynesia or Maldives, you may like these other posts:
–Maldives VS French Polynesia: Comparing the two most exotic places on Earth!
–The #1 Hotel In The Maldives: Review
–How To Travel to French Polynesia On a Budget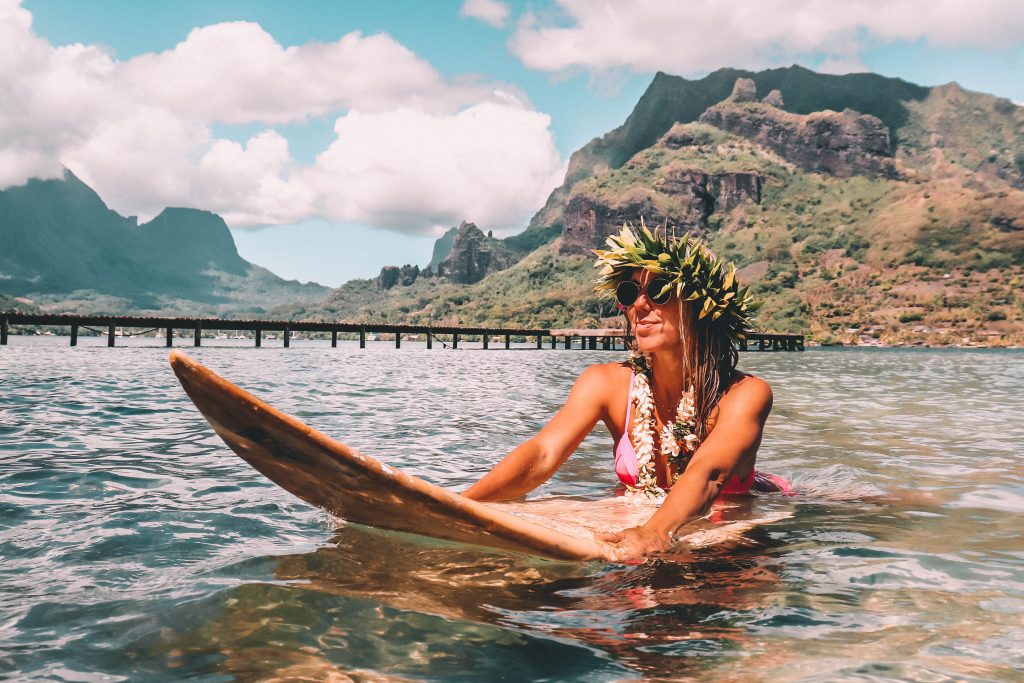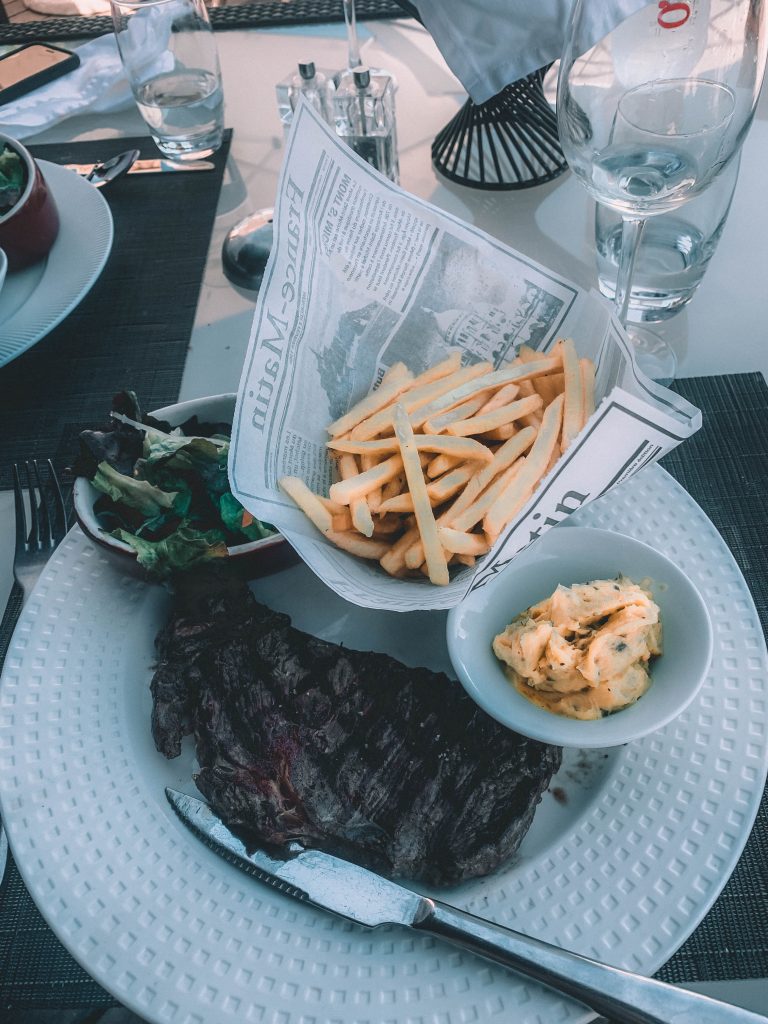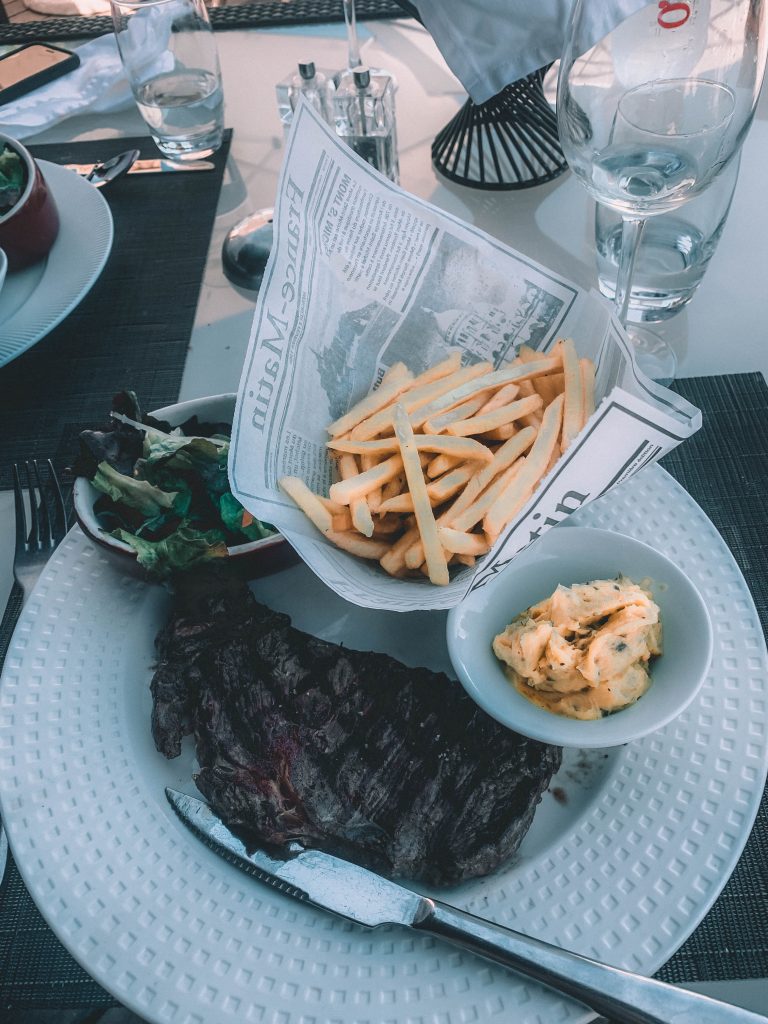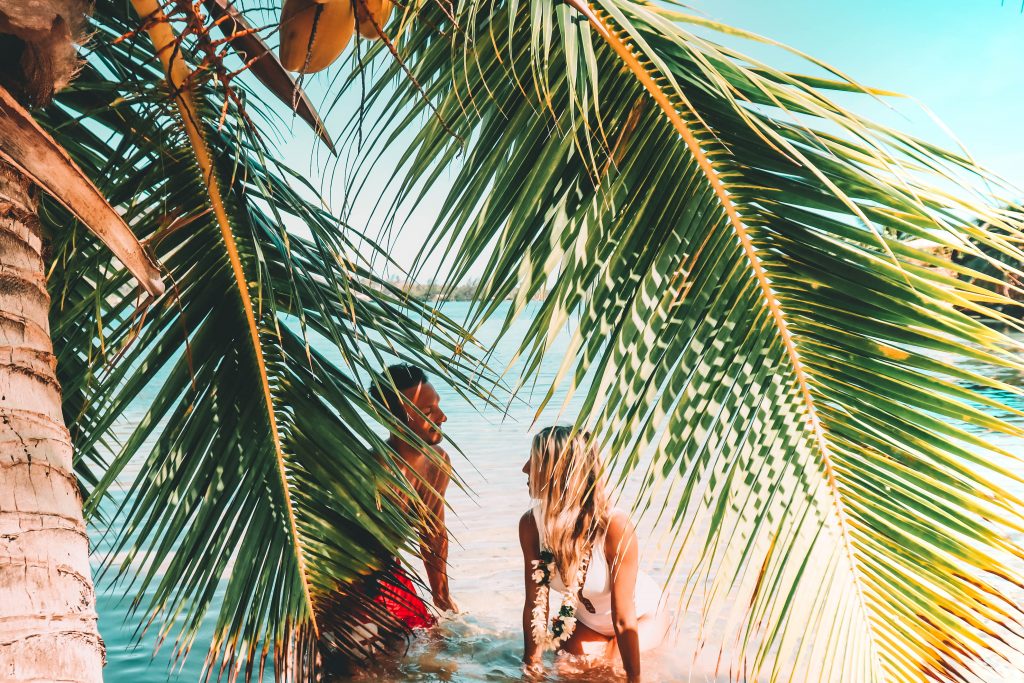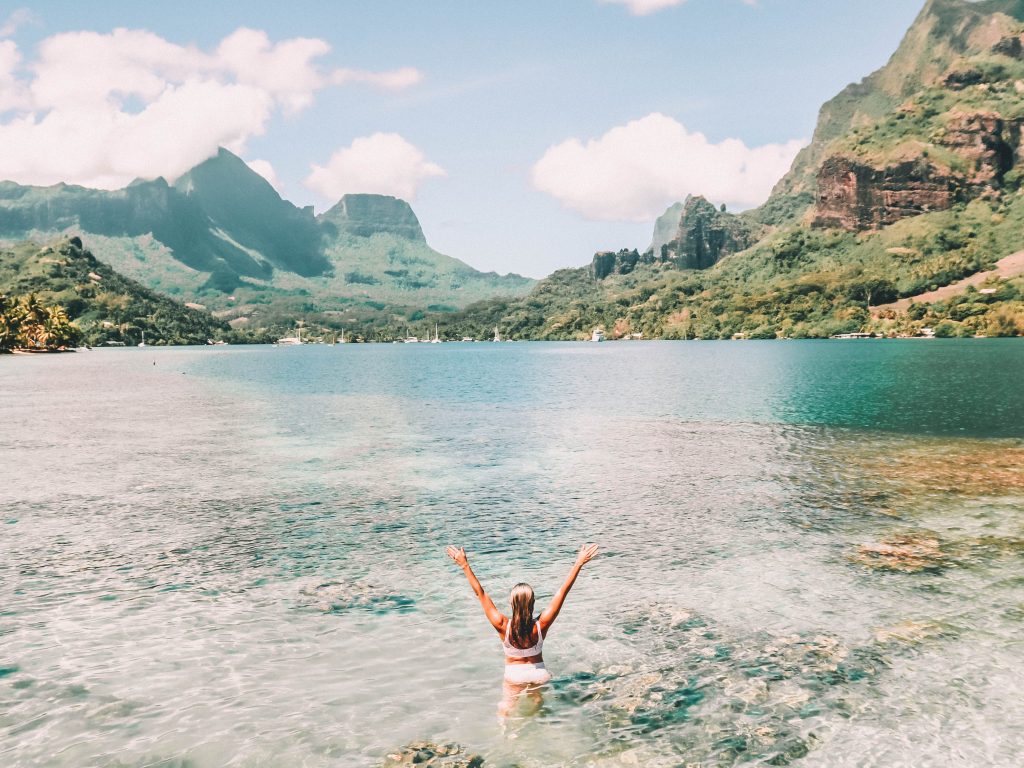 HOW TO GET TO MO'OREA FROM TAHITI
Luckily for anyone flying into Tahiti ( PPT International Airport), Mo'orea is one of the closest and most accessible islands! You have a few options getting there but the most convenient way is by Ferry!
Ferry to Moorea from Tahiti
There are two ferry companies that service the routebetween Tahiti and Moorea and they are:
Both ferries allow you to bring a car! If you are though, MAKE SURE TO BOOK THIS TICKET AHEAD OF TIME. If you are just travelling with luggage, you are fine to buy just before hand. Bringing a car requires a separate/different ticket. The travel time between the two islands is approximately 30-35 minutes and I would recommend booking
Regardless of the company you choose, it will cost you roughly $15 per person for a one-way ticket.
Flight from Tahiti to Moorea
If you want to bounce right from the Pape'ete airport, you can hop on a plane and get to Mo'orea just 10 minutes later. I'm listing this as an option but honestly if you factor in that you need to check in an hour before and check luggage etc, seems like way more work
HOW MANY DAYS DO YOU NEED IN MOOREA?
I would recommend anywhere from 5-8 days. I mean, I could also stay for a month if I am being entirely honest here lol but if you only have so much time, a full week is the perfect amount. We stayed 6 nights and got to do a full tour one day, drove around the island one day, relaxed a few others and also did some other activities.
BEST TIME TO GO TO MOOREA
It's a tropical island, so you can expect sunshine and rain pretty much year round, but May – October is supposed to be the dry winter season. We went in September, stayed 12 nights and had 2 days of rain
WHERE TO STAY IN MO'OREA: MOOREA AIR BNB + HOTELS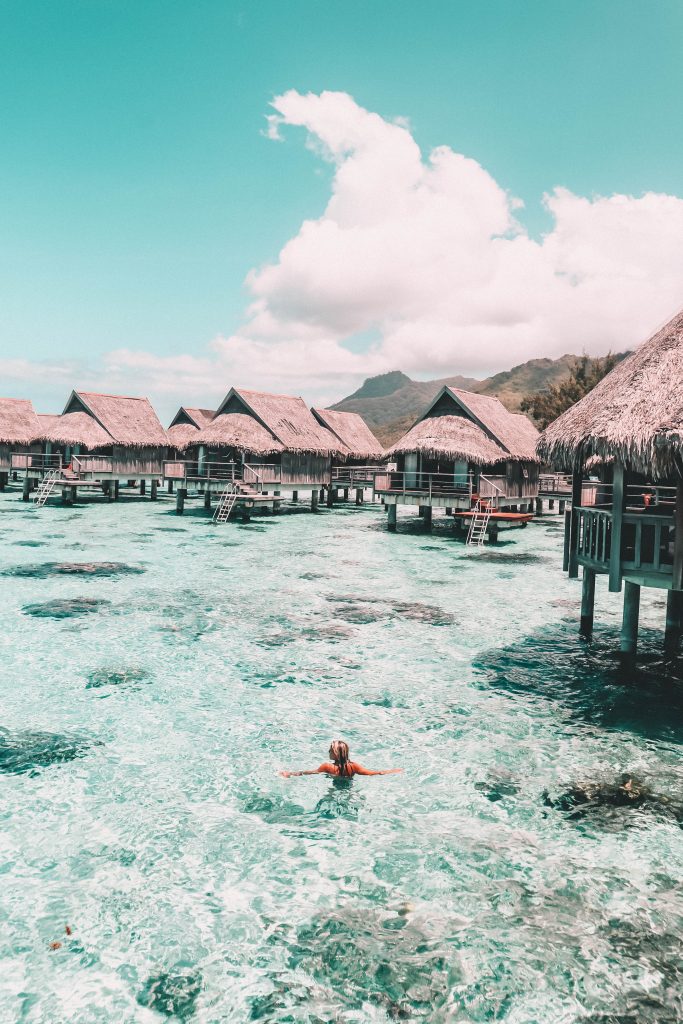 Alright so here is the thing- there are either super expensive hotels on the island that are WORTH the splurge and are completely 5 star or there are over priced 3 star hotels that feel similar to a motel. Since we were splurging on a hotel in Taha'a, Mo'orea was our place where we we were going to hold back a bit. We figured that we would be out and about everyday exploring the island so it was a good place to do it
HOTELS IN MOOREA
Luxury Hotels:
PRO TIP: All of these hotels have day passes that you can buy for the day. We purchased a day pass at the Sofitel so we got to hang out at their pool, enjoy a 3 course lunch and even got to kayak around. It was perfect.
Mid-Range Hotel:
Budget
MOOREA AIR BNBS
If are you staying over a week, I would grab an Air Bnb!
THE MOOREA AIRBNB WE RENTED: The one we rented had a super simple interior but the grounds and beachfront were seriously OUT OF THIS WORLD! A good majority of the photos were taken on the private beach that we had there. The property also had a long dock that allowed us to jump from and the larger portion of it at the end even had a table on it so we could eat dinner out there. It felt like we were at a fancy restaurant. Another pro of this Moorea Airbnb was that it was A: in a prime location ( 5 minute walk to a great restaurant) and B: reasonably priced.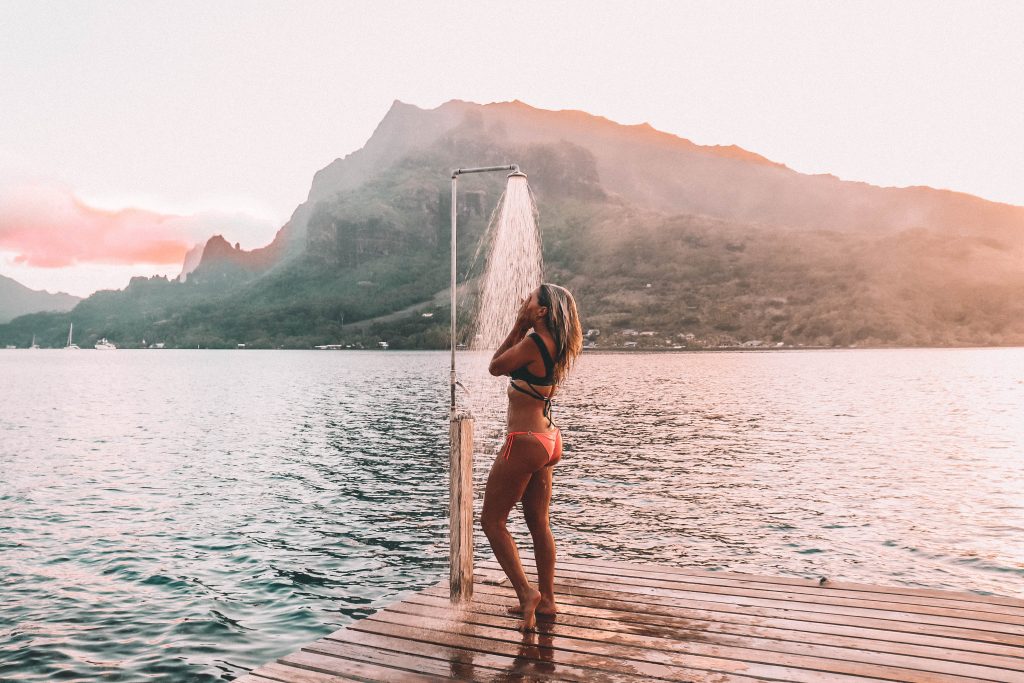 WHAT TO DO IN MO'OREA
What I loved the most of Mo'orea is that you actually can find a ton of stuff to do on the island…..or you can do nothing at all. It really is great for the people who want to laze around and sun bath and also great for the adventurous traveller. My husband and I fall somewhere in the middle which is why I think we liked it so much!
#1. BELVEDERE LOOK OUT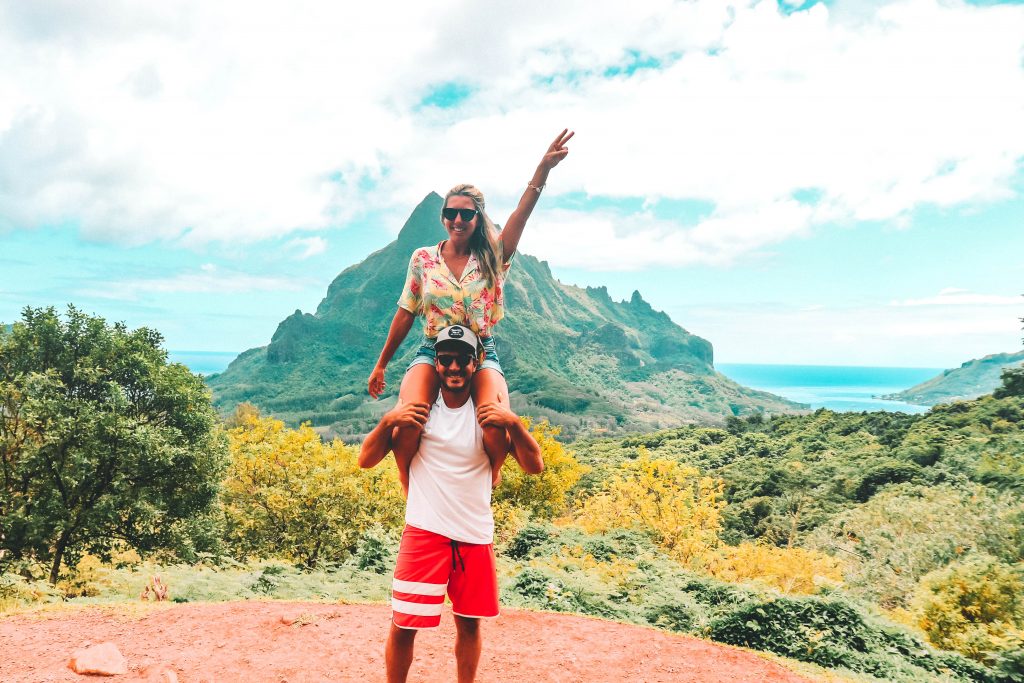 See panoramic views of Moorea at Belvedere Lookout. With uninterrupted sights of Cook's Bay, Opunohu Bay, Mt. Totui, and the lush vegetation of Opunohu Valley, the viewpoint offers great photographic opportunities. From sunrise to sunset, the extensive panorama takes in much of the island and its coastline. Bring a picnic with you, or head to the souvenir and snack stand before heading further into the hills or making your way back down. The point is easily accessible by car or on foot, as well as being a stop-off destination for a range of tour groups.
#2. BOAT TOUR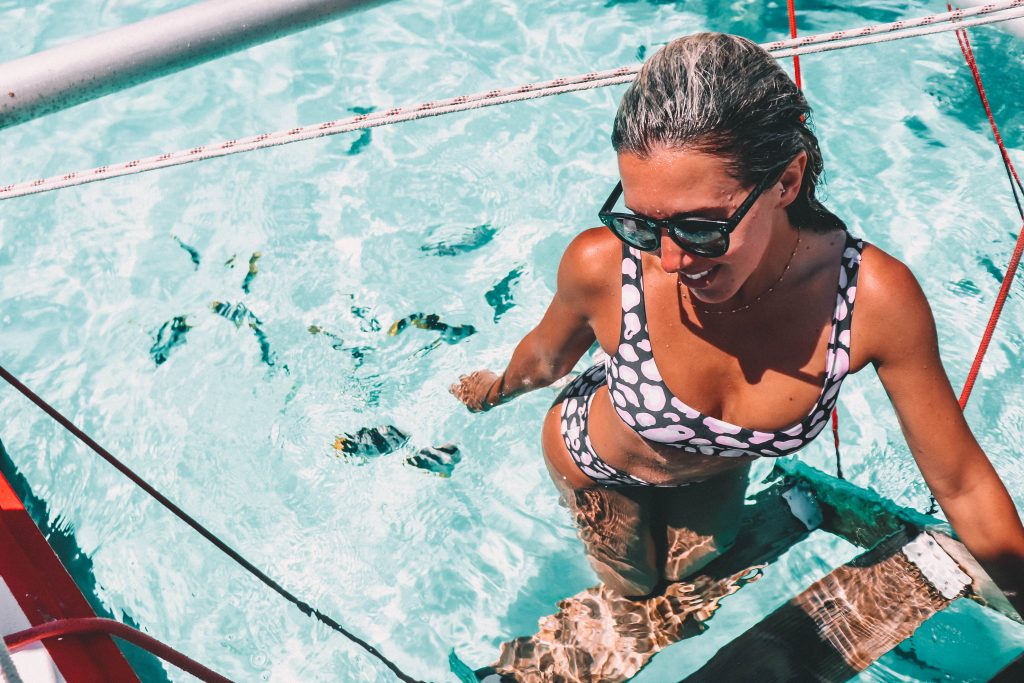 I believe that every beautiful island should be seen my boat! It offers such a different view point from being on land and you also get to see different shades of water. We did a tour with Voila Mo'orea and absolutely loved it! Our guide Leo, originally from France, knew everything about the island. He not only took us to the best spots but he also took amazing photos of us! We swam with sting rays, schools of colorful fish and even sharks!
#3. DRIVE AROUND THE ISLAND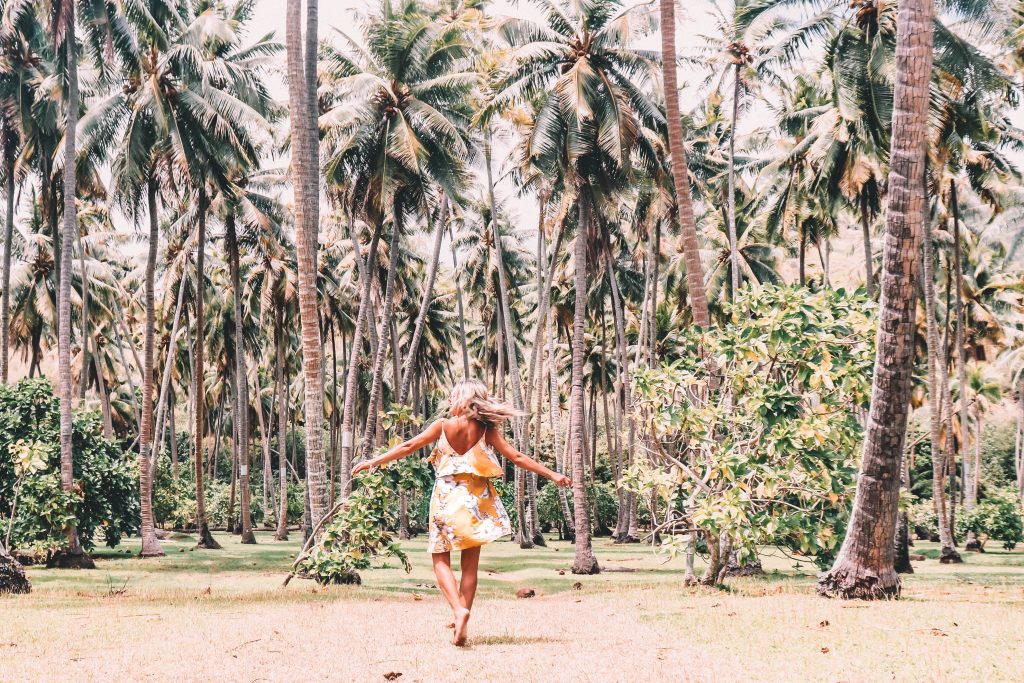 We loved driving around the island so much that we actually did it twice LOL. We had our car rental for the entire time we were there as we had planned on venturing out and seeing different beaches. There is literally ONE single road that follows the perimeter of the island so even if you are directional challenged, you should be more than fine to do this.
It will take you about 1.5 hours to go around the island without stopping. I definitely recommend stopping for some hard to beat photo op-'s ( LIKE THIS PALM TREE FOREST ABOVE (!!!)). There is also some food trucks here and there which we found to be awesome
#4. CHECK OUT SOME LOCAL MOOREA FOOD SPOTS
Is there anything better than eating local food and learning about the culture through cuisine? NOT IN MY EYES!! The restaurants and food stands in Mo'orea are super simple. Don't expect trendy restaurants with granite countertops. They simply don't exist. A lot of the restaurants close between lunch and dinner and are only open certain days so make sure to check ahead of time before you truck anywhere!
Our favorites were:
#5. RENT A QUAD
While we only did 1 tour ( cons of travelling with a baby), we would have done more if we didn't have Chloe with us! I think the next best tour would have been one of the Quad ones! You can go off roading near the Belevedere Look out and see some things that a car would not be able to get to. Check out some of the ones below:
PIN THIS FOR LATER