If you are looking for an under the radar town to spend your time in Costa Rica in, do yourself a favour and visit Samara, Costa Rica. It is a hip beach town, the perfect size and there are so many things to do in Samara, Costa Rica that you can easily fill up your time.
I would consider Samara the little sister of Nosara. It is a bit smaller and still retains an authentic Costa Rican culture.
Samara is only 30 minutes from Nosara and it is a lot cheaper. It is also located in the Guanacaste province. It should definitely be added to your Costa Rica Travel plans.
Samara, Costa Rica crime rates are low making it super safe for families and solo travellers as well
CHECK OUT OTHER POSTS ON COSTA RICA:
How To Get To Playa Samara Beach Costa Rica from Liberia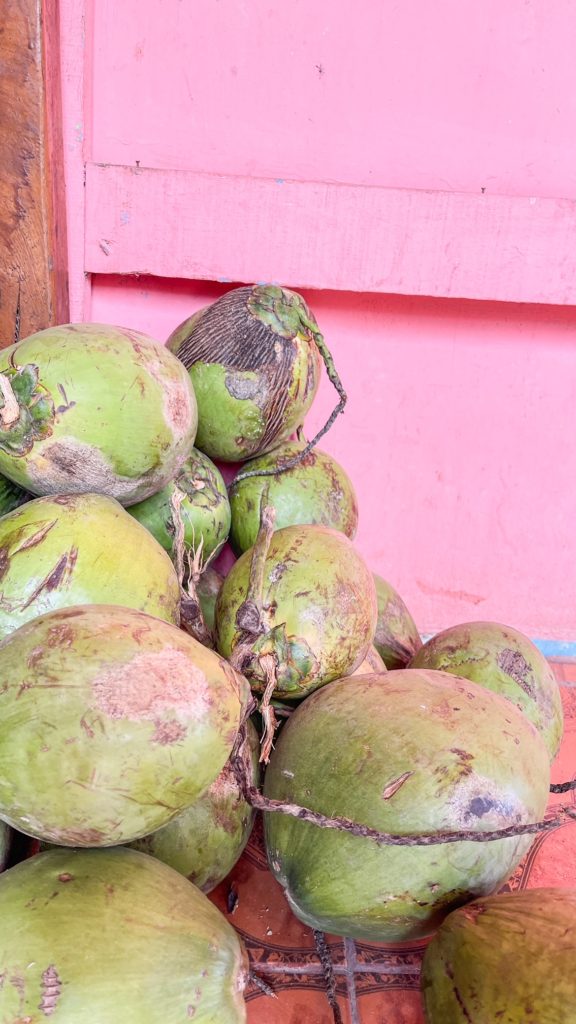 Car
Samara Costa Rica is located in the province of Guanacaste in the Nicoya region. This little town can be reached by car in about 2.5 hours from Liberia International Airport. This is the easiest way to get there. The roads on this route are pretty paved and well maintained.
If you are coming from San Jose, Costa Rica the drive is about 4.5 hours.
Group or Private Shuttle
There are lots of shuttles that leave on the daily from Liberia Airport to the town of Samara. If you booked a shuttle with a group, the price per person on average is about $50-$60. If you book a private shuttle to Samara, you are looking at about $150 total. Prices are in USD!
Public Transportation
Travelling to Samara Costa Rica on a budget? Lots of people are and taking public transportation there is a great way to keep your Samara budget on track! There are buses twice daily from the Liberia Airport and you can see that schedule here. Routes from Liberia to Samara show 3 hours but expect some delays
How To Get To Samara Beach from Nosara?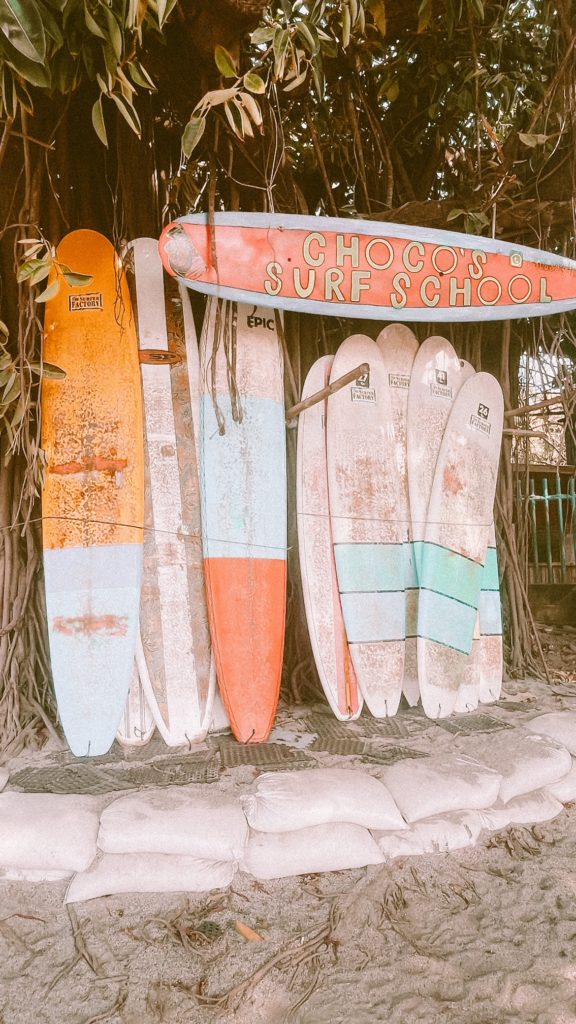 There is a long route from Nosara to Samara that is recommended if you do not have an SUV. This route is through Nicoya on Route 21. From Route 21, you will then take Route 150 right into the town of Samara. It is very straightforward.
The short route or short cut is through Route 160 which requires you to cross a river. The river is called Rio Buena Vista and during dry season, it is very shallow and easy to cross. One week when we crossed, there was almost no water.
During wet season, I would avoid the short cut from Nosara to Samara.
When to Visit Samara Costa Rica?
In my opinion, the best time to visit Playa Samara is between March-April. Crowds from the holiday season have tampered off a bit and you are still not in rainy season.
The town of Samara gets very busy during high season which runs from December to end of April with the absolute peak time being from December- February. I would avoid it at that time.
Rainy season is from May-November. While there is something special about rainy season in Costa Rica, it also can be very frustrating with flooding and difficulty getting around.
Samara, Costa Rica weather or Costa Rica weather in general can be unpredictable though so there are times when you expect rain and it could turn out to be beautiful!
Samara boasts an active expat community, comprised of mostly North Americans and Europeans. Around 1,500 people make up Samara and its outskirts year round.
How Many Days Do You Need In Sámara beach?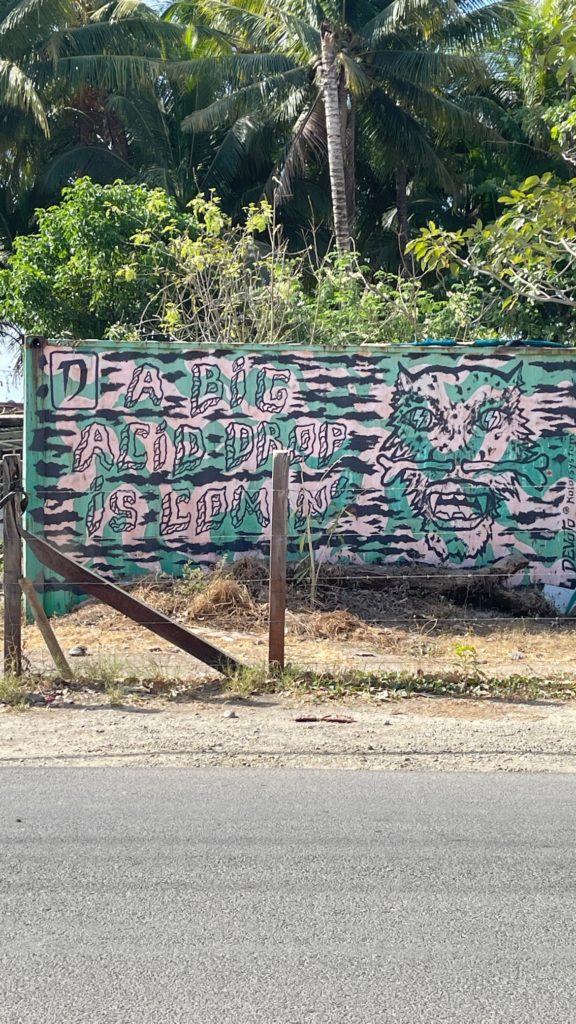 Some people quickly pass through Samara for a day or two and some people come to Playa Samara and never leave!! haha.
If you are staying in Nosara, you can easily do a day trip to Samara.
If you are doing a whole trip through the Nicoya peninsula, I would recommend 2-3 days to really take it all in!!
The Best Hotels in Samara
Playa Samara features a lot of price friendly hotels, bed and breakfasts and Air Bnb options. Accommodations are much cheaper than in Nosara ( almost half the price) so that is worth considering when planning your Costa Rica Trip.
There are some great Samara, Costa Rica Air Bnb options as well!
If you are looking for hotels though, below are the best hotels in Samara based on each pricing level.
Hotel Azura-Top End Option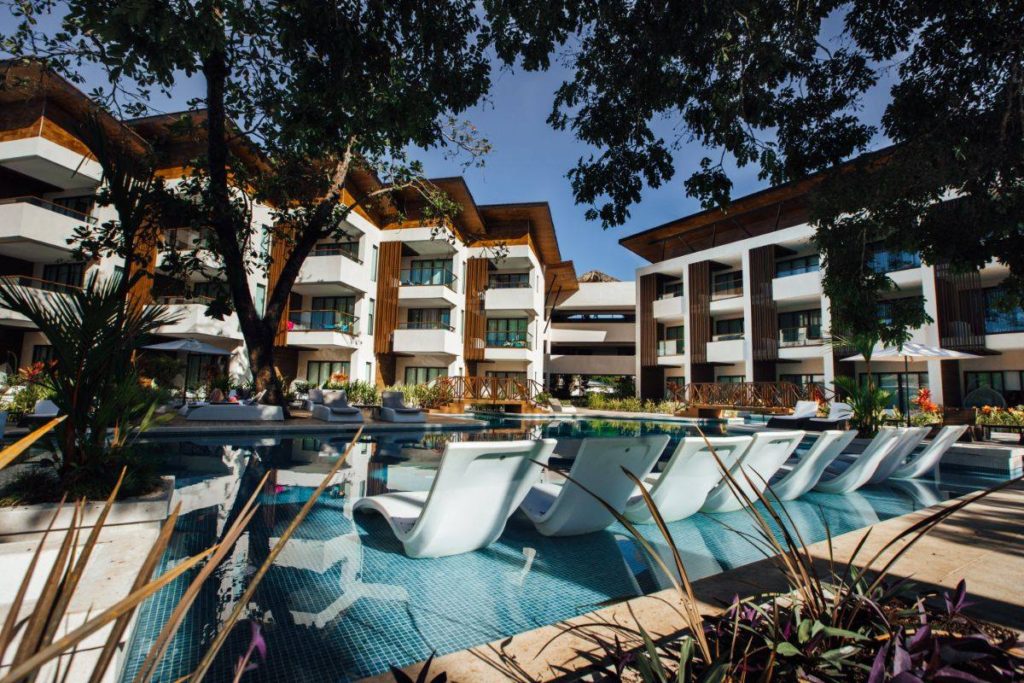 Hotel Azura is a luxury all inclusive option that is a new spot in the area. It is on the south end of Samara beach and very secluded. The pool is the real eye show stopper of the resort and although Samara beach is beautiful it is very hard not to set up shop there.
Travelling with kids though? Unfortunately this hotel is Adult only!
Price Range: $400 +
Book a Hostel Stay with Hostel World HERE
Mid-Range Hotel in Samara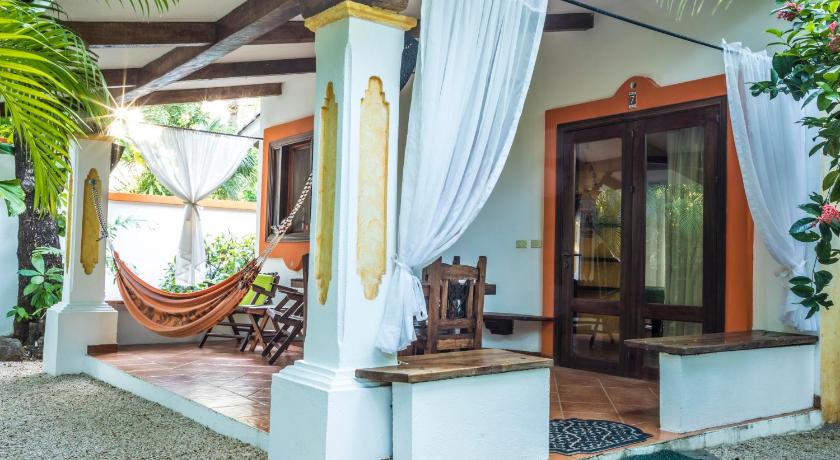 Villas Kalimba is a mid range hotel that has a great location, beautiful pool and bigger rooms. A lot of the rooms have mini kitchenettes which is great if you want to cook or store some items! Definitely recommend this place if you are travelling with kids!
Price Range: $200 +
Samara Palm Lodge-Budget Hotel Option in Samara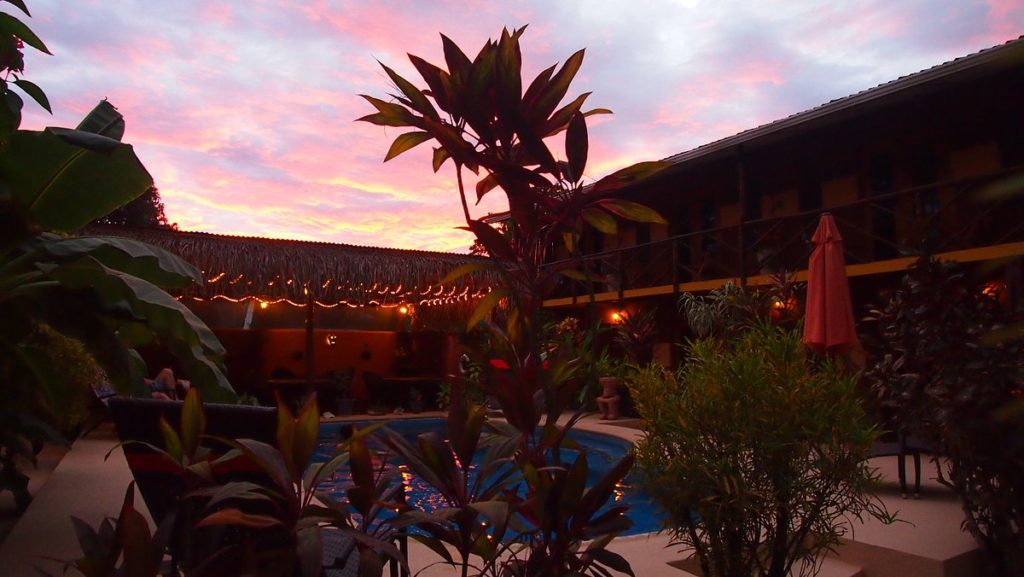 Samara Lodge is one of the most reasonable places to stay in Playa Samara and is rated one of the best overall places to stay by Trip Advisor.
Samara Lodge is a 5 minute walk from the beach so it's quieter than some places directly on the beach. The rooms are simple but a great option for the price.
Price Range: $75 +
The Best Restaurants in Samara Costa Rica
You will not have a problem grabbing a bite to eat in Samara. There are plenty of restaurants along the beach and on the main strip. Another great thing about the Samara food scene is that you can find a mix of just about everything! Local Tico places, Fresh Vegetarian Options, Italian, American and they even have a Super Samara supermarket if you want to cook up something yourself.
Here are some of my favourite Samara restaurants!
Gusto Beach Restaurant- The Best Restaurant in Samara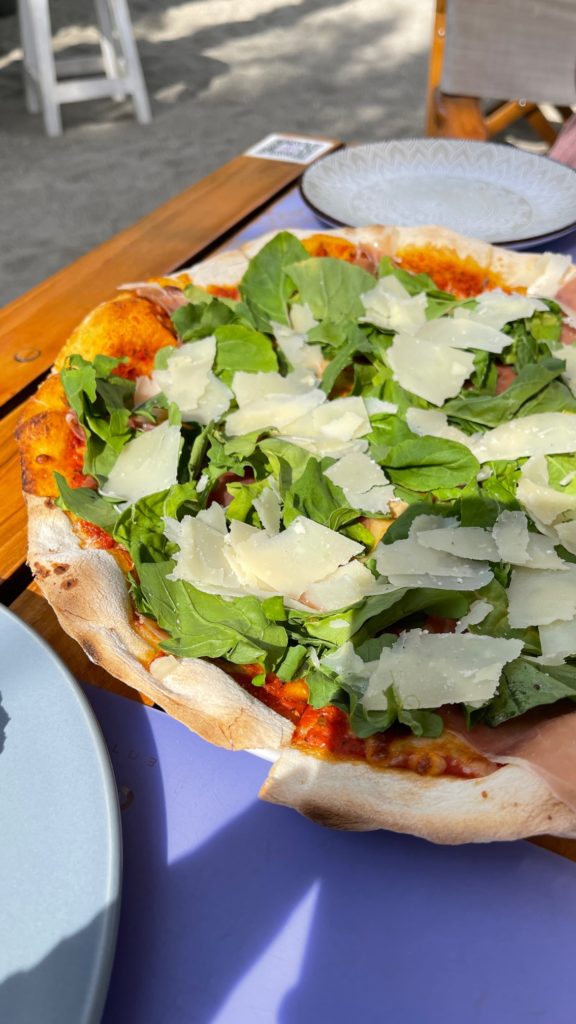 Gusto Beach is the best beachfront restaurant in Samara. This Italian restaurant makes you feel like you have been transported to Italy! It has a killer Aperol Spritz list and really good pizzas
If Italian food isn't your thing (Are you Ok?), they do have plenty of other options on the menu.
This place is great for breakfast, lunch OR dinner. The Dinner crowd/scene is a bit more rowdy while during the day it is very chill.
El Lagarto
This place is a steakhouse and barbeque restaurant. It features a one of a kind wood burning grill which makes the dishes truly unique. It also has prime real estate on the beach! If you are looking for a nice dinner in Samara Beach, this restaurant is a nice option.
Prices are similar to Gusto Beach.
Bohemia Café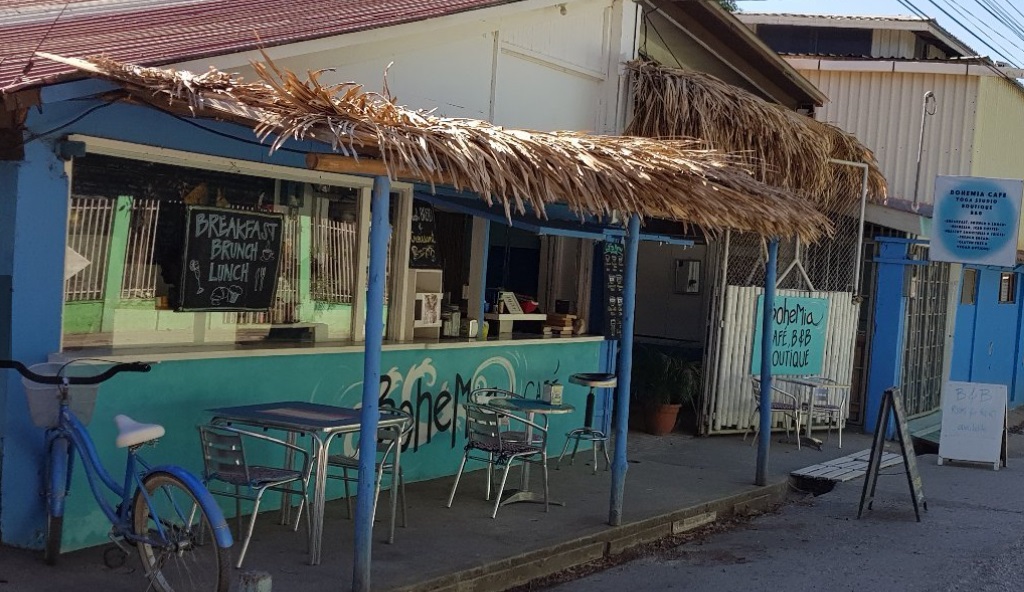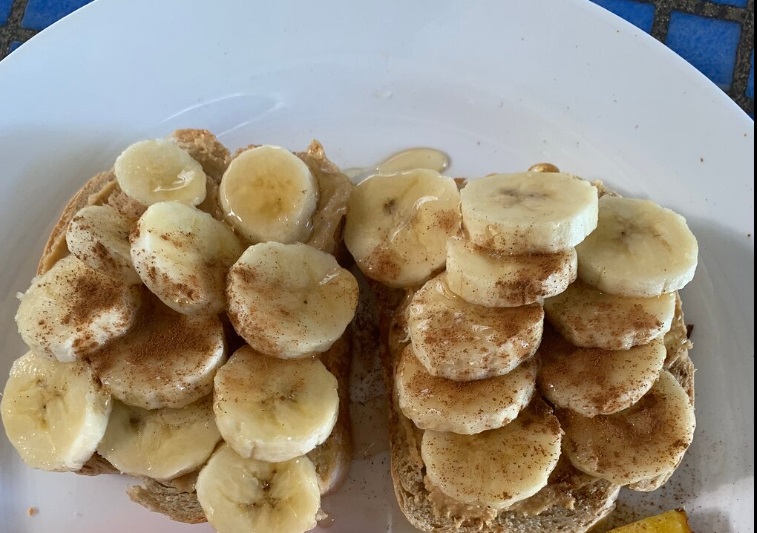 This cute little cafe in Playa Samara, just off the main street, is a great spot to grab breakfast or lunch. It serves up juices, crepes, paninis, pastries and some unique coffees. If you are a digital nomad, you can sit here and work too on their outdoor patio.
Prices are very reasonable.
L'Authentique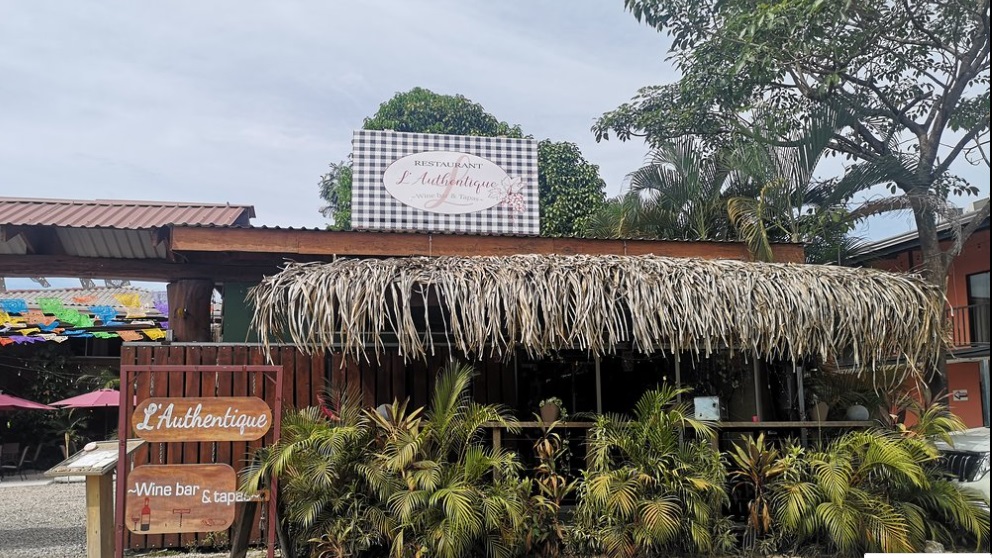 L' Authentique is home away from home. The ambiance, food, and service team welcome you as if you were long-lost family or friends returning after a long trip. Julien and Eva are the charming, ever jovial couple. They are attentive, efficient, and super friendly.
This tapas restaurant with French inspired cuisine and wine is 10/10. It features imported cheeses, cured meats and unique sharing style dishes. They also have the most amazing French bread. The ambience is also something special.
TIP: Get the Tapas platter. Best bang for your buck!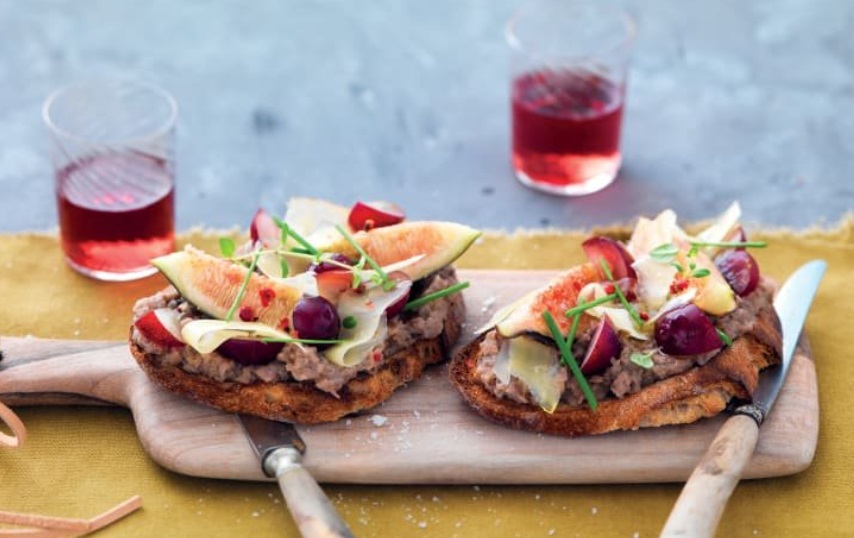 Marea Surf Shop Cafe
Located on the main strip, this place is all sorts of cool. It is not only a cafe but it is also a surf shop with some nice gear. We both picked up a Marea branded tshirt and felt like we were cool Costa Rican Tico surfers haha.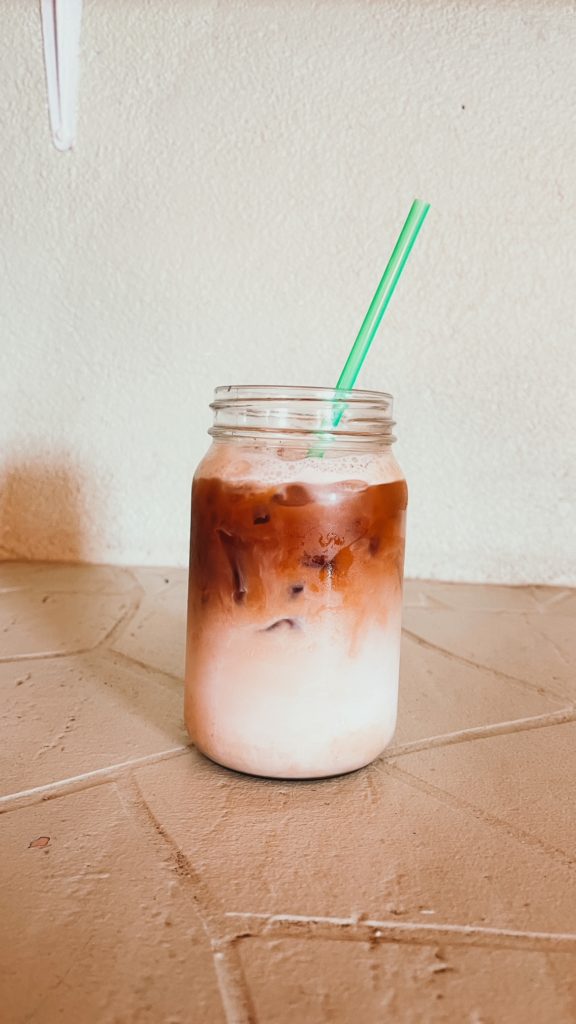 They serve up coffees, smoothie, pastries and ACAI BOWLS! Yum. Naturally I got one of those and it was very, very yummy.
Malehu Coffee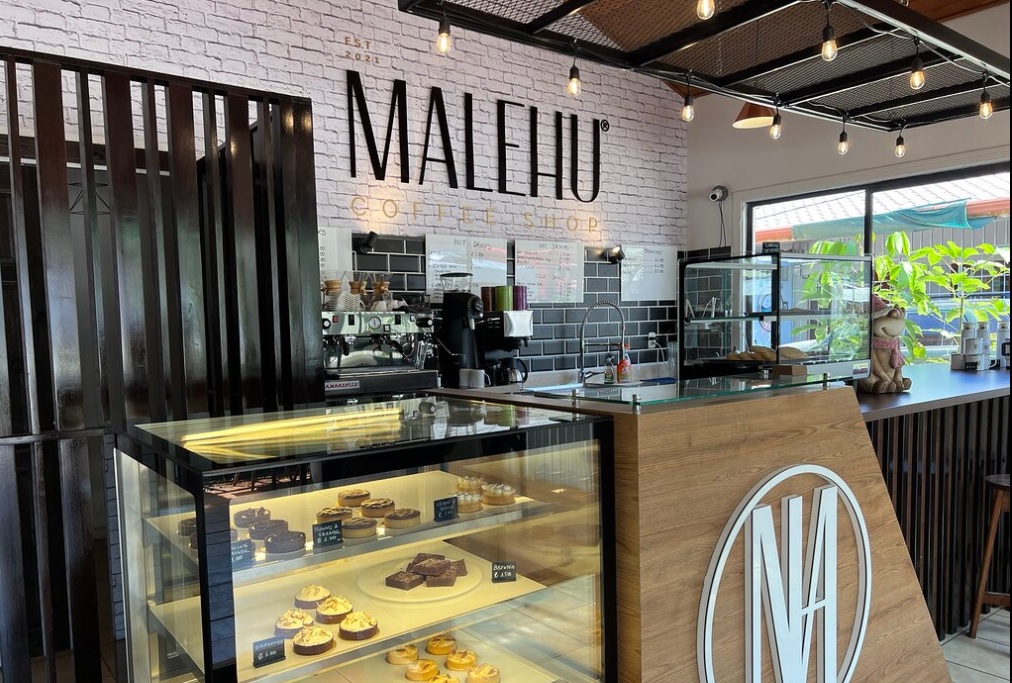 One of the newer places in town, Malehu Coffee has delicious coffee in a modern and chic setting. This is located just off the main strip. It is open bright and early at 7AM which was nice for us since the kids were up really early!
First class spot all the way! The pastries are fancy and so are the lattes and it was a nice change of pace from some casual breakfasts we were having. Very good! They have Italian and European coffee and also Costa Rican coffee.
Microbar- The Best Place For a Cocktail in Samara
This little bar in Samara was very cute and had craft beers, speciality cocktails and happy hour specials. It is just a tiny little space but has big personality. We loved the decor inside and as the sun went down, the place really got busy. There isn't a ton of nightlife in Samara so Microbar is a great place to meet friends for drinks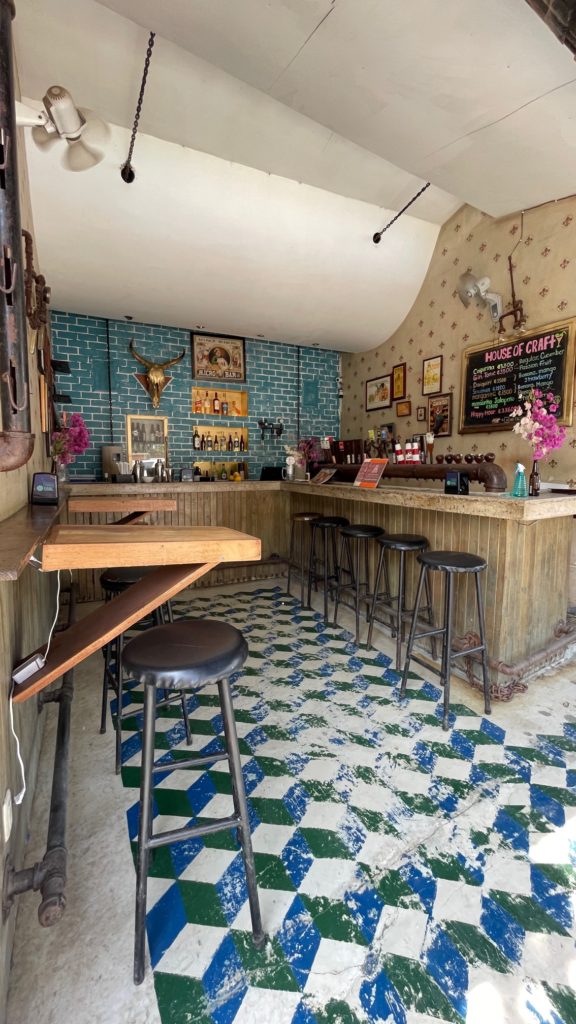 Some other Amazing Restaurants in Samara worth checking out:
Falafel Cafe – Mediterranean Food
La Dolce Vita- Another Italian Spot. Kind of similar to Gusto Beach. More lounge-y!
La Aldrea- Amazing smoothies and juices!
Casa Esmeralda- The best place for fresh seafood! Loved the Calamari
Luv Burger- With a spot in Nosara and now Samara, this is a great spot for a Veggie burger…and a vibe!
Roots Bakery- fresh pastries and great coffee!
The Best Things To Do in Playa Samara
There are lots of things to do in Samara, Costa Rica but you can also just sit at the beach and lounge the entire time. We did a bit of both and loved the balance of it all. Here are some of our favourite things that we got up to in Playa Samara.
Werner Sauter Biological Reserve
Werner Sauter Biological Reserve is a great place to spend a morning or afternoon. You can see a range of animals like birds, monkeys and other types of wildlife!
The Macau reserve is close by so don't be surprised to find some flying around here too!
There are also hiking trails within and there is a rewarding look out point of the town and beaches!
You can do this with a guide or with a tour or you can do it on your own! Doing it with a guide is about $60 per person.
Visit Nearby Beaches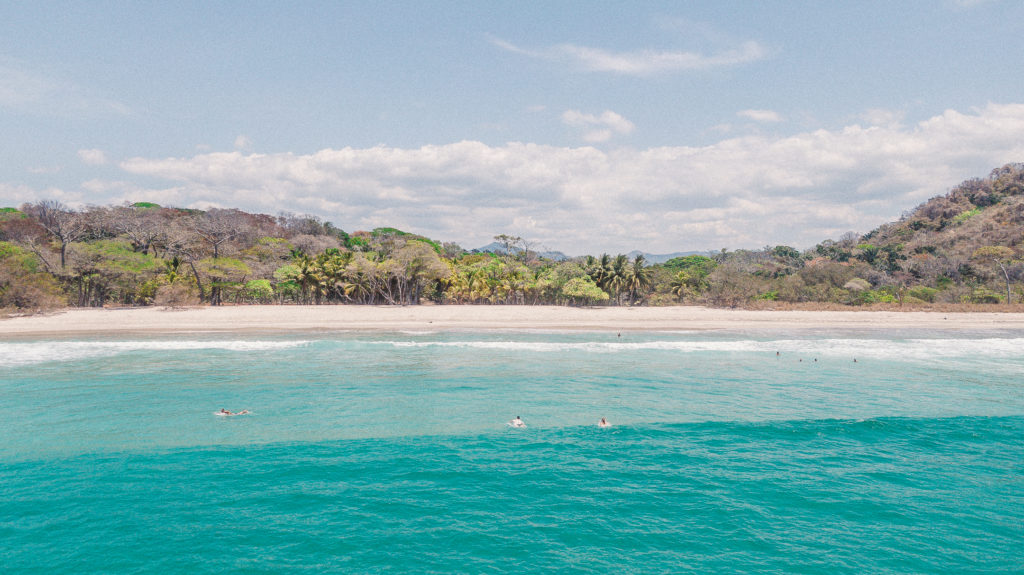 While Playa Samara is a beautiful and fun beach, if you are staying in town for a few days you should definitely check out some of the neighbouring beaches.
Playa Carillo and Playa Barrigona are about 10-15PM away and are two of the most beautiful beaches in not only the Nicoya but in all of Costa Rica. They are comparable with the beaches on the pacific coast or dare I say Central America in general. Seriously stunning shorelines.
Playa Samara is sandwiched between the two so get in an ATV or car and do a little day trip to either!
You can also go further south down to Santa Teresa!
Visit A Waterfall
La Roca Waterfall is only about 15-20 minutes away from Samara and is definitely worth checking out if you are in town for a few days. There isn't a ton of waterfalls in the Nicoya area so it's a great option to get your Costa Rica waterfall fix. It's about 20 minutes to get to the waterfall itself and is an easy hike.
Keep in mind this is not like the waterfalls near Manuel Antonio
Take Surf Lessons in Playa Samara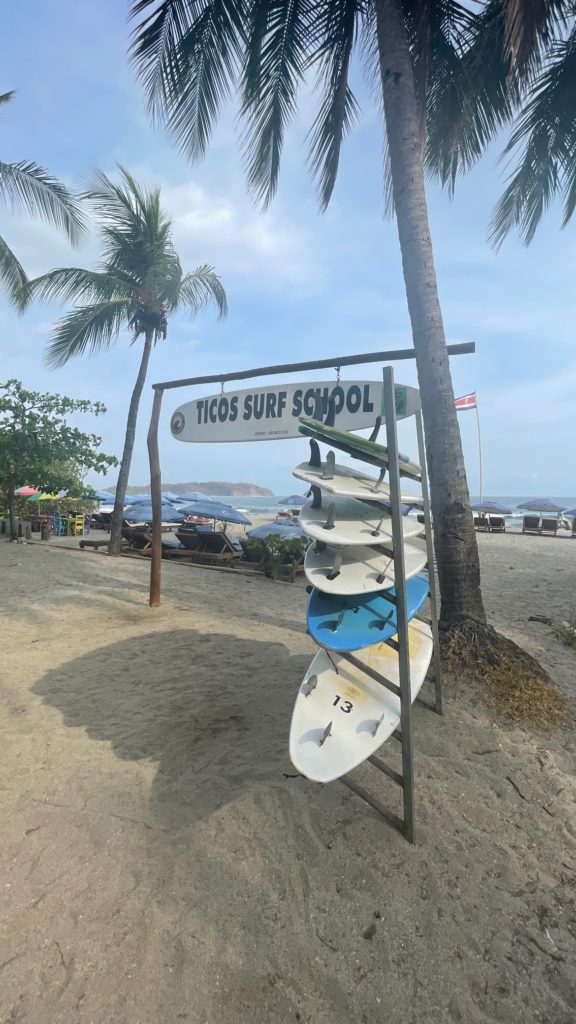 Taking Surfing lessons in the Nicoya area of Costa Rica is a rite of passage and pretty much something that should be mandatory! It really gives you a true feel of what life is like in these areas.
Tico's Surf School is a great option to book a lesson. Playa Samara is also a great beach to learn to surf as the waves are very small compared to Nosara.
Snorkle at Isla Chorro
Not far from Samara, is the little island called Isla Chorro. There are local boats that can bring you out there to snorkel or you can rent a kayak if you really feel adventurous! You can see some beautiful fish ….and some times there is even dolphin spotting's!
Helpful Hints for your Visit to Samara Costa Rica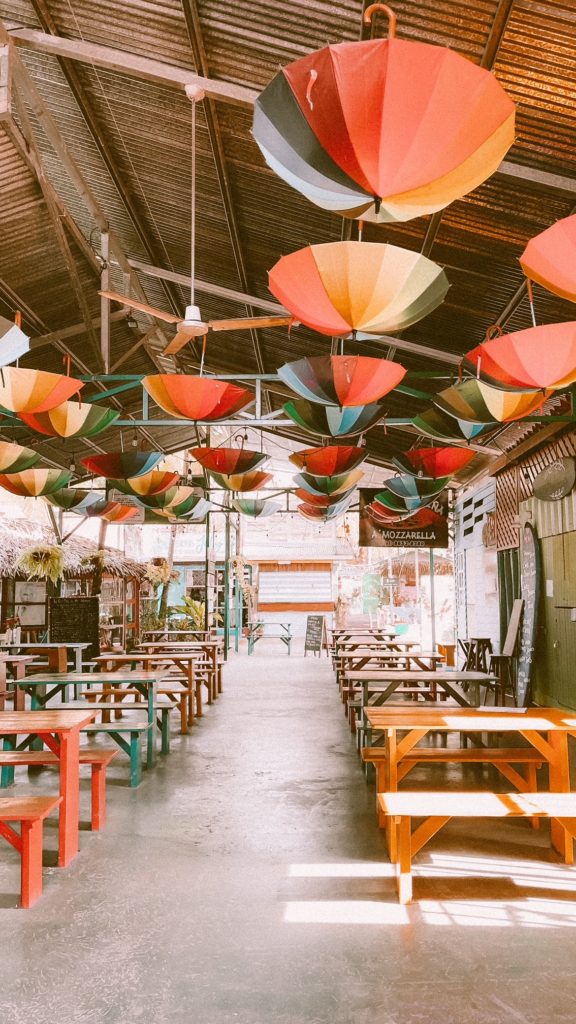 Samara, Costa Rica has a big expat scene so expect to see a lot of international travellers
There is a supermarket there if you need groceries. The town of Nicoya is about 25 minutes away if you need to hit a bigger box store
Most places accept Credit Cards
There are no public bathrooms on the beach
PIN THIS POST