If you are looking to visit the Caribbean soon and haven't been yet, I got you covered! It's probably a little overwhelming if you have yet to visit and are trying to decide which Caribbean Island for First Timers would be the best. 
With over 20 islands in the Caribbean, you have a lot of choice and to be honest any option is a great one. With clear waters in many of these places, hot temperatures year round and care free island vibes being the core of the cultures, you can't go wrong ( especially if you are travelling from a winter heavy country like Canada!!)
I have visited over 15 islands in the Caribbean and I am breaking down which Caribbean island is the best to visit as a first timer depending on your travel style and vacation needs!
#1 Jamaica- All Around Best Caribbean Island for First Timers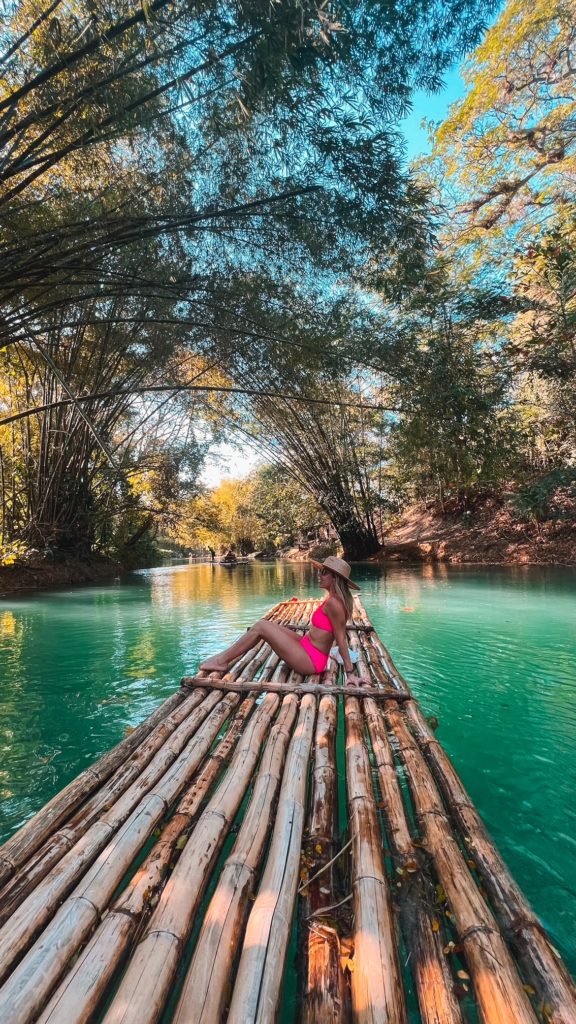 I visited Jamaica for the first time in early 2023 and it blew me away. I couldn't believe it took me so long to make it here.
Jamaica has the perfect blend of crystal clear waters, culture, luscious greenery and an abundance of 5 star all inclusive resort and hotel options.
There are so many places to stay on the island depending on what your interests are: Montego Bay-if you are looking for more all inclusive resorts and access to the best beaches, Ochos Rios – great if you want to do some off resort exploring to waterfalls and the famous Martha Brae River and Negril is best for sunset chasing and cliff diving!
If you have 2 weeks, you can certainly cover a few areas in one trip!
Don't forget to sample some Jamaican patties, listen to some Rasta music and of course kick your feet up on the beach.
Best Hotel Option On This Caribbean Island:
#2 Dominican Republic- Best Budget Friendly Caribbean Island for First Timers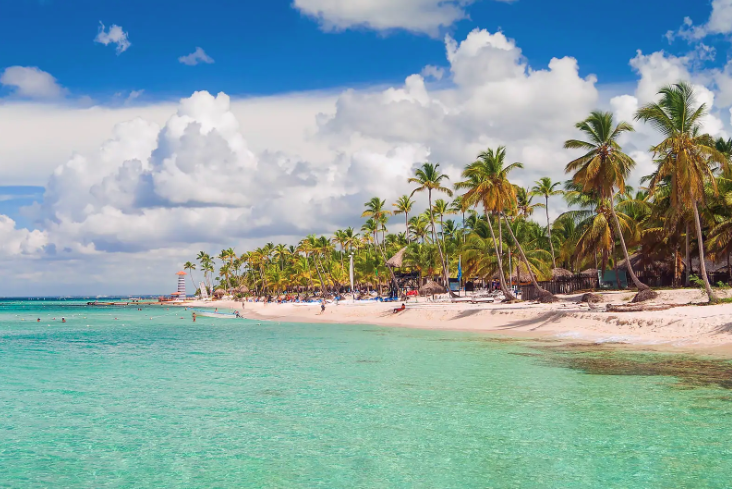 Dominican Republic is another island for first time Caribbean visitors that should be considered. It's close flight from North America ( though it does attract many Europeans as well)
While you can find some cool boutique hotels here, Dominican Republic is more known for it's all inclusive resort options. Since there are SO many throughout the areas there, you can find some really great ones at reasonable prices.
If you want to travel off season ( May-September), prices are even lower! It's something to consider if you are looking for a Caribbean island on a budget.
I would say the best beaches in the Dominican Republic are: Punta Cana, Isla Saona and Cap Cana so check out these areas first!
Shop My Favourite Amazon Travel Items
#3 Turks and Caicos- Best Luxury Caribbean Island for First Timers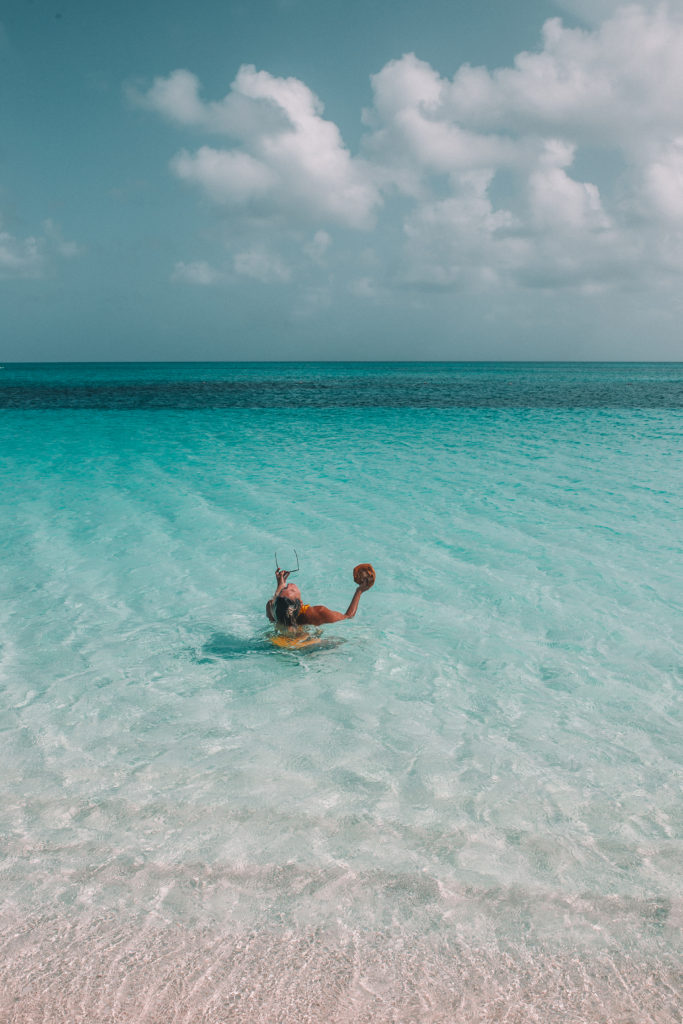 Turks and Caicos is a Caribbean island that is considered one of the best islands in the world…not just the Caribbean.
It's turquoise waters are comparable to places like the Maldives or Bora Bora making it a very sought after vacation destination. A lot of the fancy hotels sit on Grace Bay Beach which is considered the #1 beach in the world ( !!). Yes world.
The sand is powdery and you actually feel as if you are in a computer screen saver.
We loved Turks and Caicos so much that we went back twice after our first visit. As much as we would love to keep visiting, this Caribbean island is not a cheap one. Turks is an exclusive spot so if you are looking for your first time to the Caribbean to be a luxurious visit, I would come here!
You can expect 5 star hotels, excellent restaurant options and pampering beyond believe!
You can read more about Turks and Caicos in my posts below:
#4 Bahamas- Best Caribbean Island For Families
Calling all Bahama Mama's!
The island of Nassau in Bahamas is a perfect destination for anyone but it is especially great if you are looking to travel as a family.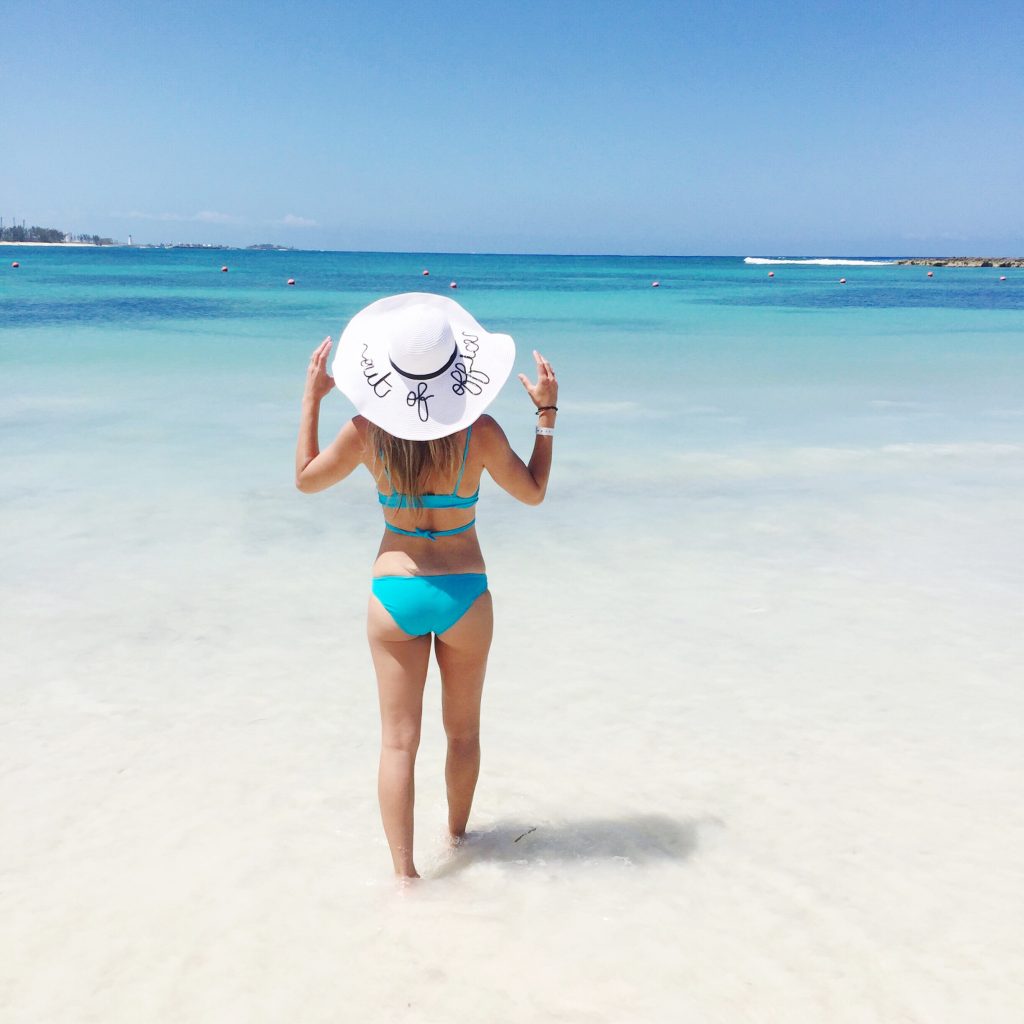 Both the Baha Mar and The Atlantis have full on waterparks at their resorts ( I'm taking state of the art ones) that make travelling there with kids a breeze. Our girls spent hours in the water and while we of course had to keep our eyes on them and dealt with a lot of "Watch me, Mom!", it was SO nice to have this at our finger tips.
Bonus points that Bahamas is only a short flight away from both Canada and the US. For reference, its 3.5 hours from Toronto and only an hour from Miami, Florida.
I have also visited Nassau on a bachelorette trip AND on a trip with just my mom. Each trip checked all the boxes.
If visiting a popular Caribbean island is not your thing, you should check out of Bahamas' other dream destinations like Exuma island or Harbour Island which are both more remote.
#5 Saint Kitts and Nevis- Most Unique Caribbean Islands for First Timers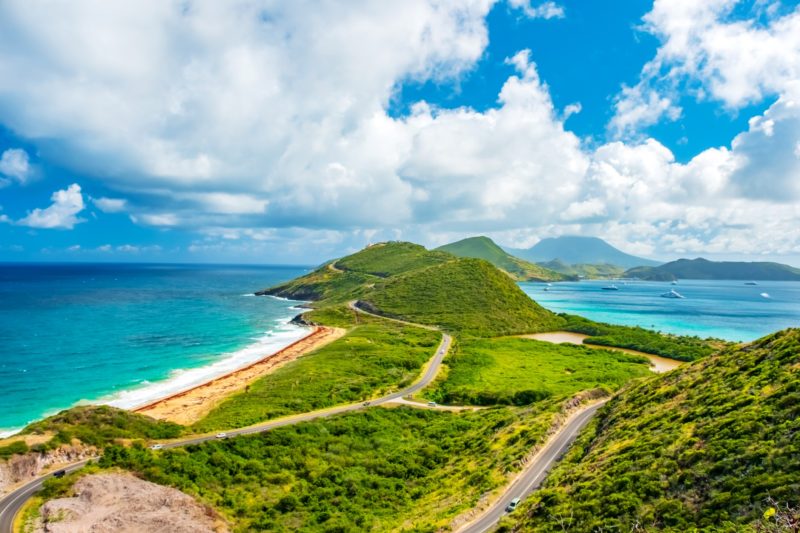 Saint Kitts and Nevis is the best Caribbean island (s) to visit if you are looking for a place that you won't find on every list.
It's unspoiled, tranquil, filled with colorful Caribbean homes and even is marked as a UNESCO World heritage site.
I would consider it the Caribbean's "best kept secret". When you visit there, it NEVER feels crowded…almost like you have the island to yourself.
Get your rum drinking on, listen to the palm trees sway from side to side and post up at one of the many beautiful hotels here.
If you need a bit more action, Saint Kitts and Nevis have amazing snorkeling and scuba diving. If that's not your thing, I would recommend doing a boat trip which is an excellent way to see the diverse geography of the land from the water viewpoint.
Best Hotel Option On This Caribbean Island:
Other Caribbean Islands That Are Great Options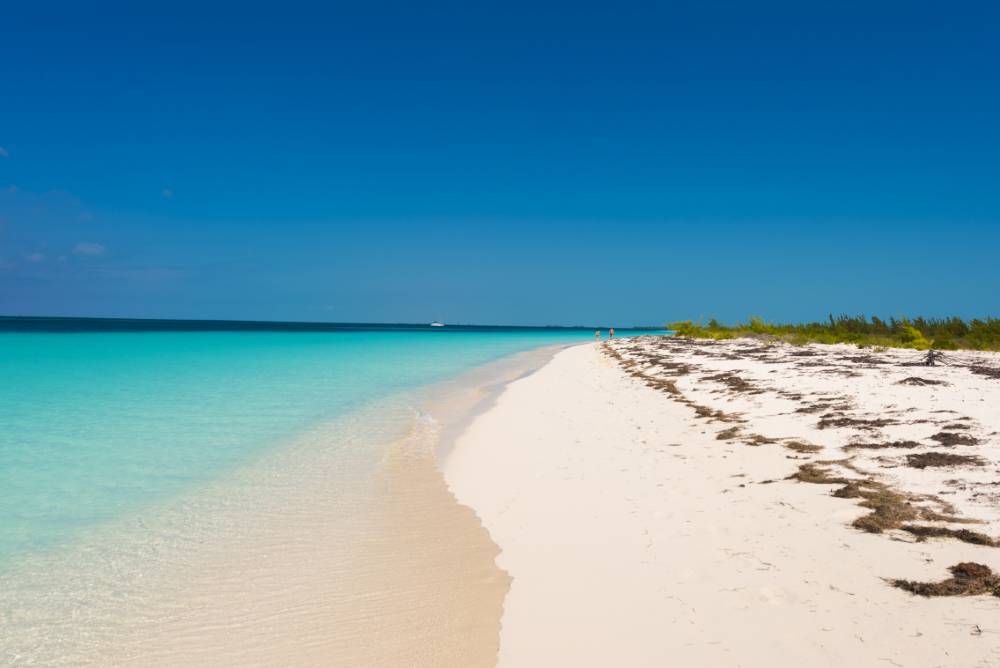 While I highlighted 5 islands to visit if you are a first time visitors to the Caribbean, there are so many other places to discover. I hope that you visit once and then continue to go back year after year to experience some other stunning places because like I said can you really ever go wrong when visiting the Caribbean?
Here are some other islands that I love:
St Lucia: Another luxury Caribbean island option for first timers. This island is known for it's dramatic scenery which features volcanic beaches, Pitons ( large green mountains) and turquoise green water.
Cuba: Another great price friendly Caribbean island to visit. Varadero and Cayo Coco are popular all inclusive areas.
Antigua: Honeymoon lovers- this one is for you! Antigua is home to luxury hotels, top beaches and fine dining restaurants. This is a destination for those who want to go big and want to do so in style.
Aruba: Aruba is a Caribbean island that is vast. You can be by the beach one minute and be ATV'ing through the countryside the next. Don't miss Flamingo Beach which is a beach where you can get up close and personal to frolicking flamingos! I would say this is the best Caribbean islands for activities!
PIN THIS POST