If you want to visit a place that feels like paradise for adults, Disneyland for kids, and is all inclusive so you don't need to worry about how much you are eating and drinking then you should definitely be thinking of visiting Beaches Turks and Caicos. This is a complete guide and review on Beaches Turks and Caicos.
Located right in the middle of Grace Bay beach (which is considered one of the most beautiful beaches in the entire world), this resort is second to none.
It is a place that families visit once and come back to year after year because it is THAT special. Being first timers, we had no clue what to expect but can happily report that Beaches Turks and Caicos exceeded all of our already high expectations.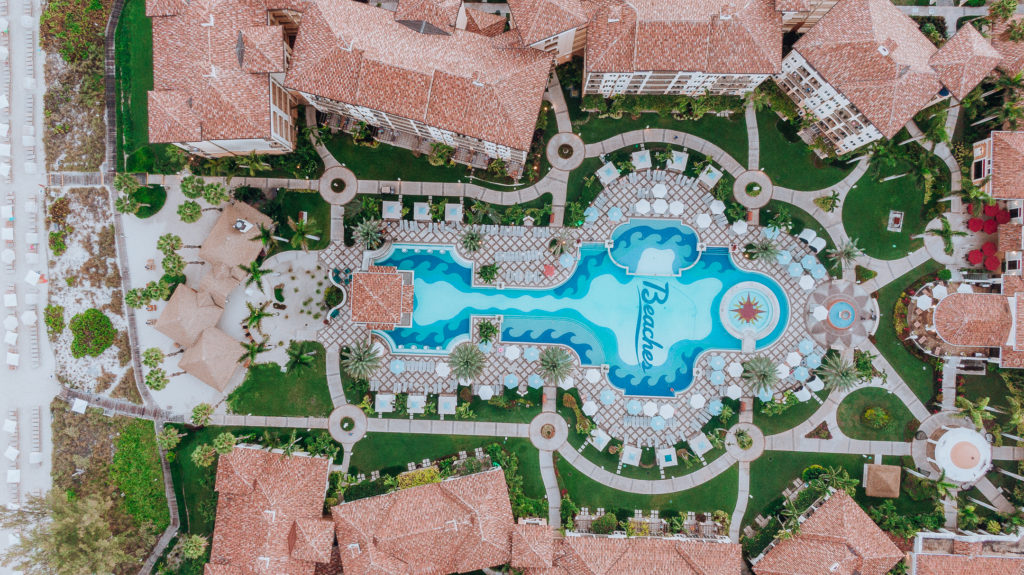 Considering Beaches Turks and Caicos is the largest resort on the island at 45,000 square feet, you can expect it to have ALOT to discover. It has sprawling pools, 5 unique villages to choose from in terms of accommodations, 21 restaurants, a full on waterpark, and a prime piece of real estate on Grace Bay Beach. Despite the resorts size, you can easily navigate your way around and if you walk at a decent pace, you can walk from one side of the resort to the other in about 7-10 minutes.
Having now experienced what this place is all about I thought I would do a Full Beaches Turks and Caicos review filled with highlights and important tidbits you should know before visiting!

BEACHES TURKS AND CAICOS QUICK GUIDE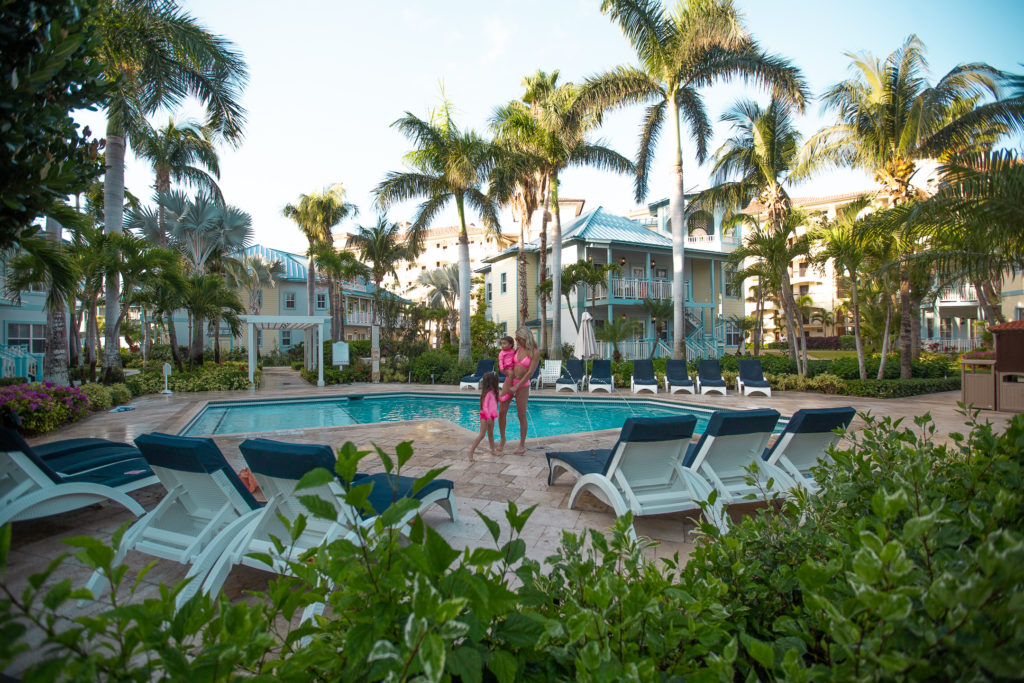 BEST RESTAURANT: Sky for Breakfast, Arizona's for lunch and Kimino's for dinner
BEST VILLAGE TO STAY IN: Key West Village
BEST OVERALL ENTERTAINMENT EXPERIENCE: The Beaches Friday Night Parade
BEST SEASAME EXPERIENCE: Sesame Street Breakfast
BEST POOL: The French Village ( Large, Not Crowded and Quiet)
BEACHES TURKS AND CAICOS ROOM OPTIONS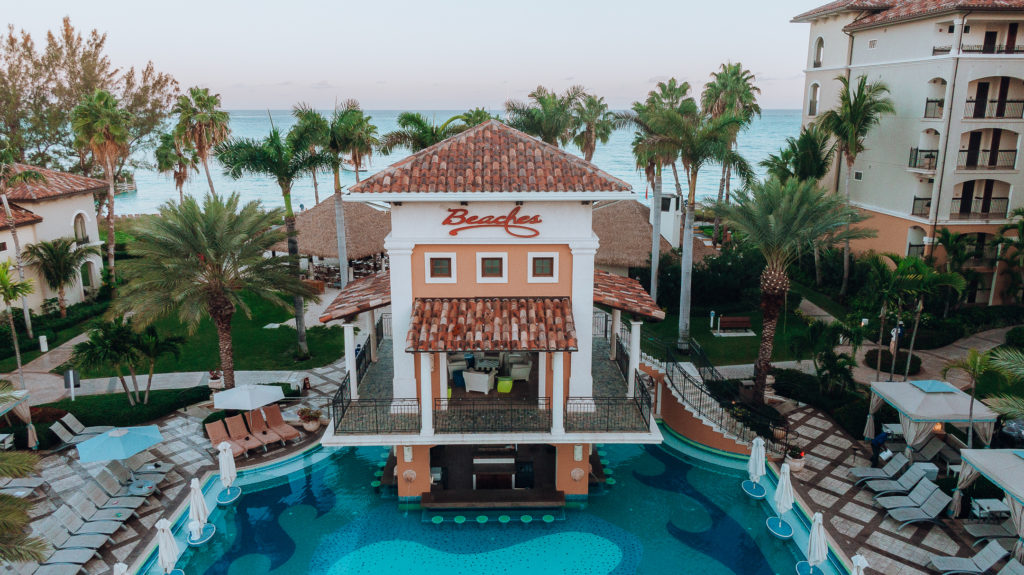 Within Beaches Turks and Caicos there are 5 separate villages to choose from. Each village has it's own pool, it's own restaurants and it's own vibe. Whatever your vacation style is, you can certainly find the best room option to suit your needs. Some Beaches villages are completely action packed while some are more slow paced and quiet so it really depends on what you are looking for!
With 758 rooms and suites and 45 categories you might be thinking "How do I know which one is right for me?"
I am going to break down all of Beaches Turks and Caicos room options for you so you can understand the true variety that they offer and maybe it can help you narrow down what room you may want to book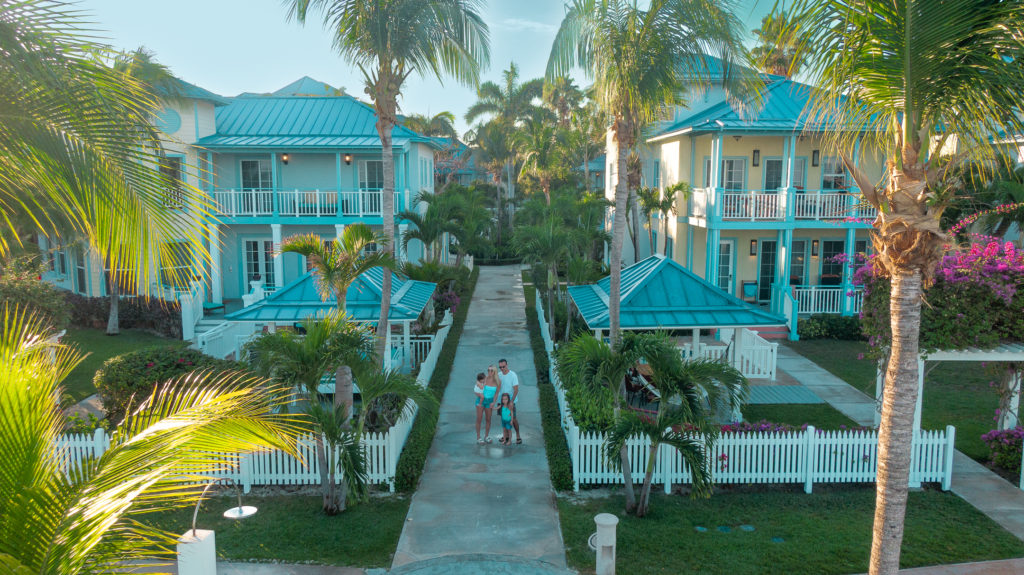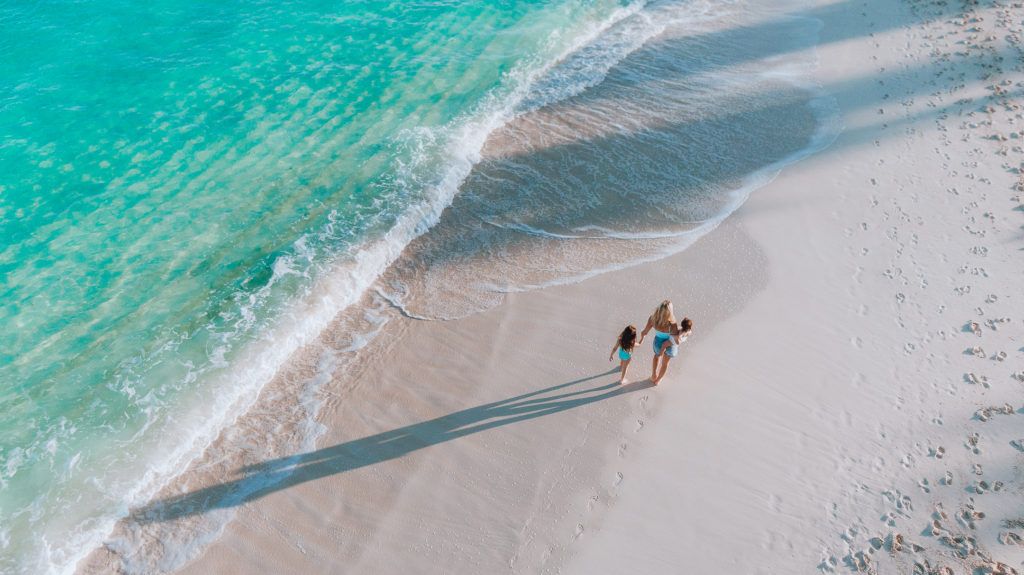 THE ITALIAN VILLAGE
Considered one of the most luxurious villages at Beaches Turks and Caicos for it's room styles, center location, and sprawling pool- whether you stay in this village or not- you will spend some time here regardless! I guarantee it. The best feature about the Italian Village room options is the Concierge Family Suite option that it boosts. It features a mahogany bunkbed room with a trundle, a full king bed, an extra large ocean front balcony and the option to do a joining room with a full living room/pull out couch and small kitchenette.
PRO: Buzzing pool, central location, lots of room options and set up's
CONS: Very packed, balcony rooms do not offer much privacy unless you have a direct ocean view room
THE KEY WEST VILLAGE
Situated on the very end of end of the Beaches property, Key West Village was my favourite village. Ok maybe I am biased because this is where we actually stayed haha but after spending time in each village- I truly loved it the most. It felt like a sanctuary coming back to our room where it was peaceful and serene. The only noise we would hear was ocean waves crashing and the palm trees swaying.
The design and lay out really makes you feel like you are in Key West
They offer large 4 bedroom homes right on the ocean if you are travelling with multiple families or family members. These houses are out of this world beautiful and include your own plunge pools. If you opt for another room option, a lot of them have expansive porches and balconies. We had a 2 bedroom suite and wow oh wow did we love it.
PRO: It feels completely private. They have 2 adult pools if you are looking for some R and R without the kids interrupting you.
CONS: If you like a party vibe, this is not for you.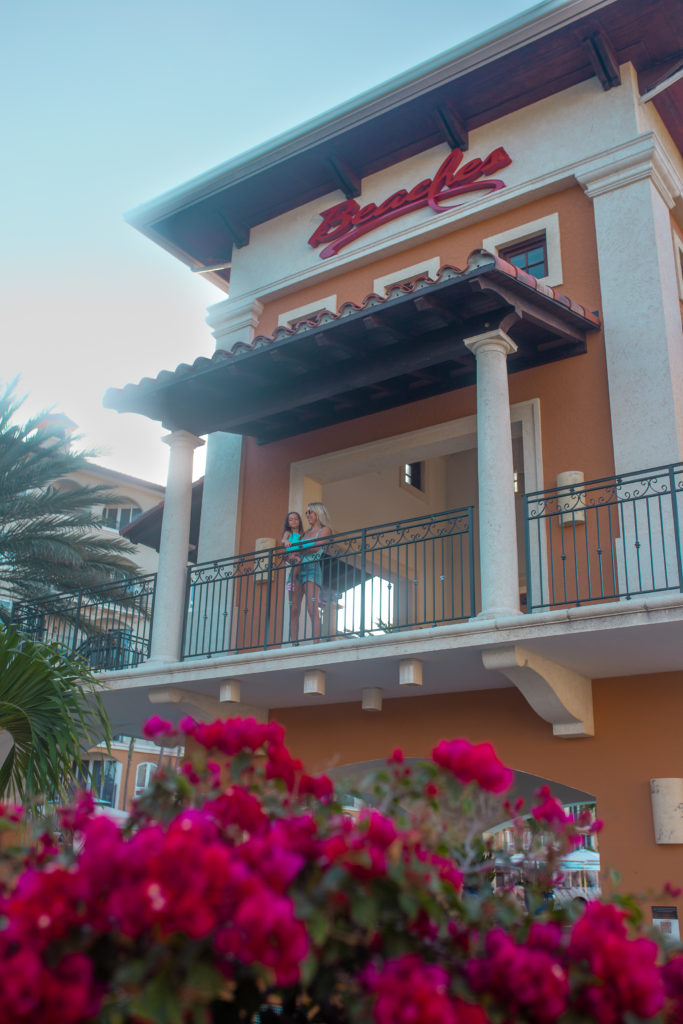 THE FRENCH VILLAGE
The French Village is tucked away and furthest from the beach but at the same time is RIGHT near the waterpark and Sesame Street Stage. Despite it being close to the action, it is very quiet. It gave me "fancy Las Vegas hotel" vibes if that makes sense. Not the Vegas pool party type hotel but made me feel like I was at the Wynn. It's truly beautiful! The cost of staying in the French Village is slightly lower than both the Key West and The Italian villages.
PRO: During our stay, their large and expansive pool had the perfect amount of guests around it. You could almost always find a lounge chair
CON: You are further from the beach here and the rooms only feature Juliet balconies.
THE CARRIBEAN VILLAGE
The Caribbean Village at Beaches Turks and Caicos is one of the original buildings from when Beaches first opened. It is central ( as everything was kind of built up around this), features a ton of restaurants, has the kids club close by and is a hop skip and jump away from beach access.
Here you can find plenty of standard size room categories that offer up queen or double bed options. It's safe to say you can call the Caribbean Village the village where you will get the most bang for your buck. If you are looking to visit on a budget, I would recommend booking a room here as it can save you a bit.
PRO: In the heart of the action
CON: Not as spacious as the other villages
THE SEASIDE VILLAGE
Seaside Village are made up of rooms that have recently been renovated. The interior has a "beachy" feel to them and the exterior is decked out with Bougainvillea branches which always gets me! ( best flower ever). The Seaside village offers 1 bedroom or 2 bedroom suites!
PRO: Modern Rooms and close to the beach
CON: Still Smaller than the Italian or Key West Village. Not much privacy
Shop My Favourite Amazon Vacation Items
OVERALL BEST ROOM OPTIONS AT BEACHES TURKS AND CAICOS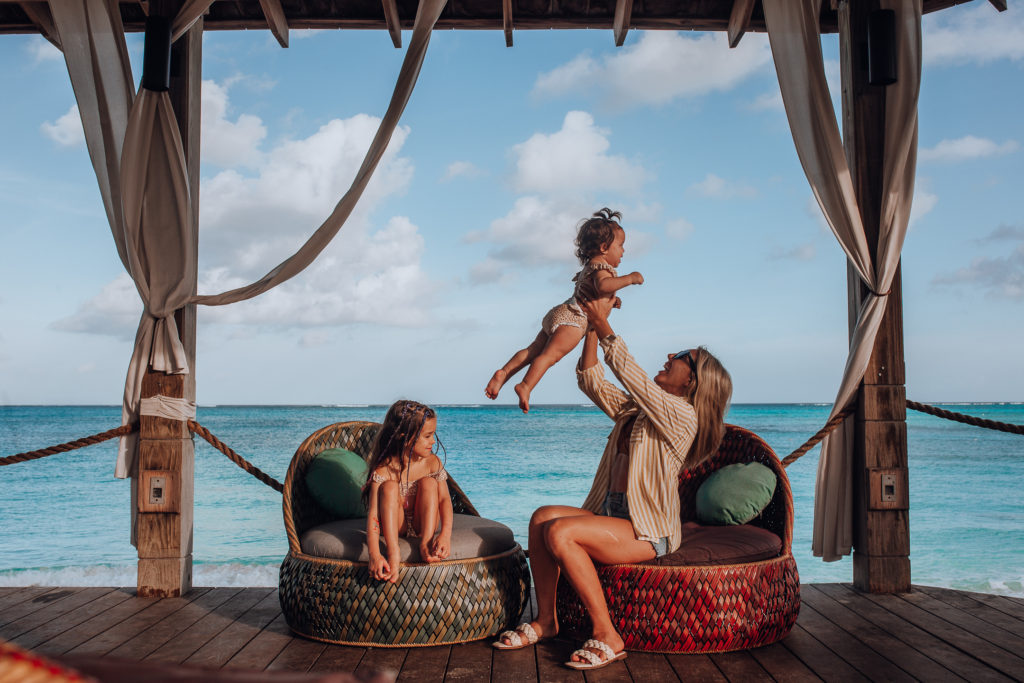 Best Budget Option: Caribbean Village
Best for Family Option: Key West and The Italian Village
Best for Kids: The Italian Village or the Caribbean Village
Best for Beach Access: Caribbean or Seaside Village
Best for a Luxe Vibe: The French Village or Key West
Regardless of what village you choose to stay in, you have complete access to all and any of the other villages. Nothing is off limits! Don't feel like because you chose the Key West Village that you can only stay put there.
It's important to note that regardless of your room type or village, all rooms include the following: A/C, Coffee Maker, ROBES!!, safe, ironing board, radio, shower amenities AND cribs or highchair if required.
It's also important to note that rooms can be stocked with wine, spirits, beer, juice, pop and water on the daily!
BEACHES TURKS AND CAICOS WATERPARK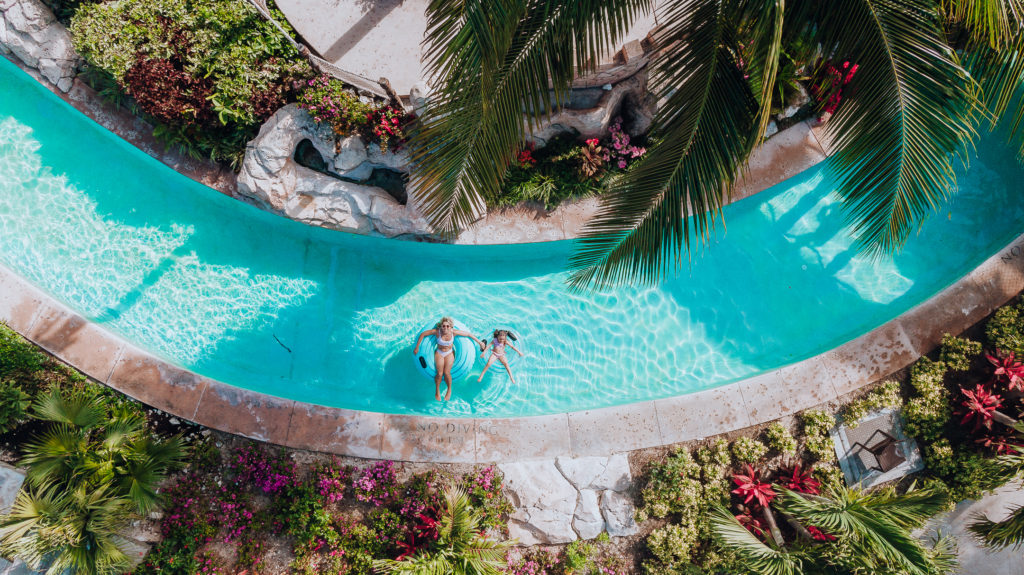 If there was one thing that surpassed my expectations the most, it was definitely the Beaches Turks and Caicos Waterpark. Known as "Pirates Island", this larger than life waterpark includes slides, pools and fun for literally every age. I am almost positive Aaron and I had more fun than the kids. Between Aaron doing the surf stimulator and me ripping down the light up slides several times, we felt like we were kids again.
For Gemma who is 15 months, we spent a good amount of time in the Toddler Play area. They had little slides appropriate for kids up to 4-5 years old here. They had sprinklers, water canons, buckets and a wading style pool.
Chloe who is 4 years old enjoyed this area but also loved the lazy river. We got the entire family out on the tubes and casually looped around a few times. There was also some medium slides that her and I did together that were amazing!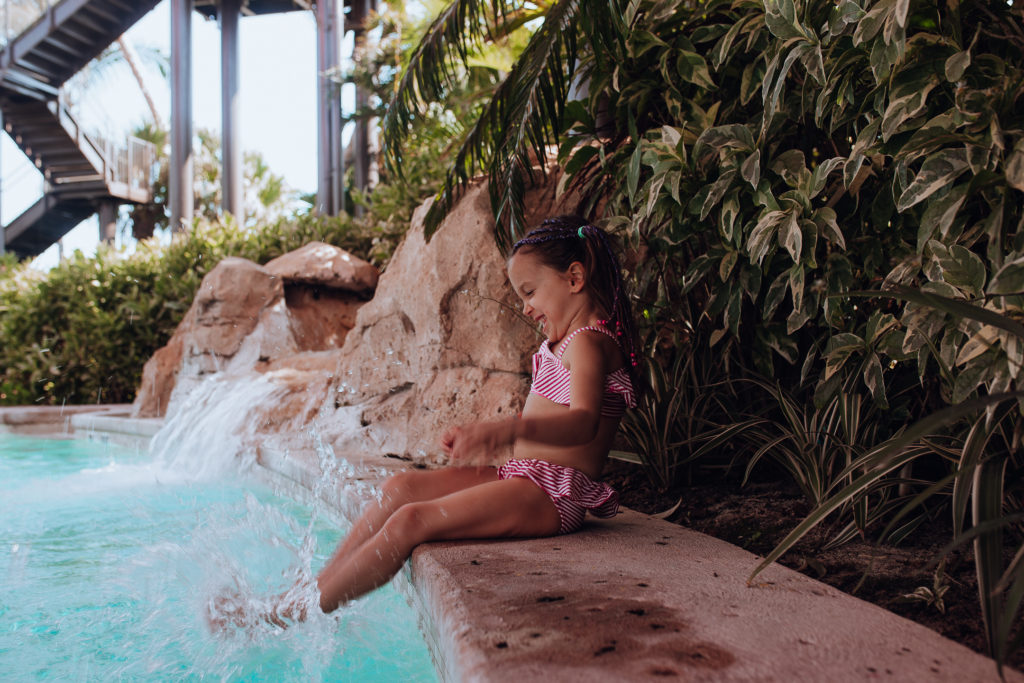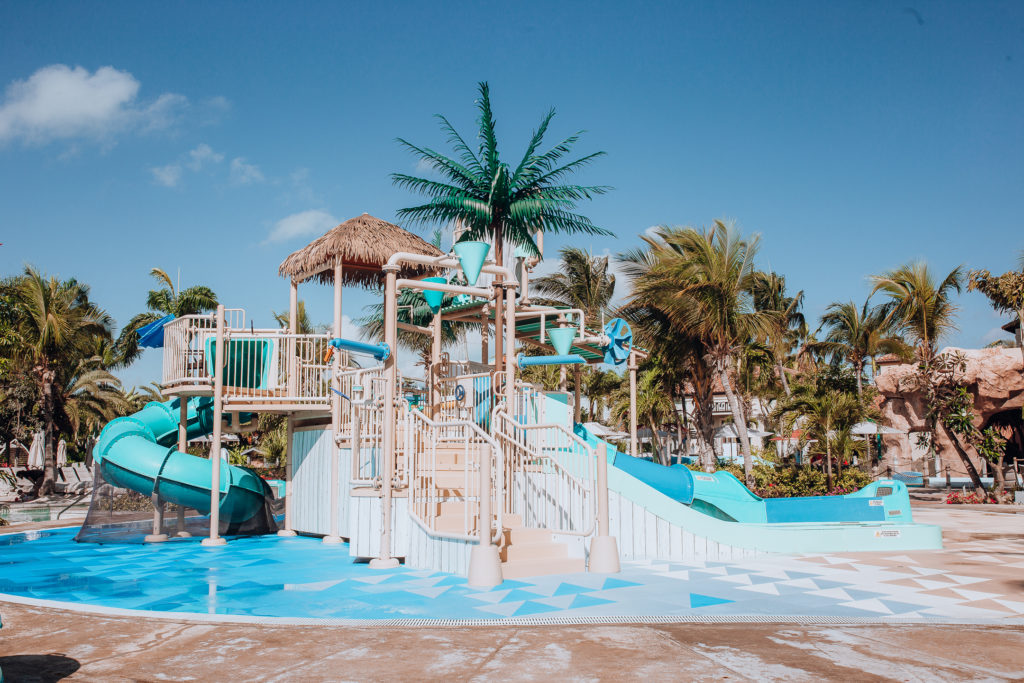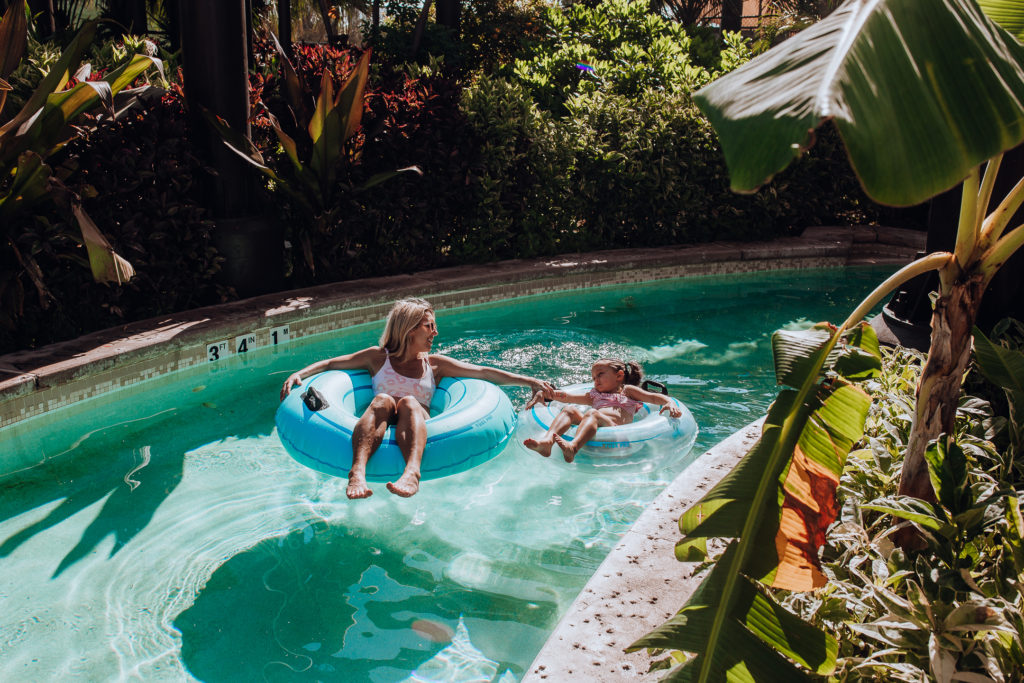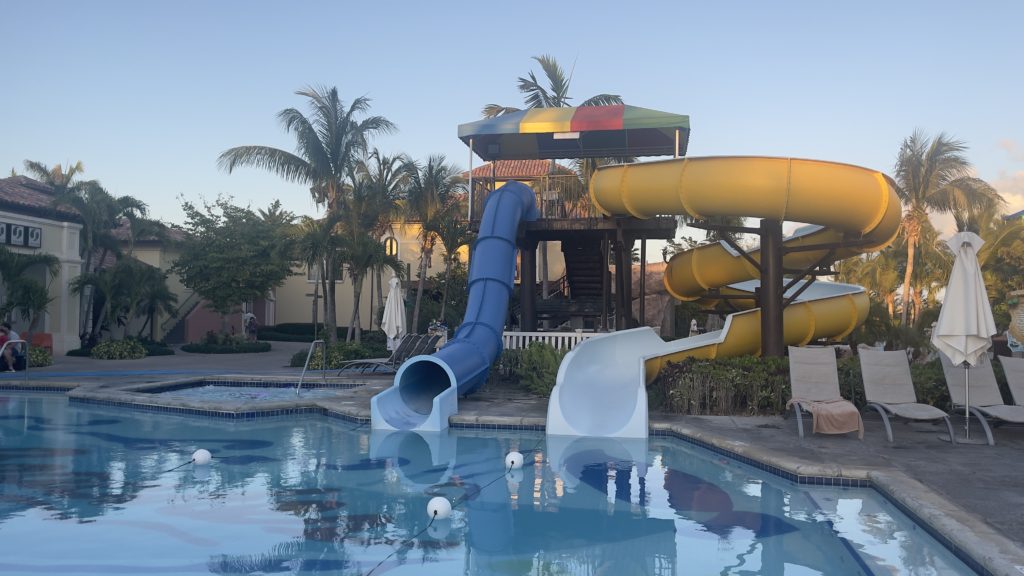 Sprinkled in between the Pirates Island Waterpark is also some great Beaches Restaurants and additional activities. Do not sit on the Mac and Cheese Truck that houses over 10 options of Mac and Cheese or Curls and Swirls that serves up Frozen Yogurt and Milkshakes all day long. Not sure if it's just me or not but I feel that everything out of a cute food truck tastes way better.
Additionally you can find Bobby Dee's Diner where you can get all the classics: Burgers, Hot Dogs, Ice Cream, Pizza and Chloe's favorite: Cotton Candy!
If your kids need a break from the sun or are not into water sports, don't fret! There is an entire Xbox Gaming House here. I am not into gaming or video games but it was honestly so cool that it was starting to suck me in.
BEACHES TURKS AND CAICOS RESTAURANTS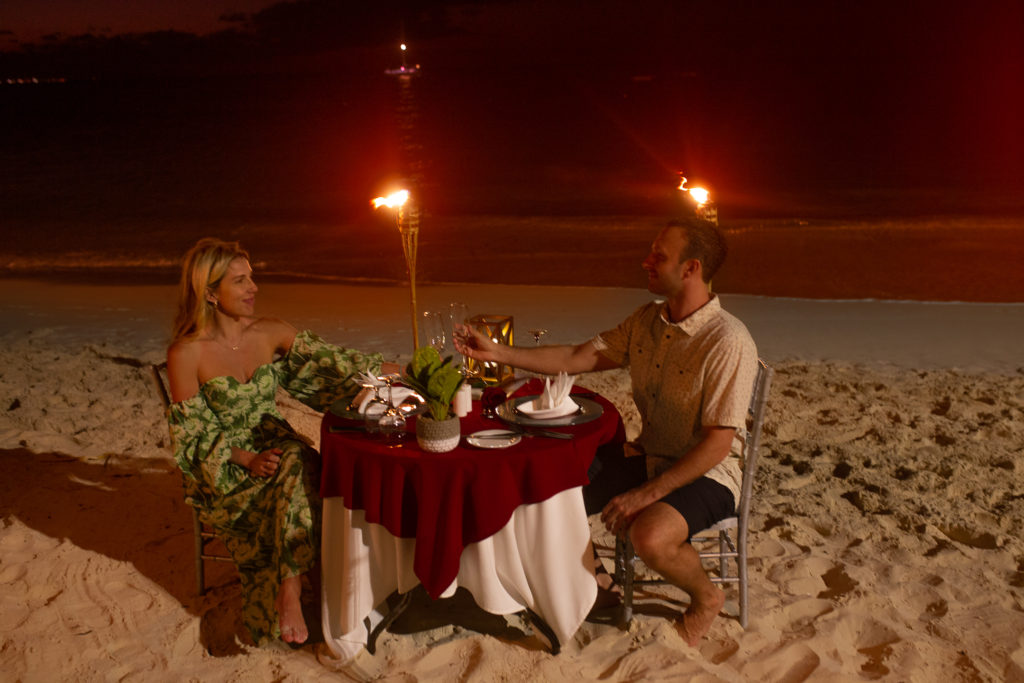 If there is one thing that will NOT happen when you are visiting Beaches and that is go hungry. With over 23 restaurants to choose from, you will be in foodie heaven. With so many different kinds of cuisines, one can enjoy specialties from Mexico, Italy and Jamaica.
My husband who likes to eat every 1-2 hours was so content going around trying all the different snacks and food options on site. Between the restaurants and all the bars, the most difficult part is trying to decide which ones you want to try. It is almost impossible to try every single place over a one week span. With my husbands appetite though, we certainly came close!! We did have some places that we felt were more delicious than others
Another great thing about the restaurants here is that you get dressed up at night if you want or keep it casual. There are two restaurant codes so keep that in mind when packing:
Resort Casual Attire- shorts or jeans, t-shirts or polo shirts. Swimwear must be covered. Shirts and footwear required.
Resort Evening Attire– dress pants/trousers or jeans for men, long or short sleeved dress shirts (with or without collar).Dress shoes or elegant sandals. No shorts, t-shirts, sleeveless shirts or sneakers.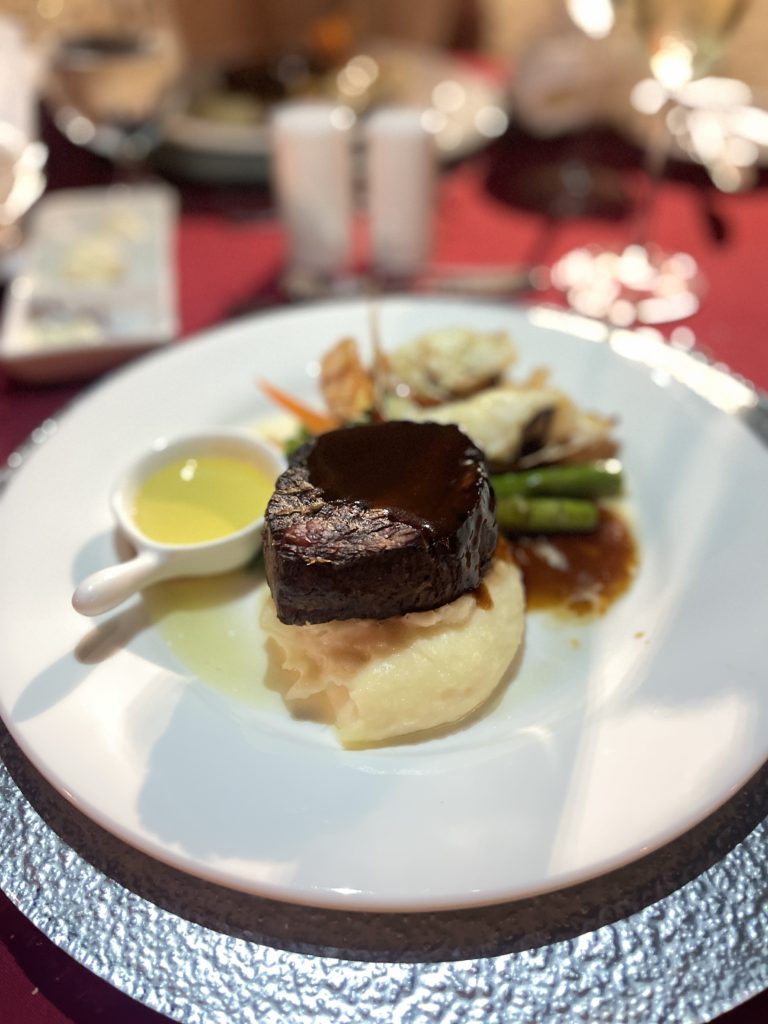 If I only had one day to discover the Beaches Turks and Caicos Restaurants, here is where I would eat:
Breakfast: Sky Restaurant
Lunch: Bella Napoli or Arizona's
Snack: Bobby D's or Curls and Swirls for Ice Cream
Dinner: Kimono's
REVIEW ON BEACHES TURKS AND CAICOS ACTIVITIES AND ENTERTAINMENT
If you are thinking of potentially doing Disneyland with your kids, I highly suggest you regroup and put Beaches Turks and Caicos into the equation. While Disneyland is obviously amazing, the entertainment you get at Beaches Turks and Caicos INCLUDED in your package is completely out of this world. From activities and shows for the younger kids to adventurous games and excursions for adults, you will not be bored here.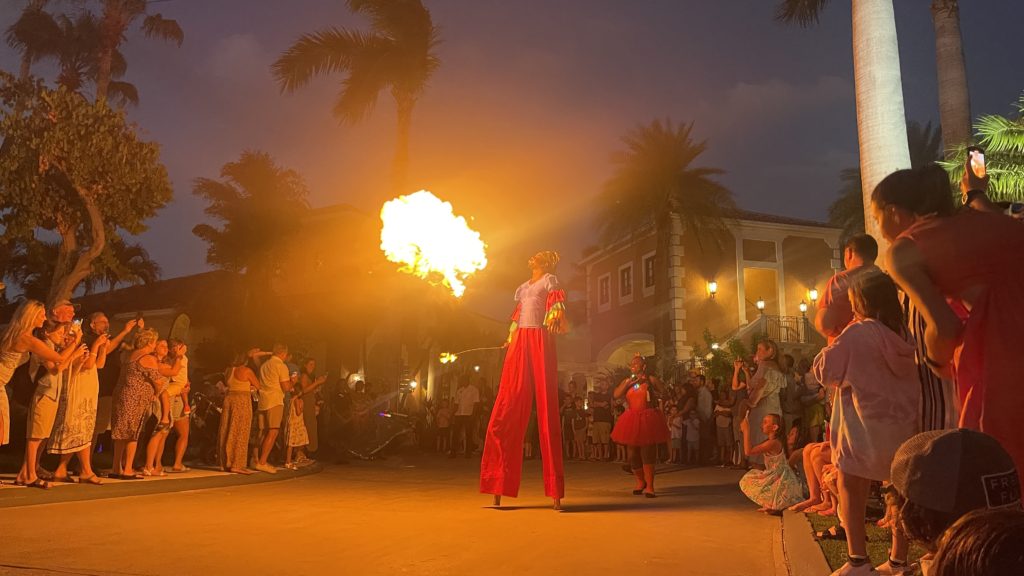 Sesame Street Parade + The "Soon Come Back" Beach Party: It worked out that we got to experience this on our last night and OMG- what a special last night it was. Beaches Resort does this every Friday where the evening starts off with an over the top elaborate Sesame Street Parade. I want to loosely use the word "Seasme Street" because it is SO much more than that. It contains floats, dancers, fire entertainers, live instruments, a band and so much more. With dancing in the streets and on the stage, you can also have your entire dinner there. The resort sets up little huts that are filled with buffet style food stations. There is a focus on Carribean menu items ( think grilled fishes and tasty rice dishes) and a full on bar. String lights and picnic tables create a beach BBQ vibe and it was very hard for us to leave. We simply were having SO much fun!
Sesame Street Nightly Shows: The nightly shows that happen on the Sesame Street Stage are 5 star. I would legitimately pay $100 per person if we were at home and wanting to do something like this with the kids. The shows happen at the same time every night and run about 45 minutes. They are fully produced, high quality shows that you get to see in such an intimate setting.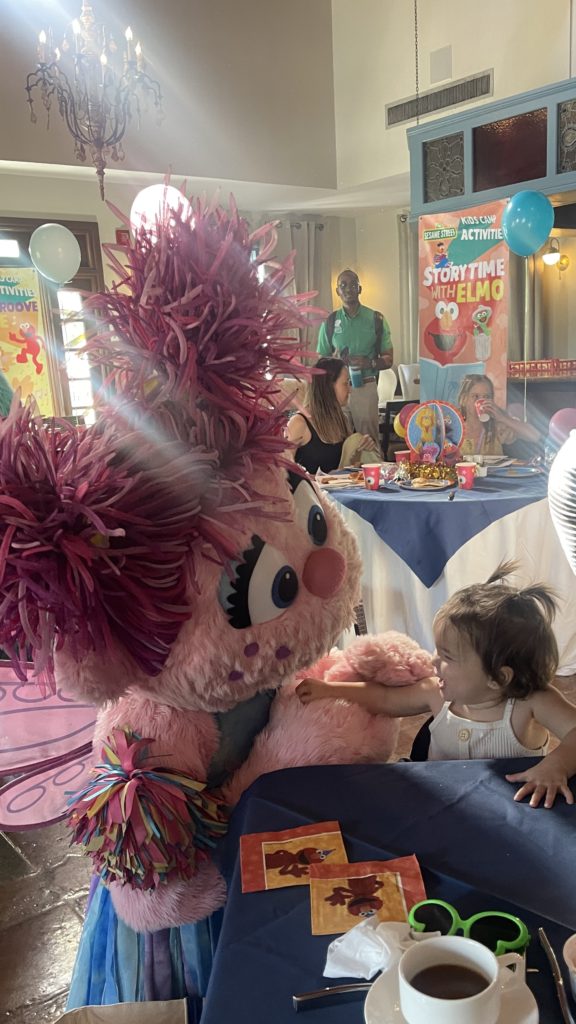 Sesame Street Breakfast: File this experience under "Experiences Marisa and Aaron enjoyed just as much as Chloe and Gemma". Seriously, this Sesame street breakfast is like a rave for kids. It is energetic, non stop action and executed perfectly. It starts off slow with the characters going around to each table ( which by the way is decorated with the cutest items) and doing little meet and greets. Things pick up mid breakfast when the DJ starts playing the tunes and all the characters hit the dance floor. We all ended up in the middle of the room dancing together. 10/10 recommend!!
Shadow Lounge: This is a games room where Tweens and Teens can hang out. You can find pool tables, shuffle boards and a variety of other activities that happen daily.
Weekly Catamaran Boat Tour: Once a week they offer an adult booze cruise where you snack on yummy charcuterie, rum punch, champagne or beer and take to the waters for an hour. Seeing the coastline from the water is mesmerizing and not to be missed.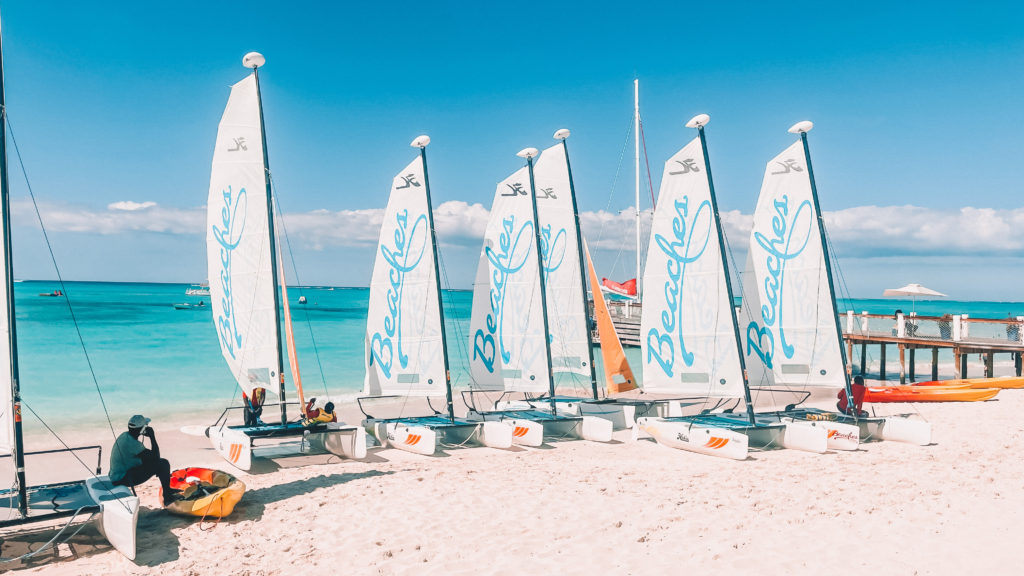 Water Sports: Complimentary water sports such as kayaking, snorkeling, paddleboards, Auqa Trikes and Hobie Cats are available to take out every day!
Sesame Street Bed Time Tuck In: Ok my daughter is still talking about this. For a small extra fee of $25.00 ish per kid, you can have a Sesame Street character come and do bed time with your kids. We had Elmo mosey on up to our room and not only read some books with the girls but also gave them a little stuffy to remember the whole experience. Aaron and I also enjoyed it just as much
WANTING TO HEAD SOMEWHERE WARM? CHECK OUT SOME OTHER DESTINATIONS HERE
THE KIDS CLUB AT BEACHES TURKS AND CAICOS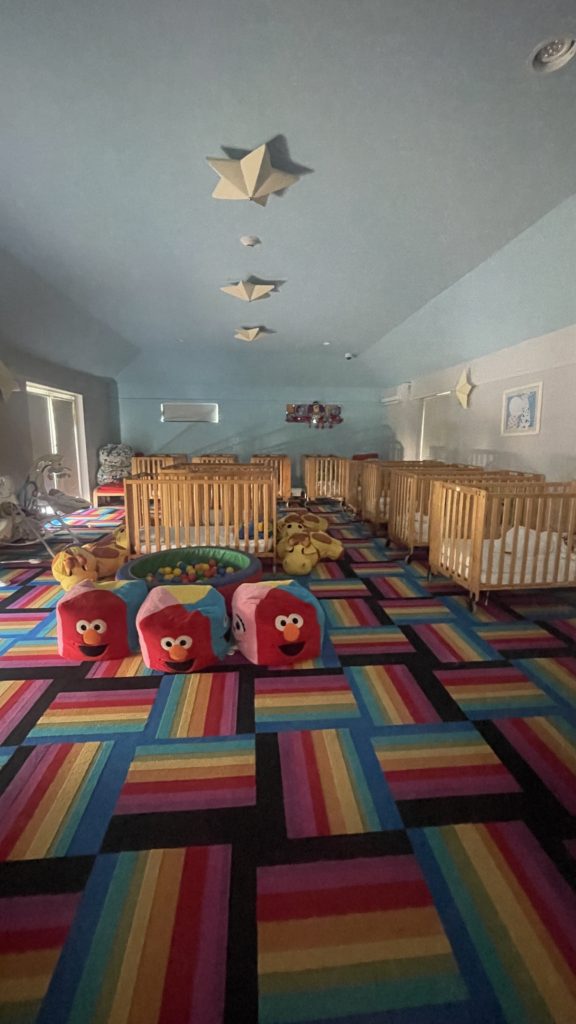 Being able to get a few hours of adult time while your kids are having the time of their lives? Priceless!
The Kids Club at Beaches was an actual godsent. We not only felt comfortable leaving the girls there for an hour each day but Chloe was actually begging us to go after just one visit.
Each day they have a full schedule of activities and games so you can pick and choose what time frames you may want your little one to visit at. It is VERY common for some Sesame Street characters to visit and do some fun learning games with the kids. Our first visit to the The Kids Club had us meeting Abby Cadaby who was doing a counting exercise with the Toddler kids.
There are 2 locations for the Kid Clubs- the main one is in the Caribbean Village and they have a smaller ( more baby based one) in the Key West Village. They have cribs ( with ceiling sound machines!!), strollers, rockers and swings and highchairs for the little ones. For the bigger kids, they have a playground, arts and crafts area and even a mini pool with loungers.
IMPORTANT TO KNOW: If you have a child with Autism, all Beaches Resorts team members have a sensitization training in autism. There are inclusive activities and events provided to those who have Autism and adjustments can be made to accommodate these children.
IMPORTANT THINGS TO KNOW ABOUT STAYING AT BEACHES TURKS AND CAICOS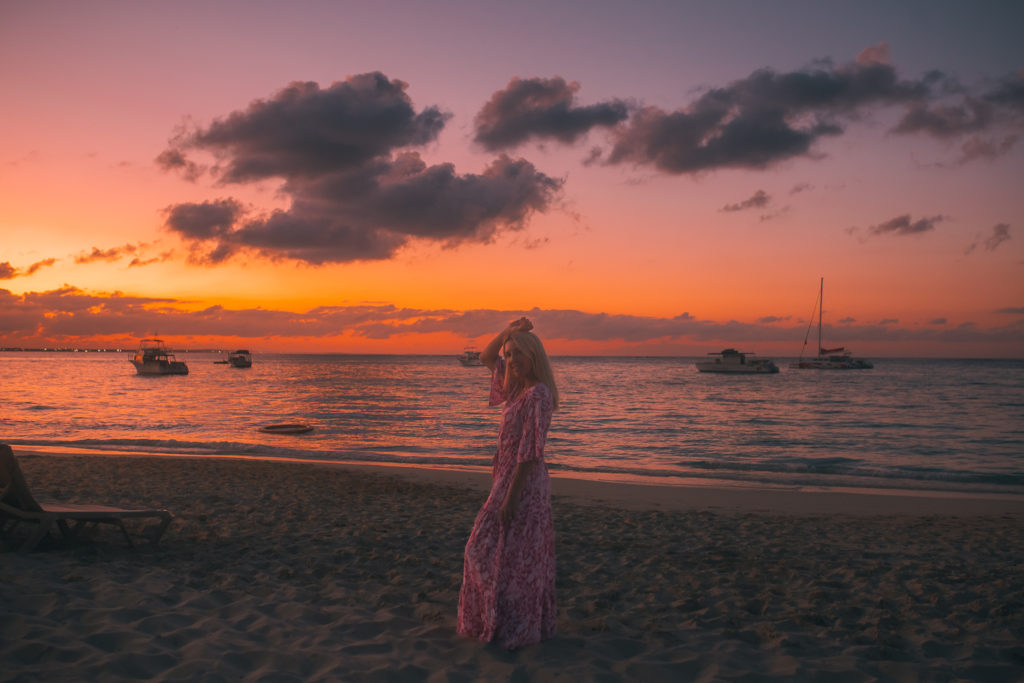 Round trip Transfers to and from the Airport are included in your price! Once you land and get your luggage, head outside to the transportation area.
You cannot order Room Service unless you are at the Butler Level. If you want to have food in your room, you can simply just order it to go from one of the restaurants
Wait times can be long sometimes if you go during the rush hour for breakfast or lunch. It is best to get there early ( 7:30AM for breakfast OR put your order in right away when you do eventually make it there)
Butler Service is worth considering if you want to not worry about securing pool or beach chairs as they do this kind of stuff for you. Did we have a problem getting chairs? Not really at all but we weren't picky about where we posted up!
If you want a babysitter to come to your room, this is an additional charge and is not included in the price. The cost of this is $20 USD an hour. The Kids Club, however, is open until 9PM some days.
There is a NO TIPPING rule at Beaches. Each employee wears this badge on their shirt incase you missed the memo. It is all worked into the price so keep that in mind if you think the price is expensive!
There's a daily newsletter which outlines the day's various activities (Sesame Street stage shows, general entertainment offerings, specific Sesame Street character activities like "Story Time with Elmo, Baking Cookies with Cookie Monster, etc) These are usually delivered to guest rooms during evening turn-down service.
If you are travelling without Kids, it is important to know that there is several ADULT ONLY areas. There are two adult only areas in the Key West Village, an adult only jacuzzi by the Caribbean village and 3 adult only restaurants!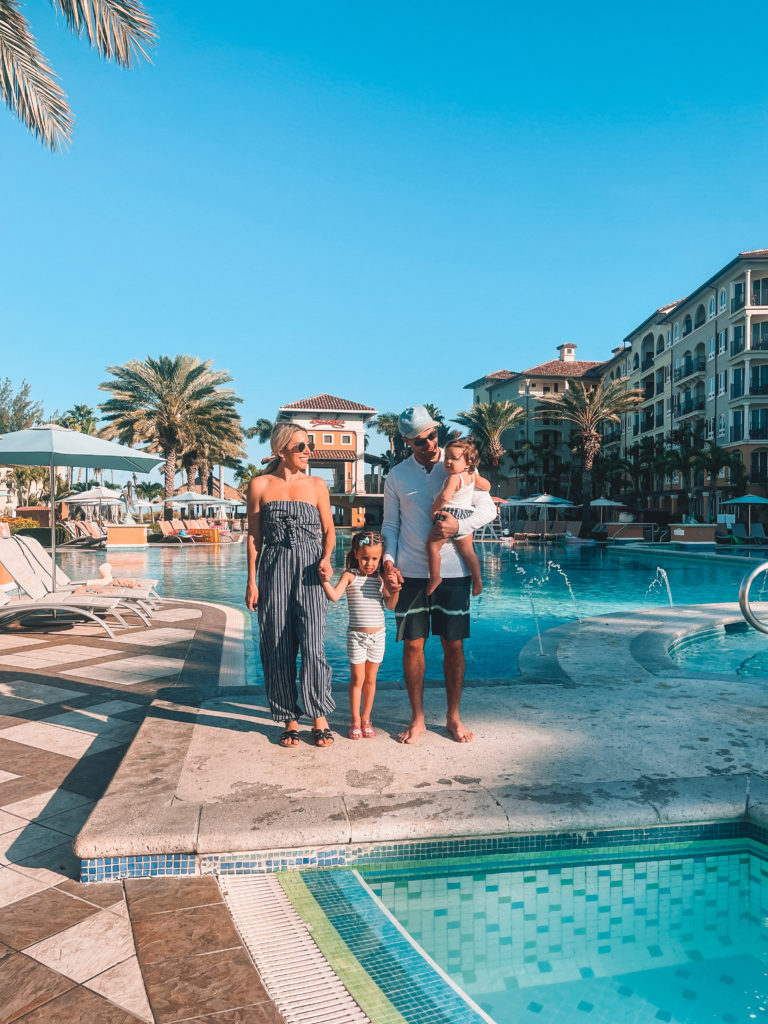 ---
I hope you enjoyed this full review on Beaches Turks and Caicos and that I encouraged you to add this amazing resort to your bucket list. If you have kids, this will be single handedly be the best family vacation you will ever go on- I can guarantee it!
If you are thinking about booking or are heading there and have more questions, please feel free to reach out to me on Instagram
REVIEW ON BEACHES TURKS AND CAICOS: PIN THIS POST