When we first landed in Jamaica, we quickly learned that their country's motto was
"Out of Many, One People".
This sentiment is a true testimony to the people of Jamaica and it means that they see everyone as one. They are so welcoming, hospitable and proud to have you in their country- no matter where you are from! We were received with open arms by anyone we honestly met and the more time we spent there, the more this sentiment was felt. Bob Marley's "One Love, One Heart" makes even more sense to me now.
With Jamaica being a country I haven't visited yet ( HOW!!), we were unsure where to base ourselves! After some research, we found out Swoop Airlines flies directly out of Hamilton Airport right into Montego Bay which made the decision easy. It was only a 4 hour flight and with the Hamilton Airport being such a breeze to travel to, it made our Jamaica trip feel all the more smooth!
Many people consider Montego Bay the place to stay in Jamaica due to it's proximity to the airport, it's crystal clear beaches and it's endless line up of resort options. It's the epicenter of Jamaican tourism and has everything you need to have the perfect trip. If it's your first time to the country, I would recommend staying there.
HOW LONG SHOULD YOU STAY IN MONTEGO BAY, JAMAICA?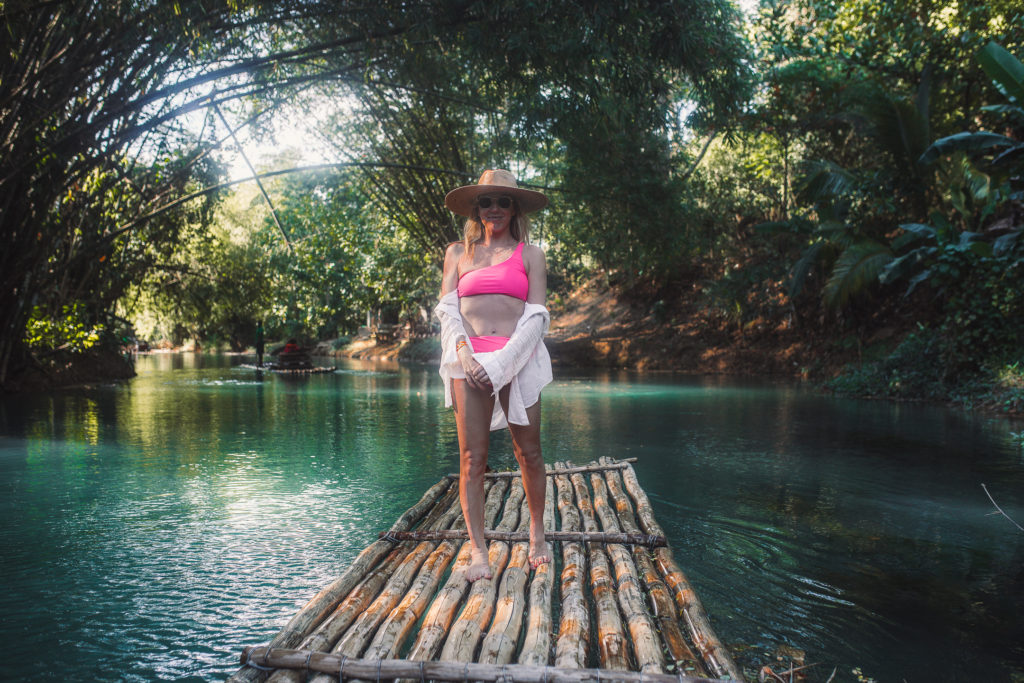 This is such a loaded question because you can go to Jamaica and stay there for a whole month and really just get a taste of everything it offers!
If you are looking to book a week long vacation though ( because we all know we have to spread out vacation time in North American, grr.), you will have plenty of time to enjoy yourself in Montego Bay with 7 nights.
We actually went for 4 nights and I would do it again in a heart beat. We did 2 Day trips and then relaxed the other two days and it felt perfect
If you have 2 weeks in Jamaica, I would do 1 week in Montego Bay and then change up the base/scene and go to Ochos Rios or Negril so you can see more of the island!
WHEN IS THE BEST TIME TO VISIT MONTEGO BAY, JAMAICA?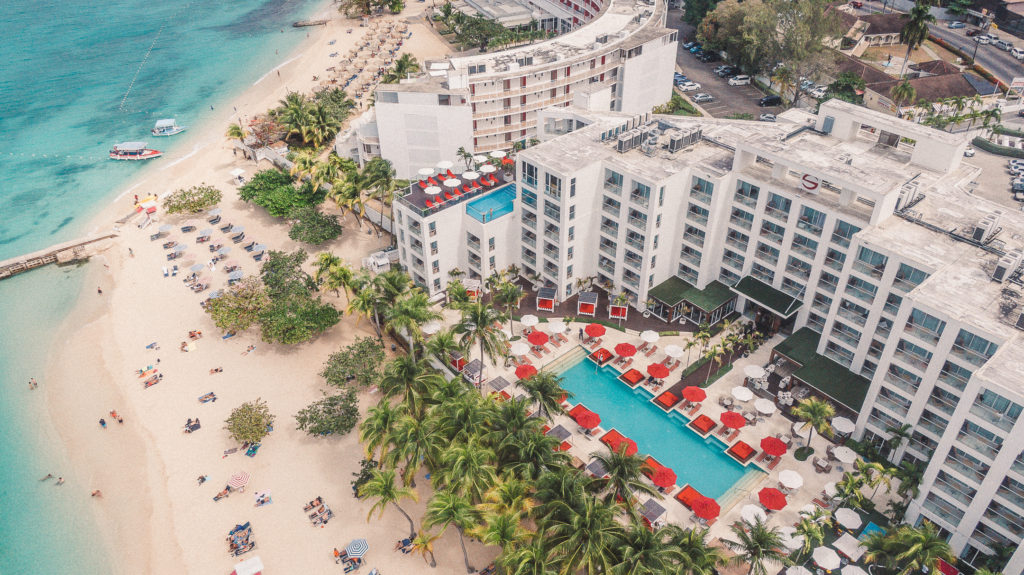 Jamaica offers up a pretty perfect climate all year round with temperatures ranging from 19 degrees to 32 degrees. Their high season is from November to April and their rainy season is from May to June and September to November- though "rainy season" should be a term used very loosely.
After talking with some locals their rainy season consists of an odd storm or a pocket of rain that passes through pretty quickly. You can likely find hotels to be a bit more reasonable during this time and beaches/attractions a bit less packed.
We visited in February and OMG, the weather was perfect. Legitimately perfect. We were never faced with crazy humidity during the day and at night we could be outside without a jacket and feel comfortable. I think it was the best weather I have had on any Caribbean island that I have visited!
HOT TIP: Even though you are in the Carribean, I would recommend a light jacket if you are hitting up some restaurants that are indoors. Sometimes the AC is cranked up and after a day of full sun, you may want that option!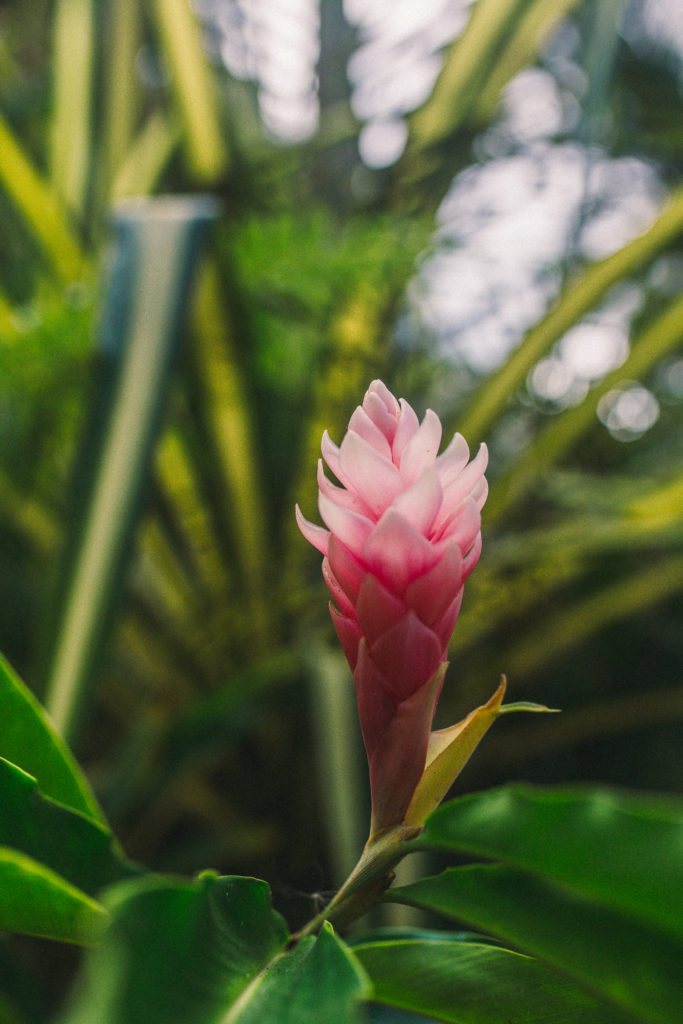 THE BEST PLACE TO STAY IN MONTEGO BAY, JAMAICA
Montego Bay's nickname is "The Complete Resort" because it offers something for everyone. With that being said, it is safe to say that there are a TON of beautiful places to stay in town. From all inclusive resorts to boutique hotels to smaller vacation rentals, you can find whatever it is you are looking for! Since this was an adult only trip, we opted for something cool. If you are travelling with a couple or on a girls trip, I couldn't recommend the hotel where we stayed enough:
S Hotel Jamaica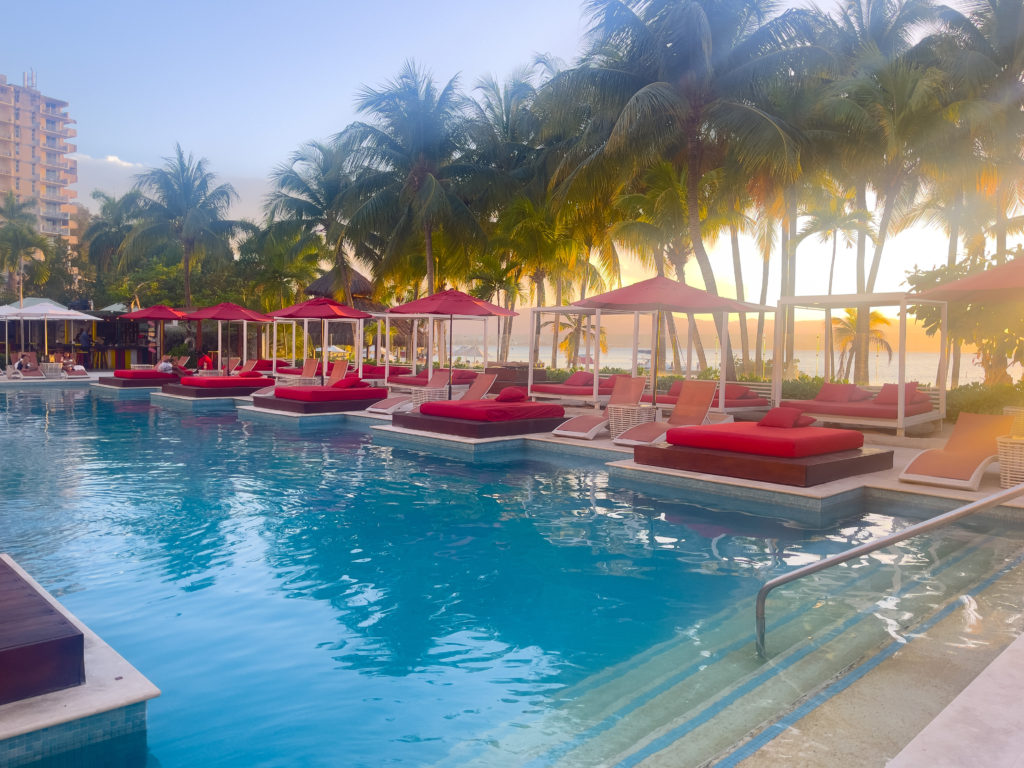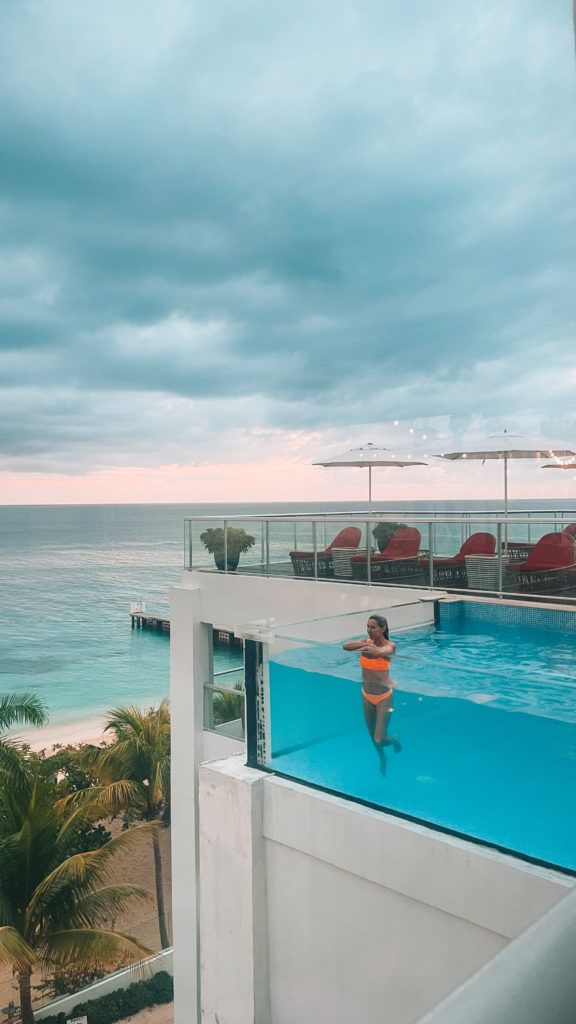 The S Hotel Jamaica in Montego Bay is located right on one of the best beaches in the area: Doctor's Cave Beach! People come to visit this particular beach even if they aren't staying there because it is that gorgeous. So gorgeous that Travel and Leisure named it one of the best beaches on the Island!
The S Hotel has the best of everything: It's Luxurious, Modern, Boutique AND All Inclusive. It's not often you find a hotel that is this level of cool and offers up all inclusive but S Hotel manages to have both.
The hotel's space has been curated impeccably and I felt like I was in a magazine at times. The décor and accents that are featured within the lobby and common spaces are also tied into the guest rooms.
Each room is spacious, features spa like bathroom suites and even came equipped with a vintage record player with one of Bob Marley's albums. We be jammin!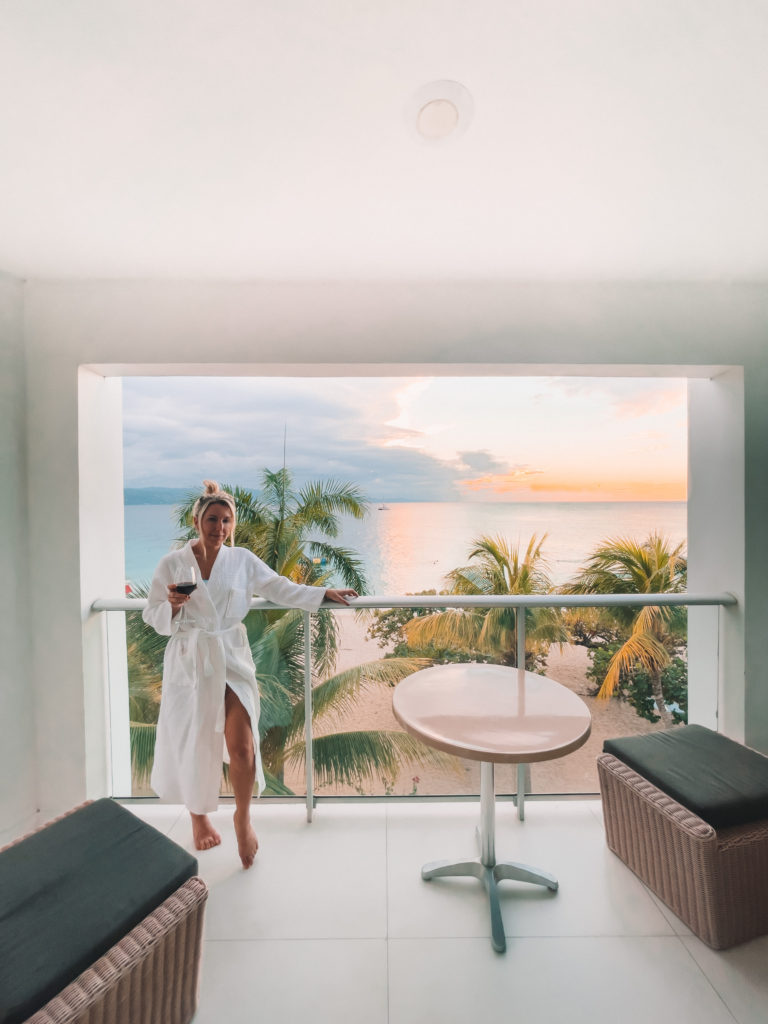 With 4 restaurants on site and several bars to grab a "Rum Punch" at, you will never go hungry here. They even have a little café that is open 24 hours a day should you want a little late night snack ( it also serves up Blue Mountain Coffee which is a must try in Jamaica).
My favourite restaurant though was the hotel's A La Carte restaurant called Roots Rock. Located on the top floor, it features elegant dishes like Lamb Chops, Tenderloin and Grilled Salmon ( and top notch views to boot!). The interior was funky and eclectic so although the plates and menu were fine dining, the atmosphere had me feeling less than stuffy! Best of both worlds. Tip: Make a reservation here the minute you arrive as reservations are recommended.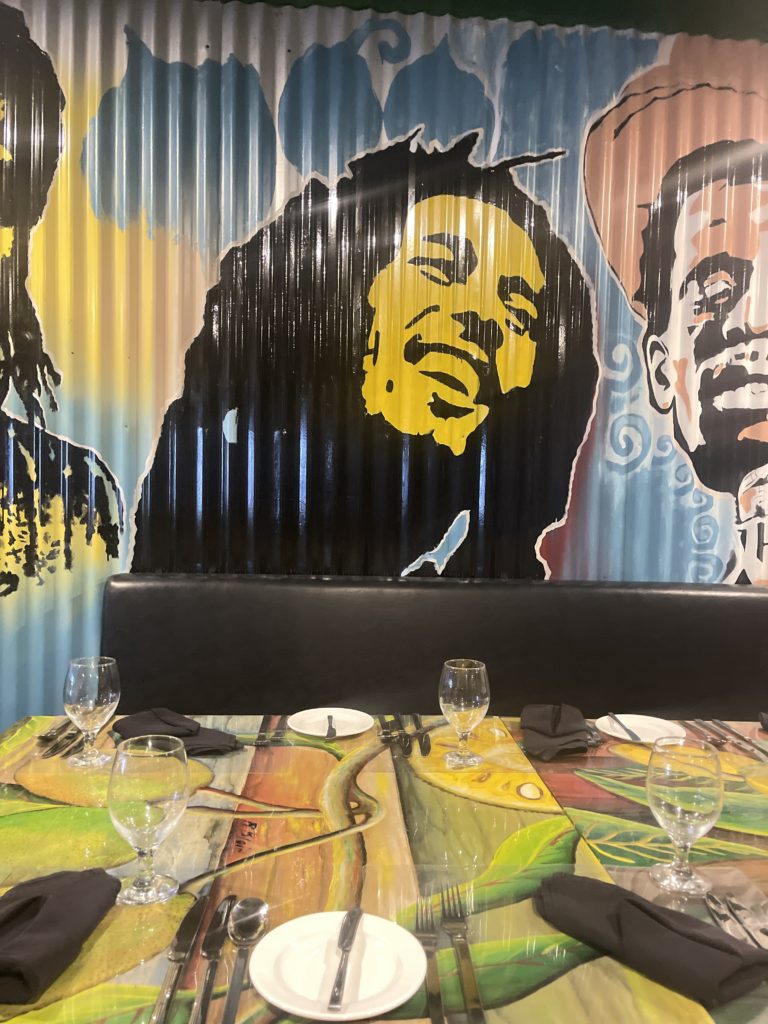 If you do want to switch it up and head out for dinner in town, this hotel is conveniently located just 5 minutes from the popular "Hip Strip" where you can find lots of restaurants and bars to visit.
THE BEST THINGS TO DO IN MONTEGO BAY
Montego Bay is known for it's undeniably stunning beaches and turquoise waters but there is so much more to it than that! Whether you are an adrenaline junkie, a foodie or love learning about new culture- you can find some activities in Montego Bay that will suit what you are looking for.
While some people come to Montego Bay and stay at their resort the entire time, I REALLY encourage you to plan some excursions, dinner or tours off site. This is the best way to really get a feel of the Jamaican culture, see hidden gems and witness some of the most beautiful things the island of Jamaica offers.
DO A CATAMARAN BOAT TOUR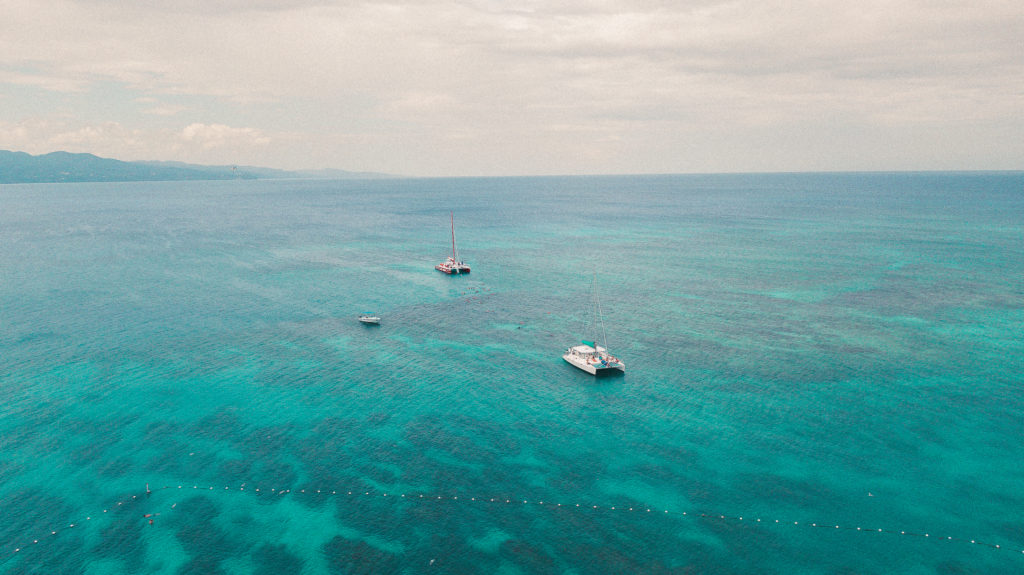 Is there anything better than setting sail on the Caribbean sea? I think not!
We did a Cruise with Island Dreamer and got to soak up the incredible views of the Montego Bay coastline. It departed at 10AM for a morning sail and we got to laze on the boat deck while listening to reggae favourites. Level 10 happiness.
Despite the early time of the cruise, our fellow passengers were ready to enjoy the day and dance parties were had by all. We got to snorkel at one of the best patches of the Montego Bay waters and even got to eat some Jamaican patties afterwards.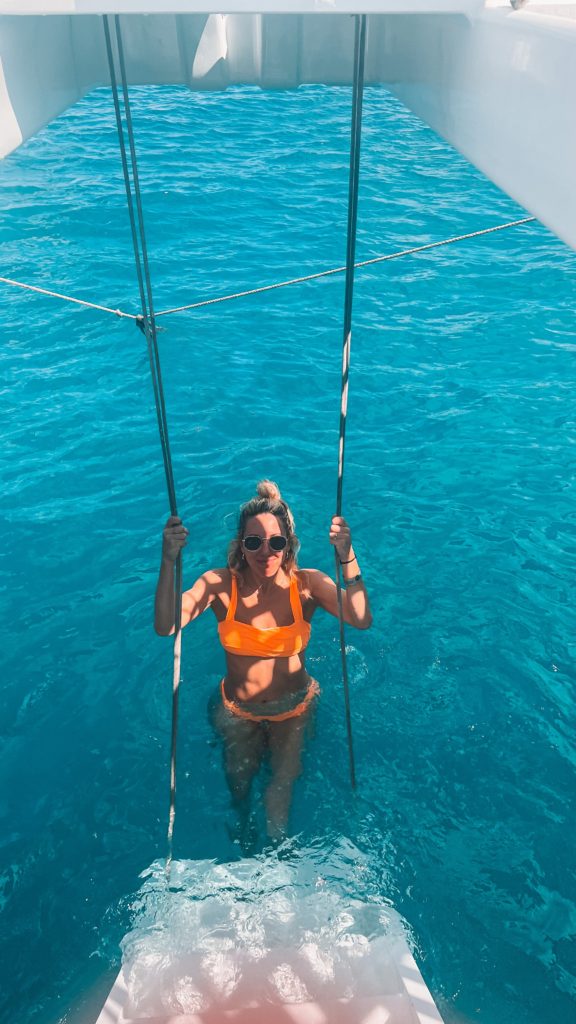 If that didn't check all the boxes, there was also a pit stop at the famous Margaritaville for 30 ish minutes. Here you had the option to get some additional food and drinks or if you were feeling rambunctious you could head down their in-house waterslide that throws you out into the ocean.
Our tour was 3 hours and had us back to the dock by 1PM. The crew at Island Dreamers was INCREDIBLE and had the best energy. They also offer sunset cruises or longer ones to neighboring Negril which I would love to do next time!
VISIT A TRADITIONAL RASTAFARIAN VILLAGE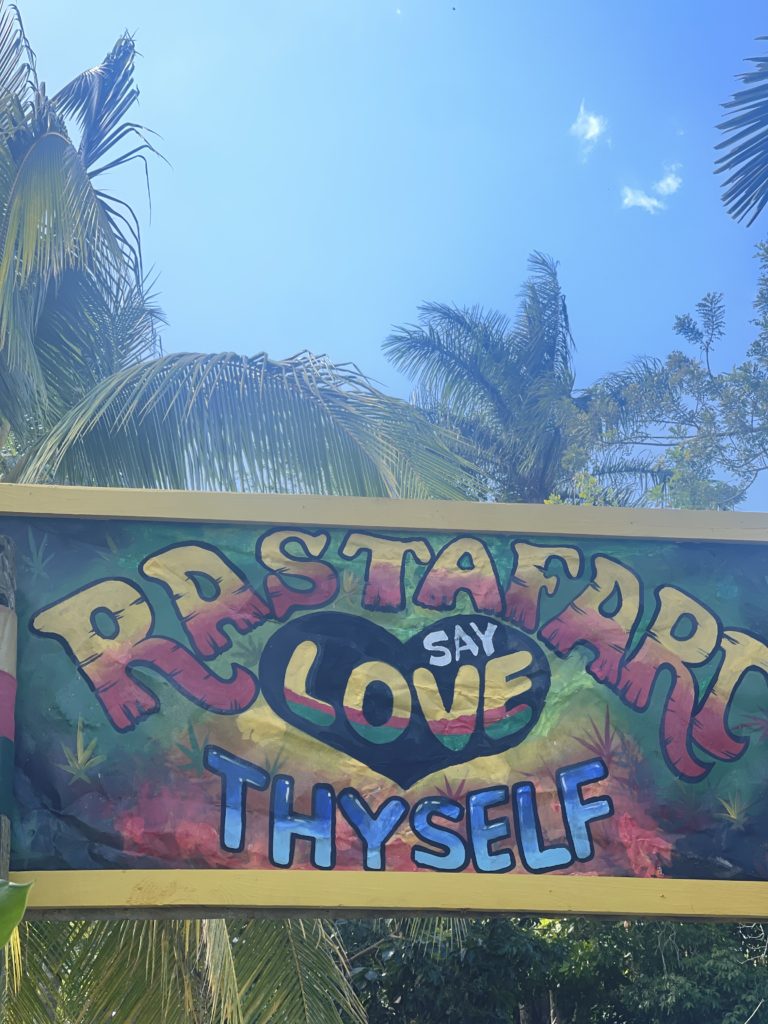 If you are curious about Rastafarian culture, then you must book a tour here!
This one of a kind activity is a 2 hour interactive experience which welcomes you into this traditional Rasta village. You learn all about their medicinal garden, their food, the joy of music, crafts and most importantly their belief system and history.
My favourite part of this tour was listening to all the wonderful people we met talk about why they are choosing to live this way. Their hearts and stories really gave insight to a slice of the country's history and made me feel so welcomed.
"Stress is a disease and I only do things that are for my heart"- said the one man to us. Learning about the Rasta's deepened my understanding of the Jamaican culture.
In my opinion, this is one of the most unique things to do in Montego Bay
HERE is a great tour option!!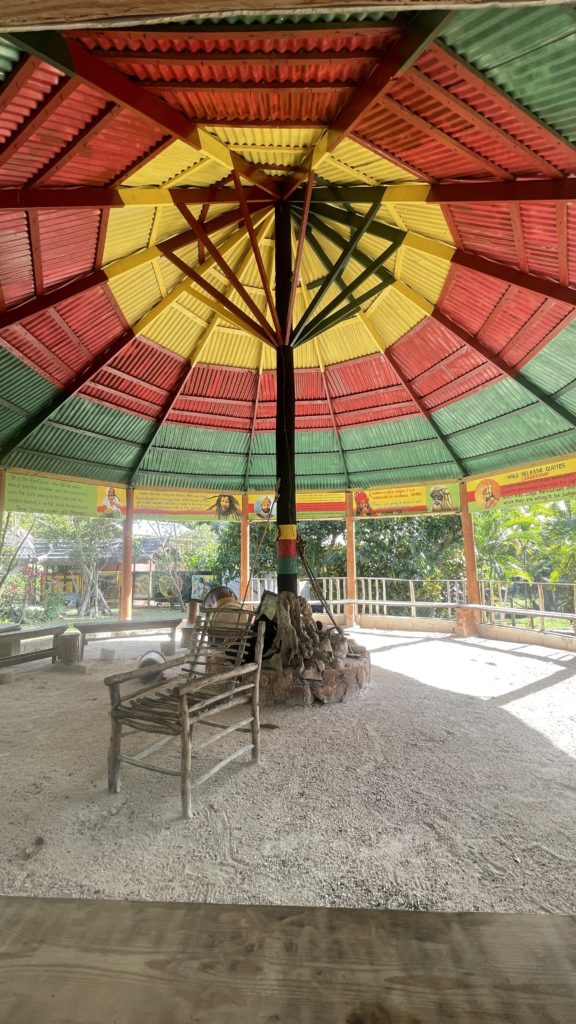 GO RAFTING DOWN THE MARTHA'S BRAE RIVER
The most popular thing to do in Montego Bay…and really in Jamaica overall is to go Rafting down the Martha Brae River.
Float along this 3 mile river on a traditional Bamboo raft and take in the natural and peaceful surroundings. The tour itself was about an hour in length and truly was such a magical experience. I felt like I was having a core memory as I drifted down the water.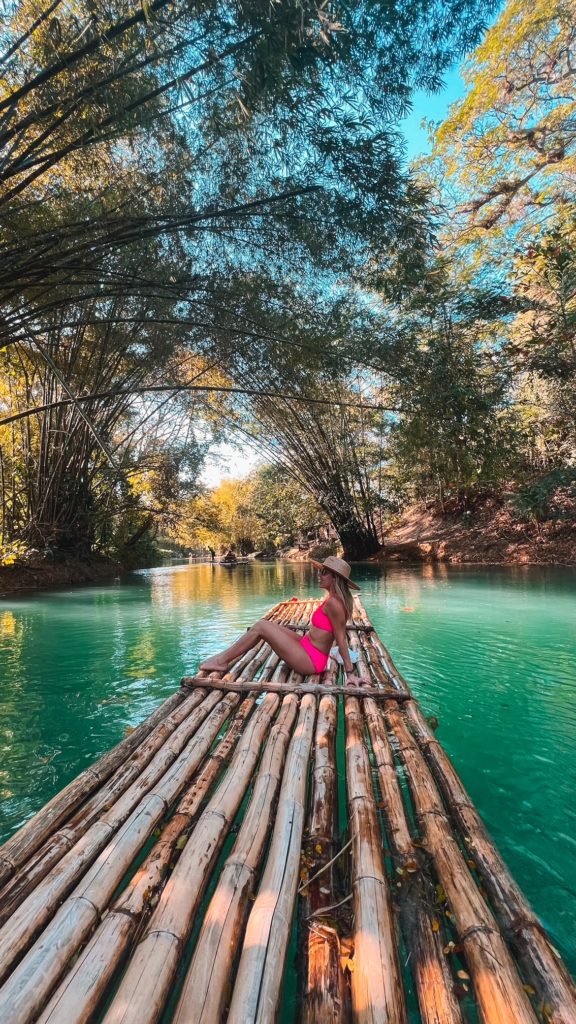 As your captain does all the leg work for you, you learn about the legend of "Martha Brae", have the opportunity to stop at one of the rum bars along the river and can even opt in for a leg massage with some natural clay.
Do NOT miss this.
DO SOME ZIP LINING WITH CHUKKA ADVENTURES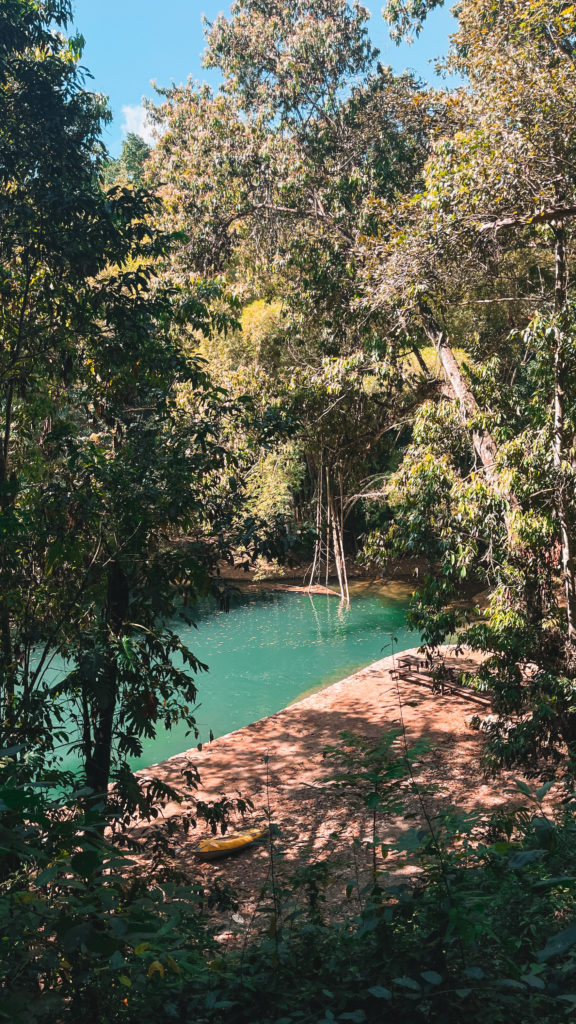 The one thing that surprised me about Jamaica the most was how lush and mountainous it was. The landscape was made for ziplining and I have just the place for you to do it at!
Chukka Adventures is one of the most popular places to Zipline in Montego Bay as it is only 30 minutes away! Located on a former plantation estate, Chukka has over 5 different ziplines that will have any thrill seeker excited!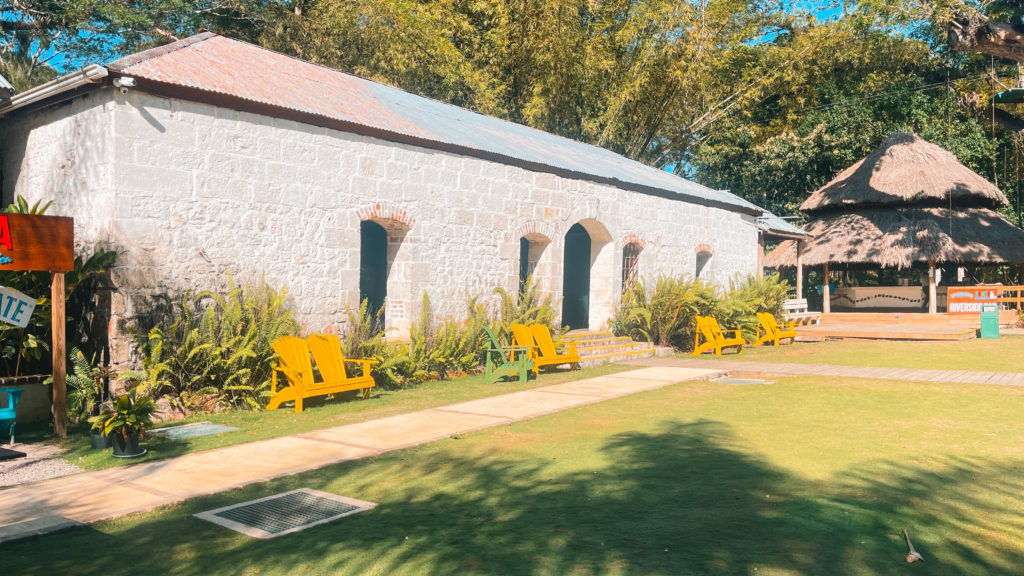 If you want to tackle on some additional adventures, you can do some Tubing or even relax in their cascading pools. Included in some of the packages is a traditional Jamaican lunch for you to enjoy post adventure. I kid you not when I say the Jerk Chicken from Chukka Adventures was one of my favourite ones I had on my trip!
INDULDGE IN A RUM TASTING!
It doesn't take long to learn that Rum is the beverage of choice in Jamaica! Within 2 hours of landing I was sipping on some Rum Punch and that theme continued during the majority of my trip. When In Rome, right?
Rum is so popular that Jamaica actually has the most Rum Bars per square footage than any other country in the world! While we were driving around I started to count a few and I was in the double digits very, very quickly.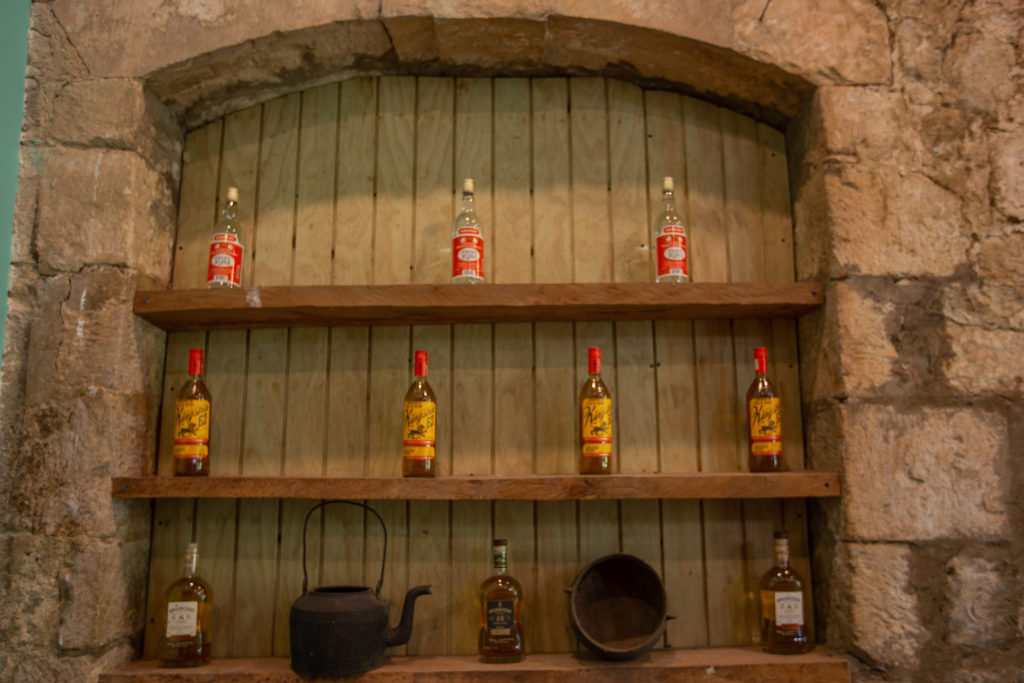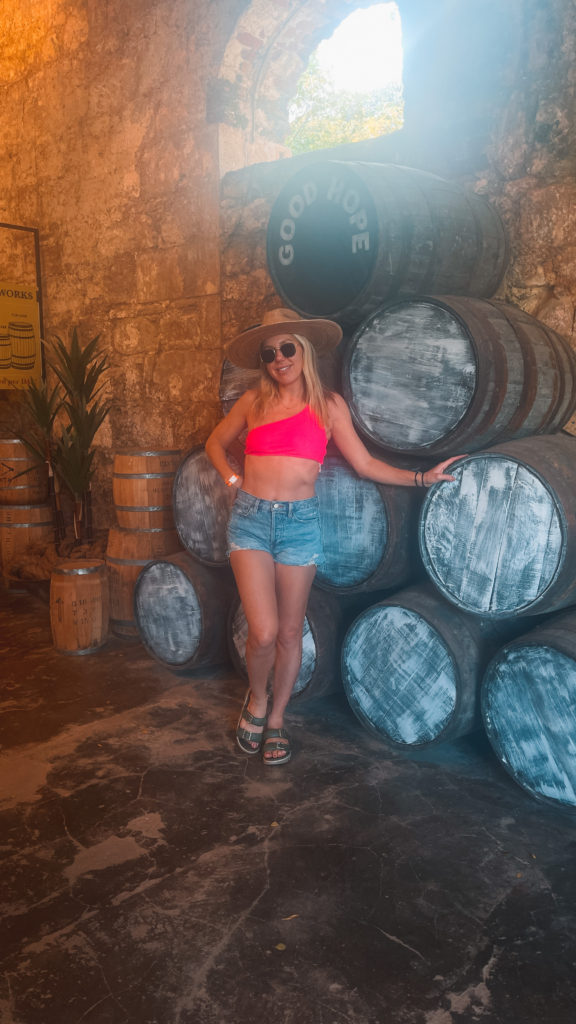 With that being said, doing a Rum Tasting in Jamaica is an absolute must! Even though I am not someone who necessarily loves rum or drinks it often, it is a quintessential Caribbean liquor and I very much enjoyed learning about it's roots in Jamaica. There is a lot of history with rum in the country and one of the biggest rum distilleries, Appleton Estates, started here!
We not only learned about how it's processed and I was floored to know that some of the rums are are aged for up to fifty years! Those rums are best enjoyed on it's own and will NOT be found within Jamaica's famous "Rum Punch".
We did our tour with Chukka Adventures which ran about 1 hour. If you want a longer and deeper rum experience, you can visit Appleton Estates for anywhere from four to six, twelve, twenty-five and even fifty years!
MONTEGO BAY TO OCHOS RIOS: A MUST DO DAY TRIP
If you love nature, then you need to visit Ochos Rios or "Ochi" as the locals call it.
The lush vegetation and ecosystem make for some beautiful excursions and attractions and though we only spent a day here, you can definitely base yourself here if you want when visiting Jamaica.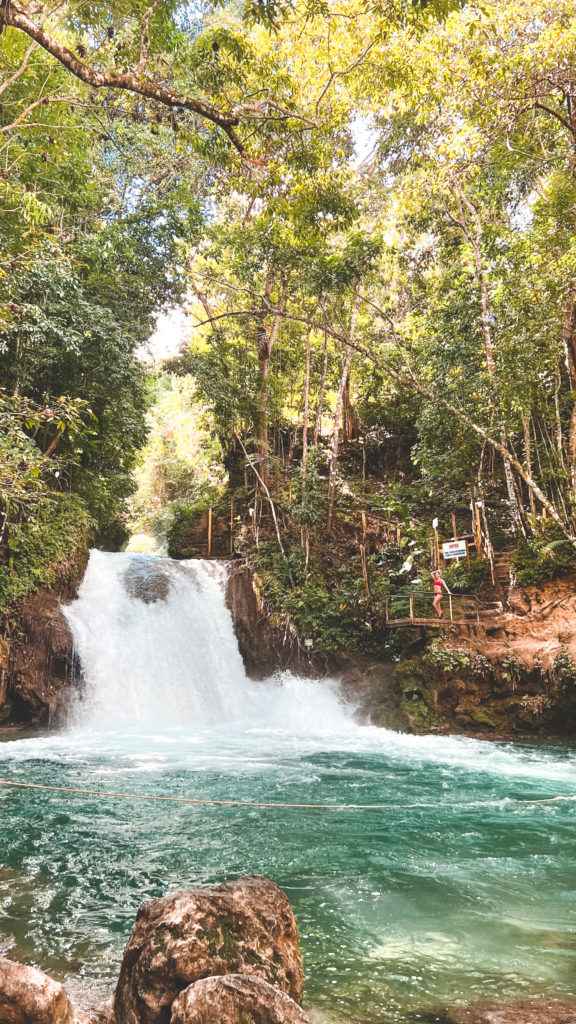 TRAVELLING FROM MONTEGO BAY TO OCHOS RIO
If you are staying in Montego Bay, you can visit Ochos Rios for a day trip very easily. It is about a 1.5 hour drive depending on where you are headed and what the traffic is like so keep that in mind when planning your trip! We recommend leaving early to avoid the crowds and checking on when the Cruise ships are at the port as those days will be busier than others.
THINGS TO DO IN OCHOS RIOS ON A DAY TRIP
VISIT THE BLUE HOLE AKA ISLAND GULLY FALLS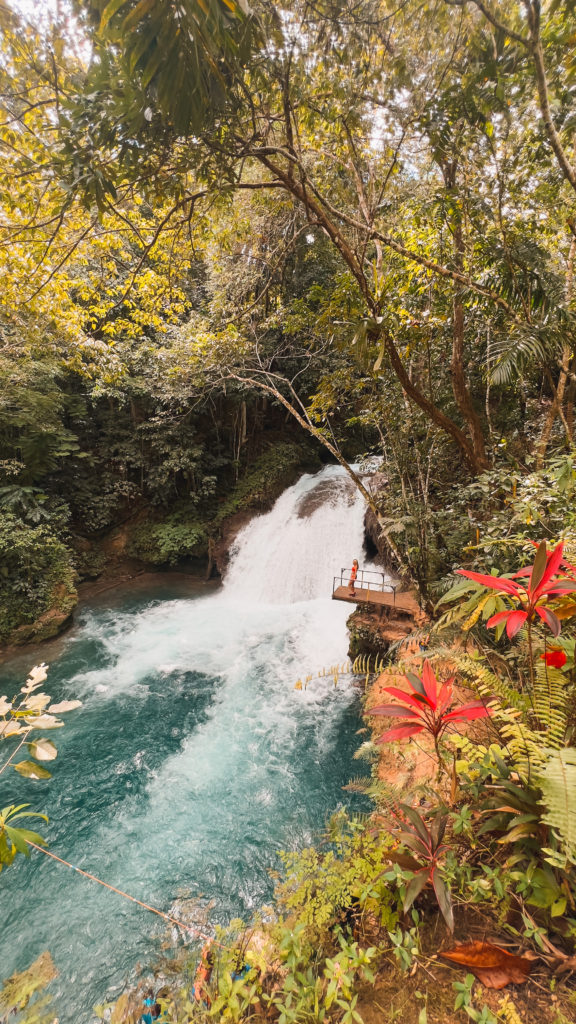 Hidden in the hills of Ochos Rios, is Island Gully Falls also known as "Blue Hole".
The 20 ft cascading waterfall makes you feel like you have seriously landed at the gates of heaven. The water is so pure and fresh and the minute I jumped in, I felt my endorphins sky rocket.
There is an awesome platform that is built into one side of the mountain that allows visitors to jump from. It was AMAZING! I think I jumped about 5 times.
They also have a swing rope further down the river if jumping is not your thing (highly recommend jumping though). What a rush. It will cost you $20 USD to enter the grounds
TIP: Get here early to avoid the crowds.
TAKE A RIDE UP MYSTIC MOUNTAIN AND GO BOB SLEDDING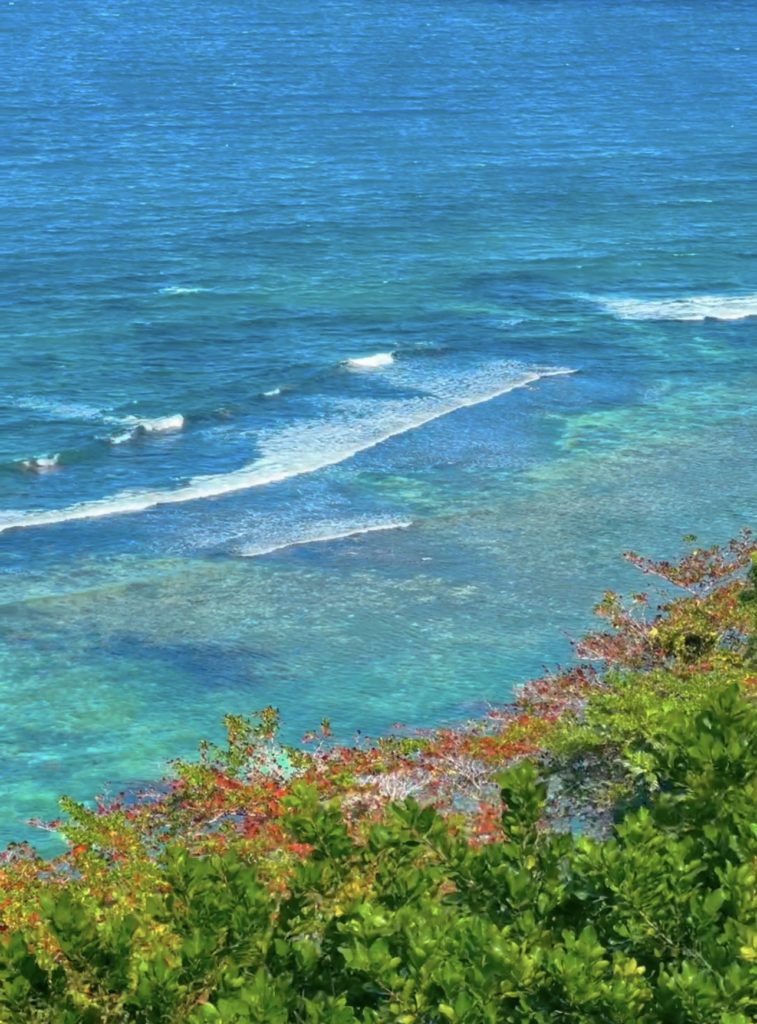 Did you ever have the urge to become a professional Bob Sledder after watching "Cool Runnings?". No? Just me then I guess.
My childhood dreams became a reality after visiting Mystic Mountain and taking on twists and turns at full speed through the mountain.
Mystic Mountain features not only bob sledding but rock climbing, a waterslide and the "Raggamuffin" where you dangle into the air catching more views of the ocean and mountains.
One of the coolest parts of visiting though is getting to the mountain itself on a chairlift. The views that you get from this 20 minute ride are some of the best we have seen. Admittedly, I was a bit scared at first ( I'm semi afraid of heights) but mid way into it, the beauty of the surroundings completely took over the fear. It ended up being one of my favourite views of Jamaica.
GRAB LUNCH AT THE ICONIC MISS T'S
If you are doing a day trip to Ochos Rios from Montego Bay, book a lunch reso at Miss T's Kitchen. Trust me. Just do it.
This place is all sorts of cool.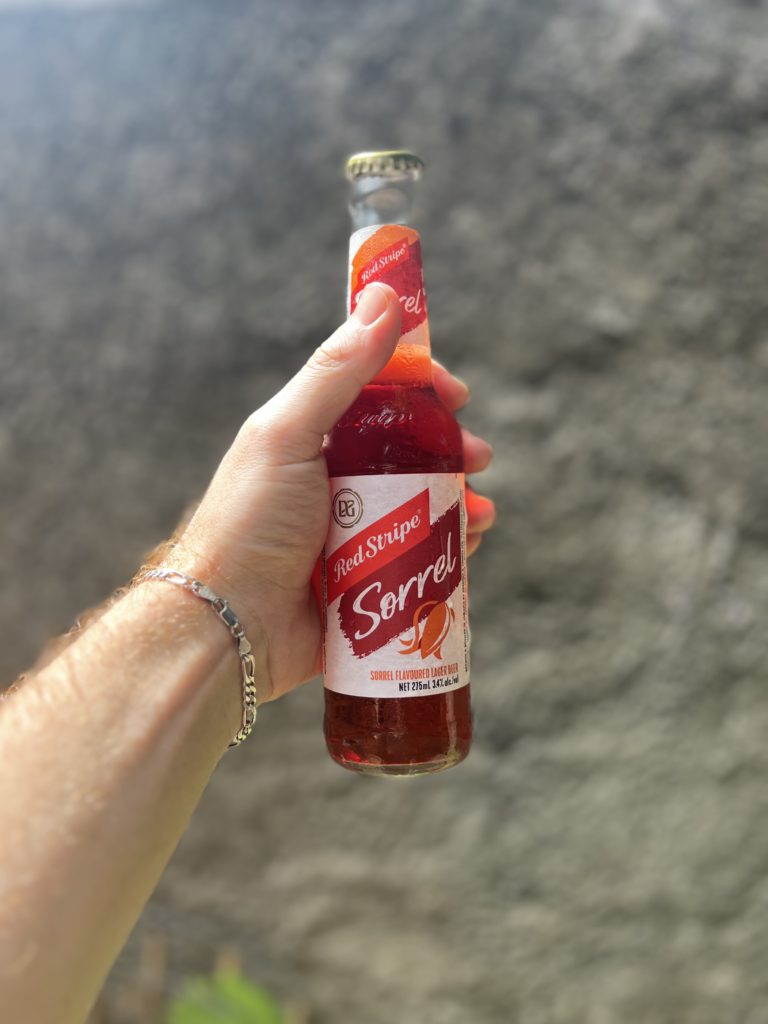 Tucked away on a little street, it is so unassuming when you first turn in but after you walk through the wooden doorway you are transported into your own little colourful world of fun. It serves up authentic Jamaican in an eclectic and rustic setting and I pretty much wanted to move in.
WHERE TO EAT IN MONTEGO BAY, JAMAICA?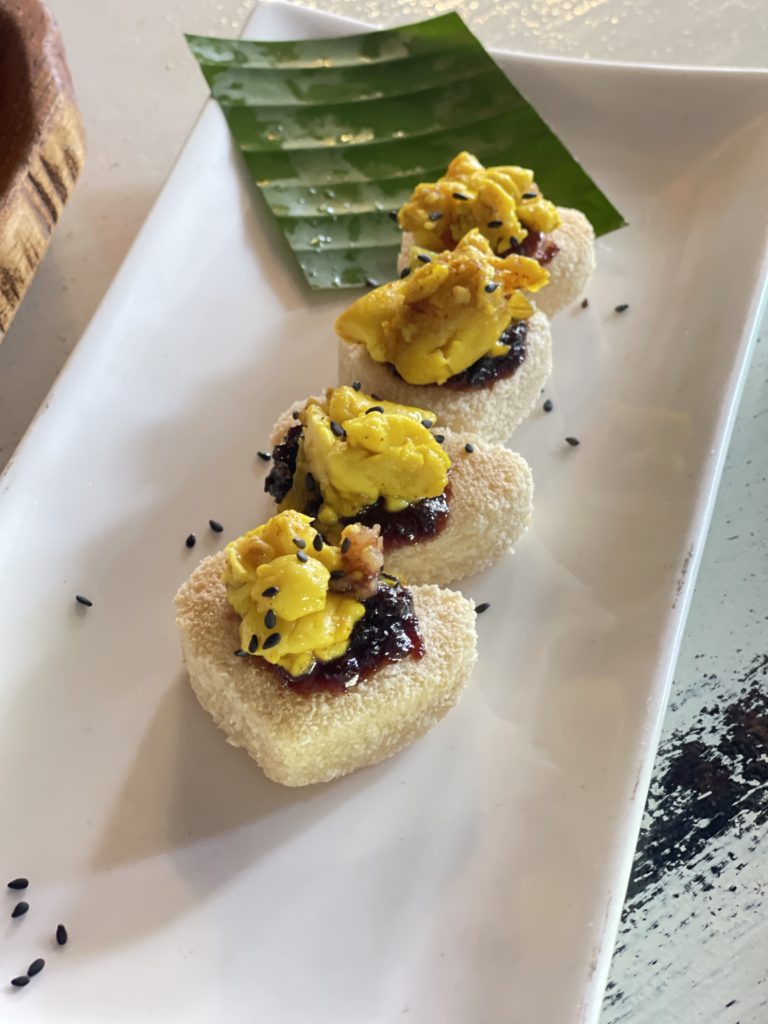 A lot of resorts in Montego Bay are all inclusive and ours in particular (The S Hotel Jamaica) had such delicious offerings on site that it made it tempting to stay put! We are glad we ended up venturing out though because we had some pretty epic meals when we did!
Here are some places worth trying in Montego Bay:
HELPFUL HINTS WHEN VISITING MONTEGO BAY, JAMAICA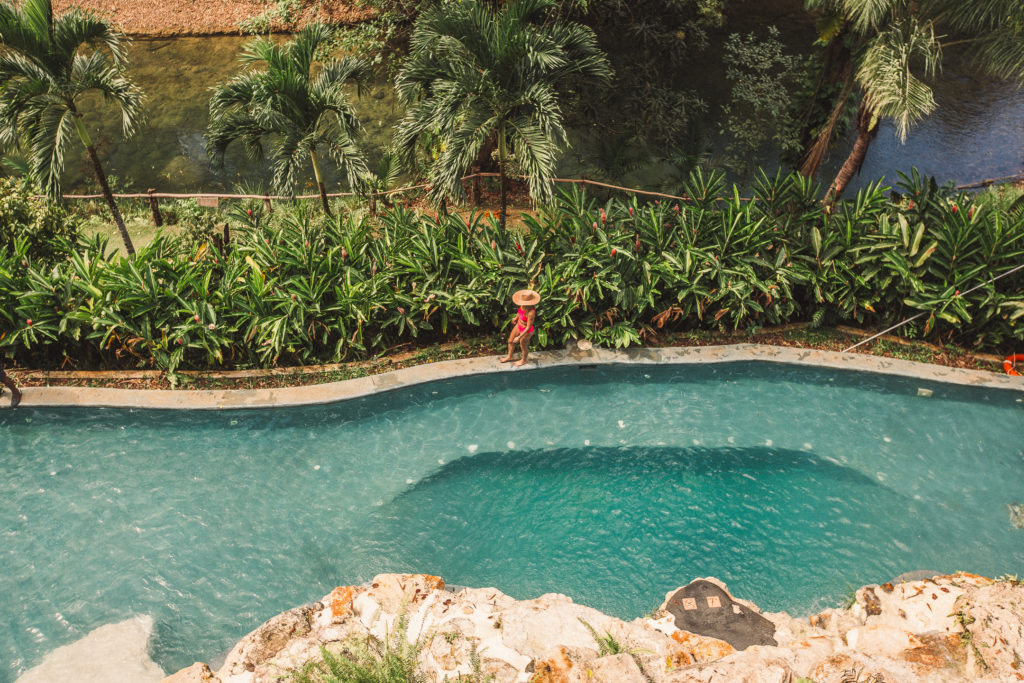 LANGUAGE: English is widely spoken everywhere. Jamaica is actually the biggest English speaking country in the Caribbean over all which makes travelling there very easy if you are from North America. The local language is Patois and you may hear it in some convo's amongst the locals. I loved learning a few little words and expressions that are commonly used on the island!
TRANSPORTATION: If you are basing yourself in Montego Bay, I don't recommend renting a car. For a longer trip- it would definitely be worth it but hiring a driver or taxi would make the most sense for quick restaurant visits or tours. Depending on the tour operator you book with, some include hotel pick ups. We did a bunch of tours with Jamaica Way Tours and their driver was AMAZING!!!!
CURRENCY: USD is the commonly accepted currency used. You will find hotel prices or restaurants listed in USD. Most of the ATMS accept international bank cards and hey, if you are Canadian- they have a Scotiabank there!
SAFETY: Like anywhere in the world, don't be an idiot. I never once felt unsafe in Jamaica. Not once. I didn't go out late at night though or wander around town solo.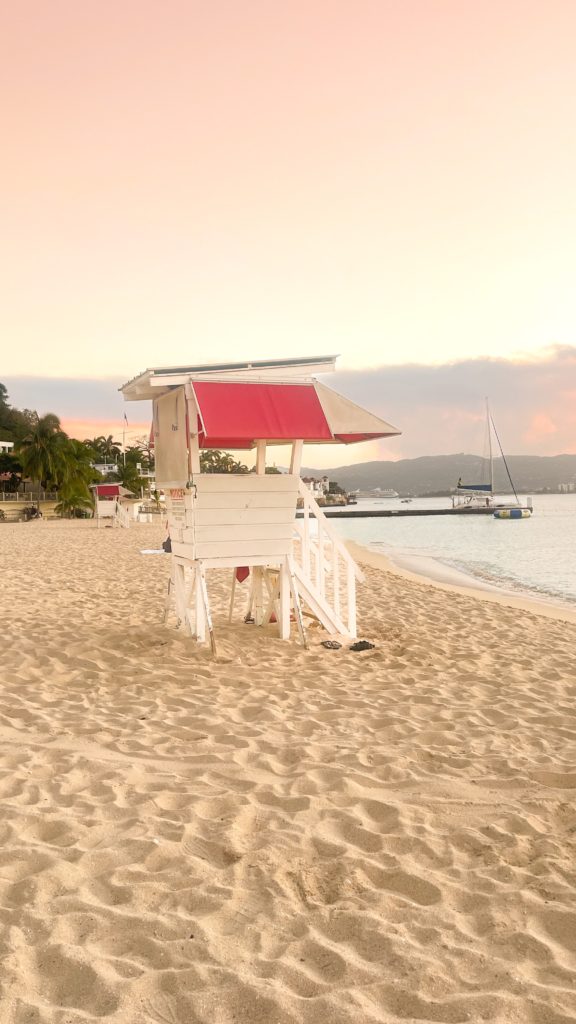 ---
Though the landscapes and scenery of Jamaica are mind blowing, the people and culture is what really touched my heart. Jamaica cannot be summed up in a few paragraphs and though photographs will definitely influence you to visit- it is a place that must be felt. One Love.
PIN THIS POST