I am excited to share my experience about booking a trip with The Travelogist.
Being in the travel blogging space, I never thought I would use a travel agent or service to help plan a trip. I am good at researching and if you add in my Type A personality, trip planning is something that I very much enjoy! I know that I am of the minority though and for most, it can feel overwhelming.
It used to be easy, peasy for me to whip together an itinerary for a destination and find a hotel……that was until COVID. During the pandemic I got to know that feeling of being overwhelmed with travel planning and feeling "planning pains". What are the restrictions? Does the hotel require proof of vaccine? How do I get back to Canada safely? What if something happens when I am away? Justin Trudeau just announced what?
I came across The Travelogist– a Canadian travel concierge service- just in time for our month long trip to Costa Rica and am so, so thankful I did! It alleviated a huge amount of stress planning this extensive trip. With a new baby in the house and Chloe being the busy body that she is, I didn't have time to research all of the things I needed to research. As we know, post-pandemic travel is not business as usual anymore.
This service is like having a cooler, more hands on jetsetter bestie that can be available to you 24/7. Seriously- you can get in touch with a live human at any part of your trip at any time.
There are 3 packages that you can choose from depending on what your travel needs/wishes are and the best part about it, is that it is beyond reasonable! Plans range from $299 per trip to $459 per trip and includes up to 6 people.
Here are some of the things that got sorted for us through the package we had:
Flights booked! They found us an unbelievable fare and added on our frequent flyer benefits/miles. I also wasn't aware we could add on a Bassinet option for Gemma and they did it for both routes
Car rental booked with their preferred rates ( When I was looking online prices were almost double but they managed to find us an industry rate). We also got a 2nd driver added on for free!
Full travel insurance options ( pretty much a must now with COVID). They also advised on protocols and entry requirements, including connecting points
Created a tailored travel itinerary with some curated activities and excursions that reflect our vacation style
Restaurant reservations for some of the areas we will be visiting ( Very cool ones may I add!)
Information on all of nearest hospitals ( Key when travelling with kids)
Priority airport check ins, fast lanes through security and immigration, escorted gate to gate transfers
Hotel Upgrades ( From a standard garden room to an ocean view room at one of our hotels!)
These are just some of the favourite things we had included but the list of things that we had taken care of was really quite extensive.
Let me backtrack a bit and explain the process of how this all went down…
Pre-Travel
After choosing the package that worked best for us, we were emailed over a questionnaire to help our agent understand our travel style. The questions went through our needs and wants for the trip and after submitting it, there was a few additional exchanges between us and their team to make sure they truly understood what we wanted. We also filled out a Travel Request form that gathered all of our frequent flyer numbers, passport documents and vaccine information so that they could even check in for us if we wanted them to ( Spoiler alert: we wanted them to!)
It was not long after that were given a personalized itinerary where every "I" was dotted and every "T" was crossed. Literally no page was left unturned and this was even before take off!
Two weeks before our trip, I was able to log into The Travelogist App and see a FULL breakdown of our trip! I am talking flight info, hotel info, transportation tickets, restaurant reservations, COVID test sites, nearest hospitals, embassies, currency converter, tipping protocol, local SIM card info, local weather details, and EVEN places to breastfeed in the airport that catered to nursing mamas!! Revisions are added and accessible in real time and are shared with your travel specialist so you both have access to it!
Don't have wifi? No problem! You can access it offline at anytime. If you still have questions, you can literally chat with someone from their end at any time you want! Prior to leaving on our trip, we would just scroll through all of it because it was so exciting to look through!
On the day we departed, we got a message on the app letting us know that our flight was on time and that the flight conditions looked good but warned us there may be some turbulence en route. Yes, actually. I couldn't believe we were getting these kind of details.
From that point on, we basically just showed up to the airport and dropped off our luggage as the team checked us in already and uploaded our boarding passes into the app. I am normally breaking into a mild sweat after checking in and instead I was beyond relaxed.
The Man behind The Travelogist
So who brewed up this 5 star travel app?
Based out of Montreal, Alain Robert is the brains behind this incredible service. He has worked in the travel industry for over 27 years and his resume includes working for Celebrity Cruises, Aeroplan Groupe Accor and organizing, managing and building a travel program for Cirque du Soleil. He even worked as a flight attendant for Westjet so he has worn many hats within the industry!
He launched the The Travelogist with the goal of bringing the magic back into travelling. Any client of his will be given a five star travel experience where you can enjoy your trip safely and have a curated, top notch experience as well. Alain has been given the preferred partner status at luxury hotels around the world, including Four Seasons Preferred, Belmond Bellini Club, Shangri-La Luxury Circle, Ritz Carlton Stars , Marriott Luminous, Hilton Impresario and Hyatt Prive to name a few.
I thought I was special because I was a Marriott Bonvoy member (lol) but the perks I thought I had were not the same as Alain's. Having the extensive background under his belt has allowed for special relationships in the travel industry, with perks that are not available to an average travel agent.
Peace of Mind when Travelling with The Travelogist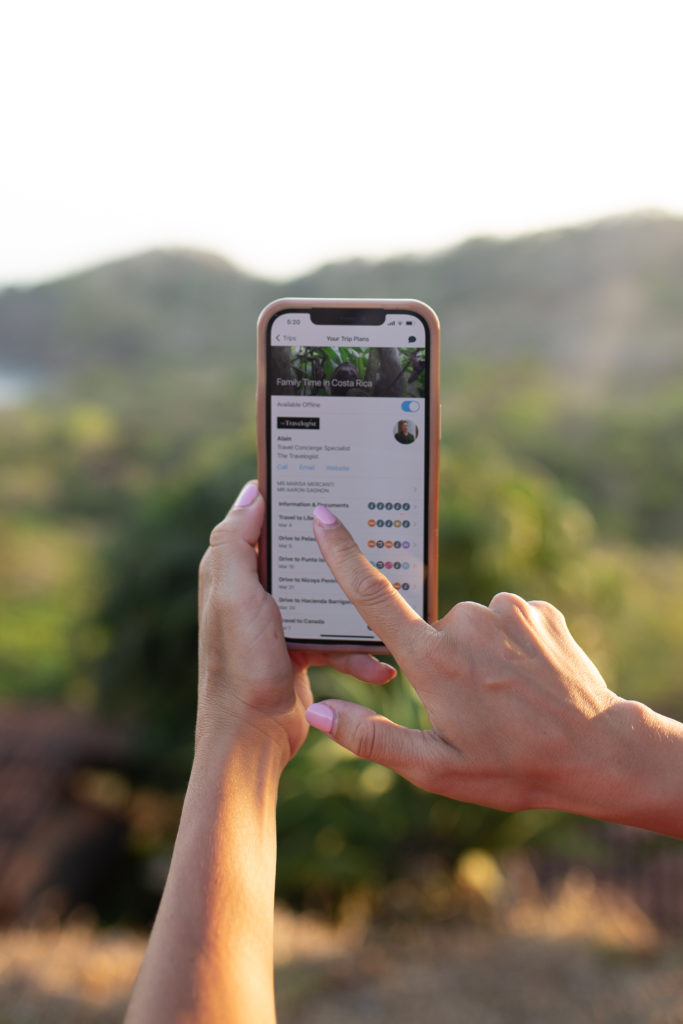 Besides the enhancements like getting our room upgraded at one of the hotels or having a free breakfast added on at another one of our accommodations, I think the best benefit of planning our trip with The Travelogist is feeling at ease when we are here. I know that if anything was to pop up, I could reach out and have someone from the team help me. A few days ago, I even messaged them and asked where we could find a waterfall to visit and I got an answer just a few hours later. It included a list of thoughtful suggestions and narrowed it down to one specifically that would be the best fit for us with the kids.
For the price, it is worth it on so many levels and I am so glad that I took the plunge and went through with it. If you have an upcoming trip, I highly recommend trying out a package so you can focus on packing your favourite bikinis, sunscreen and passport and let everything else fall into place with their help!
BOOK THE TRAVELOGIST HERE