Are you looking for the best things to do in Perth Ontario? This guide is for you!
Perth, Ontario aka the cutest town in Ontario is filled with so many fun and exciting things to do. Though it's small, there is no shortage of ways to fill your days.
With it's stone heritage buildings, trendy culinary scene and the fact that it's super walkable, Perth Ontario is a place that should be on everyone's list.
Whether you are just here for a weekend trip, for one of their many events that they put on or simply passing through on a road trip, I have you covered with a breakdown of what do in Perth!
This was my first time visiting Perth Ontario and it certainly won't be my last! I can't wait to come back again in the winter.
Where is Perth, Ontario located?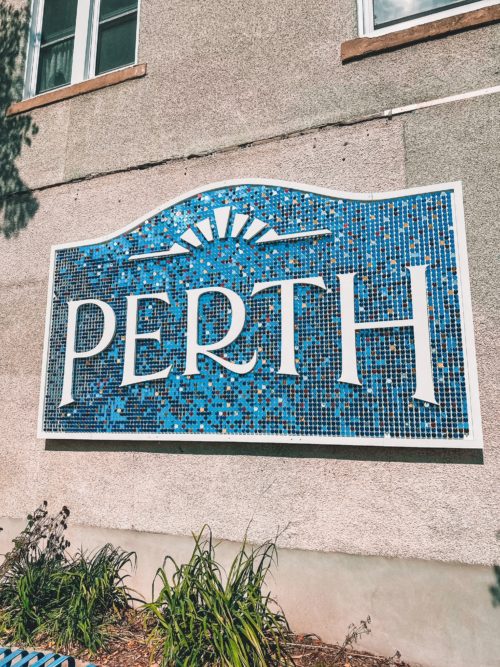 Perth is located in Southern Ontario within the Lanark County. This tiny town of only 6,000 people is only 1 hour from Ottawa and less than 4 hours from Toronto! Whatever area you are coming from in Ontario, it makes for a great weekend road trip.
The drive from Hamilton ( where we live) was great. After we got off the highway, the remaining 2 hours were spent on backroads. I highly suggest doing the country route there as you pass so many incredible farms in the area ( a lot of them have markets too where you can buy some homemade baked items for the road because what is a road trip without stopping several times for good snacks! HA)
How Many Days Do You Need in Perth, Ontario?
I would recommend a full weekend to experience all the beautiful things Perth, Ontario has to offer. Between the restaurants, festivals, events, parks and hikes, 2 nights and 3 days will give you the change to really immerse yourself into the feel of the town.
Insider Tip: A lot of the restaurants and spots in Perth close early so expect full days but early nights. My kind of place if you did say so! haha
Where to stay in Perth Ontario?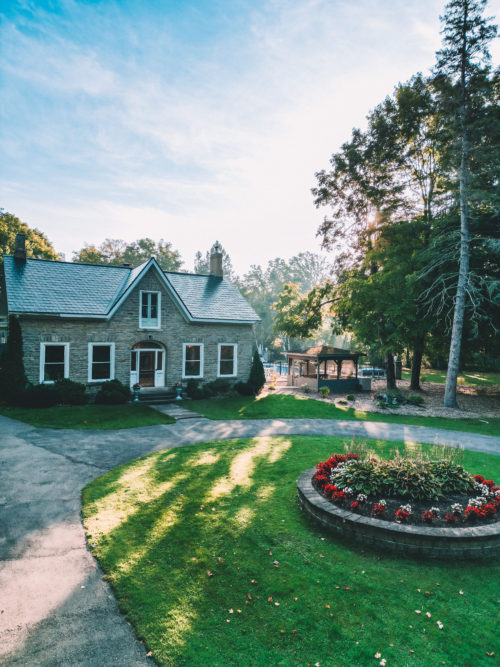 Nevis Estate- Luxury Accommodation in Perth, Ontario
Nevis Estate is quite possibly the coolest and most unique places I have ever stayed and if you find yourself in Perth, Ontario I would really urge you to try to book a stay there!
Opening just last year, the estate was thoughtfully restored and renovated from it's original 1842 heritage set up to reflect a modern, cozy and luxe space.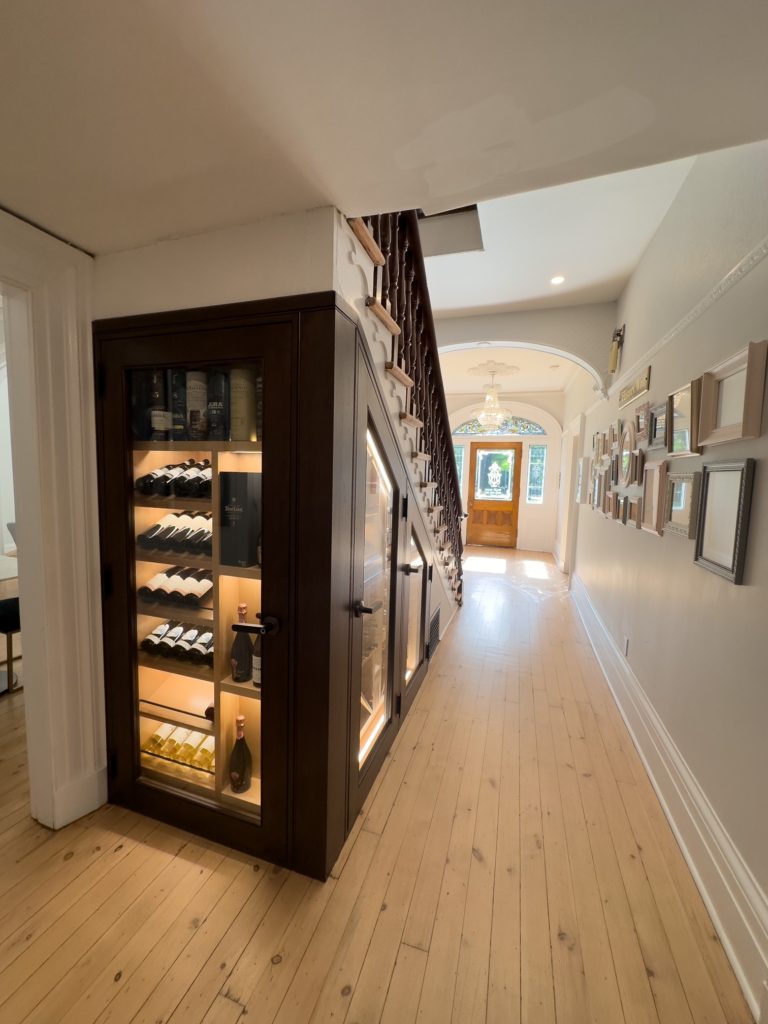 What's even more special about Nevis Estates is that it's only a 10 minute walk from the center of town but you legitimately feels like you have been transported to the countryside of England. While it is a smaller boutique hotel, it has all the five star amenities that you will ever need!
The property has original Pine hardwood floors ( that they want to preserve) so upon arrival you are asked to take off your shoes and put on a pair of their in house slippers. It really sets the tone of how your stay will go and adds to the vibe of the place- cozy, luxe and relaxing.
Here are some features of Nevis Estate that make it truly special:
In Room Dyson's ( Yes the $$$ hair dryers)
Exquisite Bedding and Linens
Complimentary Slippers
A full 5 star breakfast included that is set up in their stunning dining room
Seasonal pool with lounge chairs
Sunroom and other common areas perfect for reading or relaxing
Complimentary Wifi
Lobby Bar (CUTEST!!!!)
In Room Nespresso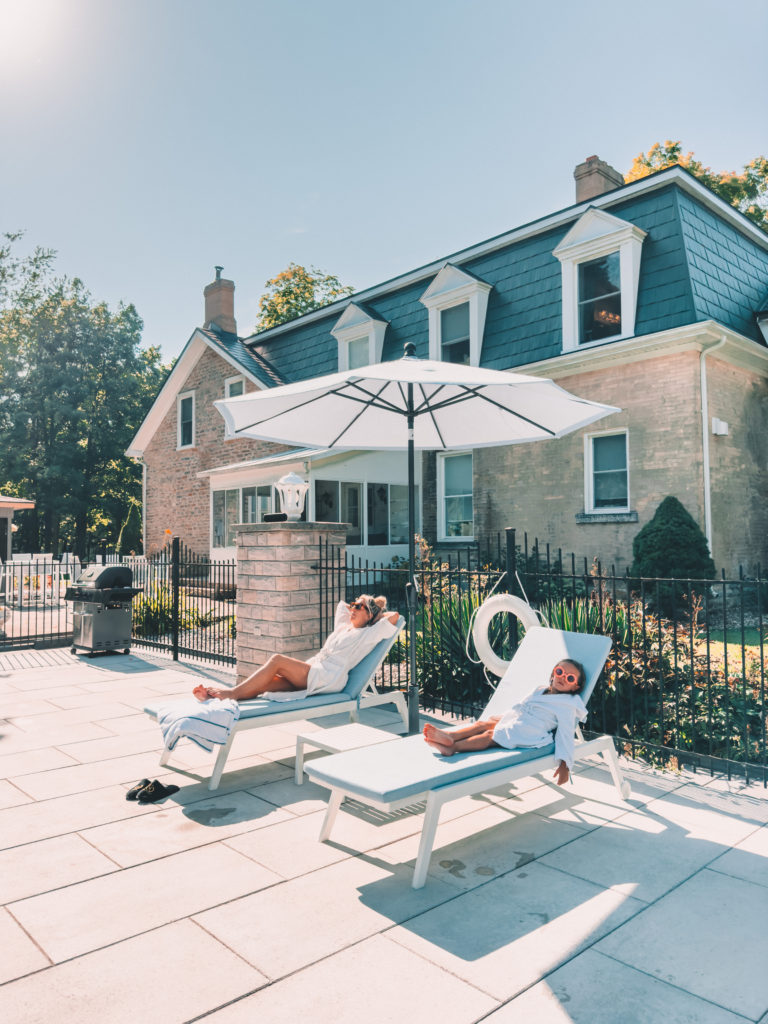 Other Places To Stay in Perth, Ontario
Another great, more budget friendly option is the Best Western Plus located in the heart of town. While some Best Westerns are mediocre, this one is honestly WAY above average. Dare I say even beautiful. It has an onsite restaurant, spa and the rooms are completely spacious.
If you want to stay somewhere unique, this Air Bnb pictured above is a great option and located in the cutest in stone house which is very "traditional Perth". It's set up as a loft studio with a private waterfront view.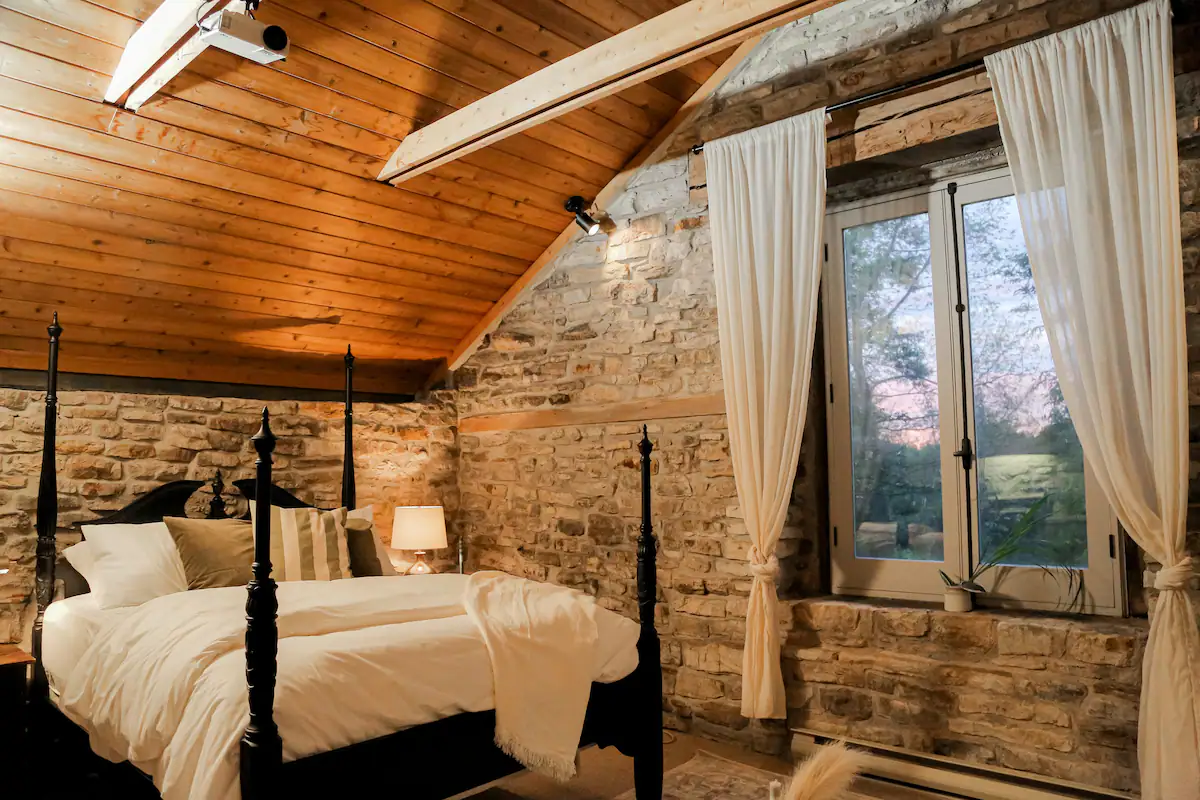 Let's get started on the some of the most amazing things to do in Perth Ontario
Things To Do in Perth Ontario: Go on a Beer and Spirit Tour
I love doing an unofficial beer or wine tour when I visit a new place and Perth is a great place for just this! We stuck to beer and spirits only and moved through 3 of the best spots in town to do so! It's a great way to get to know the local businesses and each of these spots are located in different areas of Perth as well which we liked.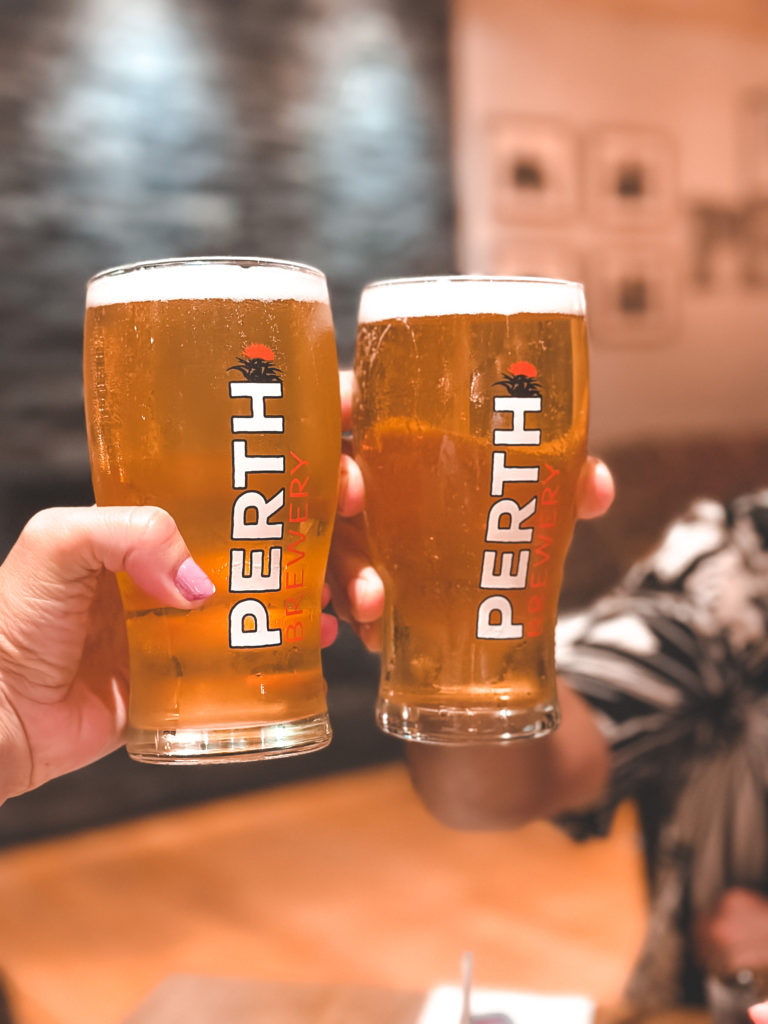 Perth Brewery – If you don't get to visit the actual Perth Brewery location, you can find their beer on almost every menu in town! Their radlers are not to be missed!
Bridgemaster Brewery– A new kid on the block, this brewery has a great selection of craft beer AND a food menu! Double whammy.
Top Shelf Distillers –This is Perth's well known craft distillery! They serve up classic spirits like gin, vodka and whiskey but what really sets them apart from others is their handcrafted moonshine! They have the most unique flavour's like raspberry and maple! Traditionally a lot of moonshines have a 50% alcohol content but some of theirs are "only" 15% making it perfectly acceptable and doable to try a few of them!
Visit the Iconic Stewart Park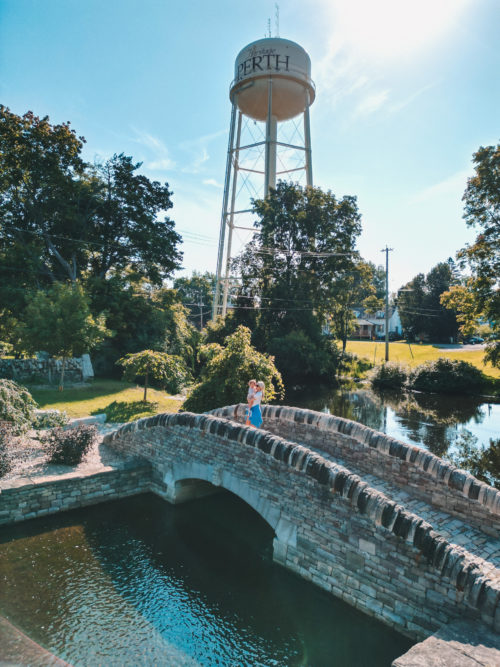 If you are looking for free things to do in Perth Ontario, this one is for you!
To be honest though if there was an entry fee to come to this park, I would pay!
Stewart Park in Perth is one of the most stunning parks I have ever visited- better than ones in Europe even!
Located right in the heart of town, Stewart Park is a sprawling green oasis with over 400 acres of grounds to explore. Given it's size there are plentiful places to hang out at and when we visited over the weekend, we felt like we had the entire park to ourselves. It's that big!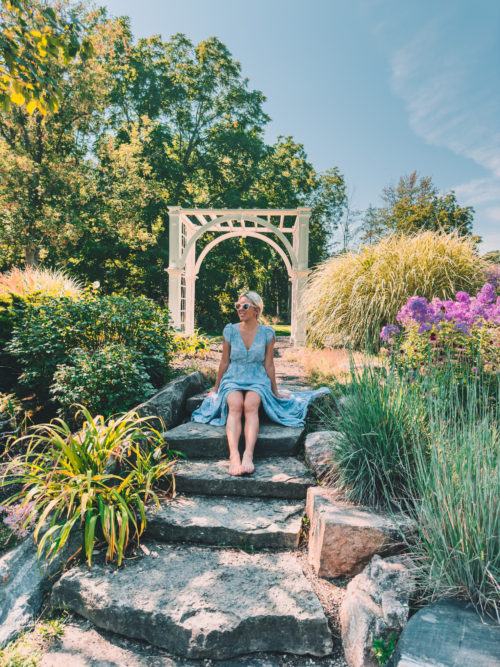 The Tay River runs though parts of it and in true Perth fashion they have built small, picturesque bridges that can take you across. The Dry Stone bridge ( pictured above) was added in 2016 even though it looks super old! It was built to celebrate Perth's 200th birthday and it definitely gives off Disney Fairytale vibes.
Things To Do in Perth Ontario: Visit Code Mill's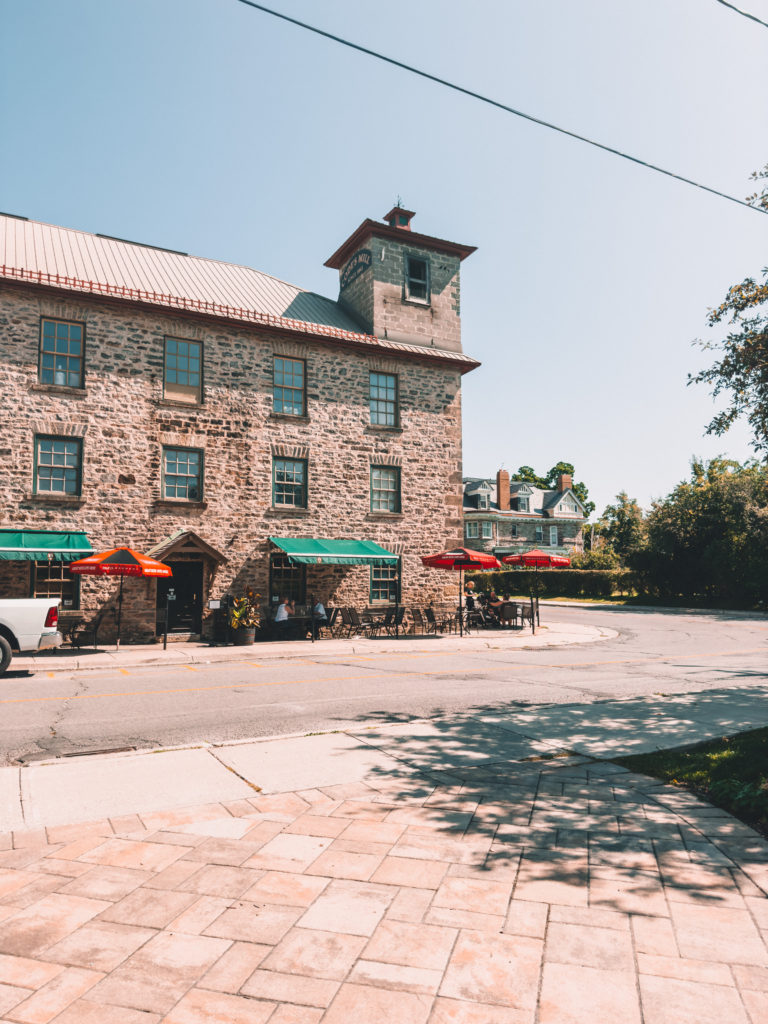 Code's Mill is a set of buildings that date back to 1842. It is a landmark now and probably one of the most photographged places in town!
Code's Mill is home to restaurants and shops and an indoor courtyard that makes you feel like you are in Europe. The courtyard even has a large fountain in the center of it! It's no shocker that people even host their weddings there!
Here are the places to visit at the Code Mill's: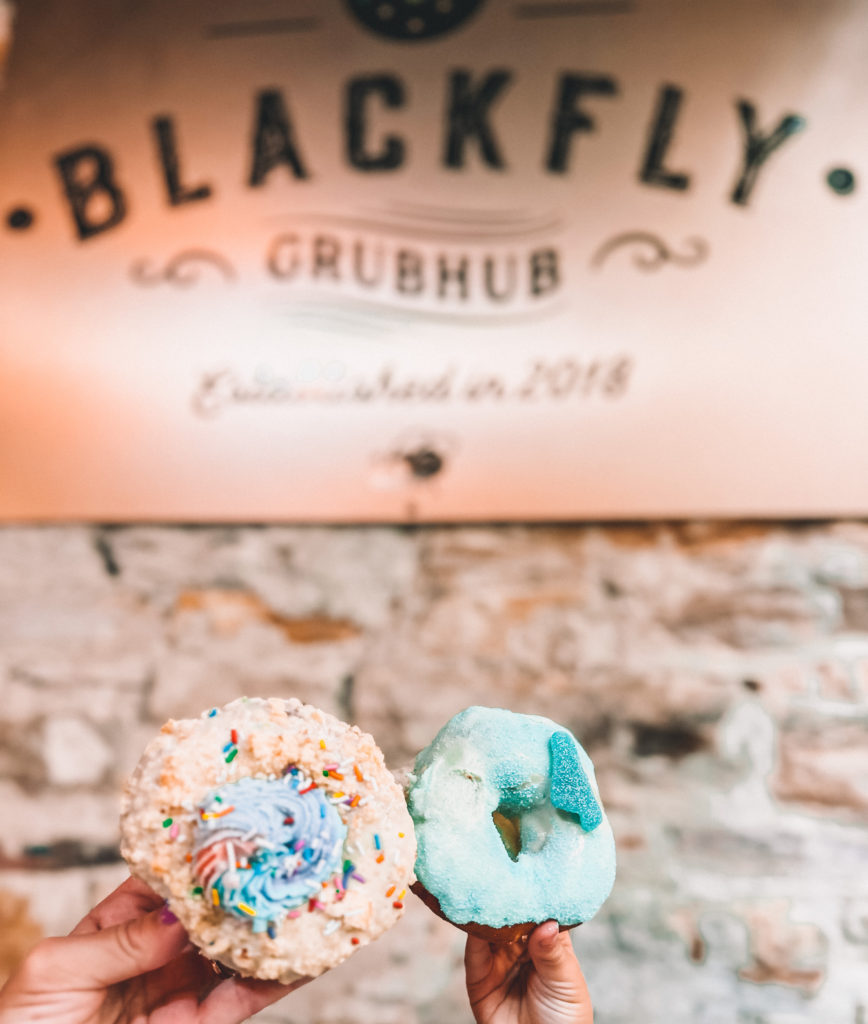 Blackfly Grub Hub: Go here for some creative and unique donuts. Trust me on this one. UNREAL!
Perth Chocolate Works: This is a family owned artisan chocolate shop that makes each and every chocolate right there on site
Kelly's Flowers and Gift Boutique: We visited this place when all their fall decor was out and I almost left with a car load of items. They have fresh plants and flowers, candles, perfect hostess gifts and more
Fiddleheads Bar & Grill: Pub classics in a cute setting! The patio is also perfect as it gives you perfect views of Stewart Park.
Discover Perth Ontario's History with a visit to the Perth Museum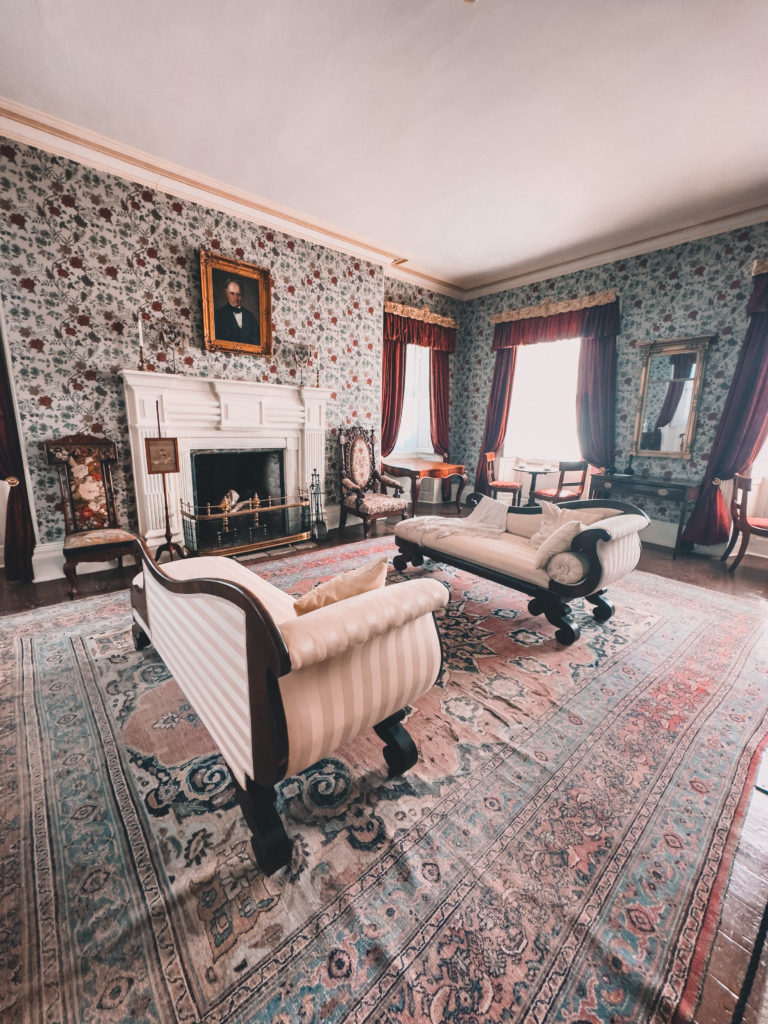 Perth Museum, located in the stunning Matheson House on Gore Street, is a tourist attraction that you cannot miss!
The house itself was built in 1840 and is considered a national historic site which is worth a visit alone for that fact!
The Matheson House was occupied by a wealthy family in the 1800's that lived there for over 90 years! Their rooms are still there and you can get the feel of how it was to live like them when you tour the spot.
Throughout the house, you can find items that give you some really neat insight to Perth's history. Everything from land records to iconic signs and even past records allow you to learn about how Perth came to be and the monumental events that gave shape to what it is today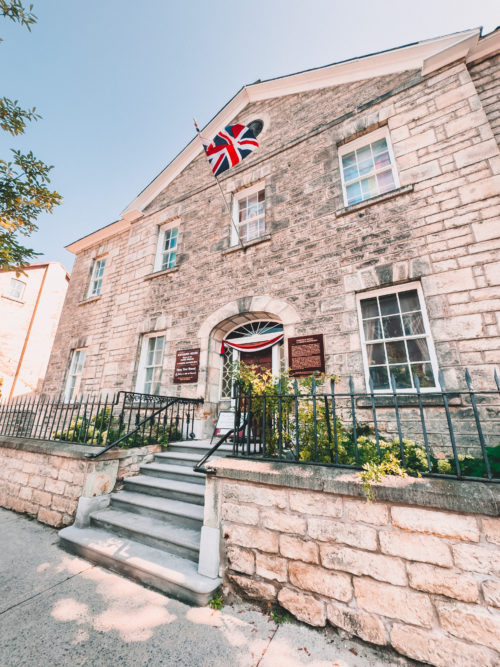 Insider's tip: If you have kids, this is a great free thing to do in Perth! They hand out a little scavenger hunt paper where they can try to locate all the items throughout the house. If your kid finds them all ( it's not hard), they are given a little prize at the end. It surely kept our girls entertained!
Things To Do in Perth Ontario if you are a Foodie! Eat at some of Perth's Restaurants
Perth is a small town yes but it's personality is BIG and so is it's dining scene. You can spend your entire weekend eating through town.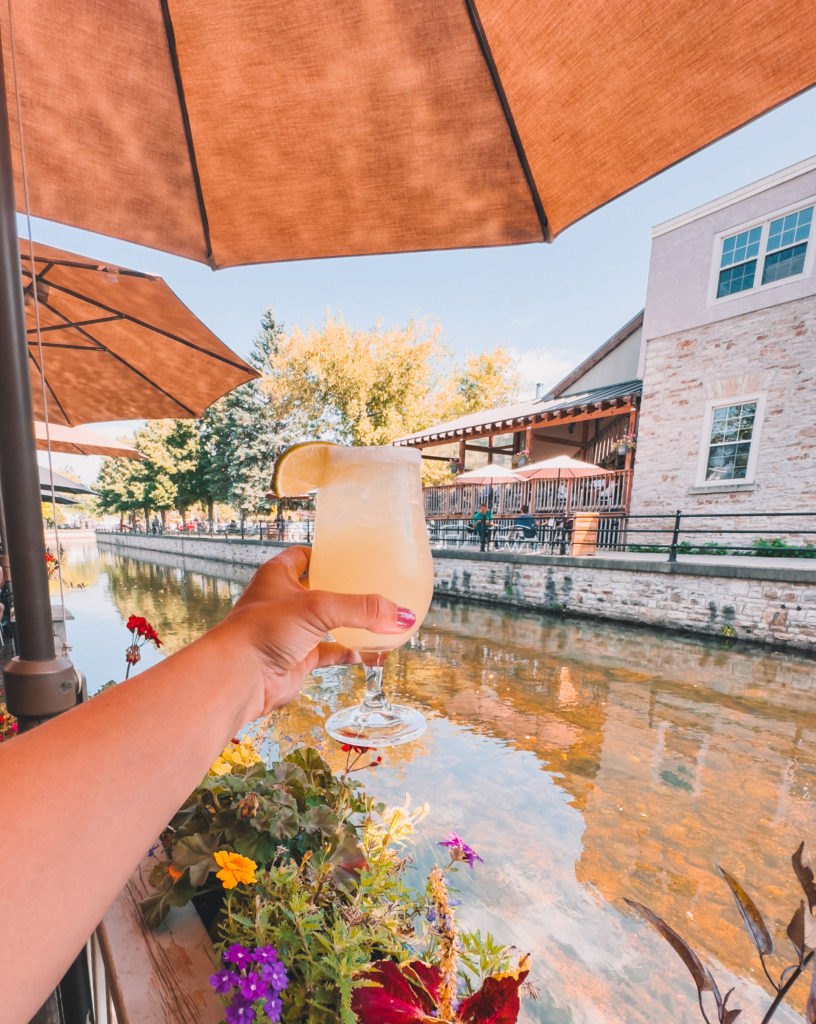 Things To Do in Perth Ontario: Attend One Of their Festivals or Events!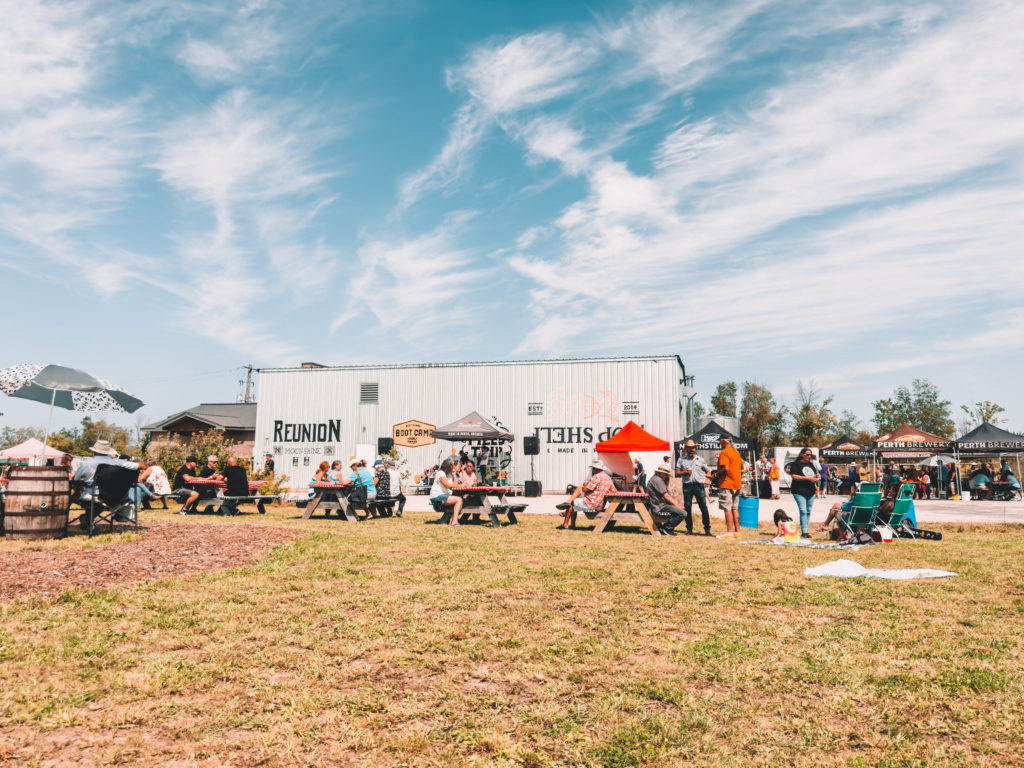 Drink at The Ontario Moonshine Festival
The Ontario Moonshine Festival happens every year at Top Shelf Distillers! There are a variety of vendors sampling the finest of Moonshines, beers, and other spirits and it gives you the chance to try a bunch! The festival is outdoors and it's a super fun vibe all around! The best part is that tickets are not required for this event so it's a great free thing to do in Perth Ontario if you happen to visit on the same weekend!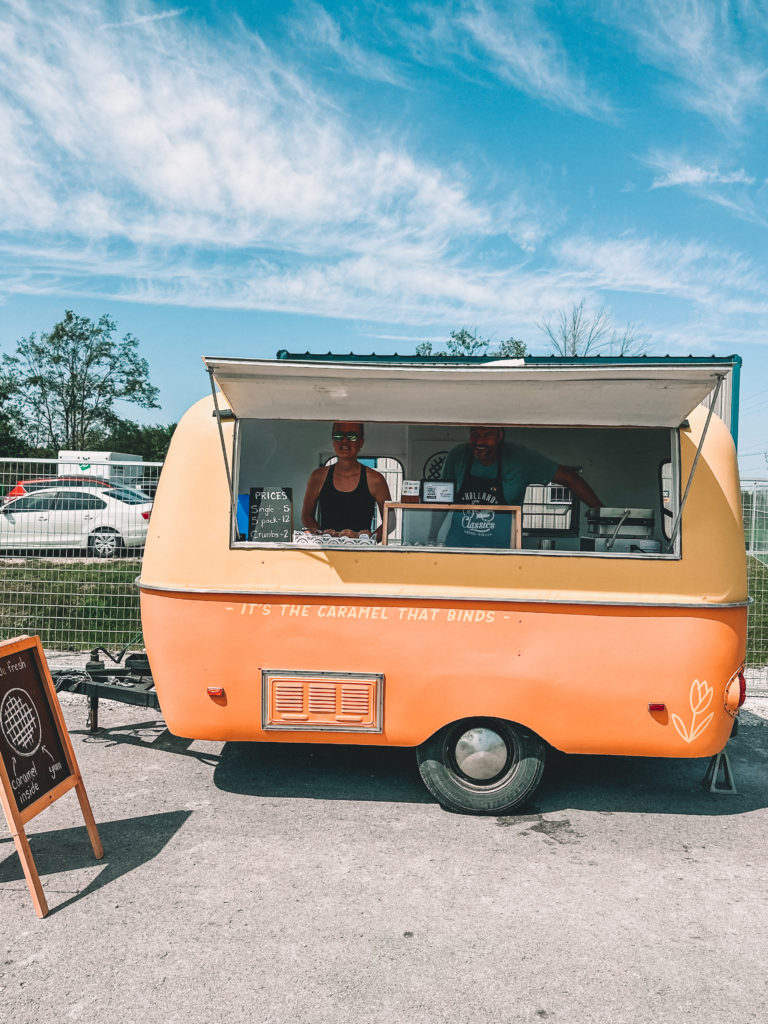 They have bands and live music happening throughout the day, lounge areas to hang out at, corn hole on site and a mini beer/cocktail garden to visit! We had SO much fun here and could have easily spent the whole afternoon sipping on some drinks.
Notes about the festival: Parking is free! You can end up purchasing food and cocktails at the event itself which range from $3-$10.00. Gates to the event opening from 10AM-6PM
Looking to visit some other awesome places in Canada? Check out my other posts below:
The Perth Fair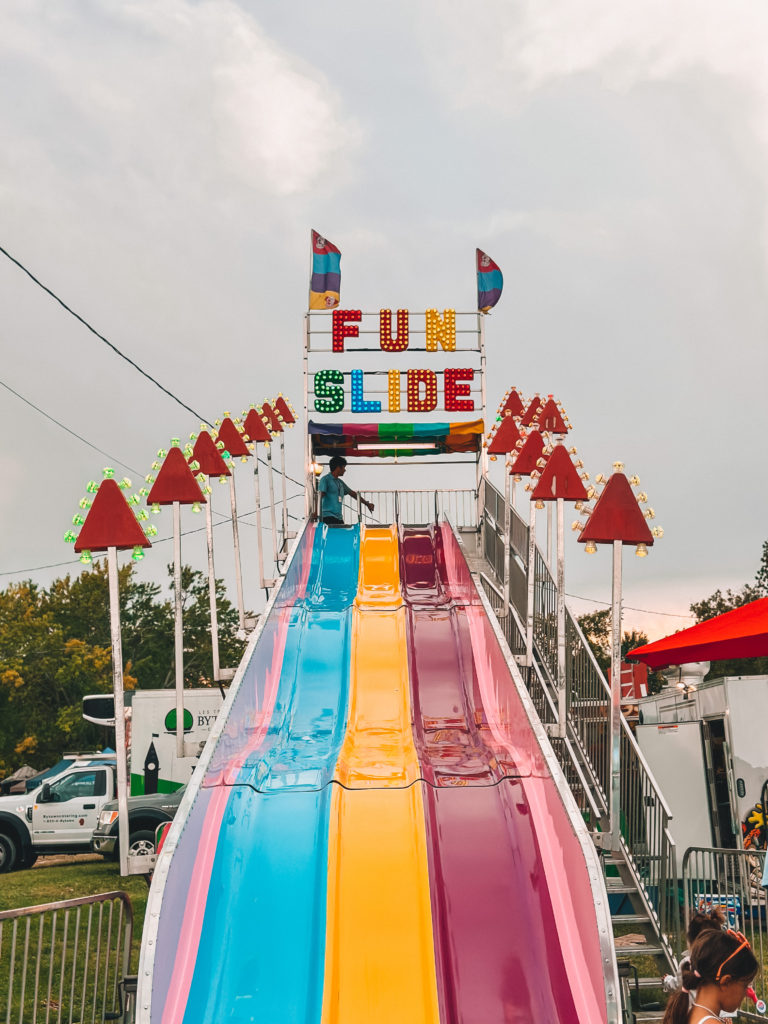 The Perth Fair is another Perth Ontario event that you can't miss! It has been happening every year since 1852 which is kind of crazy to think about! Such an iconic event that is over a century old!
The Perth Fair is one of the best things to do in Perth Ontario with kids if you are travelling as a family! Our girls had the best time and I won't lie….so did we! Between the cotton candy, Sizzler ride ( omg so fast), Fun Slide and all the little games we played, our stomachs honestly hurt from laughing so much.
Notes about the Perth Fair: Admission for adults: $12, Children 7-12: $5, Children 6 and under: Free. The Perth Fair falls on Labour Day weekend every year if you want to plan ahead!
The Stewart Park Festival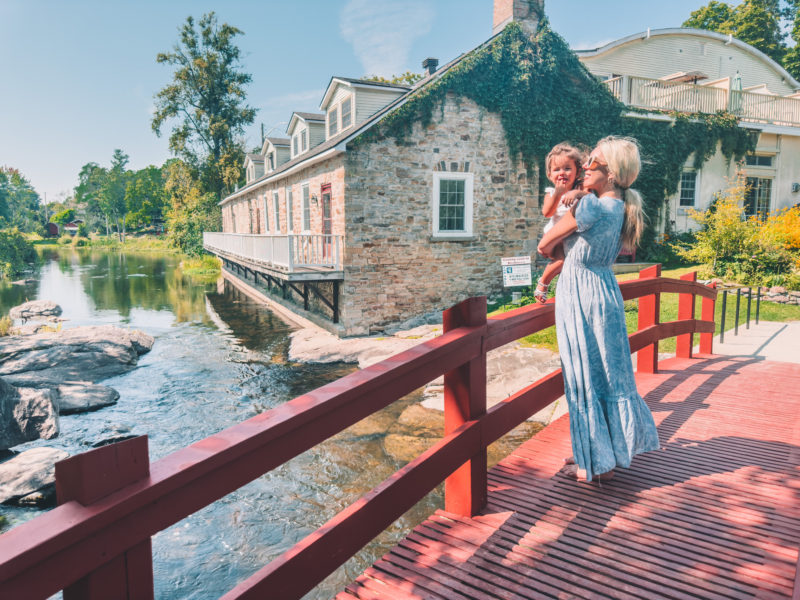 Music lovers rejoice! This musical event that happens in Perth Ontario's Stewart Park is one of the livliest events of the year!
You really can't beat listening to music in such a gorgeous atmosphere like Stewart Park! Not only is the event free to attend but in addition to the musical entertainment that they have lined up, they also have a kids area to explore, a beer patio to visit and vendors set up to shop with! It's a great event for all ages
Notes about the Stewart Park Festival: It normally happens mid July ( this year's was July 14-16)
Holiday Events in Perth Ontario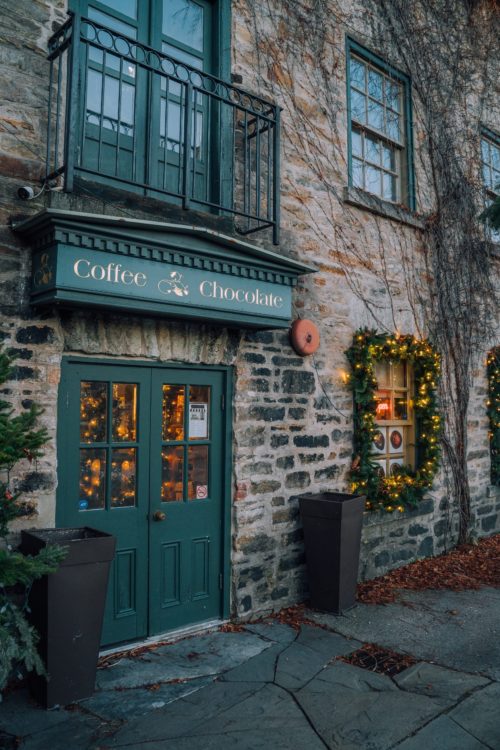 If there is one thing that Perth reminded me of, it was a Hallmark Christmas movie. I honestly can't imagine how magical the town would feel with a light dusting of snow and Christmas music playing throughout the stores. We are contemplating a trip there this winter strictly to see it in Holiday Mode!
With that being said, there are a ton of Holiday Events that Perth puts on to get everyone in the festive mood. Here is the line up for 2023:
The Perth Night Market
The Perth Night Market is an event that allows you to take in the streets of Perth and be entertained by local vendors, restaurants, pubs, pop up shops and more. The streets are closed for this event so it feels like the entire town is one big festival! In a town that normally gets pretty sleepy at night time, The Perth Night Market will keep you buzzing! It is taking place on September 16th weekend of this year
, , , ,
Things To Do in Perth Ontario: Visit their famous mural!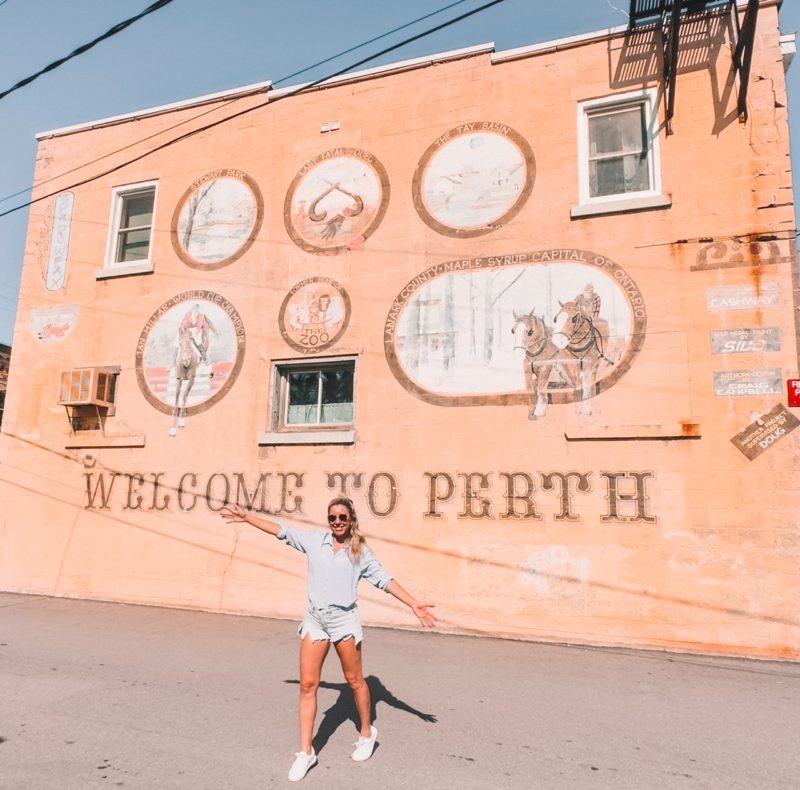 If you love a good photo- op, this one is for you! This was my first stop of our Perth Ontario visit and I am not made about it. It sort of felt like our welcome hug from the town itself when I pulled up.
This 1988 mural is one of the most popular spots in Perth with both locals and tourists a like! It's known as the Red Fox Mural and one of a number of murals scattered around town.
What I love most about this mural is the backstory behind it! Artist Craig Campbell was down and out after his marriage ednded and needed a place to stay. The owner of the restaurant where the mural sits invited Craig to come and stay in one of the rooms above it. Instead of paying for lodging, the owner asked Craig to pain the exterior wall of the building. And paint it did he indeed!
HERE TO FIND THIS PERTH ONTARIO MURAL?
80 FOSTER STREET, PERTH, ONTARIO, K7H 1S1
Visit with the Mammoth Cheese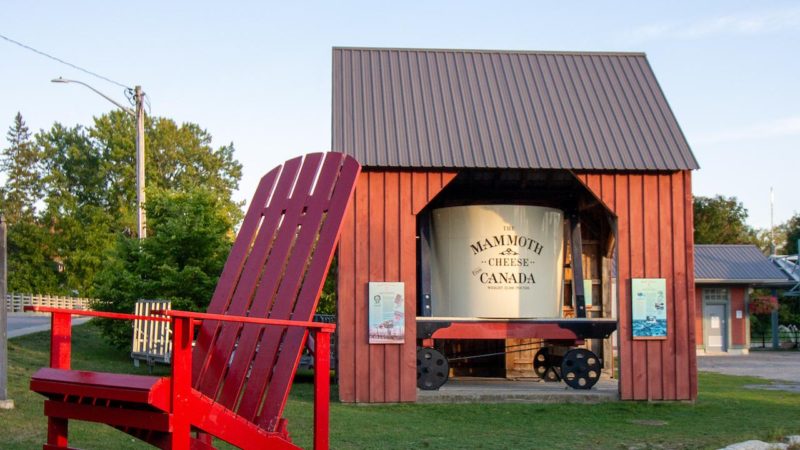 Cheese is a big part of Perth's history and if there is anything I love it's some good cheese! The Mammoth Cheese is a big massive display that is located right beside Crystal Palace. If you like cheese…and want a little history lesson- you should definitely visit this Perth landmark!
Back in 1892, a 22,000 pound cheese aka "Mammoth Cheese" was made in Perth to promote Canadian cheese in the area. It was to be brought to a fair in Chicago as a representation of what the Canadian cheese market could do. It became the most buzzworthy item there and was bought by a wealthy gentleman who then shipped it to England!
A replica of this massive block of cheese was created to pay an ode to the history of this event and I highly suggest checking it out and then sampling some good cheese ( with wine of course) as a tribute to it!
Things To Do in Perth Ontario If you Love Adventure: Go Canoeing, Paddle boarding or Kayaking on the Tay River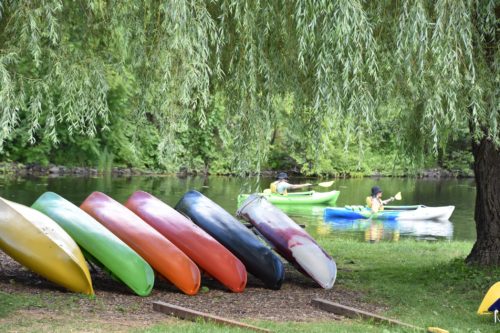 The Tay River in Perth is so peaceful to take in. While you can do this from within town or at one of the parks, the best way to experience the river is by getting right in it!
This option is possible when you rent gear from Perth Major Outfitters. The length of the river allows for you to spend some good quality time out there via paddle board, canoe, or kayak! Rentals are by the hour ( most of them start around $45) or you can do a full day
If water sports aren't your thing, they do have a mini golf course which was so fun for the kids. Another great thing to do in Perth Ontario with kids if you are travelling with yours!
Quick Links- My Amazon Travel Favourites
You can also read all about about my favourite travel essentials for women!
Explore Perth Ontario's Cutest Boutique Shops!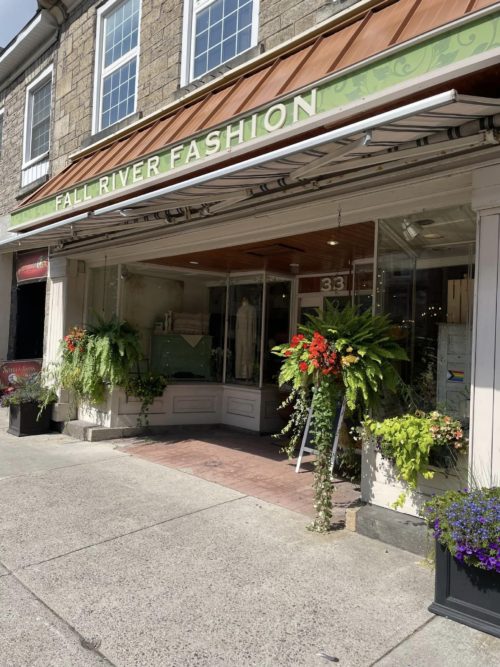 There are no shortage of cute shops and places to explore in town where you can shop until you drop! There is something so lovely about hitting up local and independent shops. I love supporting places like this as you can often feel the personal touches and love that these kind of stores put into their places.
No matter what you are looking for, you can find it at one of the many Perth shops! I am highlighting a few of the favorites that we were able to check out:
Riverguild Fine Crafts This store is legendary, opening back in 1977! It has handcrafted gifts made by local artists and is not to be missed
Aprikose Children's Boutique -This is legit the coolest kid store I have ever walked into. I was mad that some of their items didn't come in my size. It's an amazing place to buy gifts if you do have a little one you are shopping for!
Fall River Fashion– This store has the cutest store front ( pictured above) and has everything you need if you are looking for a last minute outfit or some cute gear in general!
Where Dragons Fly – Cutest store ever selling aromatherapy, bath bombs and other delicious smelling scrubs!
---
Looking for to do a road trip to Perth, Ontario?
---
I hope you enjoyed reading about all the amazing things to do in Perth Ontario and that I have inspired you to check out this fairytale like town!
Visiting Perth will make you feel like you are in a movie and I promise you that you will want to return again and again!
If you have any specific questions when planning your visit that I didn't cover in this post, feel free to email me!
PIN THIS POST