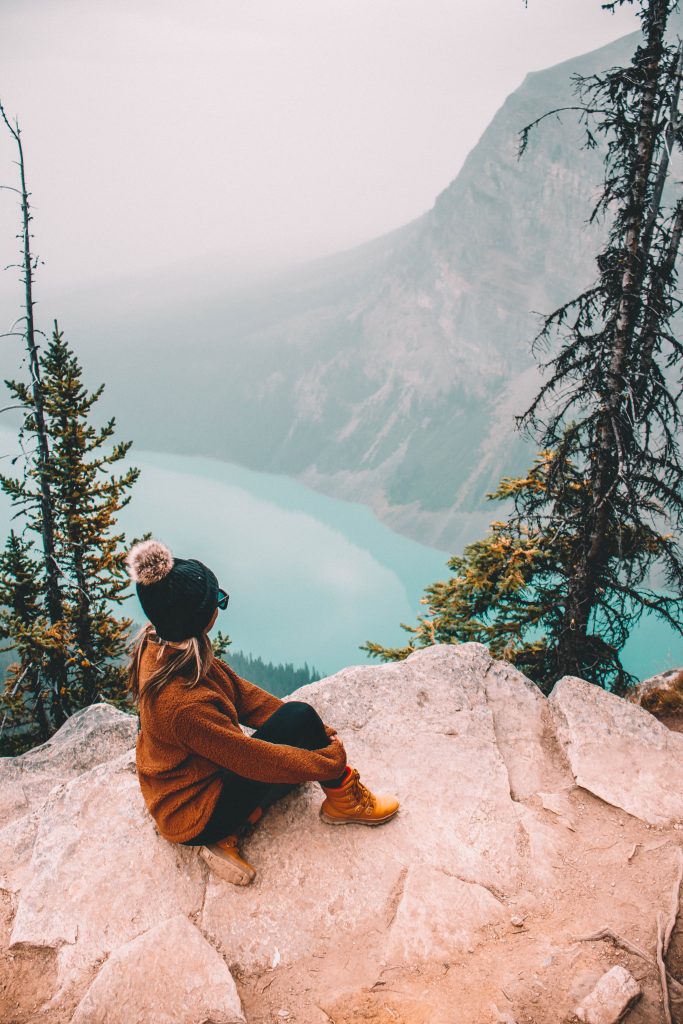 Here it is! The ultimate Banff itinerary! This is the perfect Banff Itinerary for 2 days, 3 days or 4 days!
Even though 2020 has been an absolute dump fire to say the least, there have been a few silver linings. I always try to see the positive in things and one of them is definitely being able to explore my own backyard a bit more. Due to the travel restrictions, we were nudged to throw away the big international destinations and start trading them in for places that are within Canada. Normally, I am a beach girl and always choose sand and sun over mountains and snow so choosing Banff or Alberta wouldn't necessary have been my first choice off the bat…but I am SO SO happy and grateful that we made it out this way.
Banff and Lake Louise are pretty much the epicenter of the Canadian wilderness and even if you haven't visited yet, you would be able to envision the scene of it because they are THAT iconic. It truly made me appreciate our own land but also made me think twice about certain trips moving forward. The sites, the views and the landscapes that we witnessed in this beautiful town didn't even feel real at times. They were that beautiful. Photos do not even do some of these places justice and
WHEN TO VISIT BANFF, ALBERTA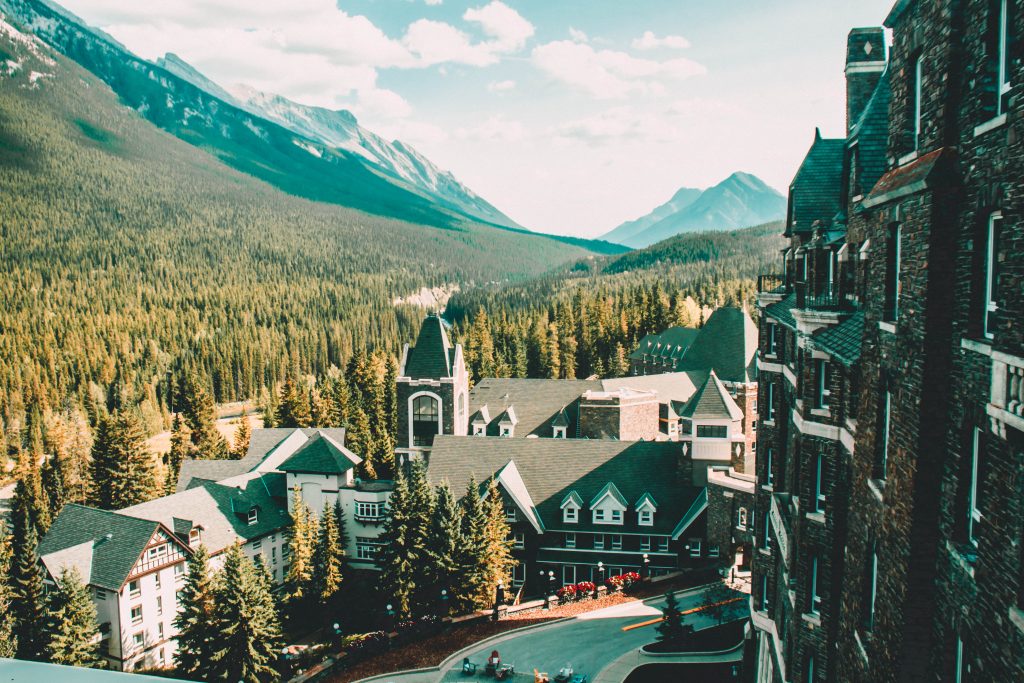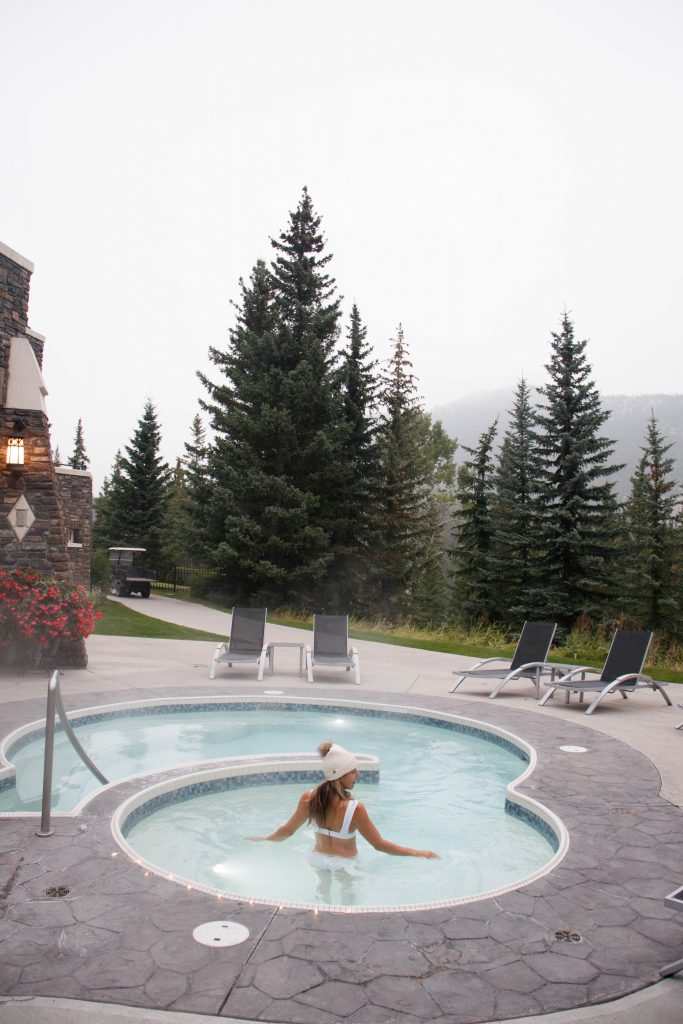 There is no wrong time to visit Banff. It all depends on the activities and sites you want to do!
Winter time in Banff- You can ski, snowboard, dog sled and get all the holiday vibes! Downfall: You don't get to see the blue hues of the lake. Hiking is more difficult
Summer time in Banff: This is the busiest season to visit. Prices are highest but you are guaranteed amazing weather, you can do almost all of the hikes and see the beautiful lake colours!
We visited in September and I would visit this month over and over again! The crowds have lessened, the weather was perfect ( warmer during the day and colder at night) and we felt that we got a mix of summer and fall weather- beautiful yet cozy!
Keep in mind that Banff weather can give you ALL FOUR SEASONS in one day. One day we woke up to a bit of snow ( yes really) and by noon it was 18 degrees!
HOW TO GET TO BANFF?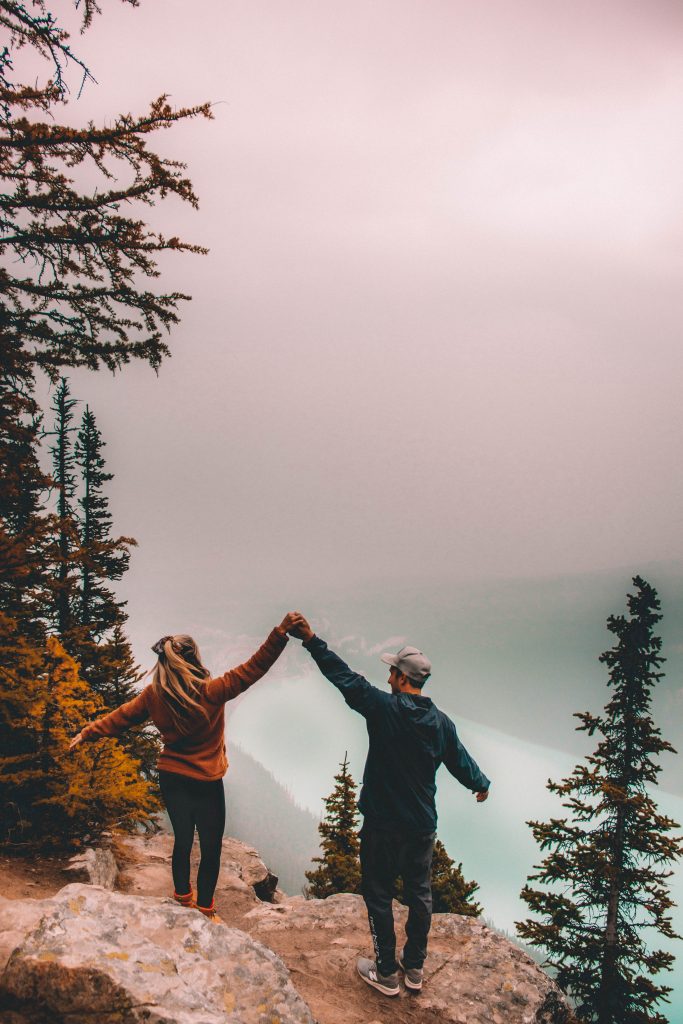 To get to Banff or Lake Louise, you would need to fly into Calgary International Airport. The drive from Banff to Calgary is about 1.5 hrs. A car is recommended not only for this part of the trip but for the remainder of it! We rented a car through Turo which is like an Air Bnb for cars and we got picked up right at the airport! The Trans Canada highway is a beautiful one so it was truly a pleasure to drive!
I hope one day I can also do the drive to Whistler from here too!
HOW LONG DO YOU NEED IN BANFF?
If you are doing Banff and Lake Louise ( along with the surrounding area), I would suggest a Banff Itinerary anywhere from from a minimum of 4 nights to a maximum of 7 nights depending on your vacation style.
Adding in Jasper National Park would definitely make your itinerary longer and in that case, I would recommend 10 days! The Canadian rockies are truly out of this world so taking it in at a slower pace overall is a good call.
WHERE TO STAY IN BANFF OR LAKE LOUISE?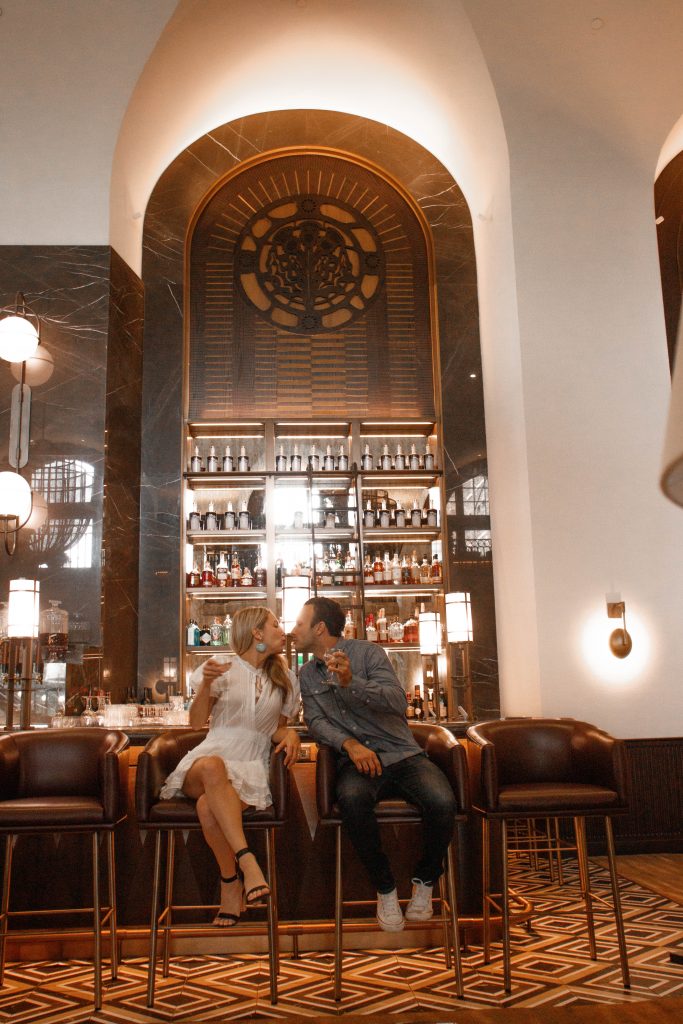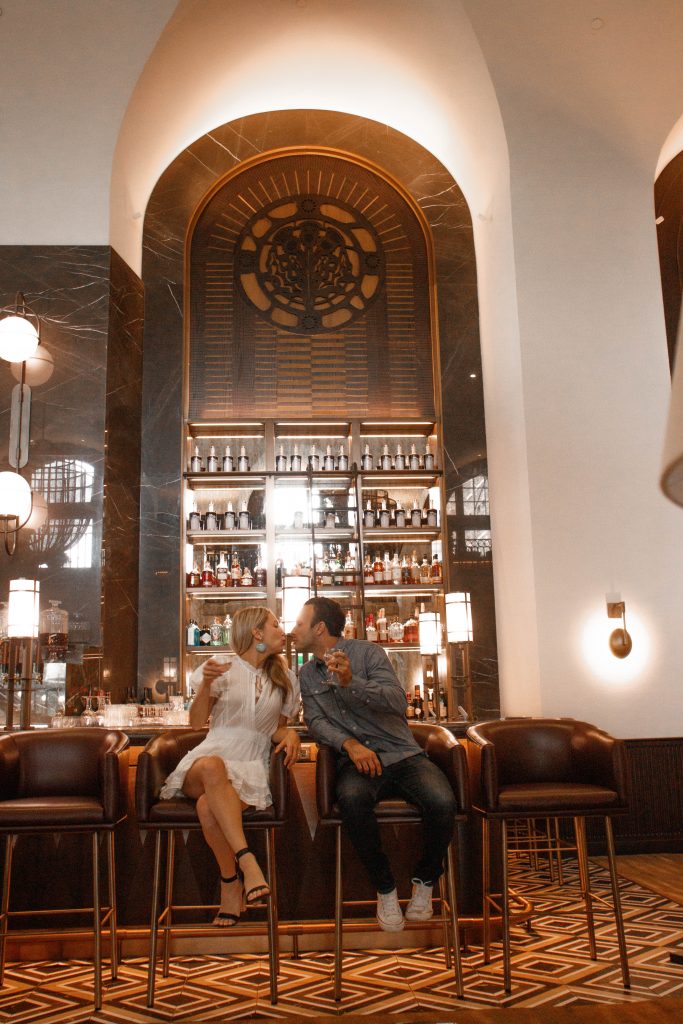 BANFF
$$$– Fairmont Banff Springs- I am definitely biased because this is where we stayed but FAIRMONT BANFF SPRINGS FOR THE WIN! You can see my full review and recap HERE. Basically they have over 5 restaurants, a full fledged spa and people flock there to check out the hotel even when they are not staying there. It's worth the splurge!
$$– The Rimrock Resort, The Canalta Lodge, Fox Hotel & Suites
LAKE LOUISE
$$$– Fairmont Chateau Lake Louise- Again, very biased but I felt it was worth the splurge. See my recap HERE. One of the biggest pros about staying here ( besides it obviously looking RIGHT into the lake) was that there were a lot of perks and savings associated with staying here. You get guarenteed parking everyday ( a lot of times the parking lot of Lake Louise gets blocked off), you get discounted canoe rentals ( some rates even include it) AND there are shuttles to Lake Morraine. There is also very few restaurants in Lake Louise so you can stay put and eat right on site after a long day
$$- Mountaineer Lodge (updated and vozy vibes), Paradise Lodge Bungalows ( family run!). Both are extremely close to Lake Louise
FAIRMONT LAKE LOUISE OR BANFF SPRINGS??
A lot of you messaged me and asked which Fairmont I enjoyed more. I liked them both for different reasons but if I HAD TO, HAD TO pick up, I would say that you get more value for your money at the Fairmont Banff Springs. They have more amenities and spaces to hang out at!
WHAT TO DO?
The activities that you do will really depend on the season you go! The below recommendations are for Summer/Fall!
GO ELK SPOTTING
Alright so there are tons of animals in the area and you can definitely see some by chance! Bears, elk, deer, moose, etc all live in the area and it wouldn't be uncommon to spot one on a drive or walk! However, when you are crunched on time and want to see something, I got you covered. The adventure center at the Fairmont Banff Springs gave us an insider tip on here to spot herds of Elk!
INSIDER TIP: During the month of September, you can drive towards the Fairmont Golf Course- head to almost the end of the road around 6PM and you are almost guaranteed to see them!!!
RIDE THE BANFF GONDOLA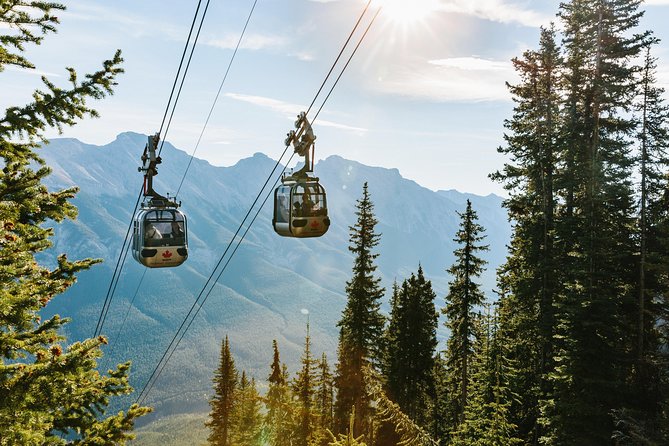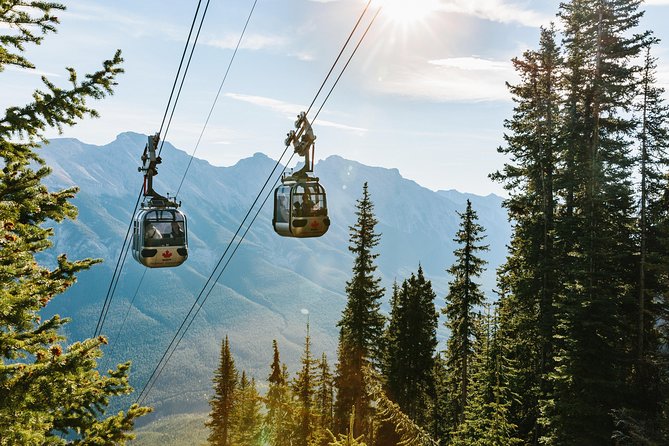 Another option close to town is the Banff Gondola, where you can access the summit of Sulphur Mountain and see some breathtaking views! At the top you can walk along the Banff gondola skywalk, explore the rooftop deck, check out the interpretive center, and even dine at the Sky Bistro. The Banff Gondola price is $58 CAD per adult when purchased in advance, or $49 for tickets after 5pm. There is also an option to hike up to the summit for free, but this can be kind of treacherous during the winter months.
HIKE THE BIG BEEHIVE TRAIL
Most people do the Agnes Lake Tea House hike, however, I highly recommend hiking another hour up to reach the Big Beehive Look out. Literally the most beautiful site. It takes about 1.5 hours to reach the Tea House and it is a pretty steady route ( a bit of an incline at spots). Half way to Lake Agnes, there is Mirror Lake which is beautiful. You can hear a nearby waterfall which adds to the peacefulness of the place! I wouldn't recommend the Lake Agnes hike to anyone using a stroller. If you use a baby carrier that would work but it is a long route if your baby is impatient or squirmy.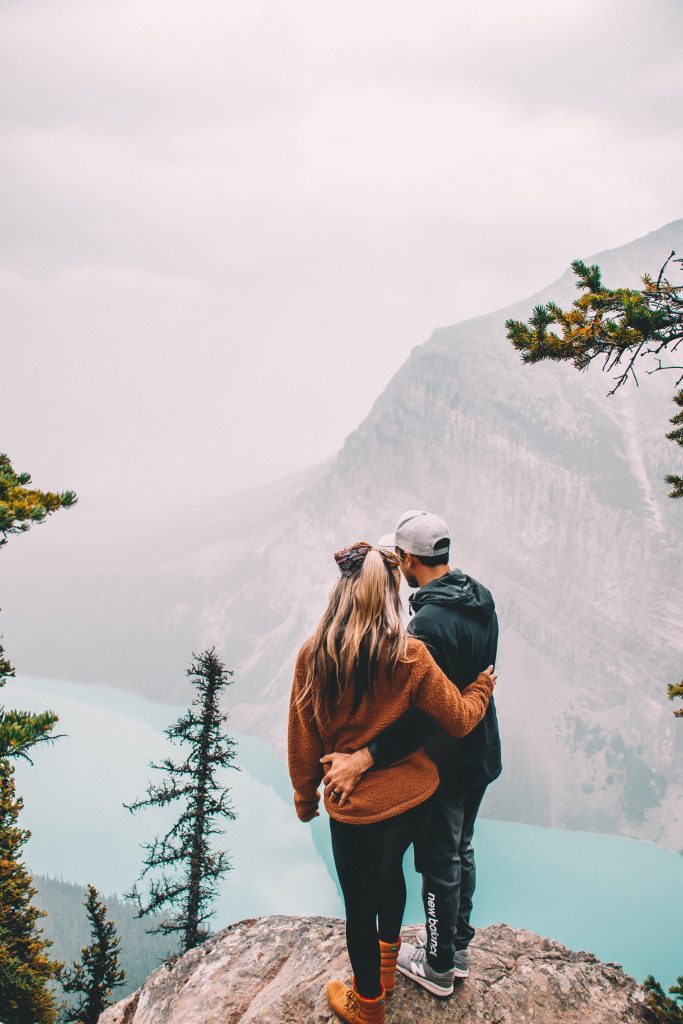 We decided to hike all the way to Beehive Lookout and then eat at the Teahouse after. We loved doing it this way because we truly felt relaxed after spending lots of time taking in the Beehive view. The hike from Lake Agnes to Beehive is MUCH trickier than the first part of the hike. If you are in shape/used to hiking, it is a moderate hike and definitely doable though. There is just a lot of switch backs but the views even on the way to the viewpoint are awesome. I am a bit scared of heights and I didn't feel nervous hiking this trail
VISIT LAKE MORRAINE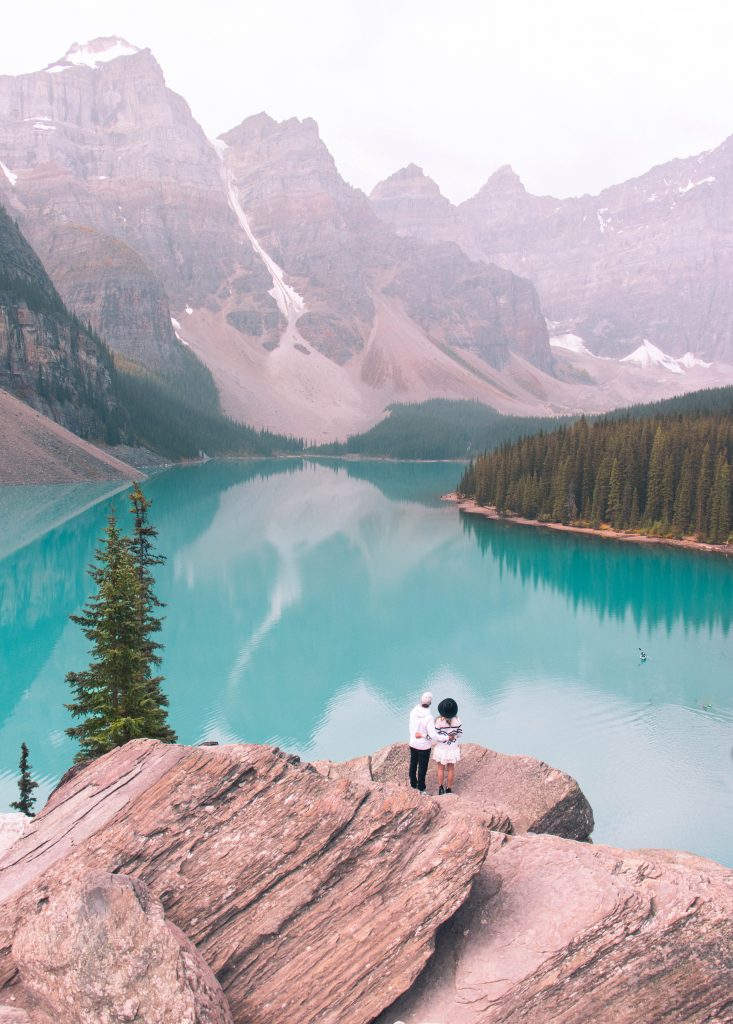 This will be on every person's list and with good reason. It is hands down the most beautiful site you will ever see. Seriously looks like a painting and makes you believe in something greater ( I don't even care how cheesy this sounds!). The big dilema is when to visit because this palce gets PACKED. Also, they close off the road which accesses the lake so once the road is closed they won't allow any cars up.
A few trips/recommendations after loads of research:
If you are staying at the Fairmont Lake Louise ( and I recommend splurging due to the many perks it offers), they have a shuttle that runs there every two hours. Even when the road is closed, the shuttle is allowed to head up and drop off hotel guests!!!
Many people say to visit at sunrise for the most magical experience. It really did sound like something we should do but you apparently have to be there by 5:30AM-6AM at the latest. The sun on average rises at 7:30AM which means you are waiting in cold for a good 2 hours. That just didn't seem enjoyable to me while on vacation so we opted not to do this but ONLY because we had the shuttle option. If you want to guarantee your chance of seeing Lake Morraine, get up early and bear the cold.
A lot of locals we spoke to said that if you want to go there on your own, you will have the most luck at sunset- around 5PM.
Another option is to just try your luck! You can cross your fingers and hope the road is open or drive around for a bit keeping your eye on it!
It is not accessible by feet. Unless you like walking for 4 hours lol
CANOEING AT ONE OF THE LAKES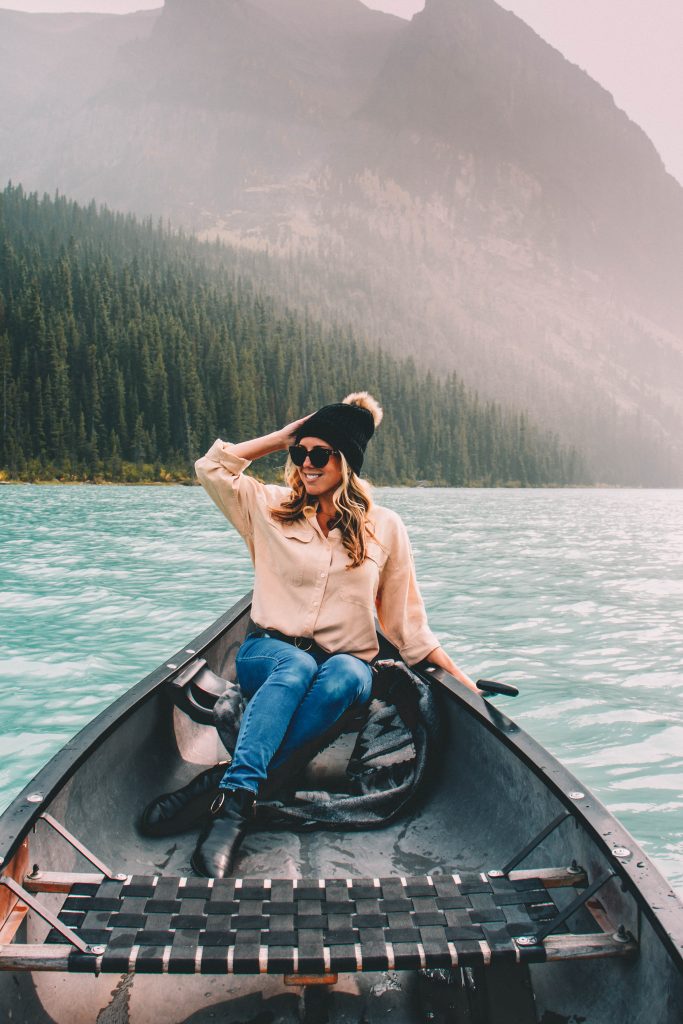 I love doing activties that give you a different angle or perspective. The view from one of the lakes gives you this. You actually feel immersed in the water, can see how clear it actually is and feel it with your hands. Lake Louise, Lake Moraine and Emerald Lake all have options to canoe and all are roughly the same price. Canoe hire pricing is about ($115+GST) for 30 minutes or ($125+GST CAD) for an hour which cheap by any means but I do feel like it's worth the price. If you are staying at the Fairmont, you get a discounted rate.
VISIT LAKE LOUISE/THE FAIRMONT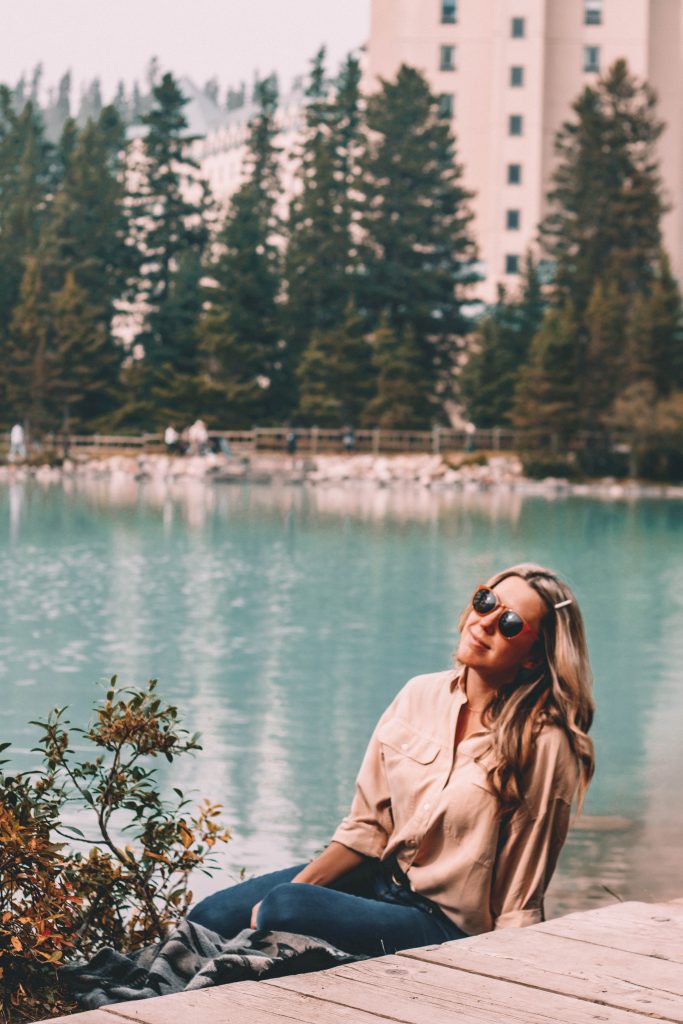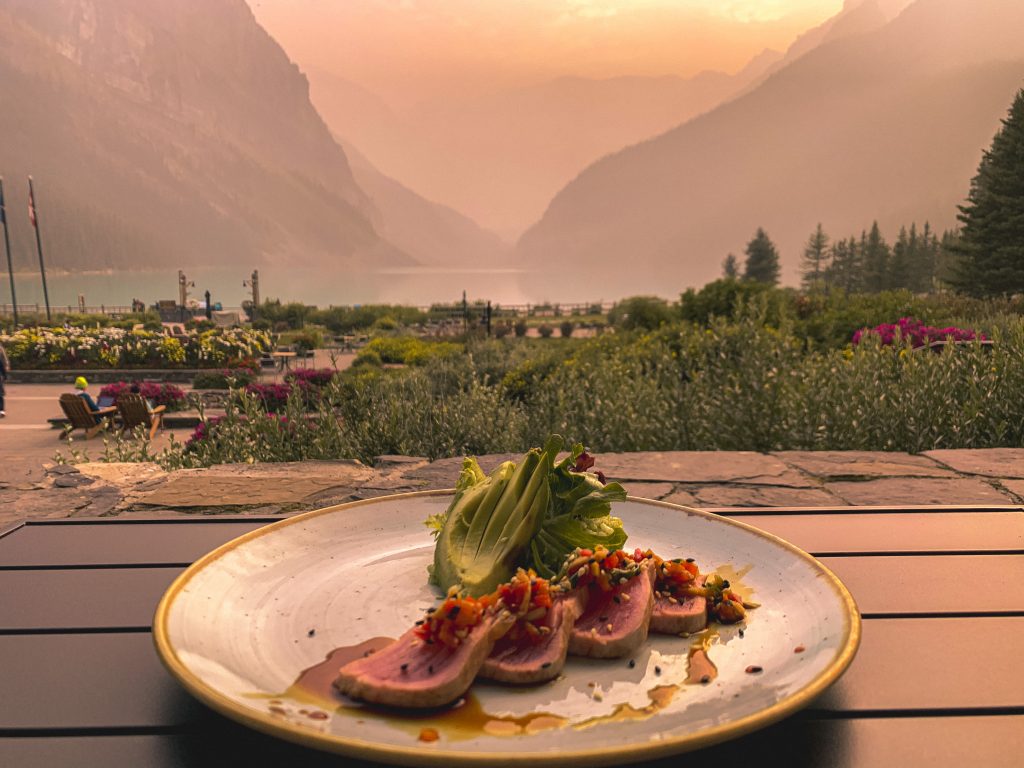 Lake Louise is about 1.5 hours from Banff. I recommended above to split your time between Banff and Lake Louise but if you decide to only stay in Banff, it would be a crime to not visit Lake Louise. Since we travelled during Covid, it wasn't that busy at all and we got great views regardless of the time. If you travel during high season or when things are back to normal, I would recommend checking it out in the morning or at the end of the day!
When visiting Lake Louise, I recommend doing breakfast or dinner at the Fairmont Lake Louise. The Lakside Lounge has the most beautiful and captivating patio that has direct views of the lake. They also have a ton of heaters if it is a bit chilly out.
EMERALD/PEYTO LAKE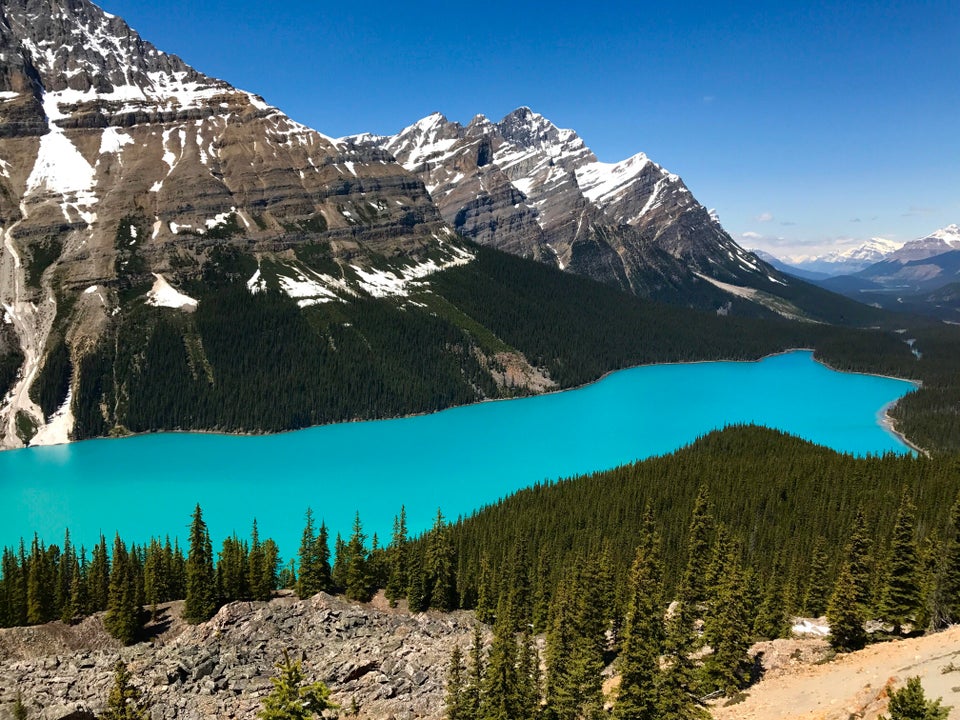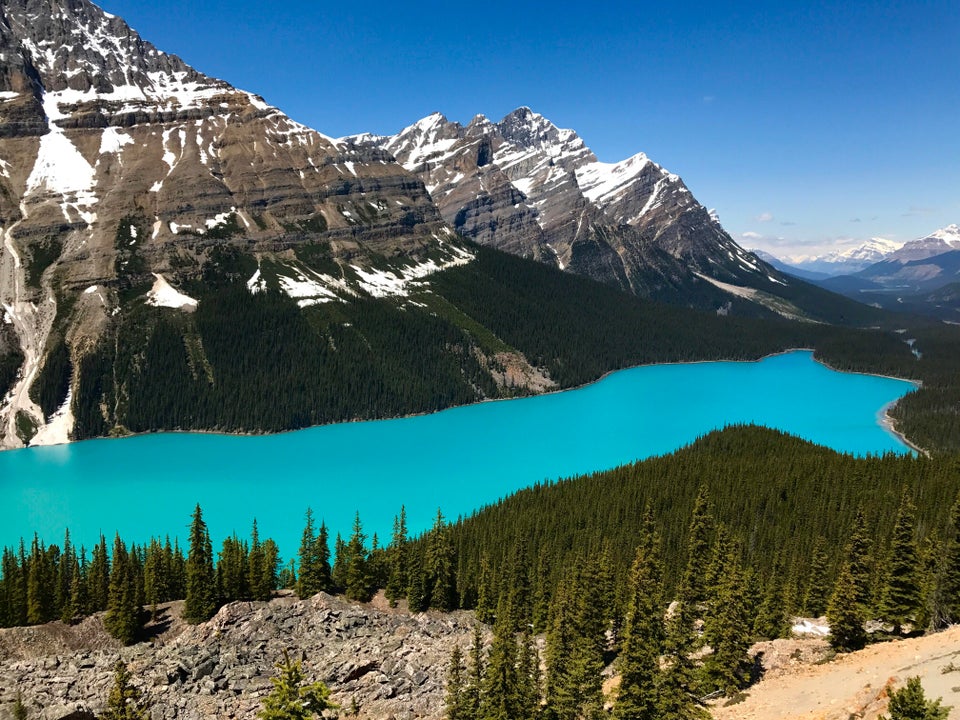 After checking off Lake Louise and Moraine ( and if you have time), make sure to check out Peyto and Emerald. Peyto lake was unfortunately closed when we visited but it is set to open up at the end of 2020. Emerald Lake is technically in B.C and is about 45 minutes from Lake Louise.
JOHNSTON CANYON/CANMORE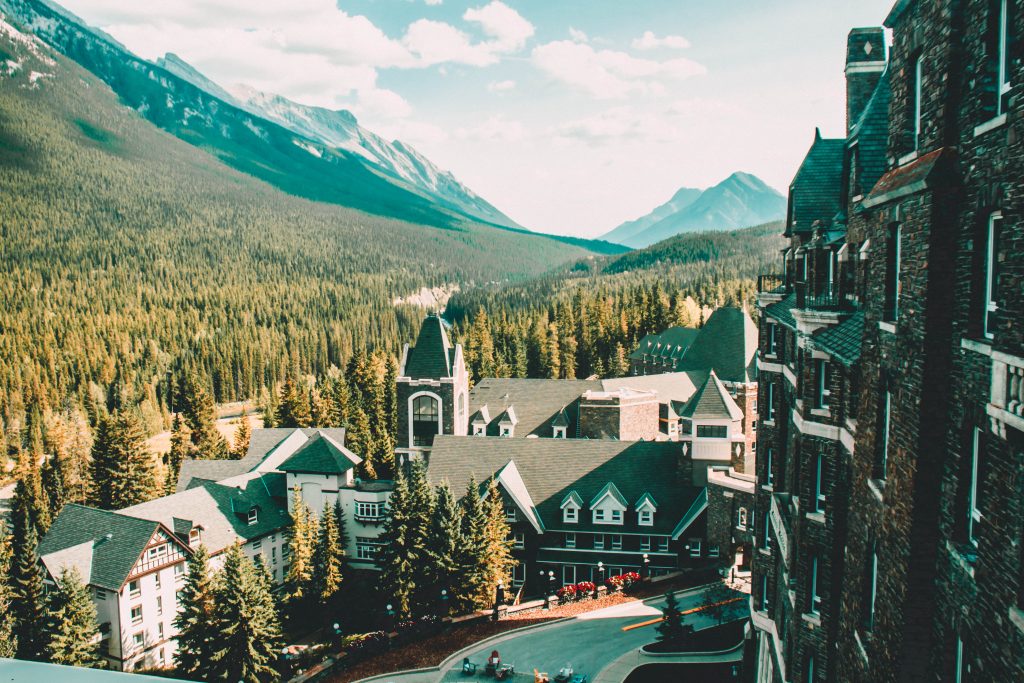 There are loads of hikes in and around Banff and a few of the popular/easier ones are Tunnel Mountain ( in my opinion it wasn't anything spectacular but if you are crunched on time and want an easy hike- then its worth it). Other hikes that I would recommend are:
-East End of the Rumble hike
-Grassi Lakes
-Johnston Canyon
Canmore area ( about 30 minutes from banff town) is a really cute area that I personally loved more than the main area of Banff. It has lots of restaurants and it felt more local/authentic than some of the touristy places on the main Banff strip! I would love to spend a bit more time there next time!
WHERE TO EAT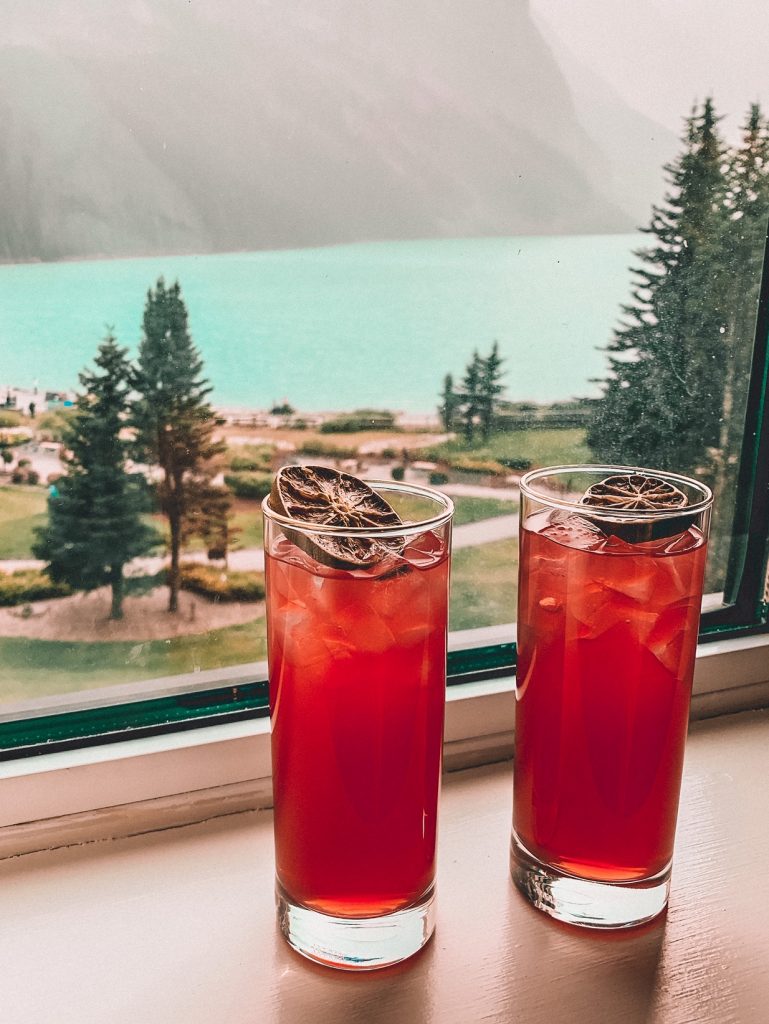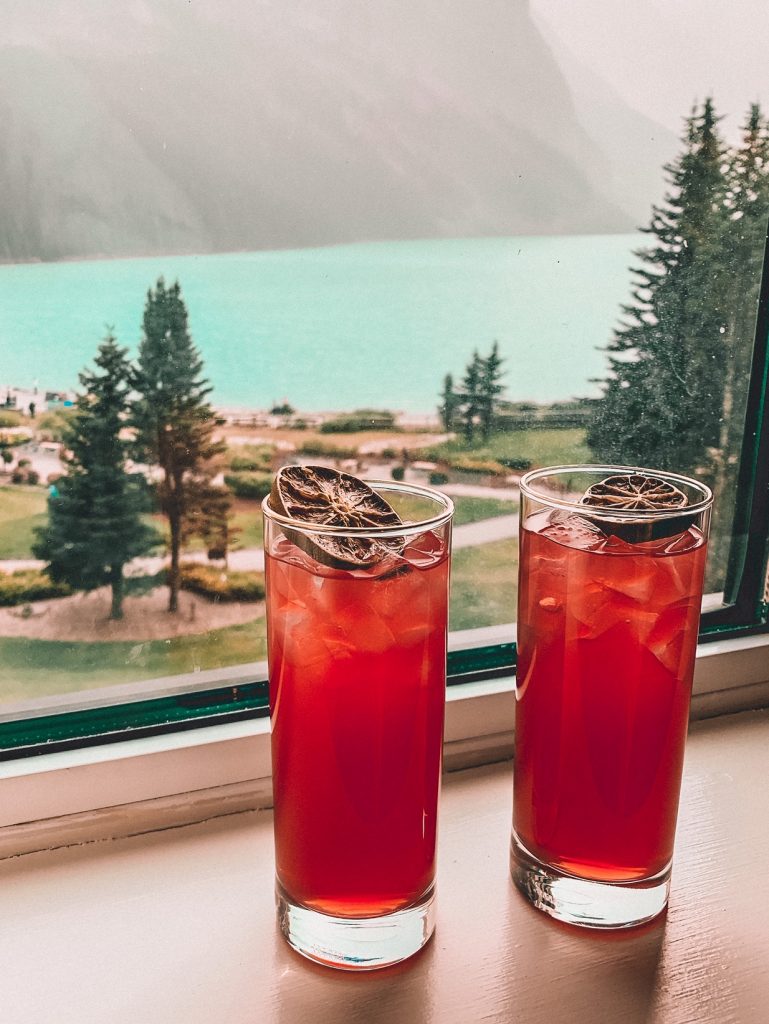 BANFF
So Banff has loads of places to eat at! If you go right into Banff town, expect overpriced on everything! That's not to say some things aren't delicious and amazing but it is expensive!
The Rumble Bar or The Vermillion Room in the Fairmont Banff Springs. Hit up the Rumble bar for a pre dinner cocktail ( get the Carrie Bradshaw!!) and then the Vermillion Room for a full fledged dinner. The vegetarian gnocchi dish and the short rib were SO SO good!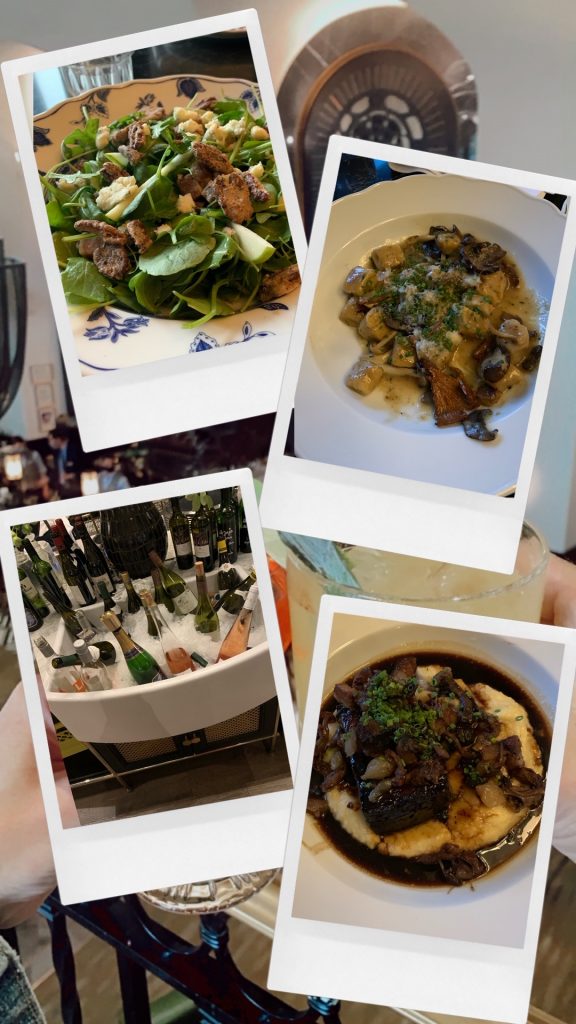 MagPie Rooftop- for great happy hour Margs or tacos! It has that rustic vibe that always gets me!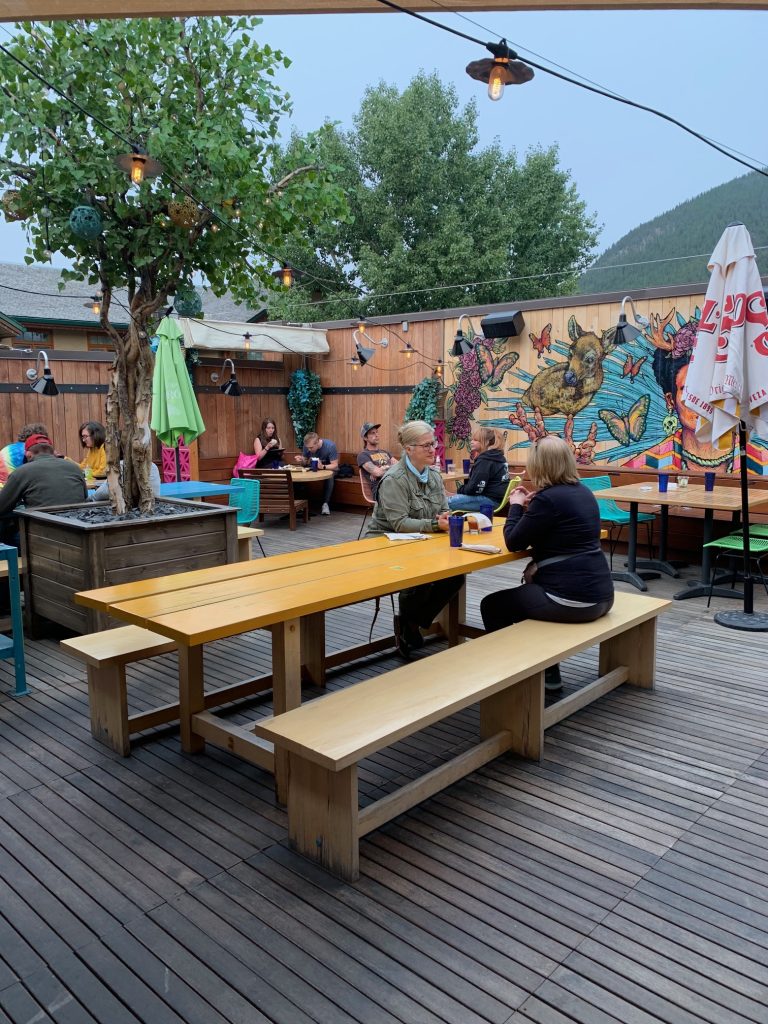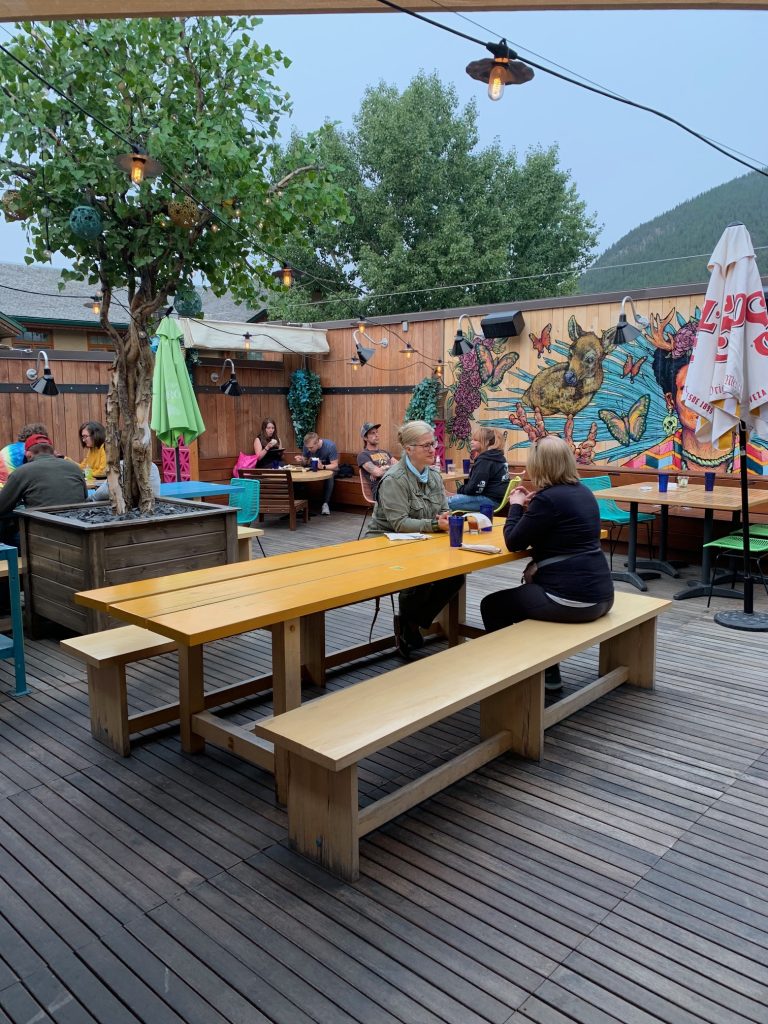 Seed and Salt- for a healthy smoothie before you drive to Lake Louise
Bear Street Tavern– the Best pizza ever! You can see all the amazing reviews HERE
Grizzly House Fondue House– I'm not a fondue person but this place has all the feels. Also when in Rome!!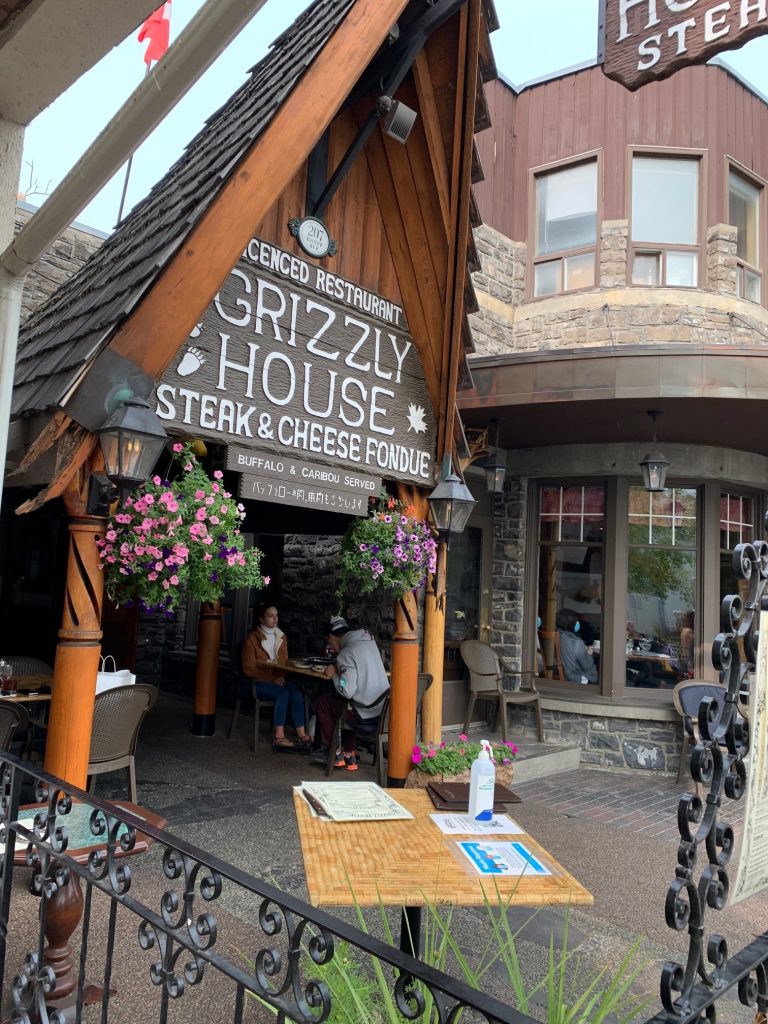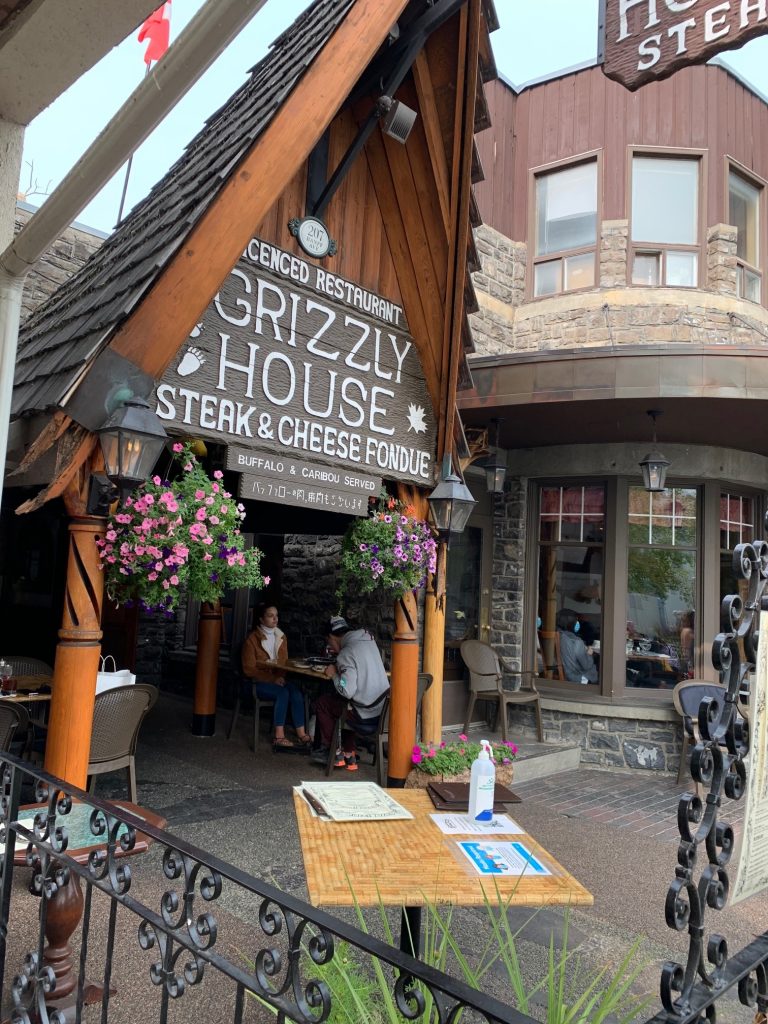 LAKE LOUISE
Here's the thing- Lake Louise isn't known for it's restaurants and bars. It's known for its beauty and landscape so there isn't tons of options here!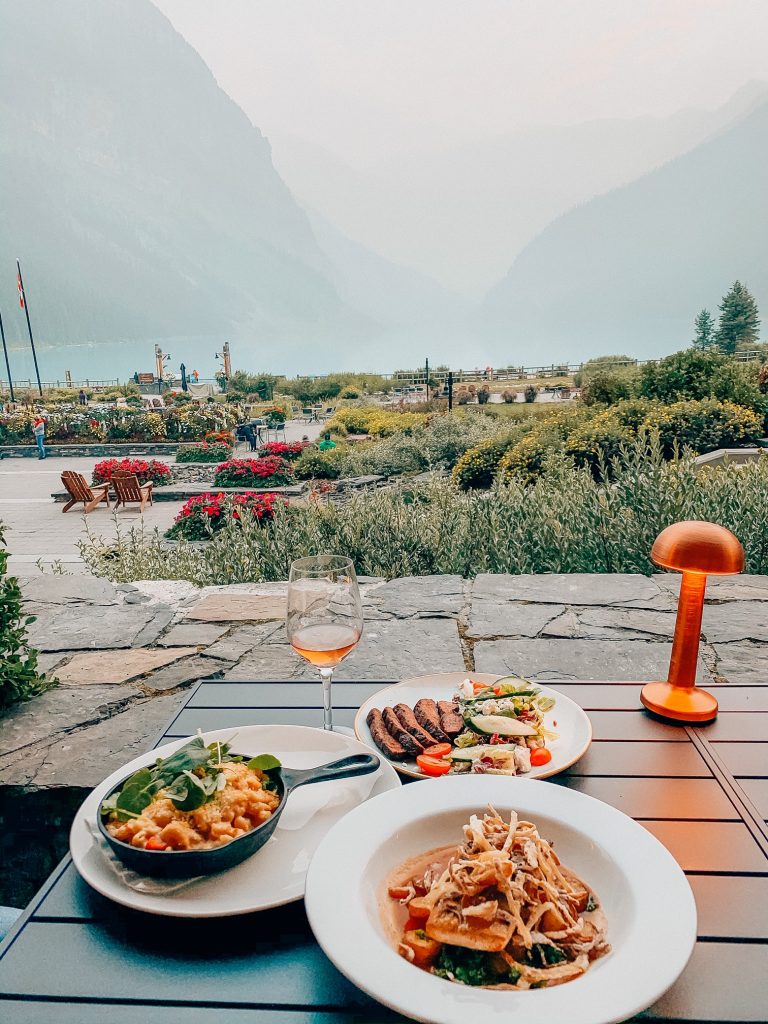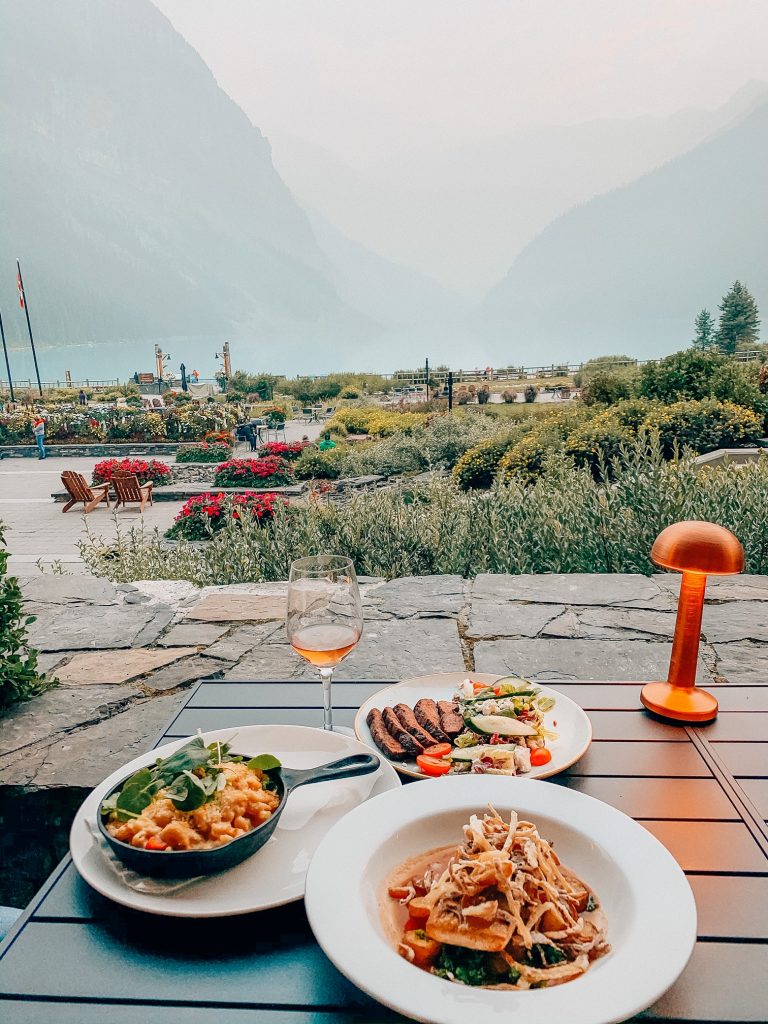 Lakeside Lounge– This is the more casual spot in the Fairmont that has epic Patio seating! The food quality matches the quality view. They have a variety of dishes for every appetite-like Salmon, Burgers, Mac and Cheese etc.
Fairview Diner- Considering the name has the word Diner in it, it is anything but that. This is the more upscale restaurant in the Fairmont and boy does it live up to the hype. The interior of the spot doesnt make you miss sitting outside. You still have unreal lake views as well
Options outside of the Fairmont: Bill's Peyto Cafe ( great healthy options!), White horn Bistro ( at the Lake Louise Ski Resort- amazing look out points) and if you want really casual grub check out Timberwolf Pizza and Pasta which is in town
If you are looking for some awesome spots to take some classic Instagram worthy photos, you should check out this guide here

PIN THIS POST