Launched in 2017, Swoop Airlines is a low cost air carrier based out of Canada that has routes not only within Canada but to places in the USA and the Caribbean. We took a direct flight to Fort Lauderdale with Swoop Airlines when it first launched and have loved it ever since!
They fly out of many airports including our hometown airport of Hamilton which is 15 minutes from our house. The Hamilton Airport is a DREAM to fly out of. It is small, less busy and overall just very charming ( They have a Detour Coffee Kiosk in there and if you KNOW- you know.) Checking in there and getting through security has been hassle free and seamless.
Having been on a few flights now with Swoop ( our most recent one being a direct flight to Vegas!), I wanted to share my experience and give a full Swoop Airlines Review!
There is a lot of online chatter about delays with them, cancellations and so forth but in all of my 7 flights, I haven't experienced any of this. Lucky? Maybe- considering how often you hear of MANY airlines being in tough situations right now after COVID but even before the pandemic, I never experienced a cancellation or had any issues. We did have one plane take off 20 minutes late from Toronto Pearson but that had nothing to do with Swoop and everything to do with the Pearson customs line holding the majority of passengers back.
So what should you know about Swoop Airlines, the Ultra Low Cost Carrier?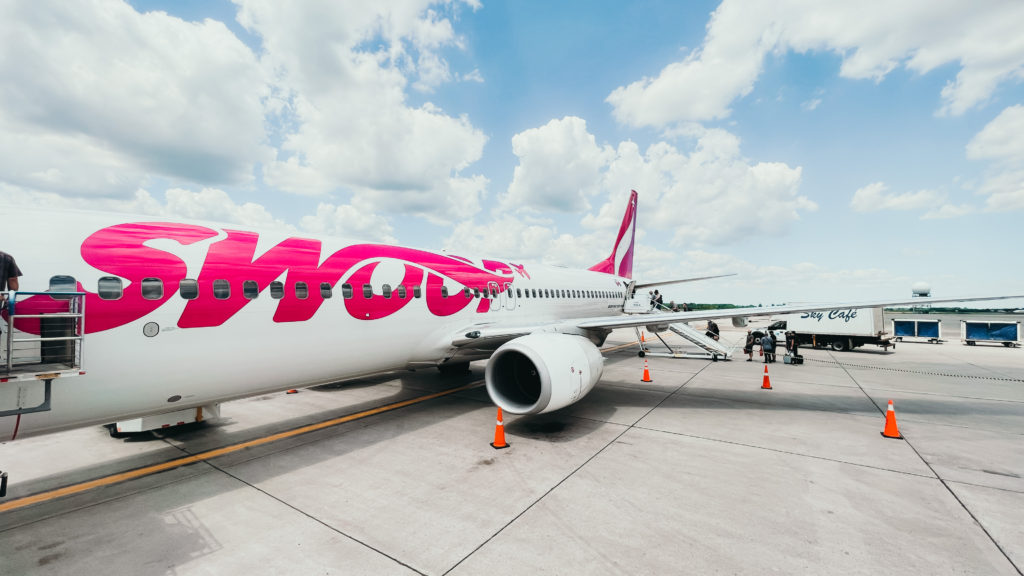 Well first of all- on a superficial level- the plane itself is pretty cute. The pink accents on the plane and the staff uniforms had me from the get go. My daughter's favourite colour is pink so she was equally excited to hop on board and called it the "Barbie" plane. But let's get to the nitty gritty stuff!
I thought I would give my full Swoop Airlines review by answering some questions that I had in my DM'S about them from my most recent Hamilton to Vegas flight that I took!
Are the flights really cheaper than other Airlines?
One hundred percent yes. Even if you add in extra bag fees, taxes etc, their fares are REALLY reasonable. Have you filled up your car lately? My SUV costs $120 to fill up as of last week ( that's a rant for a different day!) but I've seen some fares on Swoop Airlines for as low as $99.00 each way. This is a base fare but STILL! I would choose to get on a flight over filling up my car to do a road trip all day everyday.
I also would like to note that before Swoop Airlines was on the scene, flight costs to fly within Canada in particular were not cheap. I remember looking up flights to British Colombia and was floored when I realized I could fly to Europe for cheaper. It was disappointing because it differed so many Canadians from exploring their own country. Now though? Swoop offers some SERIOUS low cost deals within Canada that makes it much easier to explore our own stomping ground. We flew to Calgary last summer for such a good price and with the US exchange rate being high right now, it is a win win all around to stay in Canada if you want to try to stick to a more reasonable budget.
How much does it cost to Check a Bag? Are you charged for Carry on Items? Baby Items?
If you fly with Swoop Airlines, you get one free personal item regardless of the destination you travel to. Examples can be purses, backpacks etc. You can see the backpack I travelled with below. It is actually one of my favourites by the way and can be purchased off Amazon HERE!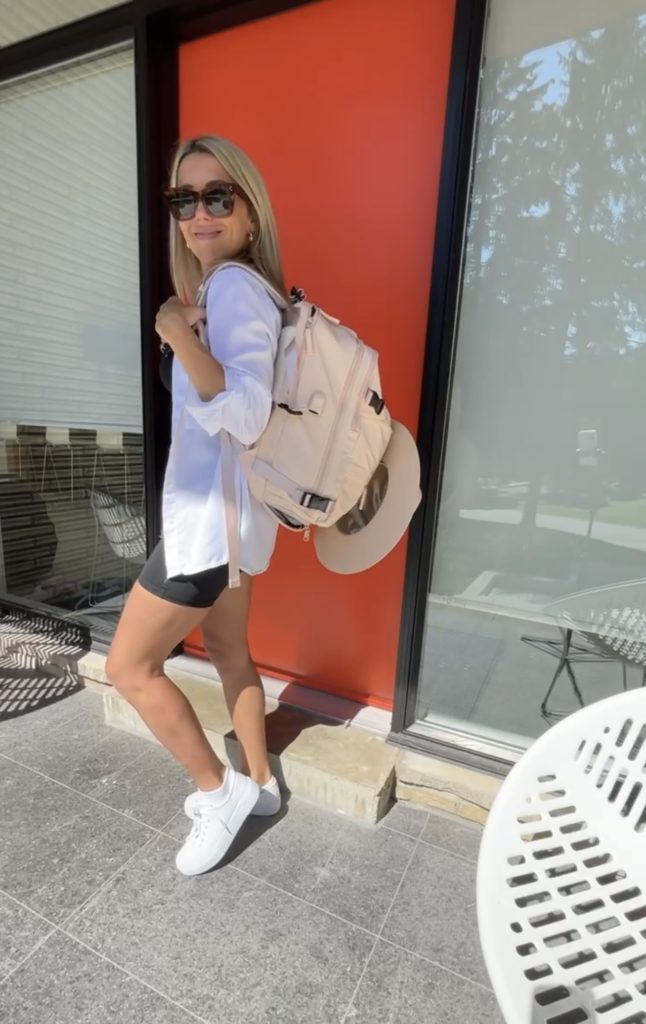 I had no issues from staff with carrying this along. I also threw on my fanny pack for money/ids etc! My husband brought on a larger duffle as a personal item and also had no problems. You can see the exact measurement allowances for all bags below. I think if you have someone who is a little more lenient checking you in that this certainly helps! I think it's safe to say we have all experienced that ticket person who makes you take out items because your luggage is a pound or two over. Obviously if your luggage is way over, this is a safety concern for weight levels on the plane but overall most ticket clerks are nice and I especially found the staff at Swoop very pleasant.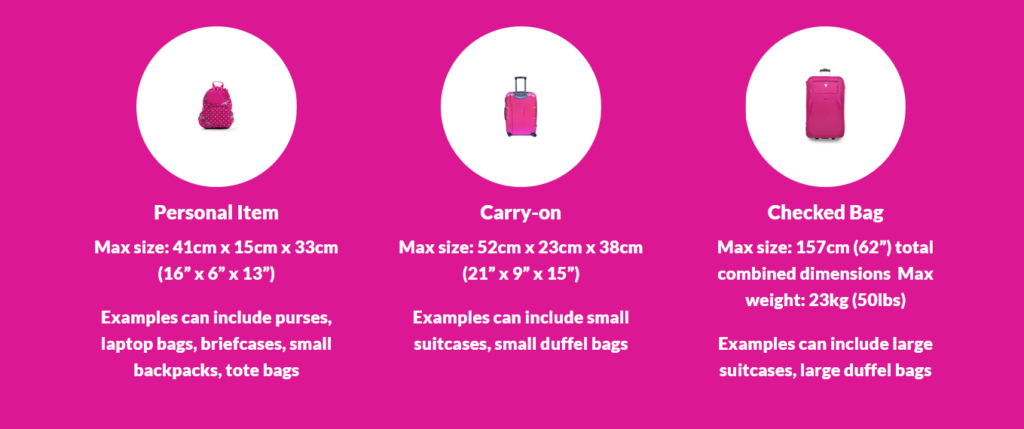 Both Carry on and Checked Bags or Checked Luggage on Swoop are cheaper if you purchase them when you book your tickets! The closer you get to your departure date, the higher the price shoots up. Prices range from $35-$56 when booking ahead of time. If you wait until you get to the Airport to pay for a checked or carry on bag, prices range from $55-$79 dollars.
Another thing to note is that Luggage prices are different depending on the distance of your trip. You can see the full breakdown under the Checked Baggage section HERE
If you are travelling with a baby, you get to bring a Car seat and diaper bag free of charge! To add on a stroller, it is about $25.00! If you purchase an actual seat for your baby or toddler ( not just carrying them on your lap), then you get to check a Car seat AND stroller free of charge. Fun fact: Chloe's first flight was with Swoop! If you are a parent who has travelled, you probably remember those first flight jitters that come along when you are travelling with your new baby and I'll never forget how accommodating everyone was with us on that flight. Praise be!
How often do they fly from Hamilton Airport?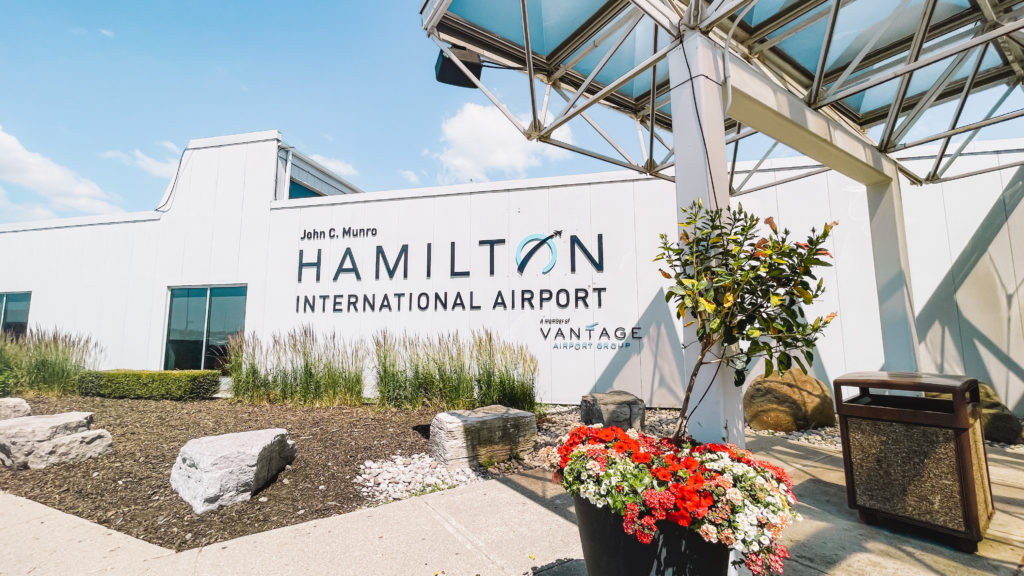 Now that COVID is behind us, their flight schedule is ramping back up. Routes within Canada have started to resume and you can find direct flights to destinations in Canada like Charlottetown, Moncton, and Edmonton to name a few ( from Hamilton Airport). If you are flying from Toronto, they have more routes!
Their routes to the Caribbean are normally seasonal and are offered from both Hamilton and Toronto! I am eyeing their direct flights from Hamilton to Puerto Vallarta for November and would be over the moon to fly to freaking MEXICO from the Hamilton Airport.
The Vegas route we took was from Thursday ( Direct flight leaving at 2PM) to Sunday ( Direct flight leaving Vegas at 5PM) and felt it was the PERFECT itinerary. You arrive just in time to settle, relax and get ready for a fun night out in Vegas and then on the Sunday you have the entire day pretty much to soak up that Vegas sun if you want ( or recover from the previous night haha). If you want to stay for longer, they have return flights on Thursdays and also Saturdays!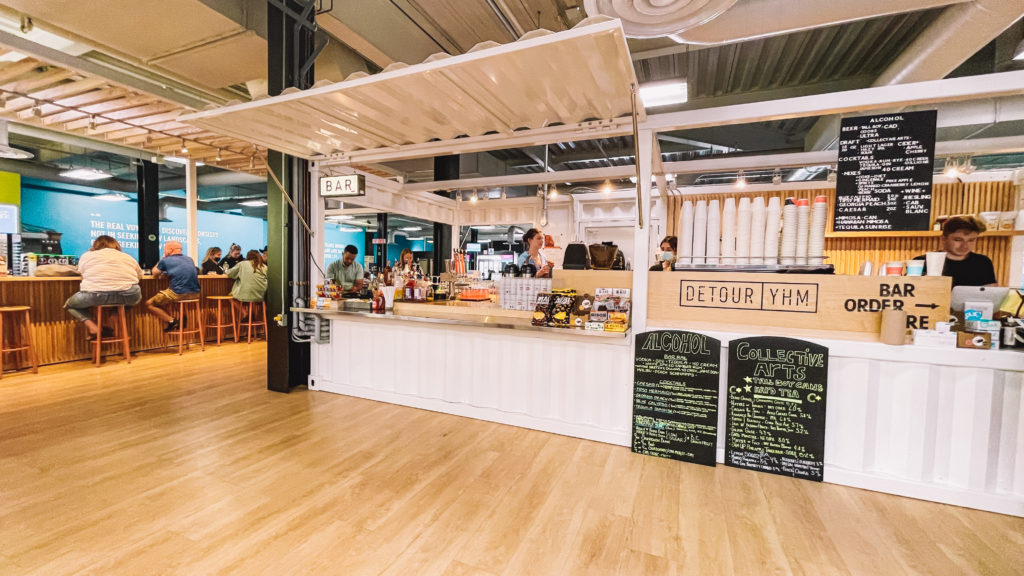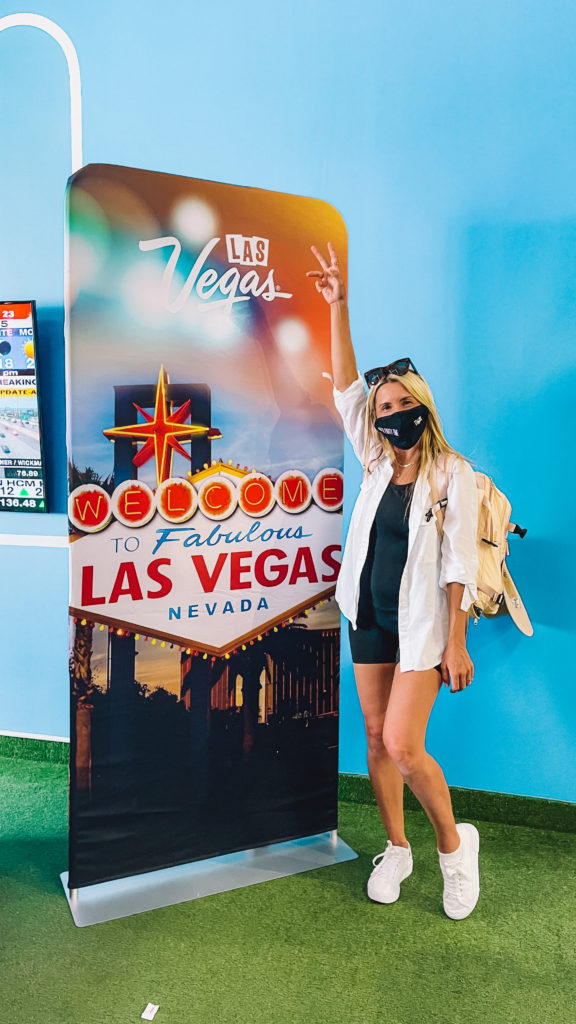 Are there food and drink options on board Swoop Airlines?
Yes, there are food and beverage options on board but it will cost you! There are no free drink options like coffee, tea, water etc. so plan accordingly. I personally hate airline coffee so never take up this free option that is available on some other airlines.
Swoop Airlines is like any other airline though in terms of food where if you want to eat, you have to pay for it. When was the last time you went on a flight and got free food though? Maybe in 1995? haha. They have options like sandwiches, wraps, snacks and like most Airlines- the items are not cheap.
We packed snacks and filled up our water bottles at the airport so this never bothered us at all!
If you want wine, beer or liquor, you can purchase this on board at a cost that is pretty standard! On the Hamilton- Vegas route it seemed that many people were excited about this option! haha
Does Swoop have an In Flight Entertainment system?
No they do not. You can download their app though and watch some entertainment on there if you really need to though! You can also purchase WIFI through the app which I believe is about $10 Canadian!
I downloaded the Swoop App on my daughter's Ipad which worked great. I prefer to listen to Podcasts and read so I had made sure I had all my episodes downloaded before we took off!
My husband on the other hand usually only watches the flight maps when there is an entertainment system. Hahahah yes really- even on long haul flights. So with that being said, he was perfectly content staring out the window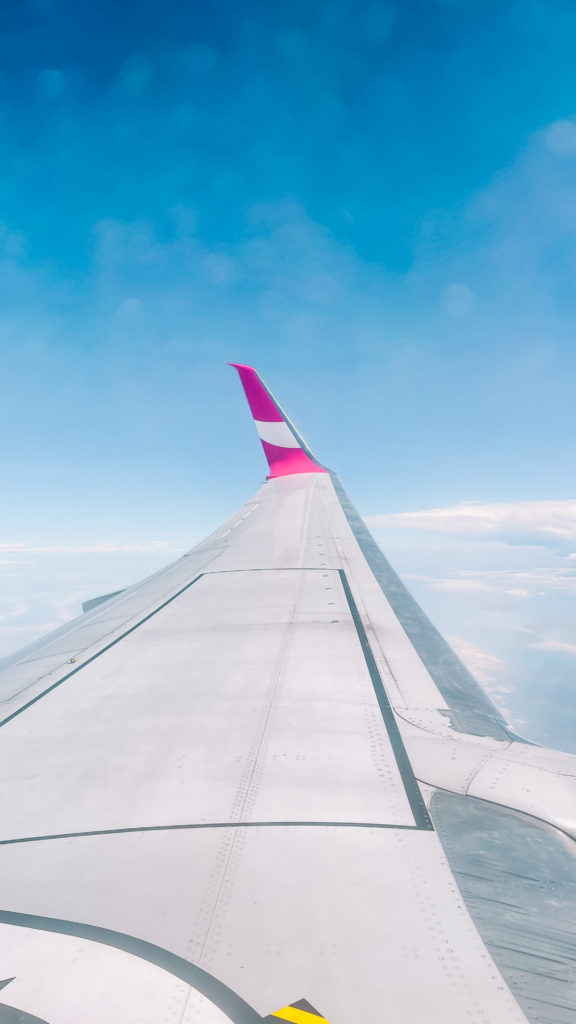 Do you have to pay to use the washrooms?
This was an actual question I got from someone and it honestly made me laugh! NO- you do not need to use the washrooms. Although such a silly question, I wanted to add it in there as she did say she read it somewhere. It's a friendly reminder that sometimes people online can make up some ridiculous things.
---
I hope you found this review of Swoop Airlines helpful and that you are already on their website scooping out a future travel destination!! As always if you have more questions, feel free to DM me on Instagram
PIN THIS POST