If you are trying to find a good restaurant to eat at in Mykonos, it is not that hard. There is good places everywhere that you almost want to stay an extra day or two just to try out the amazing restaurants. While there are some great hole in the walls for simple Gyro, a lot of the restaurants in Mykonos are not cheap- especially in Mykonos town. I rounded up the top 5 places we enjoyed that hit all the notes- amazing food, vibe/atmosphere and value!
#1. Kiki's Tavern
Alright so here is the deal with Kiki's! It is located near the most epic beach and has a hard core fan following that causes a 1-2 hour line up to eat here! They cook everything without electricity and do not take reservations. My advice is to go super early in the am ( before they open at 12PM) and enjoy the beach first! You can chill and tan and when you start seeing people show up, you can put away the beach towel and get a good place in line! They will offer up free wine for the wait (worth the wait alone!) and have. a mom and pop style feel. Ok so the food! I recommend going with a bigger group so you can try as much as you can! You go inside and get to select salads that are freshly made to start off. They have over 10 different salads- none of which I can remember- but all that were the FRESHEST salads I have had in a long time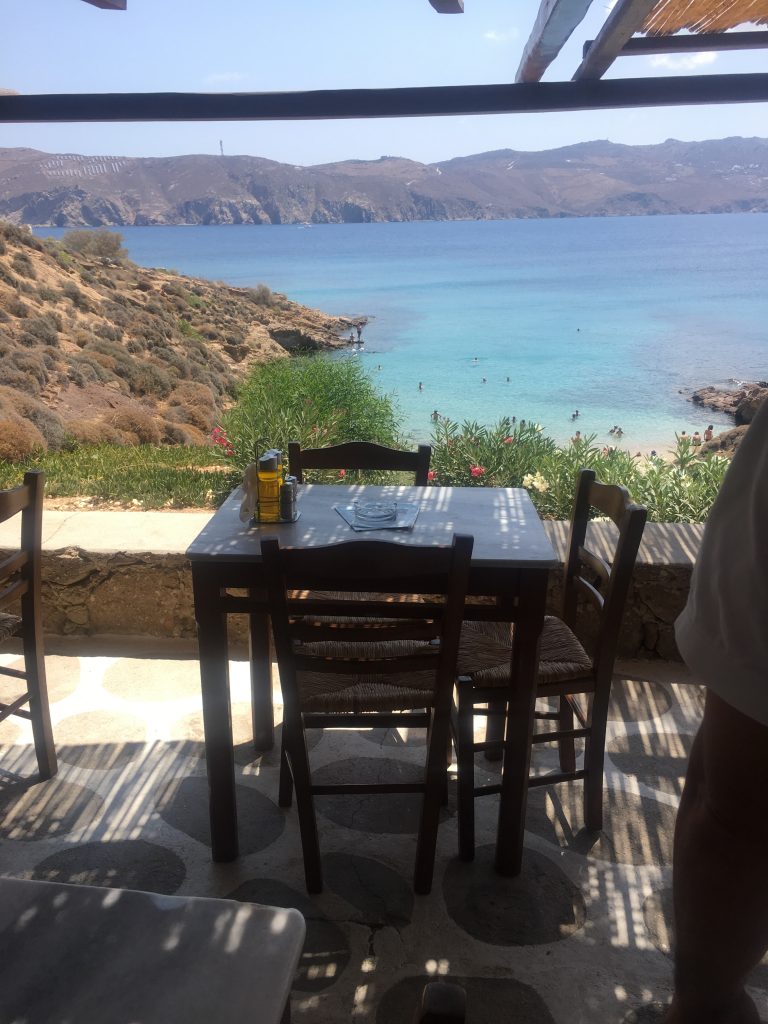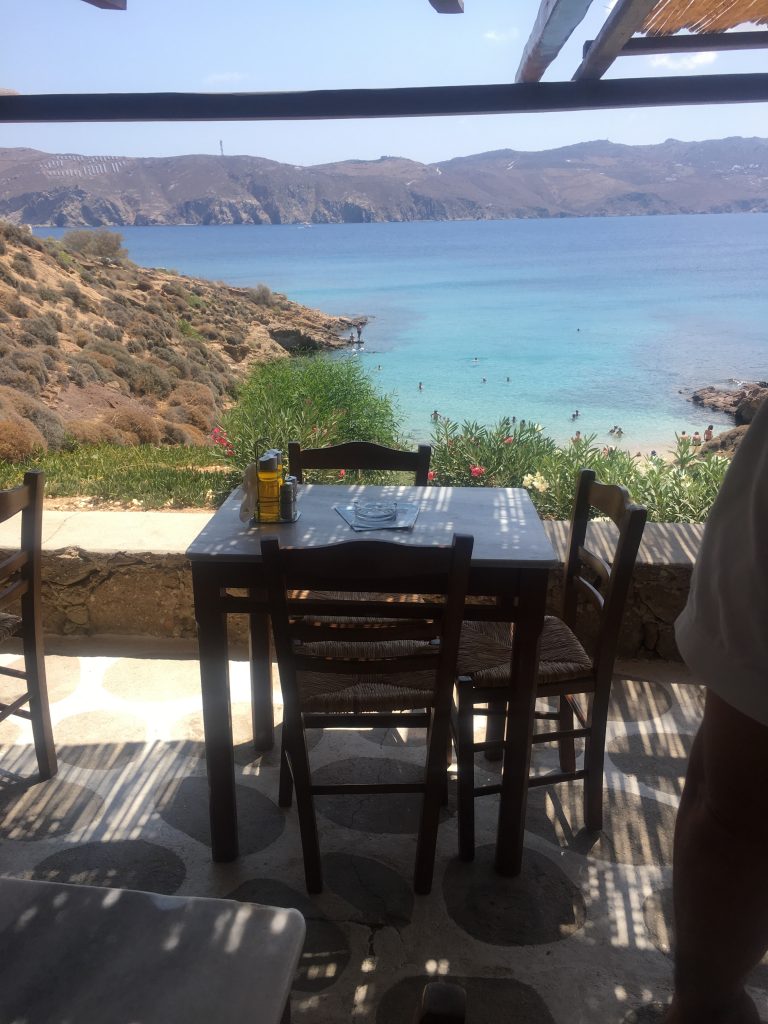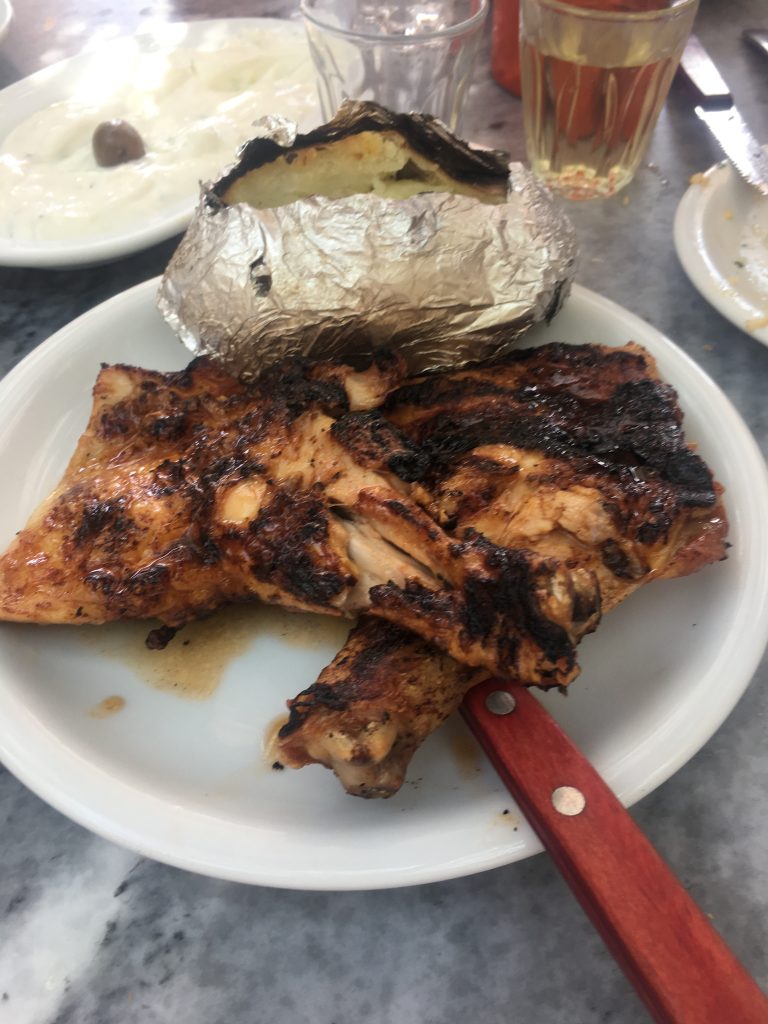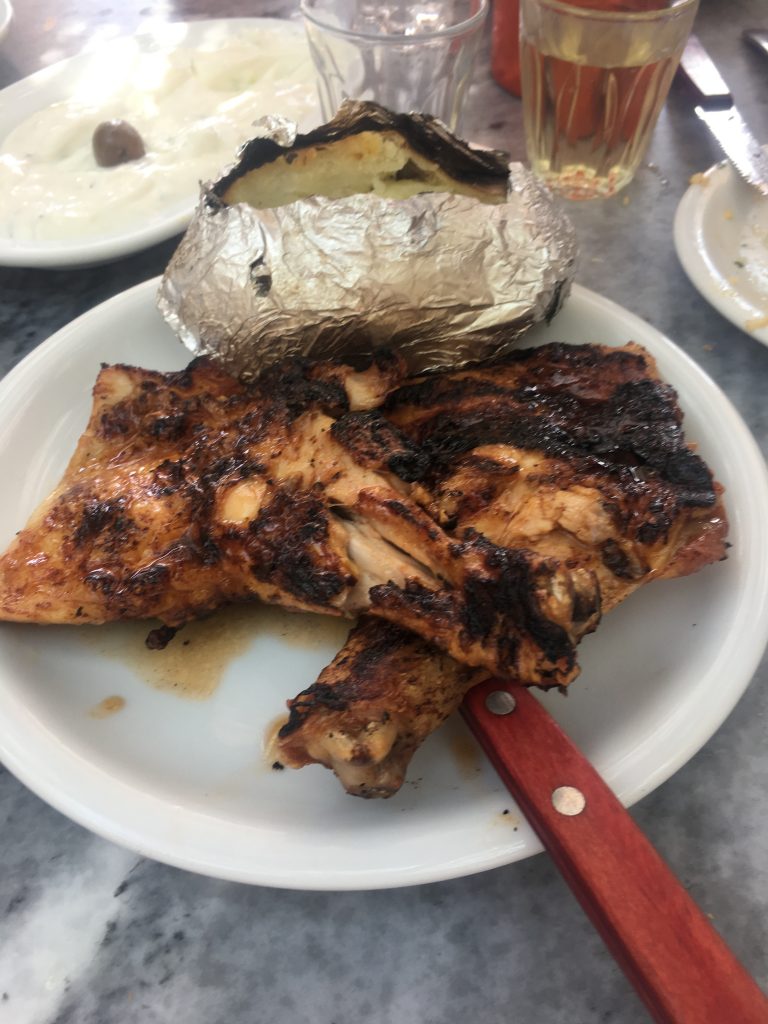 #2. Scorpios
Trendsetters listen up! This is the place to see and be seen. It is a beach club, restaurant, disco and spa ….so basically if you go you may not need to leave for 24 hours. It has uninterrupted views of the Aegean sea and sits in an lagoon/alcove so you feel like you are away from the hustle and bustle of Mykonos town. We went during the day so the music was playing but the party was not in full force. We went for a late lunch and could see people slowly starting to get bottles and bubbly and once we left, we could feel the music get a bit higher and the people start to really roll in. The design of the property made me feel like we were in Morocco a bit with its bohemian design, camel coloured cushions and straw furniture accents. While it has a free spirit and minimalist vibe, it is very much as luxe!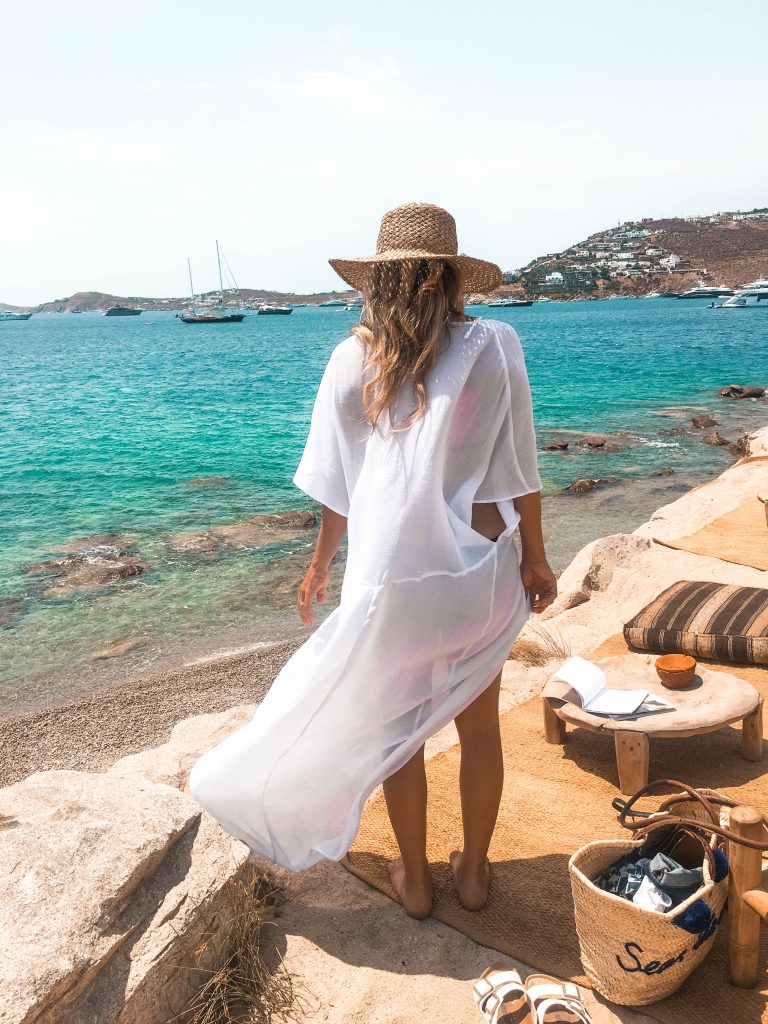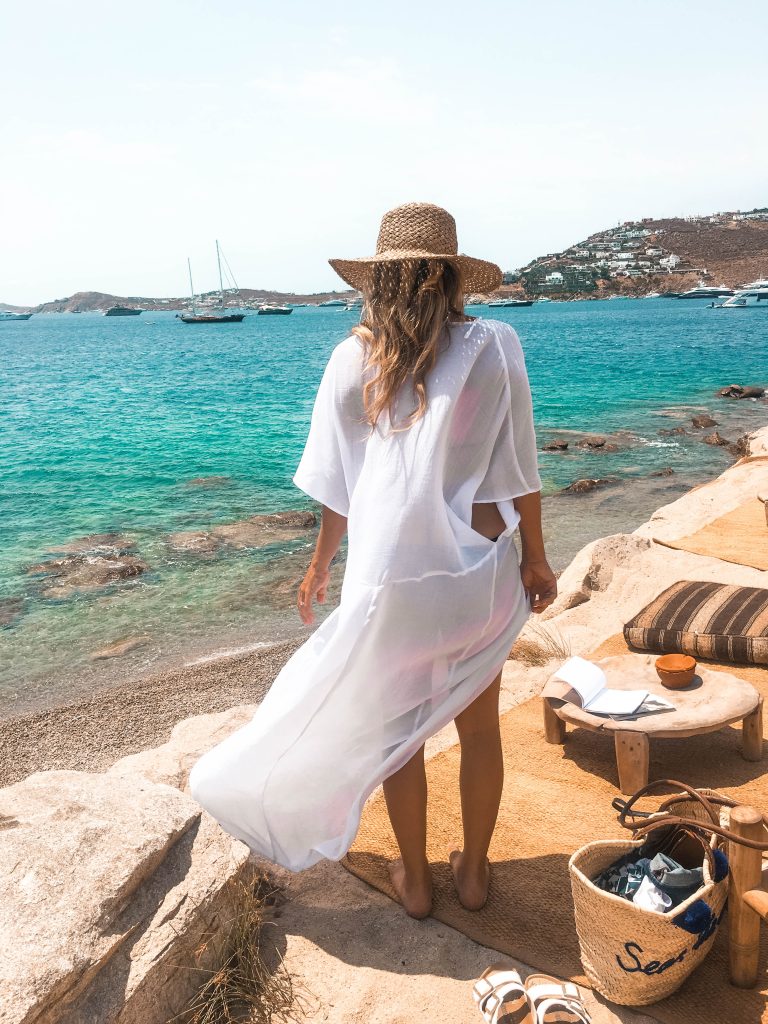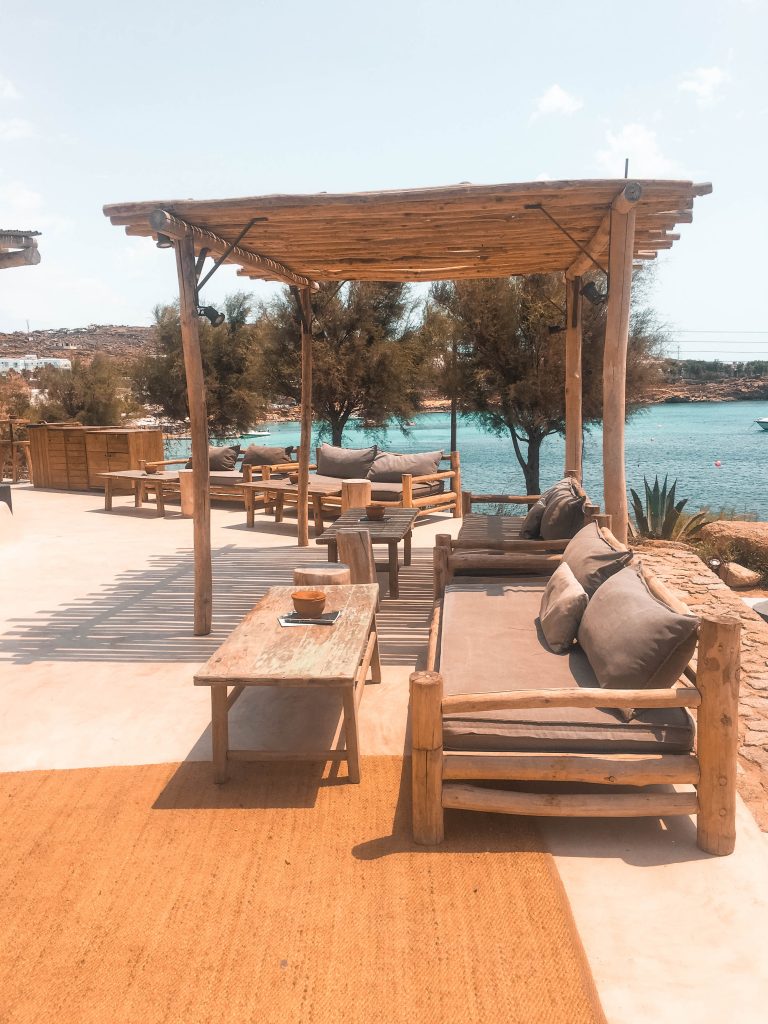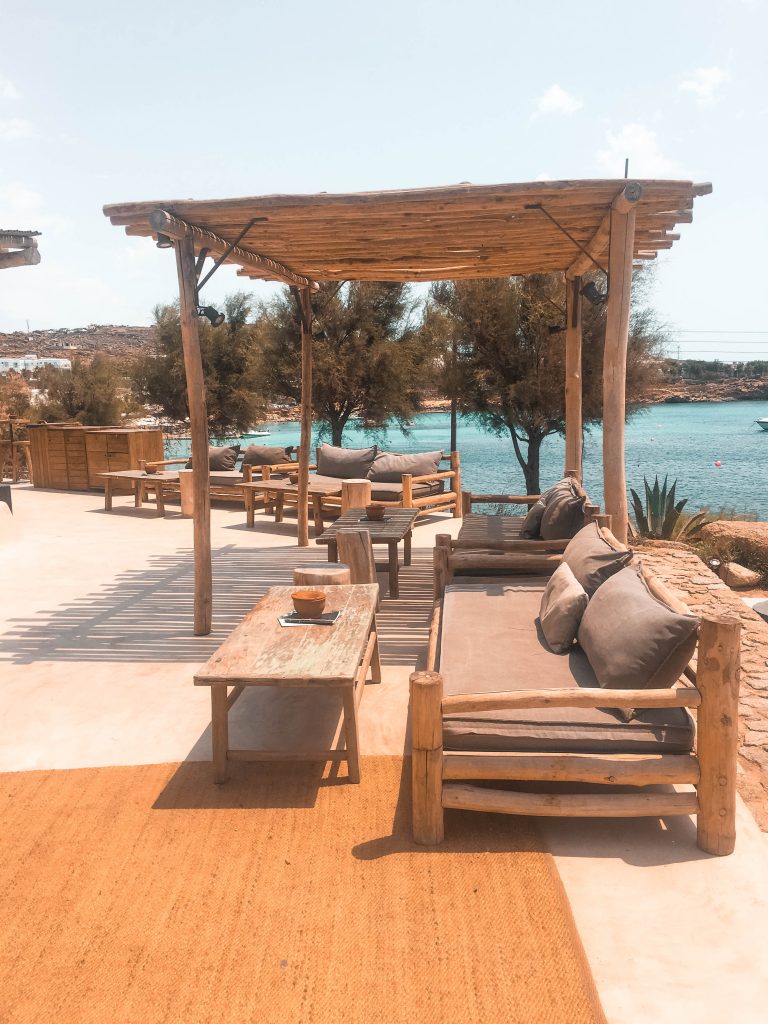 #3. Cavo Tagoos
Cavo Tagoos not only has an amazing sushi restaurant but the hotel itself is a destination worth checking out. It sits along the cliff side beside Mykonos town and offers the best sunset views we witnessed during our time there. It is contemporary in design with white furniture, white rock caves leading you to the bathrooms splashed with high end art installations throughout the hotel ( think pops of color to balance out all of the white). The restaurant is set around the infinity pool and serves up a combination of modern Greek and enticing sushi!!!  It is definitely overpriced but you are essentially paying for the atmosphere and epic view as well!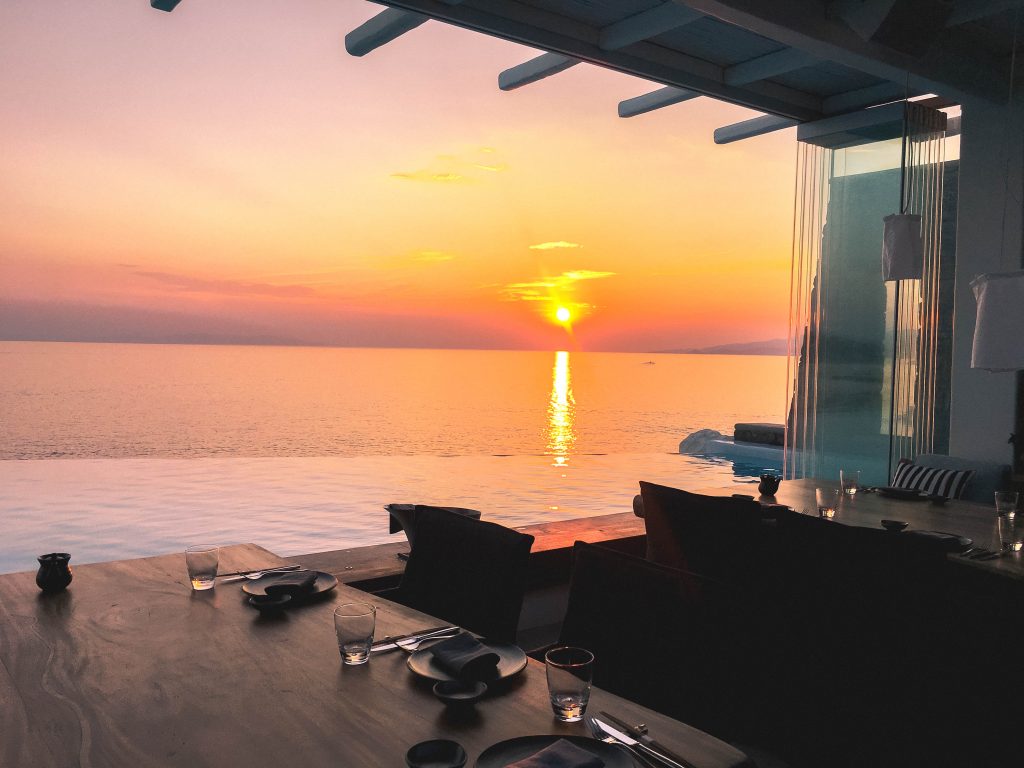 Do you want to eat inside a Cave overlooking the Aegean Sea all white eating items like Fresh Lobster Spaghetti? Yeah- it doesn't sound too shabby does it! This place is not cheap but you are paying for the atmosphere as well as some delicious eats! This is definitely a Lunch time place as the whole point is coming for the view but there is also a fun party vibe during the day. Think models and bottles going up all afternoon!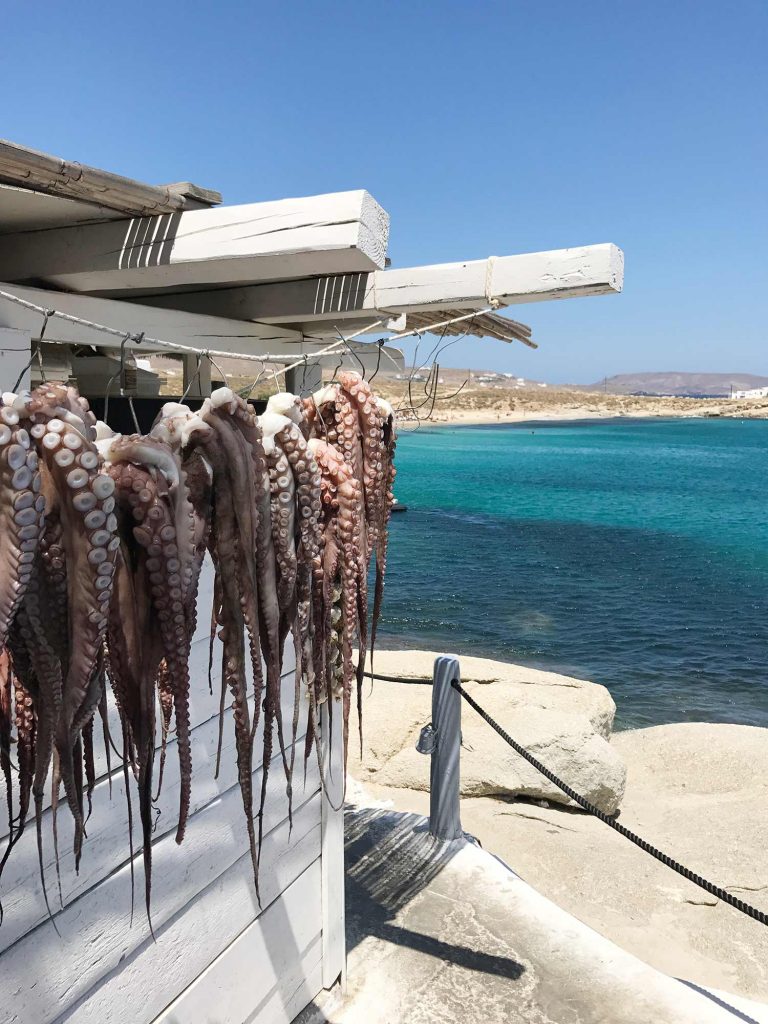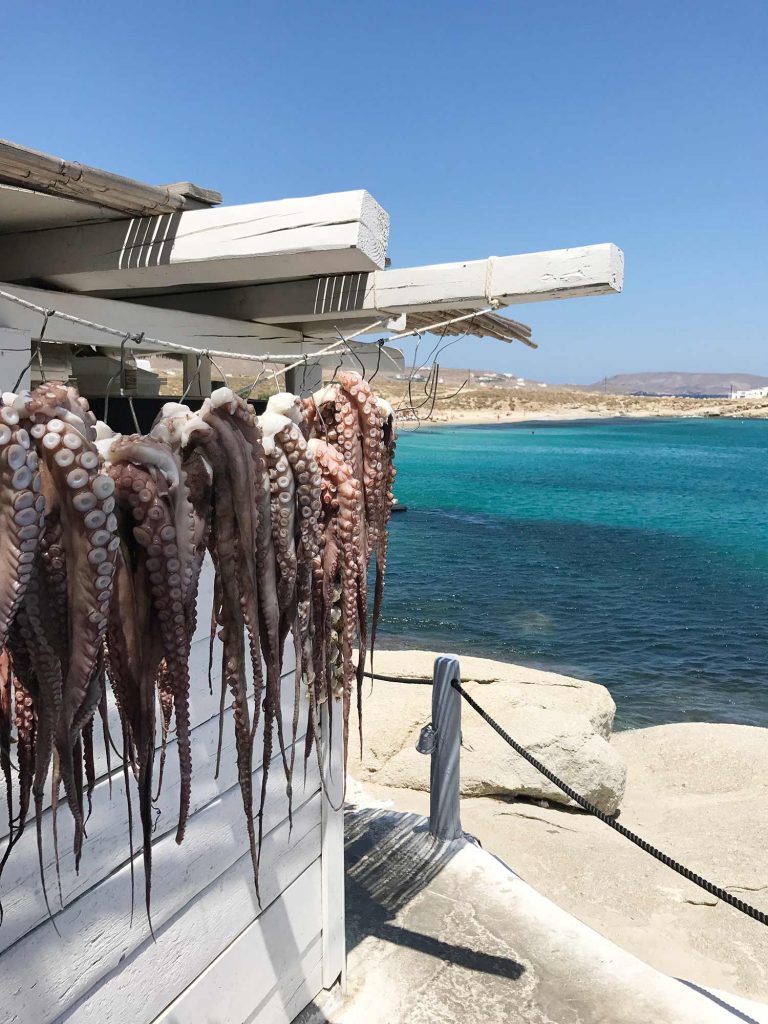 #5. To Steki tou Proedrou
If there is one thing I love doing on my travels, it is eating like a local!! Not only do I suggest visiting this restaurant in the town of Ano Mera which is in the farm side of Mykonos but I highly recommend you visiting the town itself. Explore the local shops, churches and rolling hills and get the real deal feel of Mykonos. It offers such a different landscape from the tourist areas of Mykonos and can easily be accessed if you rent ATVS! It is probably about a 20 minute ride to the area.